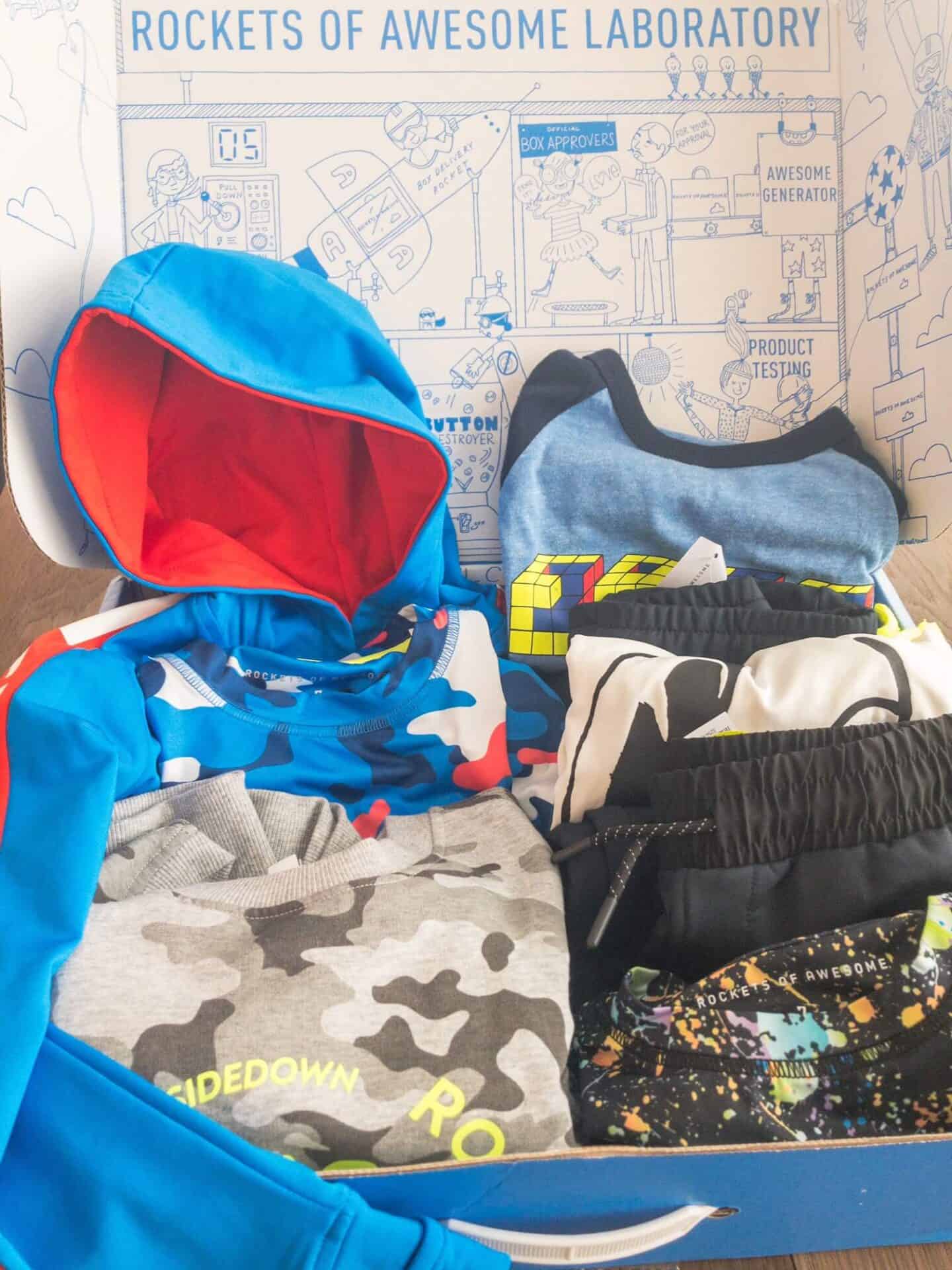 We just got our Rockets of Awesome fall box for boys and I haven't even cut the tags off before writing this post, that's how excited I am about it.
I recently reviewed our first girl's Rockets of Awesome box and it was such a hit, we decided to grab the boy's box, too. Happy to report: the boys clothes are just as soft, well-made and thoughtfully designed.
So, I'm going to share everything in our box with you today – including prices, size info and discounts.
Rockets of Awesome Promo Code:
We buy these boxes with our own money and I don't know if ROA has an affiliate program. But, I can offer you a promo code in the form of my referral code – every ROA member is given one – and this will get you a FREE OUTFIT, worth up to $50, in your first ROA box! Hurrah!
What Is Rockets of Awesome?
Are you new to subscription clothing boxes for kids? If so, I'll break it all done for you here. If you already know, scroll down to see what was in our box!
If you haven't heard of Rockets of Awesome before, it's a quarterly clothing box for kids. Unlike other clothing boxes that carry a variety of other lines, Rockets of Awesome designs all of their clothes in house, so you can't find them anywhere else. Ranging in size from 2-14, their clothes are made from quality fabrics that are easy to wear, but special in design.
Part of why I decided to order this box was because I was just tired of everything I was seeing online. Nothing was standing out to me. But, as soon as I looked at the Rockets of Awesome site – I knew they would send clothes that were fresh, fun and unique.
How Does Rockets of Awesome Box Work?
ROA is a quarterly box, with 4 seasonal boxes. You can get more than one seasonal box if you want, but I typically get one per season.
You can choose to have 5, 8, or 12 pieces from their unique line, in your box. You also fill out a detailed questionnaire to give them plenty of information on size and style for the box recipient.
When your box is ready, you get sent a Peek of your box and you can actually swap out items you don't want in your box. Then, once your box arrives, you'll have 5 days to checkout online and mail back your returns.
You're charged for what you keep and your styling fee is taken from the total. And, if you choose to keep the entire box – you save a whopping 25-45% depending on the box size you chose.
You can choose to cancel or reschedule future boxes if you want or just let them keep on coming! And, if you want more ROA clothes NOW, you can even shop their store for available styles that will ship right away. Score!
Our Rockets of Awesome Boy's Box:
Now, it's time to look at the awesome clothes in our boy box. We were super duper thrilled with every selection and will be keeping the entire box. Let's check it out!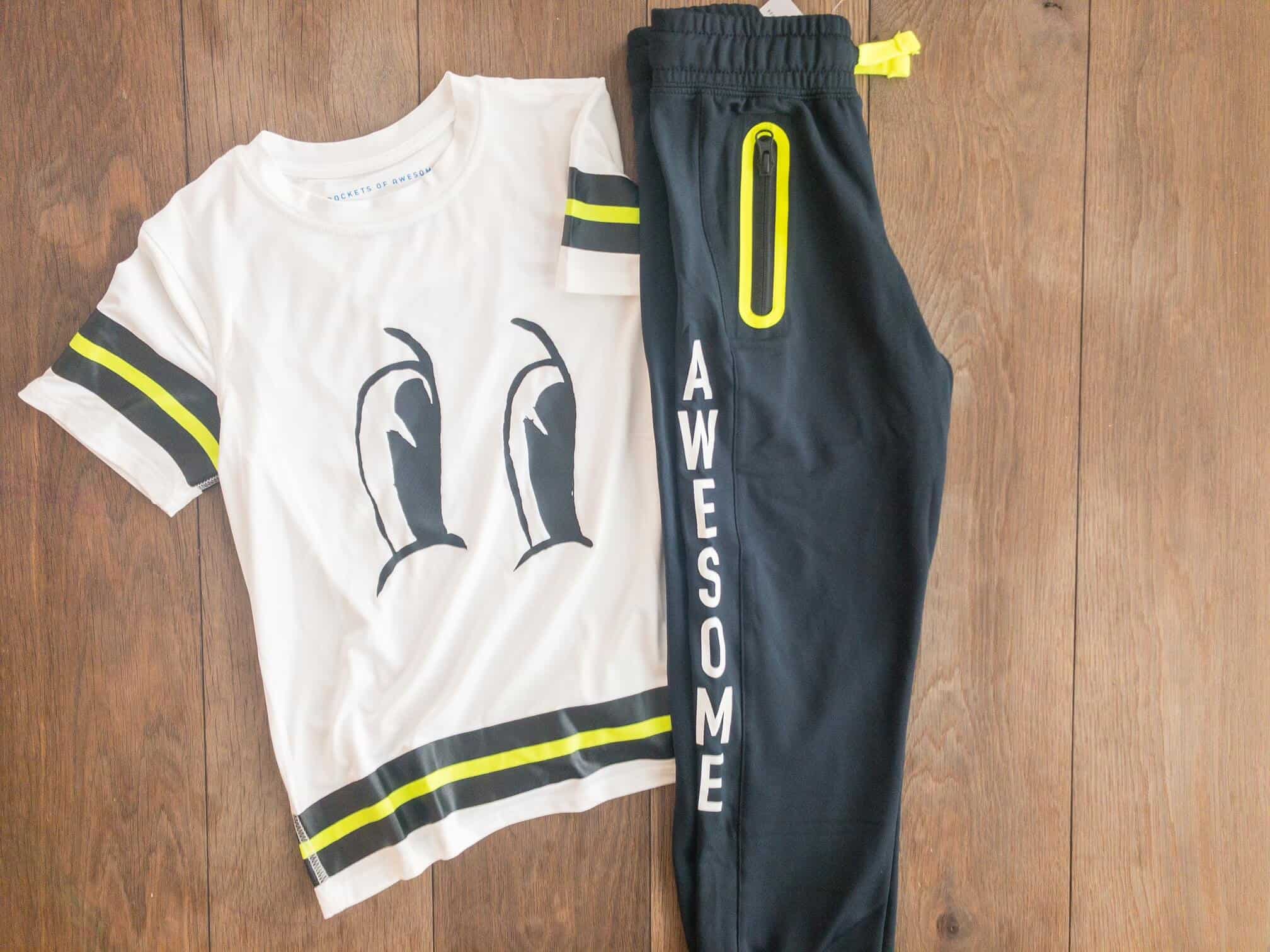 Cannot even stand how cute this little outfit is. The top is the softest activewear material and the colors and design perfectly match these track pants with the word AWESOME down the side. I am down for positive clothing at all times and love that ROA only does super positive messages (usually "awesome", for obvious reasons, lol).
The pants have a great splash of color, but are a still a fabulous neutral for going into fall. It'll really go with all the things.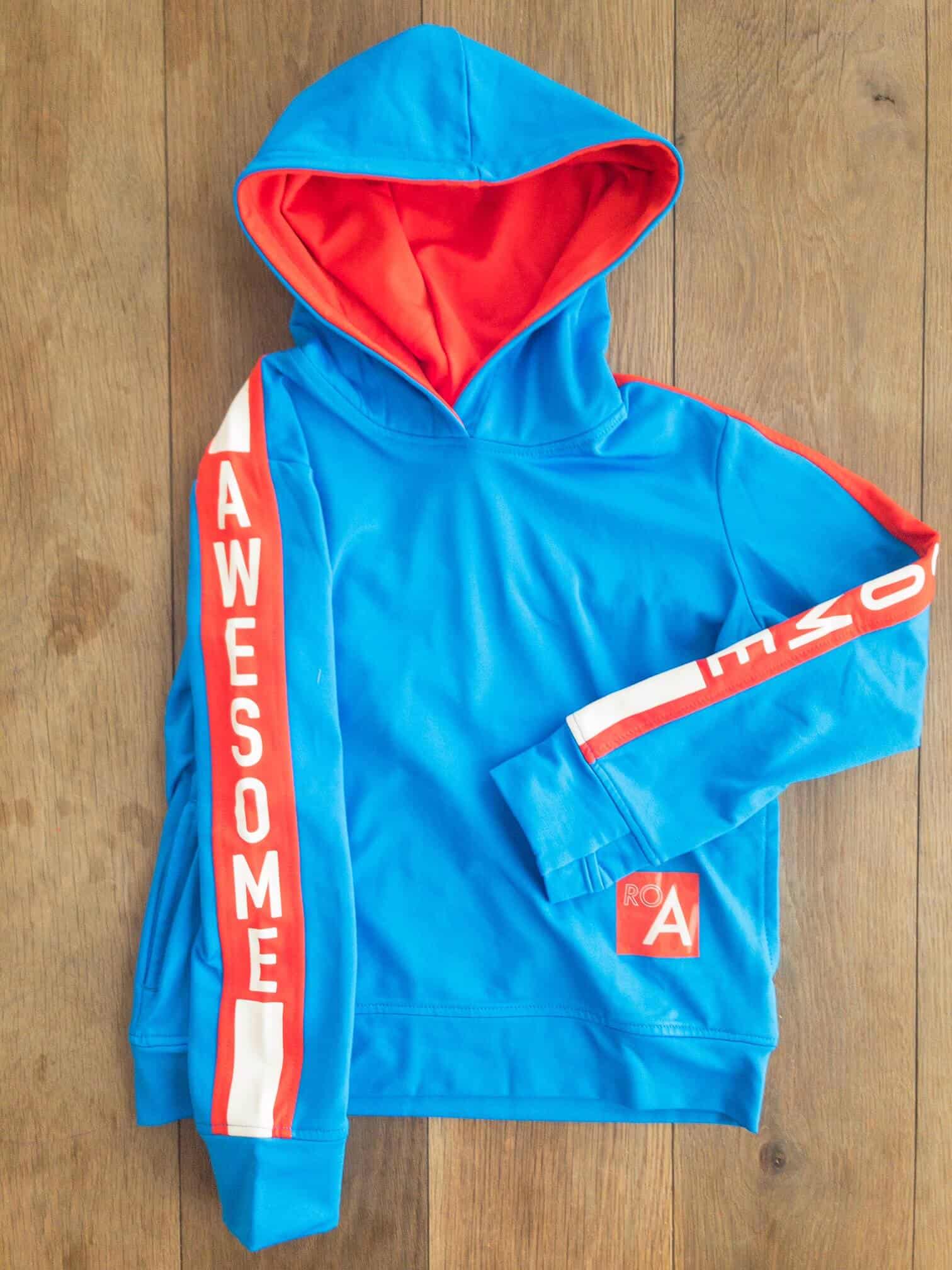 This hoodie is everything. The design is so well done. The hoodie with the contrast lining, the sleeves with the thumb holes, the track styling with AWESOME on the sides, and even the pockets in the front make this a big home run.
Plus, the lining on the inside is sooooo soft, while the exterior has a bit of a tracksuit vibe to it, which will make it easy to clean.
Could not love this more.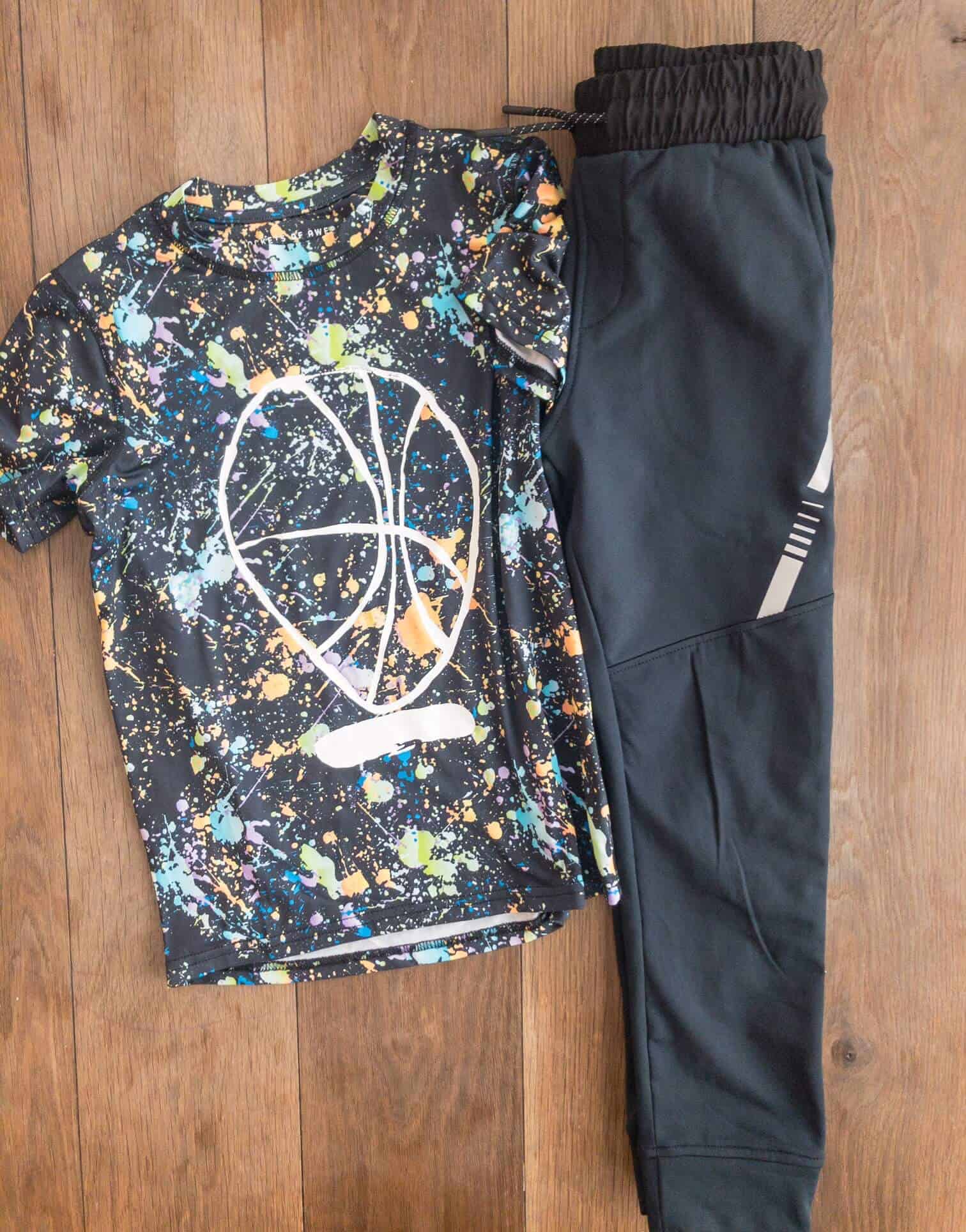 Both of these are super on trend without being over the top. The paint splatter top is an activewear material with enough weight to look really nice. The pants have a little bit of a moto pant vibe and are even more neutral than the precious pair.
I usually wouldn't keep two pairs of pants the same color – but given the condition of my son's current wardrobe, we are going to need more than one pair of black pants. What can I say? We wear a lot of black around here.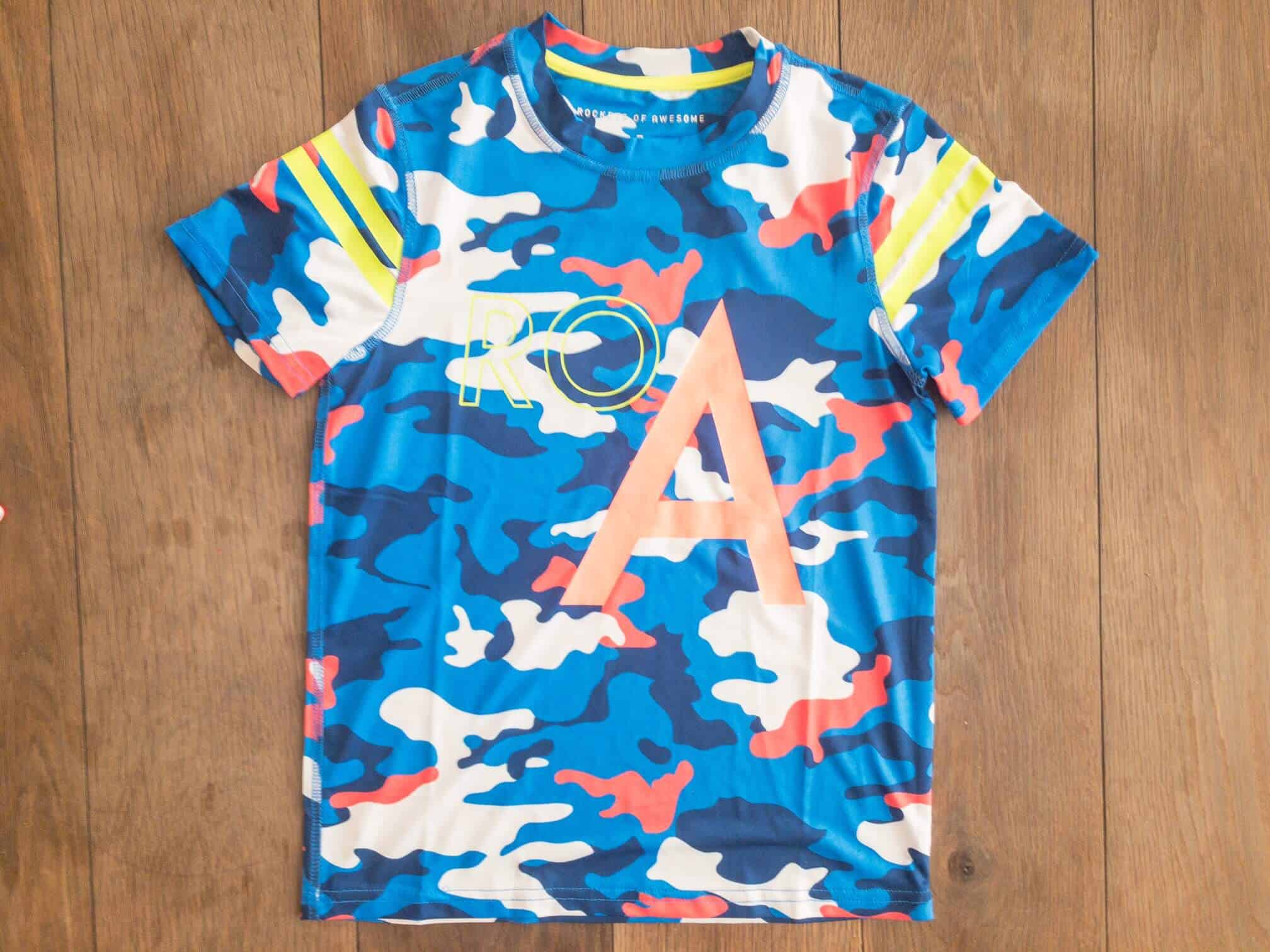 Another super adorable shirt with great details. Different enough to not be cookie cutter, but also not so loud that he wouldn't wear it.
Great shirt that will go with everything.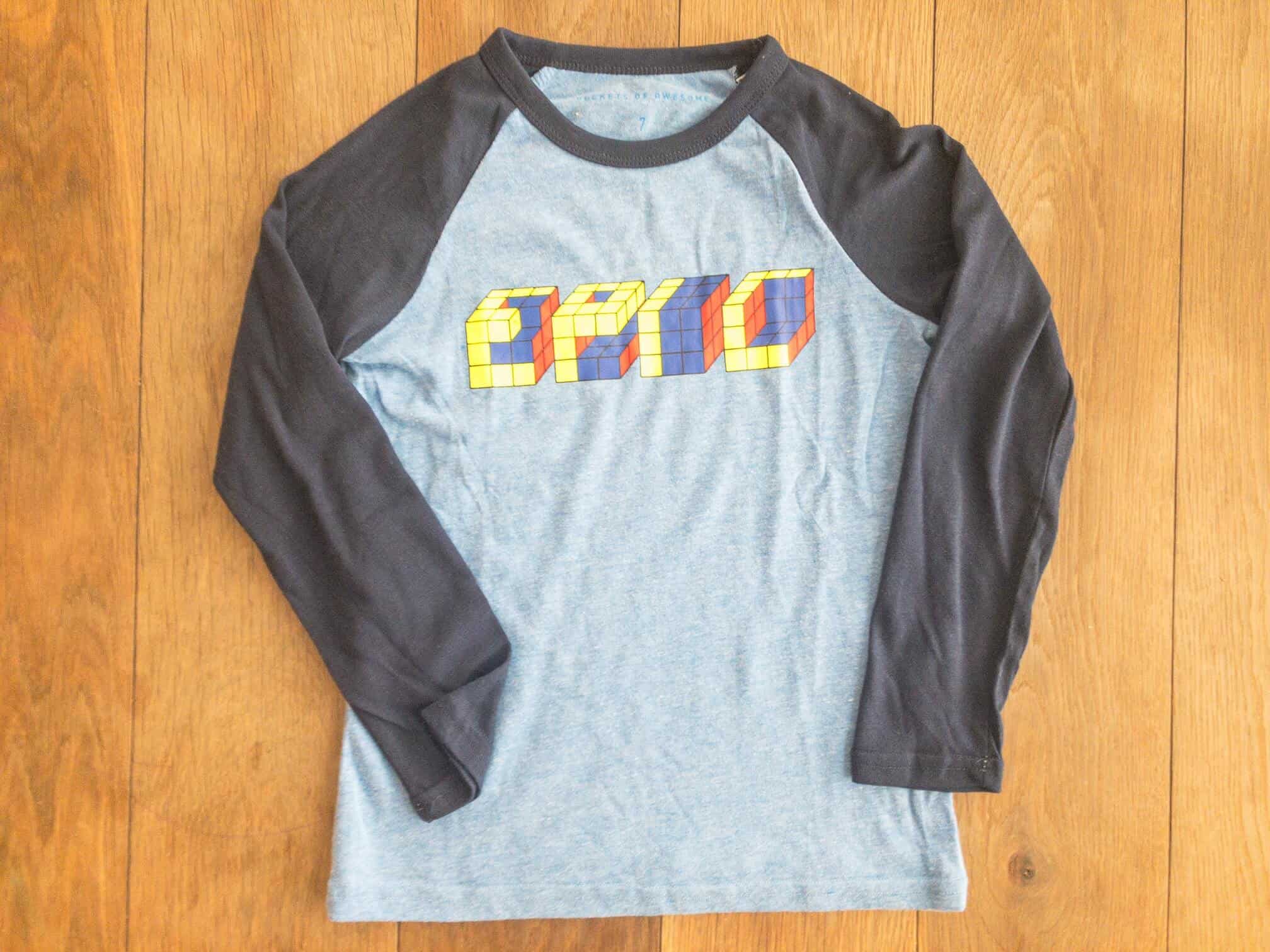 I wish you could feel this shirt through the screen. It is so, so good. If it wasn't 100 degrees here right now, I wouldn't have been able to get it off his body.
Plus, the block lettering is perfect for this video game obsessed age group.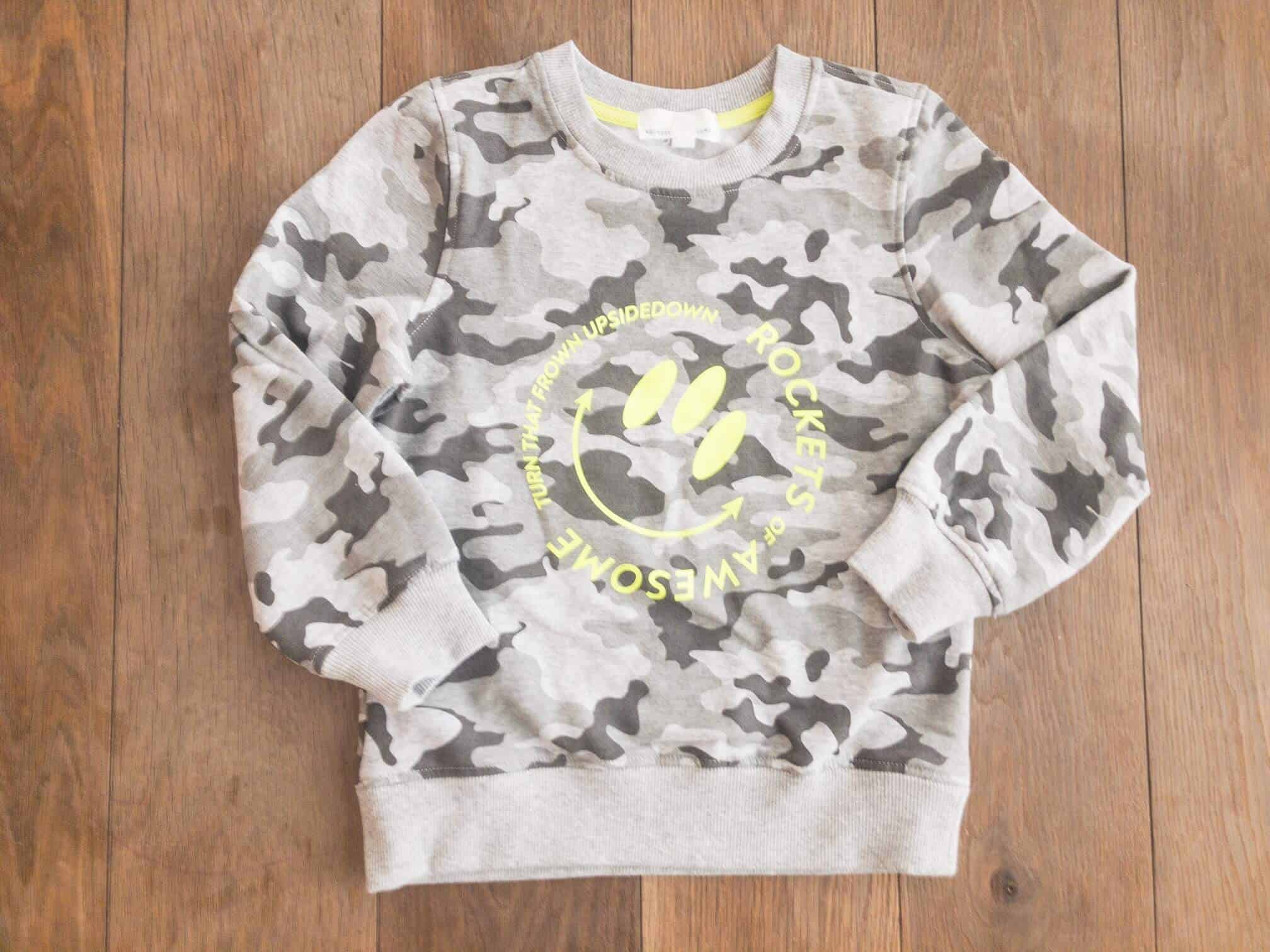 Another really adorable, well cut, but slightly different camo sweatshirt for going into fall.
The cut is just perfect as with all of the ROA clothes.
How Much Is It?
For us, the grand total for all items was $236.
The discount for keeping everything saved us $82.60.
We received a $20 credit for styling fee.
We had a $40 referral credit balance.
Tax was $9.98
Grand total: $103.28
This brings each piece to around $12. YES BABY YES.
*****
That was our box this time. We absolutely love it all. I find the clothes to be very flattering on every body type we have here in this house. The sizes feel very true to size. Both of my kids got boxes in their actual size and it was spot on. I would not recommend sizing up or down. For length, I find them to be a little bit long, which I prefer, because then they don't shrink in the wash and lay well over shoes. This also means they grow with them #NoHighWaters
Overall, we loved this box just as much as our first box and can't wait for the next box to come. I find the prices to be very reasonable for how well these clothes last and wash.
Plus, all of their items mix and match and save me hours of staring at clothing stores online. THANK YOU!
If you're interested in trying out ROA, don't forget to use my ROA referral code to get yourself a free outfit up to $50!
Have a fabulous day,
E