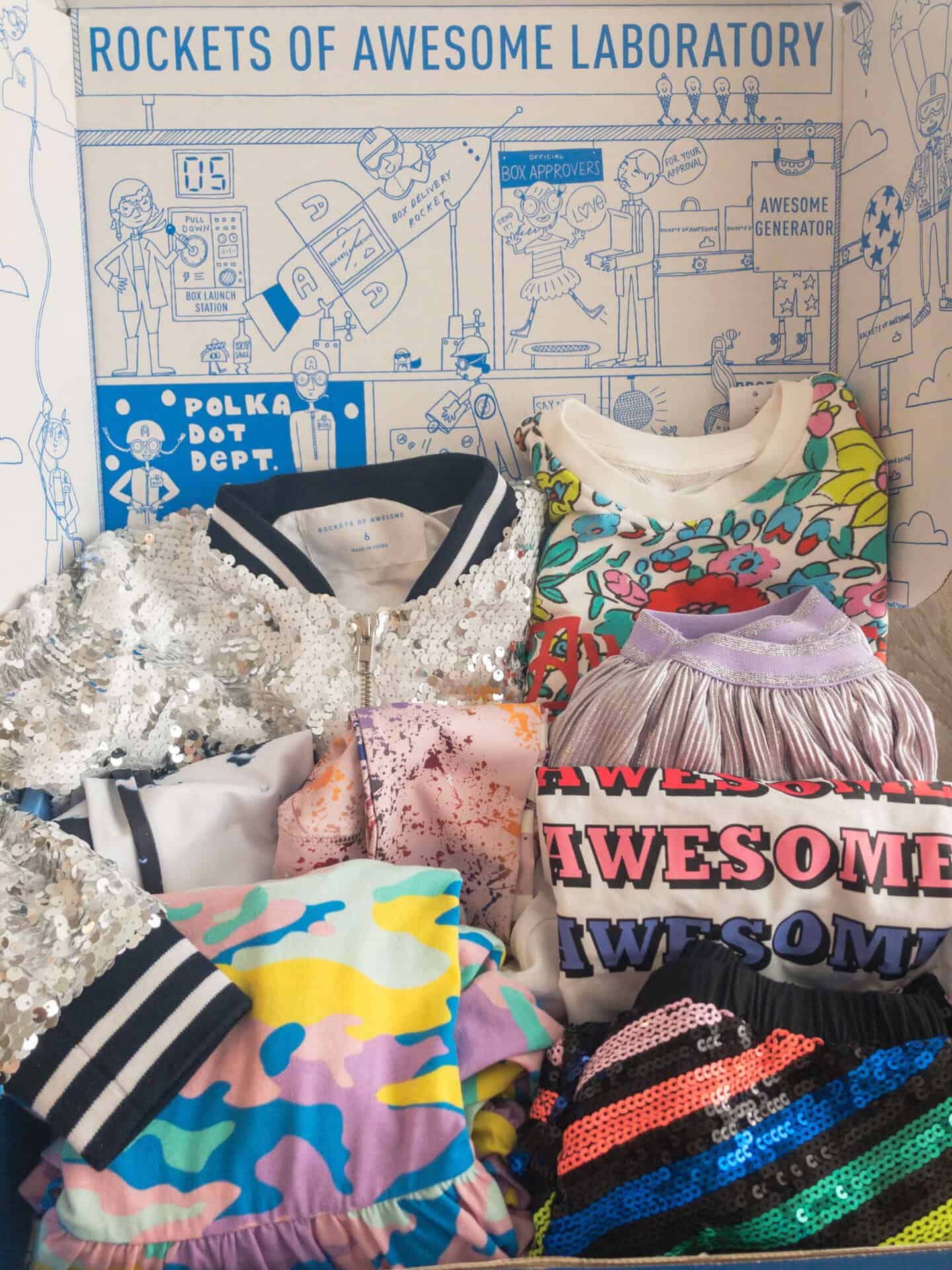 We just got our Rockets of Awesome fall box for my daughter and I haven't even cut the tags off before writing this post, that's how excited I am about it.
I recently reviewed our first boy's box and now I'm sharing the fall box we received for my daughter! Spoiler alert: I'm happy to report that the clothes are just as soft, well-made and thoughtfully designed as they were for our first box.
I'm going to share everything in our box with you today – including prices, size info and discounts. But, if you're new to ROA, here's a little PROMO CODE for you!
Rockets of Awesome Promo Code:
We buy these boxes with our own money and I don't know if ROA has an affiliate program. But, I can offer you a promo code in the form of my referral code – every ROA member is given one – and this will get you a FREE OUTFIT, worth up to $50, in your first ROA box! Hurrah!
What Is Rockets of Awesome?
Are you new to subscription clothing boxes for kids? If so, I'll break it all done for you here. If you already know, scroll down to see what was in our box!
If you haven't heard of Rockets of Awesome before, it's a quarterly clothing box for kids. Unlike other clothing boxes that carry a variety of other lines, Rockets of Awesome designs all of their clothes in house, so you can't find them anywhere else. Ranging in size from 2-14, their clothes are made from quality fabrics that are easy to wear, but special in design.
Part of why I decided to order this box was because I was just tired of everything I was seeing online. Nothing was standing out to me. But, as soon as I looked at the Rockets of Awesome site – I knew they would send clothes that were fresh, fun and unique.
How Does Rockets of Awesome Box Work?
ROA is a quarterly box, with 4 seasonal boxes. You can get more than one seasonal box if you want, but I typically get one per season.
You can choose to have 5, 8, or 12 pieces from their unique line, in your box. You also fill out a detailed questionnaire to give them plenty of information on size and style for the box recipient.
When your box is ready, you get sent a Peek of your box and you can actually swap out items you don't want in your box. Then, once your box arrives, you'll have 5 days to checkout online and mail back your returns.
You're charged for what you keep and your styling fee is taken from the total. And, if you choose to keep the entire box – you save a whopping 25-45% depending on the box size you chose.
You can choose to cancel or reschedule future boxes if you want or just let them keep on coming! And, if you want more ROA clothes NOW, you can even shop their store for available styles that will ship right away. Score!
Our Rockets of Awesome Fall Box:
Now, let's get to the good stuff! What was in our box this time? My daughter was so thrilled that it was full of sequins, bright colors, fun prints and tons of style. She definitely has an "extra" style and ROA is right up her alley. I did have to swap out a number of pieces that were a little too classic for her taste. If she could be dripping in sequins, faux fur, rainbows, tie dye, glitter and unicorns, she would do it!
1. Sequin Bomber Jacket: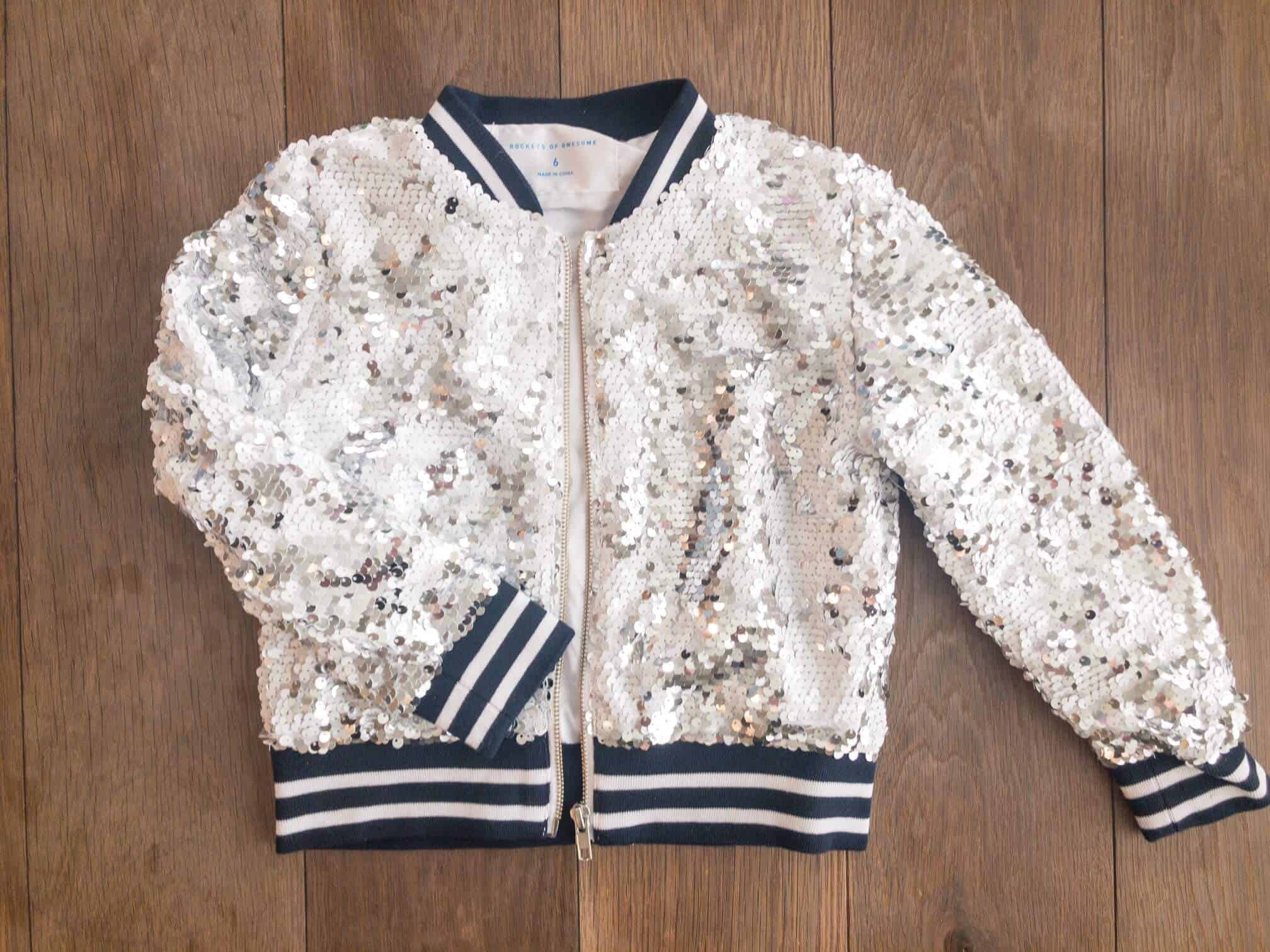 Oh yeah, this was the first thing we grabbed out of the box. Absolutely incredible. It matches the skirt that was in our first box and has been worn religiously.
This bomber is party on the outside, comfy on the inside, with a relaxed fit and super soft interior design. I also love that the wrists are soft fabric too, because that means the sequins do not come in contact with the skin. Sequins look great – but they're not so soft for the kiddos.
Overall, a major, major win.
2. Skirts & a Tee: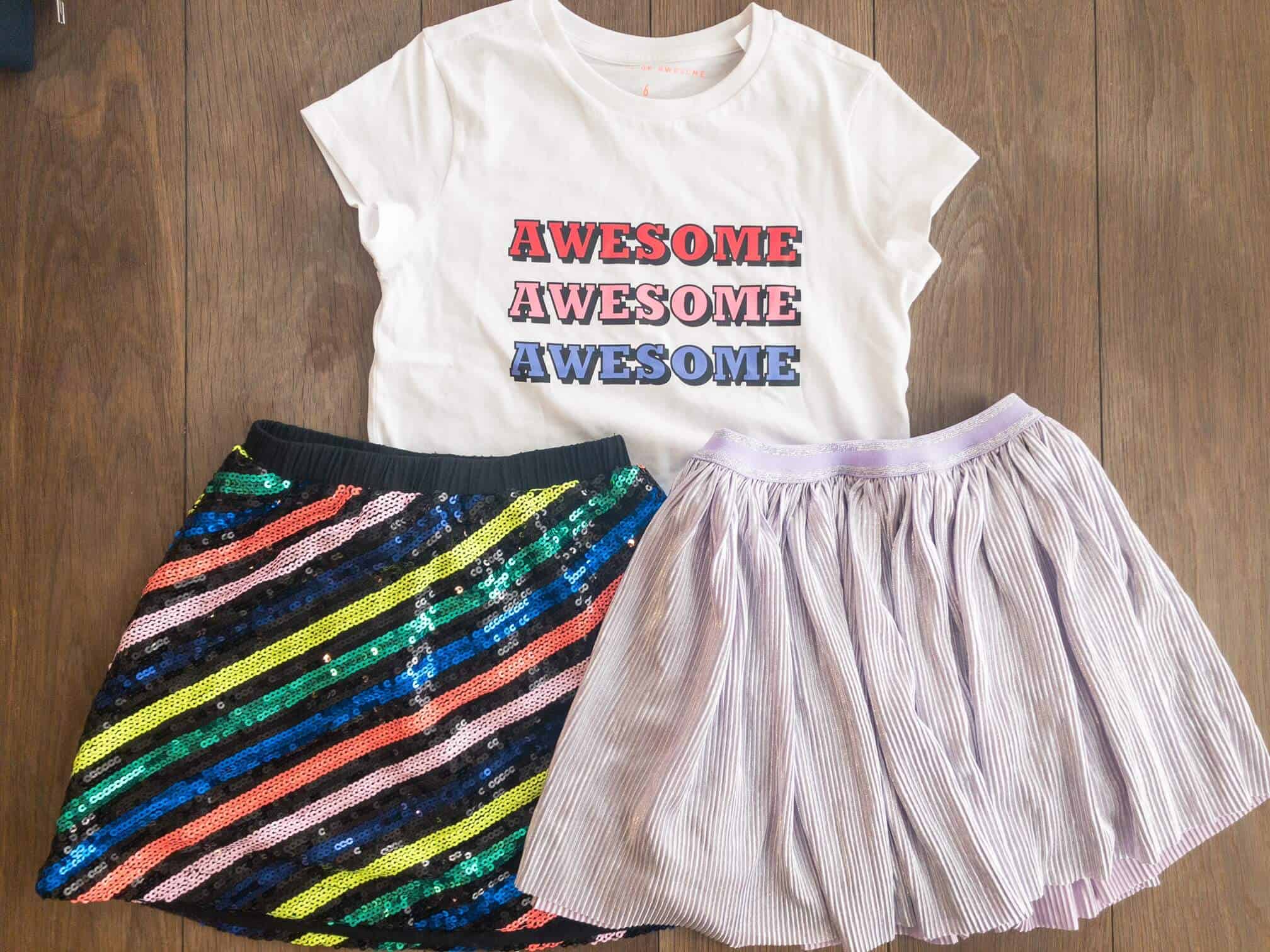 These two skirts are perfect. The revamp of their previous sequin skirt with the diagonal rainbow sequins is everything.
The shimmery purple twirl skirt is a little girl's dream.
The classic, versatile AWESOME shirt is soft and matches everything in the box. That is something I've loved about ROA since day one – so many pieces mix and match. Over time, I can imagine my kids could grab pretty much anything out of their drawers and it would go together.
Who doesn't love that?
3. Floral Sweatshirt: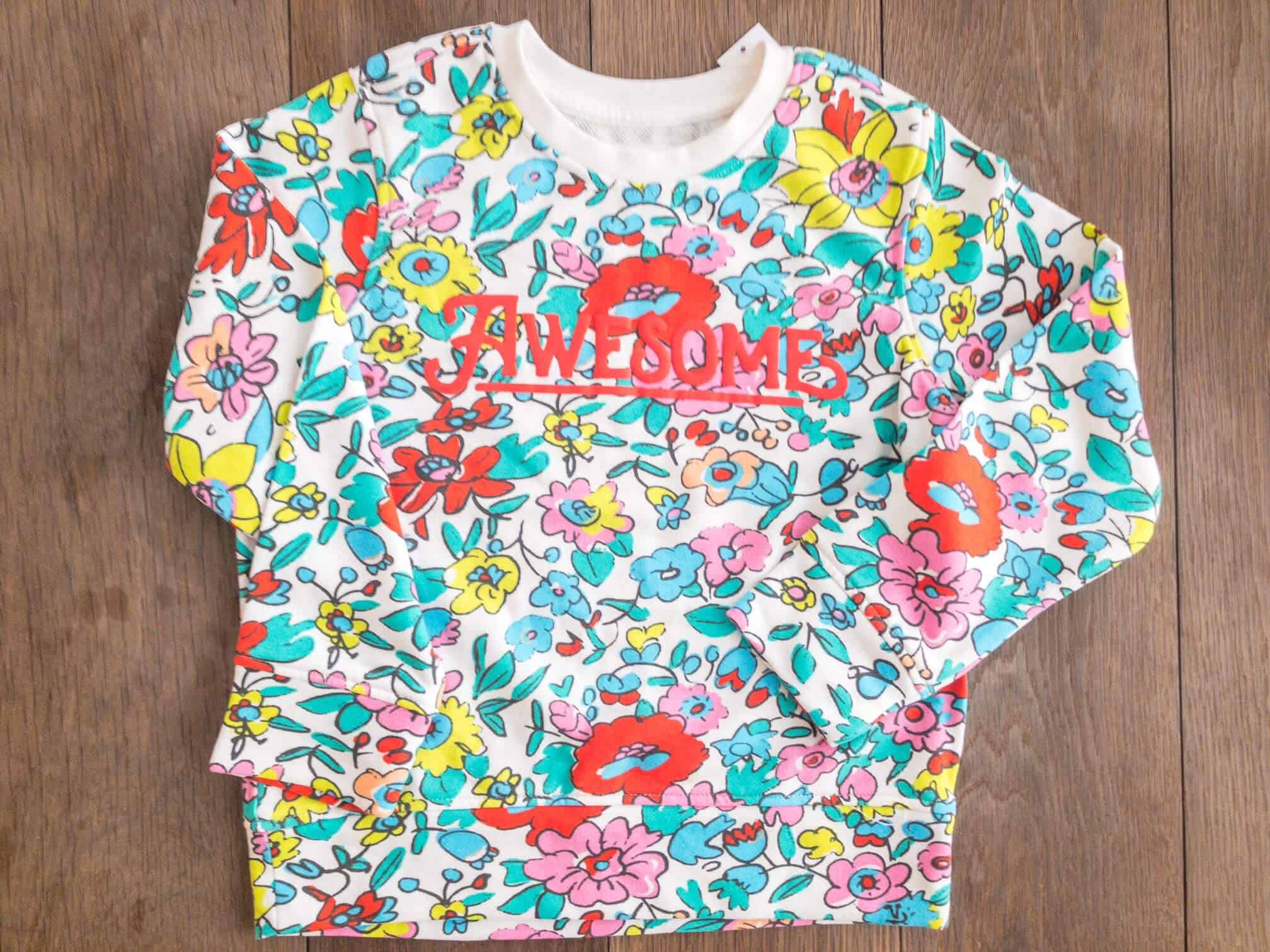 It's a crew sweatshirt, but make it special. With a bright, fun floral print and big letters saying AWESOME, it's ready for fall weather. Throw this on with any skirt in the box or leggings and you're ready to go. Outfit: CHECK.
4. 2 Pairs Athletic Leggings: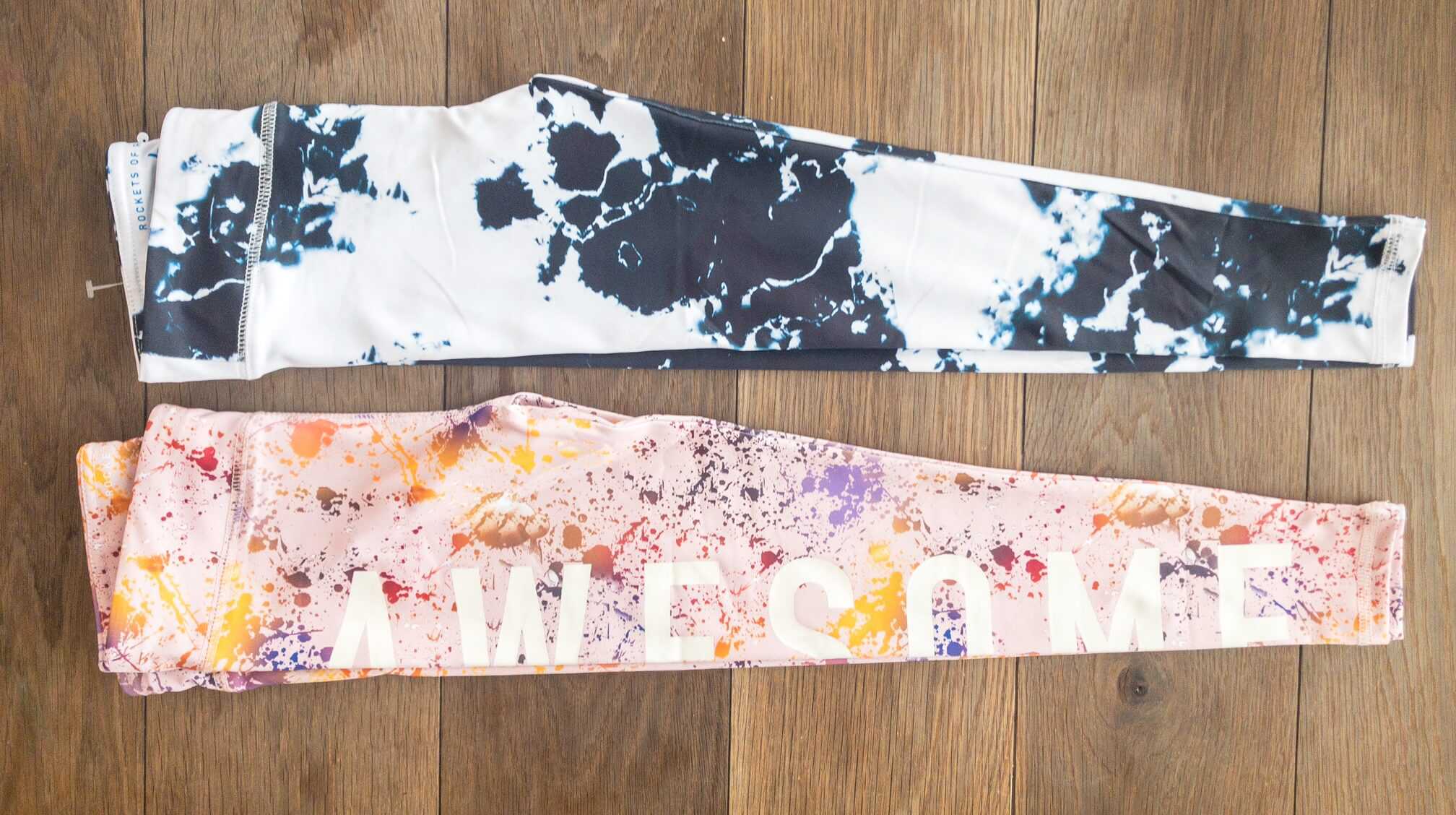 Yes. Must-have. The pink paint splatter ones are SO DARN CUTE. People comment on them whenever she wears them. They are fun, different, but still on trend. Plus, they have enough stretch to fit any body type, but don't roll down.
The black and white design matches a shirt from an earlier box, which she picked up on right way and now she has the set.
It's all about "the set" – am I right?
These are honestly some of the best leggings I've ever gotten for her. They are seriously … awesome.
5. Pink Camo Print Dress: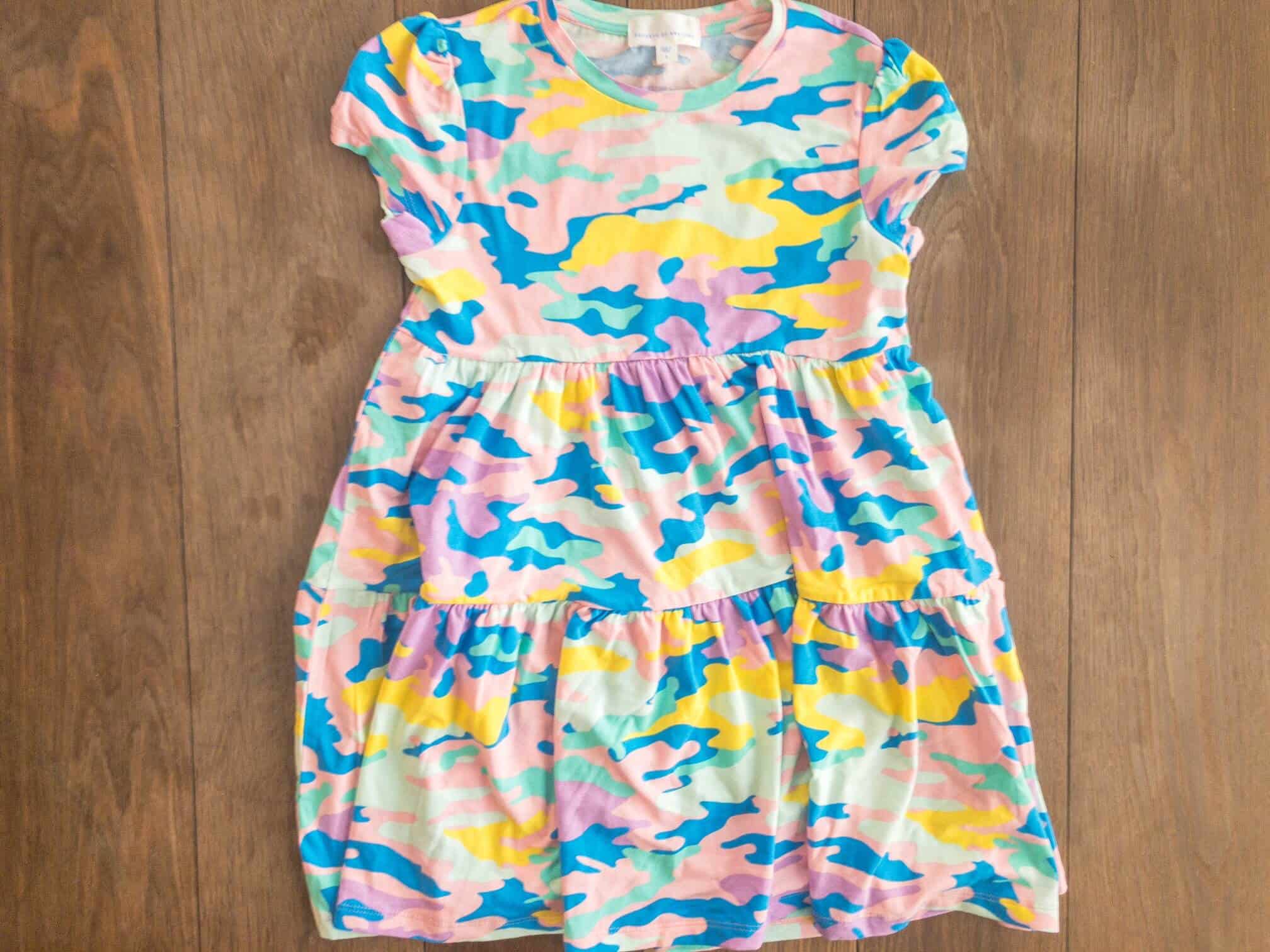 THIS. IS. SO. CUTE. OHMIGOD. The ruffles fall perfectly and look so cute. The fabric is softer than soft. The print is vibrant and fun. I don't know how they do it – but ROA just GETS IT and NAILS IT time and time again!
We ripped the tags off this one and wore it next day.
*****
I have to tell you, I think I enjoy opening the Rockets of Awesome boxes as much as the kids. Maybe more? What I would give to have had these as a kid!
They make shopping for kids so easy, fun and affordable. In fact, let's break down the cost:
Order Summary
Subtotal for all pieces: $290
Service Fee Credit: $20.00
Keep All Discount: $101.50
Shipping: FREE
Tax: $12.34
TOTAL: $180.84
Considering this box had 8 pieces, one of those is a jacket, the per item price is around $22.50. That might be high for a shirt or leggings, but if we figured the jacket and skirts were more, it brings those down to a very reasonable price.
I usually have a credit from a referral or the blue bag returns, but for her box I didn't, since I used them all on my boy's box. Next time I'll have at least a reversal credit from returning the blue bag.
******
All in all, we are thrilled with this box and will continue to get them each season. Do you love seeing our ROA hauls? Let me know in the comments below.
I find the clothes to be very flattering on every body type we have here in this house. The sizes feel very true to size. Both of my kids got boxes in their actual size and it was spot on. I would not recommend sizing up or down. For length, I find them to be a little bit long, which I prefer, because then they don't shrink in the wash and lay well over shoes. This also means they grow with them #NoHighWaters
If you're interested in trying out ROA, don't forget to use my ROA referral code to get yourself a free outfit up to $50!
Have a fabulous day,
E