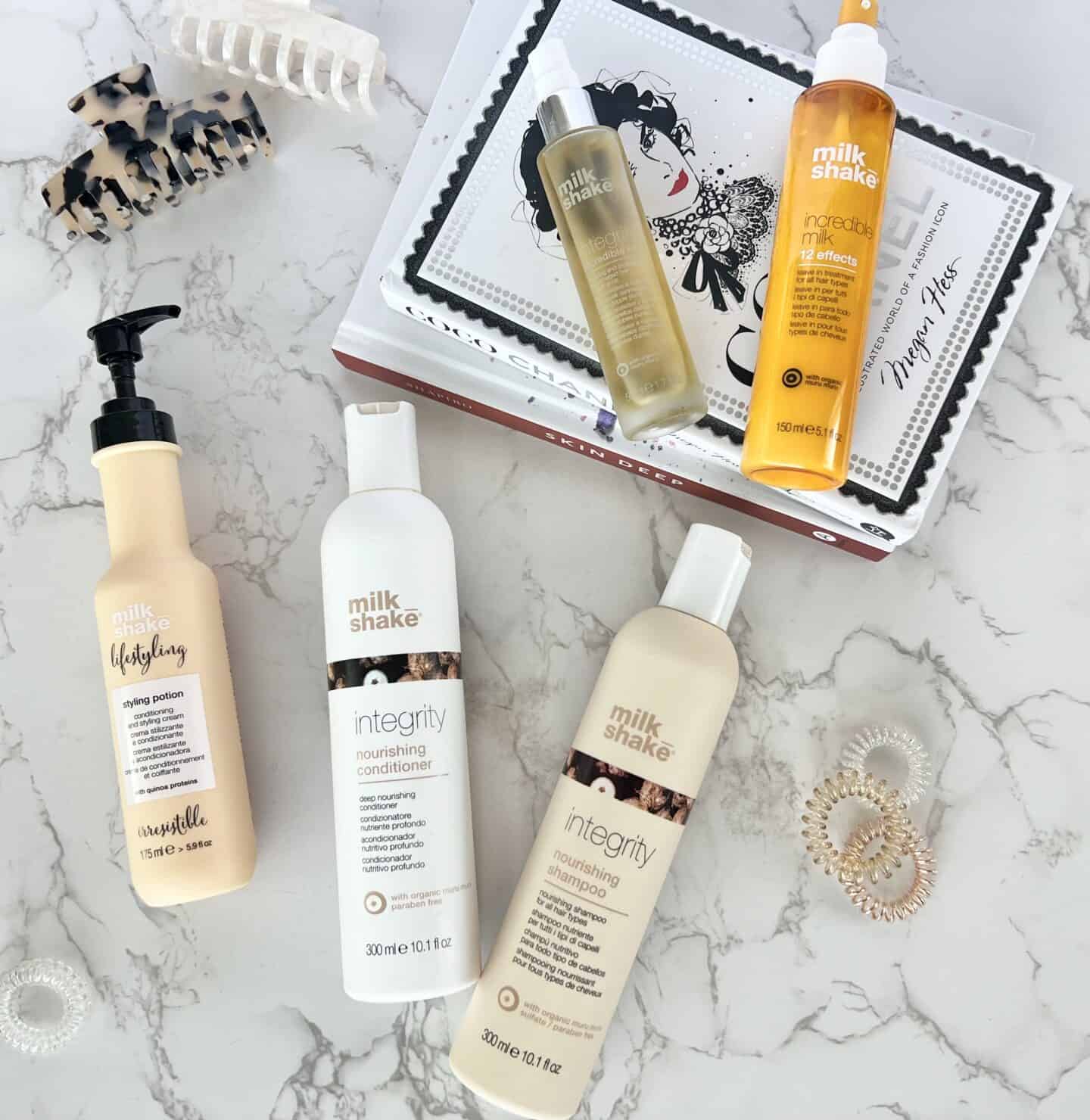 I gotta say, I love trying new hair and beauty products. Sometimes, your skin or hair just needs something different. I had never heard of Milk_Shake hair products until they reached out, but once I started checking out their huge line of products, I was really excited to try some of them and see if they could shake my dry, frizzy hair out of its doldrums and bring back the soft, shiny hair I've been missing.
And, just for reference, my hair is below my shoulders, starting to go grey in small patches, fine, and straight. I color treat every strand of hair every 11-12 weeks, which includes a base color that is a little lighter than my natural color and a highlight color that is definitely lightening my hair. I try to wash my hair only two times a week and heat style on those days, with a little bit of heat refresh on the other days.
If I don't religiously use a hydrating shampoo, conditioner and leave-in treatment, my hair is frizz city. I haven't always used heat protectant, but for the last few years, this has become a must for me as my hair was so damaged back in 2019, I had to stop lightening it completely for around 2 years or it was going to start breaking off. Lesson learned: I always use heat protectant and I've been really into hair oils for the past year, which I think are super underrated.
With all that said, the products I picked from their massive line suit my needs of needing to hydrate, repair and protect. If these aren't the things your hair needs, I still definitely recommend the Milk_Shake line and bet they have something that is right for you.
Before and After: Milk_Shake Hair Products
I love a little before and after. Let's take a look at what my hair was like when I woke up in the morning and then after styling with only Milk_Shake products. For hot tools, check out this post where I break down all my favorite hot tools.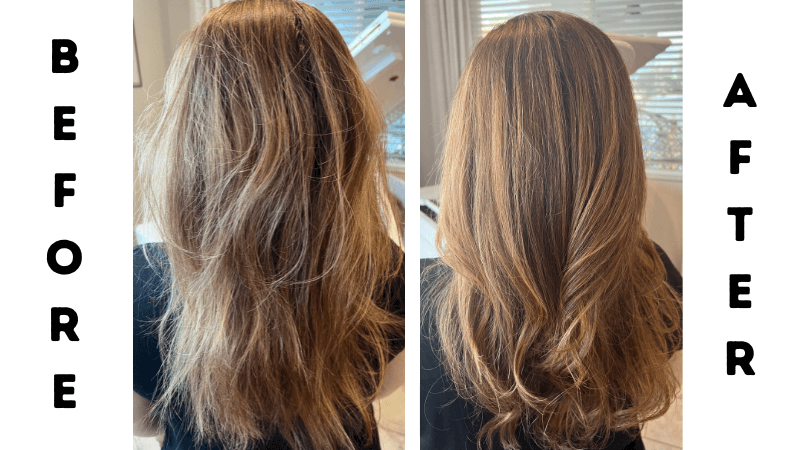 My Favorite Milk_Shake Hair Products:
I've really been enjoying these products and am still using them every day since that picture was taken. The hair oil is going to be a staple product for me, absolutely, hands down. It's so good. I put a couple pumps in my hands and then run my fingers through the middle and ends of my hair every day and it makes it so soft and shiny without any greasiness at all. I love it so much. I am also a huge fan of the styling potion, which does a better job of holding my style than other styling creams I've been using. I really love it. They're all very good, though, and if I didn't need to keep trying new products as part of running this blog, I would keep all of them in rotation and definitely recommend them.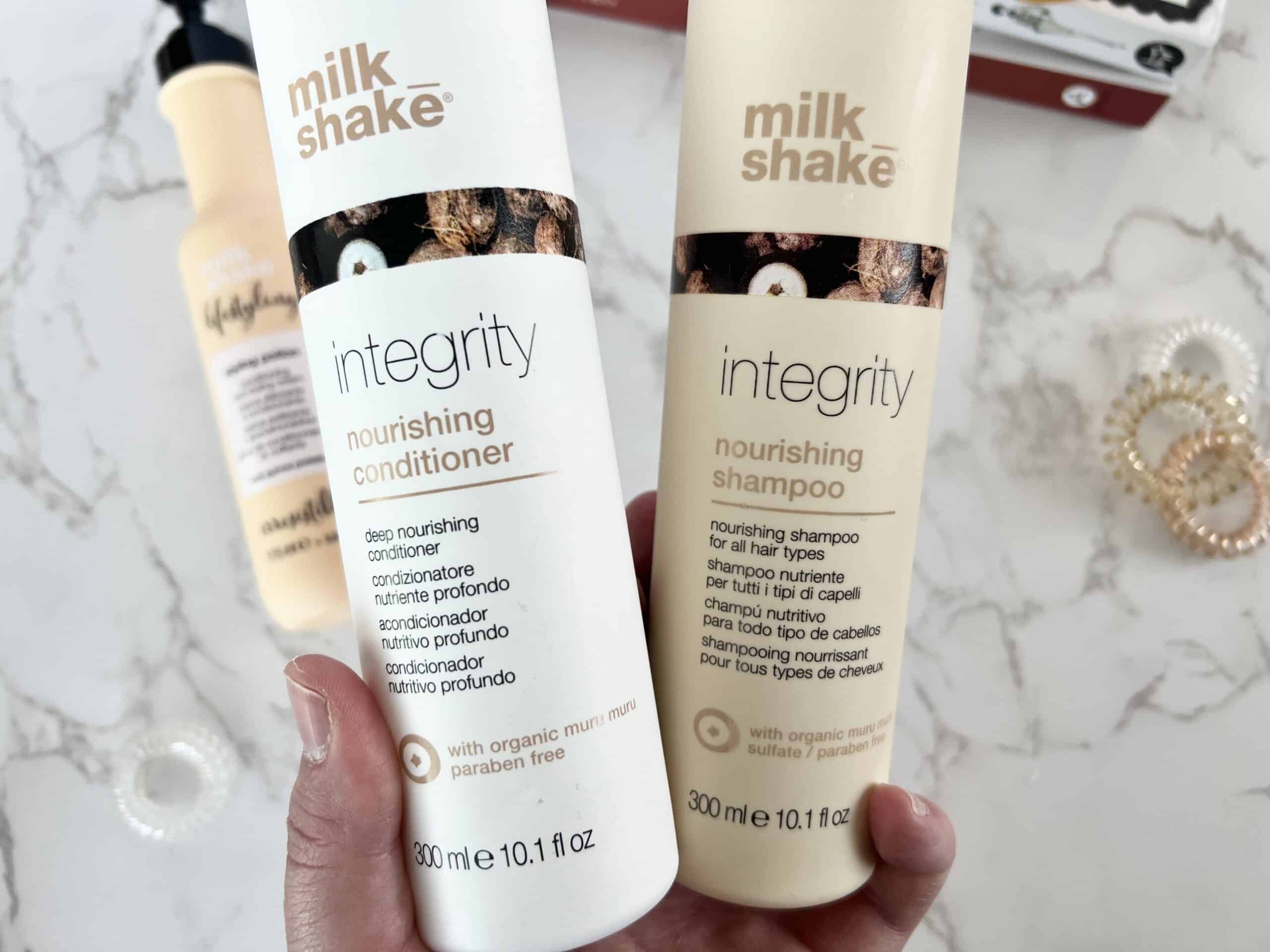 This is so creamy and hydrating. My hair loves it. I also really appreciate that even though it's packed with hydrating and strengthening ingredients, it is not packed with a bunch of synthetic fragrances. I am really sensitive to fragrance and this has a light, fresh scent that doesn't smell fake at all.
Because of how hydrating the shampoo is, this slightly lighter conditioner works well with it. If I used it with a different shampoo, I think I would feel like I needed something a bit heavier and thicker. Before this, I've been using a super duper hydrating conditioner that is almost as thick as a mask – just to give you an idea of how dry my hair has been. This works really well as a system, though, especially when paired with the next product.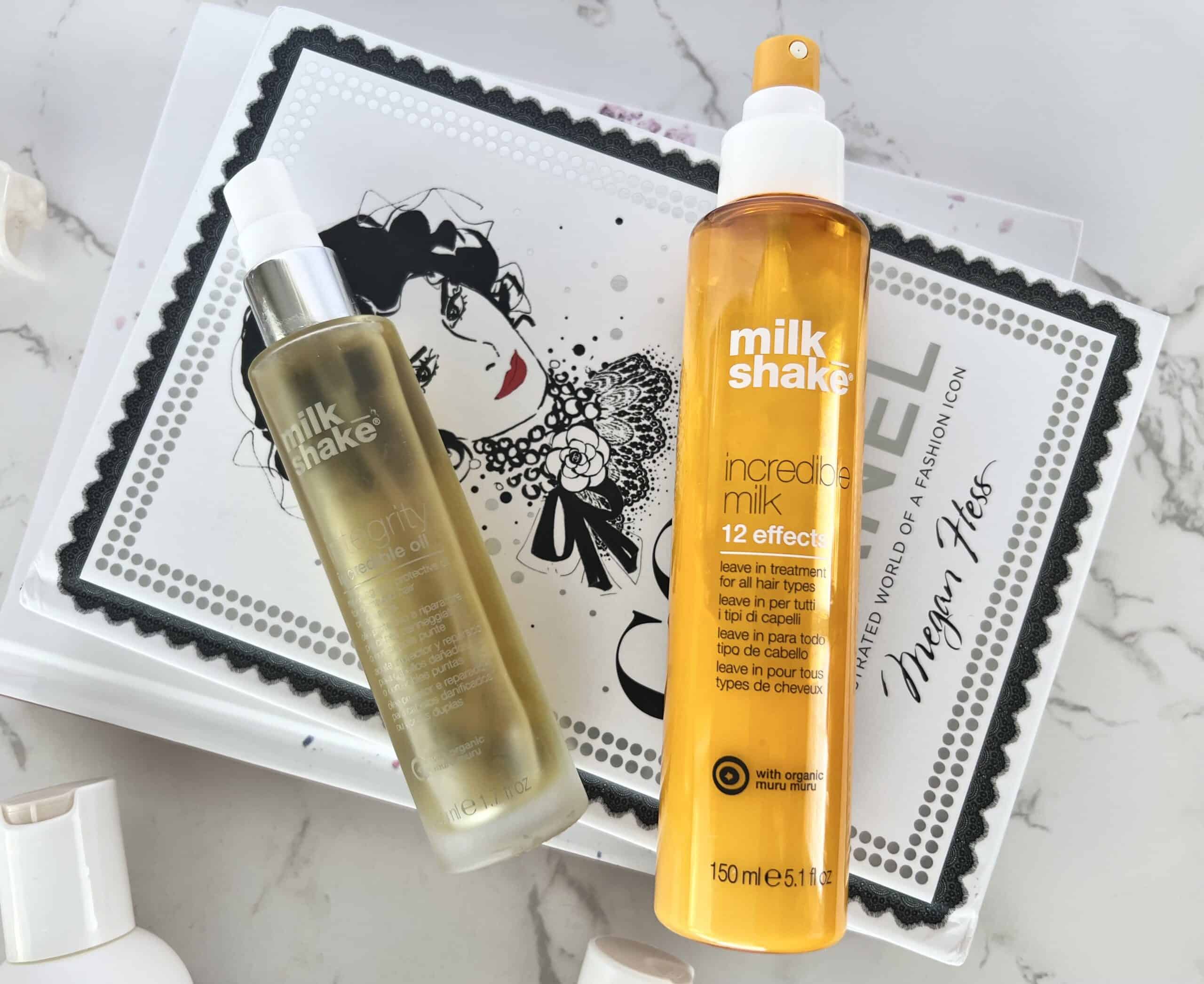 I've used so many leave-in conditioners over the years. So many. This one really works. It is thicker and more intense of a treatment than other leave-ins, but doesn't leave hair weighed down or greasy. It says it has 12 benefits, which include:
Protects from UV rays
Repairs all hair types
Protects and maintains color
Protects from heat
Detangles
Maintains hairstyle
Gives shine
Adds body and volume
Controls frizz
Prevents split ends
Helps straightening
Smooths the cuticle.
I am not sure that I would rely on just this for protecting hair from heat, personally, just based on my own experiences with restoring damaged hair. But, I like that it also has that benefit. Overall, a great leave-in.
Let's talk about one of my most favorite hair products ever. This oil has Muru Muru Butter, which I don't even really know what that is, and an amino acid complex that work together like magic to hydrate and repair hair, while leaving it super soft and shiny. It is a challenge to find a hair oil for fine hair, because almost everything leaves hair looking flat and greasy. This does not do that. I do not spray it directly on my hair, because the mist doesn't come out as fine and misty as I would like, so I recommend spraying it into your hand and then using your fingers to distribute it how you like.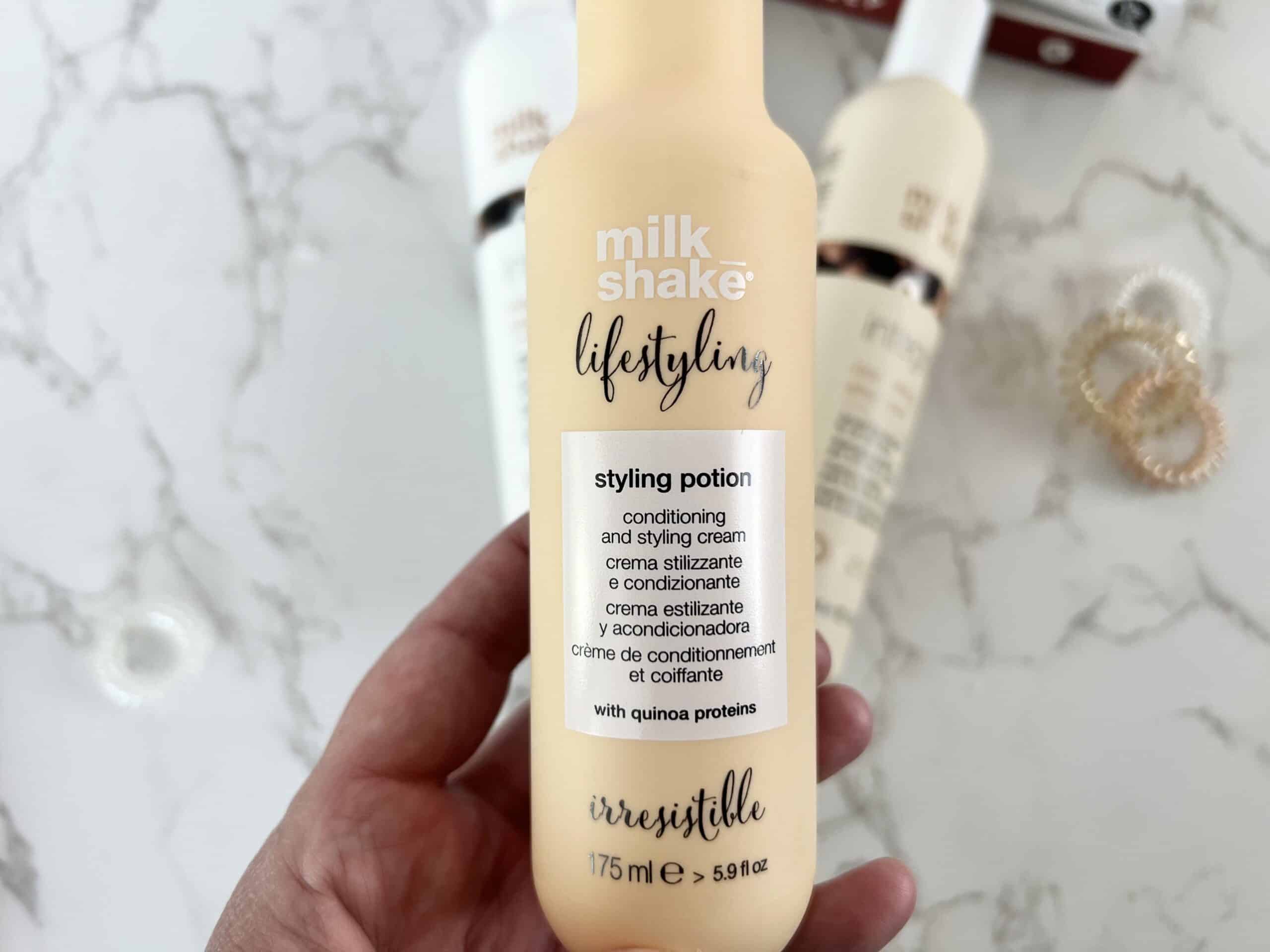 Usually, I create a little cocktail of styling products, at least two, and mix them up in my hands before applying. Well, since using this one – I just need one. This styling potion is really thick and concentrated, too, so I just need one, maybe two, pumps for my whole head of hair. I find that it smoothes my hair and helps hold the style longer, so on the days when I don't style my hair, I can just run a little hair oil through it, or refresh it quickly and go. This was not the case before, where I felt like I needed to use hot tools to get my hair smooth again.
*Affiliate links are used here for products I use and really like. If you choose to make a purchase through my links, I may receive a commission at no cost to you. Thank you!
Now, let's take a look at exactly what I used and the order I used it! I shared a little video on Instagram of the order I used my products. Take a look:
View this post on Instagram
****
Have you tried Milk_Shake hair products? Which ones are your favorites?
Have a fabulous day,
E