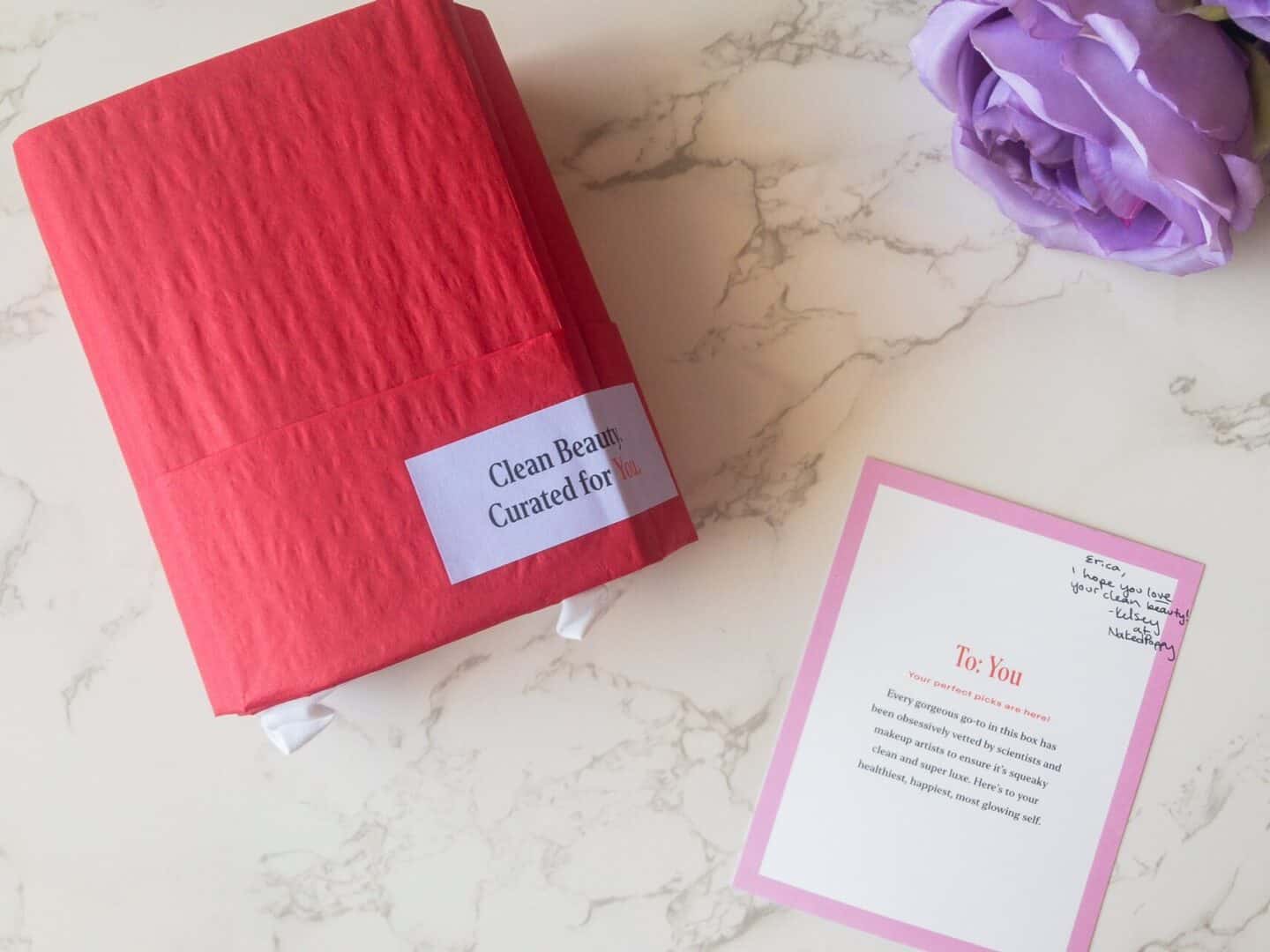 If you've ever been overwhelmed by the long aisles packed with beauty and skincare products, all promising to make you look younger, smoother, and smarter (okay maybe not that last one) – you're going to love what NakedPoppy is doing. They take the guesswork out of finding clean beauty and skincare that is fine tuned to your personal skincare issues and goals.
I had the opportunity to try out NakedPoppy's beauty assessment and some of their products and I am super excited to share everything I learned with you.
How NakedPoppy Works: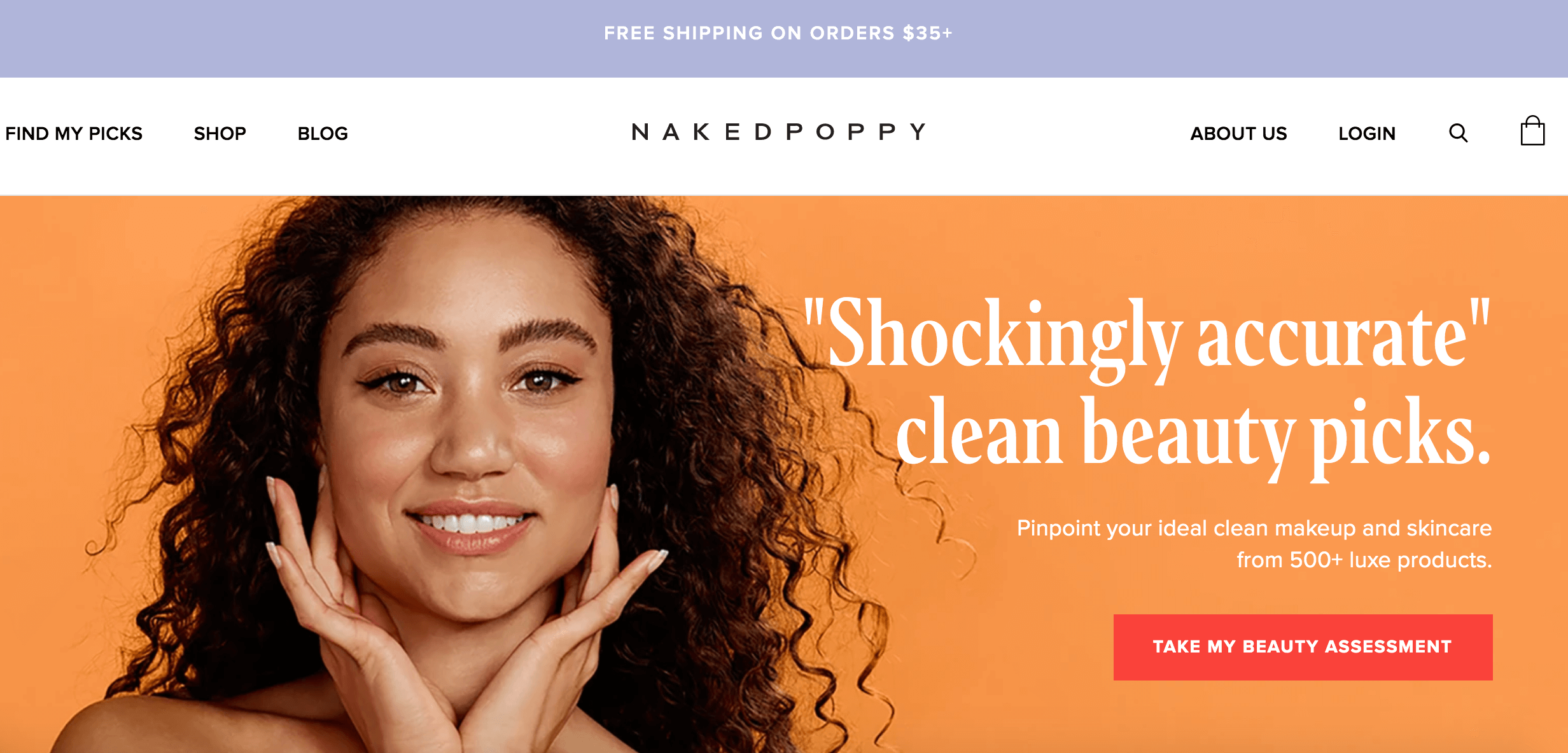 NakedPoppy curates a customized beauty and skin collection of products based on the results of your beauty assessment – a short quiz that is incredibly thorough. This saves you the time of sifting through hundreds of products that may not be best suited for your skin, so you can select, add to cart, and move on with your life. Plus, if you think about all those products you wasted money on that didn't end up working for you, you'll probably end up saving money using NakedPoppy, too.
So, here's how it works – you start by filling out a beauty assessment. It's easy to follow and kind of fun, too. I love thinking about my skin and beauty care objectively. Some of the questions were ones I haven't been asked before, even when trying out customized skin care tailored just to my skin.
Then, NakedPoppy curates all of your information, including a selfie that is immediately destroyed after the computer analyzes your skin and skin color, before sending you a custom collection of products selected from over 500 choices in your Personalized Boutique. Recommendations are made for your skin, eyes, face, lips, and cheeks and include both NakedPoppy branded items and a wide variety of excellent clean beauty lines, like: Kosas, Lily Lolo, Vapour, Au Naturale, Clove + Hallow, Ere Perez and many more.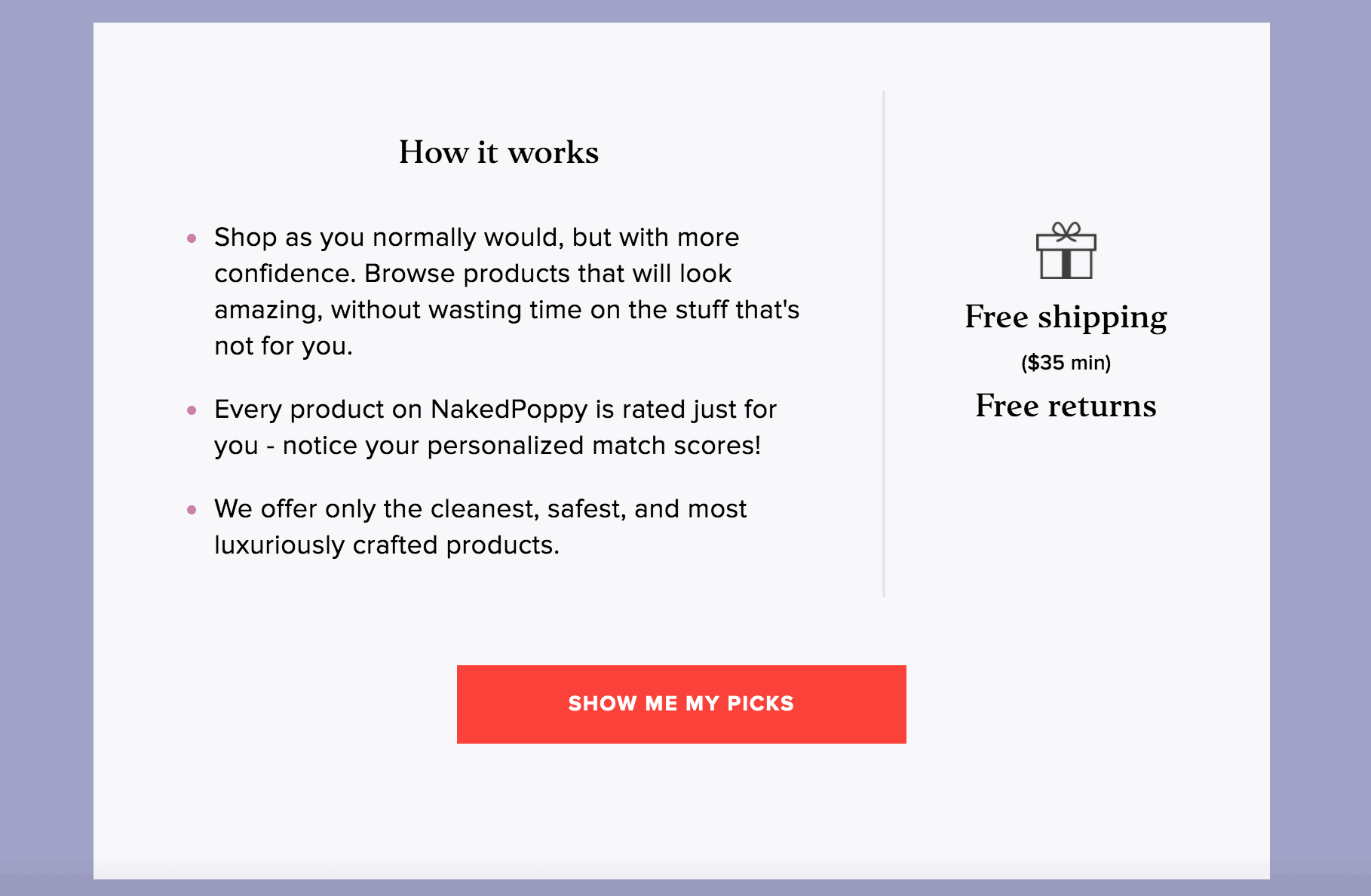 And, here's one of the best parts – because of the scanned image of your face – all makeup suggestions are matched to the right color for your skin! No need to stare at a ton of tiny color samples and guess the best one! Here's what some of mine looked like: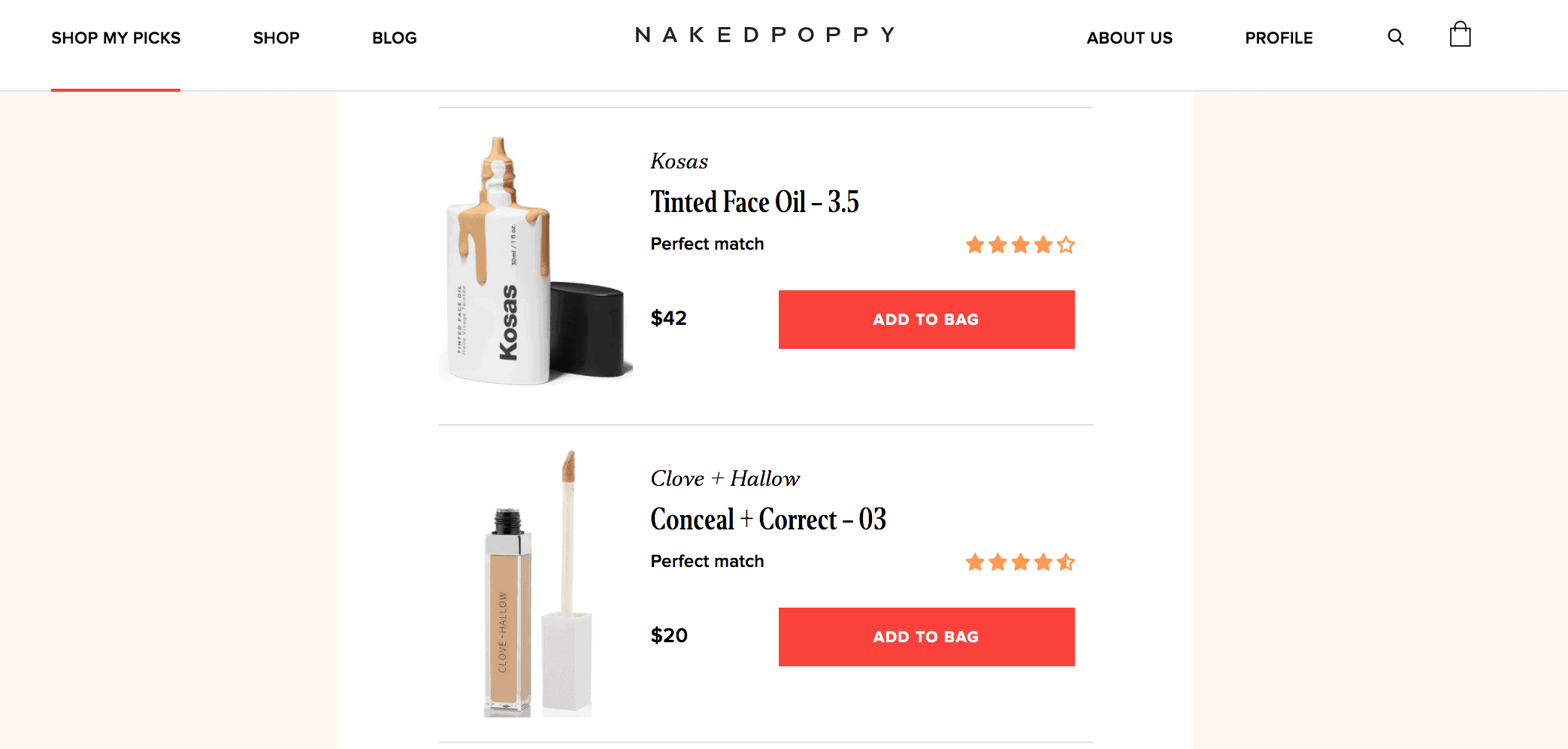 After that, you just look at your options, add anything you'd like to buy to your cart (with a 10% off discount for buying 3 items or more) and voila! You're done and your items will be lovingly packed and shipped right to your door.
How Clean is NakedPoppy?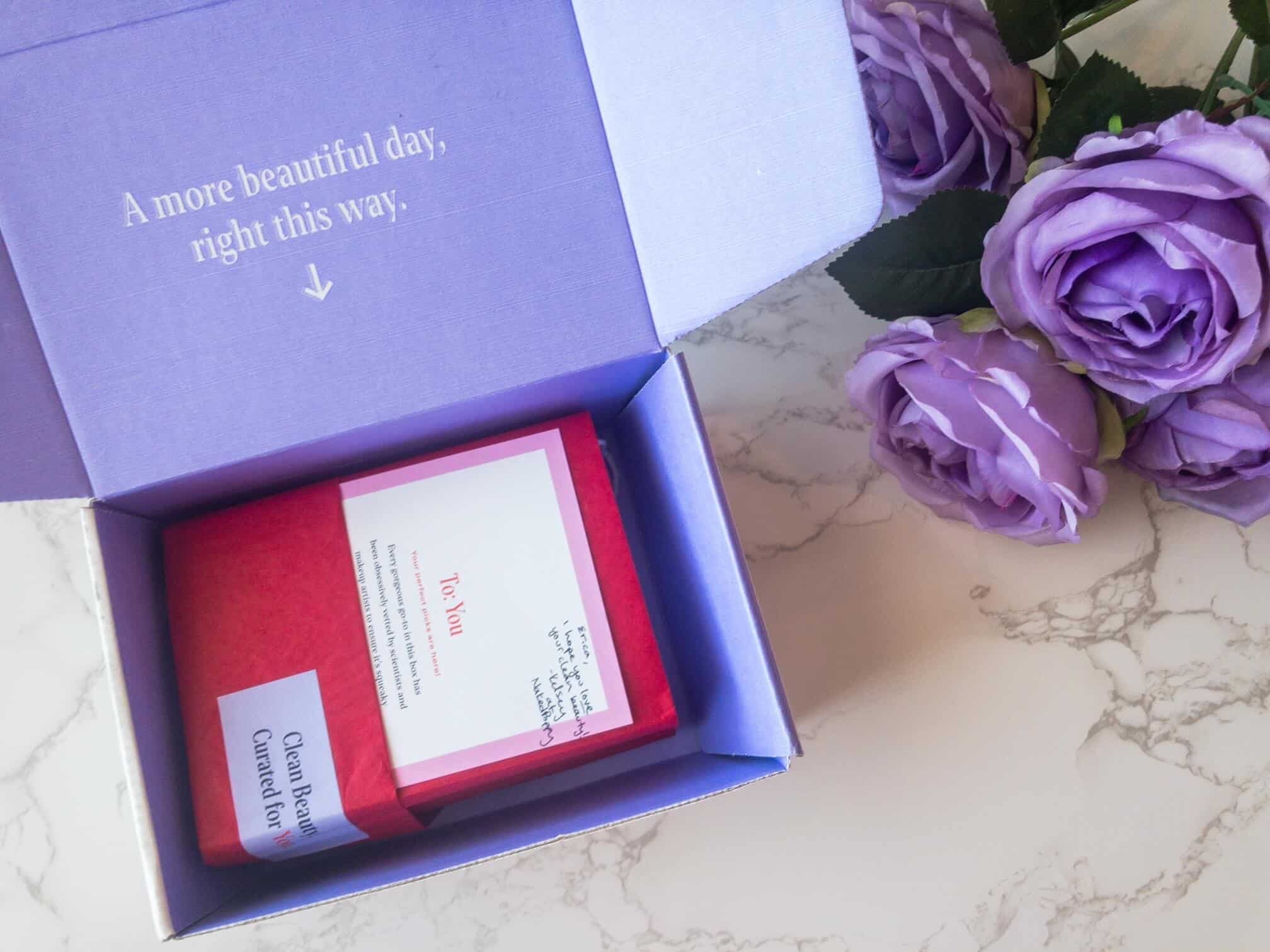 I talk about clean skincare and beauty products a lot. I am always looking for ways to reduce the toxic burden on my body and feel that companies need to be more transparent about their products. I also get really upset when a company pretends to be clean, when in fact, they're just hiding bad ingredients under names that won't show up on the EWG site. If you're looking to see how clean your favorite products are, search them on the EWG site (I wrote a whole post about it here). I aim to use products ranked a 1 or 2 – only a 3 if that's the best I can find that works – but not higher.
Something I love about NakedPoppy is their transparency. Here are some facts about how they vet their products:
Currently, over 12,000 chemicals can be found in cosmetics. Only 950 are allowed in NakedPoppy products.
All products are tested and used by the NakedPoppy crew to test for quality and performance.
Products are clean, cruelty-free and environmentally friendly
NakedPoppy looks for brands that have fair and ethical labor practices.
Shopping NakedPoppy's recommendations means saving time, saving money, getting cleaner, high-performing products and supporting companies that have positive values.
Now that's a good look.
My NakedPoppy Picks: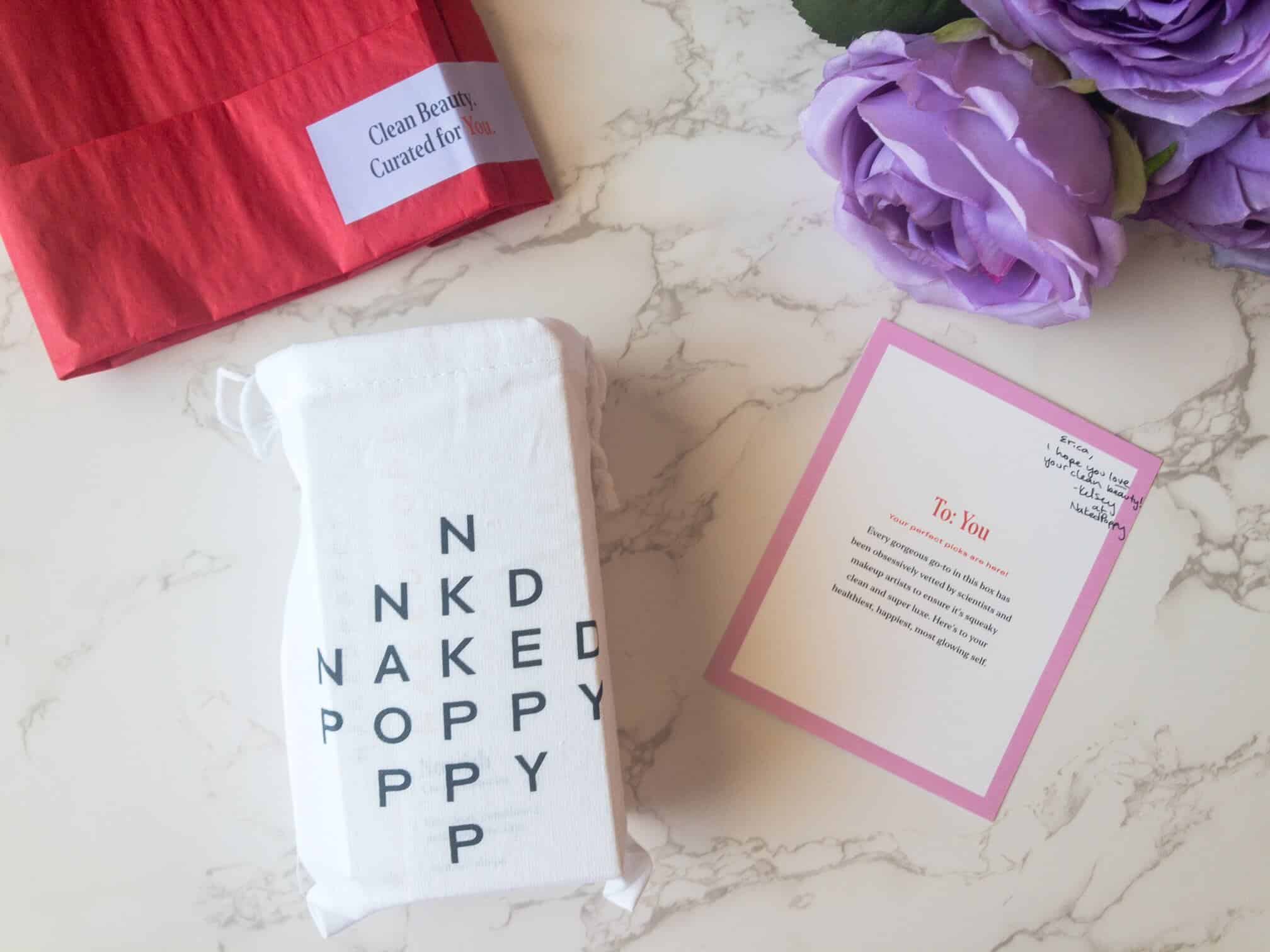 Finally, it's time to peek inside my first colorful NakedPoppy box. I absolutely LOVE the packaging – from the vibrant colors to the reusable pouch. My box came with three products, so I'm going to take you through each one. NakedPoppy did offer these products in exchange for my honest review and I was so excited to try them, since I'd heard of their site and really wanted to check it out! They also offered my readers 10% off purchases of $50+ with code ISPY10!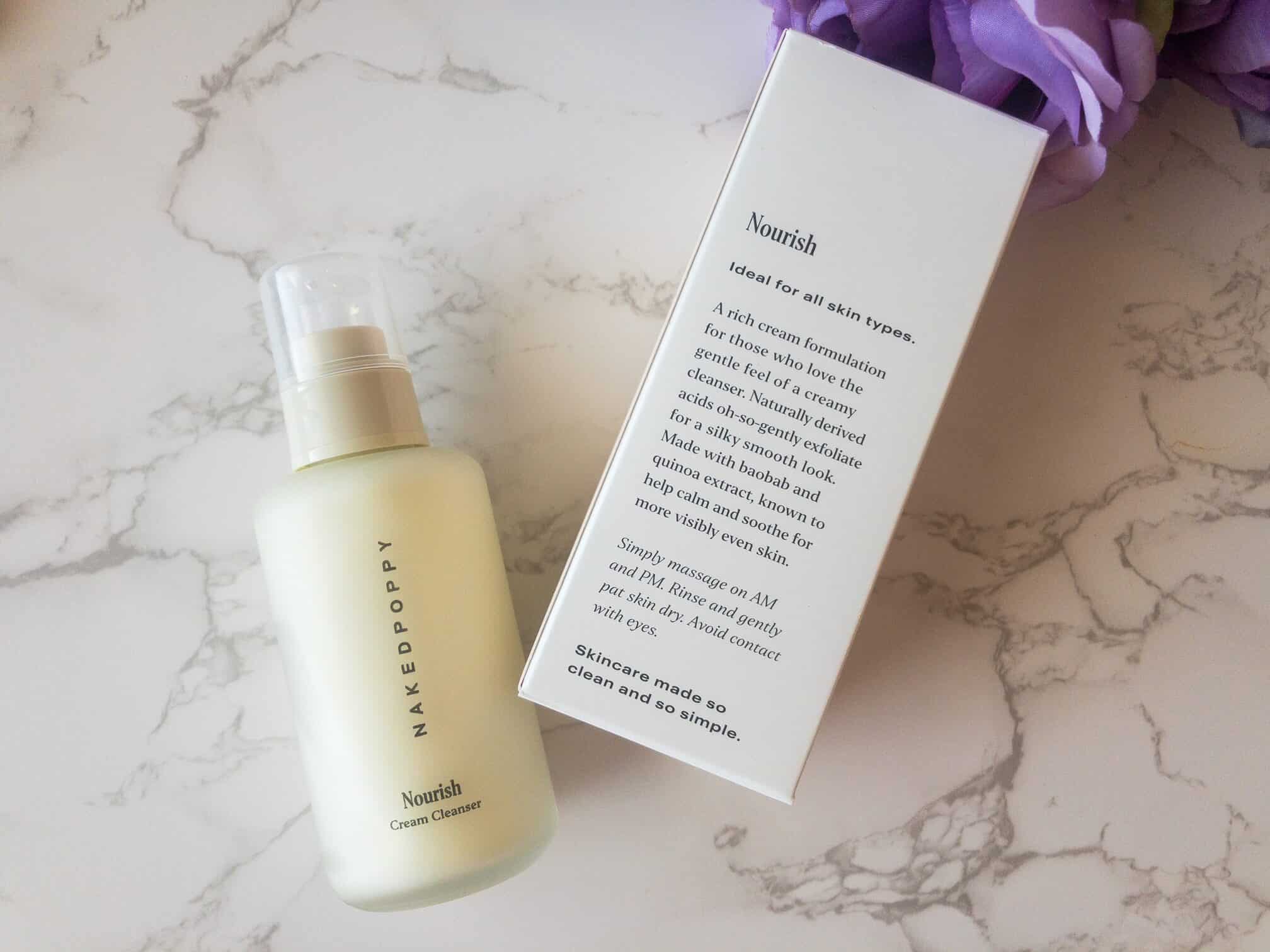 Not going to lie, I have not found a cream cleanser that I like. They've always left my skin feeling a little bit greasy and not clean. So, I was really excited to get this one and see if it could change my opinion on cream cleansers.
The verdict? The glass packaging is really beautiful and has a nice weight to it. And, the best part, the cream cleanser feels amazing on my skin and actually rinses clean! I like to use it in the mornings, because it leaves my skin nice and soft – thanks to the moisturizing oils- which is perfect for before makeup application.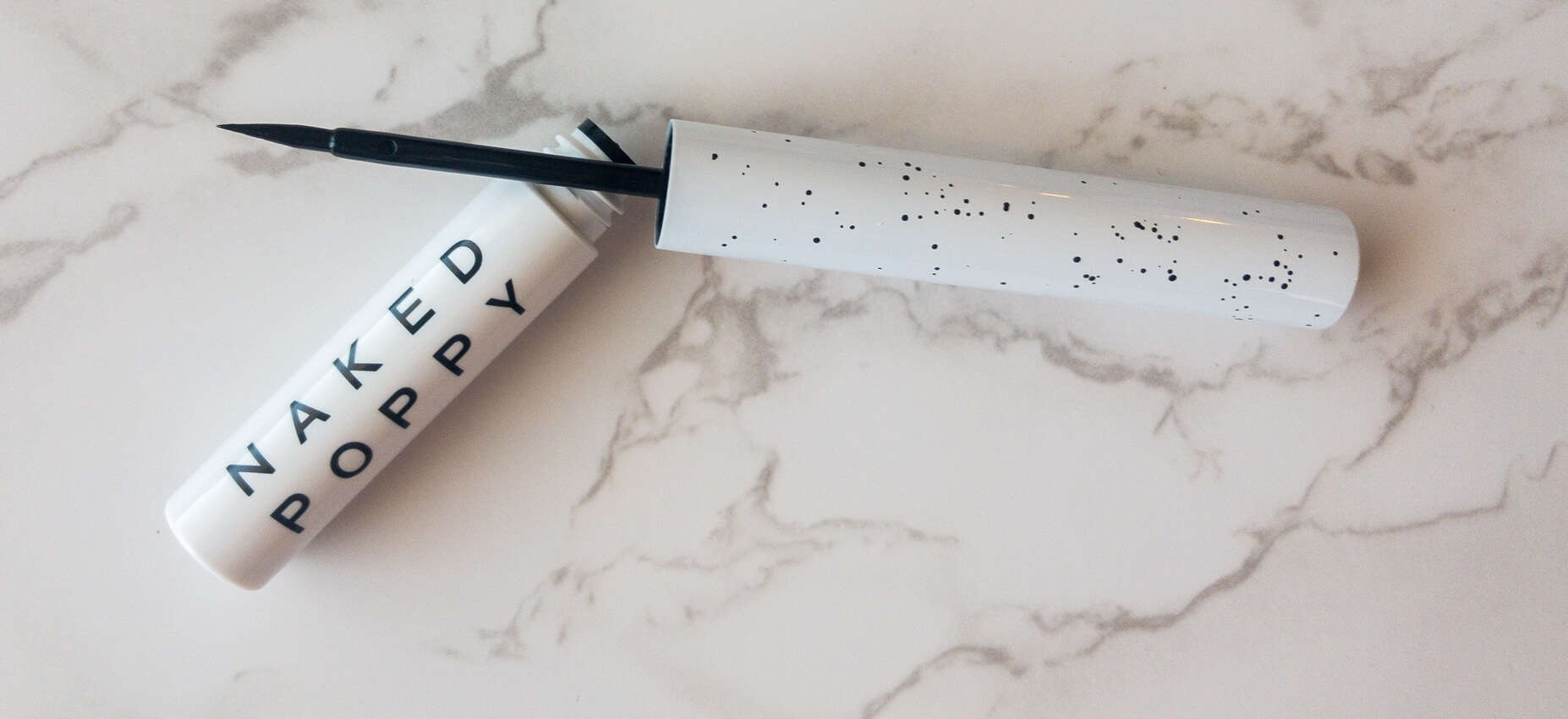 I'm a big fan of eyeliner. I wear it almost every day. It did take awhile for me to find eyeliners that I could continue using after being diagnosed with Sjogren's Syndrome years ago. There are many, many eyeliners that I simply cannot wear anymore.
Lately, my go-to has been liquid eyeliners, too, since they have such a crisp look to them and drop less than kohl liners. But, I'm picky – I have to be able to get a perfect line – and I'm not in my 20s anymore – so the eyeliner cannot feather out or sink into any fine lines. This is a tall order, I've realized, and something few liquid eyeliners have been able to do for me.
This one, by NakedPoppy, is excellent. I love the slightly thicker tip – because I can swipe it once and not have to fill it in at all. And, it stayed all day without budging, but still rinsed off clean in the evening. And, no irritation at all – it was great for my sensitive eyes.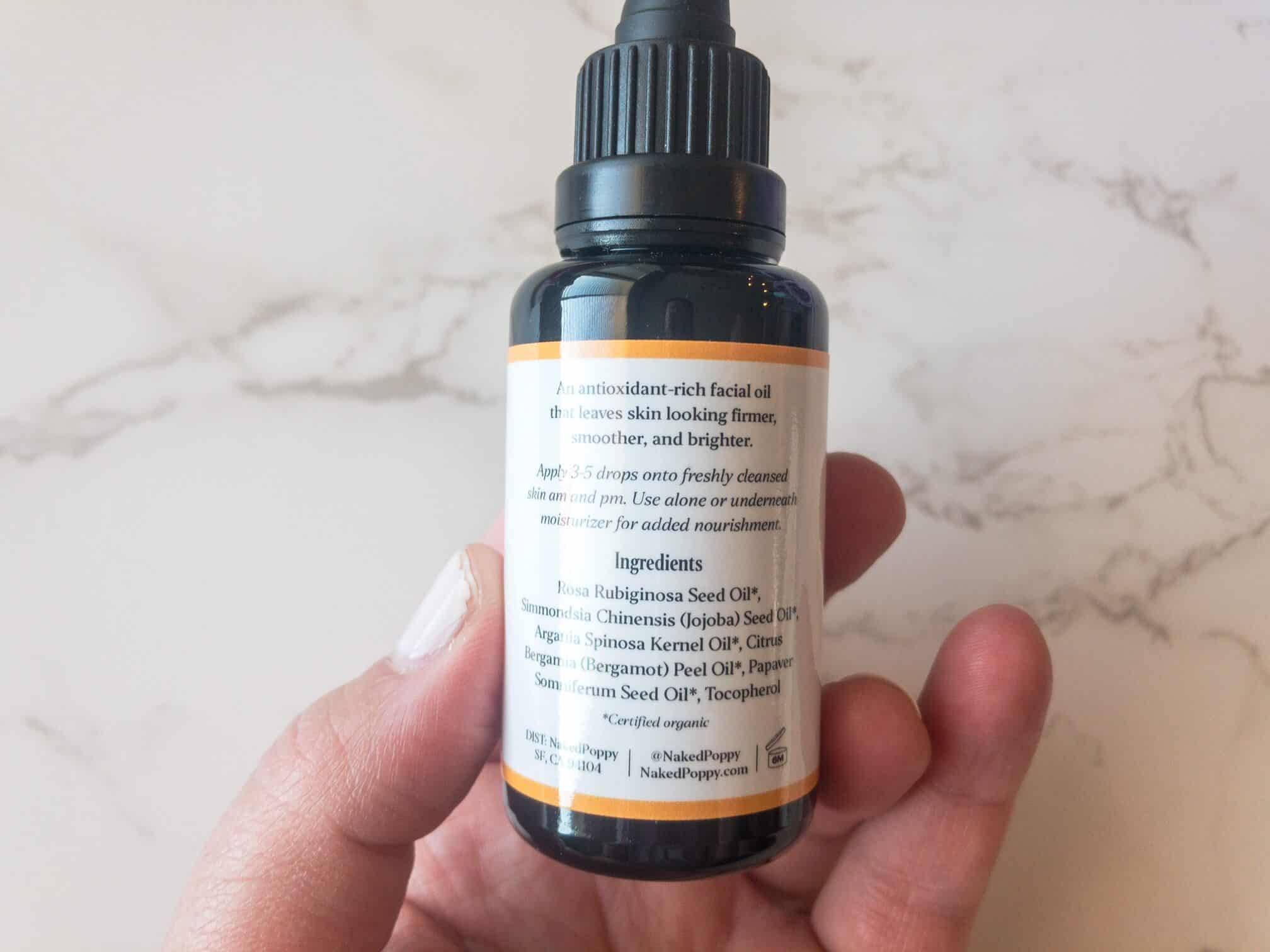 Oh, I love me a good facial oil. I used to stick with a simple blue tansy oil, but as face oils have continued evolving, I now look for one that has a combination of oils for a serious powerhouse product.
This one has rosehip seed oil – one of my favorites – jojoba oil, argan oil, poppyseed oil and more. It is a great mix that soaks right into your skin, leaving it with a lovely dewy glow. I like using it before rolling my ice roller on my face, which really opens the pores and makes the oil soak all the way in.
****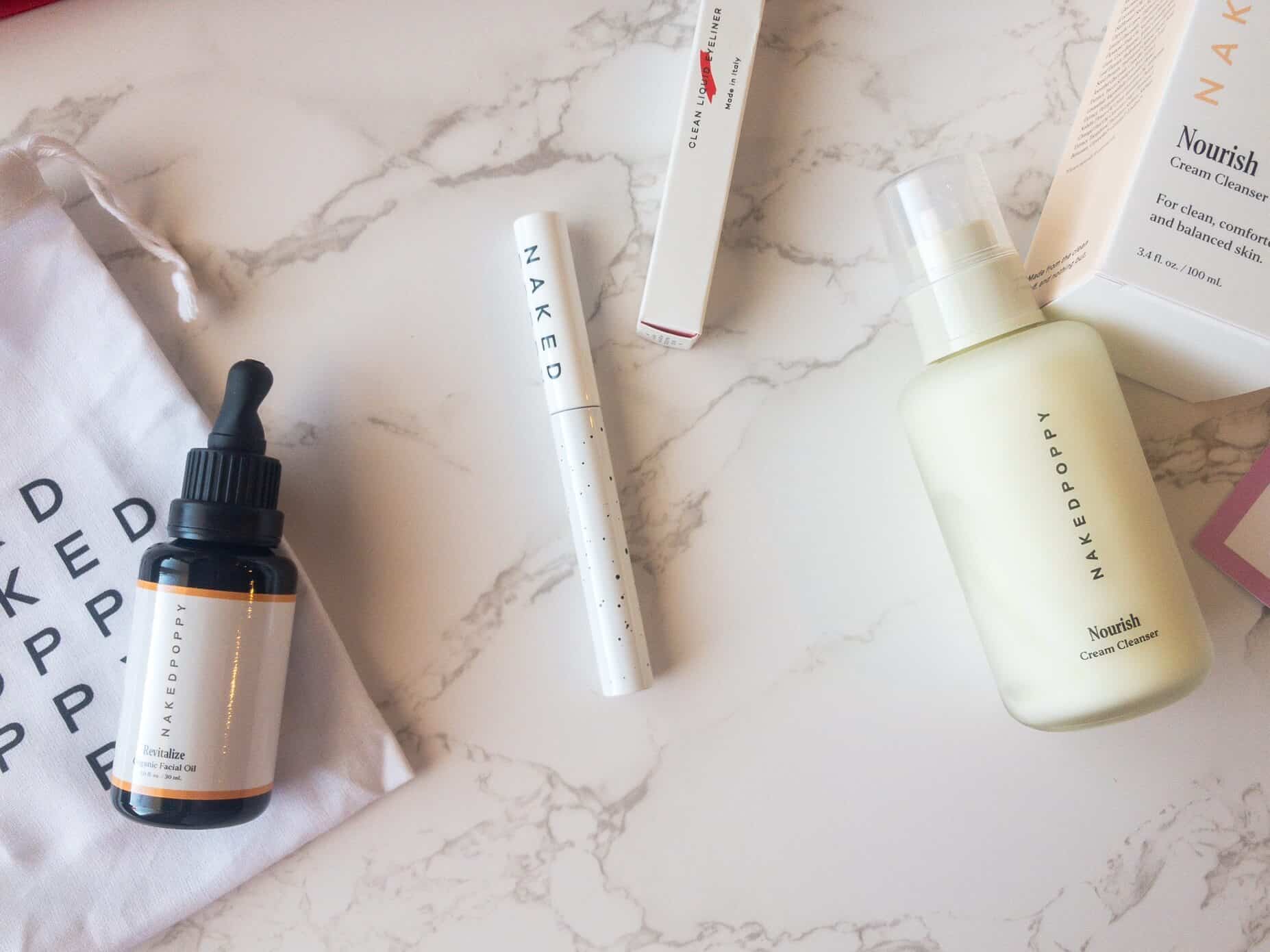 All in all, I'm really loving these three products and I'm super intrigued by this new way of shopping for clean skincare and beauty. I really want to try the Kosas skin tint oil – which fuses skin oil with pigment – and some of the other products in my boutique. I love that NakedPoppy is making these clean beauty brands more accessible and taking the guesswork out of finding the right products for you.
Have you tried NakedPoppy? You can do the beauty assessment for free and see what your personalized suggestions are with no obligation to buy. If anything, it'll give you some interesting things to think about regarding your skin! Don't forget to use ISPY10 for 10% off your order of $50+!
If you've tried it, I'd love to know your favorite product in the comments below!
Have a fabulous day,
E