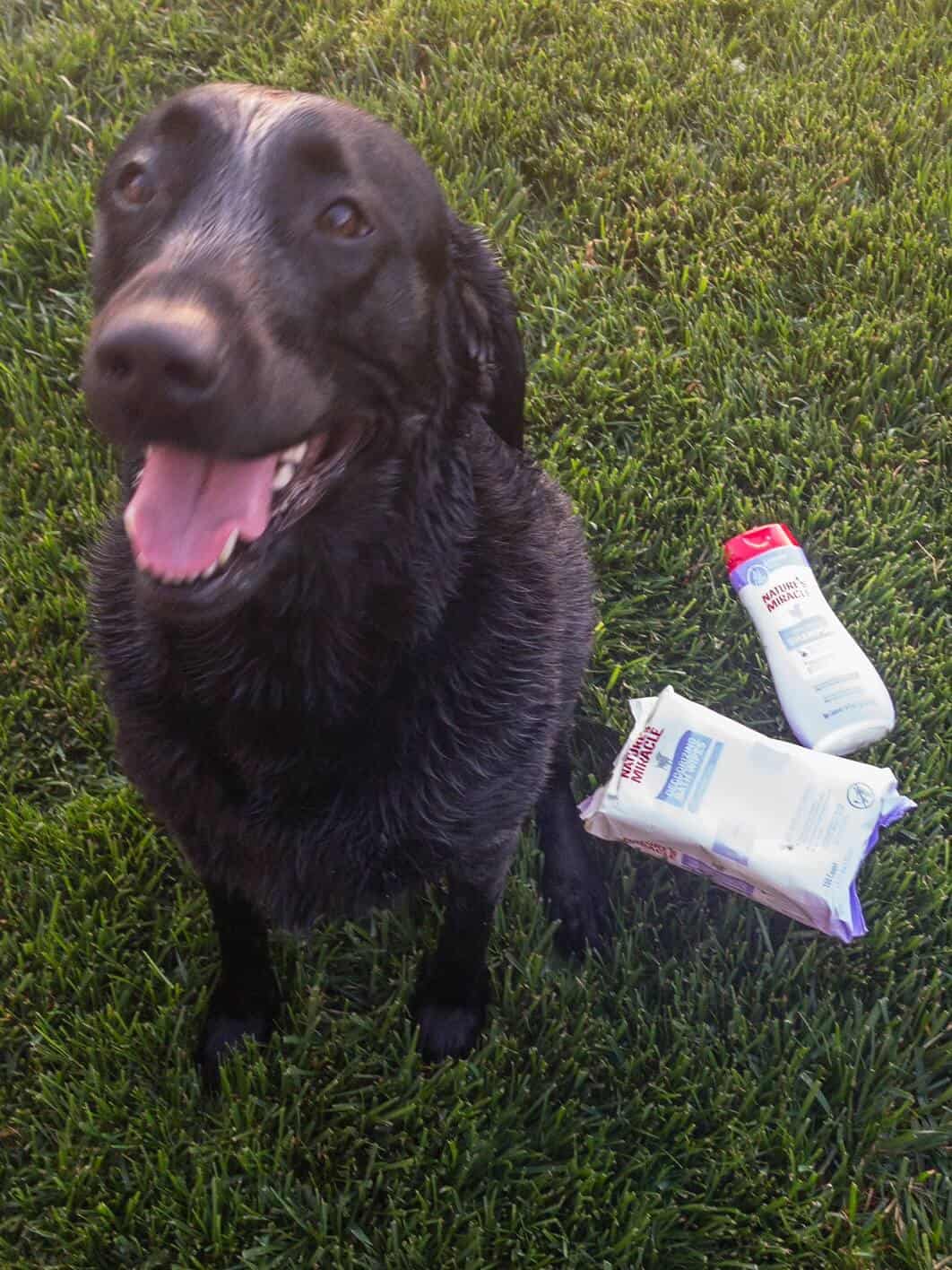 I am super excited to talk about the best dog accessories and supplies that we use every day here with our beautiful girl, Zoey. She's the absolute sweetest pup of all time and my furry best friend. I'm not sure why I haven't shared more about Zoey on the blog – especially since she's my little buddy and she's always next to me while I'm writing blog posts.
But, today, we are going to start changing that! To kick off my pet series, I'm going to share the top pet products – the tried and true dog things that I buy over and over again – and recommend to our friends when they get dogs, too!
For reference, Zoey is a black lab, so her weight puts her in the large category for things like dog beds and harnesses. But, you can grab these items in the weight/size of your dog, to make sure it's the right fit for them.
I'll share a little bit about each one and why it's the best of the best. And, great news, it's all available on Amazon, so you can prime it up baby! While none of these brands have sponsored this post, these are affiliate links, which means if you make a purchase through my links, I'll receive a small comish at no cost to you. Let's go!
The Best Dog Supplies: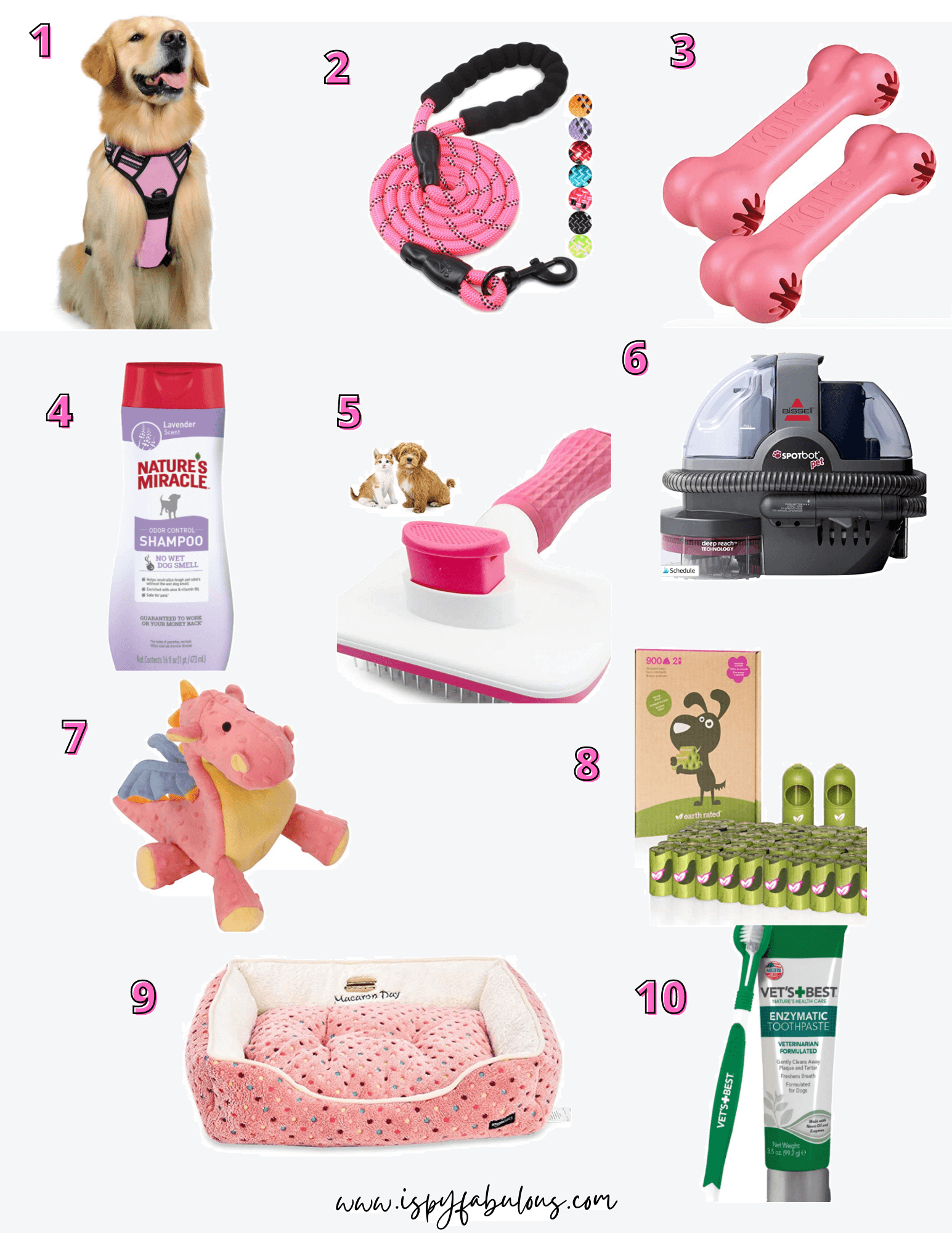 Best Dog Harness & Leash: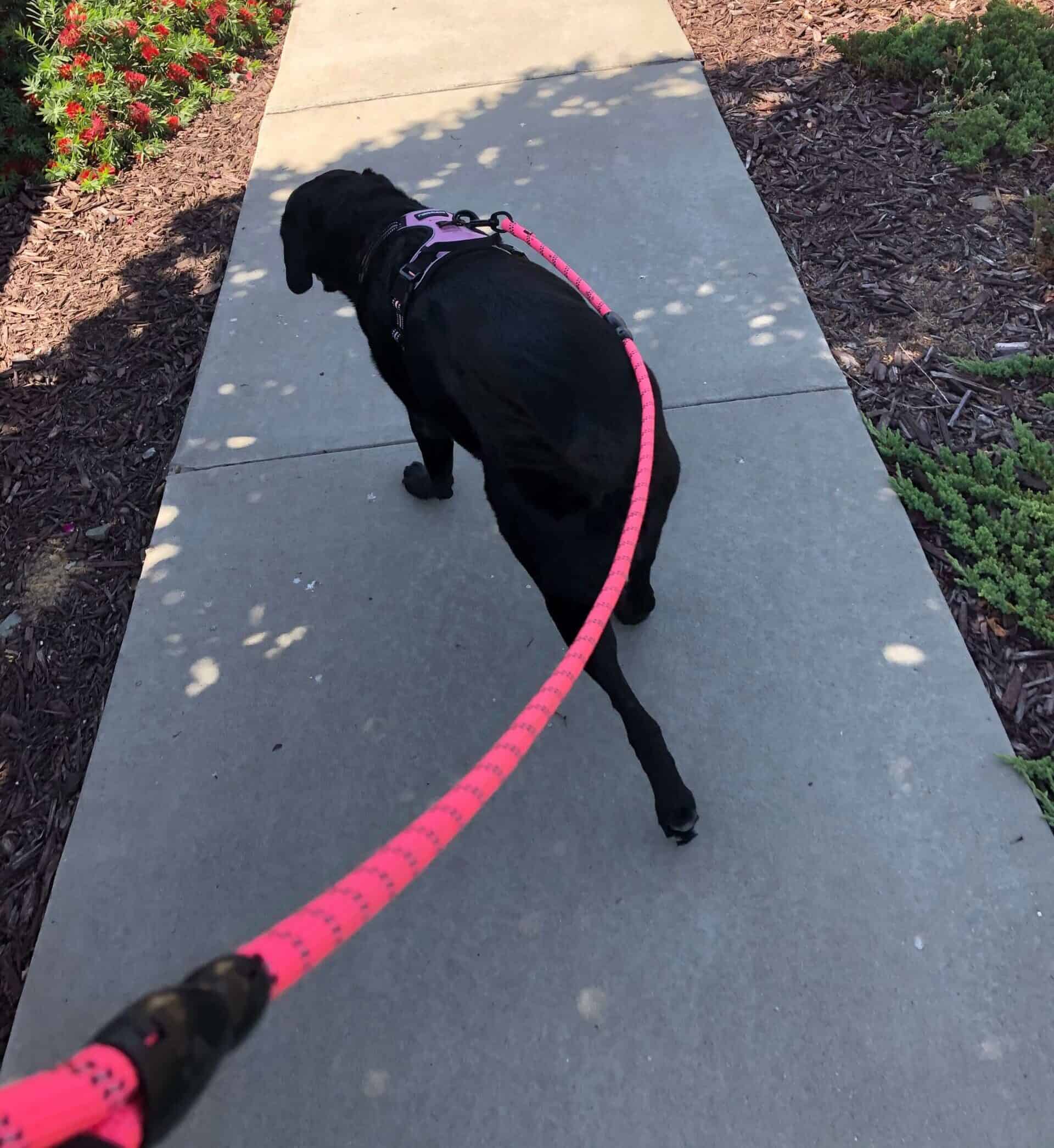 I've been through so many of these, I can't even tell you. I am so, so glad I eventually found this leash, that is super strong and has a really nice, padded handle, and this no-pull dog harness, which does not wrap around her neck, but still allows me to direct her when needed. Both the leash and the harness are available in lots of colors, too!
The harness can be latched on top or bottom – one gives more freedom and one gives less. I have heard that harnesses are not great for some dog breeds until after they've been trained to walk on a leash, so do what is best for you and your dog.
Kong Dog Toys:
Kong bones and toys are the best of the best! Some of them have areas where you can hide treats and this will keep your dog entertained for awhile!
Zoey has destroyed many a dog toy and the Kong's take the longest for her to tear apart. Know that nothing is fully dog-proof – even if it says it is – so you're just going for the best possible option. Kongs are the bomb.com.
Best Dog Shampoo:
I would always get so annoyed that after I bathed her, she still had that wet dog smell – which is sometimes worse than the smell they had before you bathed them! When I found this dog shampoo, which has some kind of odor control technology, I was blown away! She actually smells like lavender after and there is NO WET DOG SMELL! It's genius!
Best Dog Brush:
Yup, you gotta brush them! This brush is really great, easy to clean, and has held up for a long time.
Best Pet Carpet Cleaner:
Yeah, they're going to have accidents. Then, long after they're potty-trained, there will be the occasional mud-streaking event or they will step on something outside and drag it right into the house. If you have carpet, furniture, or anything not covered in plastic, you'll want one of these portable pet cleaners. It'll be so much less stressful when these things happen if you have a pet carpet cleaner ready to go.
Best Soft Dog Toys:
Even though these soft toys don't last too long, they sure do love them! These ones are not that expensive, come in a ton of adorable designs, and when you see your pup cuddle up to it like a baby, it'll all be worth it. Some have squeakers, too, which they really love and the goDog brand has chew guard technology.
Best Dog Waste Bags:
I was using another brand for awhile and it was a mess. They weren't compostable, for one thing, which bothered me, and they were just harder to use and sometimes – wait for it – would break while I was using them or before I could get them to a trash can. Just really gross.
I saw this adorable Earth Rated dispenser with bags at a local pet shop and I've never gone back! I absolutely love them and this super-pack has enough to last you a loooong time. Highly recommend.
Best Affordable Dog Bed: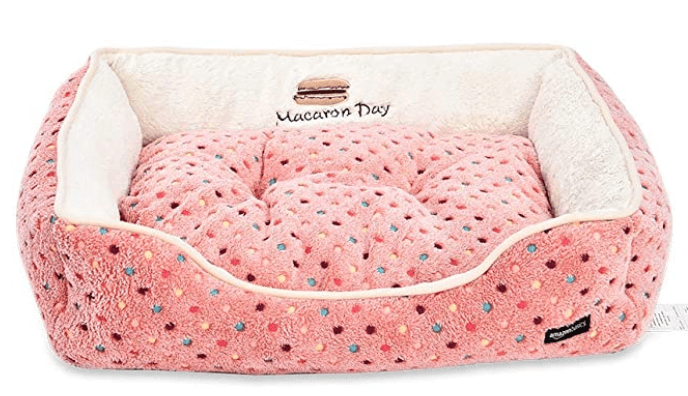 Are you paying more than $30 for a dog bed? You shouldn't be! We all know how often those beds need to be replaced! This super highly rated dog bed is soft, comfortable, affordable and comes in lots of colors/patterns. I am partial to this pink polka dot for my pretty girl! I also really like to pick up dog beds at Homegoods, but they're the same price as this one, and this one is nicer! For reference, we use a size large and Zoey is around 50-60 pounds. This is what happened when I accidentally bought a medium dog bed. Oops: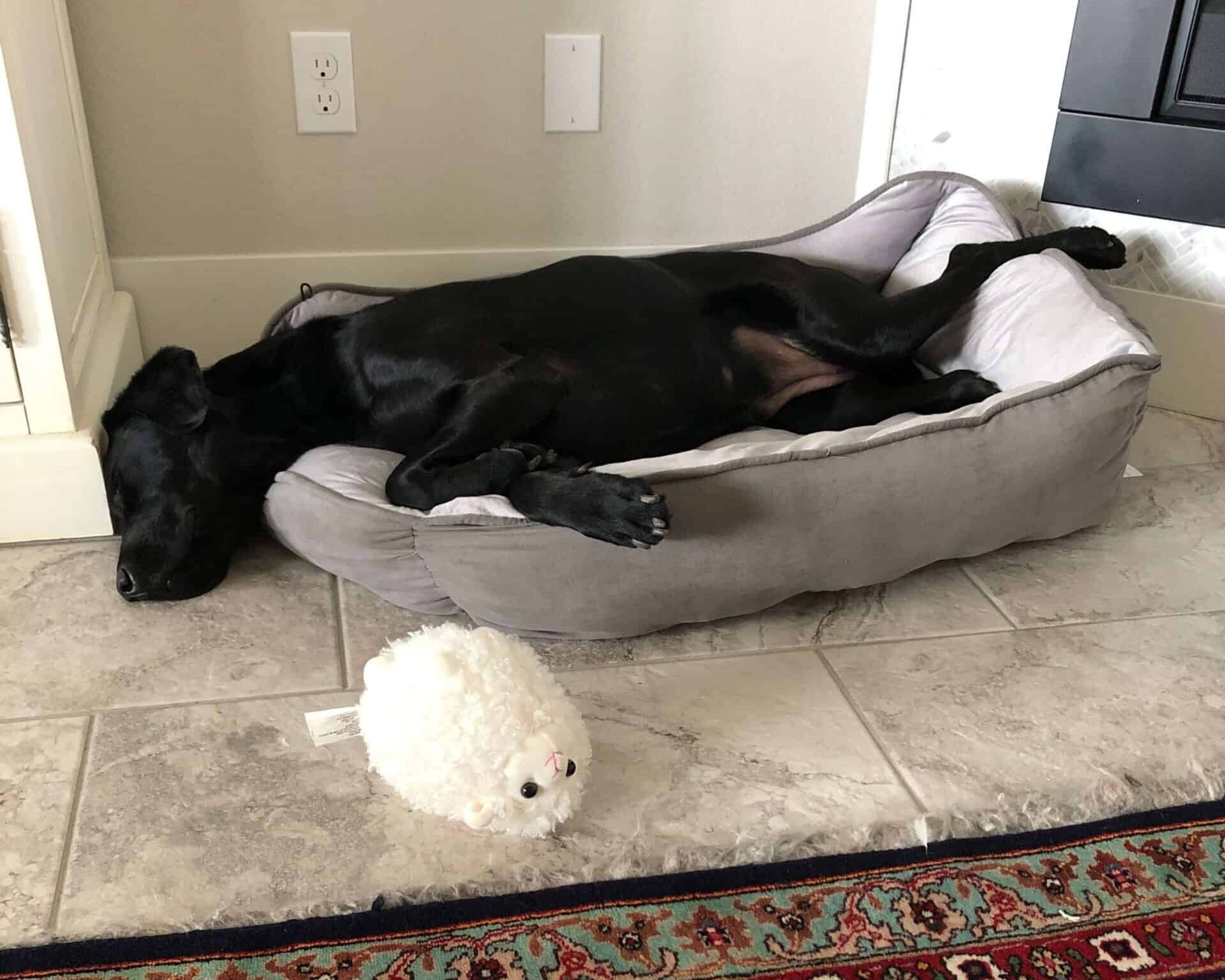 But, then, even after buying her the best dog bed ever – she still likes to cuddle up on the couch: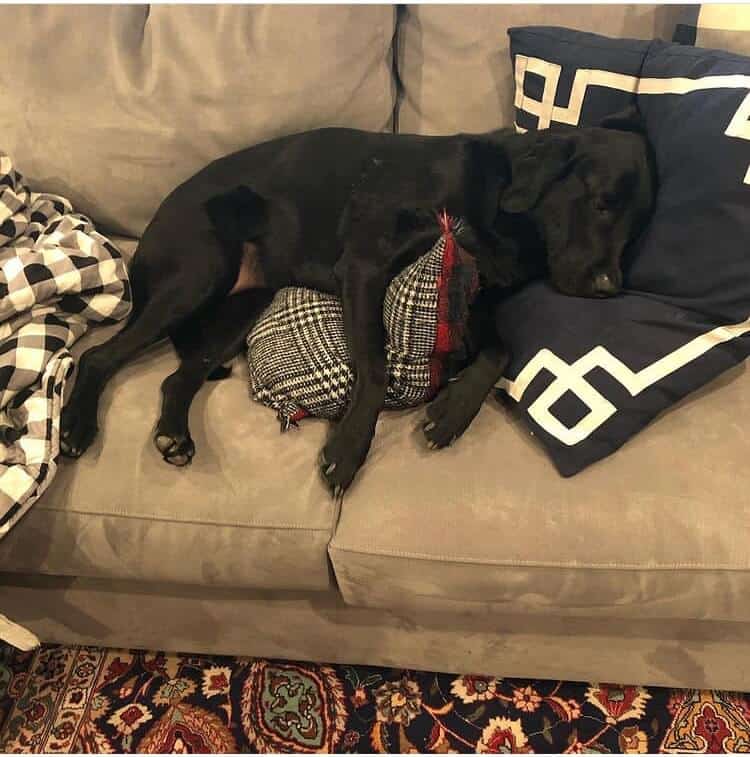 Or, just lay right on the floor: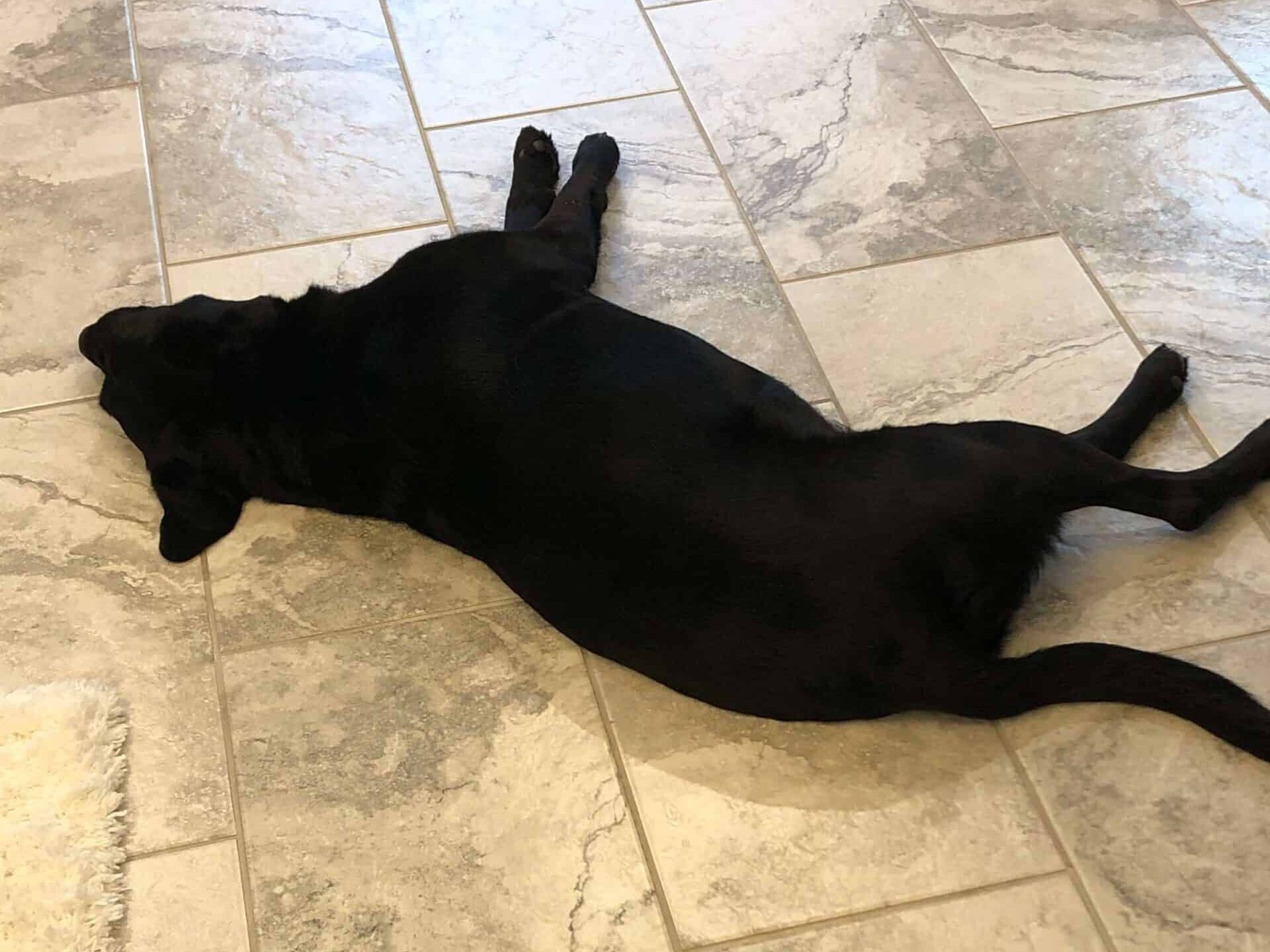 Best Dog Toothbrush and Toothpaste:
Do you brush your dog's teeth? You should! Dogs eat gross things! Plus, it helps them smell nice. Our local vet does dog teeth cleanings and he recommends brushing them at home to help prevent the kind of build-up and decay that he sees all the time. You'll need a strong toothbrush for those chompers. This set is great.
*****
Isn't she just the cutest? If you're wondering why I'm not recommending a collar and dog tag – it's because she hates them and tries to rub them off. We have tried many kinds and I can't personally recommend any of them based on our experience. She is micro-chipped and our yard is fully enclosed, so it works for us. Plus, if she does get out, she just goes to the front door and scratches until we let her inlol.
Also – if you haven't tried apps like Rover and Wag – I have and they've been awesome when I really need her to be walked and I can't do it myself. The dog walkers are phenomenal an the apps are really easy to use. Definitely check them out.
Do you have a pet product you can't live without? I'd love to hear it in the comments below! Also, if you're considering getting a pet – check out these popular posts:
Have a fabulous day,
E