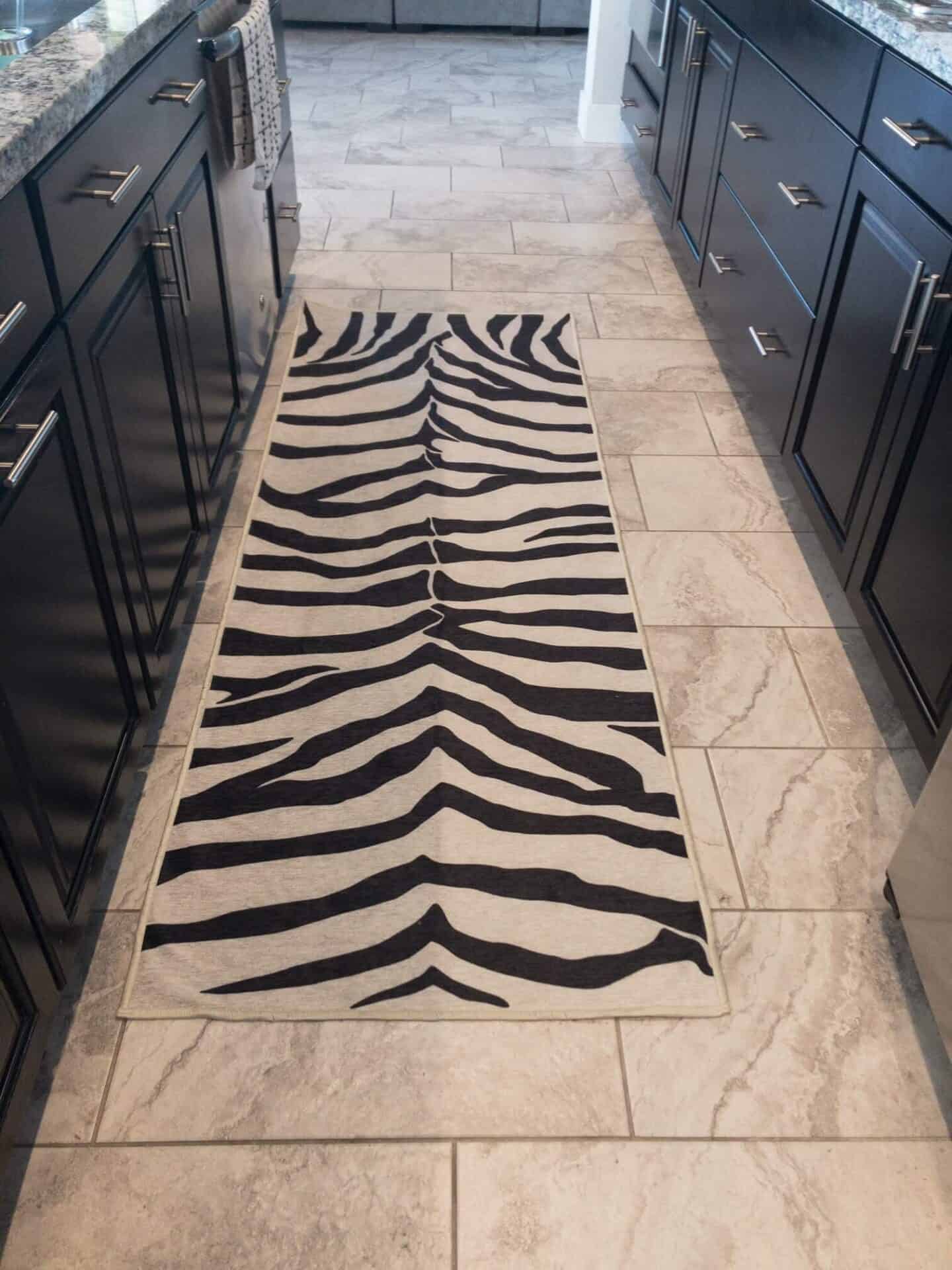 I'm a big fan of rugs. We have them in almost every room of the house – from gorgeous Persian rugs to washable Ruggable rugs. I've learned a lot about buying rugs over the years and can't tell you how excited I was – as a mom of kids and dogs – when I saw the washable Ruggable rugs that came with a sticky mat that stays put.
Wait, I can wash the rug in my washer AND it comes with a rug pad that stays in place? SIGN. ME. UP.
So, when we needed some more rugs for high traffic areas – I knew it was the perfect time to try out Ruggable rugs and see for myself. I bought my first Ruggable rug with our own money about a year ago and very quickly ordered another one for my kitchen. Just recently, I ordered a new Zebra rug topper and that is what inspired me to finally write this post.
I have had lots of time to use them, wash them multiple times, and even switch out the tops, so I'm excited to share the real real about our Ruggable experience with you today. I did join their affiliate program after falling in love with their rugs, so these are affiliate links – which means at no cost to you, I may receive a commission if you purchase through my links. In fact, you can even save money if you use Rakuten, which was offering 10% off Ruggables at time of posting.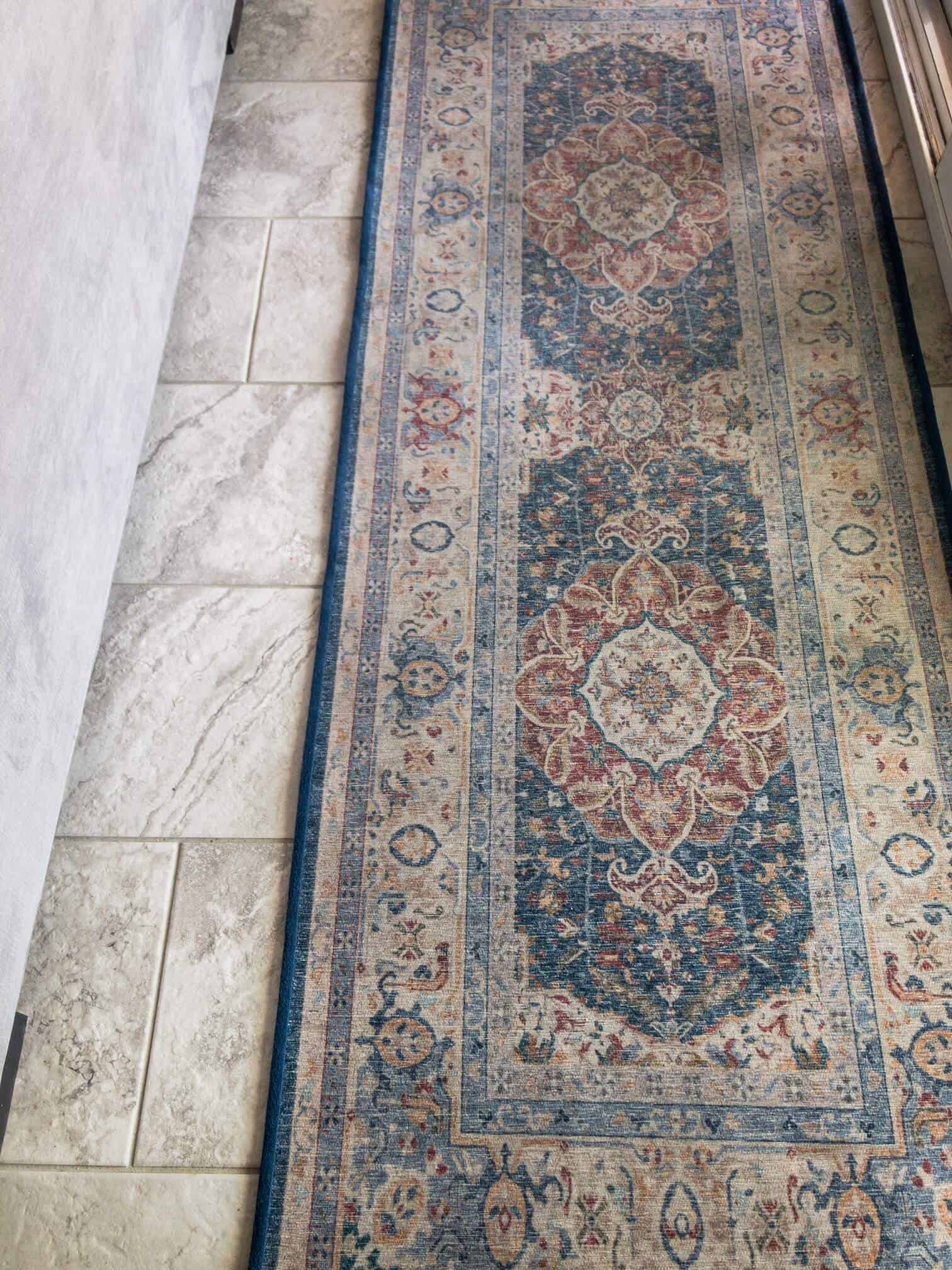 In my experience, there are a few real benefits to buying Ruggable rugs.
Washable – Sure, you can get out your carpet cleaner and run it back and forth over that rug, but you can really reach a new level of clean by just stripping off that top layer and throwing it in the washer. I was concerned that after a few washes, they would start falling apart, but they really don't. Both my rugs are still in great shape.
Sticky – I hate buying separate rug pads and dealing with them moving around and the rug moving around and then you have to keep moving them back into place. It's a mess, especially if you have furniture on top of said rug that you have to keep moving to put the rug back in place! I love the sticky bottom of the rug. It really stays put better than other rugs we have had.
Affordable – Considering how long these last, they are a affordable. You can certainly spend a lot more on rugs without these features and you can spend less. I found that the rugs I spent less on did not last as long as these, so really, they were more expensive in the long run. And, if you get sick of the topper or just want to replace it, like I am doing in my kitchen, you can just buy a topper and not the rug pad – which brings the cost down even more.
Ruggable Things To Consider:
No product is perfect, so I want to keep it real about a couple of things that I've experienced with my Ruggables.
First, if you move the rug to mop, be sure the floor is completely dry before putting the rug back in place. It will NOT stick on a slightly wet floor and in fact become extremely slippery. I've almost been flunk on my back from stepping on a Ruggable that wasn't stuck to the floor. My life flashed before my eyes. I never had this issues with other rugs, so be careful with those Ruggables. Wait for the floor to fully dry. Make sure it's stuck. Safety first.
Second, sticking the top on to the bottom does take a little finesse. It really does stick quickly, so you need to sort of slowly roll it and press out any bubbles as you go. You'll need to redo this after vacuuming, too. When I'm just trying to vacuum really quick and be done, it can be annoying to have to redo the Ruggables, but it's not a huge deal. The conveniences far outweigh this little annoyance.
****
So, there you go! My honest experience with Ruggables have been very good. I love that they are always adding new designs to the collection, too, such as the new plush and soft rug toppers. Love me a thick, soft rug!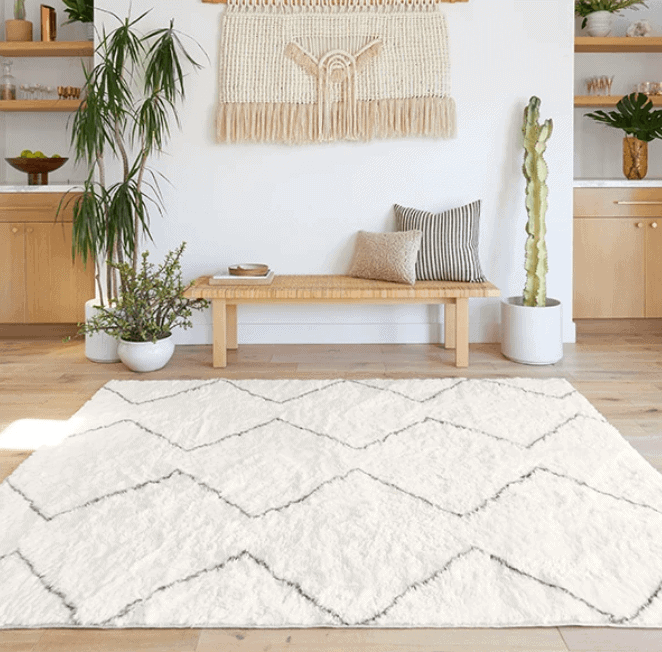 This one reminds of the gorgeous Moroccan rugs I just wrote about in this post (that are definitely not washable in the washing machine)!
I do have to warn you that if you buy a Ruggable, you will probably start to get addicted to them. Everyone I know who has grabbed one usually ends up going back for more. If you read some of the reviews on the website, you'll see people who say they have 8 or 10 of them all over their house! It's easy to stick with something once it works, right?
If you're looking for more rugs, you might also love these posts with some of my other favorite rugs:
Have a fabulous day,
E