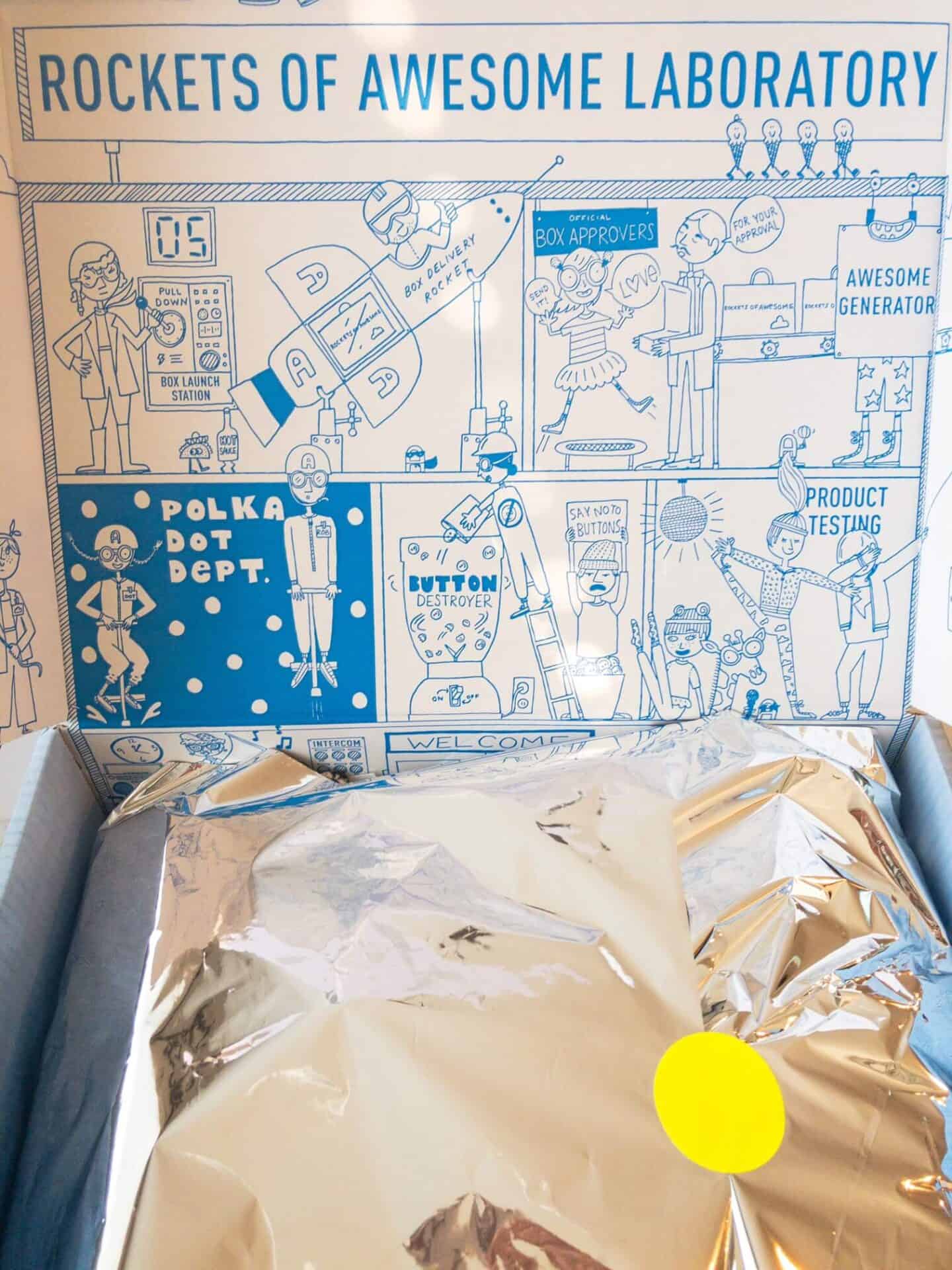 I had a moment the other day. I was just so bored with being at home and everything was feeling so endless and monotonous. I usually try to focus on gratitude, but it was just one of those days. So, I resorted to some good old-fashioned retail therapy. And that's how I ended up ordering my first Rockets of Awesome clothing subscription box for kids.
Y'all know how much I love subscription boxes around here. From beauty to food, and everything in between, I'm a big fan. Yet, I hadn't tried any clothing boxes for kids! How had I allowed this total blind spot to continue?
Well, no longer. I excitedly placed my order for Rockets of Awesome and anxiously awaited my daughter's first box. My expectations were high. Would this box actually be… awesome?
Spoiler alert: It totally was.
If you haven't heard of this box yet, it's a clothing box for kids. Unlike other clothing boxes that carry a variety of other lines, Rockets of Awesome designs all of their clothes in house, so you can't find them anywhere else. Ranging in size from 2-14, their clothes are made from quality fabrics that are easy to wear, but special in design. I feel like the clothes could work for boys or girls, too. (See my review of the boy's box in this post.)
Part of why I decided to order this box was because I was just tired of everything I was seeing online. Nothing was standing out to me. But, as soon as I looked at the Rockets of Awesome site – I knew they would send clothes that were fresh, fun and unique.

Rockets of Awesome Promo Code:
We buy these boxes with our own money and I don't know if ROA has an affiliate program. But, I can offer you a promo code in the form of my referral code – every ROA member is given one – and this will get you a FREE OUTFIT, worth up to $50, in your first ROA box! Hurrah!
Great question. ROA ships boxes 4 times a year and can have 5, 8, or 12 pieces from their unique line, based on the box size you choose. You also fill out a detailed questionnaire to give them plenty of information on size and style for the box recipient.
When your box is ready, you get sent a Peek of your box and you can actually swap out items you don't want in your box. Then, once your box arrives, you'll have 5 days to checkout online and mail back your returns.
You're charged for what you keep and your styling fee is taken from the total. And, if you choose to keep the entire box – you save a whopping 25-45% depending on the box size you chose.
You can choose to cancel or reschedule future boxes if you want or just let them keep on coming!
Now let's get into the good stuff! What was in our box?It was loaded with color, sequins, animal print and more. A huge win – both for me and my kiddo.
1. Leopard Print Hoodie: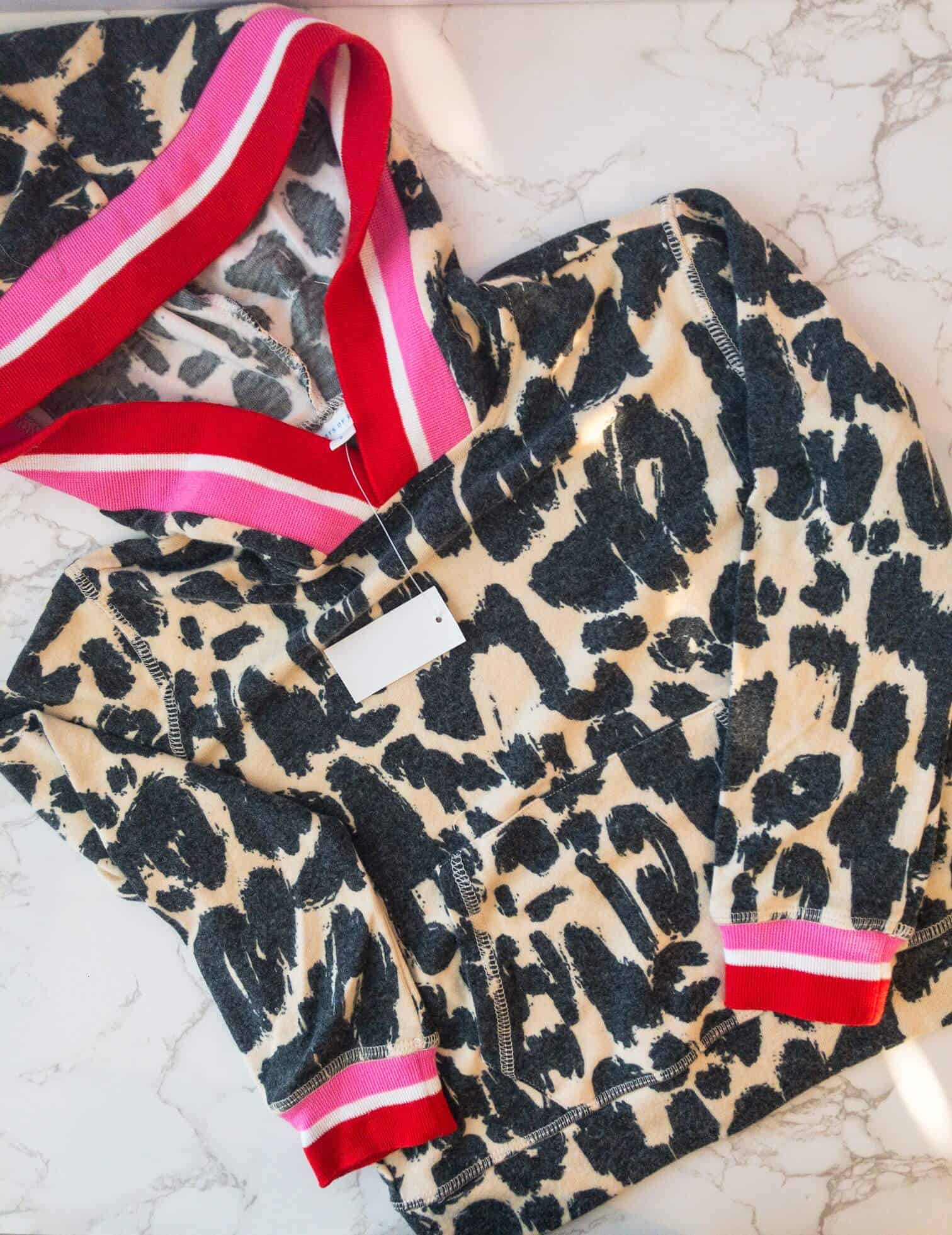 This was one of our favorites. The leopard print, combined with a fun pink and red trim on the hoodie and wrists, was just such a fun and different spin on the animal print trend. Plus, it is absolutely butter soft. She loves wearing it and I love looking at it. Win win.
2. Black Joggers: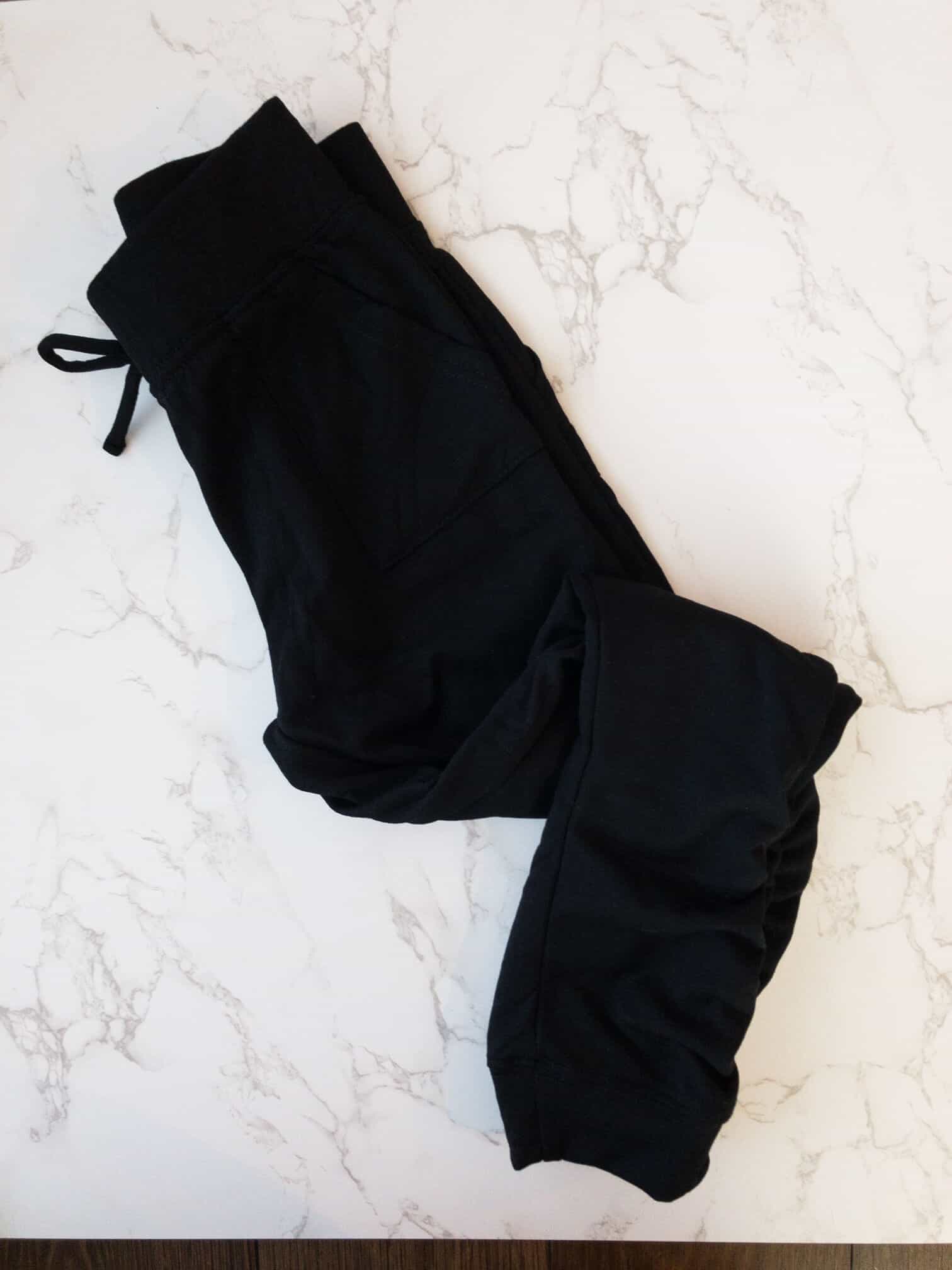 We pair this with these super soft black joggers. It's tough to get a good picture of black pants – but these have an adorable ruching detail along the ankles of the pants. They fit really well and look perfect with the leopard hoodie.
3. SNO.MG Sweatshirt: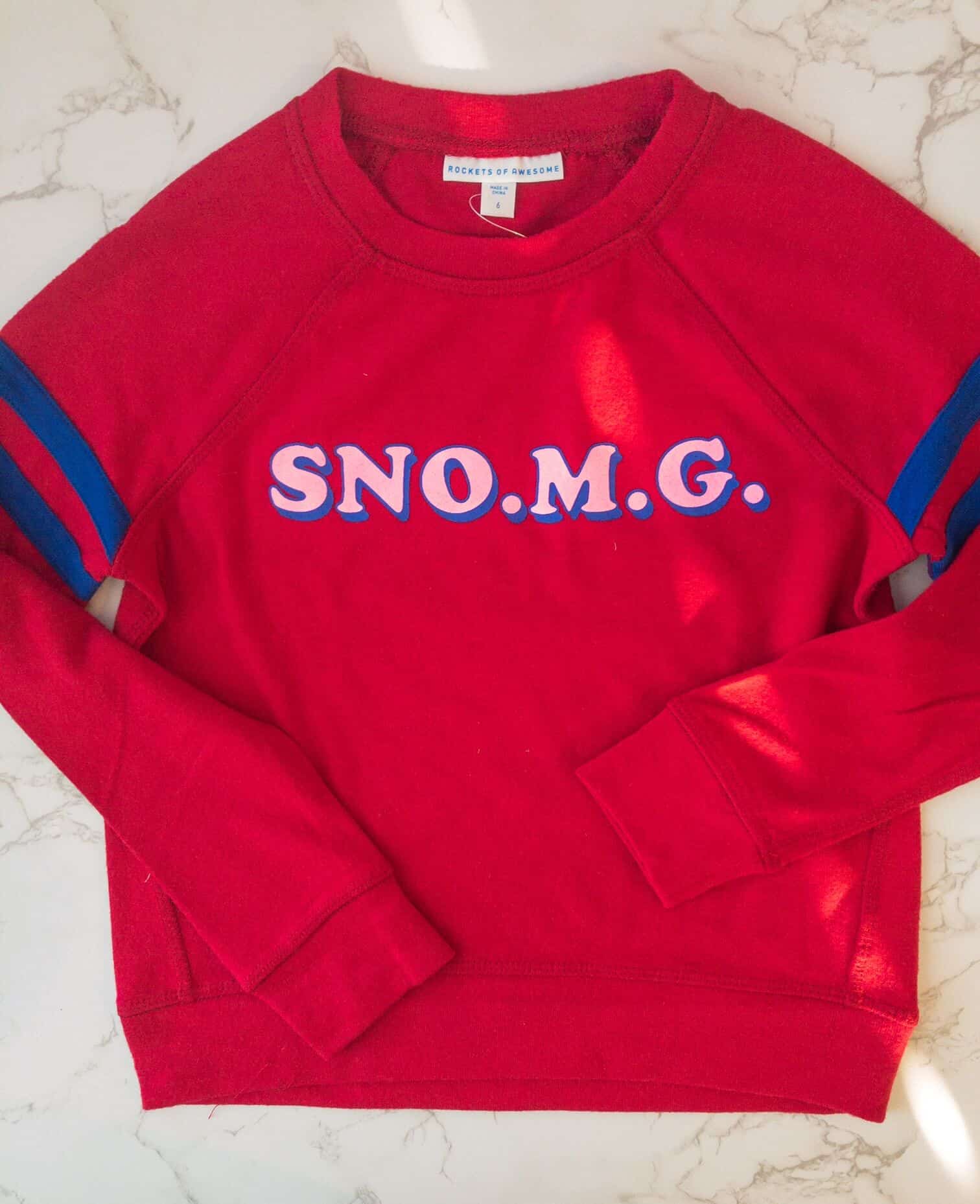 Red is my favorite color. I love this sweatshirt. The bright print and combination of pink and red is so perfect for winter and Valentine's Day. It brighten up a simple leggings and sweatshirt outfit and makes it something special.
4. Sequined Skirt:
Winner winner chicken dinner! The second this popped out of the box, our jaws dropped and her eyes got super big. This is the kind of thing kid's clothes dreams are made of. I don't think I've ever seen anything quite like this in stores and it's everything. It is extremely well made, so we don't have to worry about her playing in it. Several wears in and not a single sequin has fallen off. Plus, it's lined so well, it's not scratchy or uncomfortable at all. Just a total outfit maker.
5. Gray Star Sweatsuit: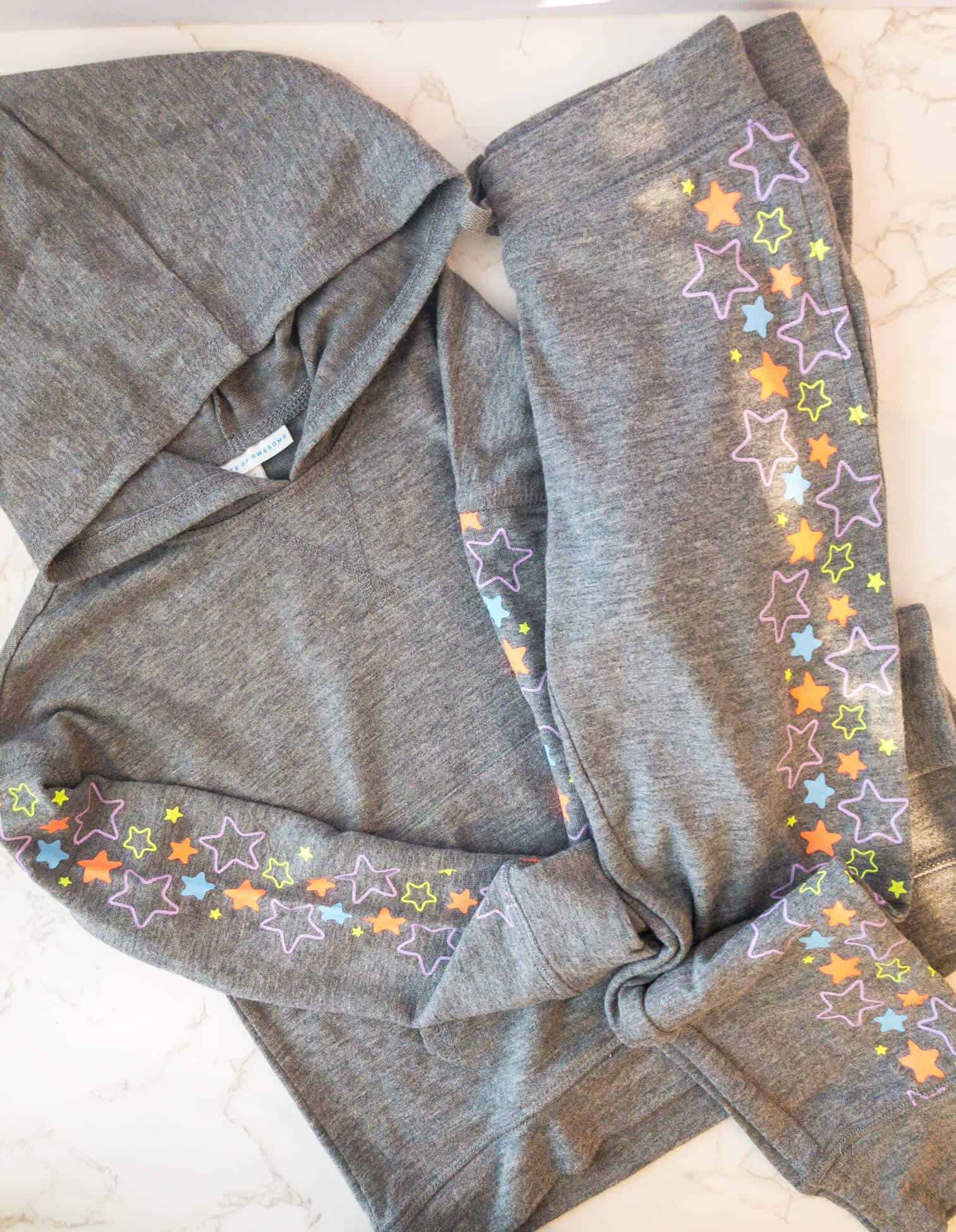 Another awesome creation by Rockets of Awesome. Beyond soft gray hoodie and matching sweatpants, both with a rainbow colored trail of stars along the sides. Talk about the perfect cozy winter outfit.
6. Rainbow Long-Sleeved Shirt: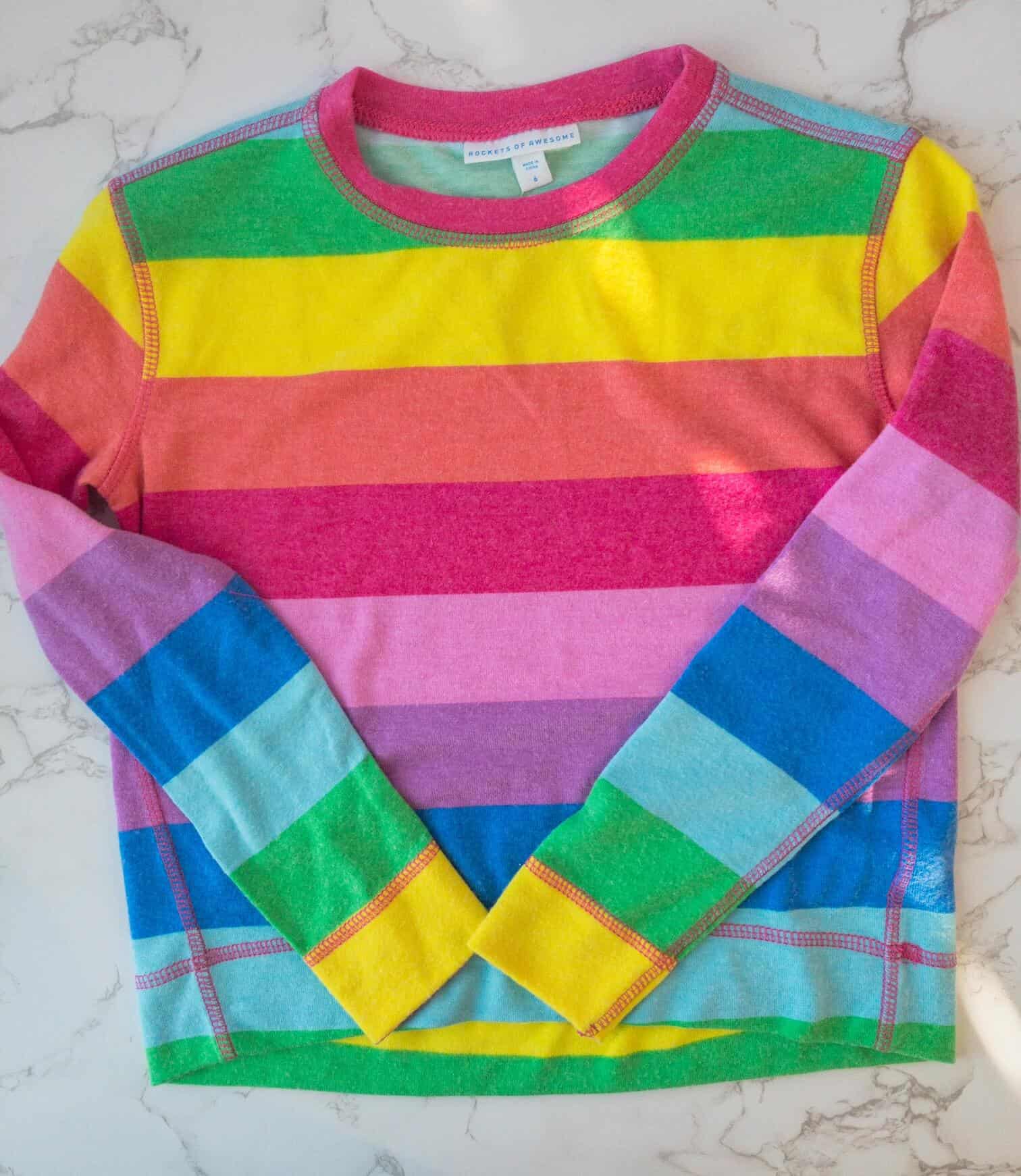 This is sort of in between a long-sleeved t-shirt and a sweater. The rainbow design brings it to life, elevating the simple crewneck design. She wore this with the sequined skirt, of course, because why wouldn't you? But, it would easily pair with the black pants, the gray sweatpants and any number of pants already in her drawer. How awesome is that?
7. Purple Ombre Long-Sleeved Shirt: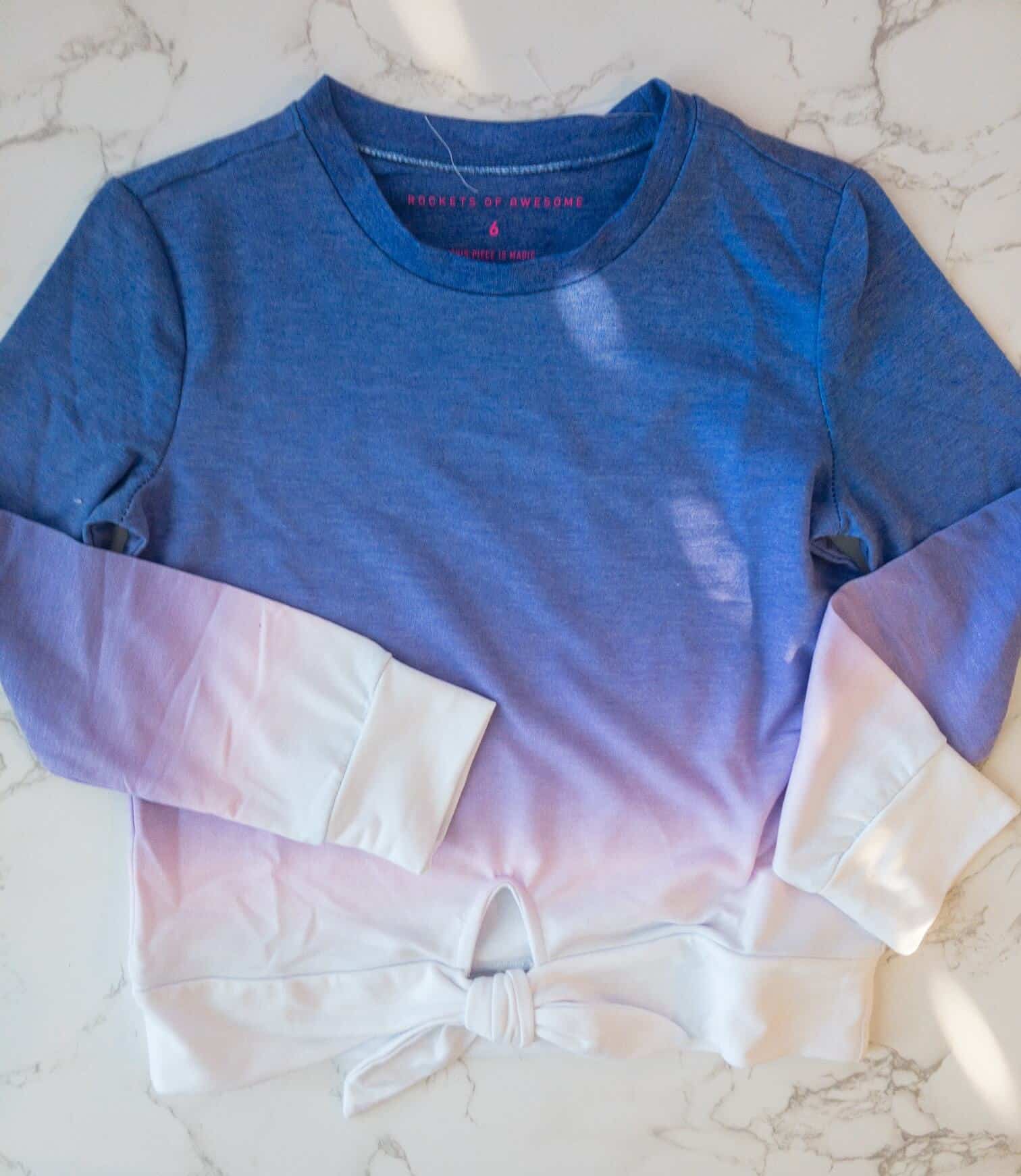 If you could feel this through the computer screen – you'd be jealous of my daughter. I sure am. The weights and texture of the fabrics they are using for these clothes are dreamy. The purple ombre effect is beautiful and the tie at the bottom looks so cute. What I love most about these clothes is you never have to choose between style and comfort.
8. Gray Leopard Hoodie: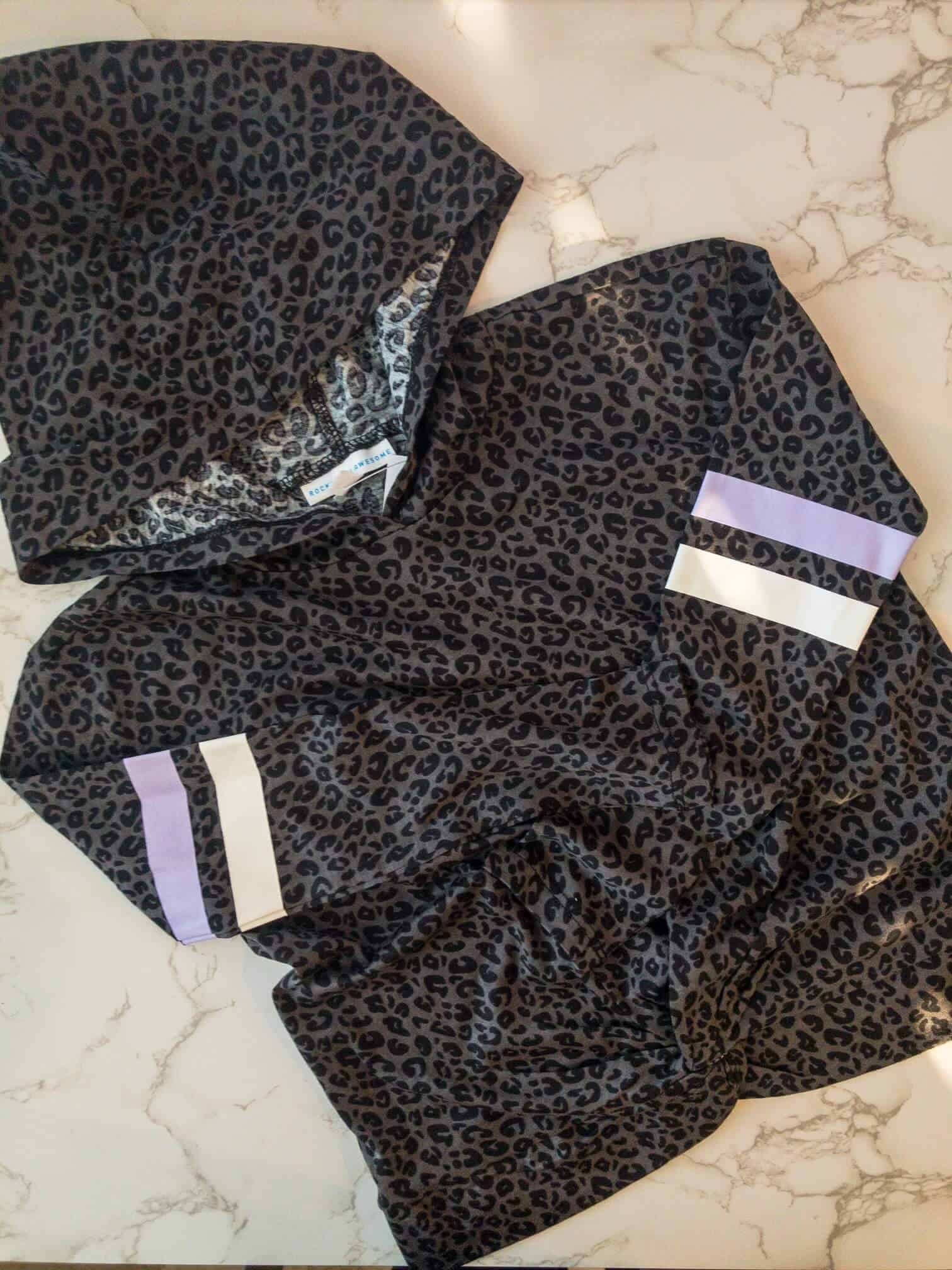 More animal print for the win! I wear quite a bit of animal print, so when this one came out of the box, she yelled, "MATCHERS!" Matchers, indeed. However, I have to say hers is cuter. With the lavender and white stripes on the arms and a twist-front detail along the bottom front hem, I would trade mine for this design any day.
******
We absolutely loved our 8-piece collection from Rockets of Awesome. Their clothes are fabulous. I love seeing my daughter light up when she gets to put on her clothes in the morning.
If you're looking for an infusion of seriously fun, unique clothing for your kids, I would highly recommend checking out the Rockets of Awesome boxes. Use my referral code to get a free outfit up to a $50 value. That makes it practically no risk!
And, you can even participate in their clothing recycling program for extra credit. Put gently used old clothes in the blue bag and send it back to them for credits you can use towards your next favorite Rocket of Awesome outfit.
Have you tried clothing boxes for kids? I also ordered a Stitch Fix for kids so I could do a little comparison. So, come back to the blog soon to read that review!
For more subscription box reviews, you may also like these posts:
Have a fabulous day,
E