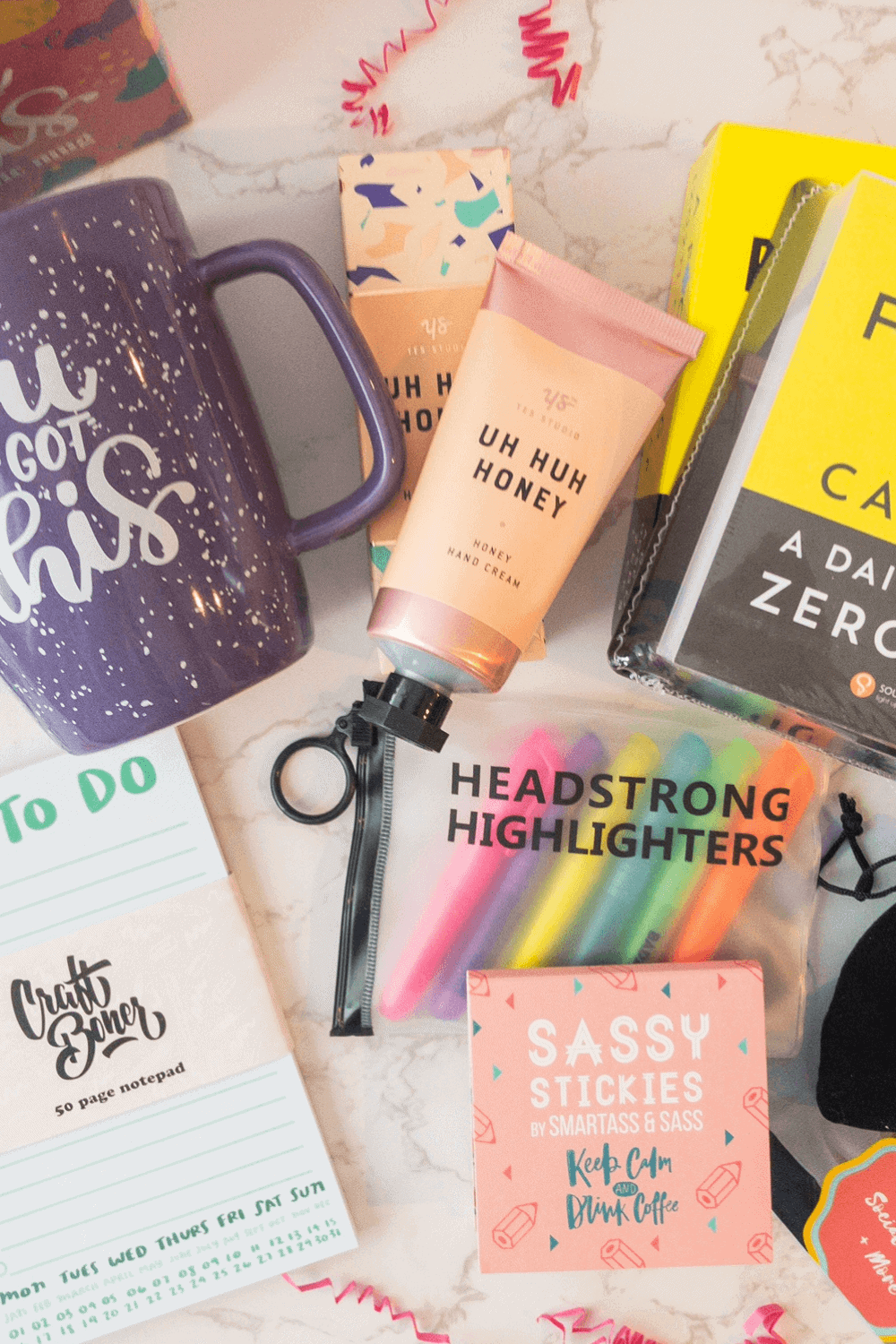 I think we can all agree that the end of 2020 wasn't a sad goodbye. I even heard about neighborhoods that broke out in cheers and car honks during the final sunset, lol.
I know most of us are hoping for a better year ahead (unless you own a TP business – in which case – 2020 might've been your best year yet). 2020 wasn't all bad, though. I received a little box of sunshine right before the end of the year that was like the perfect little punctuation mark to 2020. In fact, I loved it so much, I've already forwarded the joy in the form of a birthday box to a very good friend.
So, if you're in need of a good laugh, a box of joy, or the perfect gift idea for someone sassy in your life, you are going to love the Smartass & Sass subscription box – the box designed for – well – smartassy, classy and sassy people. I am so grateful that the good people at S&S sent me this box to review. Affiliate links are used below, which means if you want your very own S&S box (and why wouldn't you?) and purchase through my link, I'll receive a comish at no cost to you.
You're gonna love this one.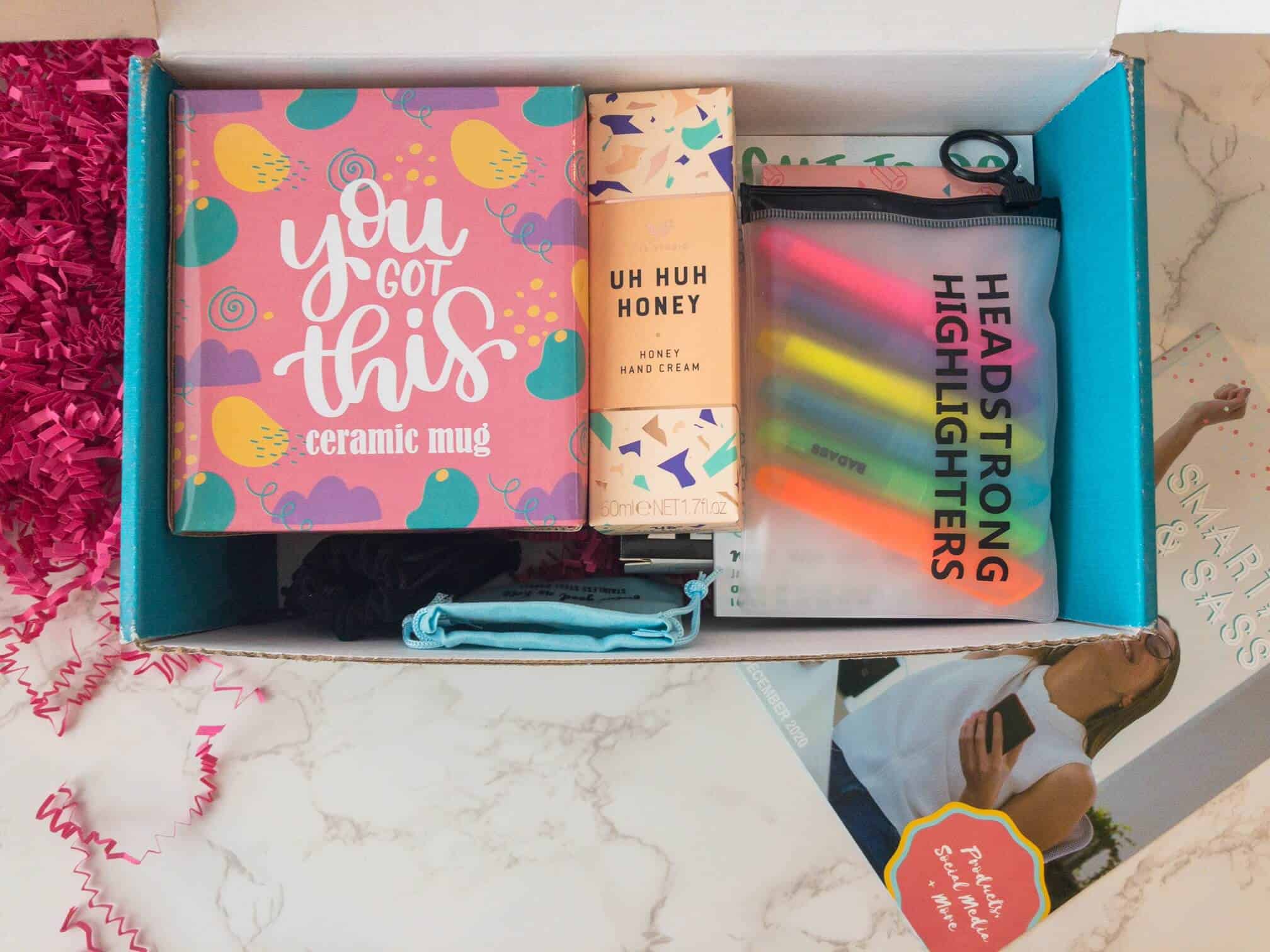 Smartass & Sass delivers laughs, sass, and sarcasm straight to your door – in the form of super useful products that will bring you joy over and over again. This box comes monthly and you can choose one of three plans. Each month has a theme, all inspired by badass boss babes who are movers, shakers, and sassholes. Choose the box that fits your lifestyle and/or budget and get ready for a good laugh left right on your doorstep.
The Plans:
The most affordable plan is their custom shirt monthly and they look comfy and hilarious.
The second plan has 5-7 full-size items, incorporates both custom S&S designed products as well as awesome products made by artists & small businesses. This is the box I was lucky enough to review.
Upgrade your box to include both the t-shirt and the box of goodies, all bursting with snark, sarcasm and sass. Here's a snapshot of the plans and prices: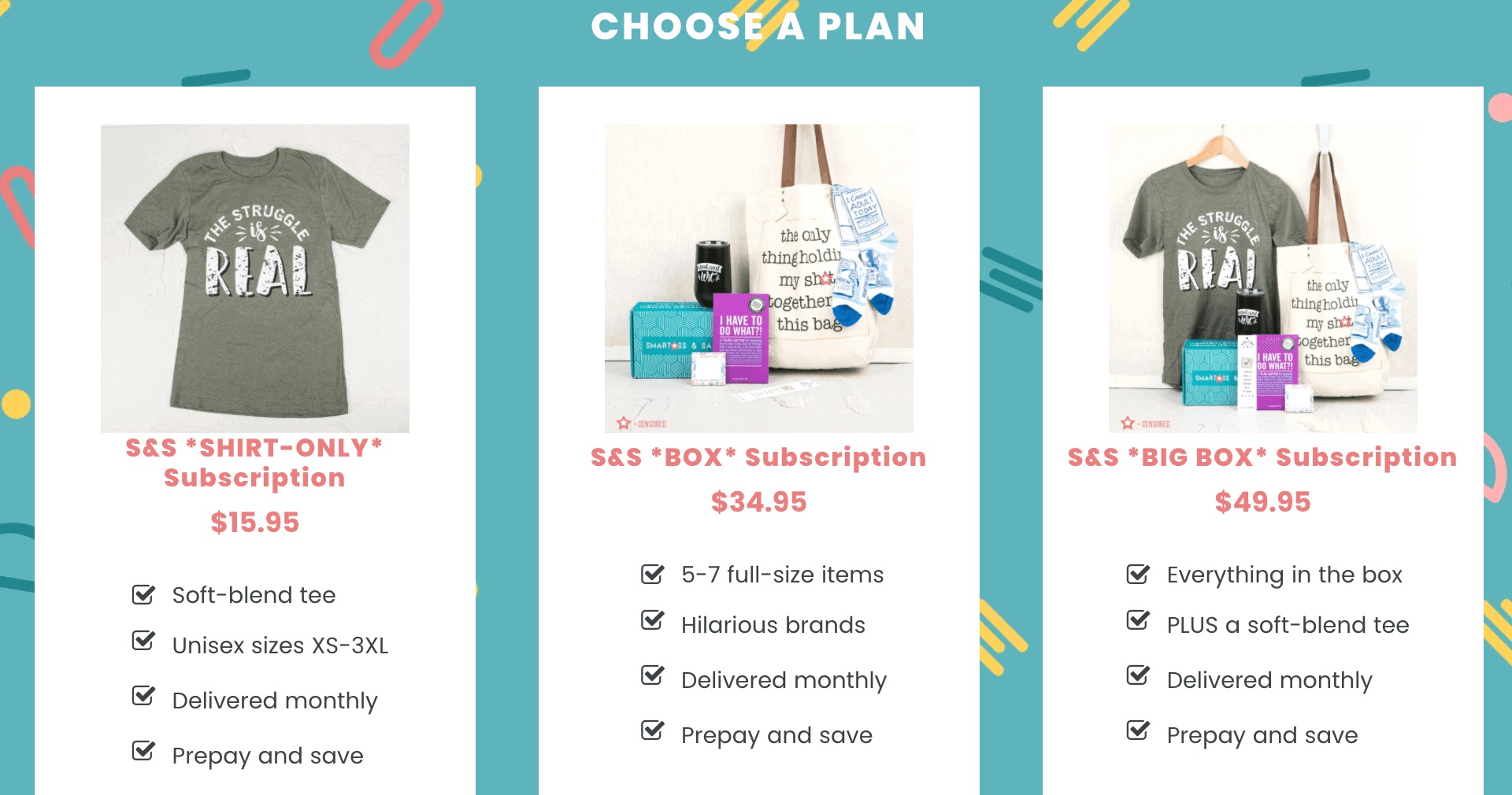 Let's get to the good stuff – what was in MY Smartass & Sass box and did it live up to the hype?
I have to say I've seen the hilarious marketing for this box for awhile now and their mission to create a box for people who "love to laugh, have a sarcastic sense of humor, and have the mouth of a sailor" is a big check, check and check for me.
Idid not disappoint. As soon as I opened the box, I started giggling. It literally took like 2.5 seconds for me to see the artfully arranged items with hilarious names like, "Craft Boner" and "Headstrong Highlighters".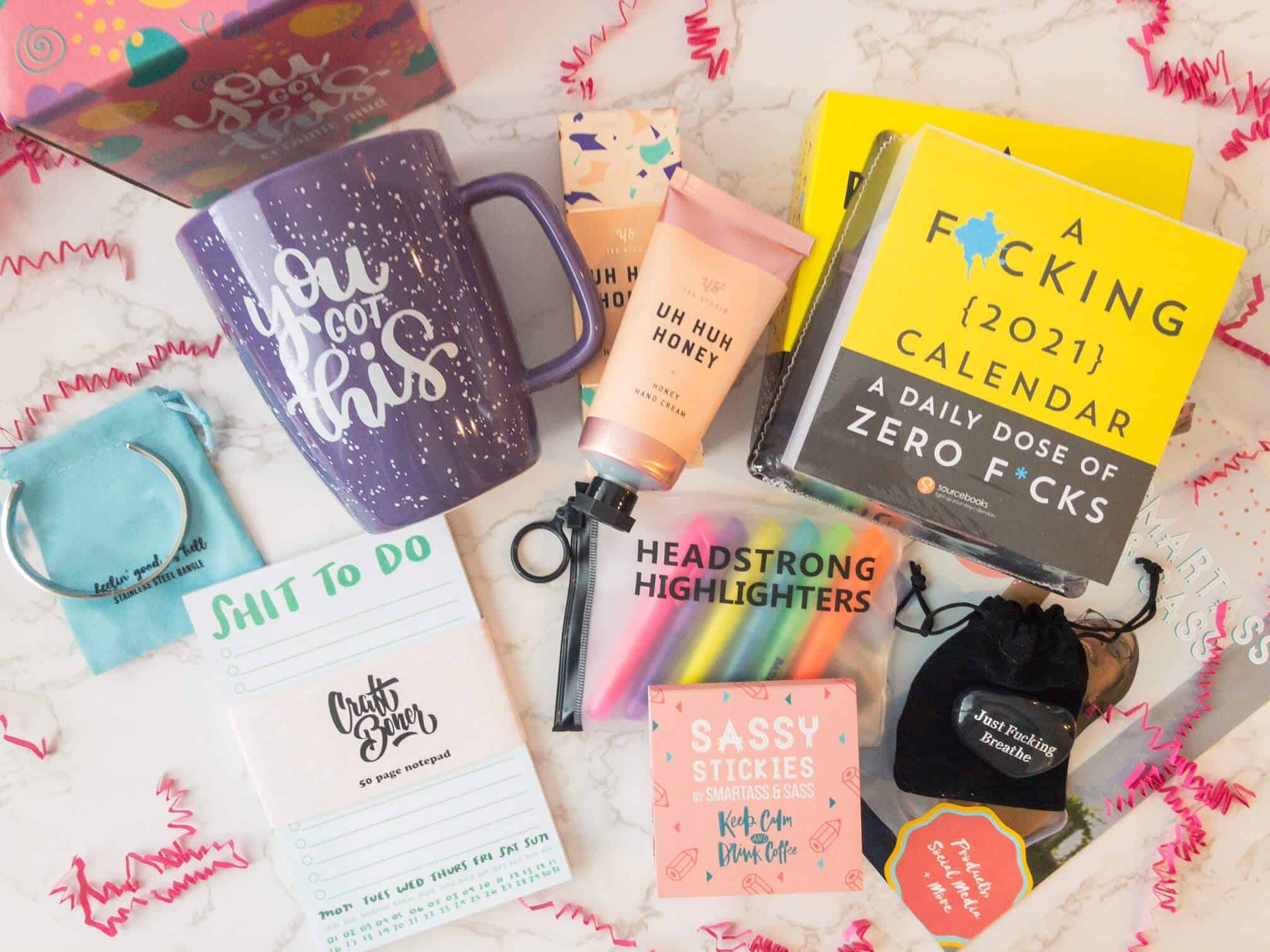 Then, as I dug deeper – that giggle turned full-blown as I uncovered gems like this black stone emblazoned with the phrase, "Just f**king breathe."
Namaste Stone: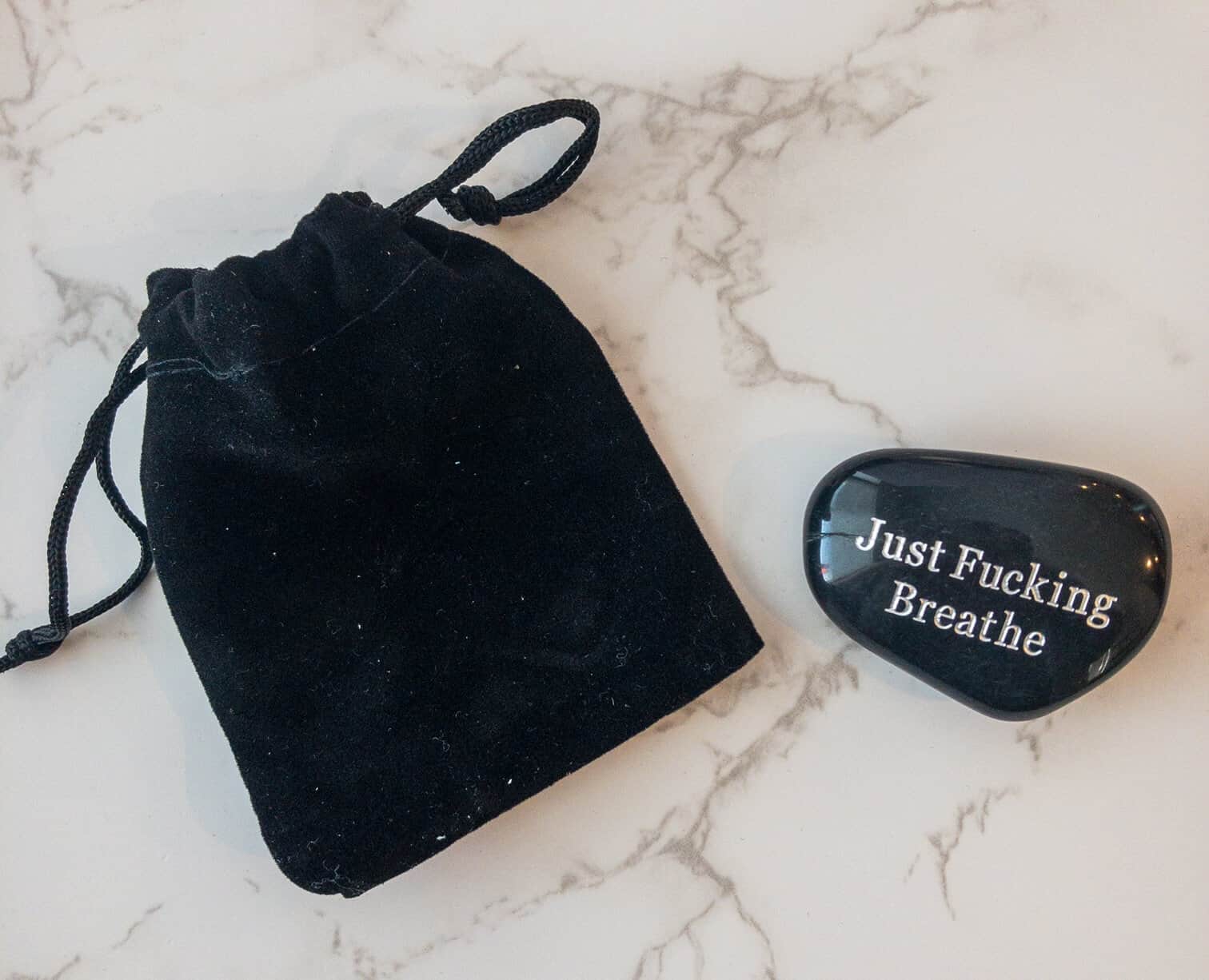 Motivating Mug:
But, it's not all just props. This generously sized purple ceramic mug is ready to motivate you with the phrase, "You got this!" I love the weight and design of this mug – and that's saying a lot, because I have quite the collection and I take my coffee very, very seriously.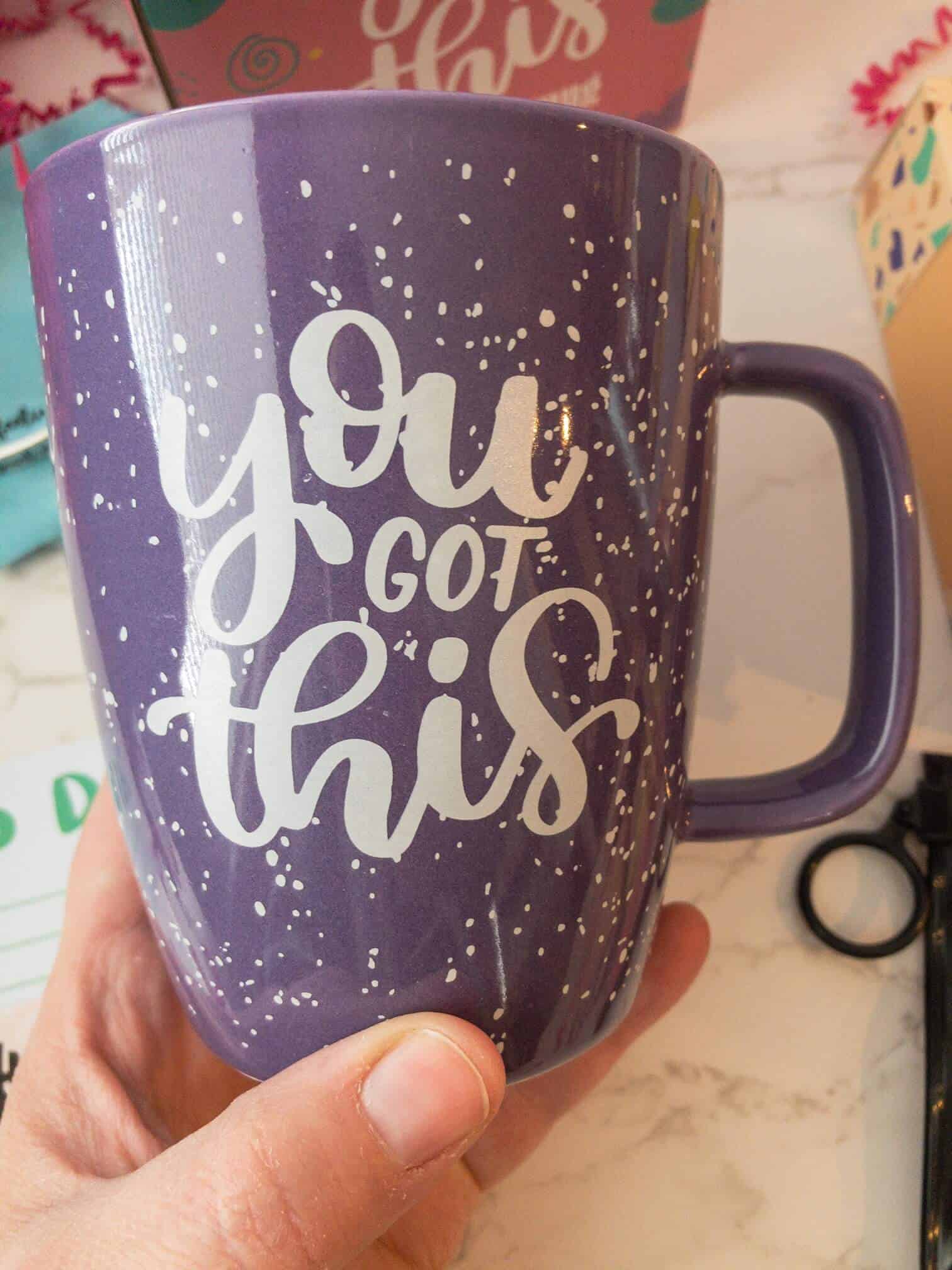 Just Moisturize Already:
While you're waiting for your coffee to brew, you can moisturize your hands with this delicious hand lotion infused with honey and soaks in like a dream. Be sure to tell anyone who tries to touch your coffee – "Uh huh, honey!"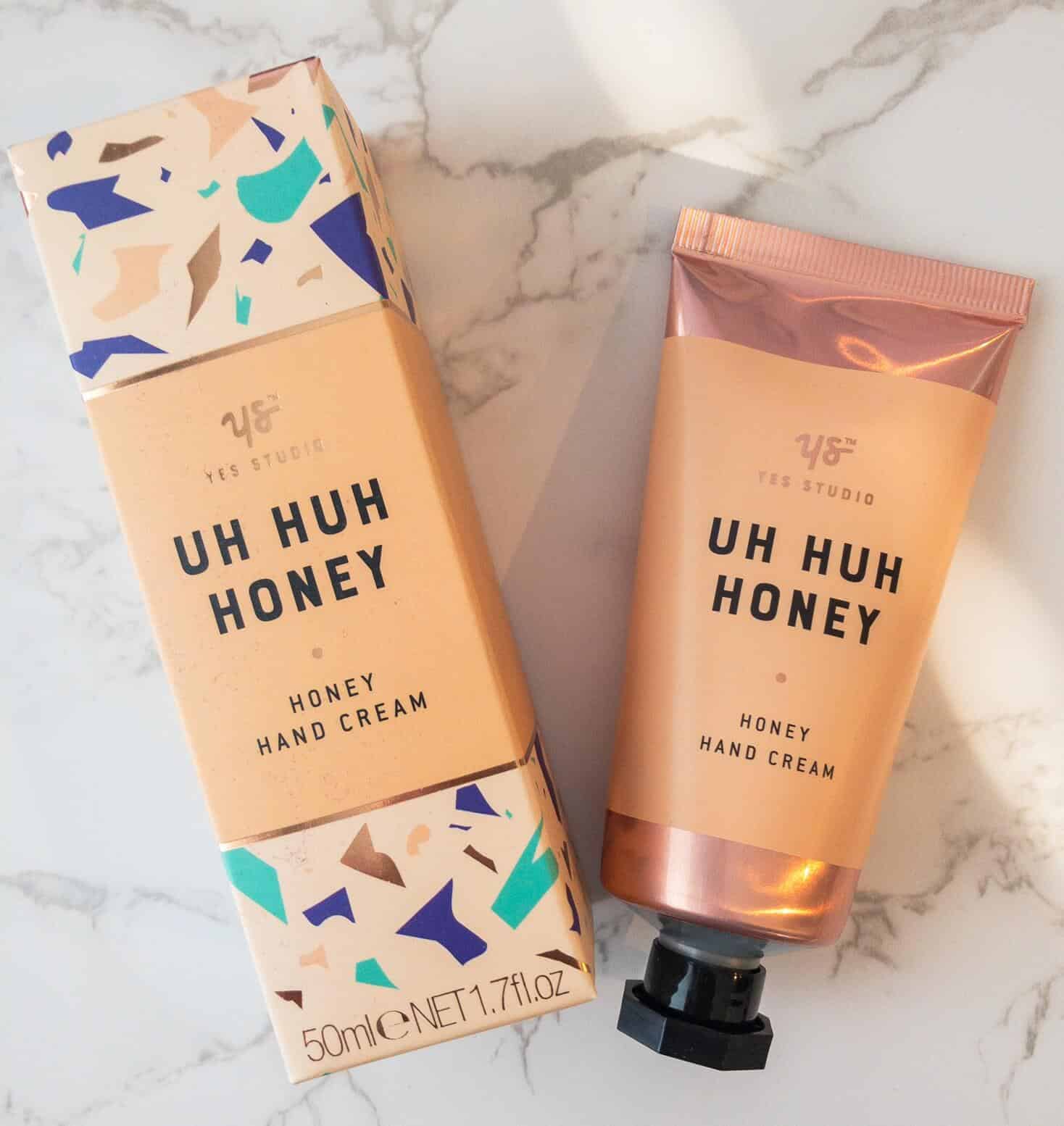 Sassy To-Do List:
When it's time to plan your day, take notes on this well-designed notepad by Craft Boner. It's not too big, not too small, the perfect size to slip in your purse for the day, too, in case you need a little laugh (and some organization) while on the go.
Calm Down Post-Its:
For those reminders you don't want to miss or notes you need to take, bust out the cutest post-its in all the land with a kind reminder to just stay calm and drink more coffee.
Those two things usually go together well, no?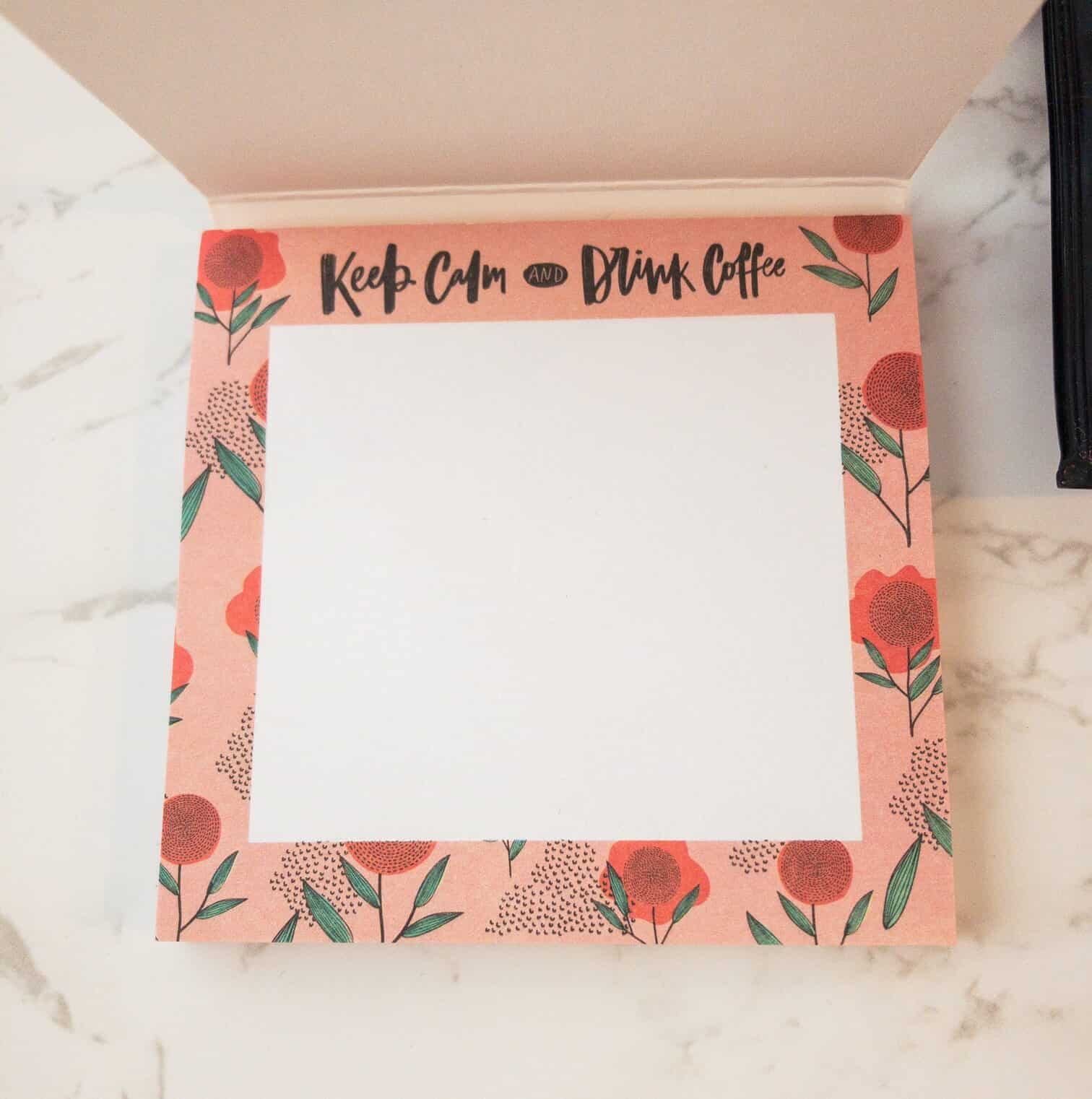 Bossy Highlighters:
If you want important things to stand out, get out those Headstrong Highlighters. With bright, saturated colors and equally strong names, you can take your pick of Boss, Babe, Goddess, Rebel, Queen,and Badas*.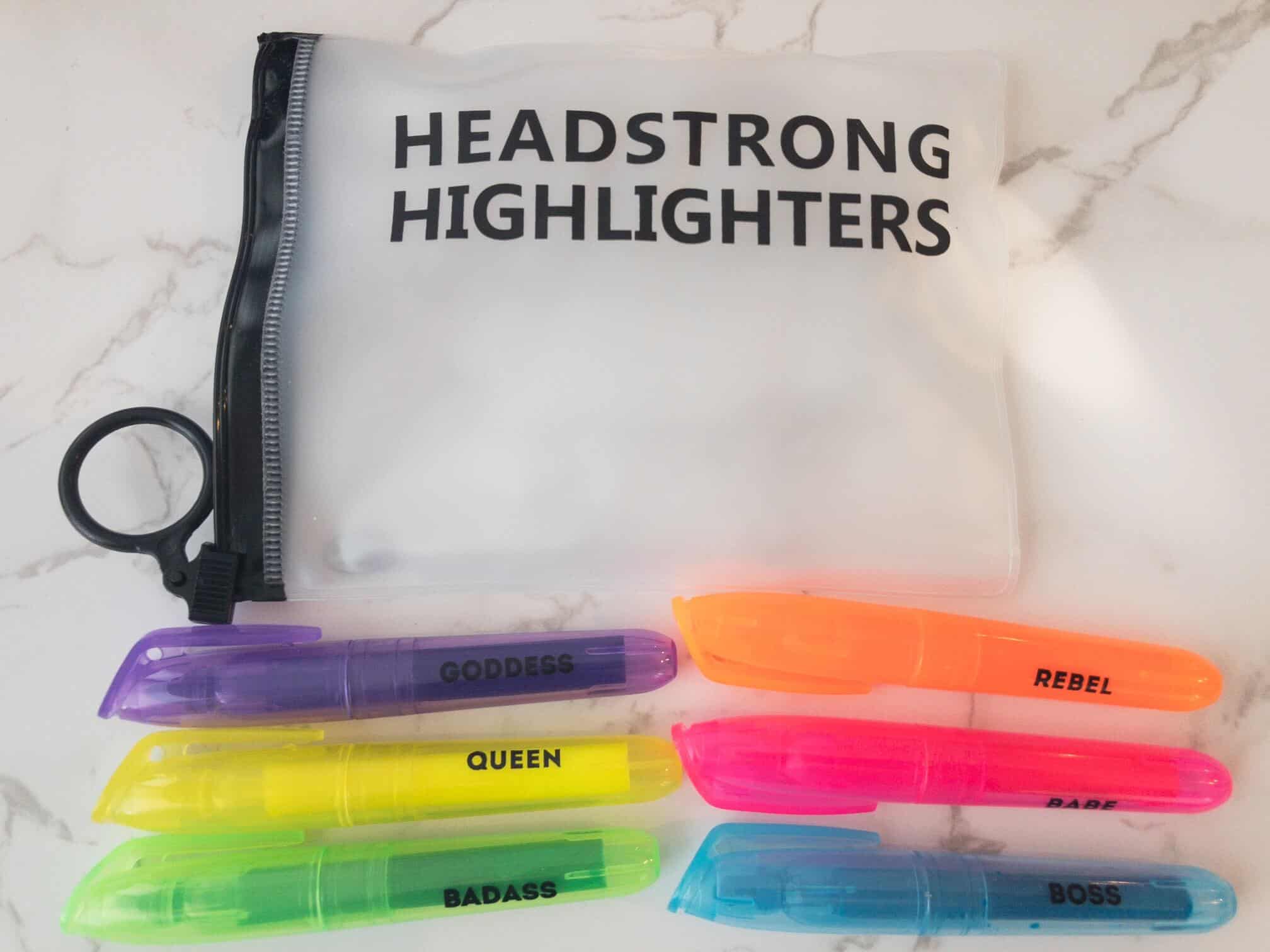 Daily Calendar for Sassholes:
And, just in case you wanted to make your favorite subscription box of laughs last all year, it can – with this daily calendar full of quotes for the sasshole.
Just tear away each day and reveal the newest quote to remind you that today is another day to give zero fuc*s.
I like this one. Always more coffee. Always.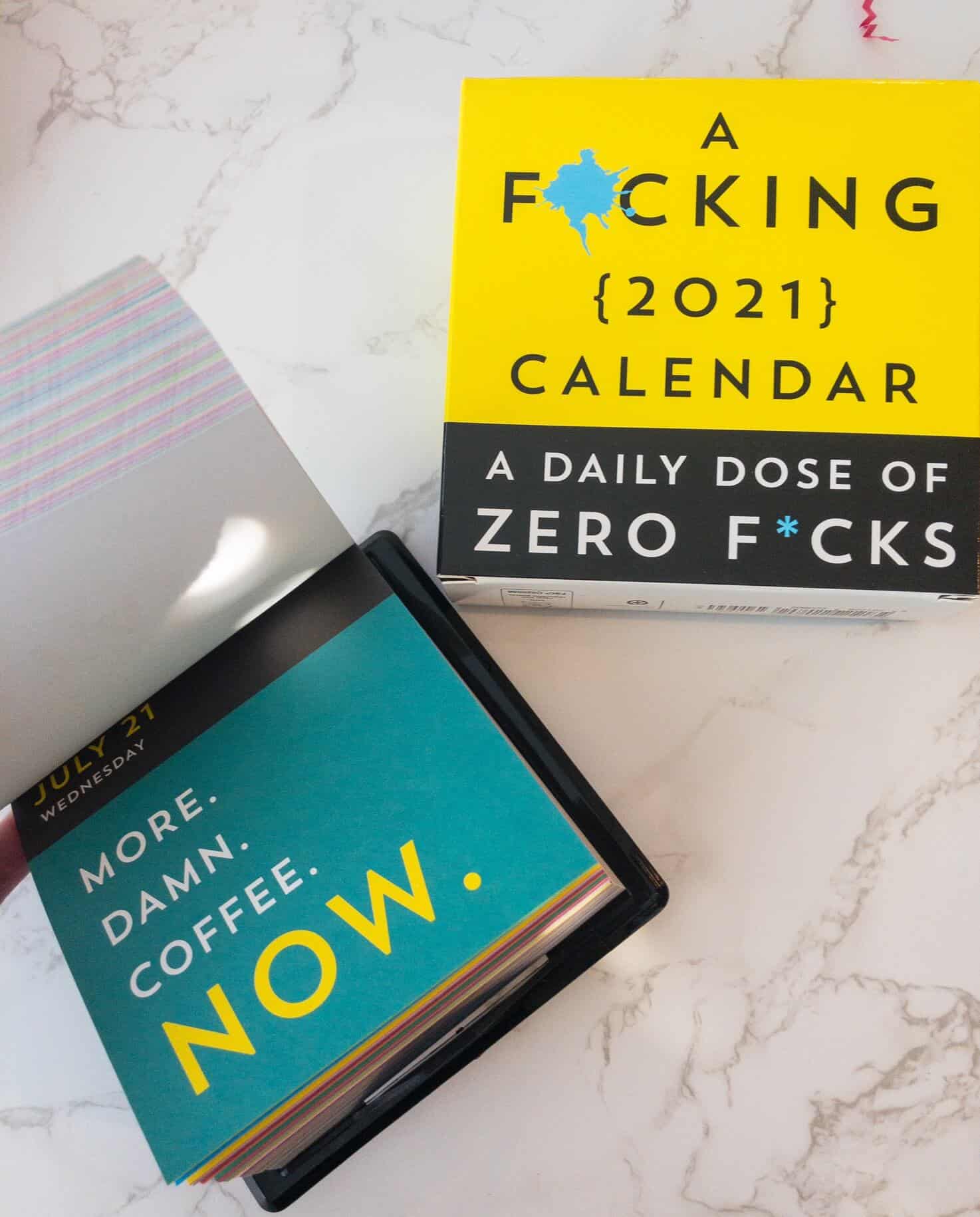 ****
I'm a big fan of subscription boxes, usually because of the incredible value and assortment of amazing products.
In this case, I'm a huge fan of a big box of joy and sarcasm sent straight to my door. Now, I have these sassy little reminders all around my office to brighten my day, keep me organized and remind me to just breathe already. Well played, Smartass & Sass. Well played.
I think the Smartass & Sass box makes an amazing gift for yourself or the boss babe/sassy mama in your life. If you love subscription boxes as much as I do, you might also love these ones, too:
What's your favorite subscription box? Tell us all in the comments below.
Have a fabulous day,
E