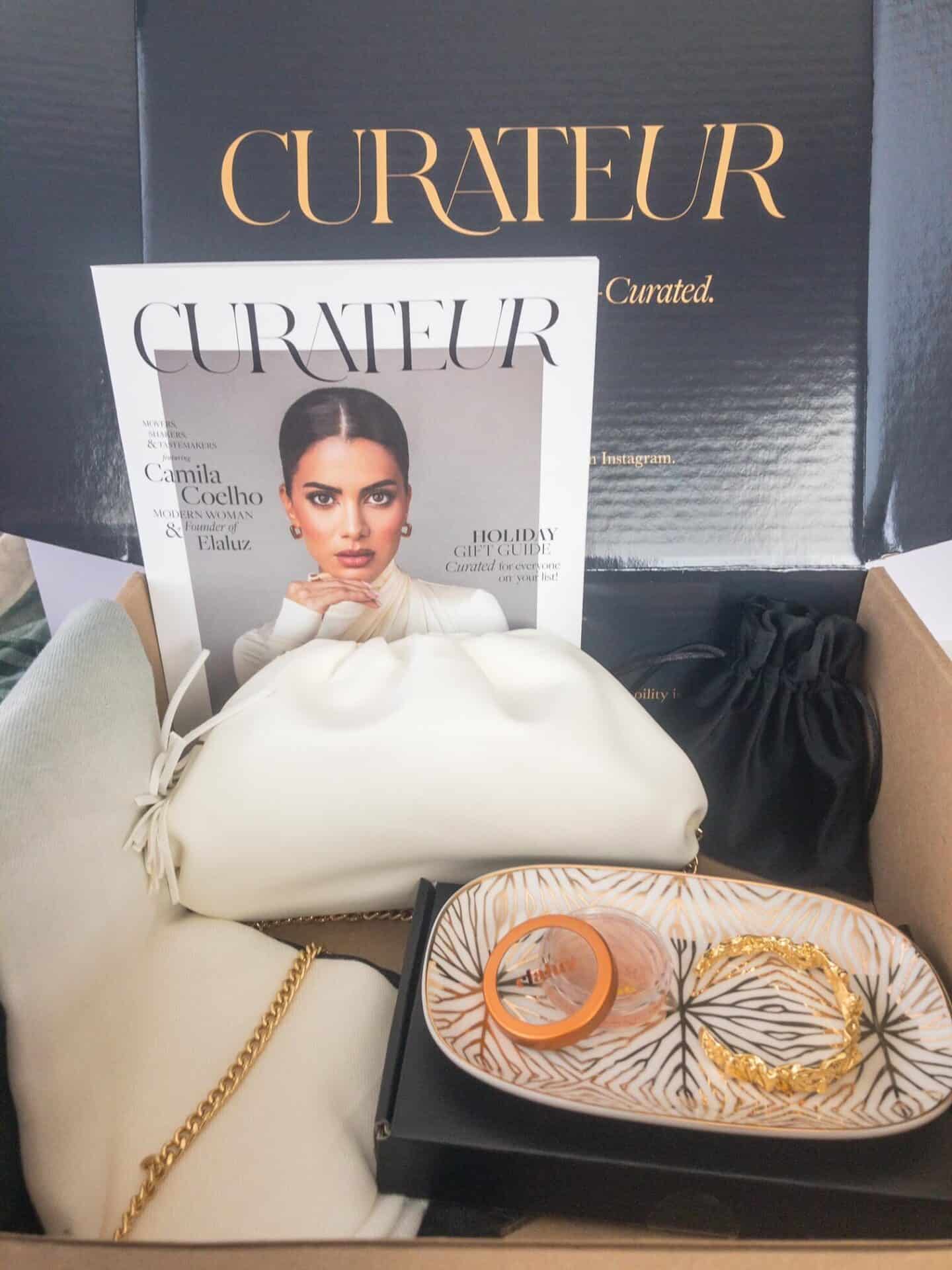 I absolutely love reality tv. People that know me in real life are usually surprised by this. But, I've never been shy about my obsession with Bravo, The Bachelor franchise, and any other somewhat frivolous, completely addicting voyeur into other people's (slightly scripted, overly edited) real lives.
For me, my shameless obsession with lightweight tv started when I was teaching and days were full of serving students. I loved my work, but got home exhausted. I needed easy entertainment, devoid of anything that could add to the list of things that were already going to keep me up at night.
I tell you this because years ago there used to be a reality tv show called, "The Rachel Zoe Project" where we were able to go behind the scenes with celebrity stylist extraordinaire. I watched all 5 seasons and loved it. What an eye for style, she has!
So, when I started writing the blog and was able to review the Box of Style from Rachel Zoe's subscription box – I was thrilled. I finally had a small taste of Zoe's impeccable style for myself.
Fast forward to today and she has now rebranded her box to be called, "Curateur" – which seems much more fitting to the timeless, yet trendy, pieces that she selects for each box. But, just like the Box of Style, you're still getting a little piece of luxury sent right to your door. I was thrilled to receive the winter 2020 Curateur box and can't wait to give you all the deets. Also, affiliate links are used below. If you choose to purchase a Curateur box through my link, I'll receive a small commission at no cost to you – in fact you'll save $25 with code WINTER25.
The Curateur Subscription Box: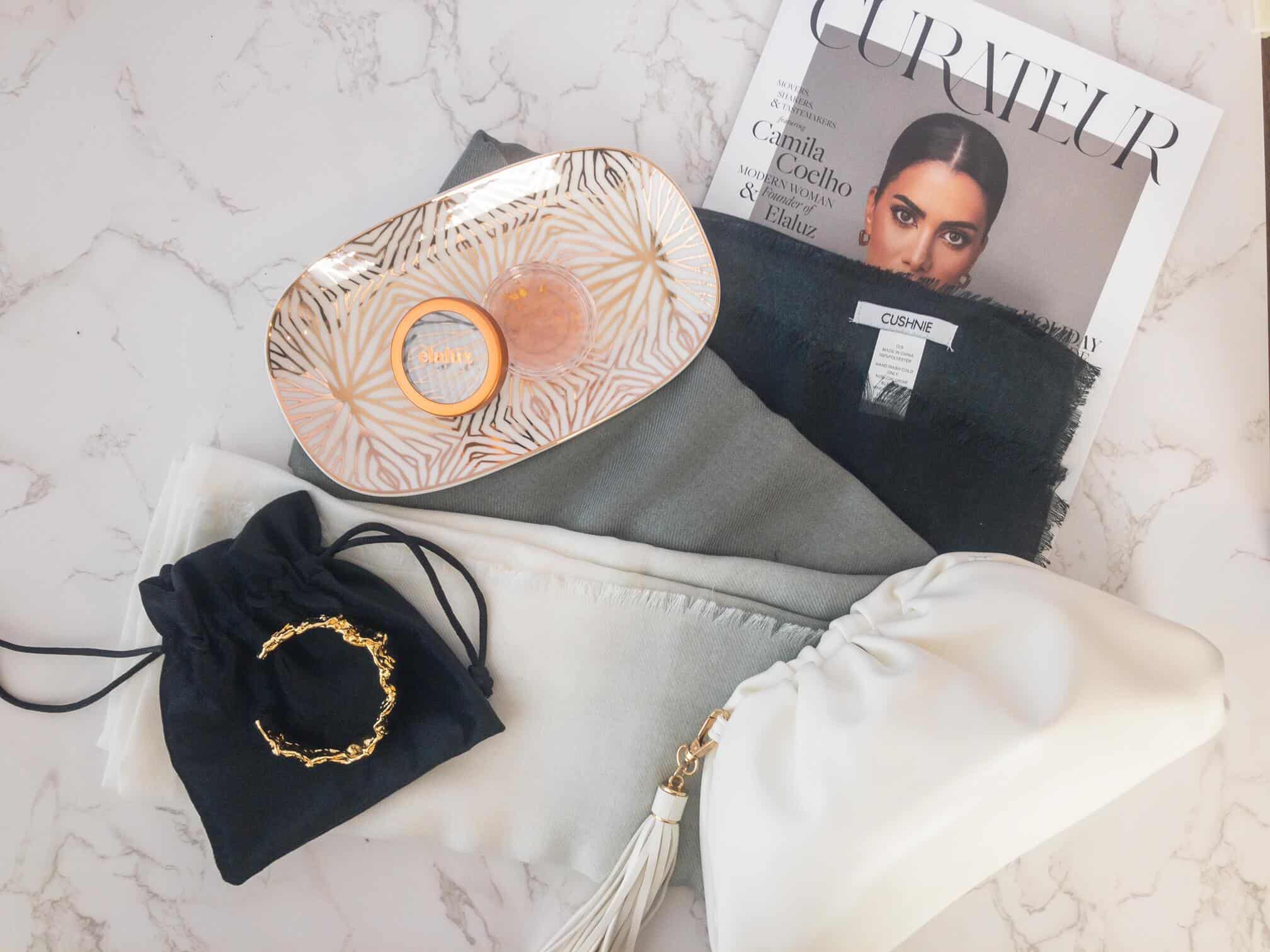 The winter Curateur collection is so, so good. It's luxury and style for a fraction of the price.
I'm going to share everything with you today and you can grab one for yourself or to share with friends for $25 off with code: WINTER25. Considering Curateur has a total value of more than $500 and your purchase price will be around $75 (get another $7.50 in cashback if you use Rakuten!), it's a steal.
But, more importantly, it's a treat. A treat for yourself – and for any person you choose to share a piece with. Something I love about these boxes is how each piece is unique and not something I could grab at my local Target. No shade to Target – it's just nice to mix it up every once in awhile.
So, without further ado, let's take a little break from the hustle of everyday life and allow ourselves a brief reprieve to enjoy a little luxury.
The Winter 2020 Curateur:
1. Understated Leather Crescent Clutch – Retail Value $110
OMG, this is SO cute. I was blown away by how adorable this is. It's super soft and well-made, with the chicest white and gold tassel and optional gold chain to make it a shoulder bag. It has just enough space inside for everything you'd need for a night out, without having to worry about things spilling out.
The second I opened this, I immediately craved a night out for a cocktail with the girls or a date night with the hubs. I was immediately transported in my mind to a swanky restaurant with creative libations and live music – just the kind of night out I think we've all been missing.
And now, with my crescent clutch, I'll be ready as soon as the world reopens, to hit the town with the most perfect little bag.
2. Cushnie Grey Horizon Ombre Scarf – Retail Value $150
Okay, I'll be honest, I've never spent $150 on a scarf in my life and I am not about to start now. But, that's what makes these subscription boxes such a luxurious surprise. I absolutely LOVE a good scarf and it is FINALLY chilly enough in California to wear one. Of course it should be a gorgeous ombre scarf that is so deliciously soft and perfectly neutral.
I remember getting an adorable animal print scarf in my Box of Style last year and wore it often. I'm so excited to have this sleek, cozy piece of art to liven up my winter wardrobe.
3. Talianna Lilypad Catchall Tray – Retail Value $75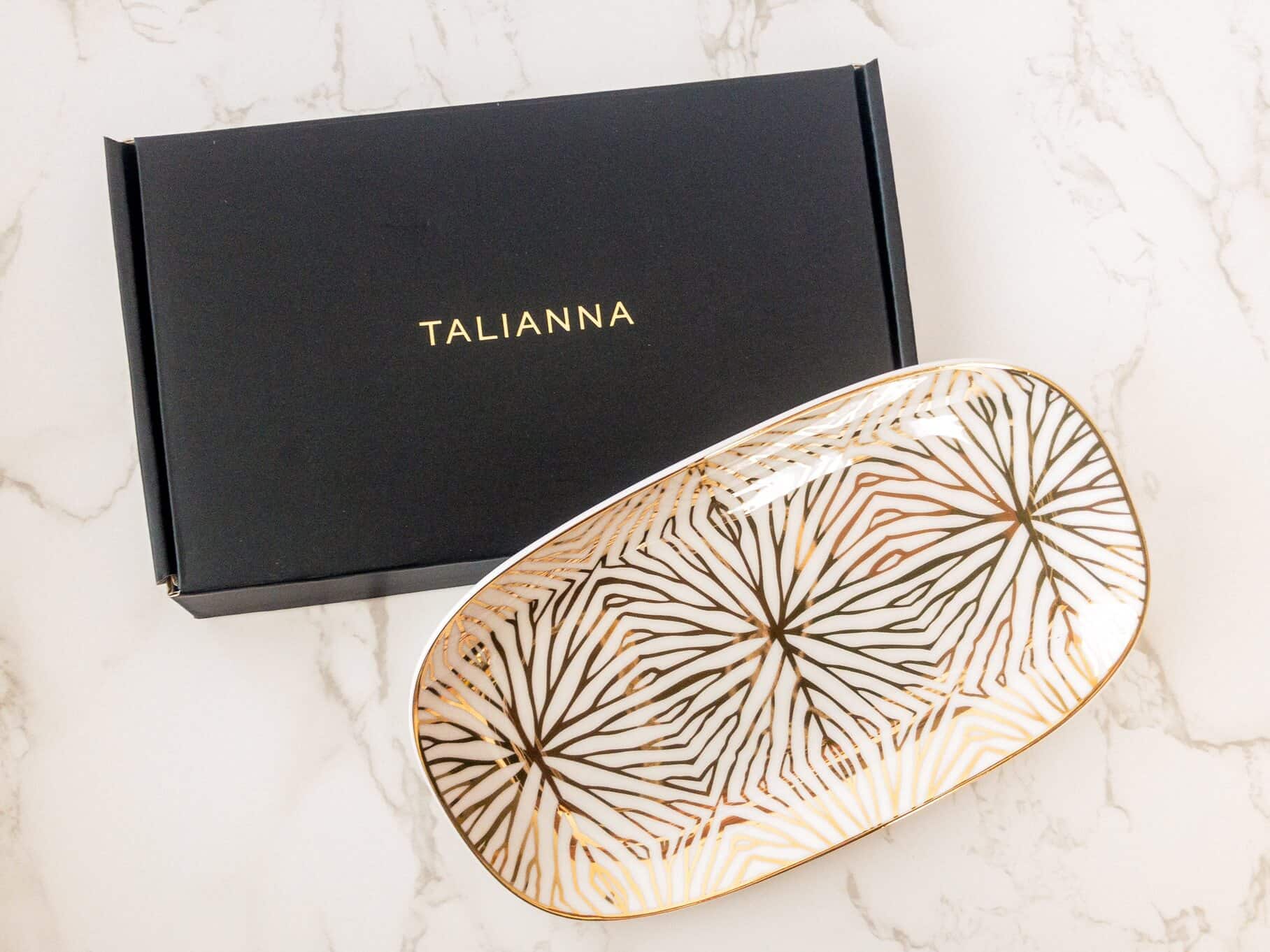 This sweet little tray is just my style. It actually goes perfectly with my bedroom/bathroom decor and makes an excellent piece of usable decor. On a nightstand, it would be great for any jewelry, glasses, and lip balm and in the bathroom. It's just the right size to be useful without becoming obtrusive.
The design is totally on trend and it has enough weight to make it not too delicate.
4. Elaluz 24k Gold Lip Therapy – Retail Value $28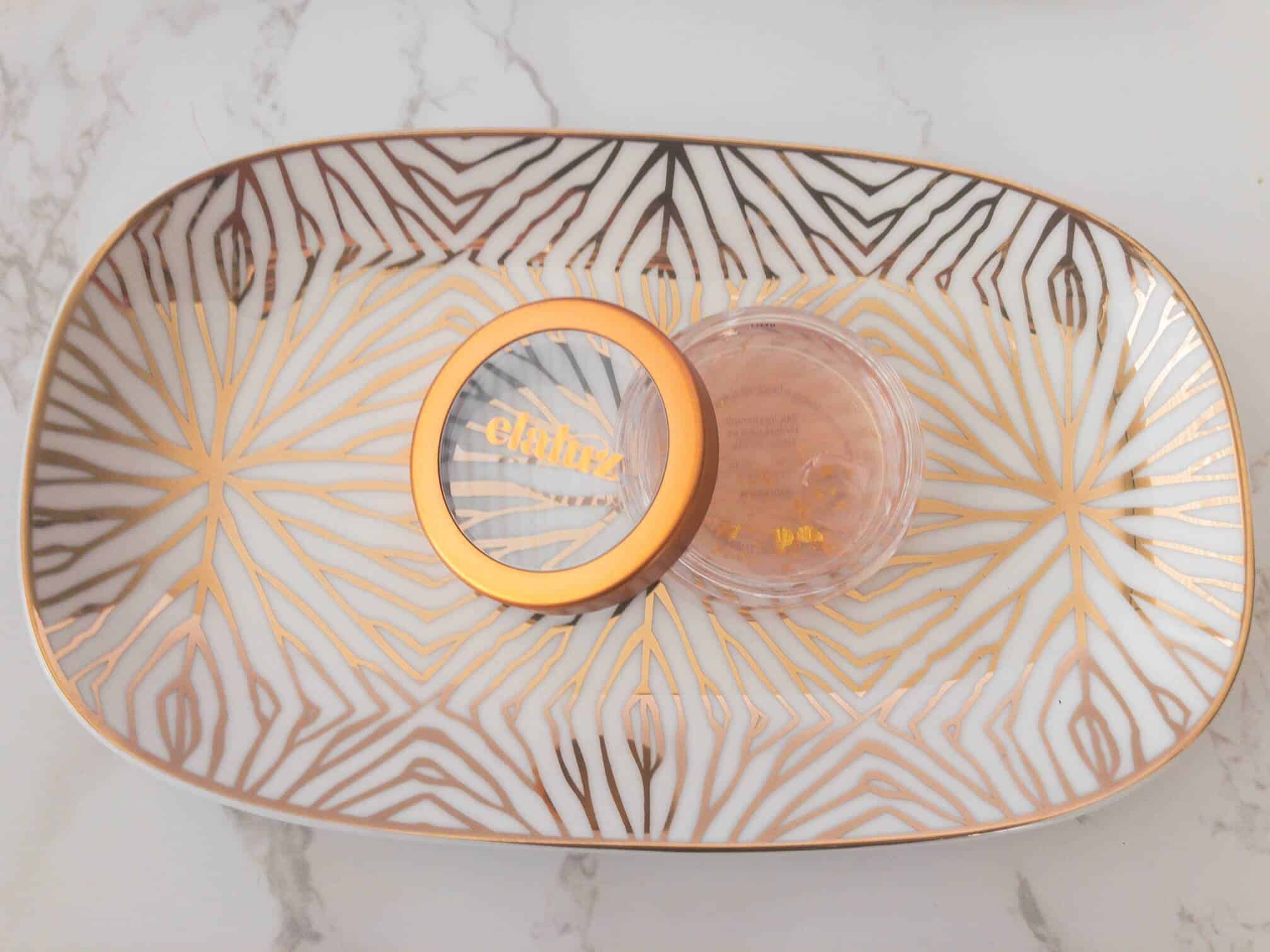 'Tis the season for really good lip therapy. Cold weather is here and lips are chapping. Why shouldn't I be lathering on lip balm with 24k gold flakes actually visible in it?
I can't think of a reason, either, now that I have this Elaluz lip therapy. Only question is where can I get more of it when I undoubtedly use the entire thing and must have more.
5. Amber Sceats Emery Cuff – Retail Value $169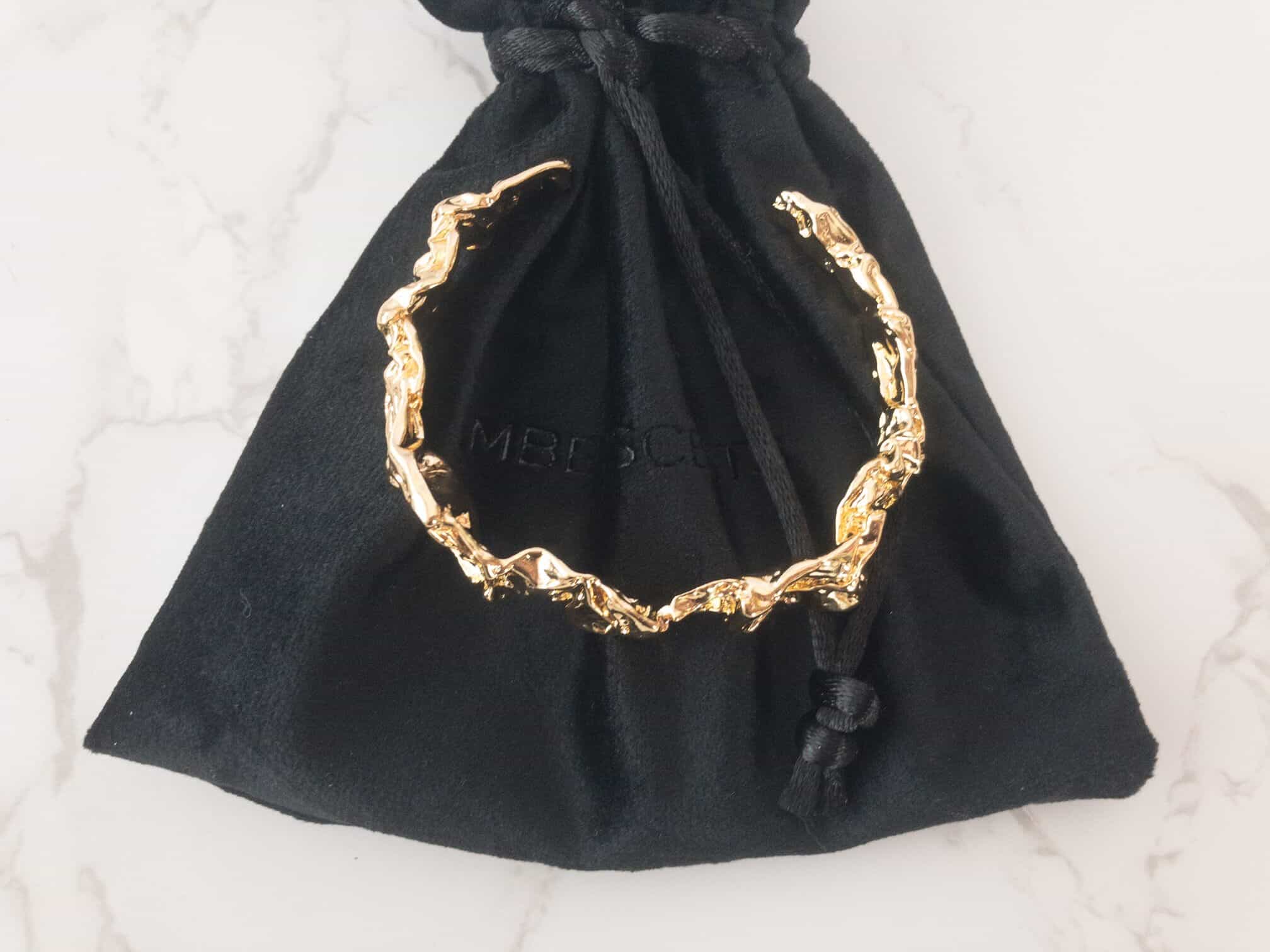 This unique statement piece is something I can imagine would elevate any look. Just slip it on and look instantly cooler. I love jewelry that does the heavy lifting for an outfit – especially since I can usually be found in some combination of denim and black. A pop of gold can really make all the difference.
I can also see this making an incredible gift for someone as well, since it arrived in a very nice black velvet bag. Love.
*****
Opening this stylish black box full of curated goodies is such a welcome reprieve from the endless days of 2020. Subscribing to Curateur is really a gift to yourself. And, set aside pieces that just aren't for you as swanky gifts that others in your life will be thrilled to receive.
I absolute love subscription boxes and Curateur ranks very high on my list of favorites. If you'd like to read more about other subscriptions I recommend, check out these post:
Have a subscription box you love? Share it in the comments below!
Have a fabulous day,
E
PS. Don't forget to take $25 off your box with code WINTER25!