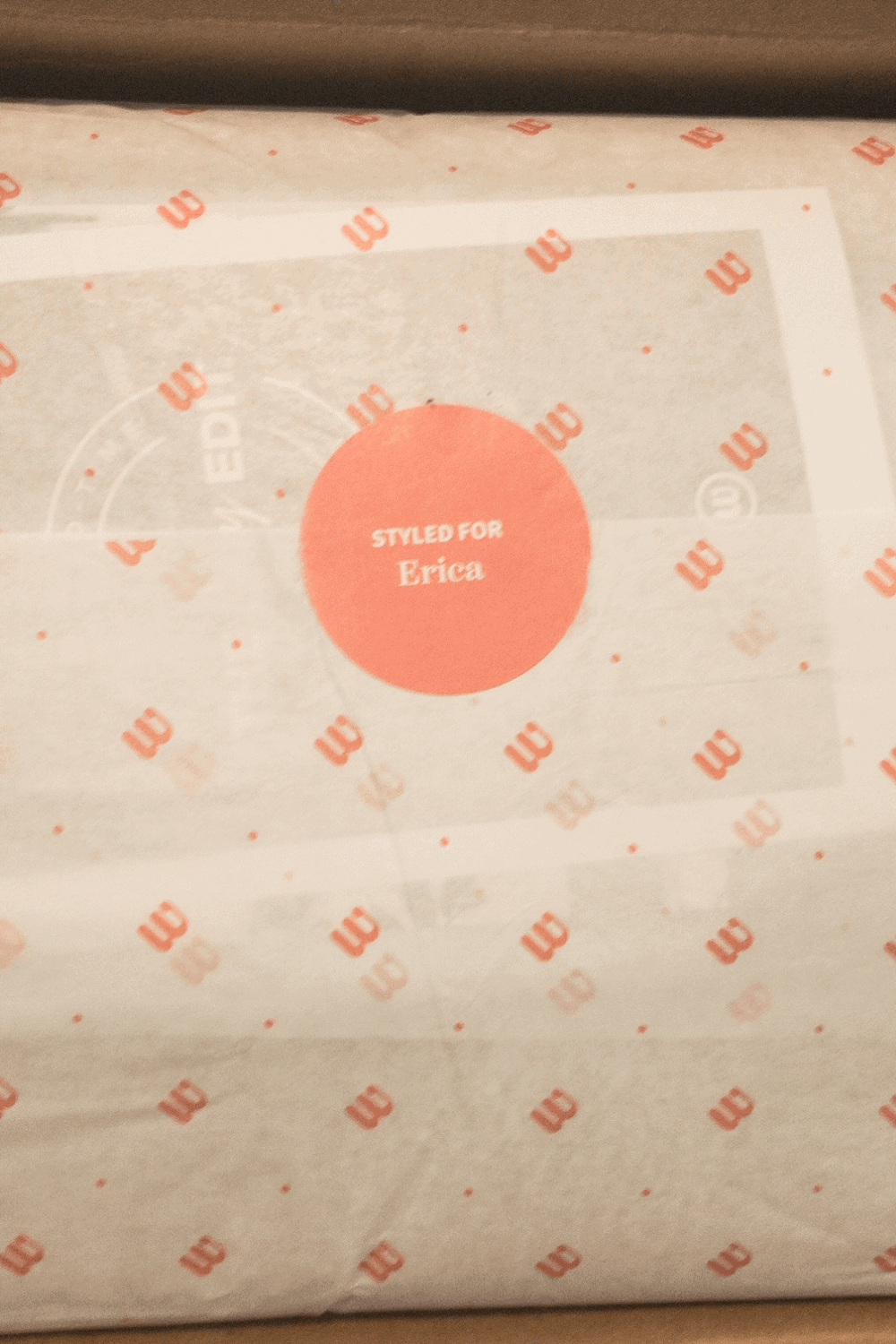 I don't know about you, but for me – 2020 has been The Year of the Yoga Pants. In fact, I never thought I'd say this, but I've started to get sick of them. My whole loungewear collection, in general, has been looking a little sad and tired, and just needed a little pick-me-up.
So, when I saw that the Wantable clothing box had a couple of special edition boxes for the fall/winter – The Lounge Edit and The Cozy Edit, I knew it was kismet. A collection of styled loungewear pieces sent straight to my door, where I could try them on in peace and quiet, without chasing screaming toddlers around a clothing department?
SIGN. ME. UP.
Wantable is similar to Stitch Fix – remember them? Except Wantable has a unique spin that I am majorly feeling.
For one thing, you get 7 items. I'm a more the merrier type when it comes to clothing, especially since I don't bat 100% average when it comes to liking things. In fact, I think I return more orders than I keep.
#TrueStory
Second, you get more time to decide what you want to keep and you can request a short extension if you need more time. This was excellent for me, since in this case – I knew I was going to take pictures of everything and share it all with you.
Third, similar to Stitch, you pay a $20 styling fee that is removed from any purchases you make and a discount for buying items. But, with Wantable, you get a sizable discount for keeping 5 or more items. This is not hard to do, since the stylists have a great questionnaire to work with and you select a certain type of box, which really helps narrow down the items you'll get.
At time of posting, edit boxes include: Style Edit, Activewear Edit, Mens Edit, Lounge Edit and Cozy Edit.
Oh, and you can hop on The Stream and actually request or decline exact pieces that the stylist can refer to when sending your box. If you request an item that happens to be in stock in your size – you'll actually get it!
My Wantable Box:
When I saw that Wantable had Loungewear specific edits, I reached out and they graciously partnered with me on this post. Not only that, but they are offering my readers a special code for $25 off your own edit and they always offer free shipping. So, get your style edit on, girl!
I'm doing something special today that I haven't done in past posts. I'm going to show you pictures of me in the clothes. I decided to do this for the first time because I was so happy with this box and I feel like with loungewear, they don't have the same structure as other types of clothes, which makes flatlay photos of them pretty uninspiring.
But, to prepare you, you should know that I am not a gorgeous Instagram influencer with perfect lighting and photo editing skills. These are just pics of a real person in real clothes – with a few cameos from the world's cutest dog, Zoey.
As far as fit, I will tell you how the piece fits in terms of true to size, small, large, etc. That way, you can figure out what sizes you might want if you were to try out a Wantable box. Overall, when I did the questionnaire, I was a bit nervous because I felt like I was truly in between sizes. I decided to go with the lower size and I'm really glad I did. Everything fit very comfortably and some were even a little tiny bit big (but will wash great).
Let's go shopping!
1. Gentle Fawn Arlo Hoodie in Chalk: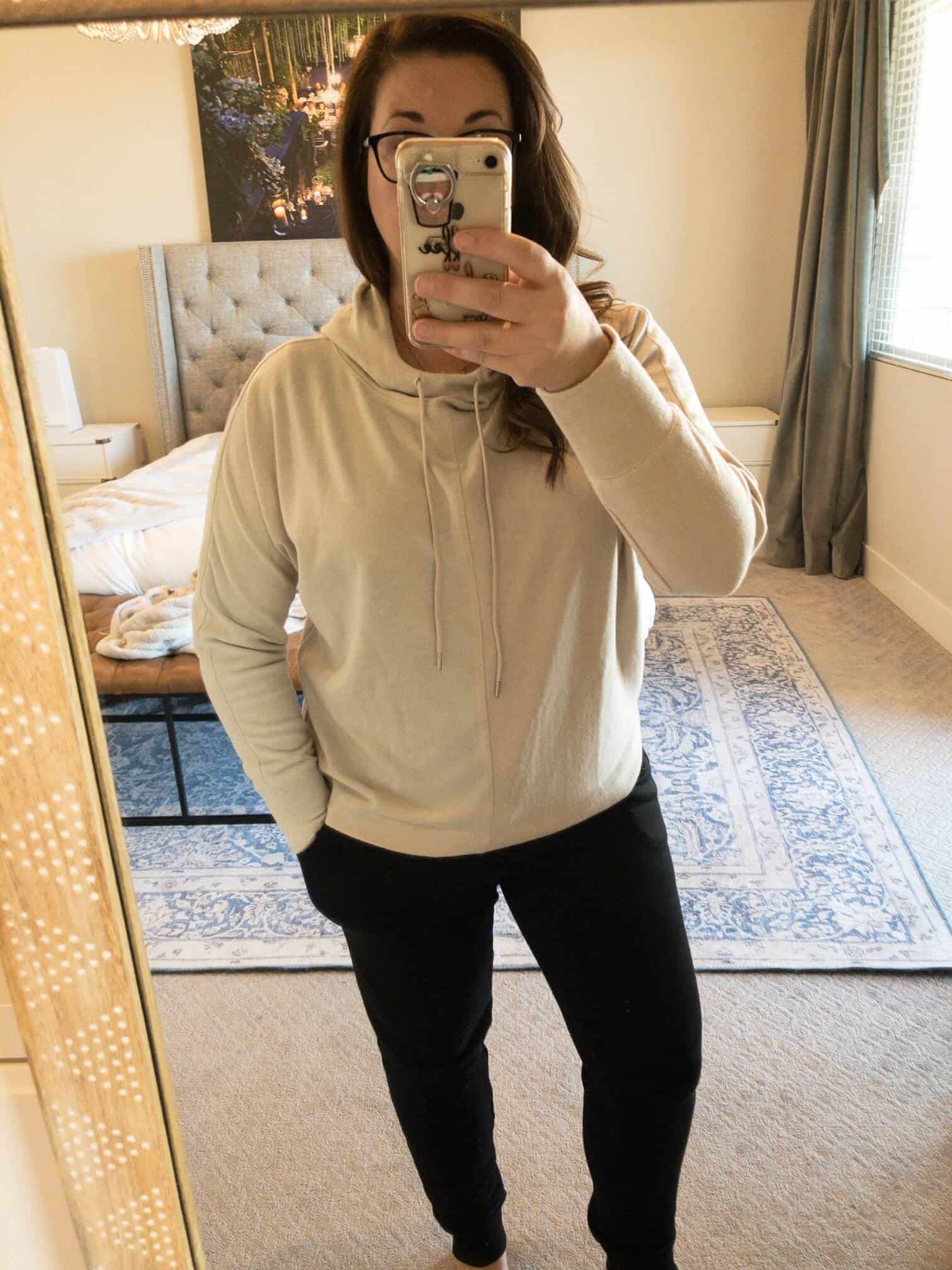 Gentle Fawn, where ya been, baby? How did I not know about you? I received two Gentle Fawn items and was bigtime feeling their style. The designs are just a little extra – so you're getting a hoodie, but it's got some serious style. Plus, I loved the chalk color, which goes very well with my heavily black wardrobe.
This is not something I would've picked up, because of the slightly cropped length, but that's why I love boxes like this. I find totally new pieces I end up loving and shake my style out of the doldrums.
The material of this hoodie is so soft and it has a nice weight to it that makes it hang really nicely. With the black joggers, it felt like a super soft, chic, Saturday look for my local errands. This fits true to size, although I hope it won't shrink or the sleeves may be too short.
Verdict: KEEP
2. Z Supply Premium Fleece Jogger in Black: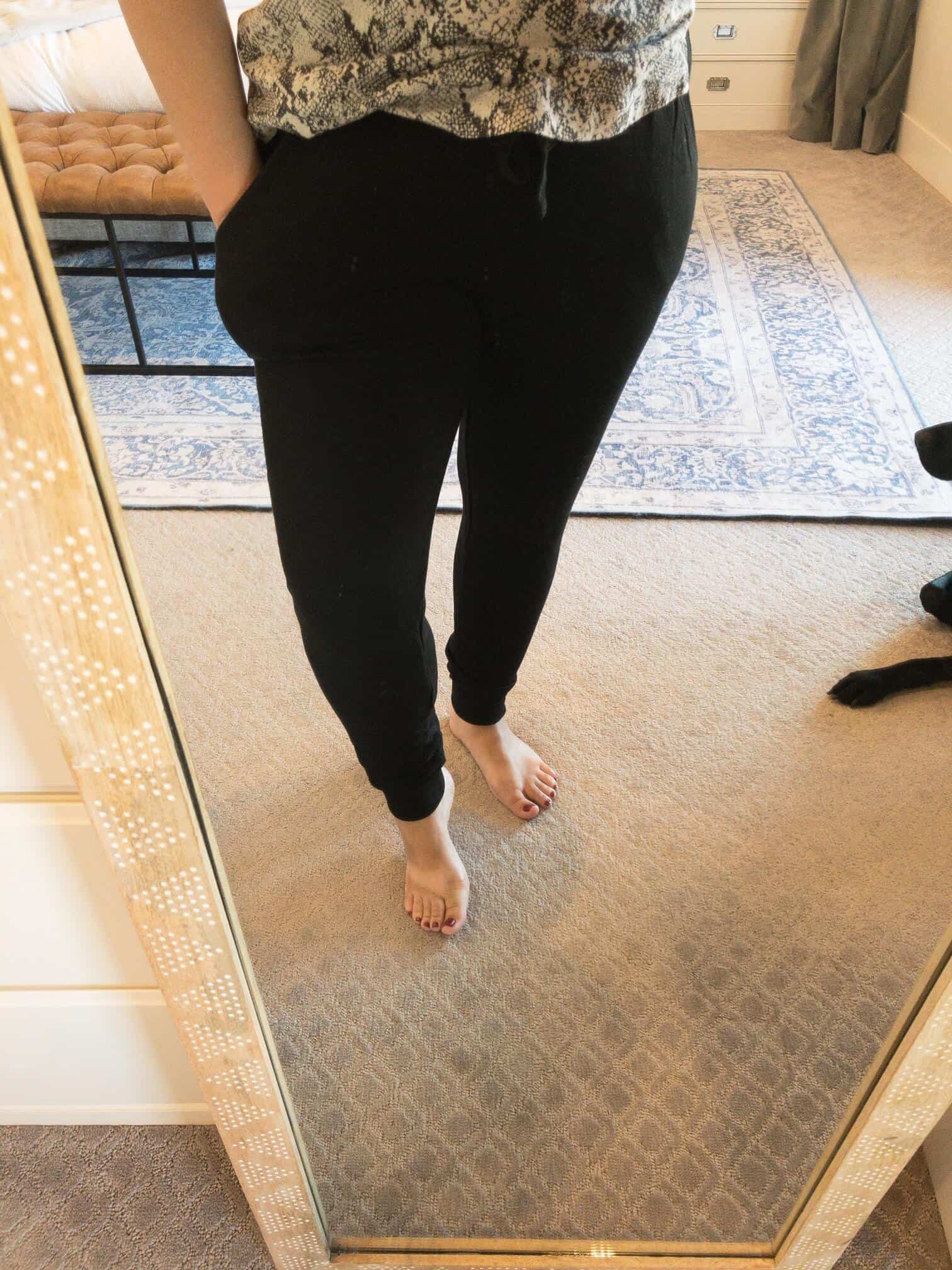 After putting on these joggers, I suddenly realized I've had a Z Supply shaped hole in my closet that I didn't know about. I am suddenly very interested in this brand. Their clothes are so soft, fit great, and seem to be excellent quality.
These joggers are the best thing that has happened to my loungewear collection in a long time.They are soft, have excellent sized pockets, a tie waist and a high-enough rise on the waist to make sure they stay put all day long.
The length has a little bit of room, but I know these will shrink a little. I actually like my pants a little long anyway, so I'm fine even if they don't.
I really get annoyed when joggers are too tight around the ankles. I have a more athletic build and these are stretchy and soft enough to work for a lot of body types.
Overall, these seem like very well-designed joggers that I am basically never taking off. I feel they are true to size.
Verdict: KEEP
3. Z Supply Camo Thermal Split Neck Top: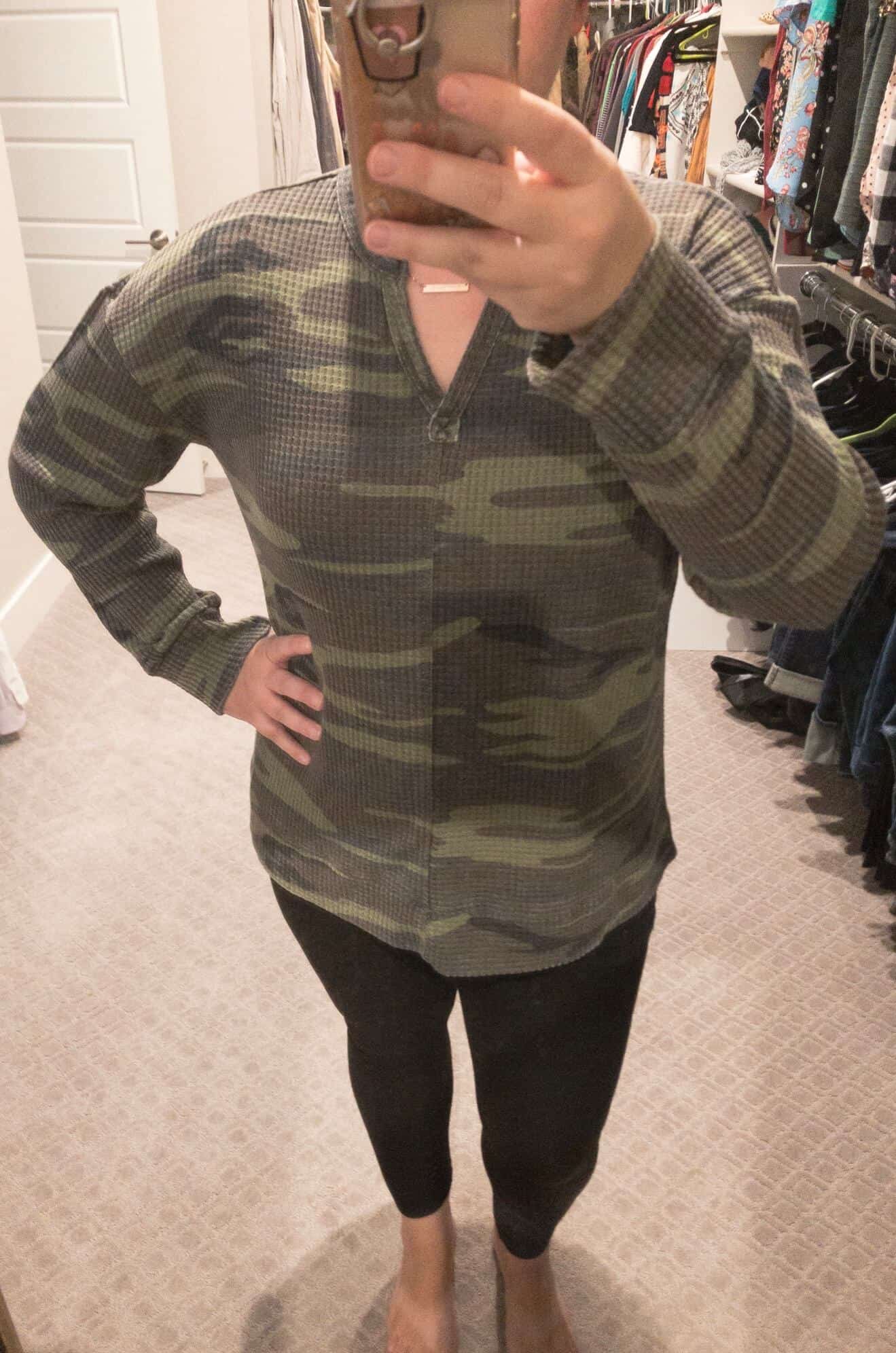 Obsessed. With. This. I was so excited to wear this, I just snapped a picture in my closet the day I wore it, rather than wait to photograph it with the whole box.
That's when you know you like something. The thermal, waffle knit is soft, but has a little bit more structure than just a soft t-shirt and it had enough length to go with my favorite black leggings.
I loved the split neck top, which just gives the neckline a little somethin', somethin'. I put it on and didn't want to take it off.
Overall, I felt this fit true to size and this is the size I would've picked in the store.
Verdict: KEEP
4. Thread & Supply Amaya Cardigan in Melanged Gray: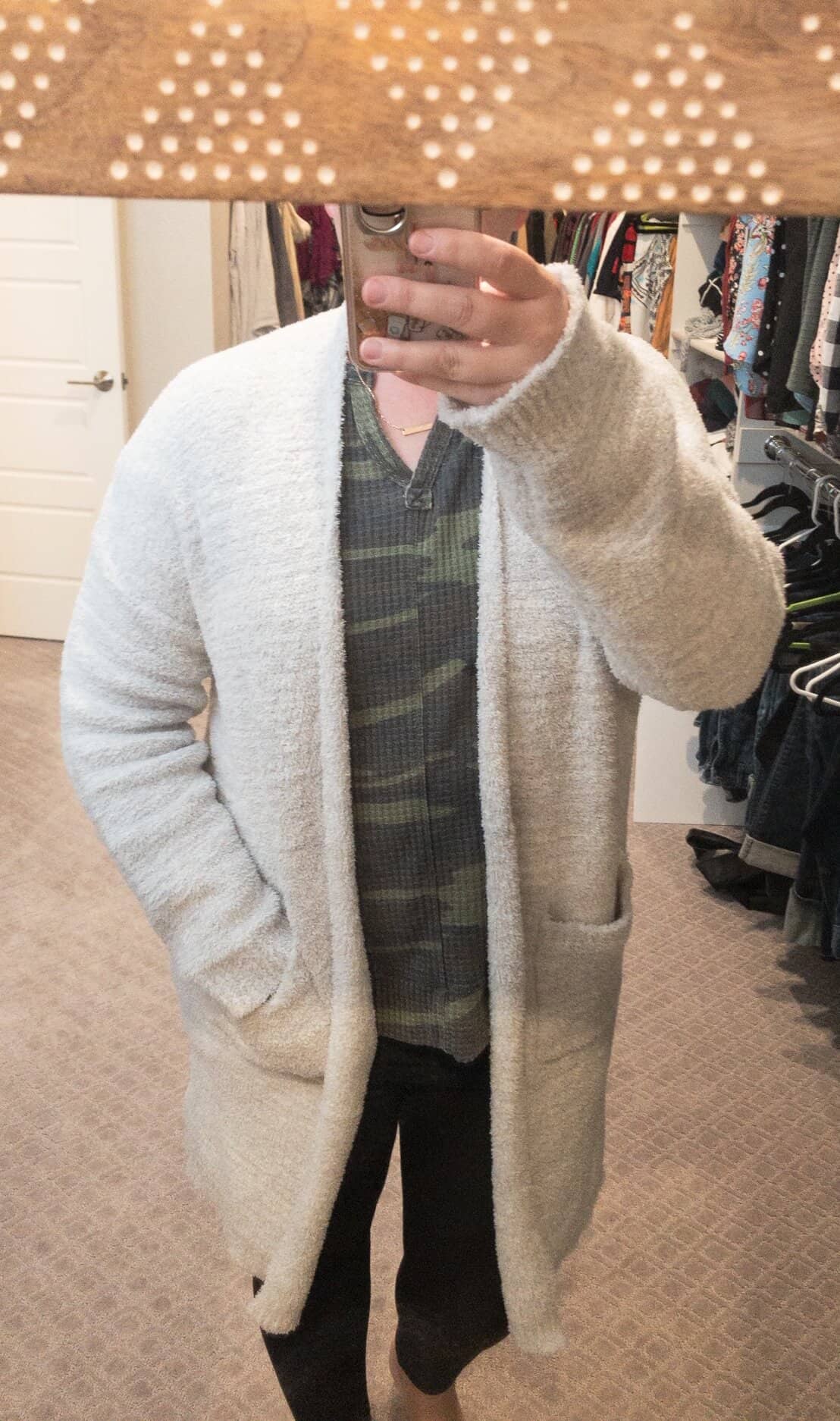 Gimme allll the cardigan. I have to admit, my cardigan game is ON. POINT. But, can you ever have enough?
No, the answer is no.
I have been a big fan of the Barefoot Dreams cardigans from Nordstroms for awhile now and this one might even be softer and cozier than those, with a lightness to the fabric that makes it just float on your body. It's the cozy warmth you want without the heavy weight. It's seriously like a dream.
This is another one that I ripped the tags off and knew immediately I would be keeping. The size is a bit bigger than I normally wear, but I don't think I would want to size down in this.
Verdict: KEEP
5. Gentle Fawn Healey Sweater in H Pewter Stripe: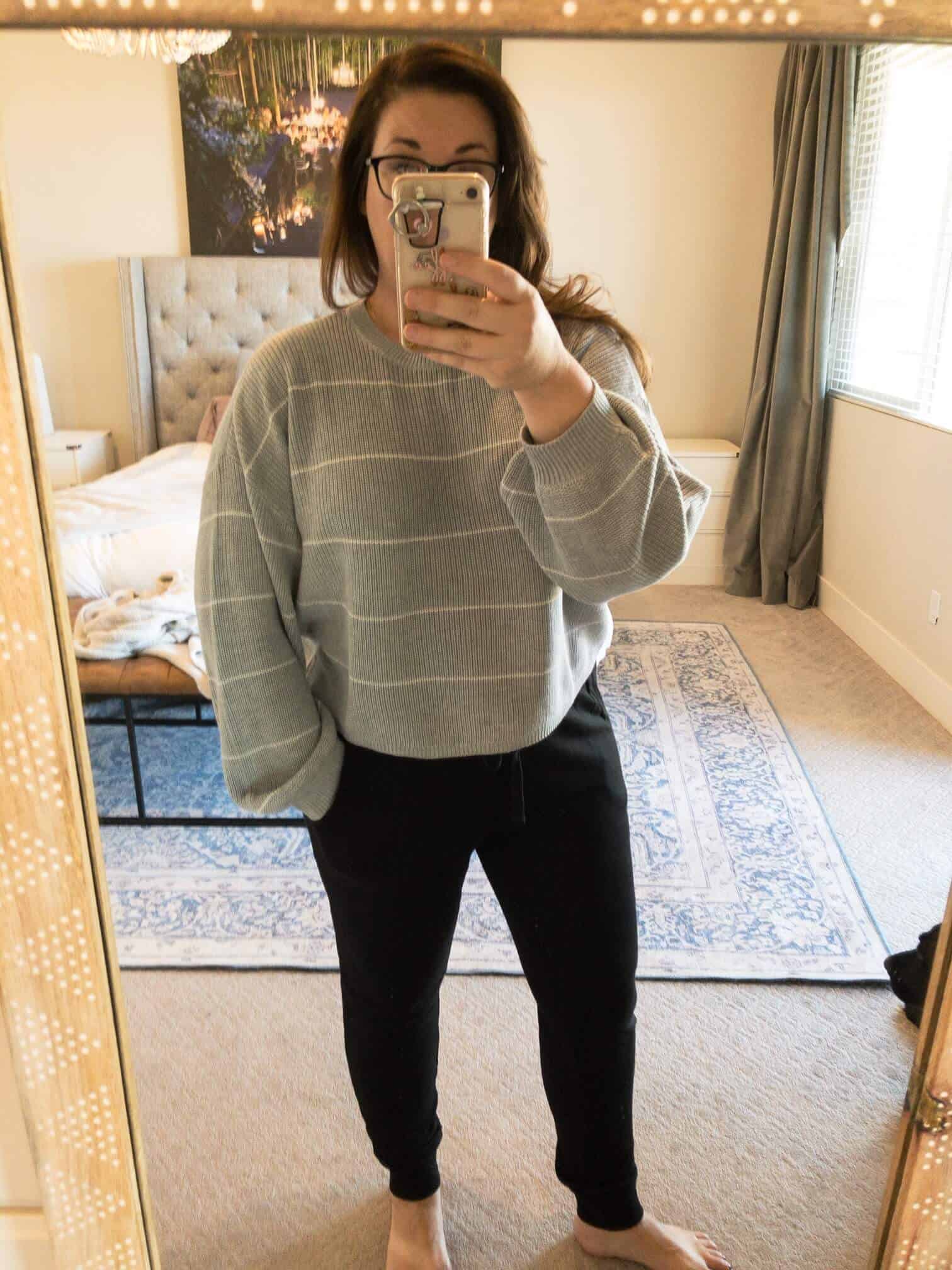 Gentle Fawn, let's be friends. Girl, you got style. This adorable gray striped sweater is A-DOR-ABLE.
The design, the fabric, the weight, the color – mmm-wuah! I loved it! The only thing was the crop cut just hit me at kind of a weird spot. I just haven't embraced the crop trend (am I showing my age, yet?) and so this gorgeous piece had to go back.
Heartbreaking, for sure. Gentle Fawn, make it longer – and then send it back, mmkay? I would say this is true to size as well.
Verdict: RETURN
6. Lucky Brand Classic Drapey Shirt in Blue Multi: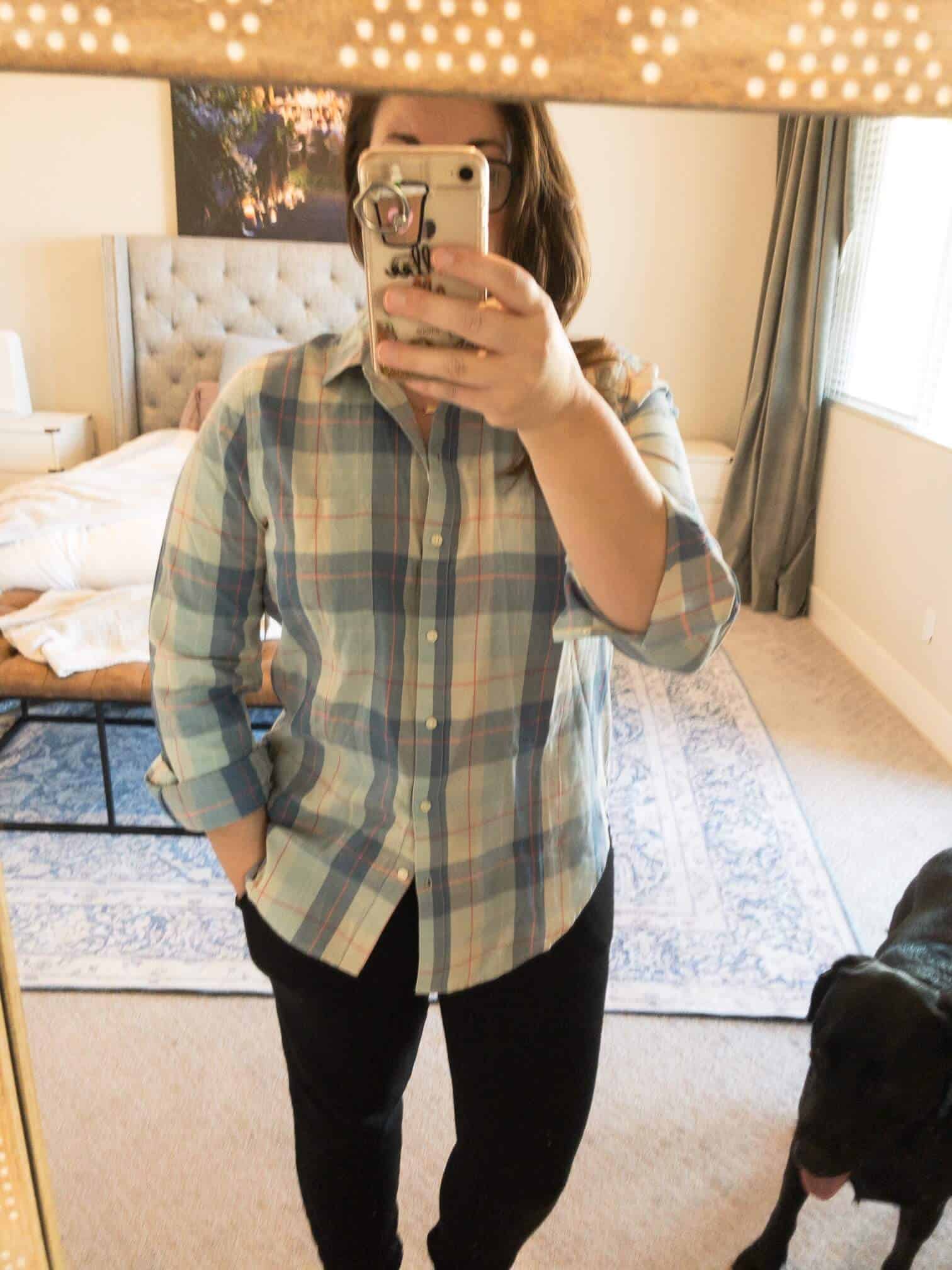 Oh, how I love Lucky… let me count the ways. Lucky Brand is a staple around here, for sure, because who does that lounge-y, relaxed, but preppy California style better than them? Nobody.
This button down classic shirt is light as air and super soft. It looks cute with joggers, layered under a cardigan, it would be perfect under a sweater in the winter, or even just with jeans.
Wow, I am sort of regretting returning this one. Why did I send it back? The cut was just a tad bit on the masculine side for me and I have some similar pieces in my closet that I don't wear that often.
I think the size is true, if not a little tiny bit big.
Verdict: RETURN (sniff, sniff)
7. Alma Animal Print Scoop Tea in Natural Reptile: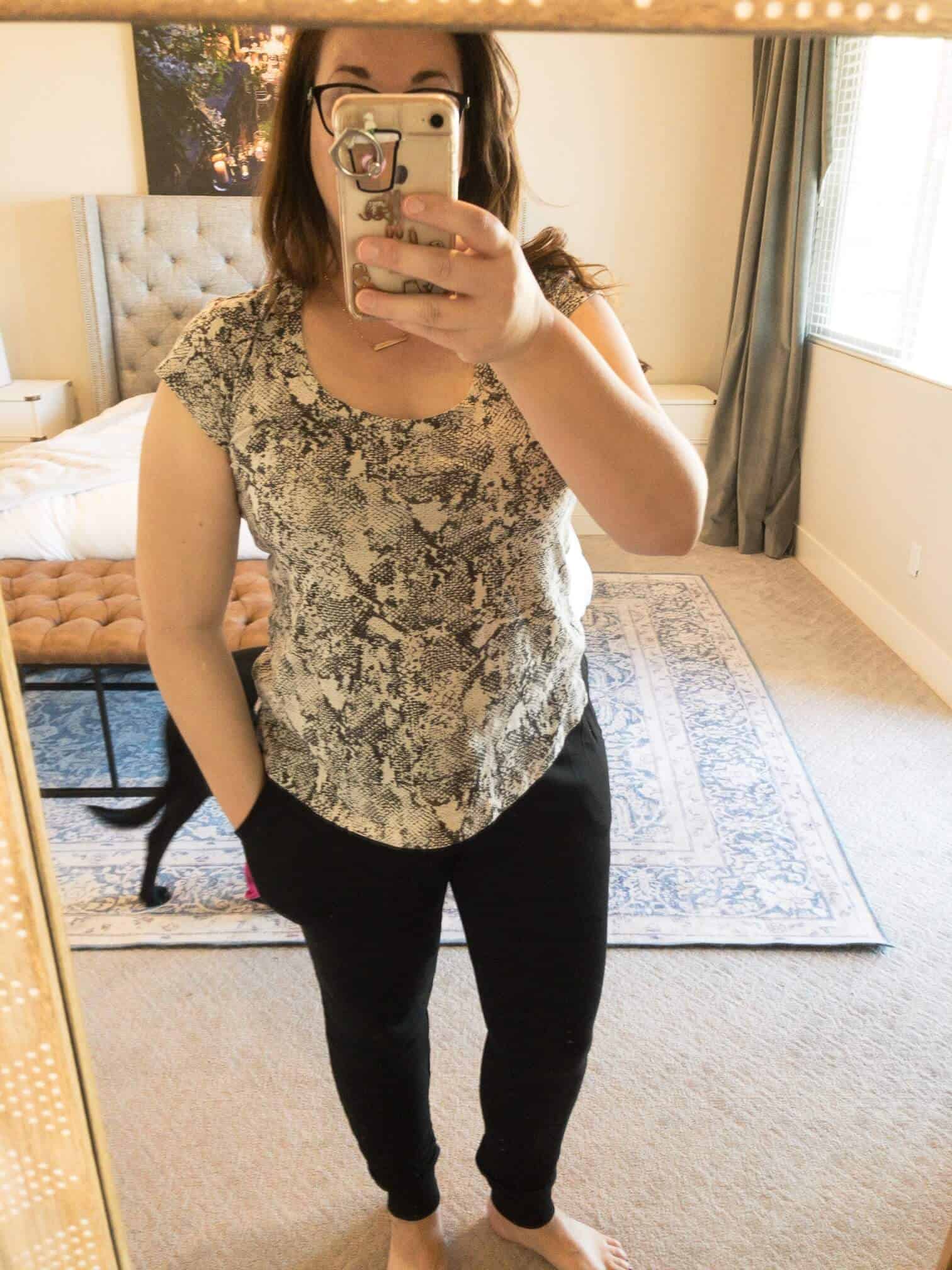 Rawr. Yaaasss. I want ALL the animal print. This t-shirt is really cute. The cut had nice shape to it and felt more thoughtful than a typical t-shirt, but it seemed to fit my particular shape a little odd. I know we can be our own worst critics, but I also think we should feel good in whatever we are wearing.
Also, I already have several very similar t-shirts that I feel fit my frame better, so I decided not to keep it. It sure looks cute with the joggers and cardigan though. The stylist of this edit was really thinking about outfits and coordinating pieces.
Well played. Well played.
I think this one was a little tiny bit smaller than t-shirts I normally wear, because I like a relaxed fit. But, I think it's still true to size.
Verdict: RETURN
****
Overall, I thought this entire box was FAB-U-LOUS. So much fun to receive and dig into. I liked more pieces than I usually do with other styled boxes and it amped up my daily wardrobe in a super easy, fun way.
If you're looking to try Wantable, here are a few tips to get the most out of your box:
Fill out the questionnaire honestly – not for the body you want, but the body you have
Be specific in your notes
Try everything on and stay in them for a couple minutes. For things that are different than your normal style, give yourself a little bit of time to think about ways to wear it and if you really will.
Look at how the pieces will mix with what you already have
For your notes, think about colors, patterns, types of clothes. I wrote that I like darker colors, especially on the bottom, and patterns like stripes, animal print, camo, and polka dots. I also said that I like softer fabrics but they have to be easy to wash. I have young kids, so a delicate fabric that will be ruined if they pull on me is not going to work.
As you can see, the stylist took this all into consideration when planning this edit, which was absolutely perfect. I absolutely loved learning about new brands like Z Supply and Gentle Fawn, too.
Wantable, I want more. I'll be back.
If you want a Wantable, too, use my code to get yourself $25 off.
Have a fabulous day,
E