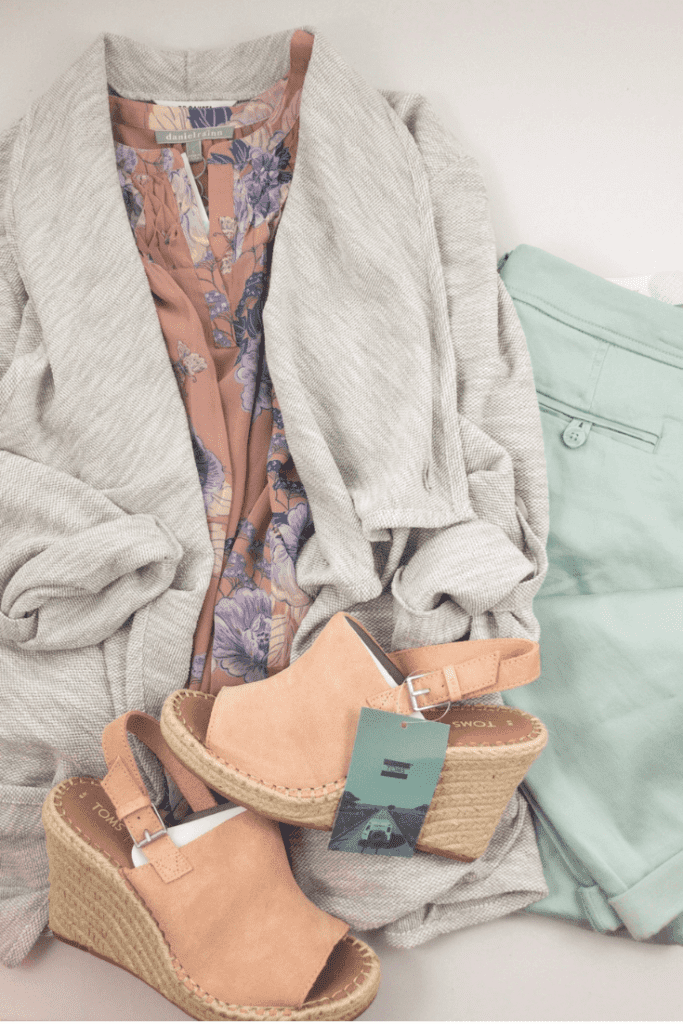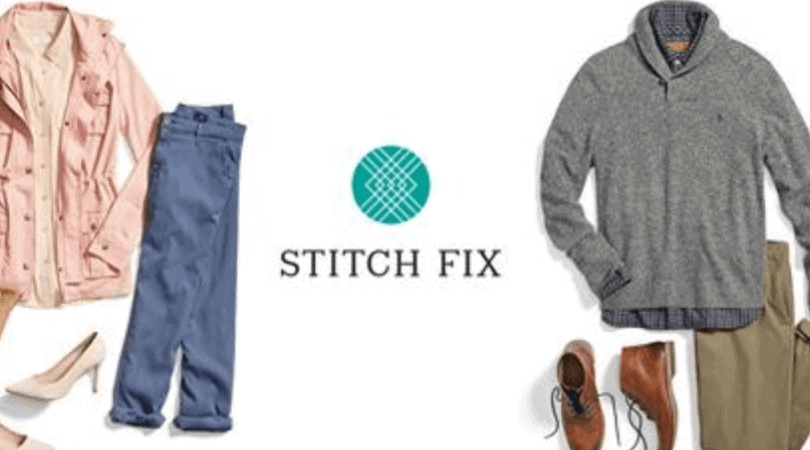 Have you tried Stitch Fix yet? I've been getting fixes for years and it's how I've discovered some of my all-time favorite brands and styles.
What Is Stitch Fix?
Stitch Fix sends stylist-curated boxes designed around a detailed questionnaire on what you like, your sizes, etc., as well as a note where you get to ask for exactly what you want.
Boxes are shipped straight to you with free shipping AND free returns, all for a $20 styling fee that is applied to your purchase.
If you love all 5 items, you get a hefty discount to buy the whole box, which makes every individual piece that much more affordable.
Special Stitch Fix Deal….Whaaat?!
Right now, I have a special deal just for you – you can use my referral link to get $35 off your box! Yup! I wish I had a deal like that!
Just click on this link to secure your $35 deal!
They now offer fixes for men, women and kids – including maternity! So, you can use this code for anyone in the family who is in need of a spring wardrobe refresh!
What I Love About Stitch Fix:
Something else I love about Stitch Fix is that they have become so well known, many brands make exclusive lines just for them – so they have unique items you can't get anywhere else!
I know when I was pregnant, I got lots of boxes just to get the exclusive Kut From The Kloth and Liverpool maternity jeans and leggings! #WORTHIT
Over the years, I've gotten over 20 fixes. Typically, I grab fixes before a family photo shoot, one around my birthday, one around a holiday, and fixes when I've been pregnant or newly postpartum.
So, basically, whenever I need a wardrobe refresh and don't have the desire or energy to go browse through a bunch of racks.
Better yet, they often send me items I really would've walked right past – and I end up loving them the most.
My Latest Fix:
Let's dig into my latest fix and I'll walk you through what I kept and what I returned.
Plus, I'll share exactly what I wrote to my stylist to get the best fix!
When you schedule a fix, you get to put a note for your stylist with what you want in that particular fix.
Here's what I wrote:
My birthday is coming up, so I'd like something nicer than what I normally wear (which is super casual). Style inspo is Brunch Chic. Something I can wear to a nice brunch, but still wear again during my normal life. Pieces should be soft, flattering, nothing too tight. I prefer primary colors and probably wear too much black. No dresses, skirts, bags or jewelry, please.
I also usually give updated size info if I am pregnant or newly postpartum, so I don't have to update my style profile all the time.
So, let's take a look at the 5 items they sent!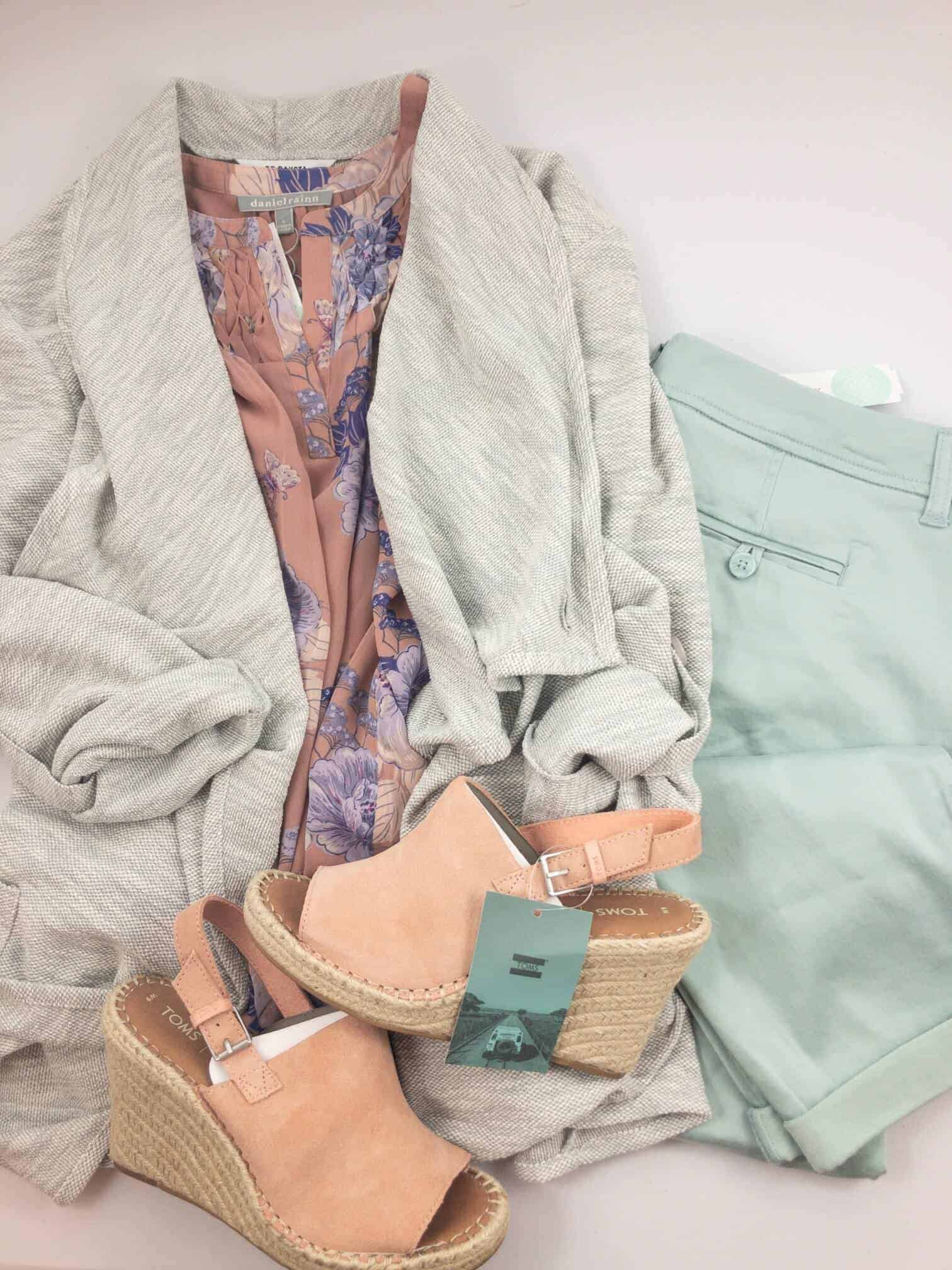 1. TOMS Monica Suede Espadrille Wedge
Adorable. I don't typically buy pink shoes, but I actually just bought a pair of pink TOMS wedges a few months ago – so these had to go back.
2. BB Dakota Beckham Open Drape Knit Jacket
Loved. If I didn't have an embarrassing cardigan collection, this had my name all over it. The color, the fabric, the drape? SWOON.
3. Daniel Rainn Carin Smocked Bib Blouse
Not something I would ever pick, because the colors and patterns are a bit softer than I usually like. But, it fit really well and went so perfectly with the other items in the collection that I really wanted to keep it.
4. Liverpool Ryder Straight Leg Trousers
Man, these feel like butter. So soft, with just enough stretch to feel good on and be super wearable. The fabric and color absolutely nail the Brunch Chic look I was going for and could be paired easily with a lot of my black and navy tops for a fun pop of color. I don't have anything like this in my closet and love the idea of lighter pants in spring.
The Liverpool trousers also pair perfectly with the last item in the box!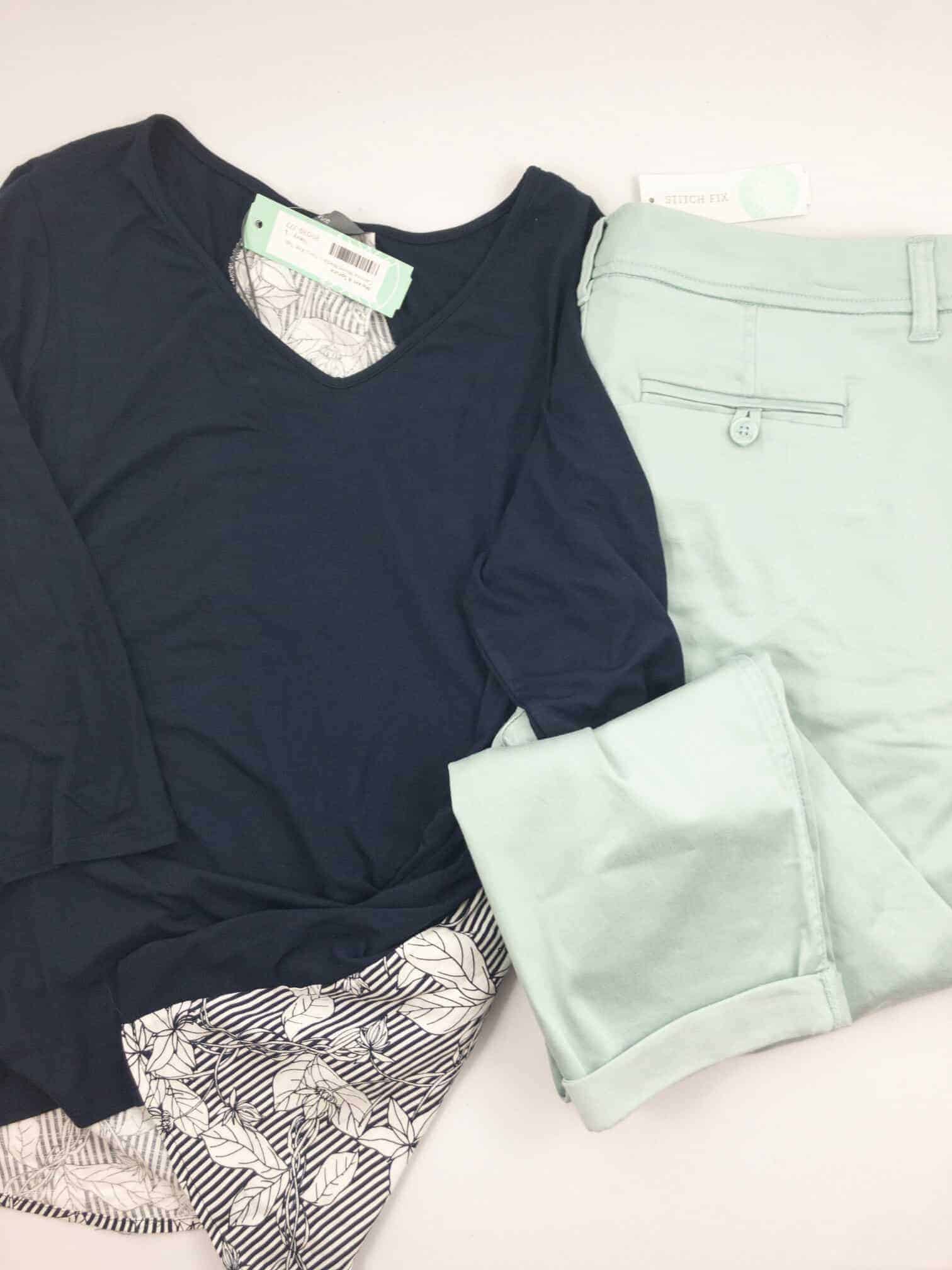 5. Market & Spruce Calonna Mixed Media V-neck Top
This top is so cute. The front is this soft, navy knit and the back has this great design with additional length. Very flattering and great for everything from leggings to trousers.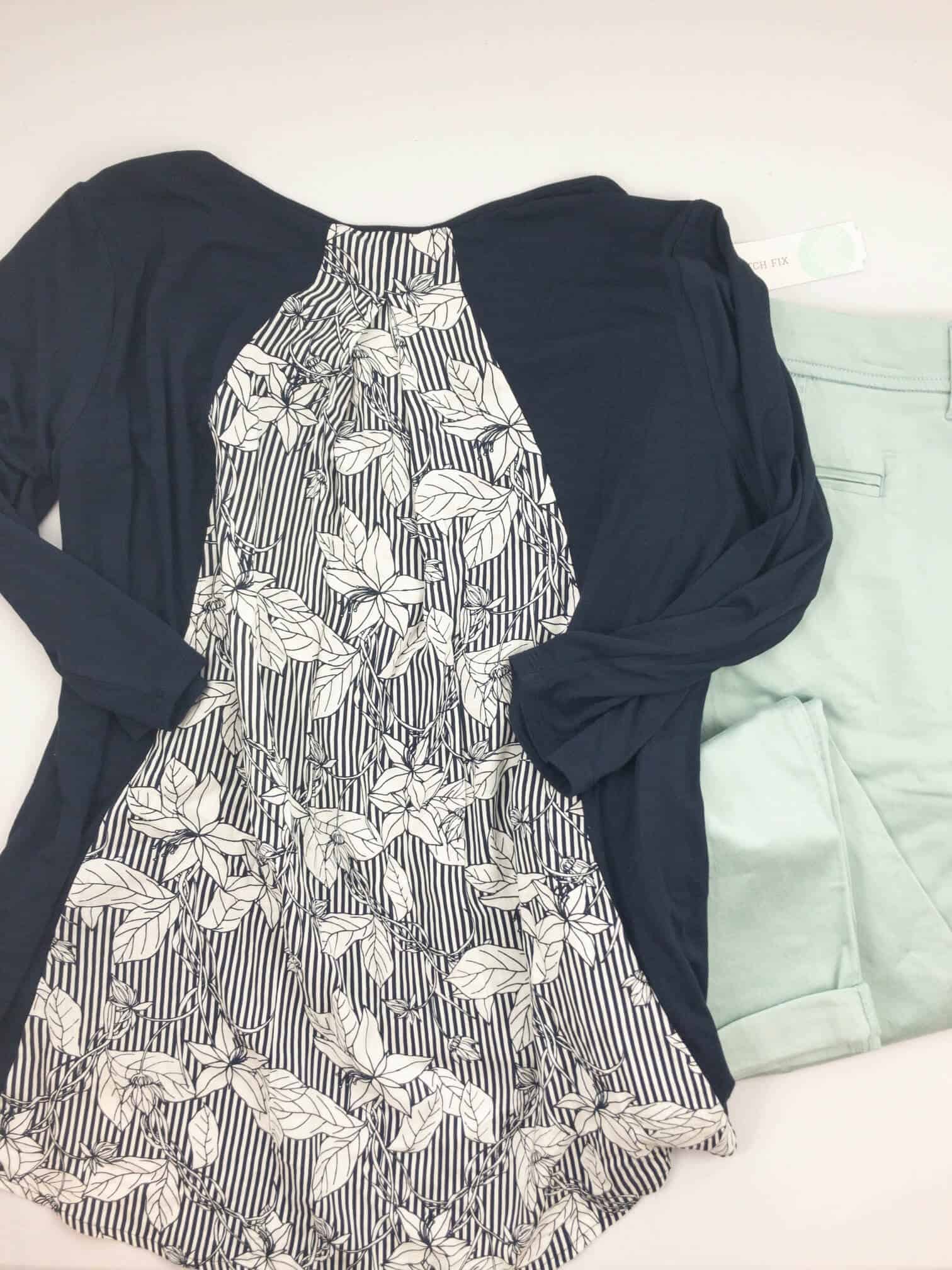 I love how the stylist considered outfits when they put this together. If I had kept everything, I would've had at least 2 clear outfits here.
All 5 items with the 25% discount and my $20 styling fee returned would've cost:
$384 – 25% ($96) = $288 – $20 styling fee = $268.00
Not bad! Especially when you're thinking of these being cornerstone, exclusive pieces that I could build outfits around. These aren't the random pieces we grab at Target to wear for school pick-up. These are the pieces we wear to the parties, the BBQs, the graduations, the photo shoots, etc.
Decisions, Decisions…
Because I already had some pink wedges by TOMS (irony, right?), that automatically meant I lost the big discount.
So, I decided to pick one thing I really loved and would add something unique to my current wardrobe.
I looked at the outfit card they sent to get some ideas of how I could incorporate these items with things already in my closet.
BUSY MOM TIP: SAVE these cards! I have a little stash of all my favorites and it gives me ideas of outfits I can put together for events when I'm tired or have limited time.
Here's the cards that came with this fix: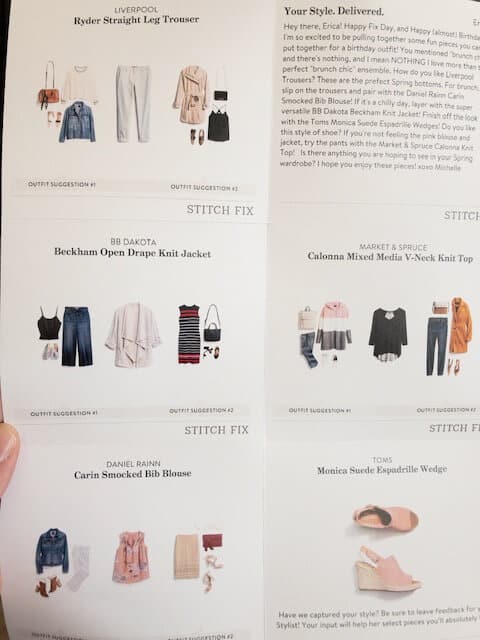 This left me with 2 items that were different than anything I had – the mixed media top and the Liverpool trousers.
While the mixed media top is super fun, I am such a stickler for the same types of pants, jeans, and leggings.
I knew what I had to do.
Can you guess which one I chose?
Ding! Ding! Ding!
At the end of the day, the Liverpool trousers were so soft, flattering, and completely different from anything I have. Adding shirts I already own would create totally new looks that would be a perfect spring wardrobe refresh.
Time To Checkout!
Checking out is easy. You just go to the Stitch Fix site.
You'll be asked a series of questions for each item, including if you want to keep, exchange or return.
When you're finished, they have calculated the cost and already removed any discounts or styling fees earned.
Voila! You use the credit card online and it's good to go.
Easy Returns:
Bag up what you don't want in the included bag that has an easy adhesive lip.
Personally, I schedule a package pick-up on USPS.COM so I can just put the package outside my door and forget about it.
If you don't have that option, you can just drop it off at the post office. Postage is paid, so you don't even need a wallet.
#DONE
*****
If you're a busy working mama, having a curated box of items sent in your size and to your request sent straight to you home, where you can try them on when the kids are asleep, is gold.
I know it's saved me on more than one occasion and it's something I look forward to doing 2-3 times a year.
Don't forget, they are offering a deal to get you $35 off your first box with this link.
So definitely don't miss this if you've been curious at all about trying it out.
Then, come back here and tell us all what you think!
Have a fabulous day,
E