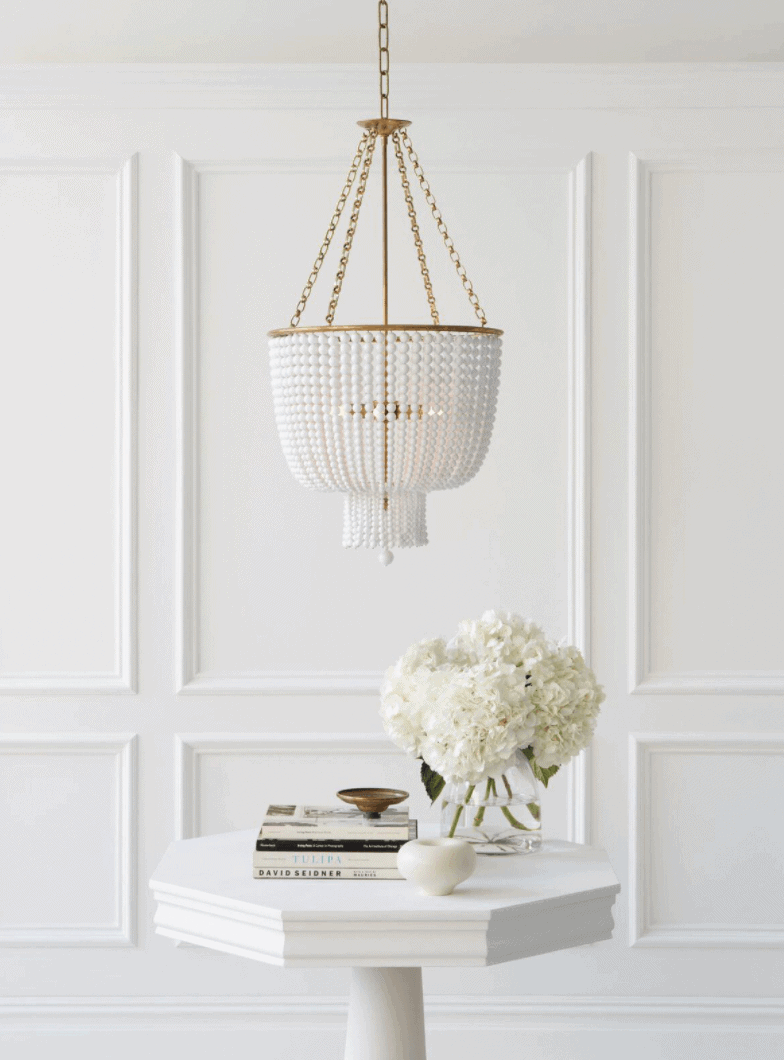 If you're here, you're equally smitten with the stunning glass beaded chandelier from Visual Comfort known as the Aerin Jacqueline. It's swoon-worthy, while being a bit understated and soft.
With a price tag around $1800, though, the only thing swooning might be your checkbook. I feel you. I've been staring at this chandelier for a long time and imagining all the places she would light up my life.
But, I know why you're here. For the love of a good dupe. And, oh baby, have I got a good one for you today.
Visual Comfort Aerin Jacqueline Chandelier:
Before we check out the lookalike, let's refresh your memory on the original. This gorgeous glass beaded mini chandelier comes in both a silver leaf and a hand-rubbed antique bronze metal.
Dripping with your choice of clear glass or white acrylic beads, this chandelier is a true work of art. Personally (and most of Instagram) is in love with the white acrylic bead and antique bronze metal combo.
The dimensions of this one come in at around 35 inches high and 19 inches wide – that perfect middle size that can be used in a smaller spice, over a dining table, or used in a series of 2 or 3 over a large island. In my case, I'm looking to hang a similar chandelier over my bathtub and it'll be the jewelry – the focal point – of the primary bathroom.
Visual Comfort Aerin Jacqueline Dupe:
*Affiliate links are used below, which means if you choose to make a purchase through my links, I may receive a commission at no cost to you. Thank you!
Now, the moment you've all been waiting for – the light: the dupe. This version is so similar, in almost the exact same dimensions, from Pottery Barn Teen:
This glass beaded chandelier made me do a double-take. And, the price, you won't believe: $299! Shocking! It's beautiful, with similar coloring, using iron with a matte brass finish. Featuring 24 strands of white glass beads on the bottom section and 48 strands on the top, she's sure to light up your space.
The dimensions of this one are 30 inches tall and 18 inches wide, for a very similar look and feel. Personally, I'll be snagging this one for over my bathtub.
Seriously, so, so good. I'm just in love with this one. In my main bedroom, I have my favorite light of all time – the stunning wood-beaded Francesca chandelier from Pottery Barn, so I think the two lights will play really nicely together.
*****
Ahhh, I love it. So satisfying to find incredible lookalikes that help us snag the look for a price we can afford. The biggest difference I notice between the two is that the Visual Comfort one has a little ball hanging from the very bottom and all the bottom strands are the same length. The Pottery Barn Teen one has a bit of a softer, less structured vibe to it.
I have a lot of fab deal posts like this on the blog, here are a few more you might be interested in:
Have a fabulous day,
E