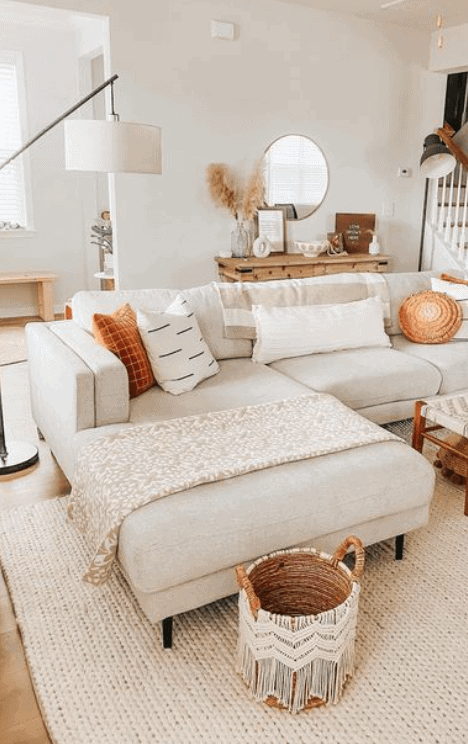 I absolutely love West Elm and their modern, minimalistic and mid-century design aesthetic. I have been buying pieces here and there from their collections for years – and also finding incredible lookalikes of their designs, too.
One thing I love, love, love at West Elm is their rugs – from the fan favorite Colca Rug to the gorgeous and neutral Braid Stripe Rug that adds so much texture and warmth to any space.
But, rugs can have a fairly short life span if you have a busy household and/or pets, so saving on something like a rug is a great way to get the look you want for less. A rug is going to get a lot more wear and tear than something like a media console, so it's easier for me to justify spending the bulk of my design budgets on things that I won't need to replace very often.
So, to kick off my West Elm dupe series – I'm bringing you 5 of their gorgeous rugs and more affordable lookalikes that will make their high style accessible for almost any budget. Like all my Fab Deal$ posts, these are not sponsored by a brand, but I do use affiliate links, which means I'll receive a small commission at no cost to you if you choose to buy a rug through my links.
Let's go!
Ahh, one of my favorite rugs from West Elm EVER. The Colca rug with it's chic palette of colors, a pattern that is interesting without being overwhelming, and loads of texture, is a total room- maker.
But, the price tag of $840 for an 8×10 (on sale for $672 at time of posting) might make you reconsider. It's still a really reasonable price for a beautiful rug that will last, but sometimes you just need to get the look for less. Here is the most similar rug I have found yet: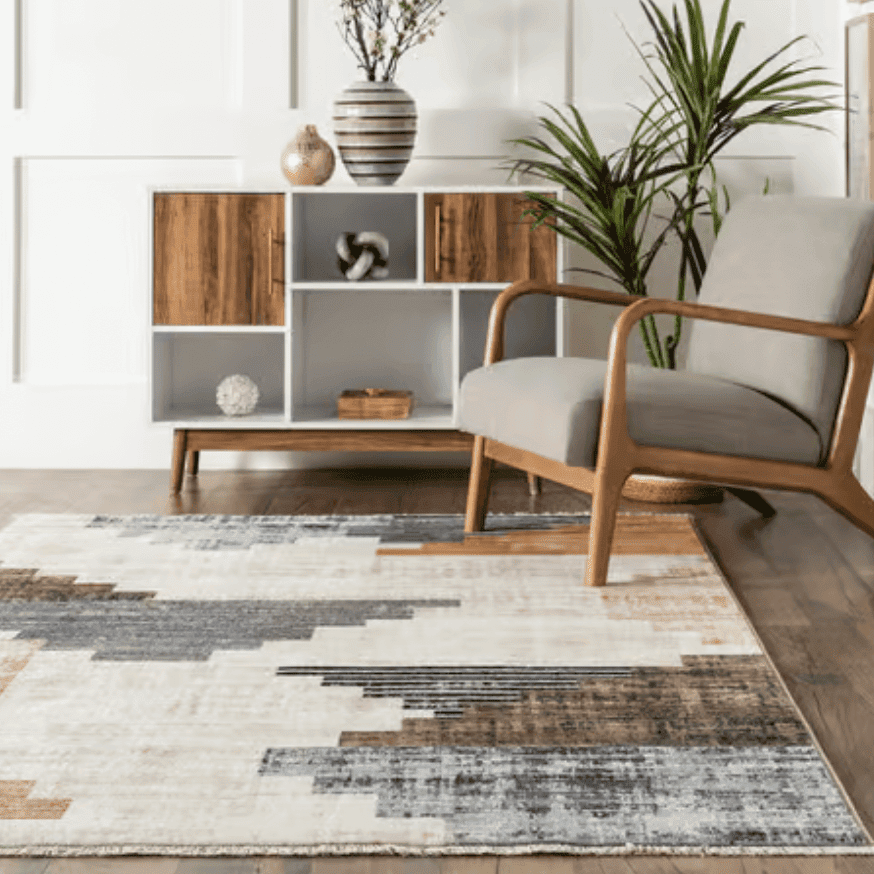 For two more similar looking rugs in different price points, check out these two other options: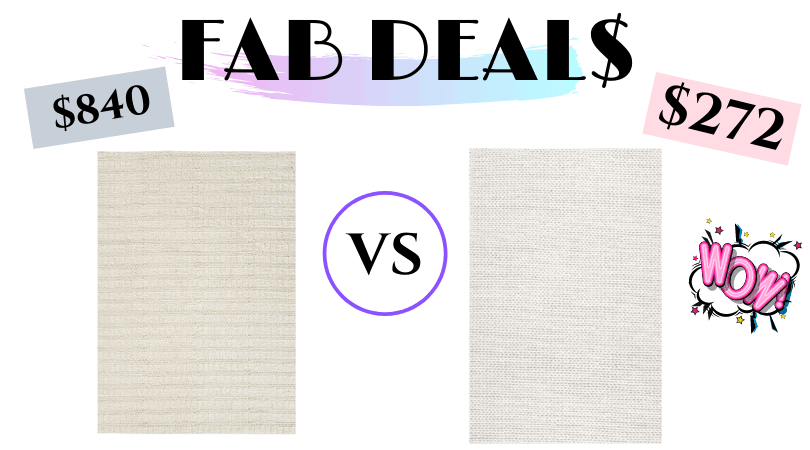 I love the braided rug look for adding texture without any visual distraction. These are perfect for rooms where you want something soft underfoot, like a living room or bedroom. The braided pattern makes it interesting and the ivory color keeps it neutral and soothing.
The West Elm Braid Stripe Sweater Rug in 8×10 is currently retailing for $840, on sale at time of posting for $672.
Guess what, you can absolutely have the look for less – just check this ivory braided rug out.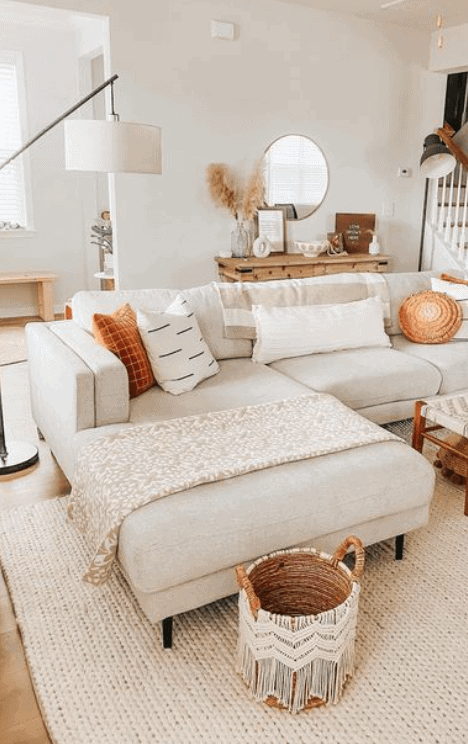 Yup, yup, yup. Love. Adds so much. I have ordered from Rugs USA and felt the delivery and customer service were excellent. The one comes in a million sizes and 6 colors. The 8×10 in ivory retails for $408.50. Score.
For 2 more incredible dupes for the West Elm Braid Stripe Sweater Rug, read this post.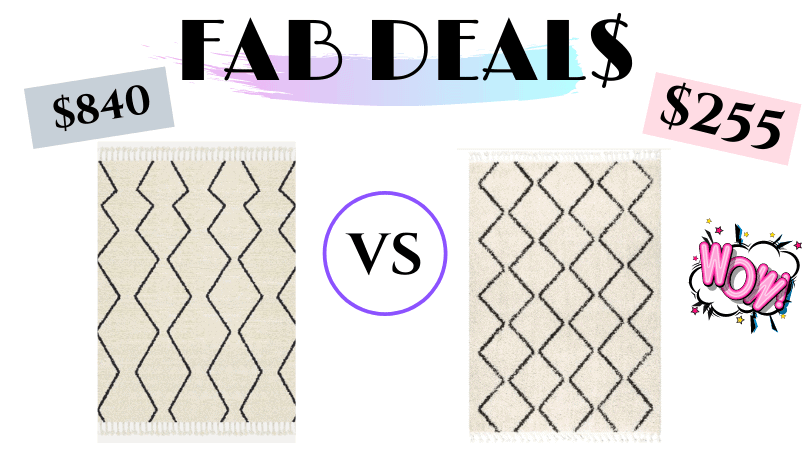 I'm a huge fan of the Moroccan style rug. I even wrote an earlier post where I scooped the dupe for the Lulu & Georgia moroccan rug and there's another one for the Anthropologie Cross rug.
I'm super excited to bring you the dupe for the West Elm Wool Souk – easily one of the best rugs ever designed. The original is $840 for an 8×10 (currently on sale for $672).
I spy a dupe with my little eye! Here here, y'all! Currently priced at $255 for an 8×10, fringe and all – BAM! The NuLoom Moroccan Trellis Shag Rug.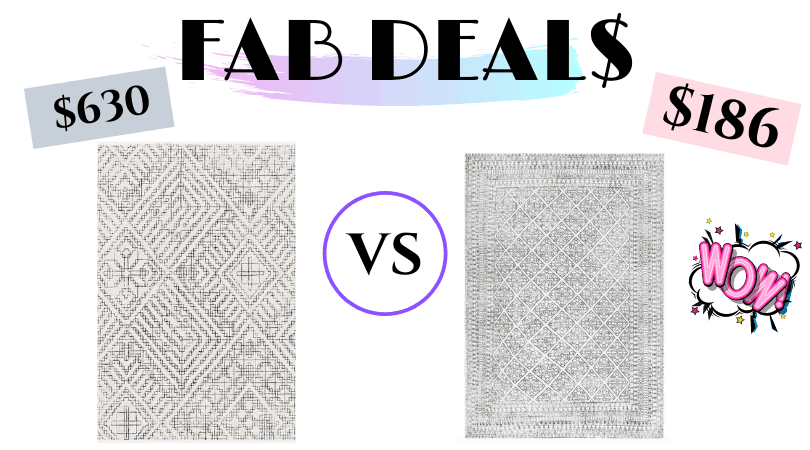 I love the WE Stone Tile Rug – the neutral colors and use of a stone tile pattern is both classic and interesting. An 8×10 of the Stone Tile Rug will set you back $630 (currently $504 on sale).
You can snag the look for less, though, with another Rugs USA find – the Tile Tracery rug. With a similar look and feel, this one will only cost you $186.90 for an 8×10! The reviews and customer photos look even better than the marketing photos for this one, so make sure to check those out.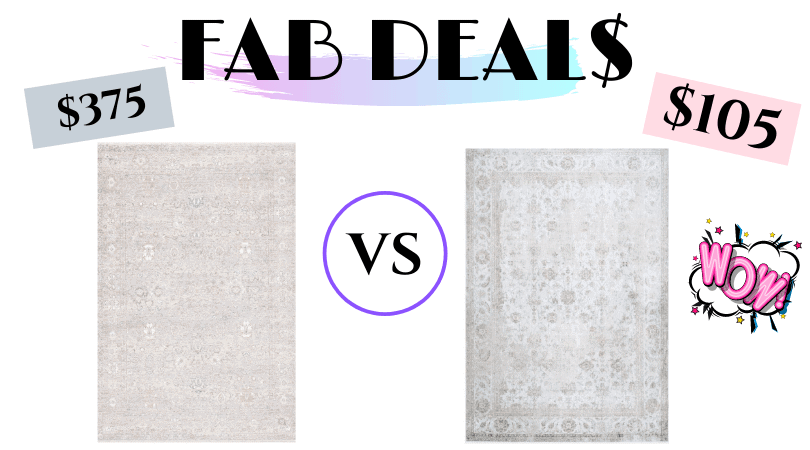 This is one of those moments where I find the dupe and think – I actually like this one, better.
But, honestly, they are very, very similar. The West Elm Faded Floral Rug is a beautiful, soft design in a light beige. Available in a 5×8 as the largest right now (but bigger sizes might return), it's priced at $375. Not a terrible price, really.
But, then there is the lookalike – and with the fringe and the three color options – I really think side-by-side, the Fading Floral Fringe Rug is the winner – and not only because a 5×8 will only cost you $104.50. I'm not even kidding. I do think the color is off a bit in the image above – because when you look at more of the pictures, you see a clear beige option and a clear silvery gray option: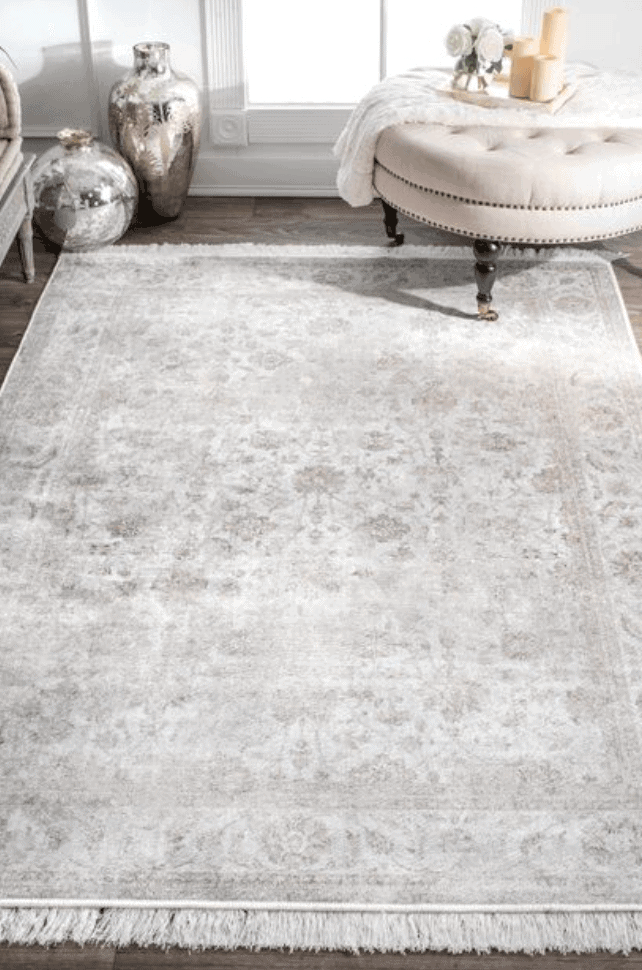 More Rug Dupes:
Didn't find the rug you are looking for? Check out this post with 5 more West Elm rug dupes!
If you're still shopping for the perfect rug, don't miss these fab deal posts:
Want to save $3o on your rug?
Don't forget to use Rakuten for all of your online purchases. I got over $400 in cash back just last year alone from using Rakuten. I seriously don't know why everyone isn't using it, especially on big purchases like rugs. Click here to get a Rakuten account and get $30 in cash back after your first purchase of $30.
*****
What do you think? Are you a fan of West Elm rugs and decor? You can get that look for less, friends. Check out more posts in the Fab Deal$ series or follow me on Instagram to see fresh deals in real time.
Have a fabulous day,
E