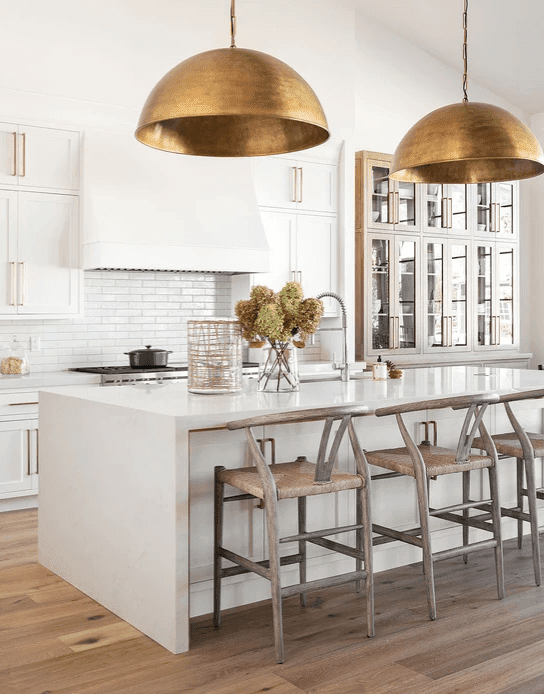 Who doesn't love the incredible style of McGee & Co and Studio McGee? Their taste is on point and their line with everything from wallpaper to furniture gives you everything you could to curate the perfectly decorated home … for a price.
Sure, they have their more affordable line at Target, which is amazing, but there are a lot of pieces, like their Jasper counter stool that are only offered through McGee & Co.
But, good news, the stunning lines of this wishbone counter stool can be yours for a fraction of the price. I found several lookalikes ranging in price and style to help you fill that wishbone shaped hole in your heart.
Also, if you've ever wondered if you need bar stools or counter stools, stay until the end where I'll share some tips on this to help you decide. And, know that affiliate links are used below, which means if you make a purchase through my links, I may receive a commission at no cost to you.
2 colors, $630
Amazon Stone & Beam Wishbone Counter Stool: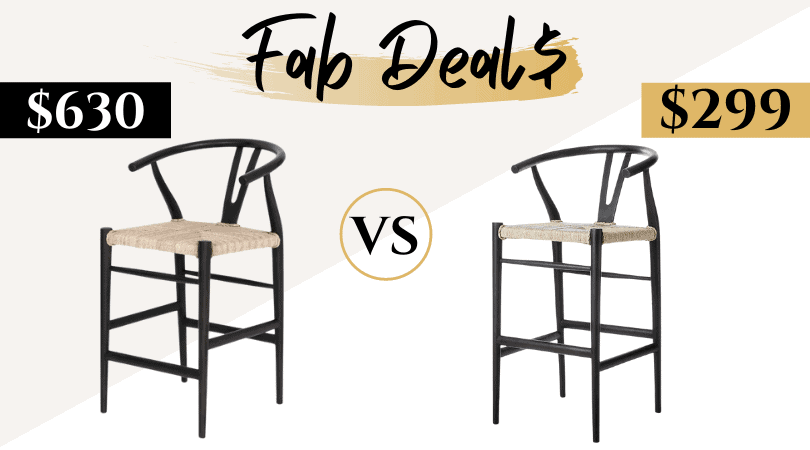 Ummm…what? I wonder how they might compare in person, because on the computer screen, they look nearly identical.
The Jasper counter stool is available in 2 colors, black and a nice grey, while the Amazon version is offered in 6 colors, and prices can vary (I've seen them even under $200), but usually around $250-$300. Sometimes certain colors do sell out, but they have been restocking.
Overall, an incredible dupe.
Crate & Barrel Crescent Wishbone Counter Stool: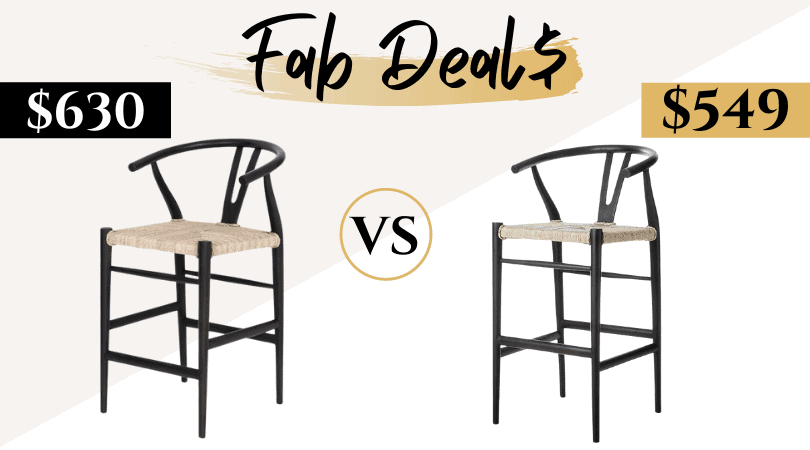 Big fan of Crate & Barrel. Their whole line is just very high quality. These wishbone counter stools are no doubt just as high quality – and also an almost dead ringer for the Jasper.
They are not as steep of a discount as the Amazon version, but provide another option if you're not an Amazon fan. They also come in two gorgeous colors, black and grey, just like the Jasper stool.
Priced at $549 each, you could also take advantage of C&Bs occasional sales to get a better deal.
Arhaus Robin Wishbone Counter Stool: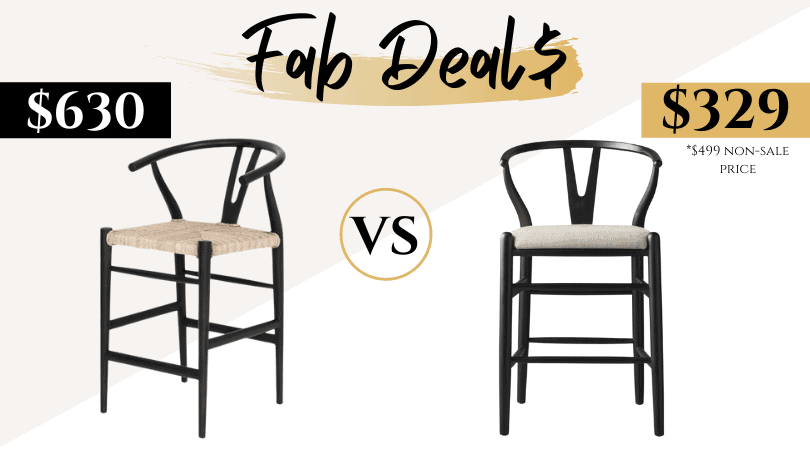 Here's something a little different for you – the Arhaus version of the wishbone stool. I absolutely love how Arhaus softened some of the lines, added upholstered seating, thicker legs (which would add stability) and rounded the edges. As a mom, I see safety hazards now everywhere I go, so I love the change that Arhaus has made.
Arhaus has such an incredible collection, in general, which is why I mention their stunning gold mirror in this post, too.
Plus, their gorgeous wishbone stool is more affordable, especially while it's on sale for $329 – that almost rivals the price of the Amazon one and I think I like the style better, too. Just look at this beauty:
Bar Stools vs. Counter Stools:
If you're wondering what the difference is between a counter and barstool height, it's just the height of the seat.
Most kitchen islands are counter height, so you'll need counter stools instead. Sometimes, this is not the case, so you'll want to measure from the floor to the bottom of the island and then check the legs of the barstools you like to make sure there is enough space to sit on the chair without smashing your legs or jamming the seat into the bottom of the counter.
Even with counter stools, you'll see some variance in how close the seat is to the floor, so just measure twice and make sure it'll work.
Worst case scenario, most of these places have exceptional exchange policies and you should be able to get something that will work.
*****
Okay, now I want to throw my easy to clean counter stools out the window and order a set of these wishbone counter stools. You with me?
If you're looking for more incredible deals, don't miss these posts:
Have a fabulous day,
E