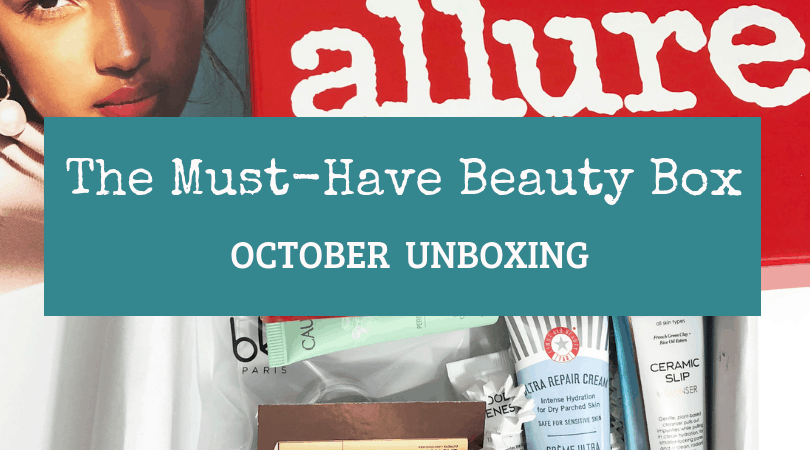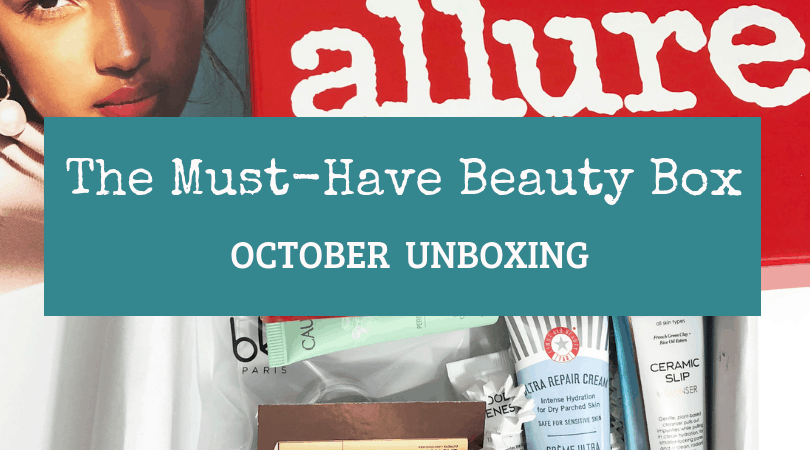 The October Allure Beauty Box is heeeeere! Yeah baby!
After the super exciting September box that made all my beauty box subscriptions come true – I was really looking forward to seeing what the October box had in store.
I'm here to tell you, friends, that the October Allure Beauty Box rocked my world.
ROCKED. MY. WORLD.
Let's get a gooood look at these goodies: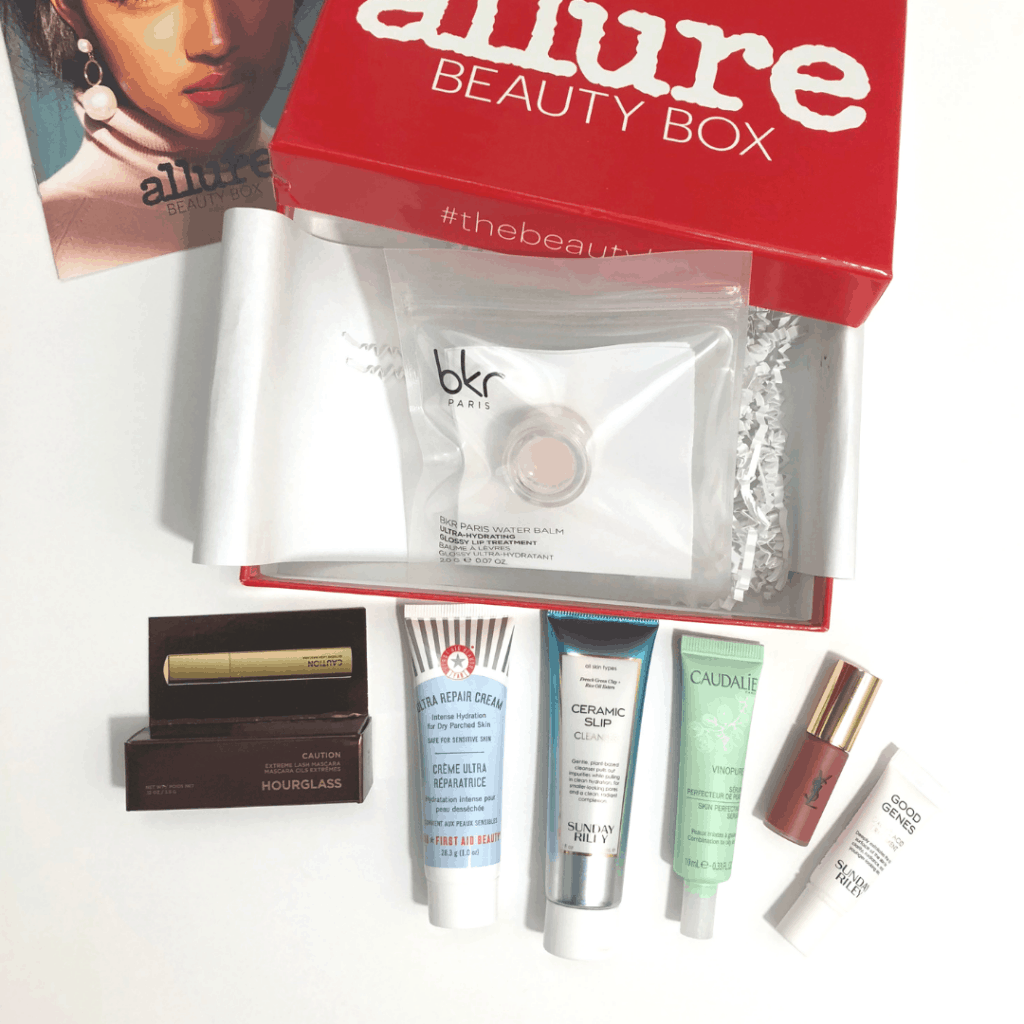 BAM! Look at those sexy products, y'all!
I can't tell you how many of these products were on my list to try. The peeps behind this box really know what's up.
First of all, let's talk about this little number: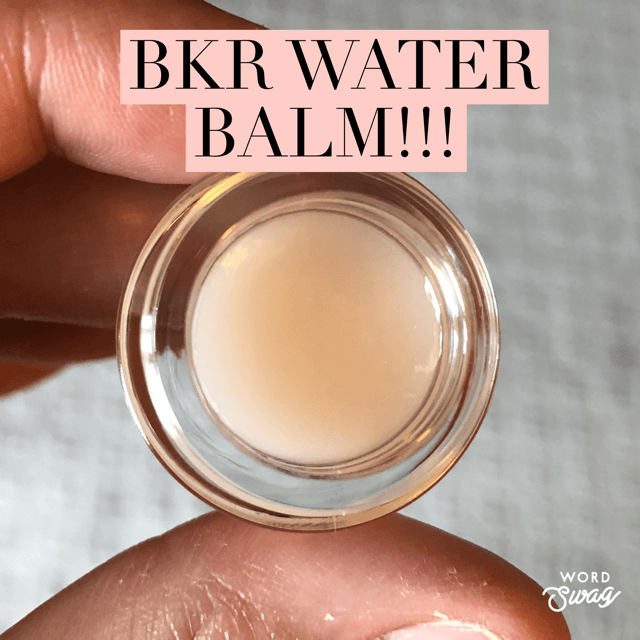 I was so excited to see this. I've been lusting after the BKR water bottle ever since I first saw it on Instagram. Yes, I am totally susceptible to Instagram marketing. What do you want from me?
Then, they added the water balm (lip balm) to the cap and I was just all the heart eyes *SWOON*.
So, you better belief that as soon as I saw the mini BKR water balm in this month's box, there may have been a happy dance.
Okay, okay, there was DEFINITELY a happy dance.
It doesn't disappoint. It has a nice, thick, moisturizing consistency, but it dries soft and not at all sticky. Your lips look so plump and juicy – even Kylie Jenner would be jealous.
If I did lip injections for a living – I'd be very scared right now.
This is another product I ripped from the box with glee. Caudalie is a fantastic brand and I love a lot of their products. This serum doesn't disappoint. You really do see renewed skin in the morning.
The amazing ingredients in this serum include the zit-buster salicylic acid, powerhouse grape seed polyphenols, and organic essential oils. Together, they have a similar effect as my holy grail anti-aging, anti-acne serum that I have loved for years. So, maybe it has some competition 😉
I will say that you will want to put a moisturizer over it, though, because it dries a little bit tacky.
Love, love, love First Aid Beauty. This cream is an other excellent addition to their line. Thick, moisturizing, whipped cream that is safe for all skin types. There's a reason it received Allure's Best of Beauty Award.
I also really respect First Aid Beauty's commitment to clean products. There's a big long list of ingredients this cream does NOT have, and you are welcome to check it out here.

Who isn't obsessed with Sunday Riley right now? With clean ingredients that get results, what's not to love?
I was so excited to see their all-in-one lactic acid treatment in this month's box. It is a small sample, probably only enough for one or two applications, but that's enough to know how my skin reacts to it.
Let me just say that it does tingle a bit – as a lactic acid treatment is prone to do – and I wouldn't use it every day. That being said, this is one of the power ingredients that will get you noticeable results. And, at this price point, that is exactly what you would expect.
That's why you'll also see incredible reviews wherever you look for this, and the full suite, of Sunday Riley products. I am not sure if I'll be buying it, since it's a bit outside my current price range and I have other products that I do really like, but who knows – I'm no spring chicken. There could be a day in my near future when I come back to this treatment and click "Add to Cart".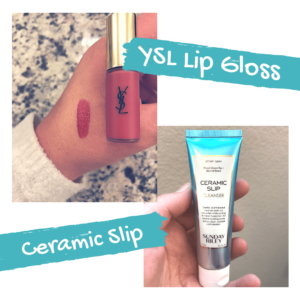 Another Sunday Riley product! Wahoo!! Sunday Riley, party! Sunday Riley, party!
This is a very gentle, creamy, clay cleanser that goes on well and washes off clean. Designed to purge impurities while leaving skin soft, it is also fragrance-free, oil-free, silicone-free, paraben/sulfate/phthalate-free, gluten-free, cruelty-free, and vegan. Phew. That's a mouthful.
All in all, another solid product. I still love my favorite cleanser – you know the one – since I've already talked about my love affair with it here and here.
6. YSL TATOUAGE COUTURE MATTE LIQUID LIP STAIN
I am so curious about high-end lip wear. I have not regularly worn anything on my lips since I had kids.
That said, this gorgeous rusty-colored red is beautiful, smooth, and adds luxury to any look. I feel like this color would compliment so many skin tones, making it a truly universal option.
The brush design is really inventive – it has an angled application that makes it really easy to get a crisp Cupid's bow. The color dries a nice matte, but doesn't look dry, and it doesn't transfer as easily as other lip glosses I have tried. I was able to wipe it off clean – with a little effort – and no color was left behind on my lips.
I'll say this – if I was in the market for a high-end lip stain – this would be the one I would spring for.
7. HOURGLASS CAUTION EXTREME LASH MASCARA
I love mascara. I've tried so many over the years – and for some time in my youth, I actually layered 2 different ones every day to achieve the look I wanted. Because, unlike my gorgeous children who were born with mile-long lashes, I have to work for mine. Such is my lot in life.
Luckily, with so many mascara options, it's not difficult to get the lash presence you want. Hourglass is such an incredible brand and many of their products are best of the best. To see their mascara in this box was a huge win for me.
Unfortunately, I struggle to use these little mini sizes, and even though the color was a beautiful, rich black and the formula didn't flake or make my lashes stick together – I kept smudging the mascara around my eyes in an effort to navigate the tiny little brush.
Even still, with the rave reviews on this product and my longtime love for the Hourglass brand, I can say pretty confidently that this mascara is a strong contender.
THE VERDICT:
As always, the Allure Beauty Box is a must-have. For just $15 and free shipping – it definitely offers more value per dollar than many others I have tried.
Plus, Allure really has their finger on the pulse of the newest and greatest products out there. And, the little booklet with tips and exclusive coupons really sets this beauty box apart.
Just like the September box wowed with the Drunk Elephant BabyFacial, the October box exceeded expectations with the mini BKR Water Balm.
Don't miss the November box! Sign up now and celebrate the unboxing with me in just a few weeks.
Do you get any beauty boxes? Tell me your favorites in the comments below.
Have a fabulous day,
E