I logged in today to talk about one of
my favorite clean beauty lines
. I have an autoimmune disease that makes it really important that I get the
most non-toxic products possible
– we're talking no fragrance, low additives and chemicals, blah. It makes me feel so old.Now, I know there are some Super. Serious. Ultra. Clean. 3 Ingredients. Only. kind of companies out there – and there are some good stuff from those, too.
But, I'm comfortable with a balance between organic/natural and super effective. I don't like to have to choose – and that's what drew me to Honest back, back in the day.
Seriously, I've been an Honest bundle subscriber for over 5 years.
Now I definitely feel old.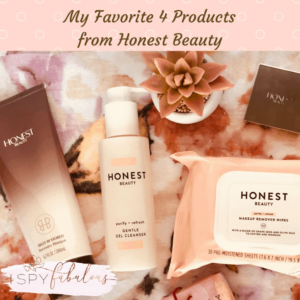 I'll admit it: I'm a sucker for beautiful advertising.When the Honest Co. entered the baby product market with a bang – I was juuuuust starting to go down the natural lifestyle rabbithole, and was highly susceptible to strategic advertising.
Yeah. I bought everything.
I mean – EVERYTHING. Every bundle, bottle, baby diaper and body product.
My house looked like a billboard for Honest Co. products.
The good news is – all of that real-world testing helped me boil down their extensive range of products to what I love and use every day – and what I recommend to my friends. That's you.
Let's start with the 4 Honest Co. beauty products that I use the most and how I get them for a great deal.
Plus, you can try them now and get 20% off with the coupon at the top of the page!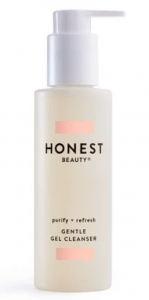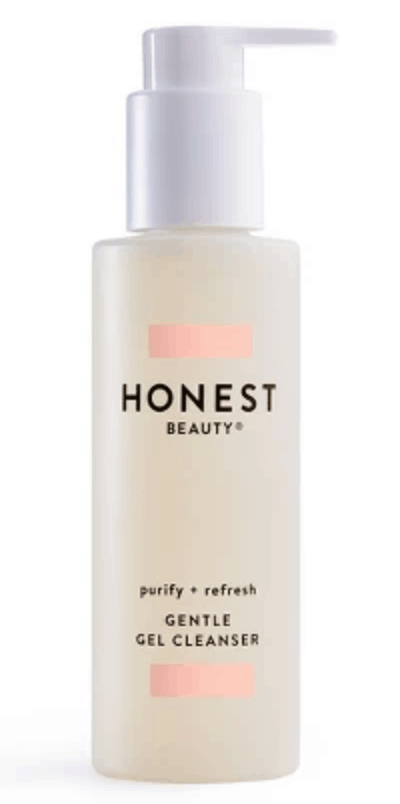 I think this is
my favorite face wash
of all time. While I do rotate between 5 or 6 (okay, maybe more – don't look at my sink) face washes, I still use this one the most and like it the best.Here's why:
1.
Gentle:
I am prone to everything. Break-outs? Check. Redness? Check. Sensitivity? Check. Dryness? Check. Everything else? Check. Yes, this does a great job with zero irritation or dryness.
2. Value: For the size and how long it lasts, it's a good deal.
3. Packaging: What can I say, I like ease of use. Plus, it's really easy to just turn the pump and lock it for travel. And, the somewhat see through bottle means I always know how much I have left. Not to mention, the bottle doesn't have any bright, annoying packaging.
4. Effective: This baby removes all makeup without requiring any excessive rubbing or multiple washes. Yet, the gel formula doesn't strip my skin. Genius.
That's pretty much all I'm looking for in a face wash, people. I mean, seriously.
Before I had health issues, I was a staunch advocate of some concealers that are very good and very well known. Unfortunately, I started having some reactions to some of the ingredients.To all the fallen concealers in my makeup bag – I miss you booboo.
Except, I have this lovely little duo from Honest Beauty that fills the gap. It's creamy, it blends well, it doesn't settle in to my fine lines and make me look like I'm 80 by the end of the day, and it can be customized to whatever my skin is doing in that season. Score.
Plus, it's a slim, cute little compact. You can see in this really bad picture how the colors can be customized. The first one is a mix, the second is just one color and the third strips is the other color. It's tough to show you because they really blend in so nicely and you can get a good match to your skin tone.
You know, this seems like a silly thing to write about, but I actually have had a hard time finding
makeup remover wipes
that I like. Some dry out really quickly, others have a bit of exfoliant in them that can make my skin a little raw.I'm not sure why it's been a challenge in the past, but I am glad it's not anymore.
These are soft, have a nice fresh scent, don't dry out for awhile, and the packaging is cute. Win.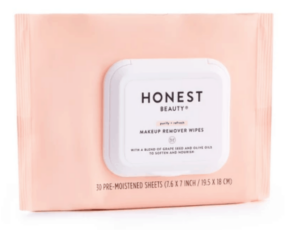 4. My Favorite Hair Recovery Masque:
Listen, I'm not here to bash anybody. This is a safe space.That being said, there are some heavily marketed hair masques that have not done diddly squat for my mane. I'll admit I'm a difficult case study.
Before I had kids, I had this long, glorious, porn star layered hair. Everybody was jealous of it. Even I was jealous of it. It always smelled good and was perfectly styled.
That head of hair is no longer.
Now, I rock the mom bun more days than not and when I style it, I am often completely confused by the mop of hair hanging from my head.
Like, who's hair is this? It has a different texture, thickness, and weight. It takes color and product differently and hardly holds a style.
​I have a drawer full of hair products I use to control it – but more often than not, I still end up looking like this:
Do you remember chia pets? I saw this one in a HomeGoods once and I just about died. lol.Anyway, enter – the Honest Beauty Recovery Masque. Thick, creamy, no annoying smell, gets the job done.
​Here she is folks: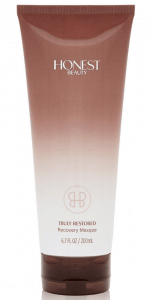 I really think that whatever hair type or problem you have –
this will work for you.
So, one of my favorite ways to save on these products is by signing up
for the bundles.

But, what I find is that some months I don't need all the beauty products to finish a bundle, so what I'll do that month is
add the one or two I do need as add-ons to my Essentials Bundle
.
Yes, I have both bundles. Don't judge.
I used to have the baby bundle and the wellness bundle, too. Just keepin' it real. If you've got little ones, they have a great promotion going on the baby bundle – so check out that add below.
I really do use and love these products, and if I can get what I need delivered straight to my door while drinking coffee in my pj's – you best believe that's what I'm gonna do.
Have you tried The Honest Company products or bundles yet?
Have a fabulous day,
E