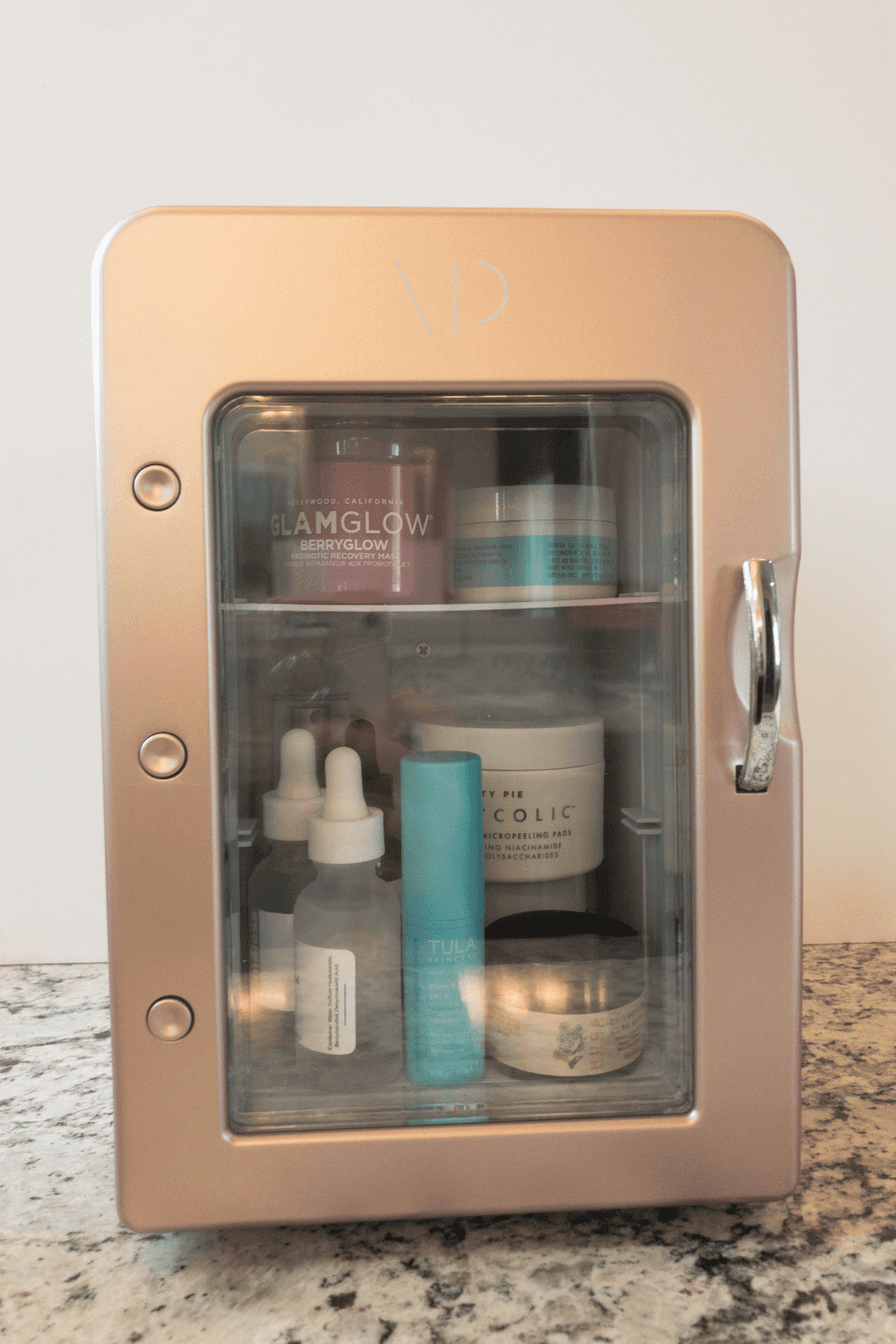 Have you seen the explosion of adorable mini-beauty fridges all over Instagram? If not, you will soon.
With so many skincare companies jumping on board with their own version of the beauty fridge (Coral! Spotted! Marble! Clear!), there's a skincare fridge for everyone and every budget.
But, first, do you really need one? Let's find out:
The Benefits to Having a Beauty Fridge:
While most skincare and makeup products you'll buy at the store are made with enough preservatives to be shelf stable for quite awhile, putting your skincare in a fridge can keep them at their optimum freshness for longer.
Plus, for some skincare products, such as undereye creams or face serums, a cooler product means better results – since the cold will help with any inflammation in the face.
Also, if you like to DIY your skincare, the shelf life will be shorter and separation is only natural – unless you put it in your new favorite mini-fridge – and you'll see that product last a little longer.
If you're a skincare addict like me, you probably don't use the same exact skincare regimen every single day – meaning you'll want to prolong the length of time you can use that product while achieving maximum benefits.
And how do you do that? With your own skincare fridge, of course.
Sensitive or Sore Skin? Time To Get Colder:
Also, if you have skin that is prone to breakouts or other skin conditions, such as eczema, psoriasis, or rashes from lupus, autoimmune diseases or even rosacea – using a nice, cooled skincare product is going to feel like a spa day.
Not only that, but it'll help chill out the raging inflammation behind your skin condition.
Less inflammation = less redness = faster healing and recovery time.
I don't know about you – but I like all those things. Less is more, baby.
The 10 Best Beauty Fridges on the Market:
Lucky for you, you've got a lot of options now. Let's take a look at the 10 best makeup fridge options on the market right now. Know that affiliate links are used.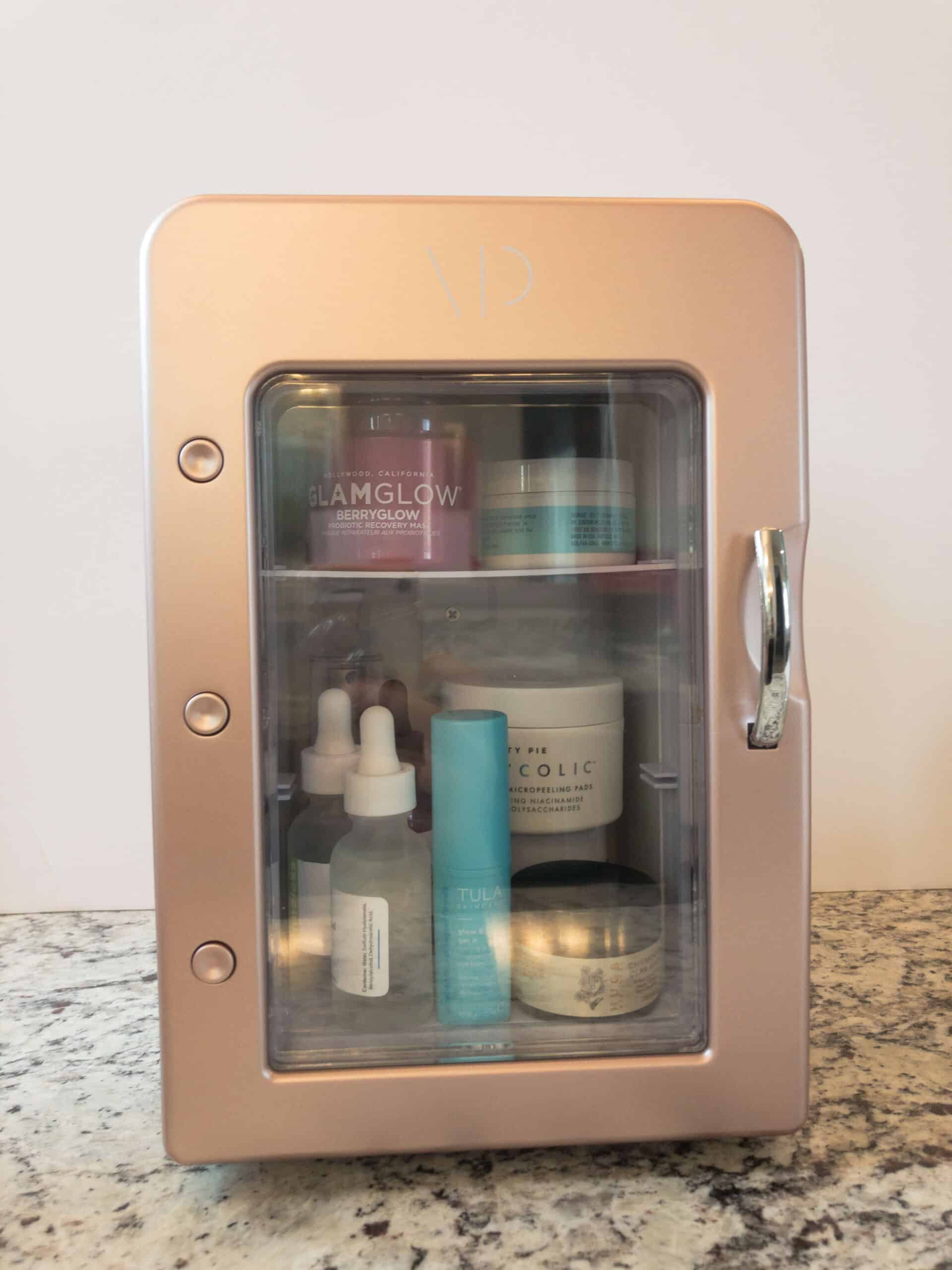 When I first published this post at the end of 2019, I was not the proud owner of a skincare fridge yet. Fast forward to today, September of 2020, and I now get to swoon over my rose gold skincare fridge everyday.
It might just be the highlight of 2020 for me, not gonna lie. And, for it to be the Vanity Planet Fria just makes it that much sweeter.
This adorable rose gold skincare fridge has my heart and the clear door keeps the focus where it should be – all those cool little goodies just waiting to depuff and dewrinkle your day away.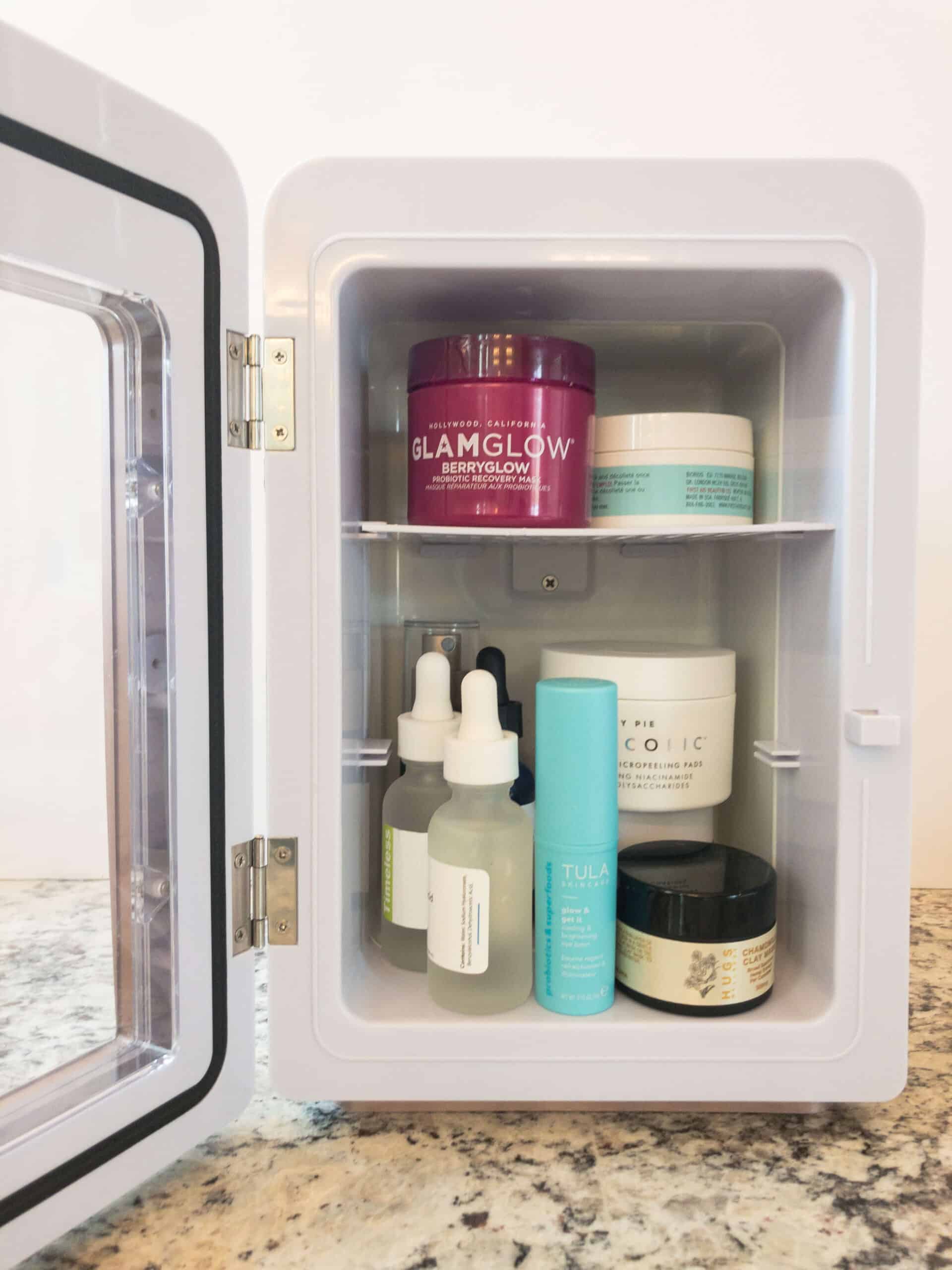 I love my little skincare fridge and here are some of the features:
Rose gold exterior with handle on top
Clear window
Two removable shelves for customization
Cools to 15-25 C for the refreshing cooled skincare.
Shop Fria here.
Absolutely adore this marble front mini-fridge.
Here are the features of this gorgeous little cooler:
Luxe Marble Design
Front Glass Panel
Metallic Finish
Hidden Door Handle
Removable Skincare Shelf
Removable In-Door Shelf
10L Capacity
Grab it at Ulta here.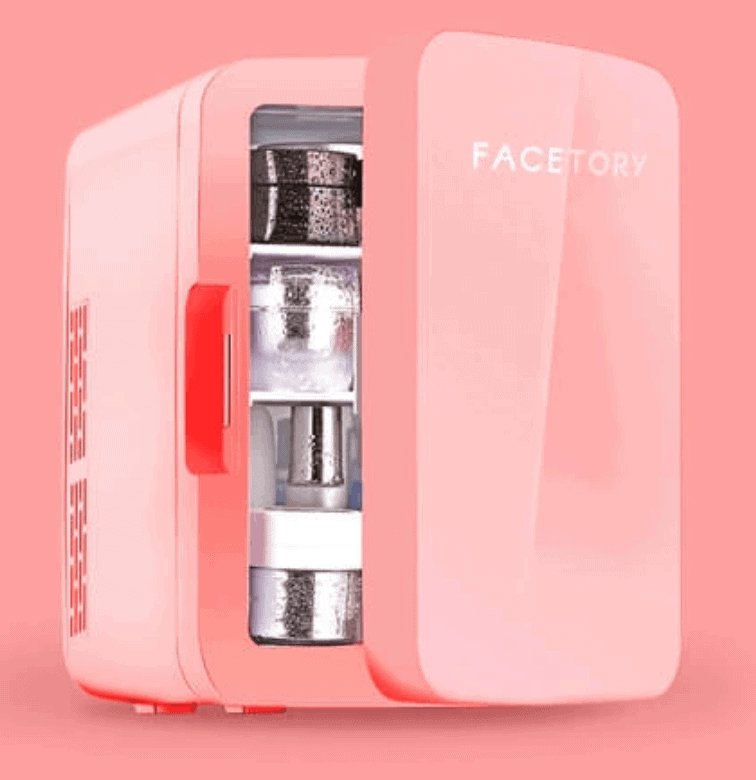 OBSESSED with this chic skincare fridge available in a cute coral or a punchy mint green.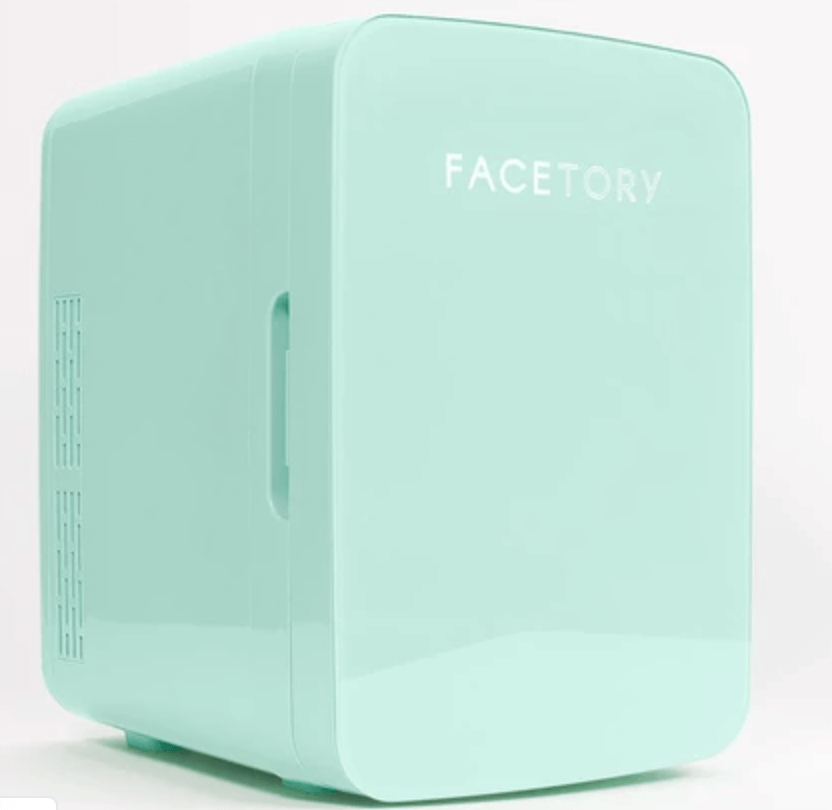 Unique features include:
10L Capacity
AC/DC Cables included
Fits all US outlets
41-48F, lowest is 32F

2 Color options
SO CUTE. Grab it here.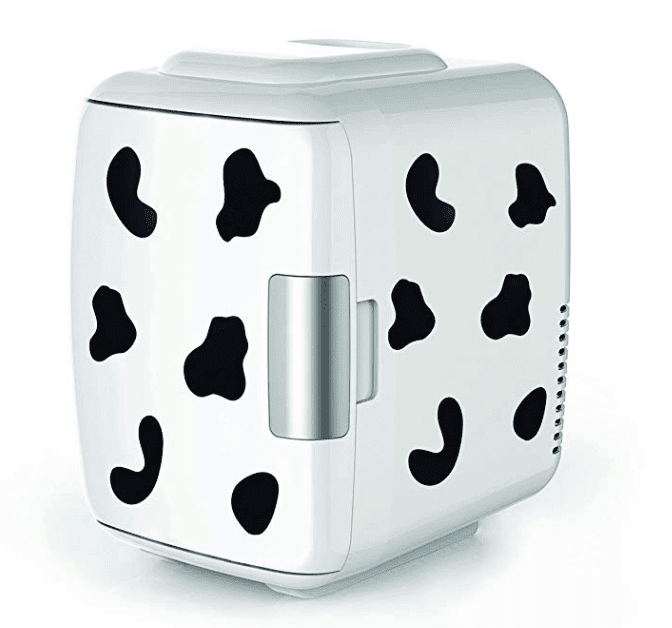 You don't get cuter than this adorable Cooluli beauty fridge, available in SEVEN colors, including this so cute spotted option.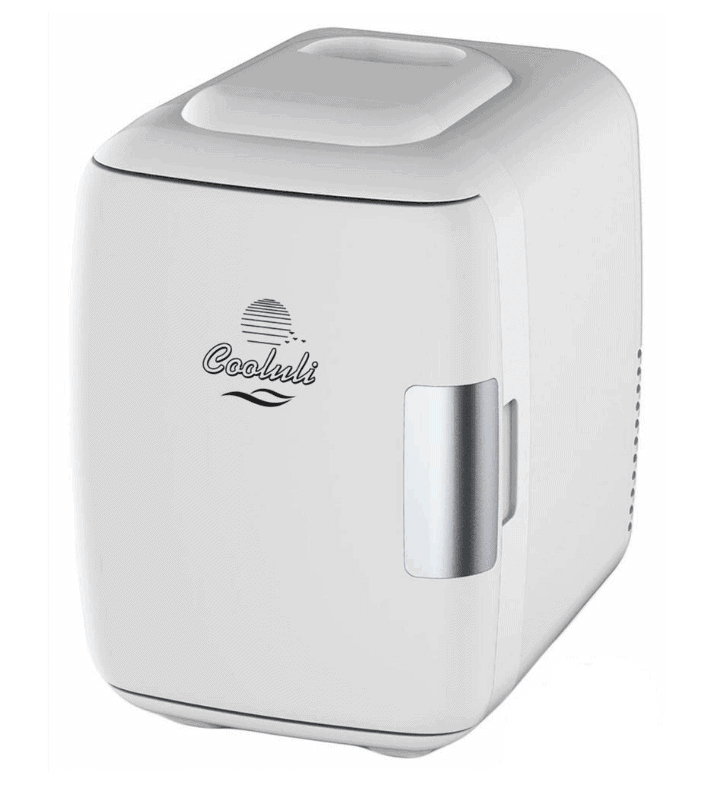 This is a super affordable skincare fridge, too, available even on Amazon.
Here are some key features:
4L Capacity
Can be used for other things besides skincare, such as canned sodas, snacks, etc.
Ultra-quiet
100% environmentally friendly
Cords for indoor, outdoor and even USB use
Grab your Cooluli here.
What a retro little number this is! And, if you don't love this metallic, it comes in four other colors, including black, white, a reddish orange and blue.
You'll love this super flexible, highly rated 9L capacity cooler. Here are some more features:
9L Capacity
Portable and can be plugged into a 12V car cigarette lighter!
40-45F
Affordable
Can even be used for baby bottles!
If this is the mini fridge for you, find it here.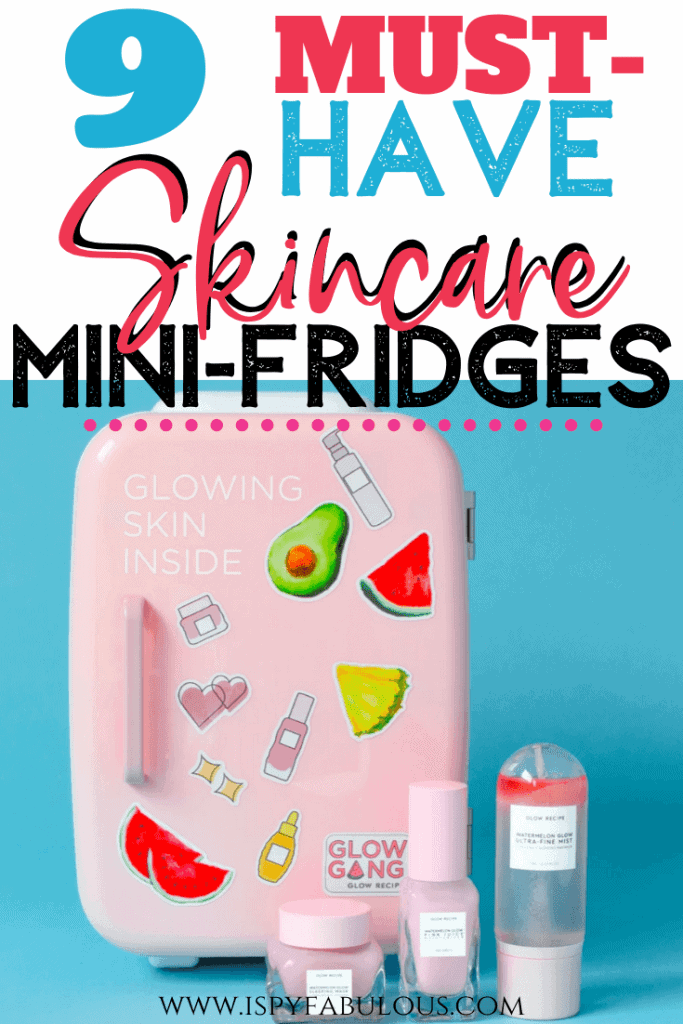 Want something a bit more sophisticated? The versatile Gourmia is for you.
This mini fridge boasts a lot of flexibility, such as removable shelves, a handle for easy carrying, and even a bluetooth speaker option for enjoying some tunes.
Now that's a fridge I can really get behind.
Here are the deets:
Bluetooth speaker option
Flexible storage options
Handle for carrying
Chill up to 32F
ETL Certified
Multiple power chord options
Eco-Friendly
Plus, it's so cute. That matters too, right?
Right.
Listen, Cooluli wants you to know that they are in the cooler business. They have several models available in many colors, so you can definitely find the Cooluli mini-fridge for you.
I'm only sharing one more – this one – because of some very cool features and the extra size.
This is the largest cooler on the list with a 20L capacity.
Plus, as you can see on the door – you have a lot of control over the temperature.
Here is some more info:
Ultra quiet
Custom Temp Control
20L Capacity
1 year warranty
4 color
and seriously so much more. This is a great option if you have a ton of skincare you want up in your fridge.
Find it here.
8. Makeup Fridge & Glow Recipe Collaboration
Okay, I love this one, too. Adore this soft pink color and the special edition upgrades for their collaboration with the incredible Glow Recipe skincare.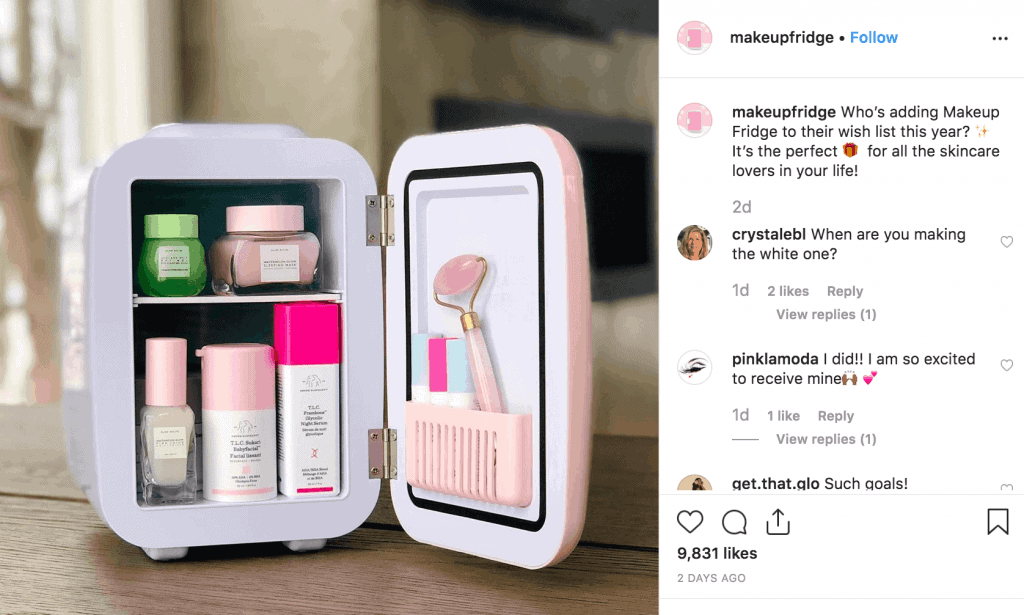 Occasionally, they run promotions where you get the makeup fridge (that is sold out otherwise until March 2020) and skincare products from the Glow Recipe.
I've tried two of the products and they are UH-MAZ-ING. OHMIGOD. And, they match this gorgeous little fridge – which would make you Queen of Skincare.
I like being queen.
Grab it here.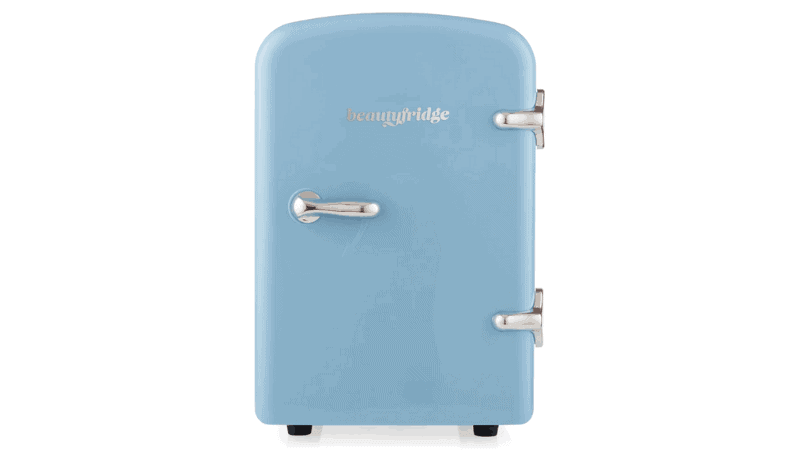 I really can't get over how cute this little blue beauty fridge is. They have a pink and white option, too.
Their fridge is aptly named the Beauty Fridge, and for good reason, they cater specifically, and only to the beauty crowd.
Here's the breakdown:
4L Capacity
Cools to 40F
Removable middle shelf
Removable door shelf
Adaptors for AUZ and NZ
Free Shipping
Great reviews
A super cute mini-fridge for the beauty obsessed.
Find it here.
****
Do you want a beauty fridge yet? If you grab one, make sure to tell us your fave in the comments below.
I hope to join the ranks of mini-fridge owners very soon (Santa, can you hear me?).
Have a fabulous day,
E