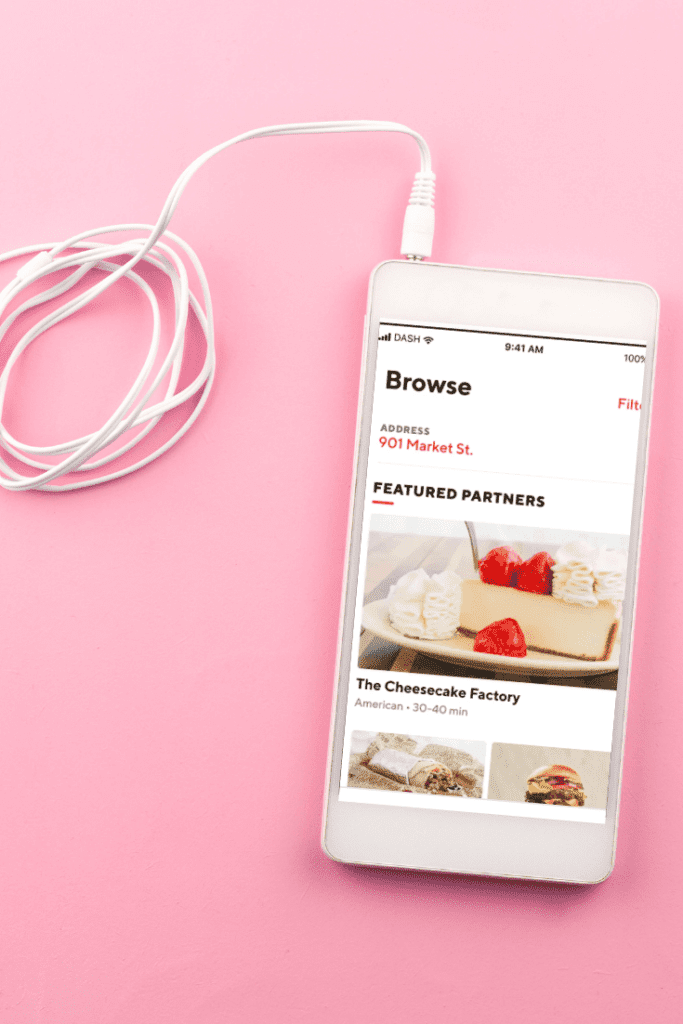 One thing I love is finding easy ways to simplify my life, become more efficient, and save time and money that I can use doing what I really want. Since I've got a few small kids around, getting to be present for them is my number one priority.
That's why I love finding new apps that I can use quickly to save time, save money, or simplify my life.
So, I thought I would share my absolute favorite go-to apps that have changed my life with you!
Let's jump in!
1. Get Food Delivered With Doordash:
Before we moved, we lived in a Doordash blackhole. In fact, it was a food delivery blackhole – period. So, when came here, I was thrilled to find not just Doordash, but UberEats, too!
Basically, you order your food online, through a phone app, and then a person who works for the app picks up your food and delivers it to you. You pay the same price for the food as normal, plus a small Doordash fee (usually a couple bucks) and a tip for the dasher. It's a very minimal price increase for the user, plus the restaurant gets more orders and pays a cut of their profits to Doordash. Win win for everybody.
Being able to Doordash a meal for me and the kids when the baby is napping or nobody is having a particularly good day and I can't steal away to make something for us to eat is a gamechanger.
Plus, it's become a great, easy revenue stream for a friend of mine who started running Doordash to help cover costs during a major life transition.
If you'd like to try it, my referral code will give you $5 off your first DoorDash order over $15!
Or, use my code: eats-ericaj43v1ue to get $7 off your first UberEats order of $14 or more!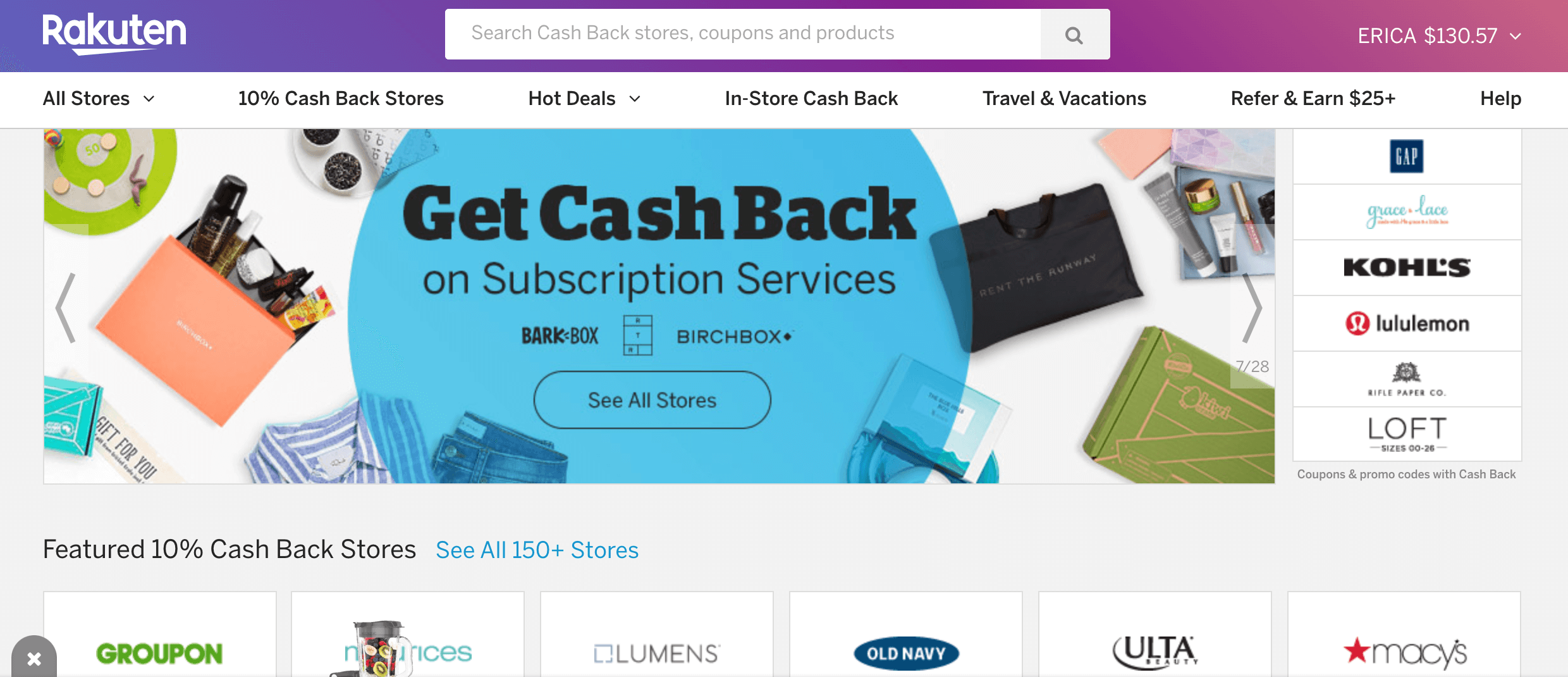 I'm obsessed with Rakuten. It's such an easy way to save money. I can't believe how easy it is. You can use it on your computer and your phone, so you save on all purchases.
Rakuten is essentially a super coupon. They give you cold, hard cash back on purchases, the percentages unique to each store, and there are even double days and high discount days where you'll get 10% off all stores, etc.
One you have the app installed of the bookmarklet on your computer, a little pop-up reminds you when you are shopping on a store that has a Rakuten coupon. You just click to activate it, Rakuten does the rest.
You shop like normal, then Rakuten sends you real checks or pays you via Paypal when rebates are cashed out. Plus, when you sign up, you get a $10 welcome bonus. It's real, folks. I've saved hundreds of dollars on things I was going to buy anyway.
Then, after you love it, send your referral link to friends and family and get another bonus check when they sign up. Right now – they're offering $30 to your referral and $30 to you after they spend $30 through Rakuten on things they were going to buy anyway. SCORE.
People have asked me why Rakuten would do this and its pretty simple. Rakuten gets a kick-back from the stores you shop at if they can hand over the data from your shopping trip. They use info on what you bought to improve their inventory and advertising. You save, they get info on your shop, and everybody is happy.
3. Get Things Delivered With Postmates:
Postmates is an innovative delivery service that does more than food. Available to deliver alcohol, food, groceries, and anything else you want, Postmates is the largest, most reliable, on-demand delivery and pickup platform.
So, if you're party is still going strong, but you're out of vino – Postmates is your new best friend.If you love it a lot, you can even sign up for Unlimited Free Delivery.
Yeah, baby, life just got a little easier.
See if Postmates is in your area here. And, get $100 in FREE Postmates delivery fee credit (good for 7 days) with my link.
4. Get Things Done With TaskRabbit:
If you need help around the house, such as mounting a TV, moving some boxes, or painting a room – check out TaskRabbit.
But, they do more than that. Basically, any task you could outsource – even running packages to the post office – can be done by looking on TaskRabbit.
If you need a handyman at the ready – TaskRabbit is for you. Get $10 off your first task with my link!
Here's how it works:

It's that simple. You've got a task? Find a rabbit! Outsource only what you need, pay for that service, and then move on with your life.
Simple. Start outsourcing today.
5. Simplify Life With Instacart: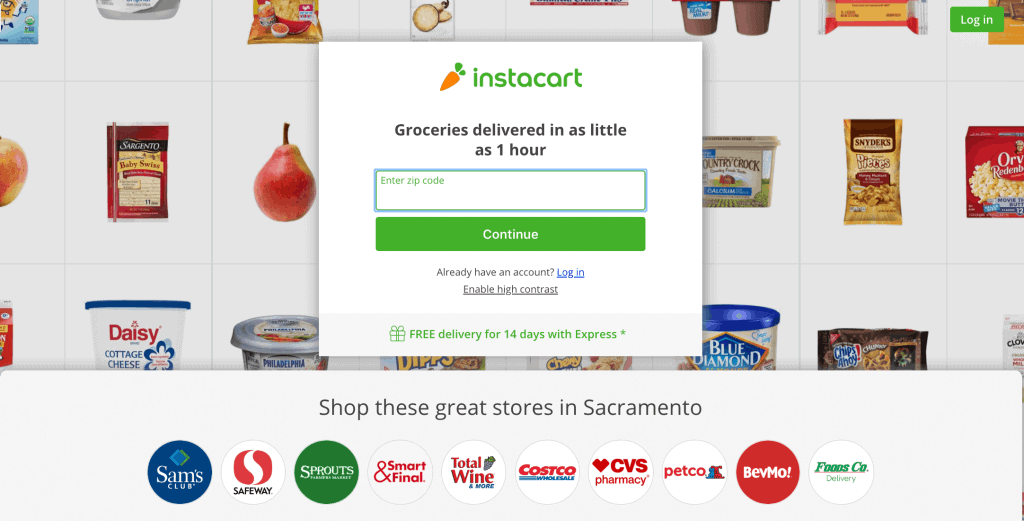 This one is major. You order your groceries online and then they are delivered to in as little as an hour.
There are so many ways that Instacart can improve quality of life. Just think about it:
Teach an elderly family member how to use it and save a trip
A new mom with a newborn at home can still have healthy food for the family
During inclement weather, you can order your groceries from your home
If you're trying to save on groceries you can shop online and avoid store temptation
You can send food to a family need or to help out after a new baby or surgery, etc.
Instacart is so easy to use, is available in many areas and includes many types of stores.
Try it out and get $10 off your first order!
6. Get Pet Care With Rover:
I remember when I first decided to hire a dog walker. I really thought to myself, "What kind of person pays a dog walker? Am I that kind of person?"
The answer is, "Yes. Yes I am."
When we moved, our backyard was dirt. We would let our dogs roam free, but it became a very messy adventure. Then, when we hired landscapers to put in the backyard, we couldn't leave our dogs out all day anymore. They could get hurt or run away when the gate was open.
So, I started ordering dog walks from Rover. You book the walk on the app at the time you want it, the walker shows up, takes the dogs for a long walk, picks up all waste, and returns the dogs happy and tired. They're licensed and background-checked, and when you find one you love, you can check them as your preferred walker.
Rover has literally saved us while having our backyard landscaping done or during times when we just don't have the time or ability to walk our four-legged friends. They also offer pet-sitting, doggy daycare, housesitting and more!
Check out Rover here and get $20 off your first pet booking!
7. Get a Ride With Lyft:
Lyft is similar to Uber, where you order a car and driver on a phone app. Lyft specializes in having 9 different options for you when choosing your ride. So, if it's a group or you need a car to impress a client, Lyft has you covered. Matches are typically made within seconds in most areas. Of course, you'll probably want to check the apps for both Lyft and Uber and see which one has more drivers where you live.
But, you can also use Lyft when traveling, instead of cab drivers. Cars are often nicer, cleaner and more affordable. You can get a Lyft 24/7 and share your route with friends for safety and collaboration purposes.
8. Get Organized With Evernote: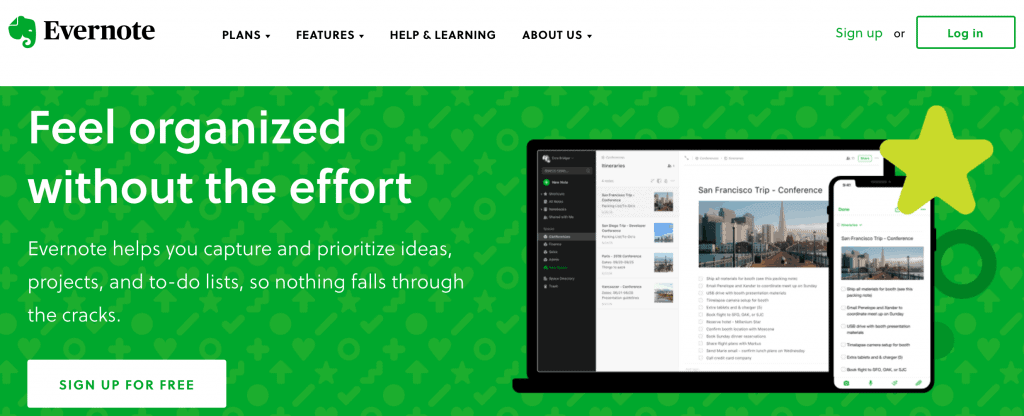 This beloved app is the ultimate notetaker. You can track your memos, notes, and anything else in one place, organize however you want, and even add collaborators who can work together on projects.
With document scanning and PDF and document search functions, too, Evernote is a powerful collaborative tool that you can use to run your household schedule – or even your business, from your phone.
There are several plans to choose from, starting at free.
Who doesn't love free?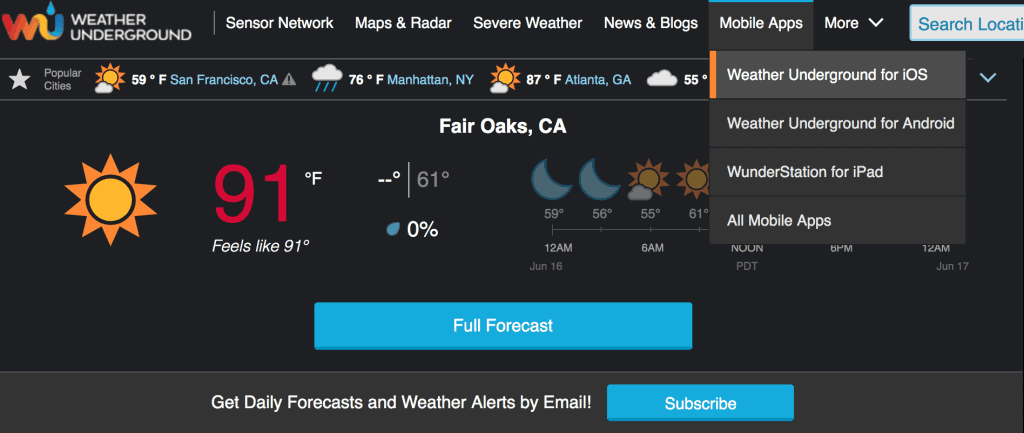 A weather app that is seriously legit, Wunderground knows its stuff. You'll get a really detailed weather forecast by the hour, 10-days, in multiple cities, or whatever you want. Plus, precipititon, pollen count, air quality and UV Index, too.
You can even set it up to get daily alerts and emails.
Talk about the weather – that's prepared.
10. Budget Better With Mint:

This one is another gamechanger. You can upload your bank account info and your credit cards all in one place, with the Mint mobile app on the go, and start actually seeing what is really going on with your finances.
Mint will set a basic budget for you with amounts based on your income levels and incorporating typical expenditures, such as food, coffee, gas, etc.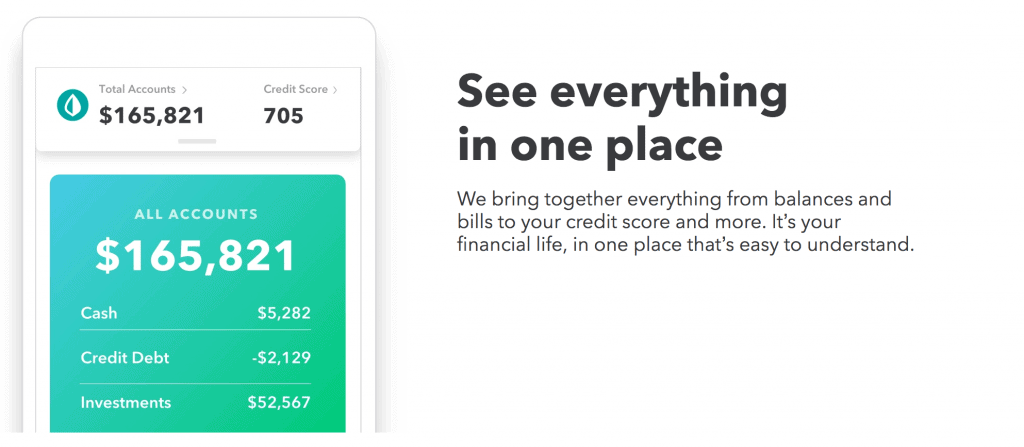 Of course, these are all fully customizable to you and your financial goals. Then, Mint will help you track them and let you know when you've maxed out a category or if your June budget looks good.
Having eyes on the financials is such an empowering way to take control of your budget. You can even set up a savings plan for a goal – such as putting away $100 a month for a year so you can take that trip to Disneyland with the kids.
I love it. Check out Mint here.
11. Send PDFs (no fax required) With CamScanner: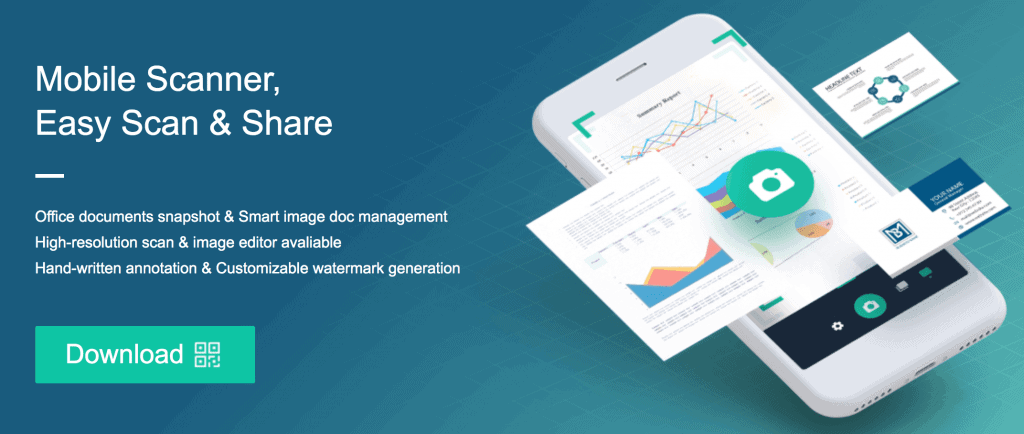 If you need to turn documents into PDF occasionally, which I do for freelance work, you'll love this one.
No need to find a scanner and have to scan the document, email it to yourself, and then forward it to the right person.
CamScanner allows you to take a picture of the document with your phone, then the app converts it into a secure PDF that you can then attach to an email on your phone and send directly. All for free.
The hubs uses it for work all the time, since he's a mobile director and doesn't have a dedicated office space and I use it to send over those W-9s to new clients.
Easy peasy. Check it out here.
****
There you go – the ultimate list of apps that will save you time, save you money, save you sanity, and simplify your life!!
Isn't it incredible what technology can do now? What a fun time to be alive.
If you love apps, you might also love these posts:
Do you have a favorite phone app? Share it with us in the comments below!
Have a fabulous day,
E