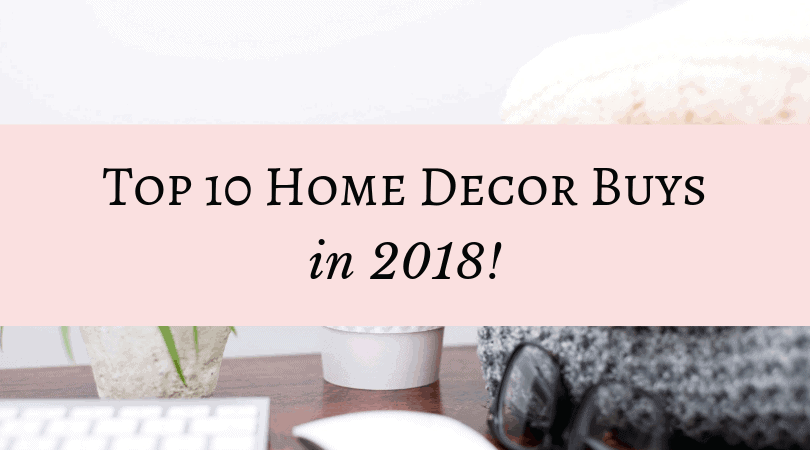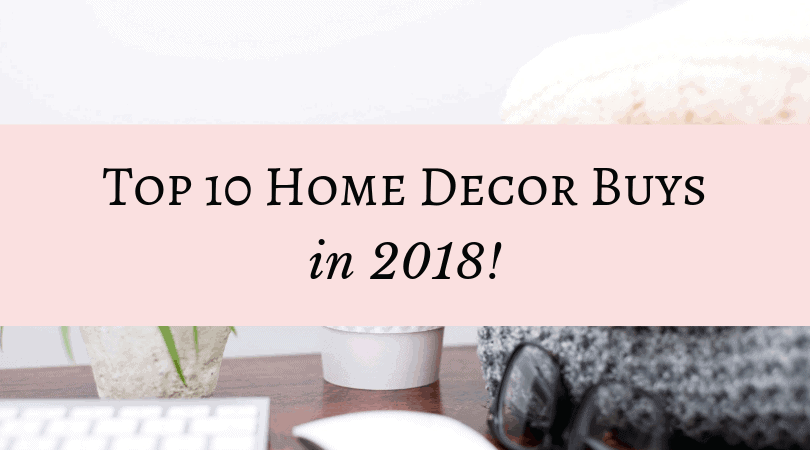 Welcome back! This is part two of a 4-part blog series on my favorite purchases of 2018! You can check out part 1 on BEAUTY here.
But, today, we are going to be looking at our best buys in the home decor category!
What can I say – I love to shop and I love to reflect on said shopping!
Now, before we dive in to today's favorite buys of 2018 in for home decor, I would just like to share that we actually moved into our new home in the last year (November 2017 to be exact) and so we pretty much started with a blank slate and furnished most of the house this year.
So, I really could fill this post with all sorts of reviews on different couches, consoles, side tables, lights and more – today I am going to really focus on the smaller items that have improved our day-to-day lives.
Shall we?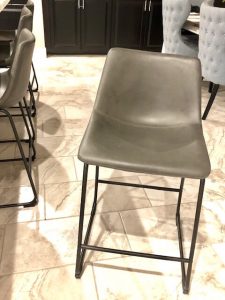 These are #ChicAF.
Now, a year ago, we actually started with these from Cost Plus. We loved them. Soft, comfortable, and safe for small kids – they were a big hit. Unfortunately, the fabric didn't hold up well to said small kids and it became impossible to keep them clean. Then, the legs starting falling off.
What can I say – we live hard.
So, I knew I needed a few things in the next set of barstools that we didn't have the first go round.
EASY TO CLEAN – with no nooks or crannies where stuff could get stuck.
SOLID BASE – we really needed something made of metal
NO-SLIP BOTTOM – we have these on tile floors and we do not need any head injuries people
COMFORTABLE – there are so many adorable bar stools, but we really use these
After much deliberating, I found these on Black Friday sale on the AllModern site and pulled the trigger.
They are super solid, padded well, don't slide around, and have a weathered, grey leather cover that wipes clean. BINGO.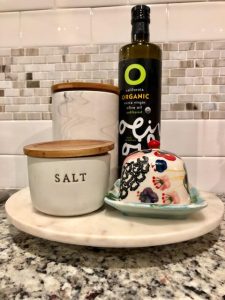 Someday, I'll take pics of the full kitchen – because it's gorg #obvi.
For today, I give you our marble lazy susan only. This has really made our countertop organization much better, because much of our kitchen cabinetry above the cooktop is hard to reach open shelving. Like, I would need a ladder to get things.
That means that all those typical things you keep right in that low cabinet – sauces, spices, teas, oils, etc., have nowhere to go – if we want them close to the cook area.
Enter – the lazy susan! I knew when I was looking for one of these that it had to have a solid base to hold enough weight, had to have enough top surface area to store quite a few things, and it had to be marble – because, well, I love marble.
I found this on the Crate & Barrel site, waited for a deal and SCORE. It was mine, baby.
We usually stash my tea container (from Homegoods), the salt, the pepper (not pictured), the oil and vinegar (not pictured) and sometimes even the butter. The pepper container broke and we are out of vinegar – but you get the idea 😉
I love this thing. My kids tablets and our cell phones charge happily and we don't have wires and devices spread all over the place.
I can't even tell you how happy that makes me.
You can even go bigtime and order this set of chargers to streamline your charger cord game, too.
I support you.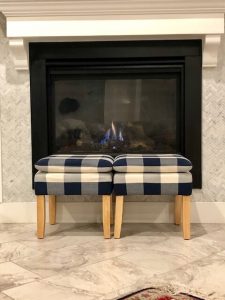 Almost a year ago, I was doing a quick Target run to grab some last minute things for my daughter's birthday party. Everyone was coming for her birthday – and to see the house for the first time, so – you know – NO pressure at all, right?
#NOT
Anyway, my hands were full – because I didn't even grab a cart, and I was flying through home decor when I saw these and literally STOPPED IN MY TRACKS.
In seconds, I was that crazy lady you see hauling stools and all kinds of other things on her body as she gimps over to the checkout line.
They felt so bad for me, the checkout kid got me a cart.
Whatever, I got these babies home and that's all that matters. #Winning
They have held up extremely well to all the "attention" they receive around here. Highly recommend.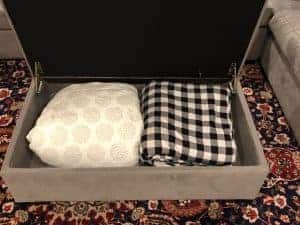 It's no secret I have a thing for blankets. I won't even deny it. I even wrote an entire gift guide on the best blankets.
These Beddy's Blankets are the top of the list, friends. We have two – because you simply cannot share. One is sized generously enough for you and your little one to snuggle – but two adults? I don't think so.
They have pretty good sales occasionally and you can get these for a steal – but honestly, they are worth every penny of the retail price. #Adore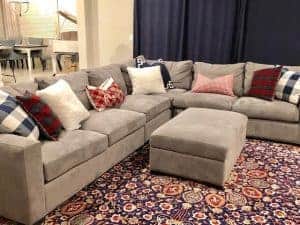 Okay, okay, I lied! I was taking pictures of the blankets for ya and realized – these good people NEED TO KNOW about the Axis couch!!
Buying a new couch is such a lengthy process of deliberations and review checking and price checking and review checking again and deliberating more.
Once your past the Ikea couch and whatever you can get on Craigslist delivered NOW – phase of life – you enter the "special order couch" phase and, boy, is that a tough one!
Suddenly, you're picking this VERY PROMINENT and OBVIOUS piece of furniture that will take up considerable real estate in your living room, FOR MANY YEARS.
#HoldMe
We ended up going with the Axis sectional and every single person who sits on it agrees – it is the best couch ever.
Better yet, it is extremely well-constructed. Even after a solid year of use, it is showing little signs of wear (except for that one pen mark, but DON'T get me started on THAT).
It's always nice to know when a higher priced item is really worth the investment, so here's my PSA to you if you're looking at the Axis – do it. Do it right now. I won't make a penny off it, but I still want you to buy it because it is THAT GOOD.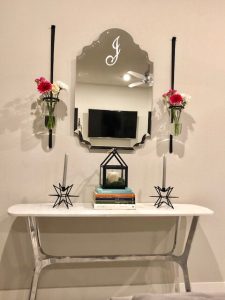 Alright, alright, now I can't stop! And you can't make me!
This marble console table is LYFE.
The first one had a strange yellow vein – C&B returned it with NO problems and BAM. This baby lights up my life
LIGHTS. UP. MY. LIFE.
Decorated with some Heart & Hand Magnolia finds from Target, because – I wanta be Joanna Gaines (who doesn't, I mean, really?) and done. Book it.
The flower wall vases and etched mirror are Pottery Barn finds, if you're curious. That's another company that really stands behind their merch – no questions asked.
But, you should know, this puppy is SOLID. I wouldn't want this falling on my toe, you know what I mean?
I first saw this in a model home when we were shopping for a house. I snapped a picture and logged it as something to find down the road.
After we moved into our house, I hunted it down online and was sad to see it was priced a bit out of my range (in the 3ft x 3ft size I wanted). So, I waited and waited.
This Black Friday I found it on Kathy Kuo Home for 30% off – and just like that, it was MINE. ALL MINE.
We put it up in the loft where we can all see it all the time.
Just FYI, it's quite heavy and has no hanging hardware included. We bought these and it was probably the quickest, easiest hanging job we have ever done. I am just going to use these from now on on everything we can. Ha!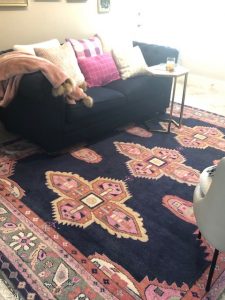 My husband and I both gave each other one splurge item in the new house.
I picked this Caitlin Wilson kismet rug in Navy. The CW design aesthetic just really represents everything I'm about design-wise. It's so vibrant, fresh, and fun, with a slight nod to traditional. It's both playful and refined – at the same time. It is noticeable, but plays well with others.
In fact, I loved this rug so much, I bought another, smaller CW rug for under my desk. Now, I hope to add the Soleil rug in Rose in our master bedroom someday, when we have the opportunity to finish our room.
I have to say that I was surprised that these rugs are also EXTREMELY well made. Super thick and well-tufted, hasn't shown any signs of age at all over a year, and just seems to get more beautiful over time.
We love rugs and have one family heirloom Persian rug, and then the rest of the rugs are from budget online sources. I have to say that the Caitlin Wilson rug has really convinced me of the worthy investment of a high quality rug. Big win. If you're patient, you can grab a good 15-20% off on one of her sales, which will save you hundreds.
I do recommend you get a rug sample. You can send it back for a refund. The colors are slightly different in person. I've ordered 6 or 7 of them now and it's really helpful to see the colors in your own space.
Don't forget to check out her newest additions to the rug line are just gorgeous. Talk about inspired designs that will set the stage for the rest of the room. #SWOON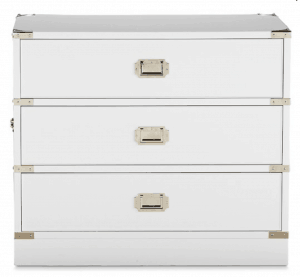 Our master bedroom isn't finished quiet yet, but we have nailed down the important details – such as bed, side tables and lighting. The rest of the room is on ice for awhile, and I actually don't even mind, because I really, really love looking at these side tables.
They were a bit pricier than we wanted to spend originally, yet totally worth it. There are occasional sales that will save you some money. These really are statement pieces, though, that will last a long time. We haven't had any issues with the lacquer scratching or even having issues with water rings. They are also quite heavy – so you know they're made from solid materials.
Available in white, navy and black – we got the white so they would match the built-ins across the room, but I pined for the navy. So, someone please buy them and send me pictures of how incredible they look.
****
There you have it! 10 of our favorite home decor purchases this year! I know I slipped in a few bigger pieces, but I couldn't help myself.
I'd love to do a dedicated post on the lighting we put in or some of the other whole room designs we created. I shared a little already about my daughter's bedroom that we wallpapered in a gorgeous blush plaid.
Do you have a favorite piece in your home or a certain designer's line you gravitate towards? Share it in the comment below!
Oh, and don't forget to come back on Thursday for the 3rd installment of the series.
Have a fabulous day,
E