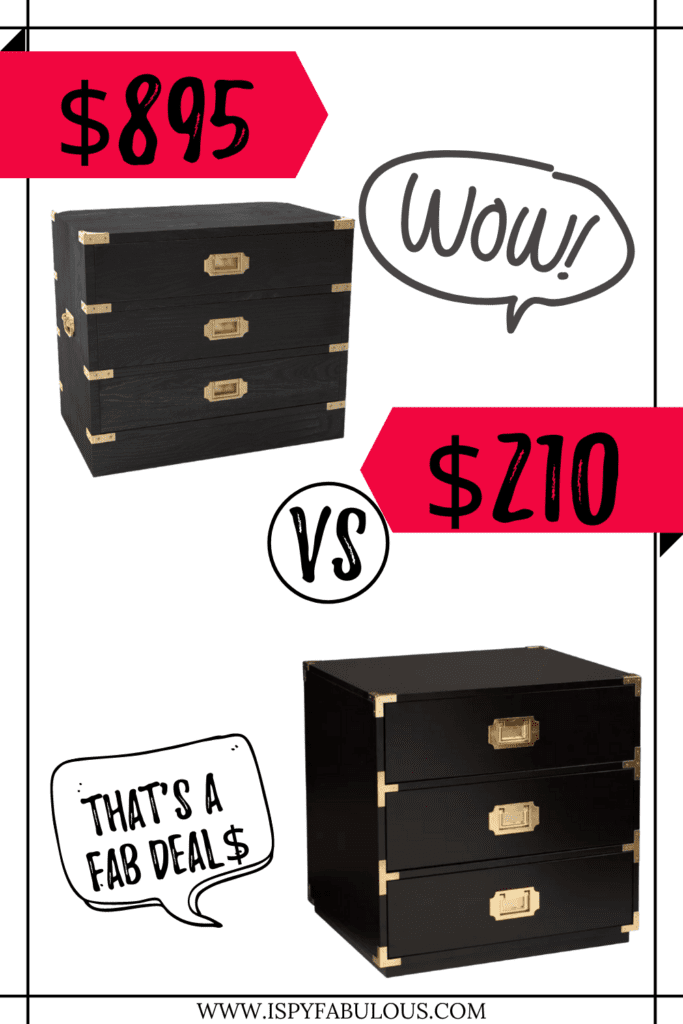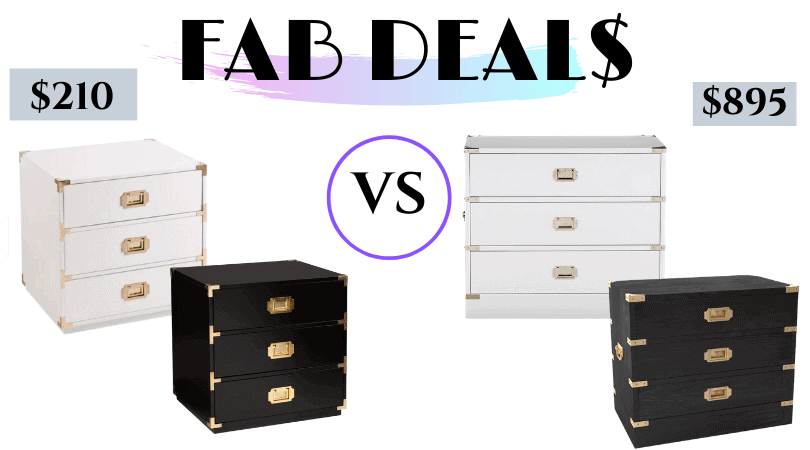 I'm not going to lie to you – this particular Fab Deal hurts me. This incredible deal is going to save you a lot of money, but it's too late for me.
I already bought the William Sonoma Campaign Nightstands. Three years ago, there was nothing like them on the market and they were absolutely perfect for our new bedroom in our new home. So, try as I might, I could not find an acceptable alternative and when they had one of their occasional sales – I snapped them up.
I have never regretted that purchase, because let me tell you – those campaign nighstands are some of the most well-made, solid, gorgeous furniture in this house. I think we'll have them forever. They might outlive both of us.
Even still, to find a dupe that is so incredibly close and for a friggin steal – hurts my frugal heart just a little bit. Let's take a look at this deal. Affiliate links used.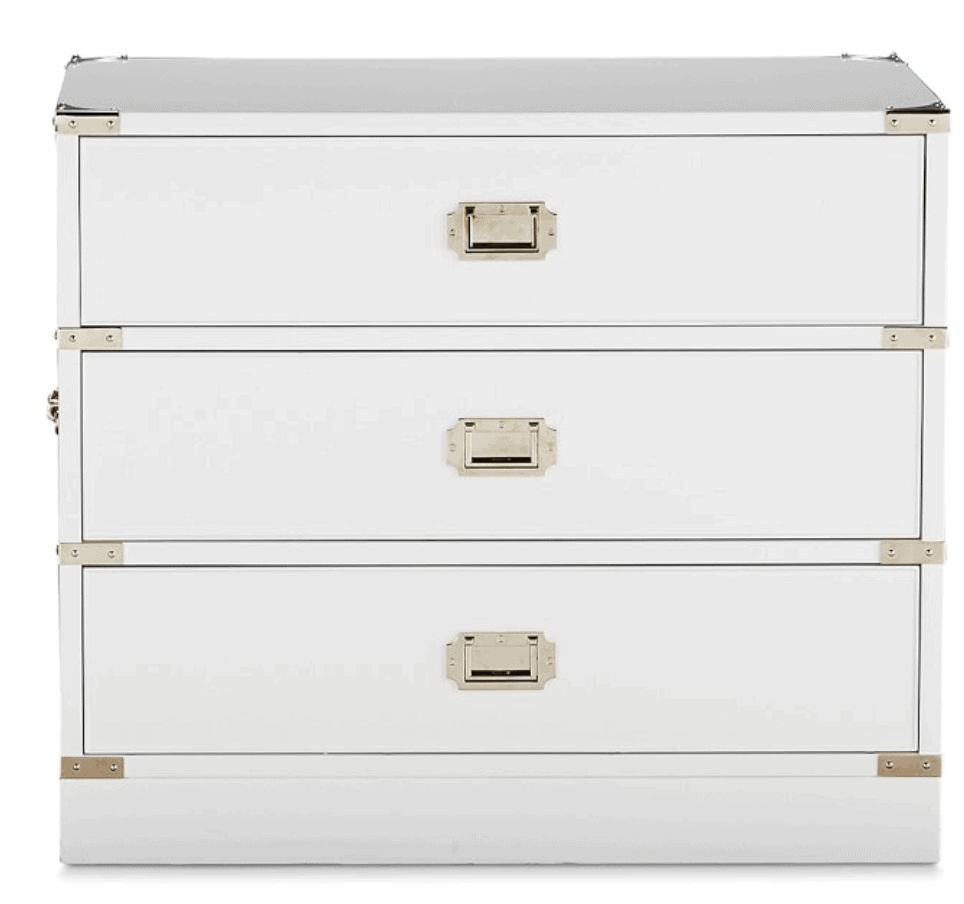 This stunning piece of furniture comes in three colors – white, black and navy blue. The white has polished nickel hardware and the black and navy feature an antique brushed gold. They are all gorgeous, finished in a lacquer paint that will make you swoon.
Crafted from FSC-certified sustainable materials, including kiln-dried engineered wood and poplar veneers. They size in at 30″L x 18.75″D and 25.75″ H.
Weighing in at 167 pounds – these puppies are SOLID.
Honestly, if you have the room for them and they are what you're looking for, I still think they're a good buy, but they are not the only option for a seriously gorgeous 3-drawer campaign nightstand. Just look at these…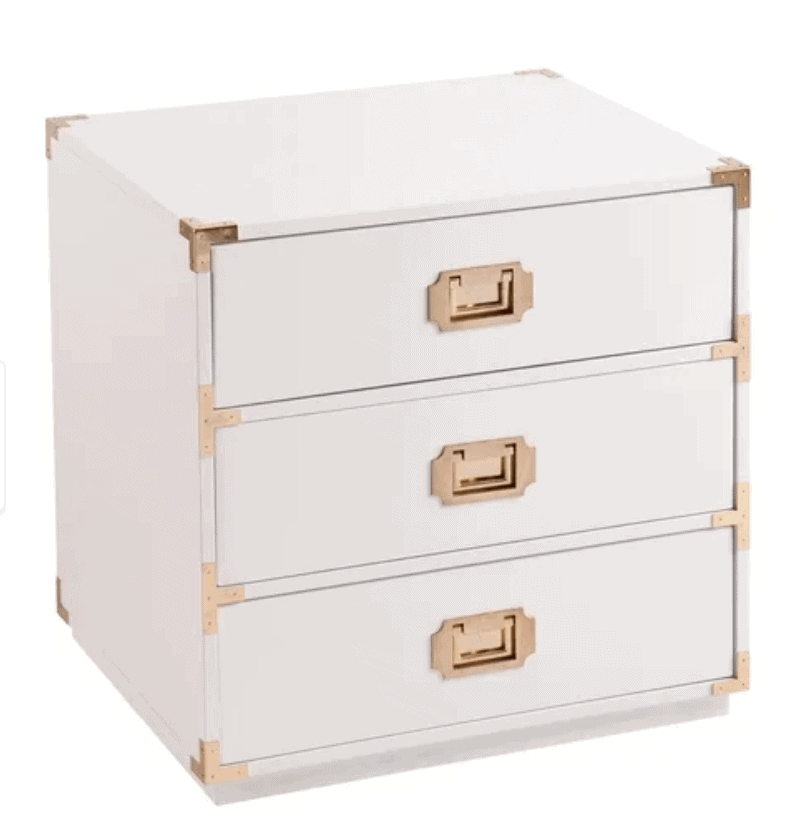 Like… what?! Are you kidding me right now? These are so similar! This one is also available in white and black, with only brushed gold hardware. The pictures also show a navy option that is fab – but sold out at time of posting. Overstock does restock at times, so check back in if it's sold out when you look.
I cannot believe these are about 1/4 of the price! Wow!
Size-wise these are very similar, just a little small in the width – coming in at 24″ wide. This is actually the perfect size if you have a Queen or full-sized bed or a smaller bedroom.
Also made of engineered wood, these are also a bit lighter – clocking in at 67 pounds. Much better if you're moving them around by yourself, you know what I'm saying?
For this price, you can get 2 of these for HALF the price of ONE of the WS campaign nightstands, making these campaign nightstand copycats a total Fab Deal!
*****
Do you love the campaign nightstand look? I am a fan of the clean lines and extra hardware look of the campaign style and absolutely LOVE my campaign nightstands.
Highly recommend this look – and if you grab them on Overstock, nobody will ever know.
If you are looking for more Fab Deal$, check out these posts:
The Anthropologie Cross Rug Copycat You Won't Believe!
Have a fabulous day,
E