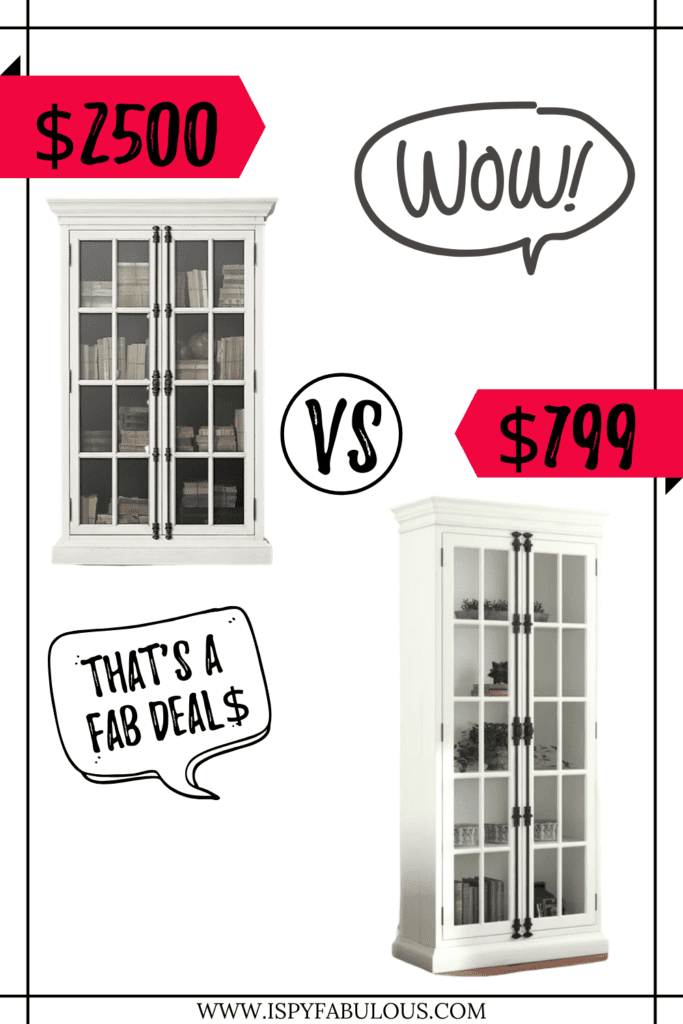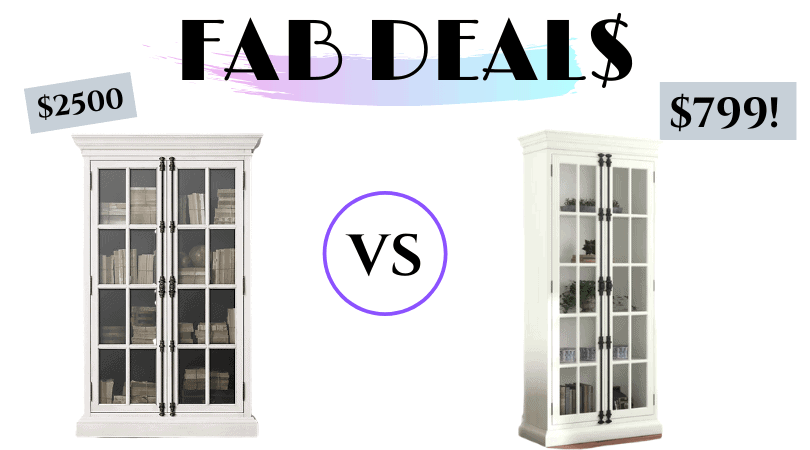 I cannot believe I stumbled on this Fab Deal for you.
I found this incredible lookalike for the Restoration Hardware Cabinet with cremone hardware by accident.
Here's what happened: there I was, just browsing the Pier 1 site and crying inside about how one of my favorite stores is closing down… forever.
Oh great, here it comes again:
It just…hurts, you know?
Anyway, I was lusting over their version of the cremone cabinet and thinking about how I would never be able to get it again in those colors.
It was a hard five minutes.
But then I decided to just see what was out there with cremone hardware – which, let's face it, is the crown jewel of these cabinet designs – and there she was.
An almost dead-ringer dupe for the Restoration Hardware French Casement Double Door Cremone Cabinet.
Ohmigod, it's so, so good for a fraction of the price.
Let's take a look at both of these cabinets.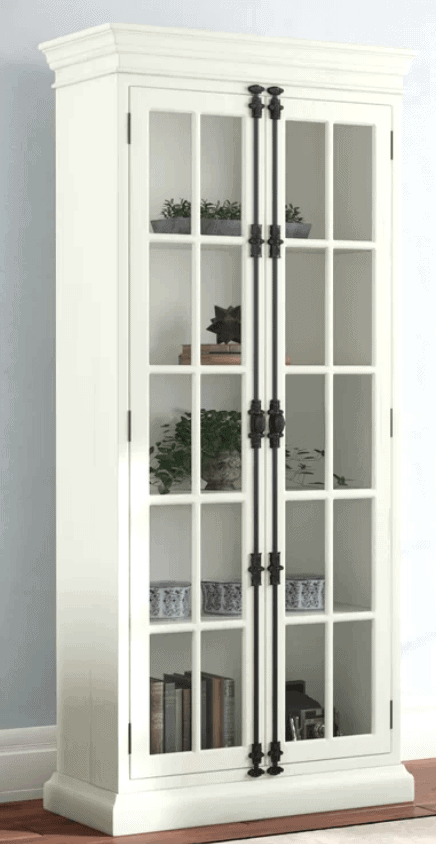 That is a terrible name for such a beautiful cabinet. Standing tall at 75in. high, 33in. wide and 16in. deep – she's a beauty ready to be filled. Made of manufactured wood and comes with 5 shelves that can be moved and are secured with metal prongs (not plastic like some cabinets), she is sure to serve you well for a long time to come. The doors are glass and the hardware is a cremone bolt hardware.
Reviews are solid, but some do say that it is a true antique white, which means a creamy white, and while the bolts are black, the metal bars are a bit on the brushed gold side.
Either way, you can take her home for $799, which is a steal, especially when you consider how often Wayfair runs promotions and that their delivery is excellent.
I've ordered from Wayfair several times and even returned a piece to them and have always been impressed with their customer service.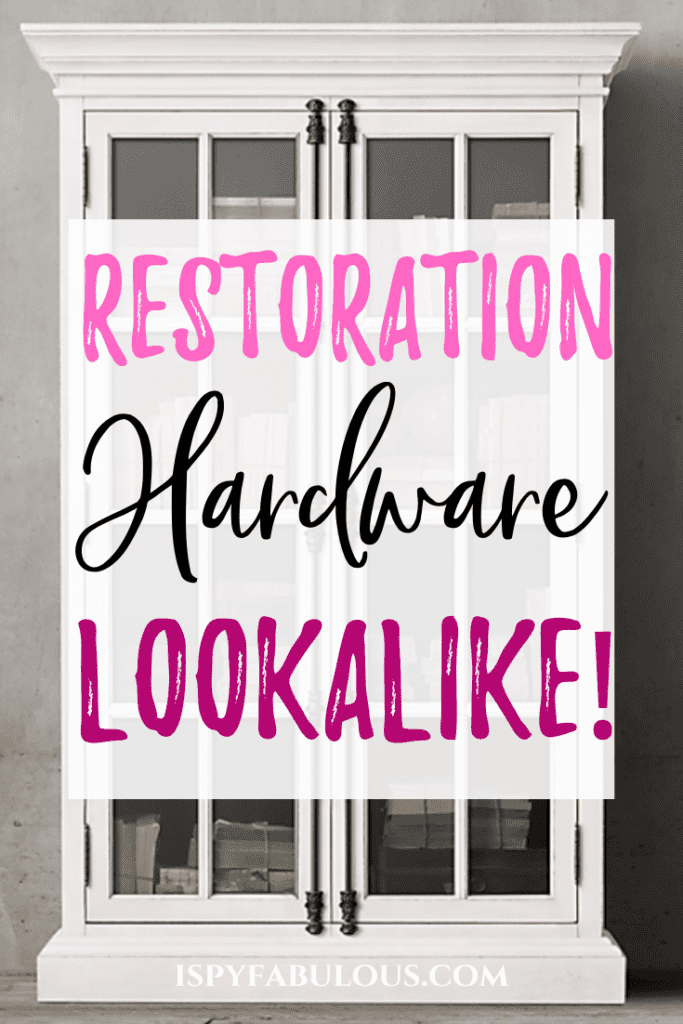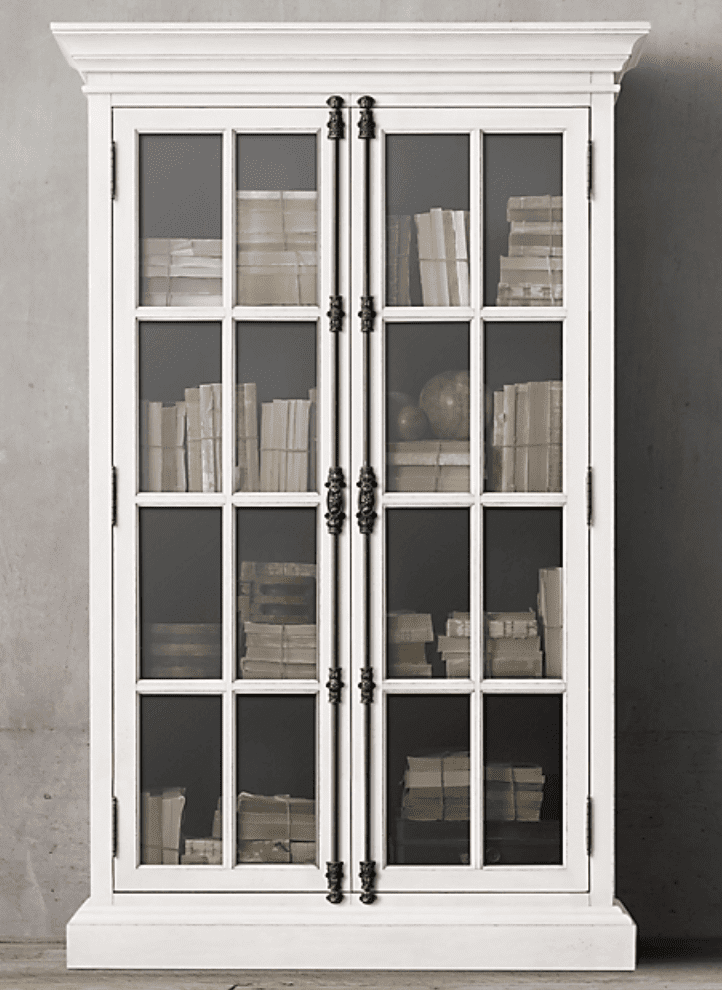 Here's the queen of cremone cabinets. Gorgeous.
The dimensions are not exactly the same as the Wayfair, the RH version is a bit wider with 38in. and a bit taller at 77in.
So, you get a few inches on both sides, but you pay a premium for it, with this size starting at $2550 and then the cabinet getting bigger (and more expensive) from there.
The pictures make it look more like a true white, but we bought the console from this cremone cabinet line and it is definitely a more creamy, antique white (almost yellow-ish in some places).
We bought the low TV cabinet from this collection years ago, because we couldn't find any dupes for the cremone style in the large size that we needed.
While I love the cabinet, I will say that I do not see a tremendous difference in quality in the RH console, compared to other more affordable brands we have bought from, such as Wayfair and West Elm. I don't regret buying it at all (and I still haven't seen a good enough lookalike for it anyway) – but now that I am looking for a cremone hardware tall cabinet, I am more than happy to save half the price and pick up the Wayfair lookalike.
*****
What do you think of this lookalike? Are you a fan of the cremone cabinet look?
I'd love to hear what you think in the comments below.
Oh, and if you love posts like this – you might also love these:
Have a fabulous day,
E