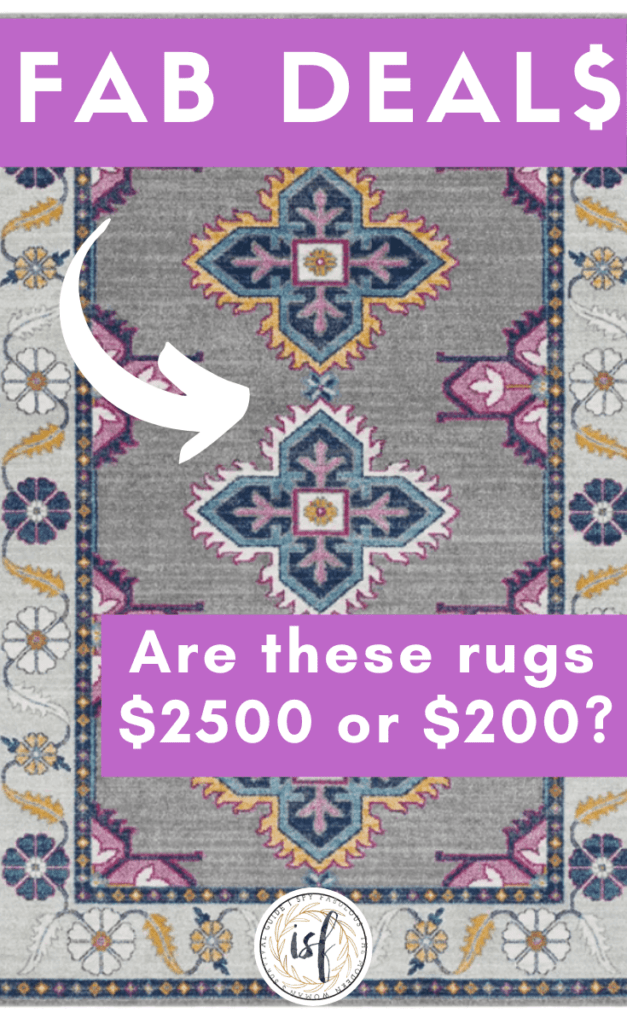 Oh, I've got a good one for you today. Y'all know what a huge fan I am of Caitlin Wilson's designs. I've shared before about the incredible copycat pillows I found and today I am sharing some amazing area rug lookalikes that will blow. you. away.
But, first, I love this post for more reasons than that. Two of the rugs featured in this post are hanging out in my very own home – one of them designer and one of them the lookalike.
I have a little bit of an area rug love affair going on and Caitlin Wilson's area rug designs were a pivotal point in the rug design industry (for me, anyway). Her designs are fun and playful, while being rooted in classic and traditional designs. The combination is refreshing and refined.
That pretty much sums up my design style.
The first rug we are going to discuss is one of my all-time favorites – the Caitlin Wilson Kismet rug. The prices here are all for the 8×10, or similar, size rug. (For a full review of the original rug, read this post). Affiliate links are used, but you probably already knew that 😉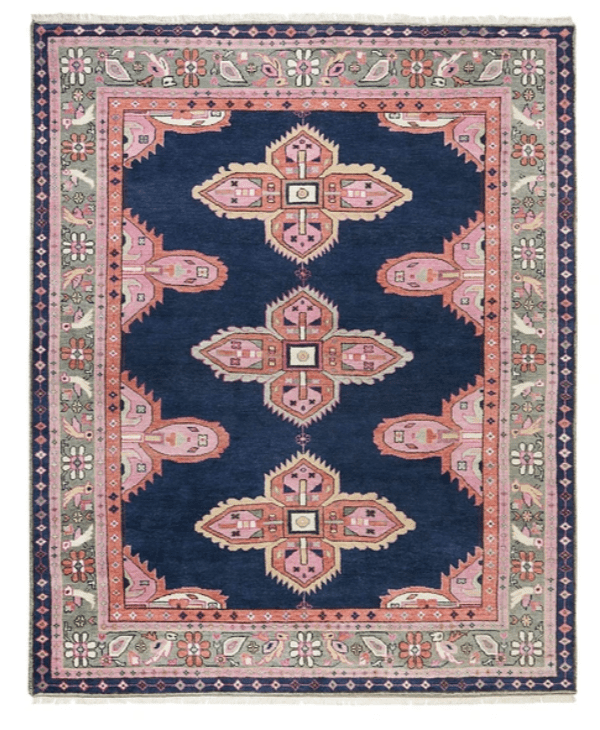 I had pinned pictures of the Kismet rug so many times before we moved into our new house and I was on her site. My jaw dropped at the price at first. I had rarely spent that much money on anything other than a car and, you know, the house.
But, my husband and I agreed that each of us got one splurge purchase in decorating the new house – so you bet I was grabbing myself a kismet rug for my future home office.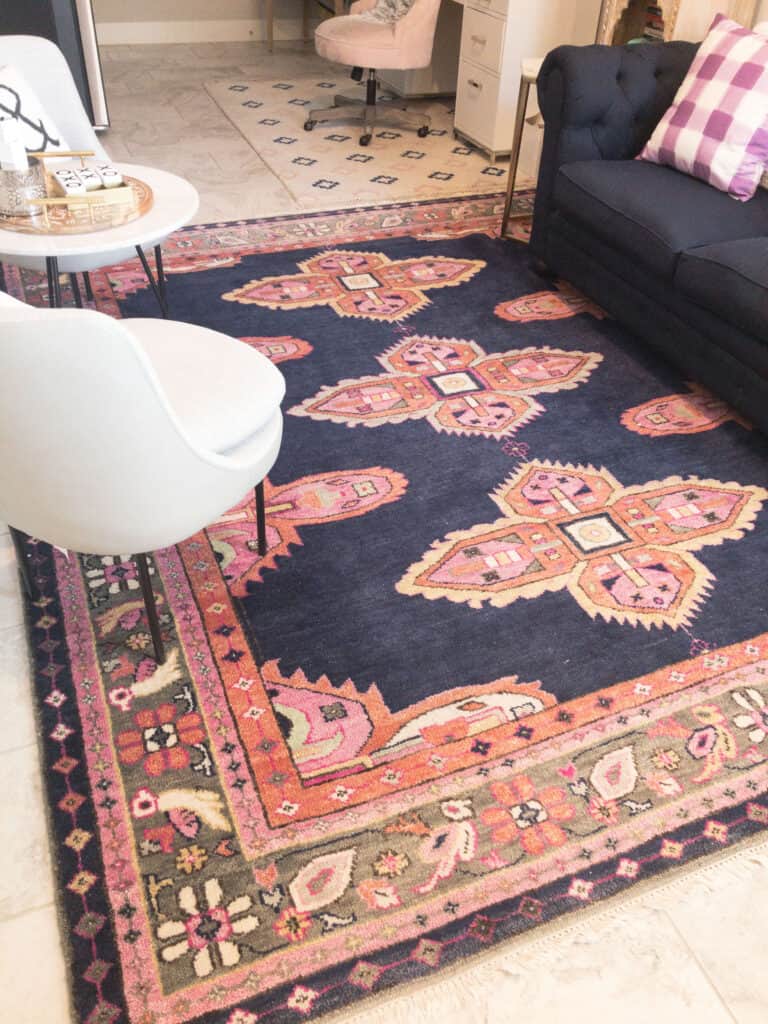 I will say that the quality has blown me away. She's now 3-years-old and still looks brand new. The pile height is plush and soft, without collapsing over time. It cleans easily and the fringe holds up to regular vacuuming like a total champ.
The colors and design are just as gorgeous in person, if not more so, than they are online. It's definitely one of my favorite things in the house and it makes me smile every time I look at it – which is, really, what design should do.
Of course, not long after I bought my rug – the copycat Caitlin Wilson rugs hit the market and they are good, baby. Boy are they good.
Update: There's a NEW copycat that is even BETTER than the popular one by Wayfair that everyone has seen. This one captures the intricacy in color and design much better and is still a total steal. Just check this one out: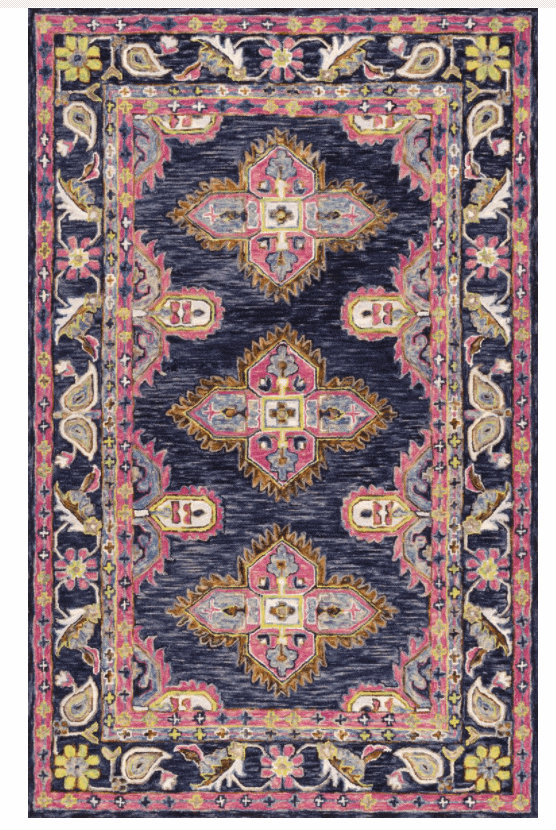 Just look at her in action and scroll up to see how similar they are!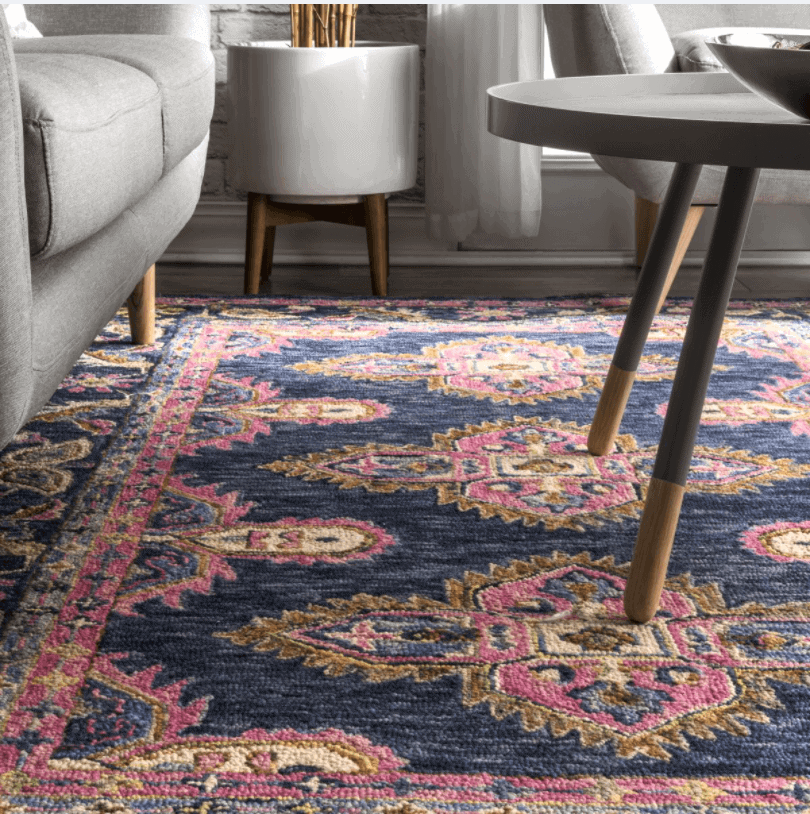 Navy Sherra Area Rug by RUGS USA, 7'6 x 9'6, $297.60 at time of posting
OBSESSED! Of course, if you still want to check out the Wayfair one, here it is: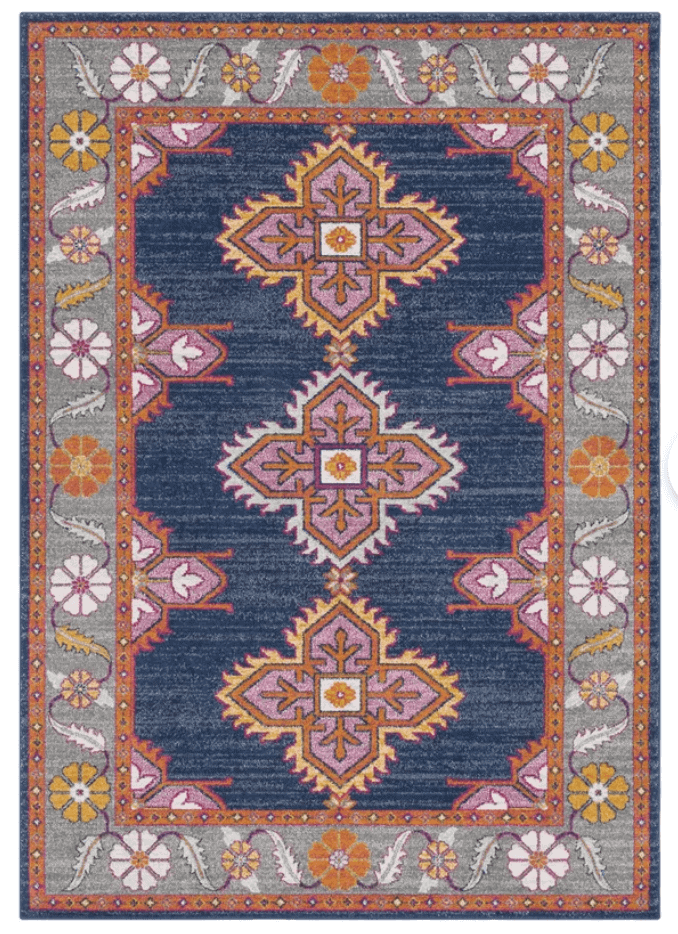 This Arteaga Rug lookalike is also a steal. With an 8×10 size rug, you save well over $2,000 while still achieving the essence of the design. Between the two copycats, though, I would say go with the Rugs USA one!
But, if you prefer the more neutral gray color option, there's a dupe for that one, too. This is the Kismet Rug in Mulberry and it's copycat: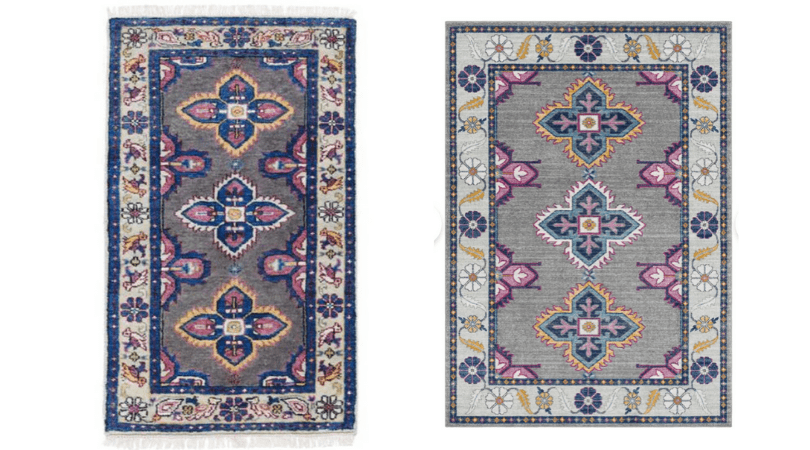 #YASSSS!!
It's SO SO good!! What an incredible way to get the look for less!
Caitlin Wilson Kismet Rug, 8 x 10, $2495
Arteaga Rug in Blue/Teal, 8 x 10, $148.99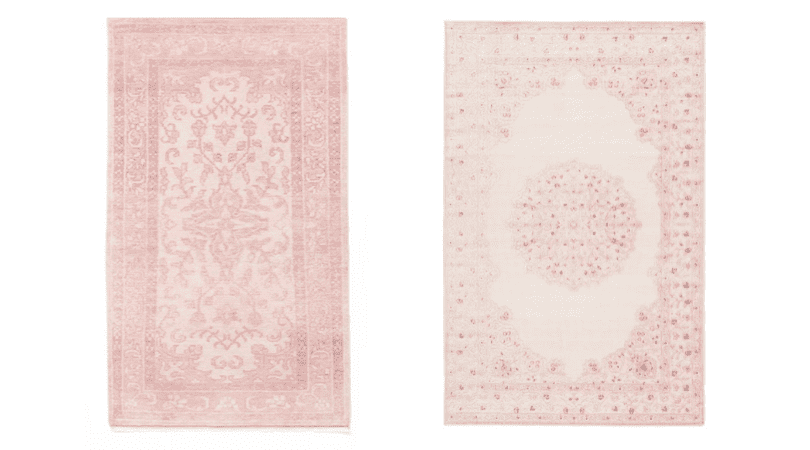 This sweet pink rug is such a soft pink and almost a neutral, but it'll add a little bit of charm to any space. I love, love this lookalike rug, which has a little bit more texture and a tiny little punch of color from a darker pink or red.
You'll definitely want to check out the pictures for this lookalike, because I might just like it more than the original. The raised detail is just gorgeous. I don't think this picture does it justice.
Caitlin Wilson Simone Rug in blush, 8 x 10, $2495
Fontanne Oriental Pink Area Rug, 7.6 x 9.6, $204.99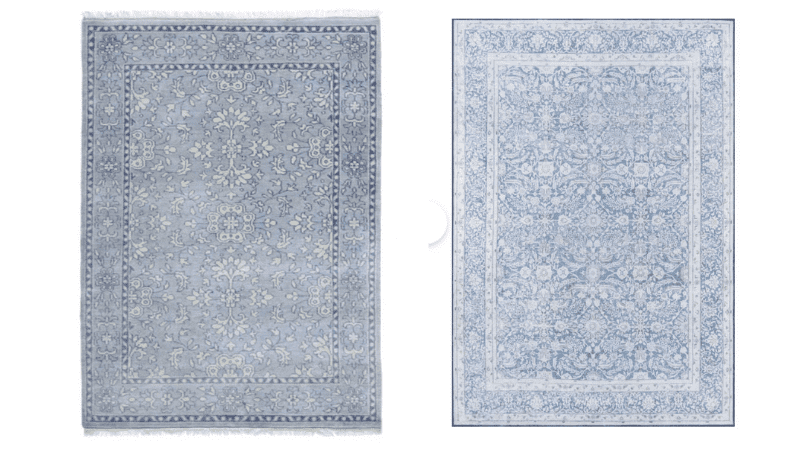 I am obsessed with Caitlin Wilson's use of french blue. There is just NOT enough french blue in the world and I am so thankful that she works hard to restore balance in that area.
This Emma Rug was a top contender for our bedroom rug. We have carpeting upstairs, so I really didn't need anything for additional comfort, but I did need to infuse some color and pattern into what was a lovely gray builder grade bedroom.
The Emma is so gorgeous, but spending another $2500 wasn't in the budget, so I looked high and low until I found this majorly affordable, super gorgeous rug on Wayfair and bought it!
I am so happy with this copycat rug. The french blue color is beautiful and there is also a french blue/almost purple color woven in that adds great dimension. The pattern is so pretty, too. It looks a lot better in person than it does online – here's a pic of it in my room: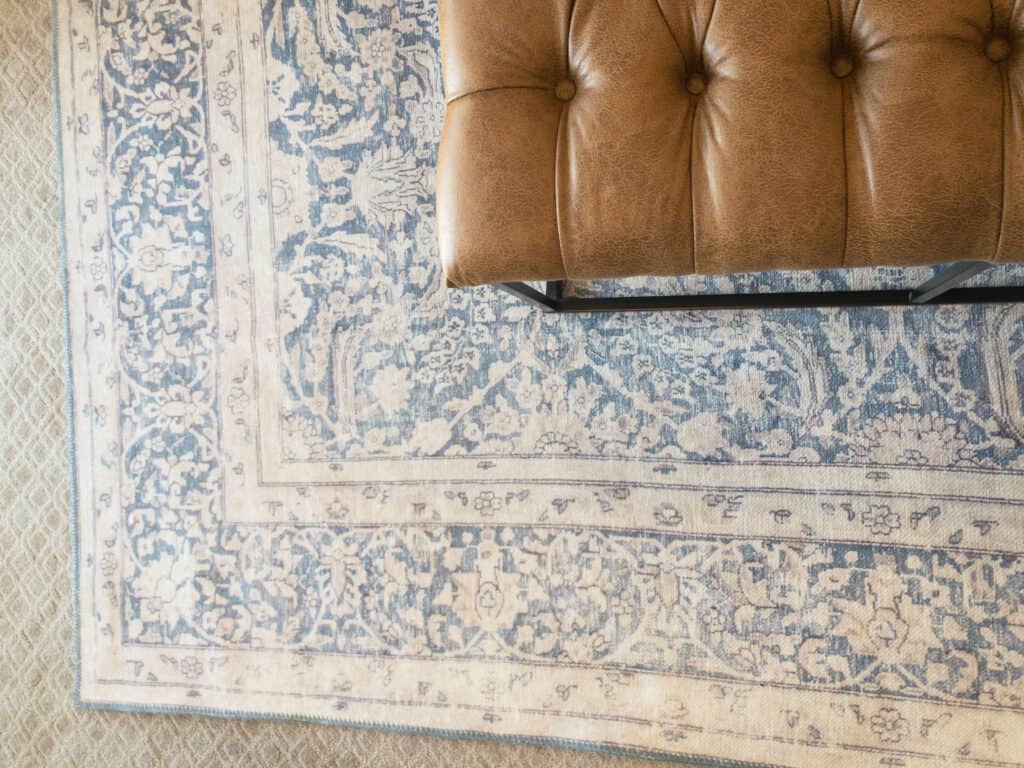 I do miss the fringe on the Emma, because fringe is my jam, but it works out well give that half of it is tucked under the bed. A very successful copycat purchase, if I do say so myself.
Caitlin Wilson Emma Rug in Soft Blue, 8 x 10, $2495
Burhan Oriental Blue Rug, 7.6 x 9.6, $194.99
NOTE: The Burhan consistently sells out – because it's so pretty. I wrote a new post with 10 affordable blue area rugs that can give you more options if you love this look!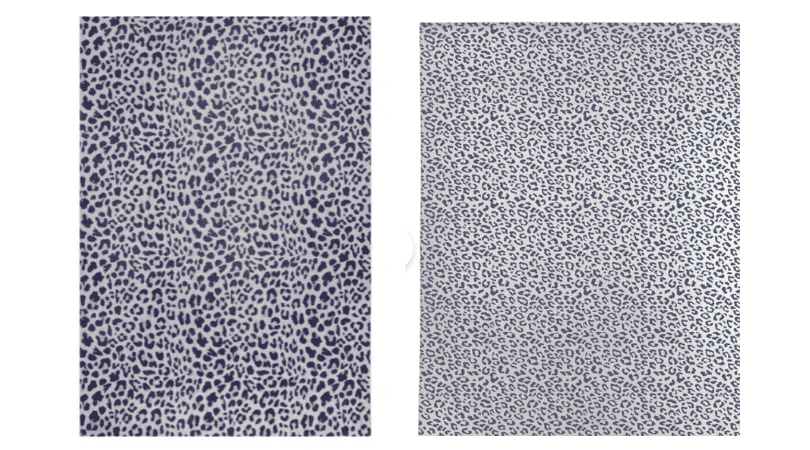 Oh, give me all the animal print. They are just some of my favorite prints and can add such life and personality to a space. This Caitlin Wilson Leo Rug in Navy is so chic and the navy helps to make this rug almost a neutral.
This lookalike is so good – this picture really doesn't do it justice. If you're even slightly interested, click on it to see more pictures and you'll see what I mean.
Caitlin Wilson Leo Rug in Navy, 8 x 10, $725
Dellrey Navy/Blue Rug, 8 x 10, $589.99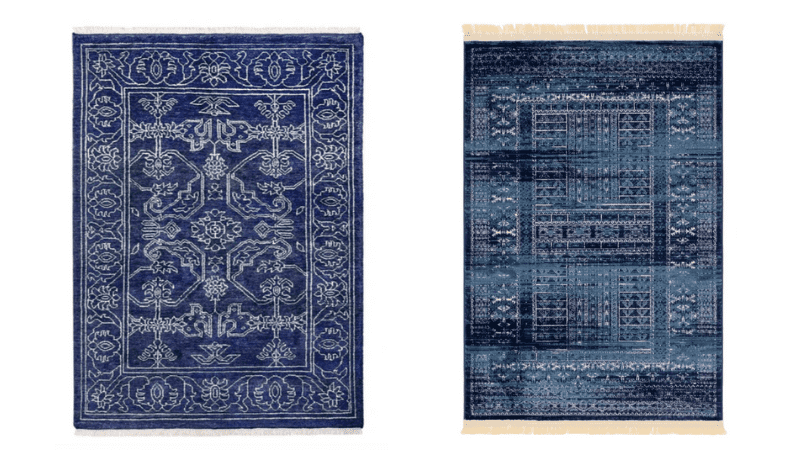 I am in love with this deep indigo Desi rug, but I love this copycat even more. They both have fringe (hurrah!), but the copycat has a more modern design, which elevates the traditional design.
Don't get me wrong, Desi is beautiful. A true gem of a rug. But, you won't lose an ounce of style by going with the copycat here.
Caitlin Wilson Desi Rug, 8 x 10, $2495
Rumsey Oriental Blue Area Rug, 7 x 10, $179.99
How To Save More Money on Home Decor:
No doubt about it: decorating a home is expensive. One way I save money on almost every purchase I make is by using Rakuten. I've gotten over $500 cash back in just the last year on purchases I was going to make anyway. So, don't forget to use Rakuten if you're making purchases online. They also run deals for new referrals where you can get $30 cash back after making your first purchase of $30 or more, so you can save even more if you're new to using them. Sign up here.
*****
I'm obsessed with these rugs, I tell you. Obsessed. Sure, I wish I could plaster Caitlin Wilson rugs (and decor) absolutely everywhere, but unless I win the lottery – I'll be hunting down dupes and copycats for the foreseeable future.
And with high style at these prices? I'm just fine with that.
For more Fab Deal$, check out these other posts, too.
I have to say, I sure love this column. I'm thinking of making it a weekly thing. Tell me in the comments below if you agree.
Have a fabulous day,
E