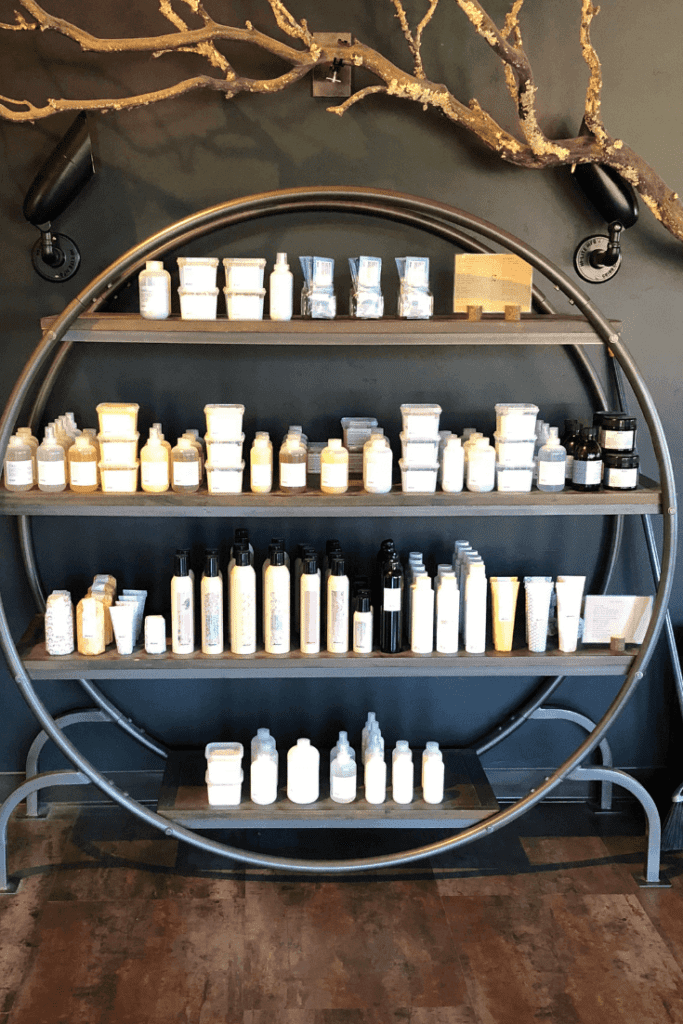 Moving is full of exciting changes – like getting to live in a new house, try new restaurants, and explore new areas.It's also full of total drudgery – like having to replace all of your "people", from doctors to hairstylists, and even nail salons.
We relocated at the end of last year, and JUST NOW, I have finally found my new salon – the incredible Salon 1938, where this fabulous display in the picture is located.
Even better – they introduced me to a totally new line of hair products that I hadn't even heard of before (gasp! shock! excitement!) = Davines!
What is Davines Hair Care Products?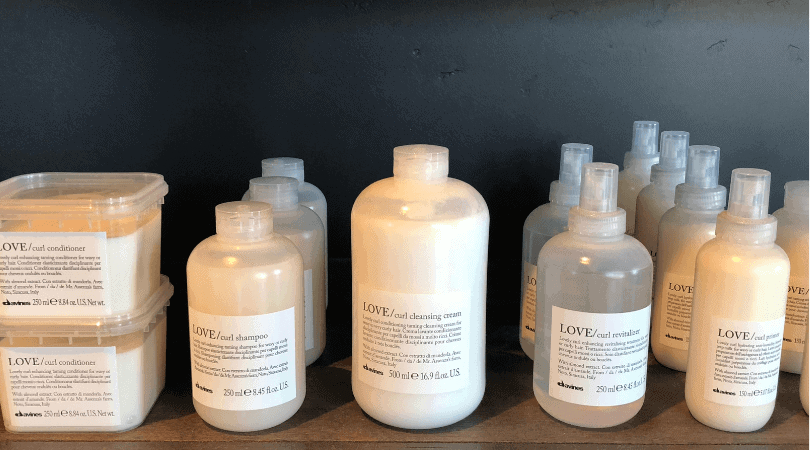 From their website, I learned that Davines Group was founded by the Bollati family in Parma, Italy. They focus on, "crafting quality products that are scientifically engineered for effectiveness and express our distinctive style and spirit."
Plus, Davines uses sustainable practices while producing their line of paraben-free, sulfate-free, mostly gluten-free and mostly vegan hair products…that TOTALLY ROCK.
Seriously – these products TRANSFORM my hair. After having kids, my hair turned into a fuzzy, poofy, fine, and generally unmanageable mess.
But, I leave my new salon with the shiny, smooth, agreeable hair of my youth.
Let's take a deep dive into their products, shall we?
Gorgeous Packaging + High Quality Products: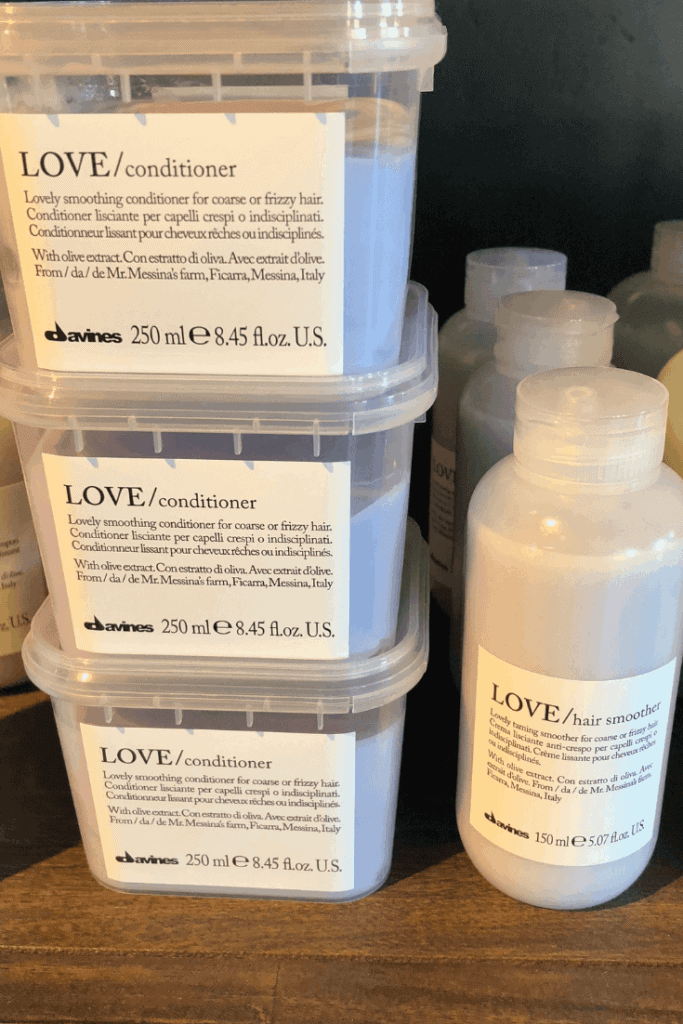 Their packaging has a very chic, minimalist look, with short, easy to remember names for the different lines, such as Love and Minu.
Currently, I have the medium hold hair spray with the yellow label and it is the best hair spray I have ever tried. With a light fragrance reminiscent of a Hawaiian vacation and a shiny, medium hold, you'll be hooked.
Also, the dry texturizer is incredible – and in my opinion – rivals the cult favorite Oribe, without the heavy perfumed fragrance.
Plus, their best selling item, the Ol All in One Milk is truly phenomenal. Part oil, part heat protectant, part leave-in conditioner – your hair will be softer, healthier, shinier and more moisturized – with just one product – than the results I get with 5.
It's their #1 seller for good reason, and commands 500 almost perfect reviews on Amazon:
Adorable Minis for the Traveling Beauty: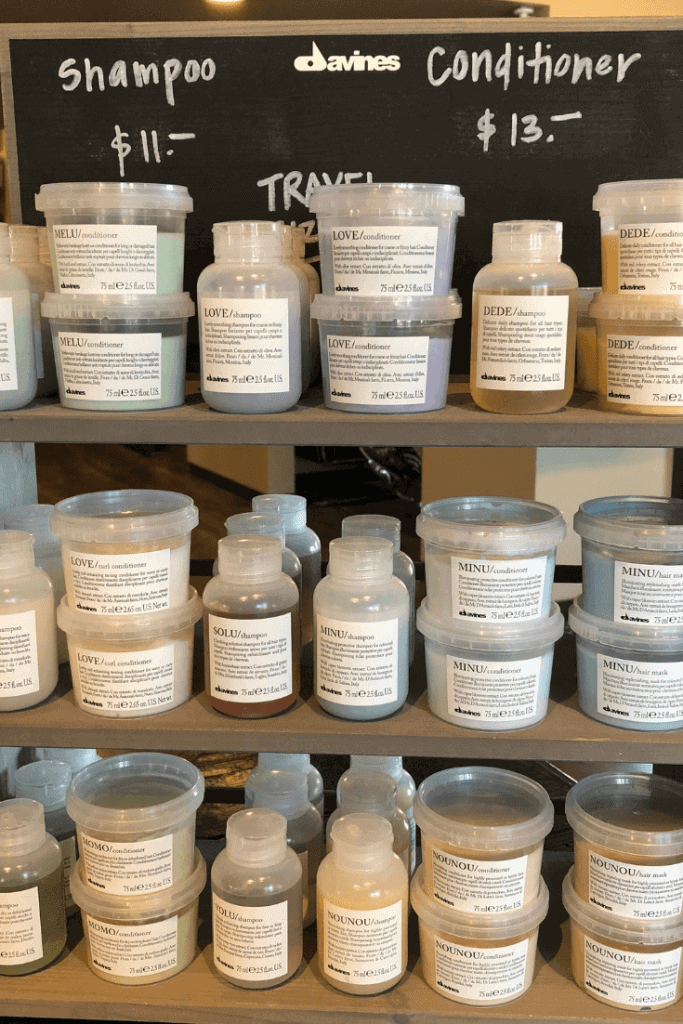 I love a good mini.What is it about small packaging that makes everything so irresistible?
I don't even have a trip planned for awhile, but I'm pining for these adorable little mini Davines.
****
So, there you go – for the vegan in all of us – a line of truly incredible, sustainable hair care products – straight from Italy – that will give you the Barbie hair of your dreams.
Get it girl.
Davines: The holy grail of hair care. Fantastico!
Have a fabulous day,
​E