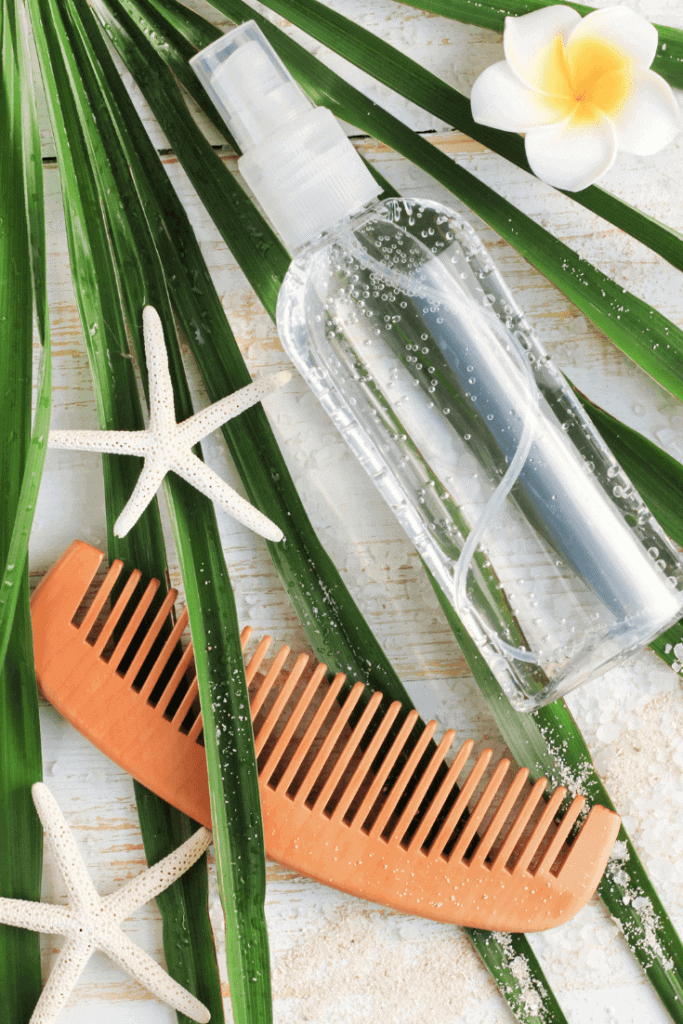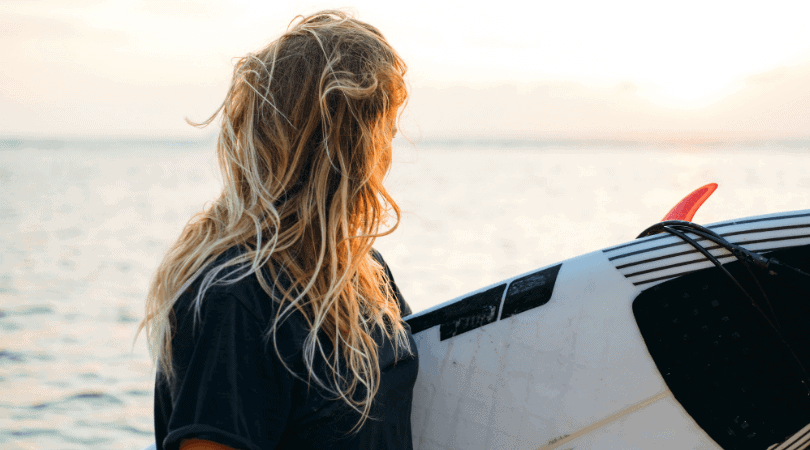 I'm born and raised in California, always less than an hour from the beach. So, beach waves, flip-flops, and the perfect, beach-y, tousled hair is pretty much a uniform.
But, if you're trying to recreate the look of "I spent hours at the beach and am now glamorous mermaid" without spending all day in the ocean and then napping in a hammock – you're going to need some help.
Namely – sea salt spray, which mimics the effects of natural sea salt water on your hair. These sprays use a combination of ingredients to give your hair texture, separation and a little lift.
Be careful to pick a product with some nourishing and softening ingredients, otherwise the salt can dry out colored or dry hair even more.
The Best Sea Salt Sprays:
These 25 sea salt sprays, from drugstore to luxurious, will give you that perfect, textured, beach-y bedhead look we all want to walk around with all the time.
There are options for fine hair, curly hair, colored hair, dry hair and more.
Get ready to sea salt it up.
If you're on a time crunch, here's a snapshot of the products so you can grab 'n go. Or, stick around to get more juicy beauty bits below.
6 Drugstore Sea Salt Sprays That Work:
5 Clean Beauty Sea Salt Spray:
11 Luxury Sea Salt Spray:
2 Mousse Sea Salt Spray:
2 Homemade:
**Affiliate Links Used.
Let's Do a Deep Dive Into Drugstore Sprays:
You won't believe the price of this Allure award-winning, fan favorite soft waves sea salt spray.
Infused with sea salt for texture, sea kelp for separation, aloe vera for softness and protection, this is not your mother's sea salt spray.
#PunIntended
Check it out here.
John Freida knows what's up and this Beach Blonde Sea Waves Sea Salt Spray is legit.
Also under $10 bucks and loaded with sea salt and coconut oil, you'll get the sexy, tousled beach babe waves you're looking for.
Surf's up.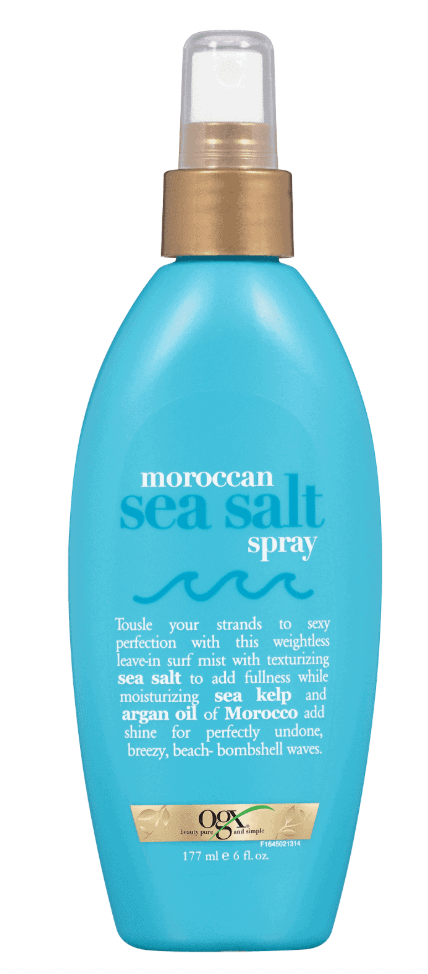 I love the OGX line and this sea salt spray is no exception. This lightweight formula has sea salt, kelp extract, and argan oil for softness and shine. '
The reviews share a lot of success stories with fine hair – which can often become limp and lifeless under heavy salt sprays.
Tigi Catwalk has some incredible products and their Texturizing Salt Spray will set you up for beach babe success.
Designed to give you texture, but also a humidity proof style, this is a great choice if you're in a humid climate.
Full of sea salt, of course, but this one also has castor oil – which has been known to increase hair volume and growth over time. So, get your tousled hair – and more of it, too.
Check it out here.
The SunBum line is known for products that are paraben, alcohol, and cruelty free. This is key for salt sprays, as that alcohol can really dry out colored and dry tresses.
The SunBum spray is loaded with great ingredients, such as: black lava sea salt, seaweed, sea kelp, sea salt, and more.
Plus, gotta love the bottle design. You'll feel full on beach babe dousing your hair with this.
Check it out here.
Garnier offers a salt spray with some hold – for those of you that are looking for the 2-in-1 action of beach babe waves and a finishing spray.
With black fig, this sheer-texturizing styler with sea salt gives definition and lasting control. Without alcohols that will dry your hair, this formula also won't clump hair or leave it too slick or too shiny.
Let's Dip Our Toes in the Clean Sea Salt Pool:

One of the most highly rated sea salt sprays on Amazon, this one is affordable and also full of clean ingredients, like organic aloe, green tea, algae, and raspberry fruit.
More than a sea salt spray, this one is said to nourish, condition, and strengthen your hair while giving you the sexy mermaid look you're going for.
Free of all the yucky stuff, this is one spray worth swimming for.

Rahua wins with the best name and the most beautiful bottle. I am definitely getting the enchanted island vibes with this spray by Rahua.
A clean beauty, luxurious choice, you'll love how the pink sea salt gives your hair touchable, tousled waves using ingredients from the rainforest and the gold shimmer will leave your hair shinier than ever.
I am a huge fan of Verb and their incredible hair care products. This sea salt spray will give you windswept waves with natural sea salt, hydration from the kept and seaweed, softness from the glycerin, health from the pro-vitamin B5, and strength from sea water.
That's a lot of good in that little bottle.
Seed is a recent discovery for me. They're a company committed to being clean in more than just product. Their packaging uses recycled materials and less plastic than traditional bottles.
It's a newer line, so I needed to do some digging beyond Amazon to get some info for you. I was pleasantly surprised to find that they designed this to give volume and texture for fine, thin hair. Rice protein will give hair life and volume, while the natural garden mint and vanilla fragrance will make you smell like you're on vacation.
Check it out here.
I am so beyond obsessed with Davines. I wrote a whole post about their products, but didn't mention this one.
What a shame. I would swim a mile to get the Davines salt spray, but I don't have to – thanks to Amazon Prime.
Vegan, like all their products; smells delicious, like all their products; improves your hair with each use, like all their products.
Be careful buying anything from Davines, though, because you will immediately want to buy absolutely everything that they make.
You've been warned.
Check it out here.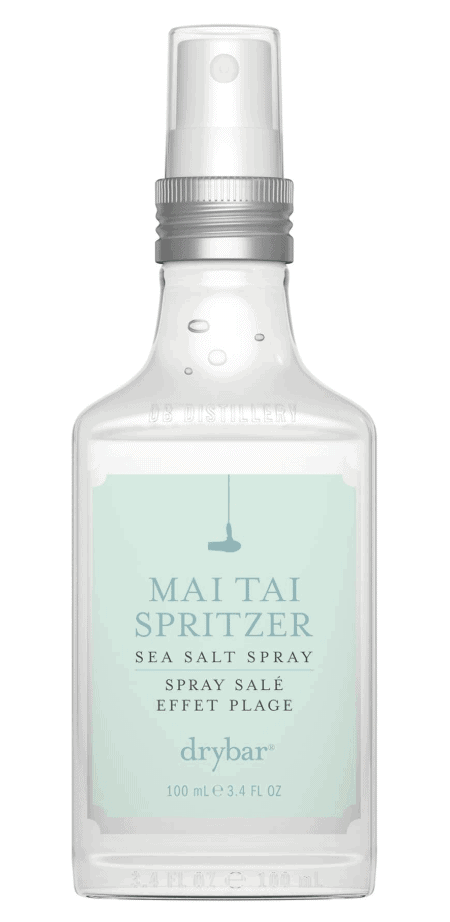 Before we moved, I lived near a Dry Bar. It was such a treat to go and get my hair done every so often for a special event. They have such an incredible way of achieving true hair goals. They got me my best hair ever.
So, when they released their own products and hair tools – I was HERE. FOR. IT.
This Mai Tai Spritzer is as good as all of their products – which is awesome. I do wish they had less fragrance, because I have a light fragrance allergy, and that is the only reason my cabinet is not totally full of their stuff.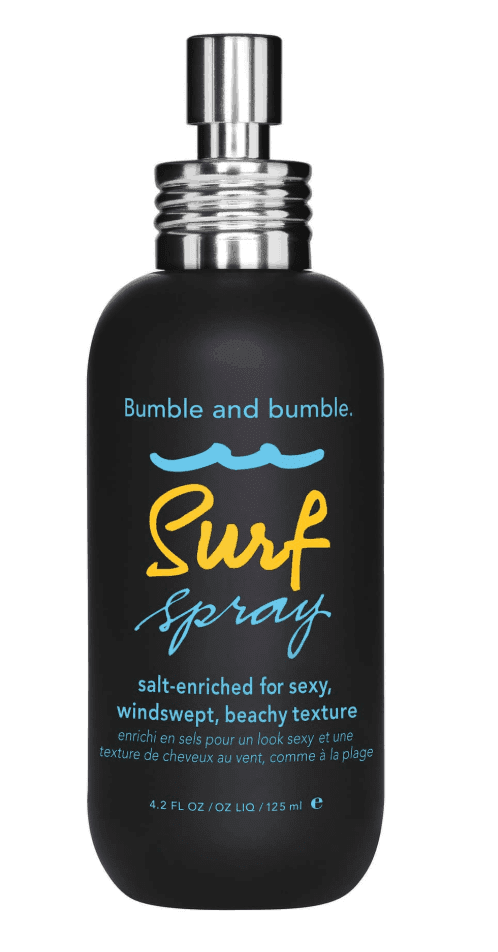 The first sea salt spray I ever bought! Bumble & Bumble slays at everything that they do.
I used this for years, but switched awhile ago to their Surf Infusion version (see below).
Volume, texture, hold, matte finish – it's a beach babe's dream.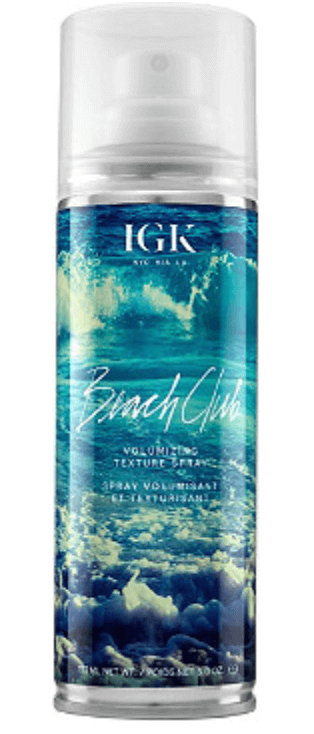 Huge IGK fan. I've shared some of their products in my post on the Best Air-Dry Products.
Beach Club is 100% fab. Designed particularly for chemically treated hair, it'll be sensitive and non-drying for any hair type. Plus, the aerosol design is going to make this so much easier to apply when your head is upside down. Their fragrances are incredible, and this one has notes of guava, coconut water, pink lotus, midnight violet, and vanilla.
So, basically, you'll smell like you just came back from Hawaii.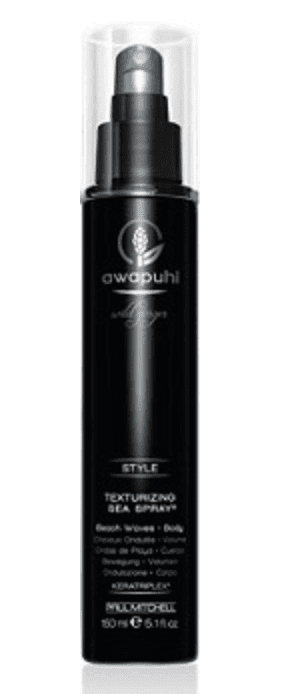 If you haven't tried the Awapuhi line by Paul Mitchell, you are missing out! The awapuhi extract balances moisture for a healthy-looking finish while enhancing and defining curls and waves for beautiful, sophisticated hair (source).
I am not sure that I have ever smelled a more delicious hair product. Ever. Their Ginger Tea Mango Fragrance has a long list of fragrance notes, but all I smell is AMAZING.
I wrote about their hair oil in my Air Dry post, too, and it's another cult favorite product I am never without.
To add a texturizing sea salt spray product to this impeccable line is just a huge win.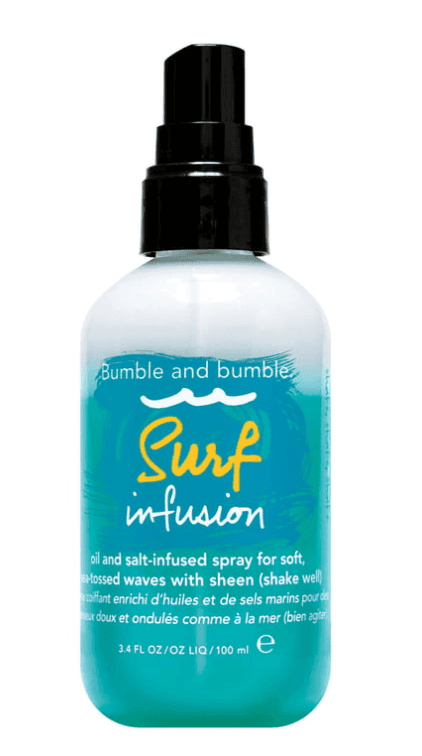 Similar to their fan favorite sea salt spray, but with a key difference: tropical oils.
This makes it an incredibly hydrating and softening formula that makes this the perfect choice for curly and chemically treated hair.
I switched over to this one awhile ago and haven't looked back. I add highlights and color my hair often and those oils just soak right into your hair and make it feel amazing.

Another super highly rated, beloved product from Oribe. I once went to a salon that used their products exclusively and I left with shimmery, Barbie hair so gorgeous – I couldn't believe it was mine.
Sometimes, I hate my fragrance allergies, because their products are heavily fragranced – but they smell uhmazing. I would bathe in them every day if I could.
But you can. I can live vicariously through you. This award-winning salt and shine spray will give you the beach bombshell hair of your dreams.

I first experienced Oaui when I got their detangler in a FabFitFun box (use code BEACHBABE for $10 off) and now I am obsessed.
Their products are delightful! Lightly scented, free from all the toxins nobody needs, and high performing. This sea salt spray uses rice protein to give you tousled waves with a slight hold.
R+Co has been taking the hair world by storm with their unique, modern formulations of hair products designed by experienced hair professionals.
Vegan and cruelty-free, R+Co gives you all of the lift, texture and volume you want, without any of the things you don't.

The first time I used an Alterna Resort product, it was before their rebrand and I grabbed a bottle of their after-swim spray for a trip to Hawaii.
I used that bottle for every trip to the pool or beach for years. It lasted me for years.
It turned the limp, dry, sticky after-swim hair into something moisturized, shiny and fabulous.
Their new line has this Sea Toussled Texture Spray in a stunning ocean blue bottle and something tells me I am going to be as equally obsessed.
Alright, I almost didn't include this one, because this is a very long list and I had never heard of it. But, I literally found this one on EVERY. SINGLE. SEA SALT SPRAY. LIST. I. FOUND.
This Mermaid Sea Salt Spray is supposedly the jam!
If you want to channel your inner mermaid goddess, this baby is designed to get you there.
Dare you to try it.
Swim Up To Seal Salt Spray Mousse: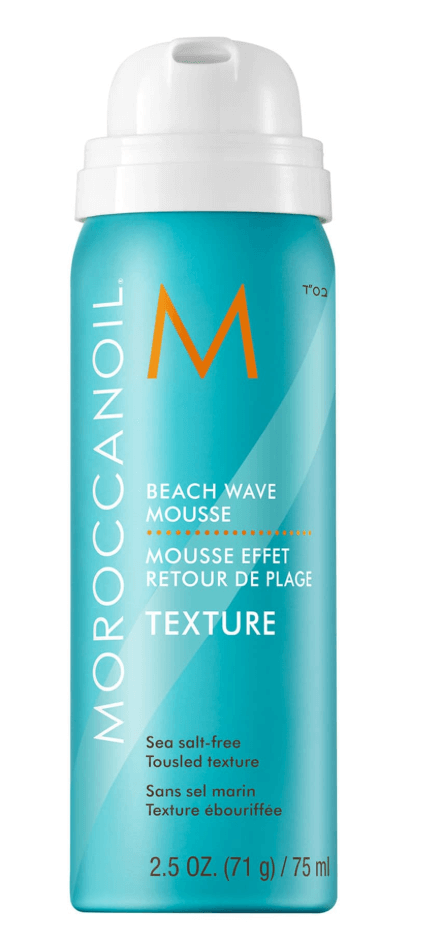 Adore all things by Moroccanoil. Their hair oil also made it into my Air Dry post.
This is so fab. The PERFECT choice for dry and chemically treated/colored hair. Personally, I LOVE using mousses and foams in my hair, because I chemically treat and feel they are less drying.
This is a sea salt-free version – gasp! – that gives you the beach wave look with nourishing ingredients like argan oil, castor oil, safflower seed oil, willow bark extract, and more.

A foam version of the infamous Bumble & Bumble Surf Spray. It's a light mousse with a less gritty sea salt spray combined to make the perfect marriage of hold and texture.
Come to mama.
Stay Home & Make Your Own:
I actually made this years ago and it worked well.
I would say that you need some small spritzer bottles. I grabbed these on Amazon.
Use some essential oils to help with the salt smell.
Another solid DIY spray. It's very affordable to make, so you may enjoy the process of doing it yourself.
Personally, I find I do better with the easy way (i.e., buying great products), because I've got #smallkids and #notime.
I would love to be better about making my own products when the kids are older.
****
Phew – that was a lot of sea salt! But, I think it went swimmingly 😉
I am such a huge fan of sea salt sprays and the look of having spent all day at the beach.
Have you tried any of these or have a favorite I didn't mention? Share it in the comments below.
Have a fabulous day,
E