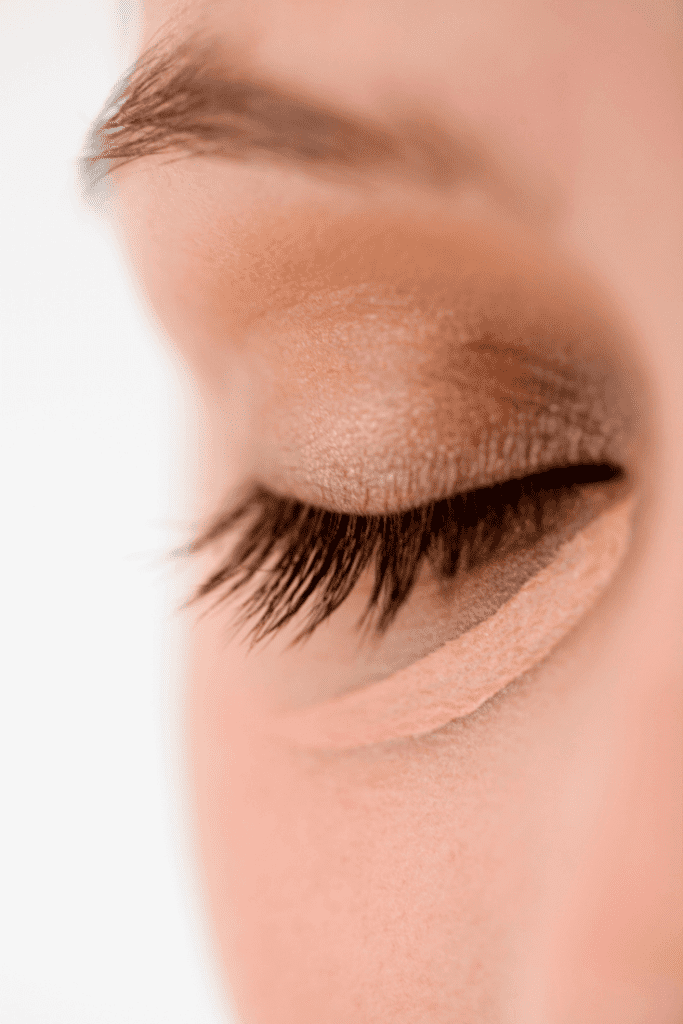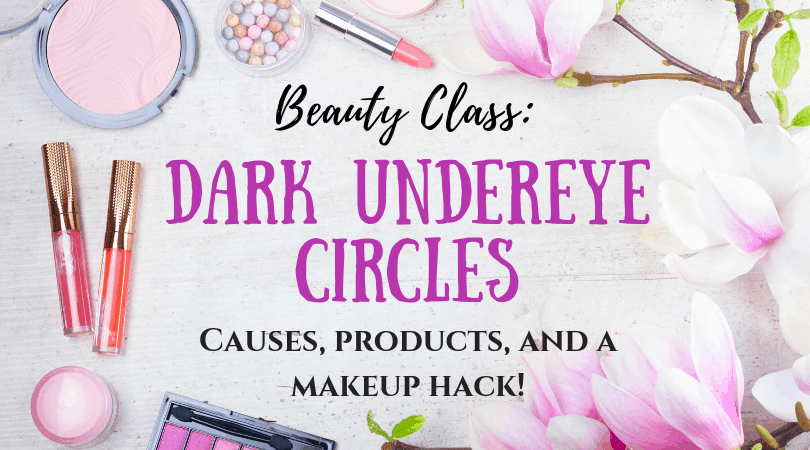 Welcome back to Beauty Class! Are you ready? First we took on the infamous difference between Tinted Moisturizer, BB Cream and CC Cream. Then, we talked all about Skin Serums. Today, we are going to dig into Dark Undereye Circles!
There's a lot I want to share with you, so here's our roadmap:
What are the causes of dark undereye circles?
What are some actually effective treatments – in different price points?
What are some free lifestyle changes you can make that can help?
What are some makeup hacks you can use to make dark circles far less noticeable (hint: some celebrity inspo here, too! #KimKardashian #KardashianMakeupTips)
Excited yet? So am I. This is one of those topics I got questions about alllll the time as a makeup artist! I worked with all types of clients, and you know what – no matter who you are, how in shape you are, how many green juices you drink a day – you can still suffer from DARK UNDEREYE CIRCLES!
They are an equal opportunity annoyer.
Everybody can get them. Everybody hates them.
Luckily, we are not powerless in this fight and I'm about to share all the dirty tips and tricks I've got with you.
1. What Causes Dark Undereye Circles?
Experts have weighed in on a number of possibilities, so here's the short list of why might wake up looking like you got two black eyes:
SLEEP: Not enough causes inflammation and areas with thinner layers of skin can show this inflammation sooner.
GENETICS: Yup, you can be born with a hereditary predisposition for those pesky little dark bags.
ALLERGIES: Another cause of inflammation, particularly in the face = enlarged blood vessels
AGING: As we get older, our skin gets thinner, collagen production starts decreasing, you get the idea.
SKIN CONDITIONS: There are a few skin conditions that can cause a flare up, such as rosacea, eczema, autoimmune diseases, sun spots, melasma, etc.
DIET: Not enough water? Chemical imbalance? Maybe a deficiency in certain nutrients? Not enough iron? All of these have been linked to dark circles under the eyes.
This may not seem helpful – but, if you are able to start determining a cause -you can choose treatments that are better suited to your specific cause and then see better results.
But, even if you can't figure it out – there are still steps you can take to improve the look of those dark ponds.
2. What Treatment Options Work For Dark Circles?
Sure, you can always throw down the big bucks for fillers to increase and plump up the skin, but these are temporary and expensive fixes.
For the rest of us that aren't ready to cash in our 401k for a fun day-of-pain, there are lots of products on the market proven to help.
Personally, if something is going on my skin or anywhere near my eyes, I like to veer towards the clean beauty side of things.
I mean, we only get one pair of eyes – you know what I'm sayin'?
A. Morning Treatments for Dark Circles:
The name of the game here is something cooling, something with caffeine, and/or something with hyaluronic acid – which improves your skin's ability to hold water, therefore temporarily increasing skin volume. Avoid products that make your skin sensitive to the sun.
Here are some ideas:

An all-star favorite of mine. I use this one almost every day.

A rich eye cream with hydrating hyaluronic acid. I also really love this one and it's super affordable.
ORIGINS

GinZing Refreshing Eye Cream to Brighten and Depuff
I really like a lot of the Origins line. It's cleaner than most and full of really great ingredients that work.
FARMACY
Dew It All Total Eye Cream with Echinacea GreenEnvy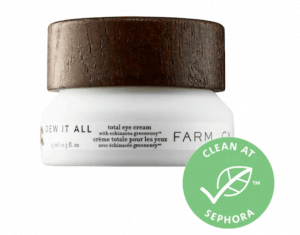 Obsessed with all things Farmacy. Their clean beauty line is one of my faves, including this Dew It All eye cream. If you'd like to try a few of their products with less of a financial commitment, consider this kit with 4 of their products in a smaller size.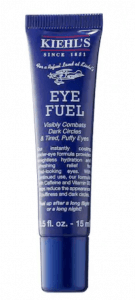 I was able to try a sample of this and now I want to buy it. Has a nice tint to it and really seem to help.
100% PURE Coffee Bean Caffeine Eye Cream for Wrinkles, Anti-Aging, Dark Circles Under Eye Treatment for Eyelids and Under Eye Area
I recently picked this one up and I AM OBSESSED. It smells like a delicious cup of coffee, is super moisturizing, completely non-irritating, and helps plump the skin a little.
The most affordable on the list, lots of great reviews. This is a good brand and I like a lot of their products.
B. Nighttime Routine for Dark Circles:
At night you have the luxury of using stronger products because you're asleep and you don't have to worry about photosensitivity or even how they layer under makeup.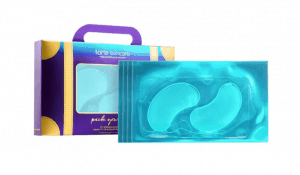 You could leave these on while brushing your teeth and getting everything ready for bed and then pull them off, pat the rest of the cream around your eyes and get some sleep.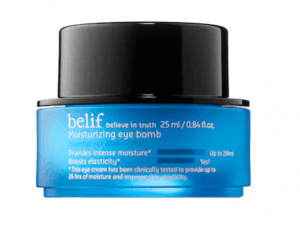 Belif Eye Bomb & the night cream are sublime. They are pricey, so I'm linking this discovery kit that lets you try a handful of Belif products for a very reasonable price.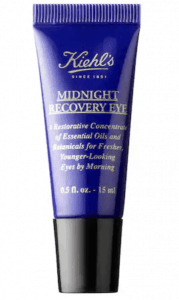 Huge Kiehls' fan. Huge.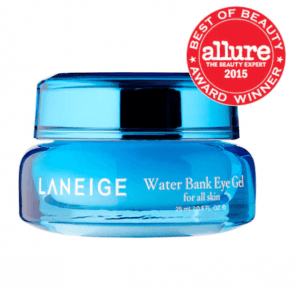 Laneige water bank products have a really wonderful way of plumping skin and increasing moisture, which is why they get so many awards.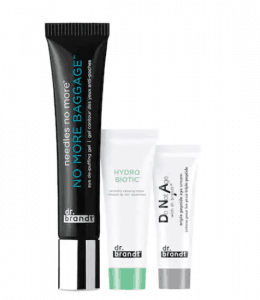 This has a light tint to it, making it better for nighttime if you wear makeup.
The skin's response to sun is another big player, so always wear sunscreen, even if you're just driving around in your car.
I wrote a full post on my top 3 facial sunscreens in 3 price points that you can check out here if you like, but to simplify if for you, here's my all-time favorite sunscreen again. It's under $20 bucks, great for sensitive skin, has a nice cooling effect, and layers under makeup beautifully:
3. Clean Up Your Life:
You can also look at what you can do for free or for your whole body that will help holistically.
Ideas would be: try to get more sleep, or improve the quality of your sleep. I wrote a post on my natural remedies for insomnia if you struggle with insomnia, too.
Drink more water. The cornerstone of every single new fad diet, old diet, successful diet, or lifestyle change is always drink more water. Common denominator – because it's really important.
Get the blood flowing. Walk. Yoga. Pilates. Exercise. Whatever you can with whatever you have available to you. I wrote a post on some workouts that are great for folks with chronic pain or autoimmune diseases, too.
Start a PROBIOTIC! Clean up YOUR GUT! I have tried many and my two favorites are linked right here in case you are looking.
Ch
eck out your diet. Track what you are eating and try to figure out if you are missing some important nutrients or food groups. For most of us, this would be the nutrients in fresh-caught fish or leafy greens. Since both of those are yucky. Luckily, you can supplement anything you don't want to actually eat.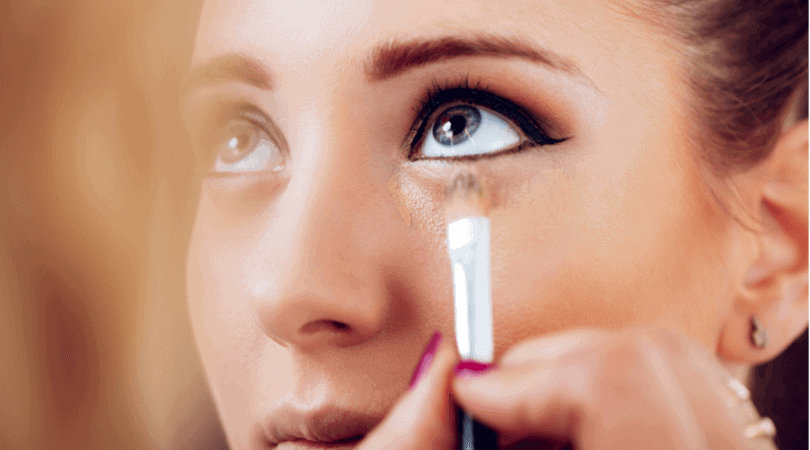 4. Quick Makeup Hack – From The Pros!
Now that you're armed with a whole bevy of products you can add to your dark circle fighting arsenal – let's go over a quick beauty hack, courtesy of none other than Kim Kardashian.
She has actually been very open about her struggles with genetic dark undereye circles and how she and her makeup artist are able to conceal them beautifully.
Here's her YouTube video with a step by step tutorial on how they do it!
In fact, she is so known for sharing about this – she decided to develop a beauty product you can buy to copy her hack!
But, you can save your $82 bucks, or whatever it will cost on Ebay after it sells out everywhere, and copy her technique with a few products I bet you already have in your makeup bag!
Here we go:
Step 1: LOTION
Get that blank canvas, girls. See above for my sunscreen rec.
Step 2: CONCEALER
There are so many great options. I wrote a whole post about my favorite concealers, which you can read here. Or, here are a couple in two price points that are fan favorites!
This one by Tarte is supposedly AMAZING.
I also really love Burt's Bees makeup, including their concealer (and it's under $15!!).
With concealer, remember to dab, dab, dab, little polka dots under your eyes, and then gentle blend it in. A blender sponge thats wet and rung out is also an excellent way to make it sink right into your skin.
While I love BeautyBlenders, this pack of 5 off-brand makeup blender sponges from Amazon work great! I love them!
Step 3: LOOSE POWDER
Then, she says they use makeup sponge to pack loose powder over the concealer. Typically, you would use a large dusting brush to get a thin veil over the skin – so this step is a bit different and unusual. The use of the beauty sponge will help you get it in there nice and smooth, so it doesn't get chalky.
Here are two brands I like:
LAURA MERCIER
Translucent Loose Setting Powder – 7K perfect reviews!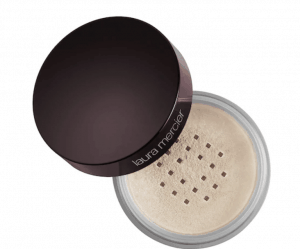 Under $20!
Step 4: Setting Powder
Now, it's time to bust out the big brush and get that light dusting on top and all over your face.
Use a translucent option, like the Laura Mercier above, or one similar to your skin tone, such as the tinted Physician's Formula above.
That's it, folks! You should look like Kim Kardashian now!
Just kidding. But, you should see an improvement in the undereye circles. Even if they'll wash down the drain the next time you wash your face, you are now armed with an easy process for covering them right back up.
If you'd like to see a step-by-step of this makeup hack, check out this great article by Bella Gerard where she tries this out and shares it all with us.
****
Just remember, everything about our bodies is connected. Consider treating yourself from the inside out to get that gorgeous, glowing skin you want.
Do you have a favorite beauty or diet hack for those dark undereye circles? Comment below so we can all learn about it!
Have a fabulous day,
E