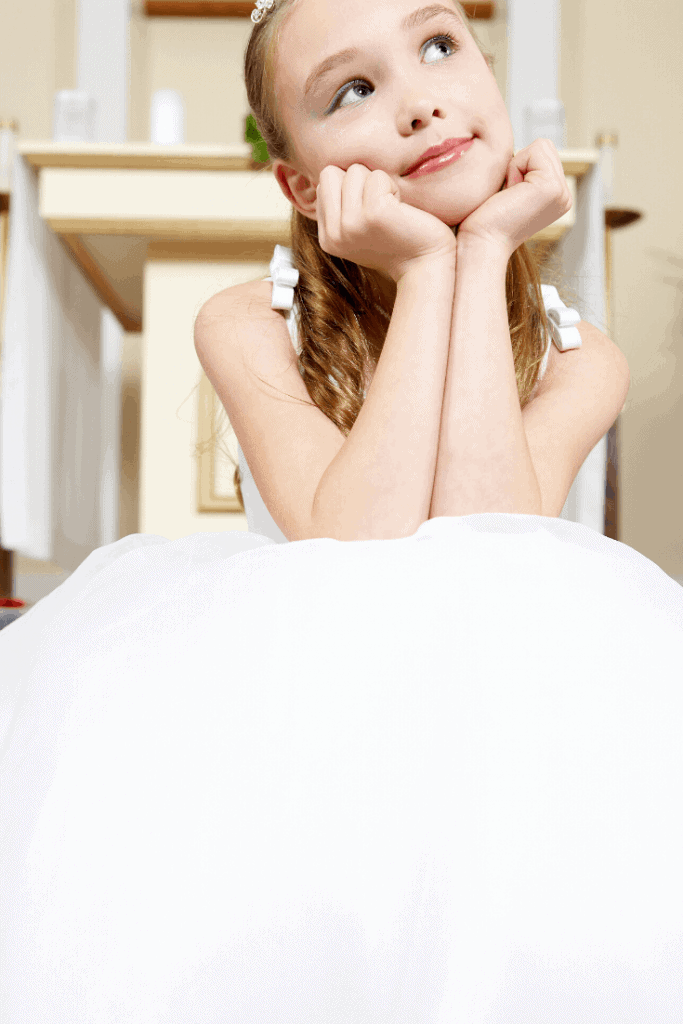 Flower girls are adorable. They are, arguably, the bride's biggest competition and can easily steal the show – and everyone is happy to oblige.
But, every bride has that moment when she wonders if her cute little queens will make it down the aisle before bursting into tears, running back to their moms, dumping out their flowers in one swoop, or any other number of potential behaviors.
We all know that they are just children…
And, while we all understand that they are children and it is a lot to ask of them to strut down an aisle while being obviously photographed, videotaped, and stared at by hundreds of strangers – we also would all like a little magic on our wedding day.
I've got the perfect solution for you.
In fact, it's so good, I used it myself at my own wedding and it worked like a charm.
Every bride I've shared it with has used it to – and said it's absolute genius.
It's so simple, you won't believe it.

The secret to the getting your flower girls to happily walk down the aisle with confidence while putting down all those beautiful rose petals….
is to place a gift for them at the end of the aisle.
I'm not kidding.
It's that simple.
But, you can't just put the gift for them at the front and forget about it.
You need to tell them that it is there.
It goes like this….
A little bit before you're all set to strut your stuff down the aisle, you have a little huddle with your girls.
You tell them something like, "You all look so beautiful. I know you are probably nervous to go out there, because I am, too. I have something special for you as a thank you for being here with me today and being so brave. I bought you these little gift bags and there is one for each of you. (This is where you show them the gift bags). I am going to place these at the very end of the aisle. All you have to do to get this gift is to walk down the aisle and put down flowers. That's it. And, when you're done, pick up your gift and it's all yours."
If you really want to sell it, show them a couple of the presents inside.
Then, you let them see someone put them at the very end of the aisle, and you watch those girls confidently walk towards them.
Some of them are going to give you a show, too.
They want you to see them put those flowers down!
Either way, everyone will feel better about it – and your little misses will be so distracted by their present, they won't remember to be afraid.
If you're lucky, they'll run up to the waiting groom and ask him to open their Barbie, lol:
What kind of presents?
These little gifts are so simple. You can get as creative or as simple as you want.
I would keep a few important things in mind:
No Food
Nothing sticky, like play-doh or slime
Nothing messy, like markers or paint
Nothing with tiny pieces that could get lost
Gift Ideas:
Here are a few ideas for what you could use:
1. Something to play with – a mini-chelsea Barbie doll is a perfect example, and there are dozens of looks and outfits, so you can choose one that looks like your little flower girl:
2. Jewelry – for an older girl:
3. Something to read – a mini-book with some of their favorites. Or, buy a pack of small mini-books and put a few in each gift bag like these for really little ones:
4. Lollipops – as long as they aren't filled, they won't last long and they could even help keep them quiet during the ceremony:
5. Mini color books and crayons – just make sure the crayons are washable:
5. Easy to carry packaging:
Something affordable and disposable:
A little reusable tote for under $10:
A more glam bag in a different color:
Or, you could get fancy, and put their goodies in a custom tote bag:.
If you'd like to keep it simple, here's an adorable, pre-made set for $20 each –
You can use the same idea for your little ring bearers, too! Just switch up a few of the items and you are good to go!
*****
Have you known anyone that tried leaving gifts for their flower girls at the end of the aisle? Do you have your own tip to share?
Don't forget to read the other posts in the wedding series:
Leave it in the comments below!
To chic weddings,
Erica