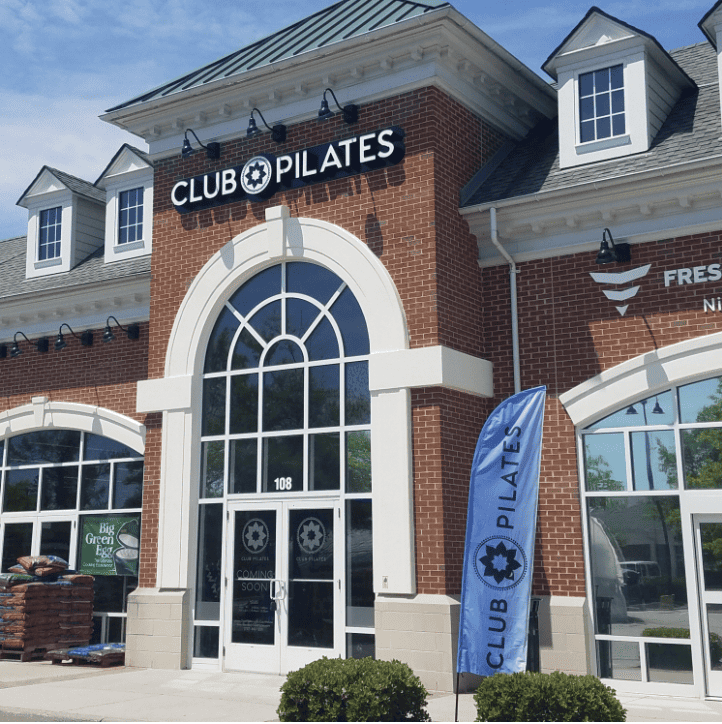 I started pilates over three years ago, after a rheumatologist recommended it for increasing mobility and strength, while reducing inflammation. Chronic pain was rapidly impacting my quality of life and I had nagging pain in areas like my upper back, triceps, hands, feet and other areas. At that point in my life, I was barely working out at all, because the recovery time was too difficult for me and I was seeing my health decline before my eyes. I really needed to get back in shape and regain control over my health.
Attending reformer pilates classes at Club Pilates has made a huge impact on my health and physical fitness. While it is certainly not the most affordable exercise option out there, it is absolutely more affordable than having a ton of health issues and spending hours (or even days) at doctor's offices and hospitals. So, for me, it has been a worthwhile investment. If you're reading this, you're probably trying to determine if it's right for you. So, today, I'd like to share with you the reasons why I have continued to invest in my Club Pilates membership for all these years.
What is Club Pilates?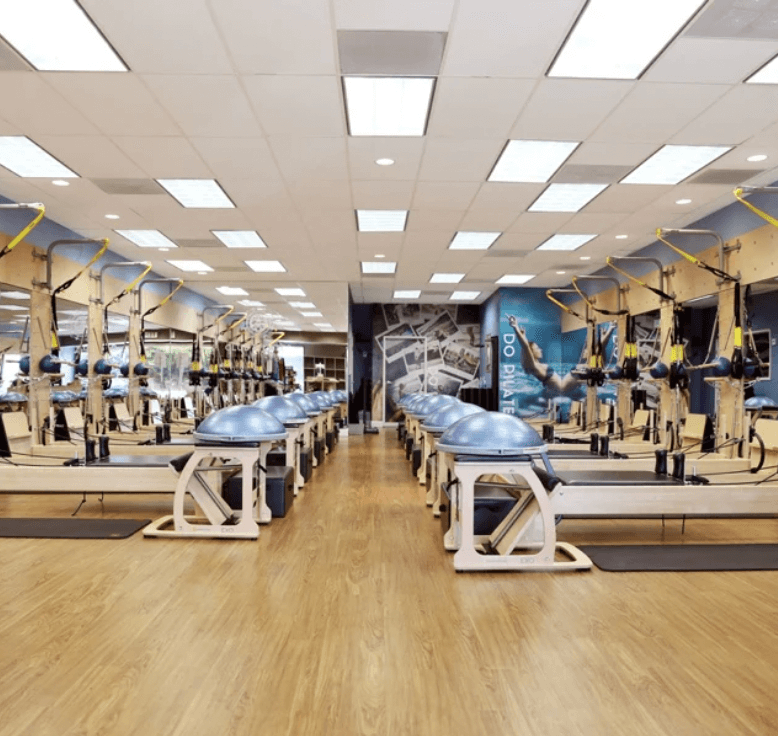 If you're new to the idea of Club Pilates, here's a little info about what you can expect. Club Pilates offers low-impact, full-body Reformer Pilates-based workouts with a variety of classes that challenge your mind as well as your body. They made reformer pilates classes more affordable with their pilates-only membership program. Reformer pilates has always been on the pricier side, for a variety of reasons, one of them being that teachers require specialized training to teach the classes and the reformer machines are expensive to purchase and maintain.
But, Club Pilates found a way to accelerate teacher training through the use of their highly focused teacher training programs (that I almost signed up for in 2021 and researched thoroughly) and pilates only classes. So, while it's still an investment–which we'll talk about more later–it's going to be on par with memberships to places like Pure Barre and other stylized gyms. Sidenote: If you're interested in Pure Barre, read my full review of that here.
Reasons To Try Club Pilates
Now, let's get into the nitty gritty of what it's really like to be a Club Pilates member. I'll share with you the reasons why I think it's worth giving it a try. If you do decide to try it out, make sure to arrive properly dressed, with water, at least 5 minutes before your class time. You'll want to wear stretchy leggings that aren't too tight and don't have any pockets or weird seams on the backside, because you'll be laying down quite a bit. I've tested a lot of activewear and wrote a post with my top picks for pilates leggings, but if you want the elevator pitch: these leggings are my absolute favorite. They are buttery soft, stretchy, super flattering, don't roll down, allow your body to move and breathe, and are super affordable.
1. Pilates is great for all fitness levels: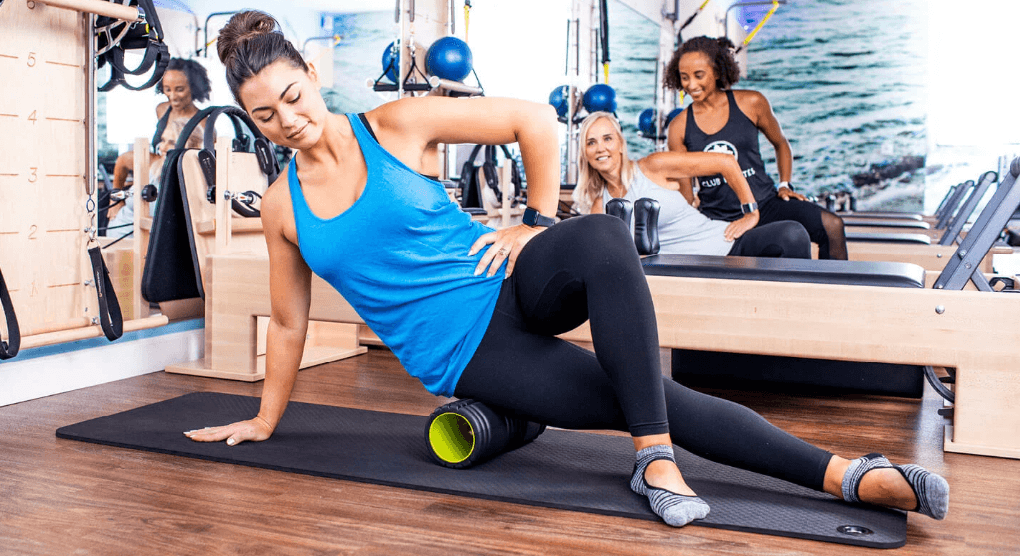 Whether you are coming to pilates after a long hiatus of not exercising or recovering from an injury, or you're a serious fitness enthusiast, you'll find a pilates level that is going to be right for you. Club Pilates breaks down their classes into 4 main levels and you can move through the levels as you build skill, strength, and ability. I've seen professional athletes come in as part of their injury rehab and they struggle with some of these classes, and I've seen people who haven't worked out in years and really need to get back on track come in and take classes, too. Everyone can do some version of pilates, especially since many of the workouts are performed while lying down on the reformer machine, which means you aren't putting all of your body weight on hands and feet. There are exercises that do, but it's not the predominant workout as it is in other types of fitness classes. I find that I am able to work out longer and harder because of the nature of the exercises.
To read more about pilates and the benefits it offers, check out this detailed post here.
2. Classes are small and the room is dimly lit: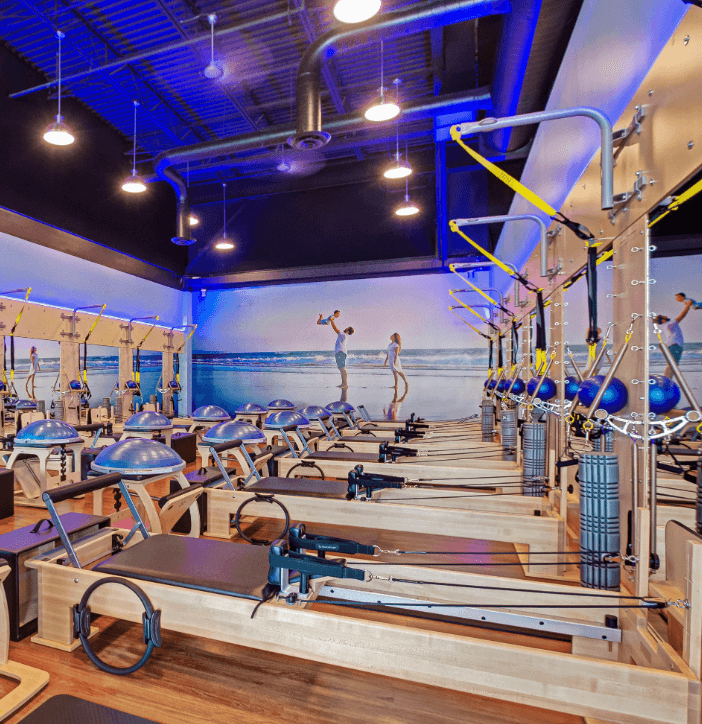 This is definitely a plus for Club Pilates and here's why: many people coming to pilates do not want to workout in a packed gym with bright lighting where everyone is staring at each other. In fact, I've talked with so many people over the years who felt that Club Pilates classes were accessible for them because the classes are kept small, with around 12 reformers/stations in the room, and the room is dimly lit, so you feel some privacy while you workout. Knowing that if you sign up for a class, you are getting your own station with everything you need, no need to pack into a class or hope you get the equipment before it's all taken, is a relief for many of us.
3. There are lots of class times:
Prefer to work out at 6am? Are you a night owl who wants to workout a couple hours before bed? Can you only go to classes on the weekends? Club Pilates has a class for you! I've always been impressed by the range of class times and types that are offered at my local gym. Sometimes I can only go at night, while other times I can get in a class while my kids are at school and there's usually a class time when I need it. This makes getting that pilates class in so much easier. The exact class times will vary based on your studio, but this is what we have available at our block of locations.
4. Classes are leveled by difficulty:

The classes at Club Pilates are leveled by difficulty. You start with an introduction class to learn how the reformer works and basic movements. Then, you move to a level 1 which is going to progress through exercises slower, with more breaks in between, a lot more instruction and guidance from teachers, and lighter weight loads.
You move to a 1.5 and it'll get a bit more rigorous, slightly heavier weights, less breaks between exercises. At this point, you have options for different types, such as Control, Flow and Cardio. Cardio uses the jump board and you jump lying down. It's very cool, I love it, but it's heavy cardio and will work you out. You can always take breaks when needed, too.
After that, you go to a level 2. These classes move faster, exercises are harder, and the weight is heavier. I have been doing 2's for almost my entire time at CP. There are different types, such as Control, Flow, and Suspend. Depending on the teacher, a 2 can be close to a 1.5 or it can feel like a 10.
There are some level 2.5s and you can go with instructor approval. There is a lot more balance work involved and you need to be strong enough to do the exercises without injuring yourself. It can be a really fun challenge after you've done pilates for awhile.
What's amazing is you can make any workout easier or harder based on how you engage your muscles and core. The longer you do pilates, the more you understand your body, how to isolate different muscle groups and how to use your body to manipulate the exercise to meet your own abilities that day. Some days I am stronger than others and I can naturally adapt to make the workout right for me.
5. Club Pilates has a great app: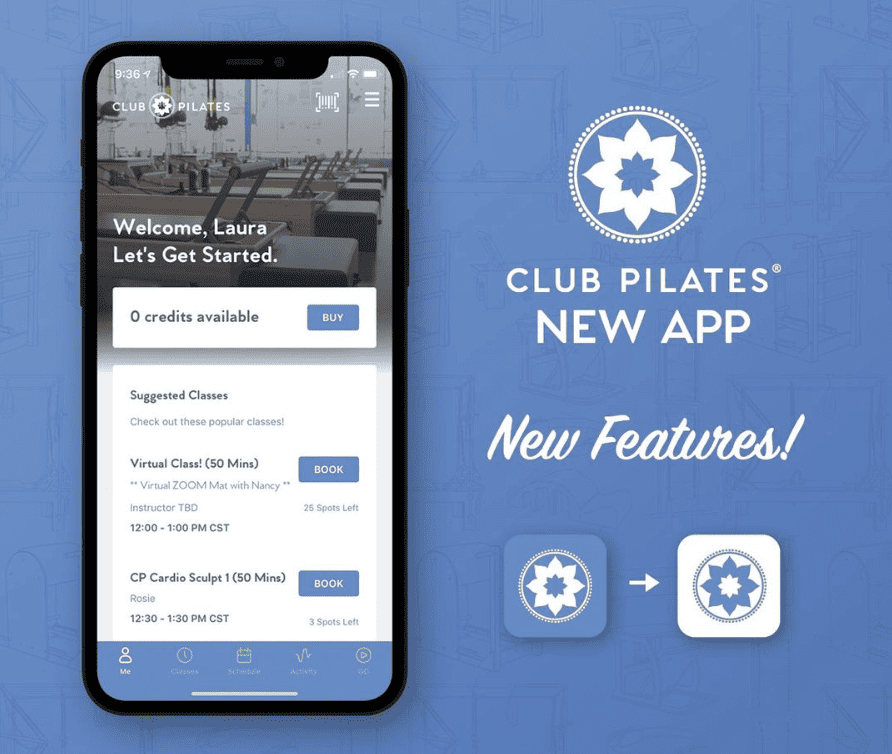 To make it even easier to get your workout in, you can sign up and cancel classes right from the app. For unlimited plans, we can book up to 10 classes per month at a time (this can vary based on your specific gym and owner). Then, if you don't show up to a class, you pay a fee of $15 or so. If you cancel before the class, but after 24 hours, you pay $10. Personally, I don't mind this, because it can be difficult to get into some classes and then when you go, there will be empty reformers. You know there's a waitlist and people couldn't get in because members signed up and didn't show. Very frustrating.
Also, your app tracks your workouts, attendance, and can be connected to your health app. Mine also shows that I've hit several milestones, thanks to attending hundreds of pilates classes over the years.
6. Club Pilates has membership options:
When I go to my local gym for a membership, there is usually only one or just a couple options. With Club Pilates, you can choose from a few different membership options to find what works for you.
While the prices at each club is different or the prices will be same for a block of clubs with the same owner, they have the following break down of membership options:
Individual class passes (most expensive)
4 classes per month
7 classes per month (website says 8-pack, my studios don't offer that)
Unlimited Monthly (the plan I have)
Annual (pay a year at a time)
Passport (the pass that allows you to go to any CP across the US)
The more you buy, the cheaper the classes are, unless you pay for unlimited and go less than 2x per week. I have always been on the unlimited plan, for me it's around $200 a month and I go 3-5x a week. This brings my per class price down to $10-15 a class. If you'd rather put this money toward your own pilates reformer that you can use at home, check out my post where I find the 6 best pilates reformers for your home pilates workout.
7. Pilates will help you tone your body:
Looking to transform your body? Pilates can help you do that. It leans out your muscles, making them strong without being bulky. It also lengthens muscles, so I've noticed a more streamlined look to my body, whereas I was much more curvier before. It hasn't turned me into a lithe ballerina just yet, but I've definitely seen trimming in my waist, thighs, hips and even upper arms. Many of the teachers have enviable physiques that will definitely keep you motivated in classes to work hard.
*****
Overall, I have really appreciated the many benefits I've experienced since starting my Club Pilates membership. It has opened the door for me to start doing other types of exercise that I wasn't sure my body would ever be able to do again. While I don't see myself canceling my membership any time soon, I have been thinking about investing in my own machine to use at home, since I've reached a level where I know the exercises I like to do and the ones that I need to do more of. Being able to customize my own routine would help me reach that next level.
I hope this post helps you make the decision that is right for you. Please remember to listen to your own body. Every one of us is going to react to things in our own way, and you are you own best advocate.
If you enjoyed this post, you might also like these ones with more of my health and wellness journey:
I hope you found something that helps you. Have a fabulous day,
E