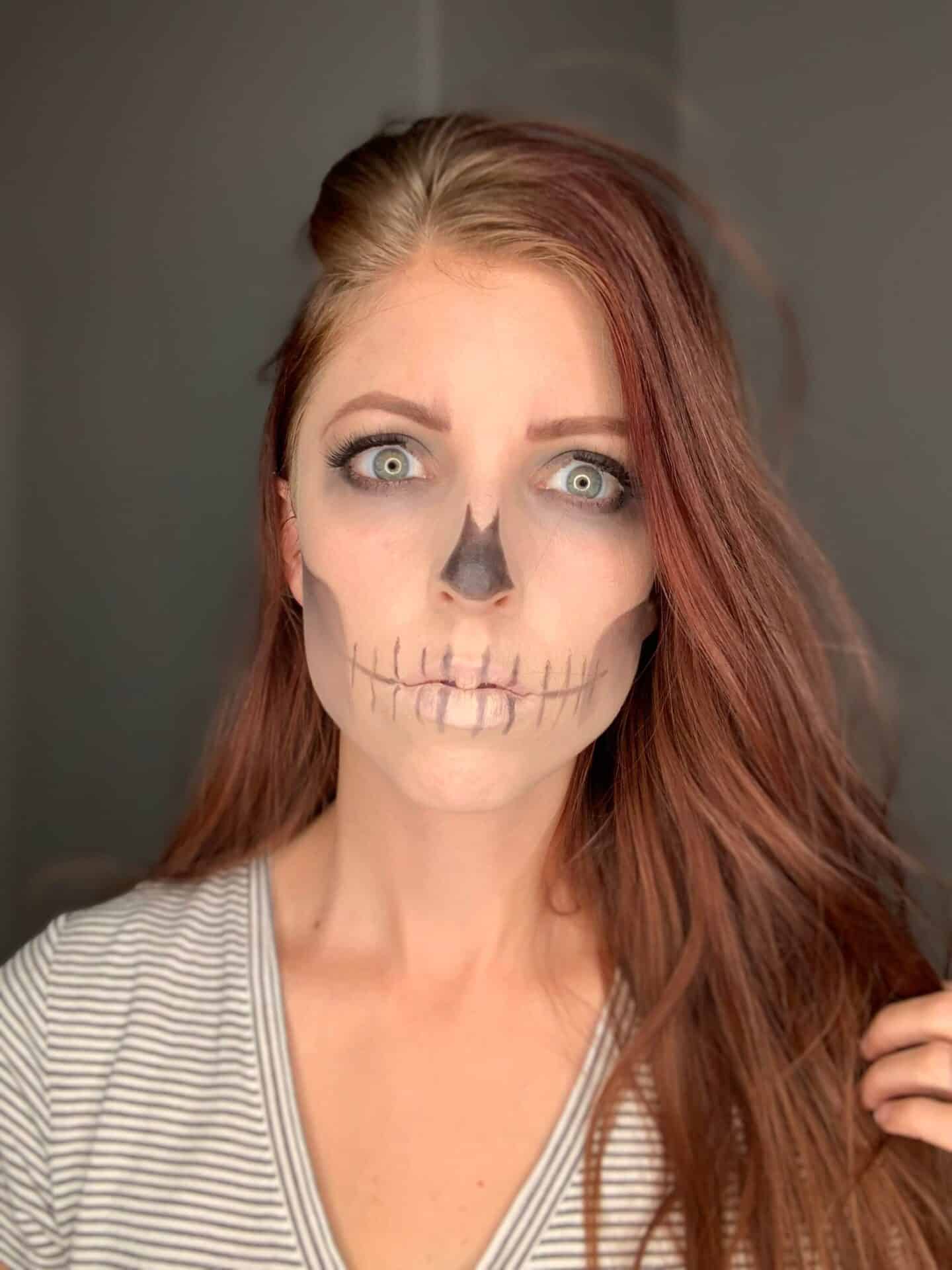 One of my favorite Halloween makeup looks is the skeleton. Maybe it's because black and white is my favorite combo and I wear black most of the time – or maybe it's because it accentuates your bone structure (see what I did there?).
Regardless, I am pretty sure I will be rocking a skeleton this Halloween, so I was super excited to have my girl Annie break down how to do skeleton makeup using real makeup that won't ruin your skin.
What You Need To Do Skeleton Makeup: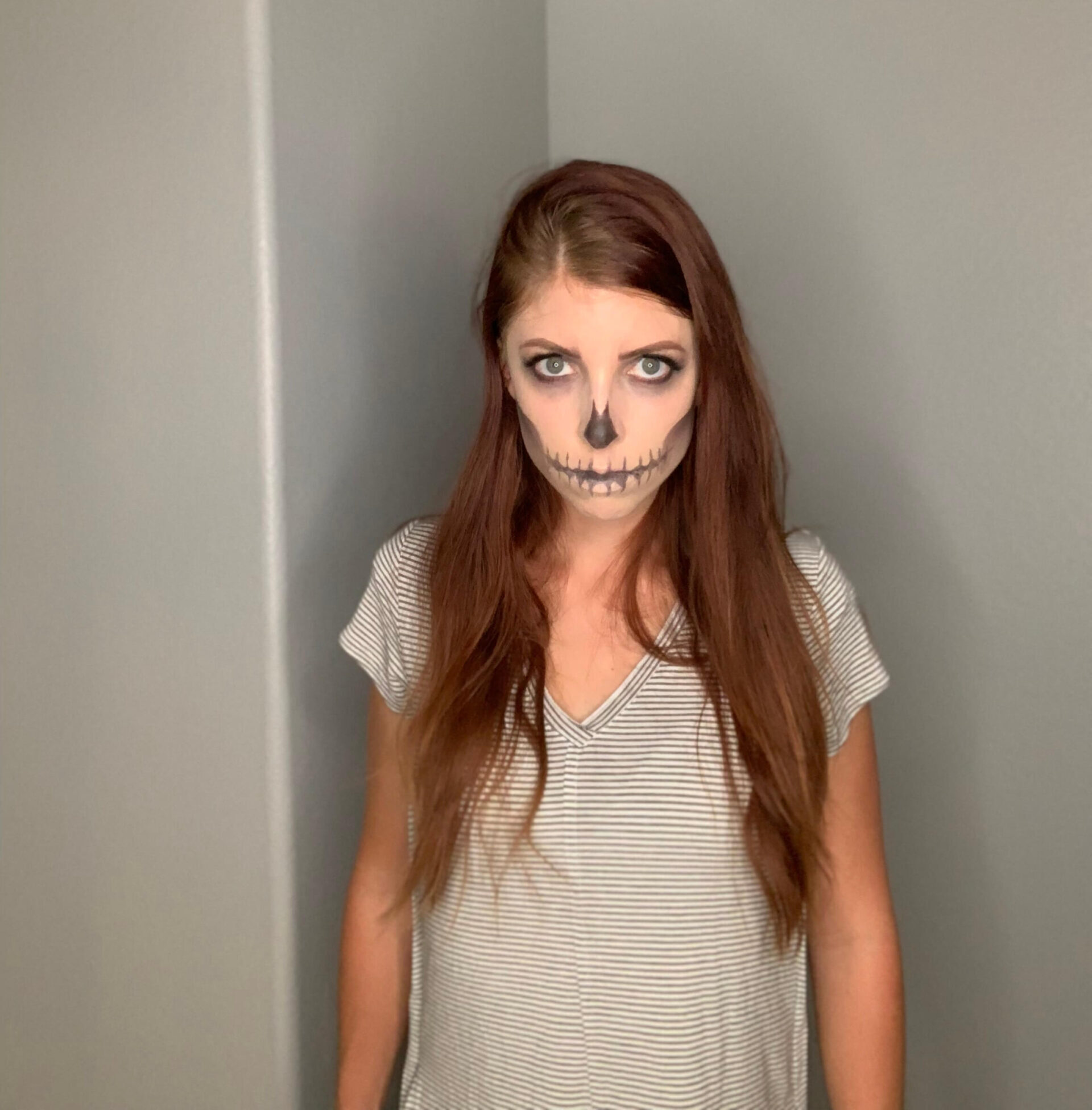 Something I love about all of Annie's costume makeup tutorials (see the deer and mermaid, too) is that they use real makeup, not the cheap costume makeup that will mess up your skin and cost you a small fortune for one day of use.
Nope, you'll be able to create this look using makeup that you can repurpose into every day use. Plus, having used this brand of makeup myself, I can attest to its incredible quality. The eyeshadows are highly pigmented and the foundation easily blends for a natural, but better, look.
I'll sharing all of the sources for what Annie uses to create this look below. Annie is a rep for the makeup now, because she loves it so much, and she's who I worked with when I bought it for myself. Totes recommend. So, if you wanted to chat with her about color matching for your skin, she can help you pick out the perfect colors, or you can just grab the exact colors she uses to create this awesome skeleton makeup look. Either way, check out her Instagram, where she shares tons of makeup hacks and tricks, and you can DM her there if you'd like help picking out the right colors for your skin.
Here's the makeup she uses in this tutorial:
How To: Skeleton Makeup Tutorial
To create this skeleton makeup look, Annie used her all-in-one palette, where she has everything she uses in one convenient customizable place. I have a double-decker palette and I love how you just move the little magnetized tiles in and out as you need.
Step 1: Prep Your Skin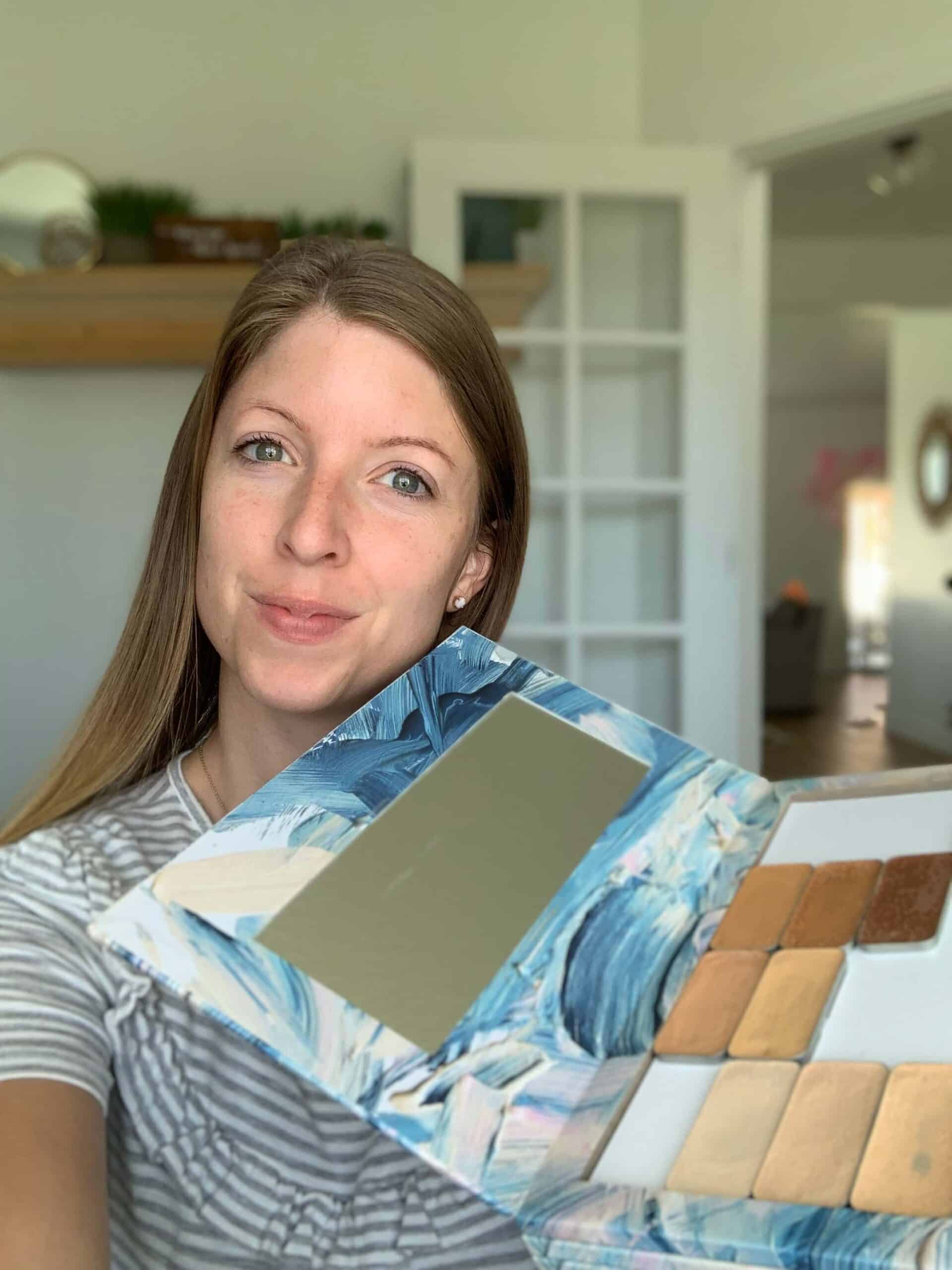 Begin with a clean, moisturized face. Use a nice moisturizer that will give your skin a smooth base for underneath the foundation. Pat an eye cream around the eyes. If you're looking for the best face wash – I love this one.
Step 2: Apply Foundation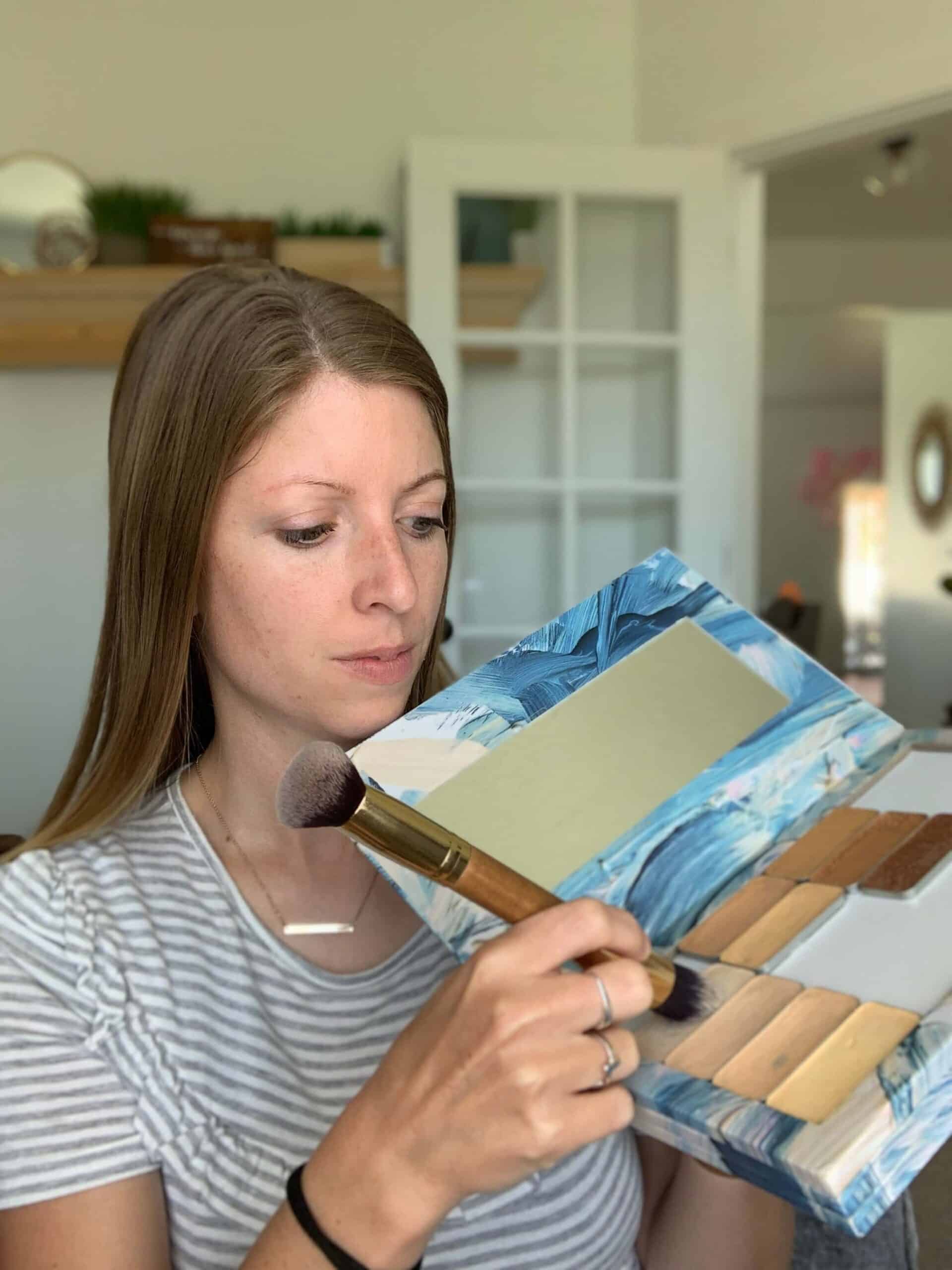 To give yourself a washed out look, use a very light foundation shade, such as
Linen.
Put the light color all over your face, including your lips, only avoiding the area below your cheekbones.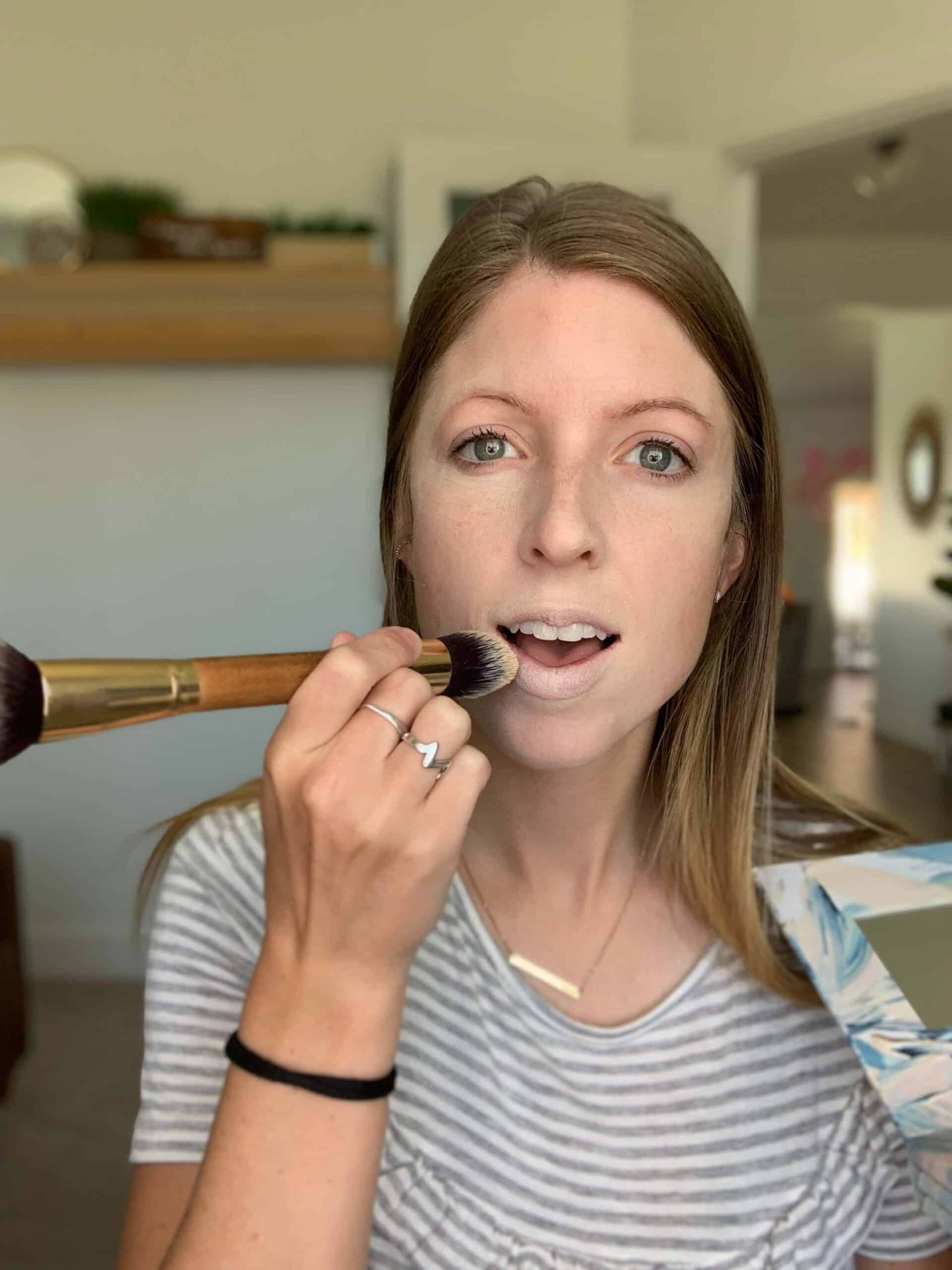 Step 3: Darken Your Eyes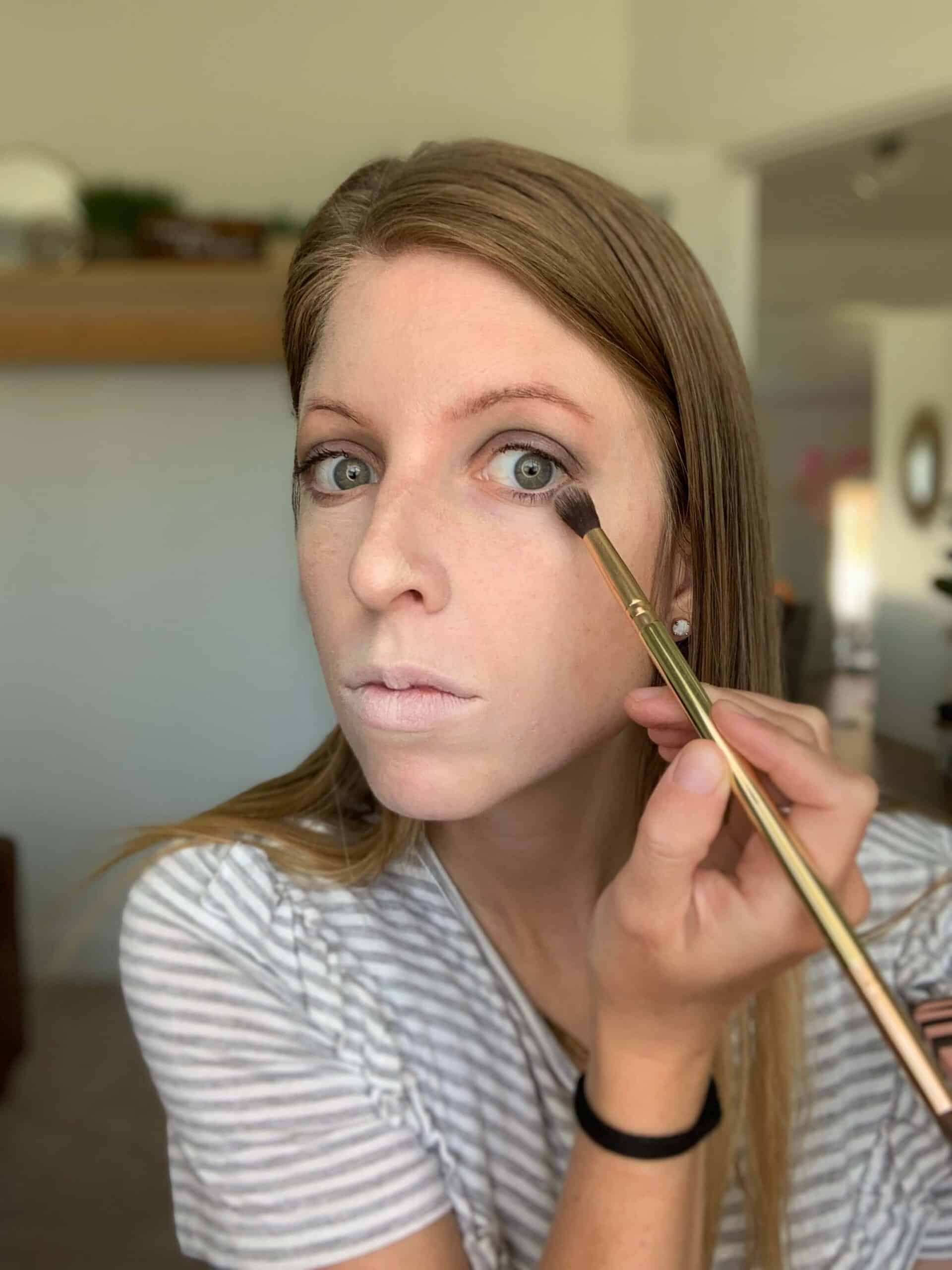 Time to darken those eyes, girl! To give them a hollowed out look, use a black eyeshadow like
Salem
and use the best
Eyeshadow brush.
To add to the hollowed eyes, brush this color on the lower lash line and blend it down around the eye sockets as well.
For brows, use
Trust eyeshadow
and do some vertical strokes at the beginning of the brow and then blended them out with your finger.
Step 4: Shape Your Face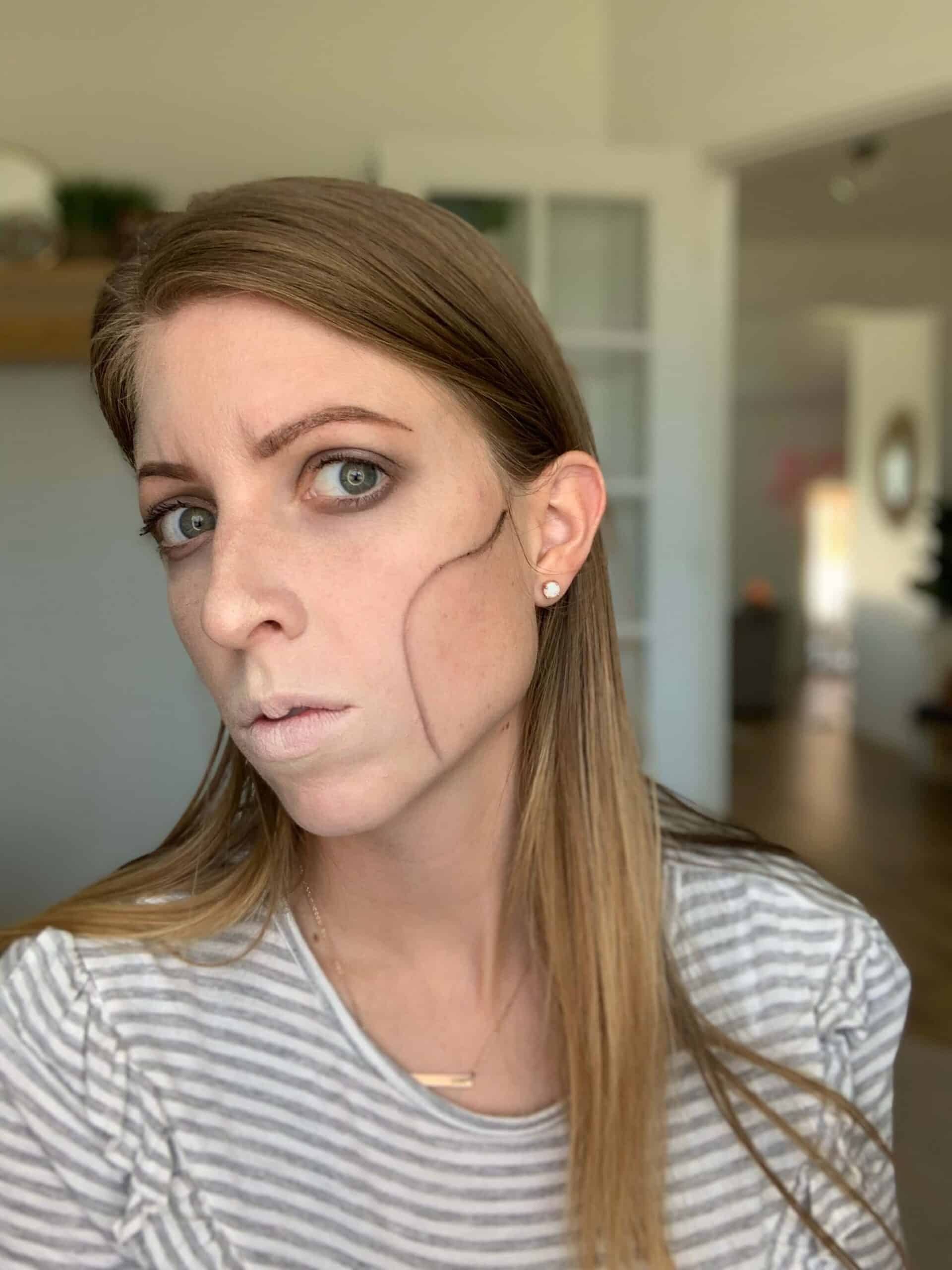 Now for the fun part! This is where the skeleton really comes to life! It's time to hollow out your cheekbones using the
Multitasker brush
and the
Cola contour
.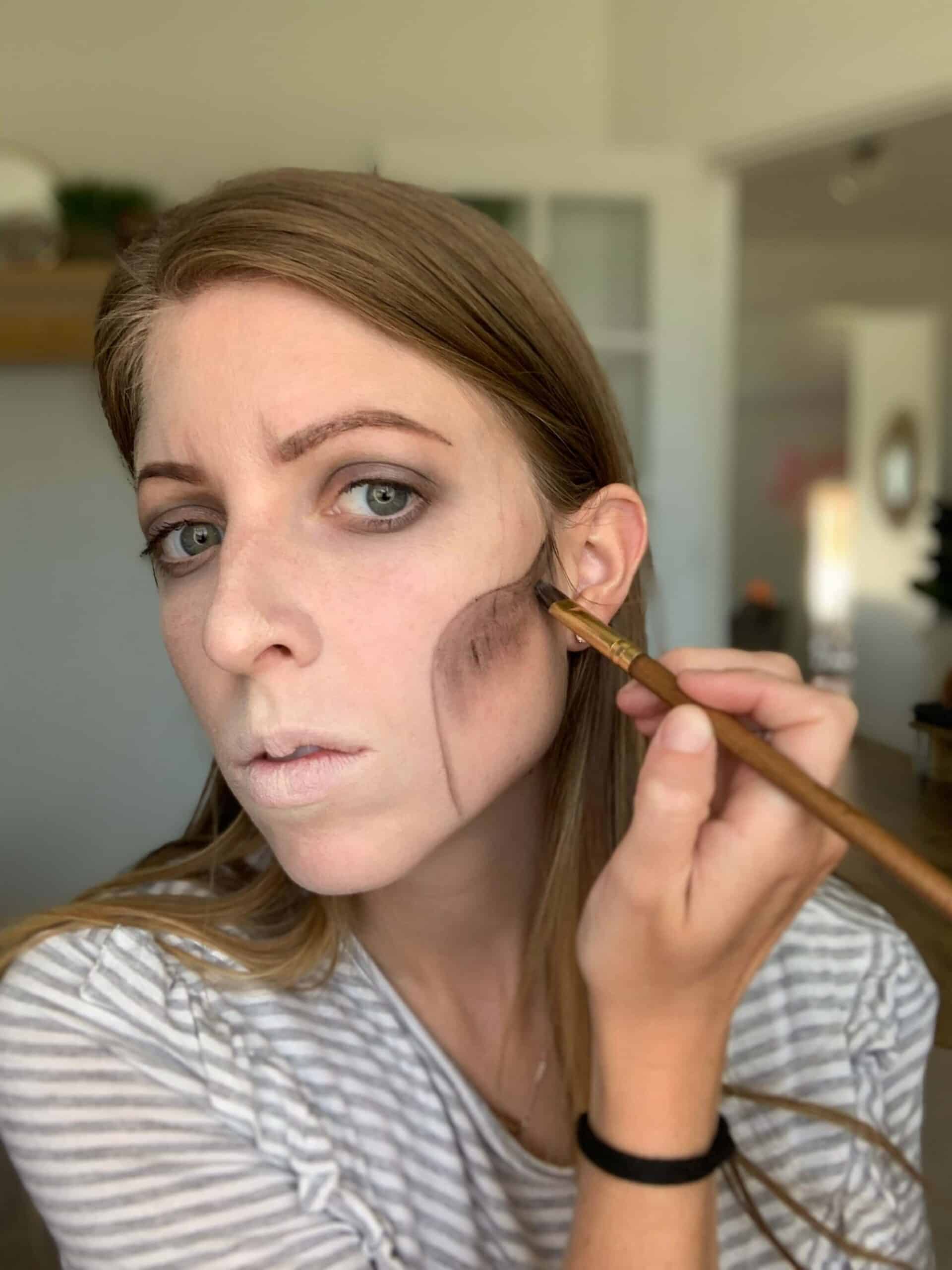 Find the hollow area below your cheekbone and draw a slightly curved line with a steep drop down about a half inch from the corner of your lips. Fill in this area in with Cola contour, keeping the darkest area closest to the top and then creating a gradient of lighter color as you move toward the jaw. Do this on both sides.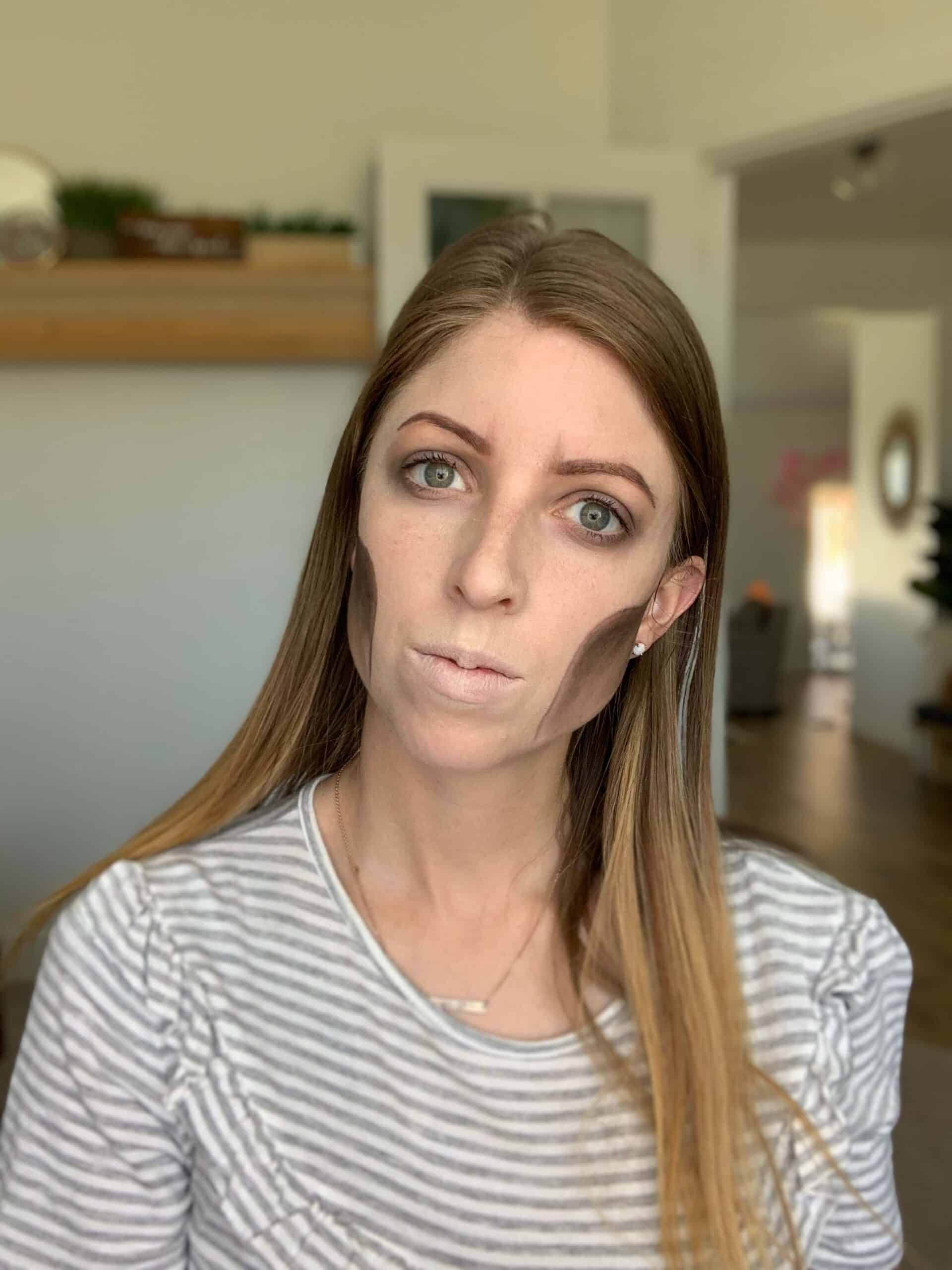 For the nose, use the Multitasker and Cola contour again. Draw a tiny V shape in the center of your nose, and then a big, wide U shape from the tops of the V and down around the bottom of your nose. Fill in with Cola and clean up the edges with the small end of the Multitasker.
Step 5: Do Your Mouth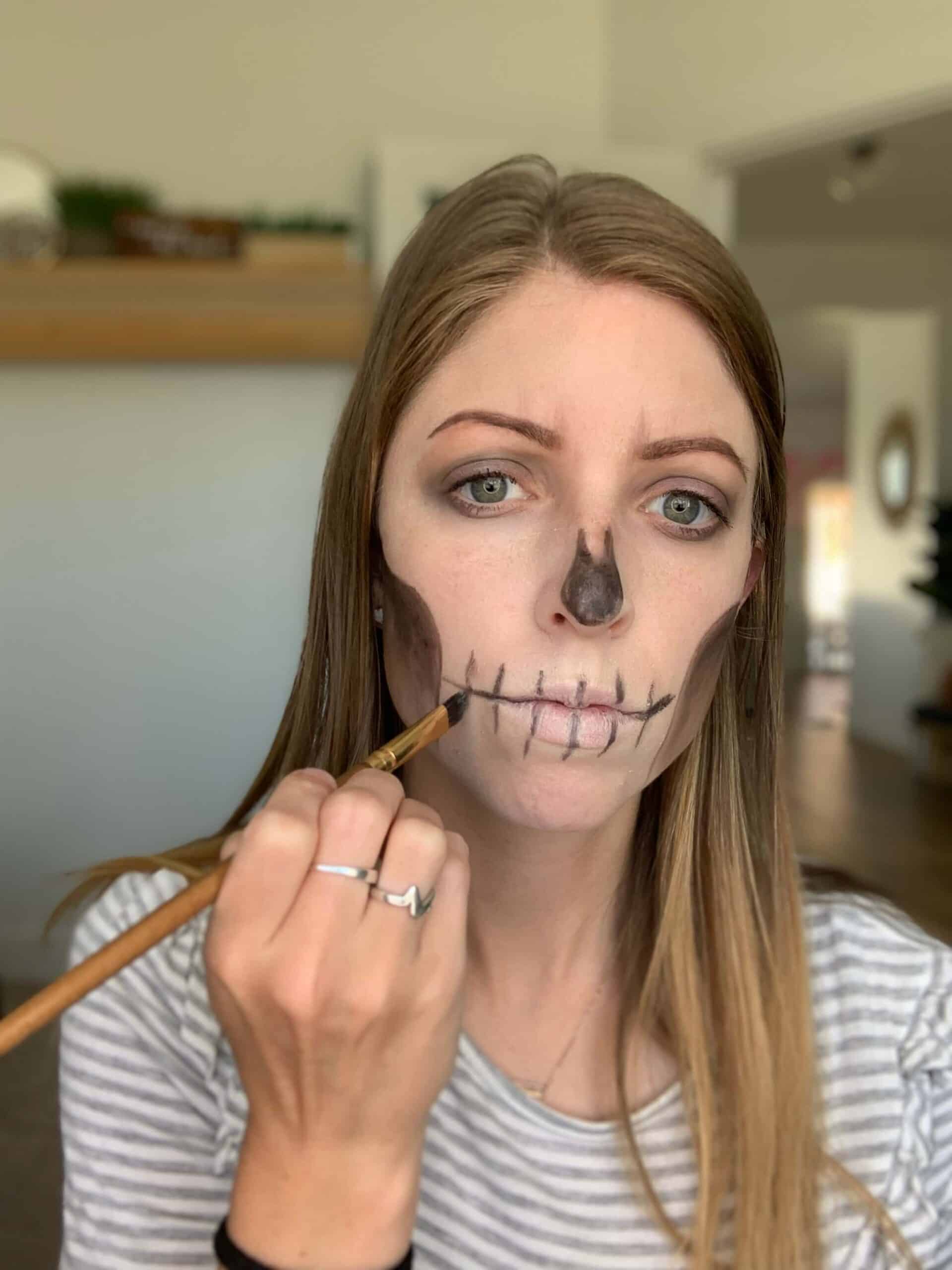 For the mouth, the same tools and products are used, just draw one thin horizontal line between the center of the lips and extend it out just before it touches the cheek shadow. Add more thin lines vertically about a centimeter or so apart.
For finishing touches, add a little shimmer to your brow bone with
Sabrina eyeshadow.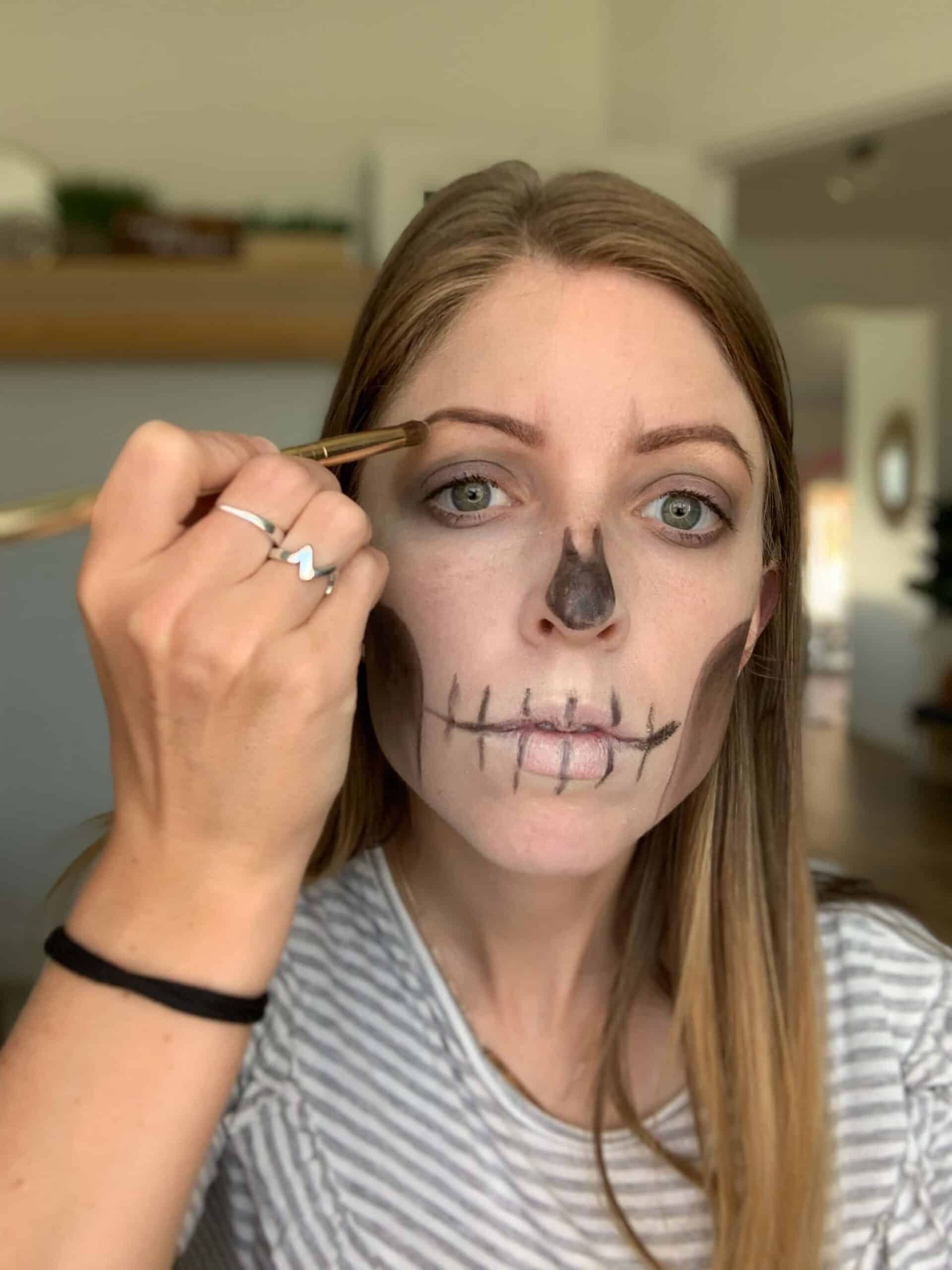 Then, really darken your eyeliner areas with some more Salem (both top and bottom lash lines). Add some
fake lashes
to really give those eyes some wam-bam pow!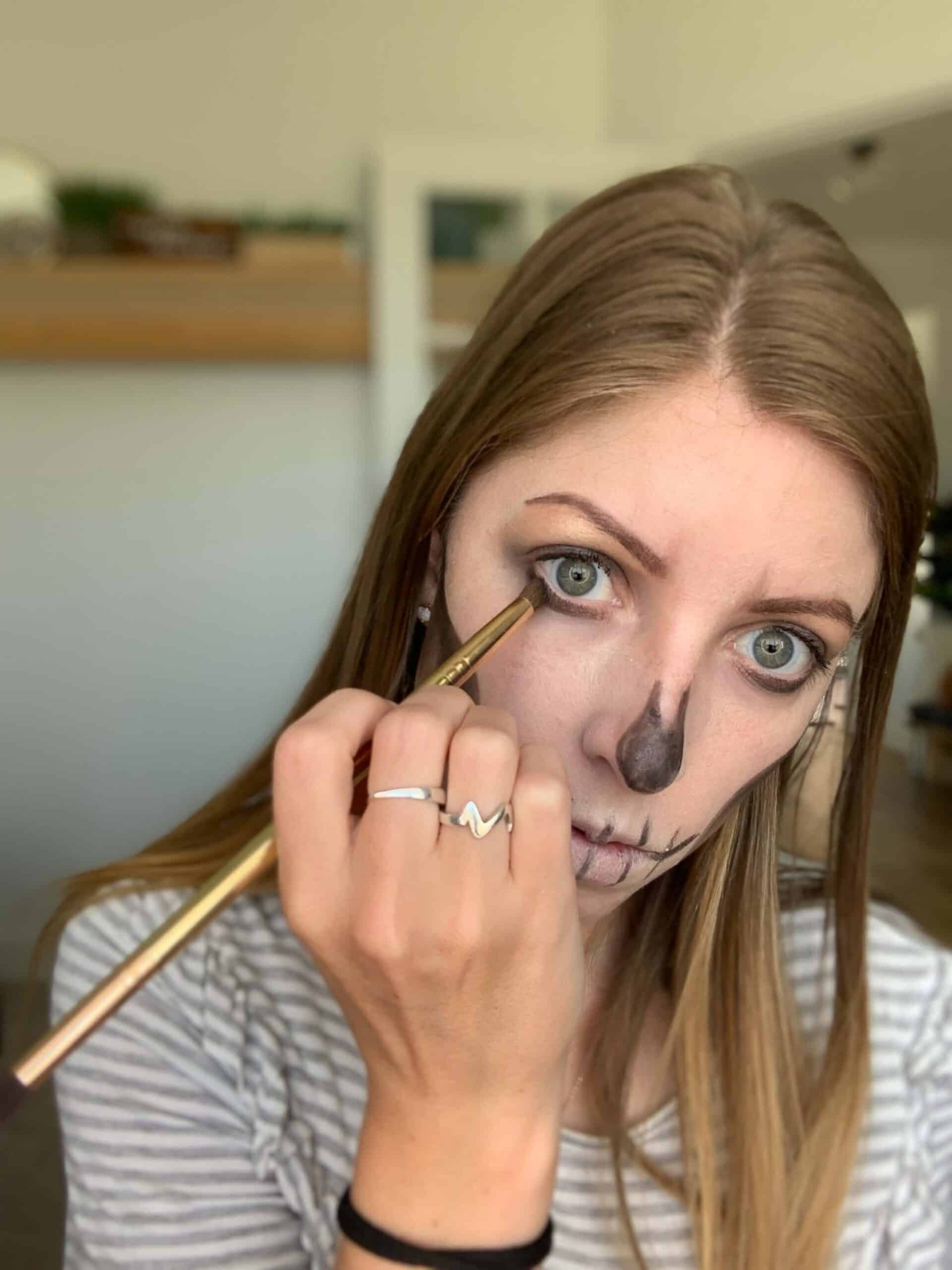 *****
Ready for it? BAM!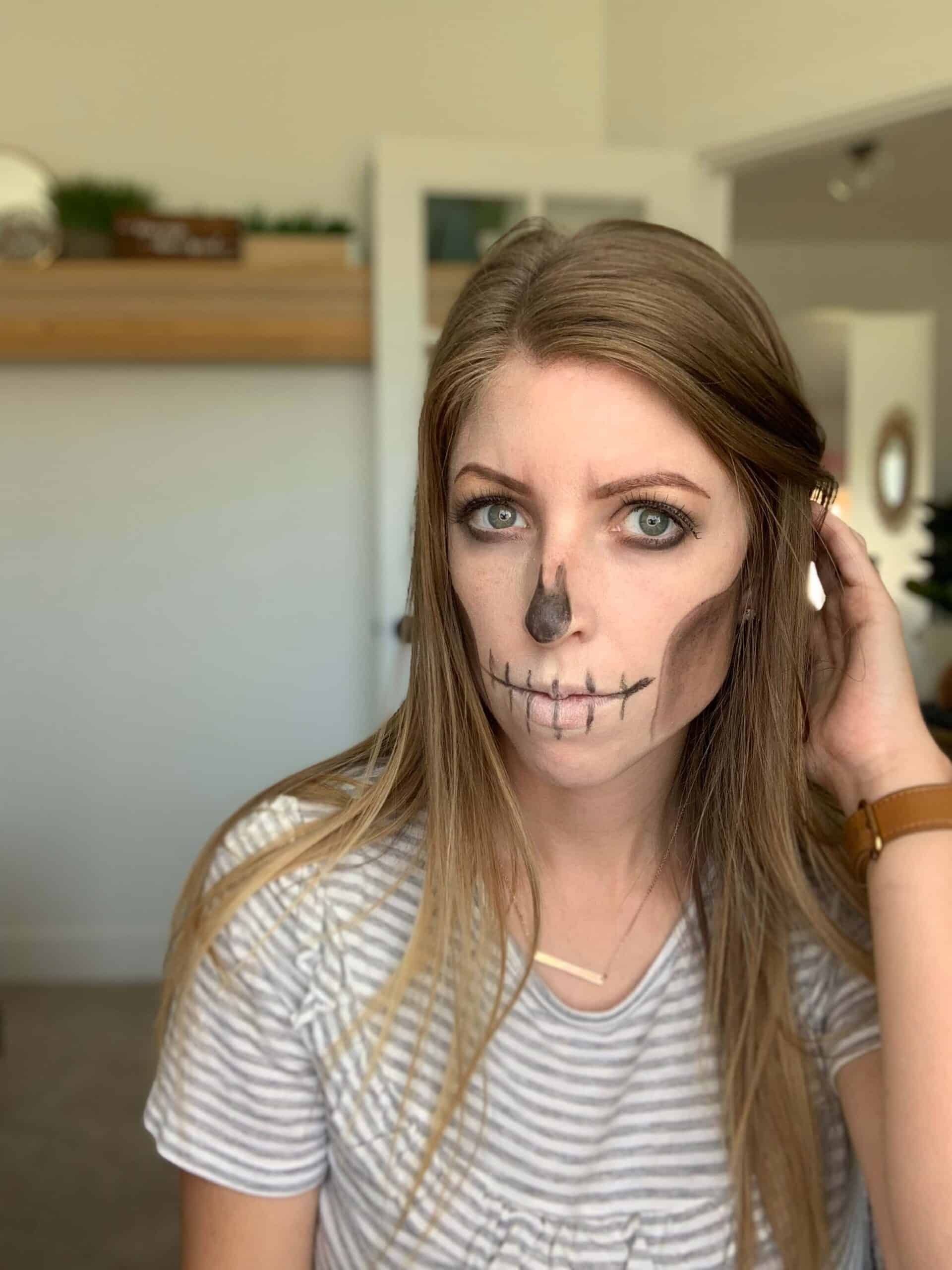 This is one ghoulish look for a frightful night. Whether you're going to a fun party or walking your kids around the neighborhood, everyone will appreciate your skeleton makeup – and you won't rot your skin with costume paint that cost a fortune.
Stay tuned for more incredible makeup tutorials and let me know if there are certain makeup looks you'd like to see next in the comments below!
Have a fabulous day,
E