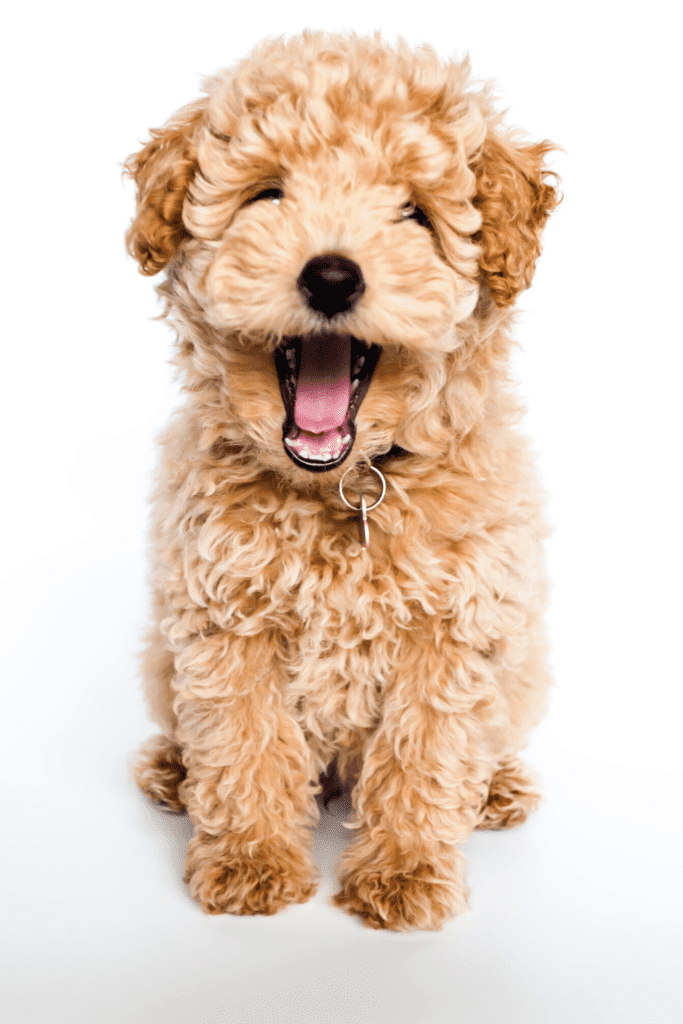 So, your family has a new furry friend? As a fellow dog lover, I find the part of naming your new bestie one of the most fun parts of adding a new four-legged member to the family.
Probably comes as no surprise, since I love baby names, too. What can I say. I like to name things. I even name my cars. #TRUTH
But, for us, we usually needed to spend some time with our pup before the name was solid. For example, our black lab, Zoey, was originally going to be Moka or Luna! Here she is all cuddled up on the couch: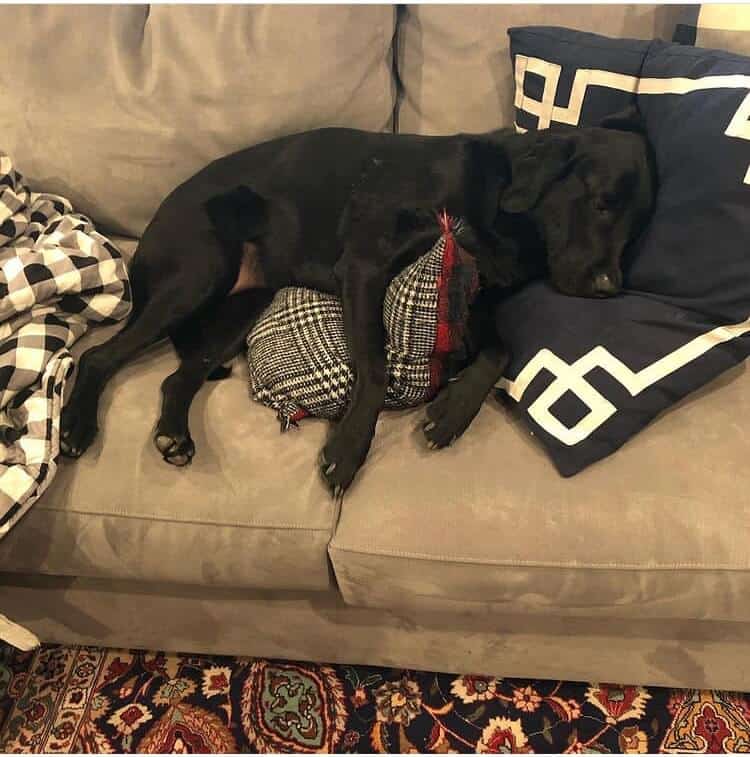 The Most Popular Dog Names:
Whether you have found your way to this post because you want to name your dog one of the top 100 most popular girl dog names or because you want to actively avoid those names – this list is for you.
With lots of options here to either help you name your new best friend or inspire you to come up with your own creative moniker, you'll be ready to welcome your new furry friend in no time.
And, if you're looking for some of the best pet accessories that we can't live without over here – check out my post with 10 must-have pet supplies!
Tips On Naming Your New Dog: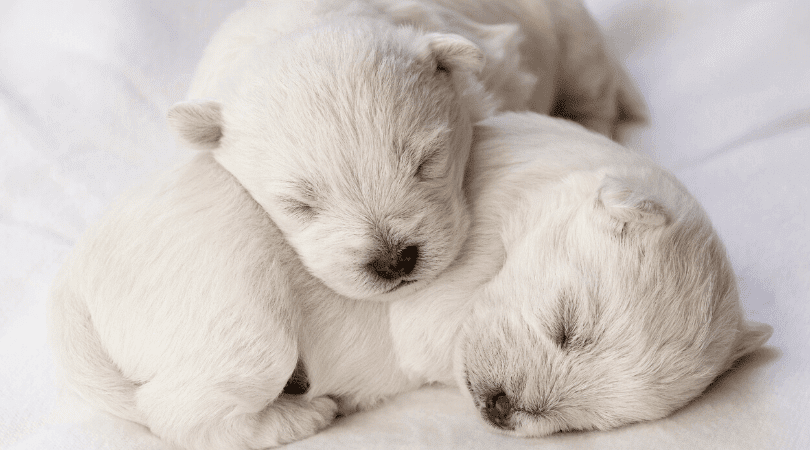 If this is your first time naming a pet, here are a few tips that might help out. When we welcomed our new dog, Zoey, into the family – she was the first dog I had chosen and picked up as a tiny puppy.
But, my husband had successfully trained several dogs before her, so we really leaned on that knowledge to get Zoey all set up.
These are some of the tips he shared with me when we named her and maybe they will help her, too:
1. Shorter is better – Some say that 3 syllables or less is idea for a dog. Of course, you're welcome to give them a nice long, distinguished name, like Lady Cerulean Larkspur Winslet, with the intent that you'll usually just call her Lady, but if you really did want to rattle off that whole name every time – expect training to be extra difficult for both of you.
2. Avoid family names – It's a cute idea to name your furbaby after your new niece, Bella, but it can cause some confusion. Dogs won't be able to distinguish when you're referring to them or not – and neither can small children.
3. Avoid commands – You don't want a dog name that is similar to a command you'll be using regularly or even a name that rhymes with a command such as Mo – which sounds like "no".
4. Have fun – This is your chance to get really creative! You can even pick a name that is funny and makes you smile (see this list) or is inspired by their coloring (see black dog names here).
5. Take some time – Oftentimes, your puppies unique personality, quirks and looks will inspire the perfect name.
The Most Popular Names for Girl Dogs:
Abby
Allie
Angel
Annie
Athena
Baby
Bailey
Bella
Belle
Bonnie
Brandy
Cali
Callie
Casey
Charlie
Chloe
Cleo
Coco
Cocoa
Cookie
Daisy
Dakota
Dixie
Ella
Ellie
Emma
Gigi
Ginger
Gracie
Hannah
Harley
Hazel
Heidi
Holly
Honey
Izzy
Jasmine
Josie
Katie
Kona
Lacey
Lady
Layla
Lexi
Lexie
Lilly
Lily
Lola
Lucky
Lucy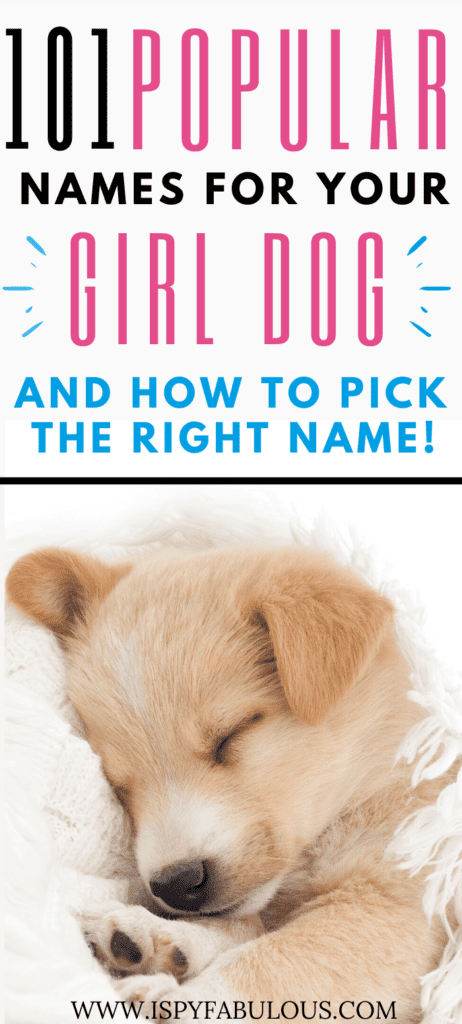 Lulu
Luna
Macy
Maddie
Madison
Maggie
Marley
Maya
Mia
Millie
Mimi
Minnie
Missy
Misty
Mocha
Molly
Nala
Nikki
Nova
Olive
Peanut
Pebbles
Penny
Pepper
Phoebe
Piper
Princess
Remi
Riley
Rosie
Roxy
Ruby
Sadie
Sally
Sandy
Sasha
Sassy
Scout
Shadow
Shelby
Sierra
Skye
Sophie
Stella
Sugar
Sydney
Trixie
Willow
Winnie
Xena
Zoey (hey, I like this one ;)!)
More Dog Name Ideas:
PREPARING FOR A NEW PUPPY:
If you're bringing home a new puppy, you'll want to have some basic supplies and plan for the transition. I wrote a fun post with easy tips for bringing them home and getting started with your new pup. Check it out here.
And, for our favorite dog products and supplies, you may like this post.
Also, if you're looking for gift ideas for an animal lover, you won't want to miss this post.
As always, thanks for reading. Good luck naming your new pup!
Have a fabulous day,
E