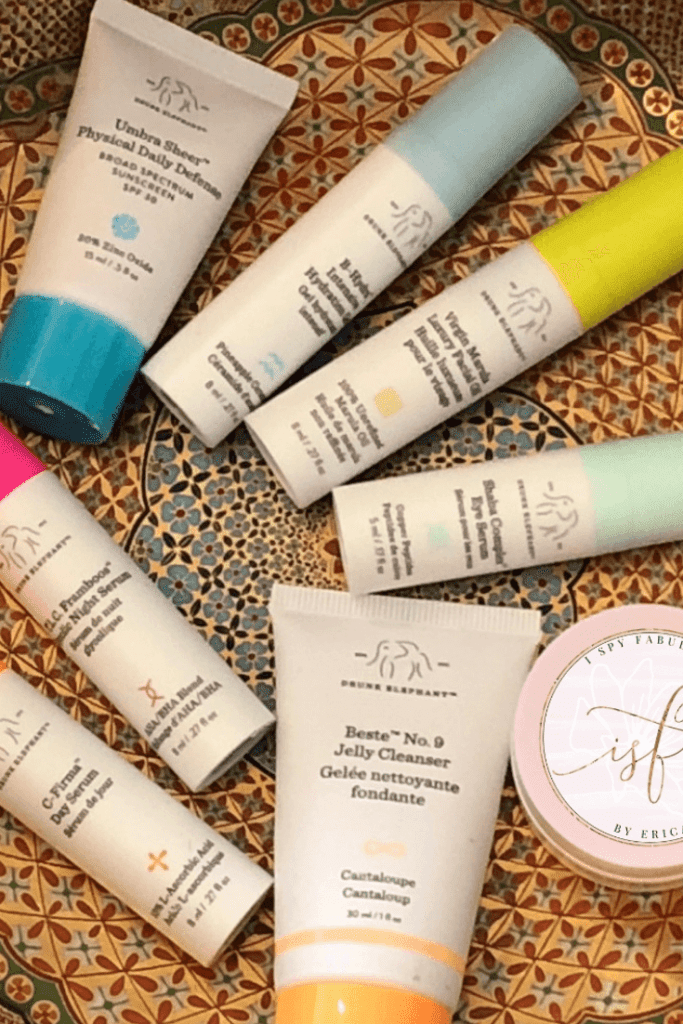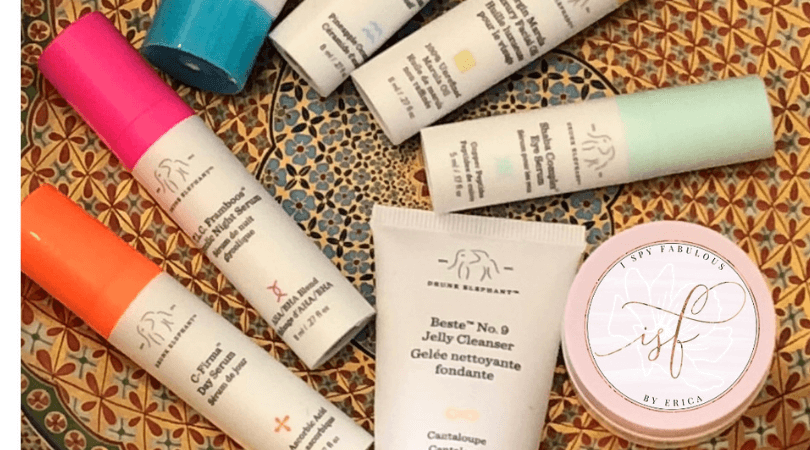 When I saw the Drunk Elephant skin care line hit the shelves – I was immediately intrigued.
I've become more and more interested in clean beauty and detoxing the chemical out of my life as I've gotten older.
Of course I wanted them right away, but let's be honest – the price was a deterrent.
"But I'm no spring chicken!" I'd say to myself, as I put them back on the shelf.
And then, they came out with the Littles.


The Drunk Elephant Litltes are 8 glorious, generously-sized samples in a cute little tote bag.
I love a good bag.
So, I put all my eggs in the Littles basket and asked for it as a birthday gift.
And here's the best part – since they're highly concentrated, these samples really last.
But 8 super-samples for almost 100 bucks? I know what you want to know: IS IT WORTH IT?
Let's find out:
I'm going to talk about these first because they are powerhouses and some of the most incredible products I have EVER. EVER. EVER tried.
The Drunk Elephant C-Firma Day Serum is powerful and gentle. One pump, two max, mixed into a nickel sized amount of your day moisturizer, mix mix mix, and you've got a morning facial cocktail that will GET. YOU. RESULTS.
You can take that to the bank.
Just make sure you're home in time to mix a pump or two of the Drunk Elephant T.L.C. Framboos Glycolic Night Serum – a brilliant concoction of acids to help with breakouts and exfoliation, to reveal softer, smoother, clearer skin that you'll want to touch.
Seriously, I dare you to not walk around like a weirdo rubbing your own face.
Mix it with a night moisturizer like the Drunk Elephant LaLa Retro Whipped Cream, a thick, creamy, rich moisturizer that has been whipped, so it won't give you that greasy feeling like you stuck your face in a bowl of frosting.
I have NEVER liked night moisturizers and struggled to find one I will use. LaLa is great.
But, I will admit, I also really, really like Biossance Squalane + Omega Repair Cream, which is somehow light and thick. I've mixed it with the T.L.C. with no problems.
I wouldn't use the T.L.C. every night. A few nights a week is best and then you can rotate in other products, like a night serum.
They also include their oil – the Drunk Elephant Virgin Marula Luxury Oil, which is fantastic.
Amazing reviews – but I am really picky about oils, because if used alone, they'll break me out.
I've had the best experiences with rosehip seed based oils, so my new favorite is Kora Organics Noni Glow Face Oil.
It came in a little bag of clean beauty my husband picked up for me when I was going through a particularly tough time – God BLESS that man.
This is how I feel when I get surprise gifts:
These two are really great, too. Here's a brief synopsis of what they are and how you can use them:
Drunk Elephant B-Hydra Intensive Hydration Gel:
This is a truly unique product. They say to mix this with the night serum, which certainly works great.
The gel is so cool and light, glides like a dream, but soaks in and quenches any skin thirst – which balances out the hard-working T.L.C. Framboos.
It contains provitamin B and pineapple ceramide, which is great for skin recovery.
All in all, a cool product.
A gentle cleanser that won't strip your face of its oils (thus increasing breakouts and dryness), but will still effectively remove most of your makeup.
It's nice, I enjoyed using it.
I really appreciate that DE products don't have any fragrance that irritates my skin and makes my eyes itch.
This is definitely a top 5 face wash pick.
Umbra Sheer Daily Defense SPF 30:
Another really great pick for daily sunscreen.
A daily moisturizer and sunscreen that is actually good for you, doesn't contain any of the harmful chemicals that others do, and even has luxury marula oil in it to make your skin better.
If I wasn't already obsessed with this one, I would totally go for it.
Another solid product. Really light, creamy, moisturizing. No weird smells or chemicals.
Using black tea and copper peptides, this eye serum is designed to help with fine lines, wrinkles, dark circles, puffiness and age spots.
I mean, yeah baby!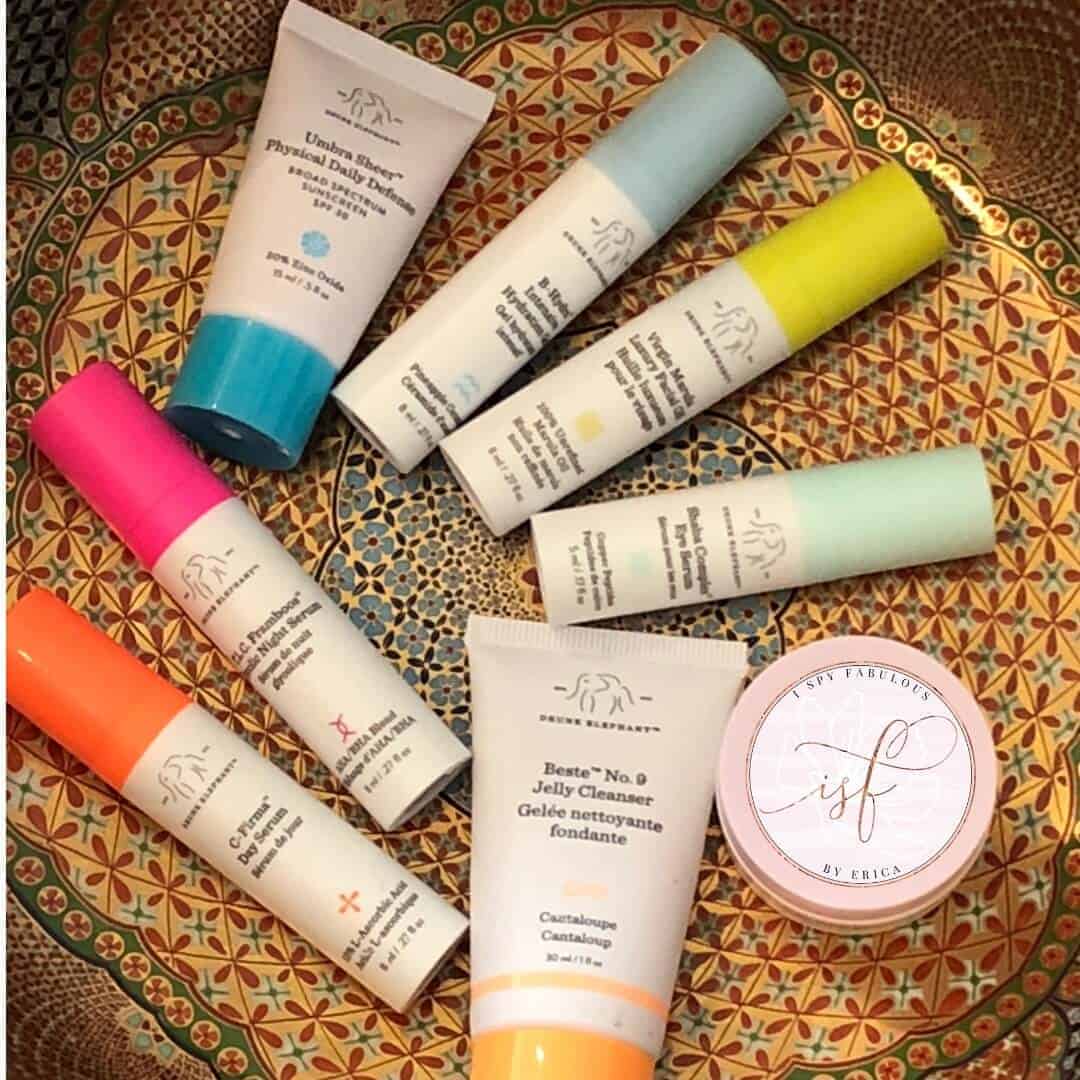 So, what's the verdict – is it worth it?
The answer is a big, resounding YES.
This little bag of wonders is a great dip into the Drunk Elephant pool and these super-sized samples will last you long enough to see results.
In fact, when I run out, I might just buy the Littles again, so I don't have to play favorites 😉
Isn't it wonderful when something lives up to the hype?
Have a fabulous day,
E