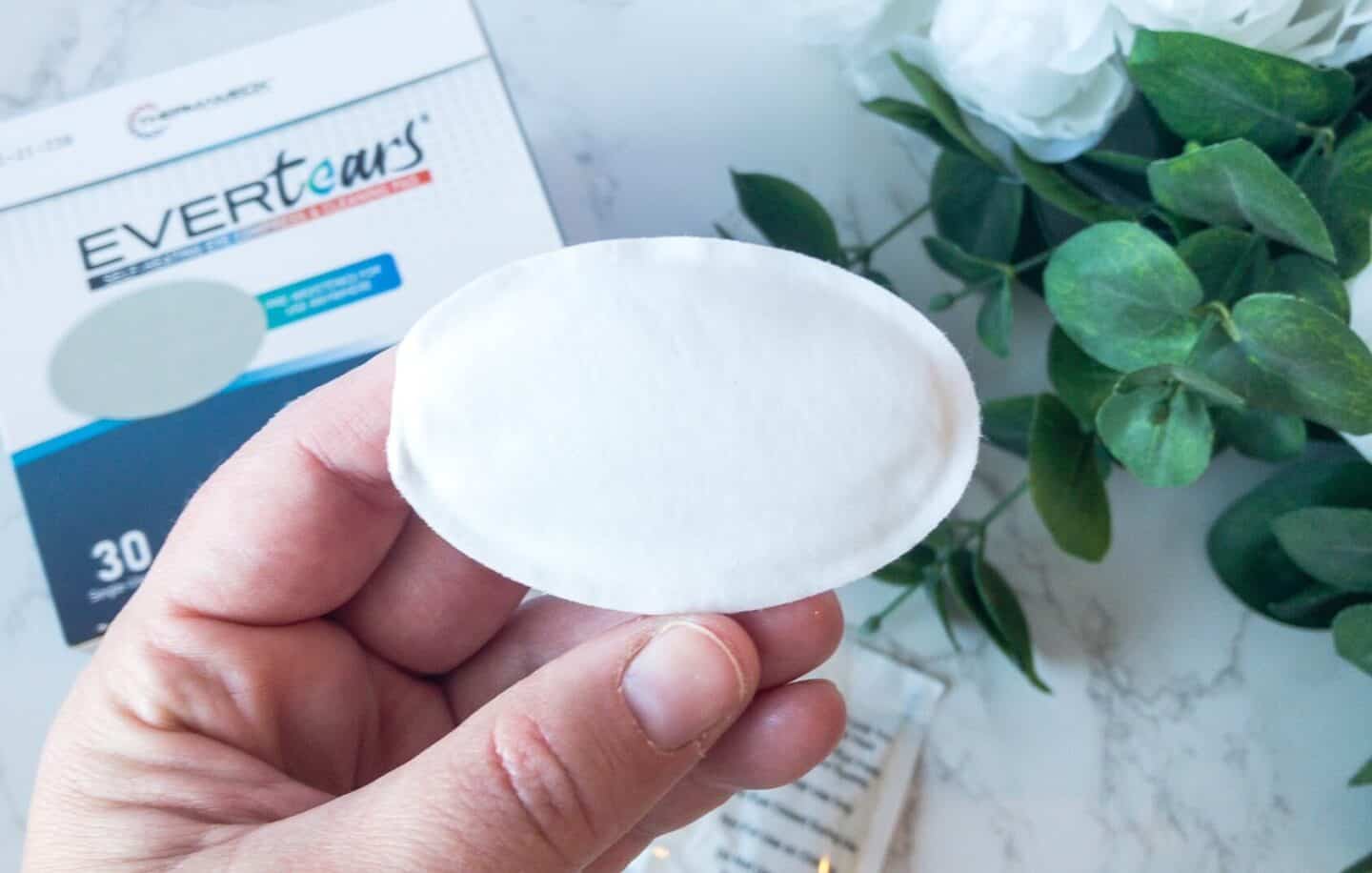 Dry eyes are no joke. They can really impact your quality of life. After all, we have to use our eyes and we blink an average of 15,000 times a day. If you're suffering from dry eyes, like I do, that means 15,000 reminders a day that your eyes feel like sandpaper and your eyelids feel like windshield wipers on a dry window. No bueno.
I struggled with dry eyes for years before being diagnosed with Sjogren's Syndrome, an autoimmune disorder that specifically attacks the glands that create tears and saliva. There are a lot of other reasons you can have dry eyes, too, such as Meibomian Gland Dysfunction, the leading cause of dry eyes, as well as Glaucoma, allergies, medications, aging, dehydration and more.
One of the most frustrating part about dry eyes is there are things you can do and supplements you can take that will provide temporary relief, but nothing is permanent. You have to continue doing all of them as long as you want them to help.
That's why I am always excited to find something new that does bring instant relief and is an easy (and relaxing!) way to treat my dry eyes. I was really excited to partner with EverTears on this post. I used the product and fell in love with it before writing this post and am always looking for more products that I can recommend to my readers who are struggling with symptoms like dry eyes and other chronic issues.
I also reached out to the good people at EverTears and also got you a 50% off coupon code for you to use on your first box, so keep reading to get the coupon code!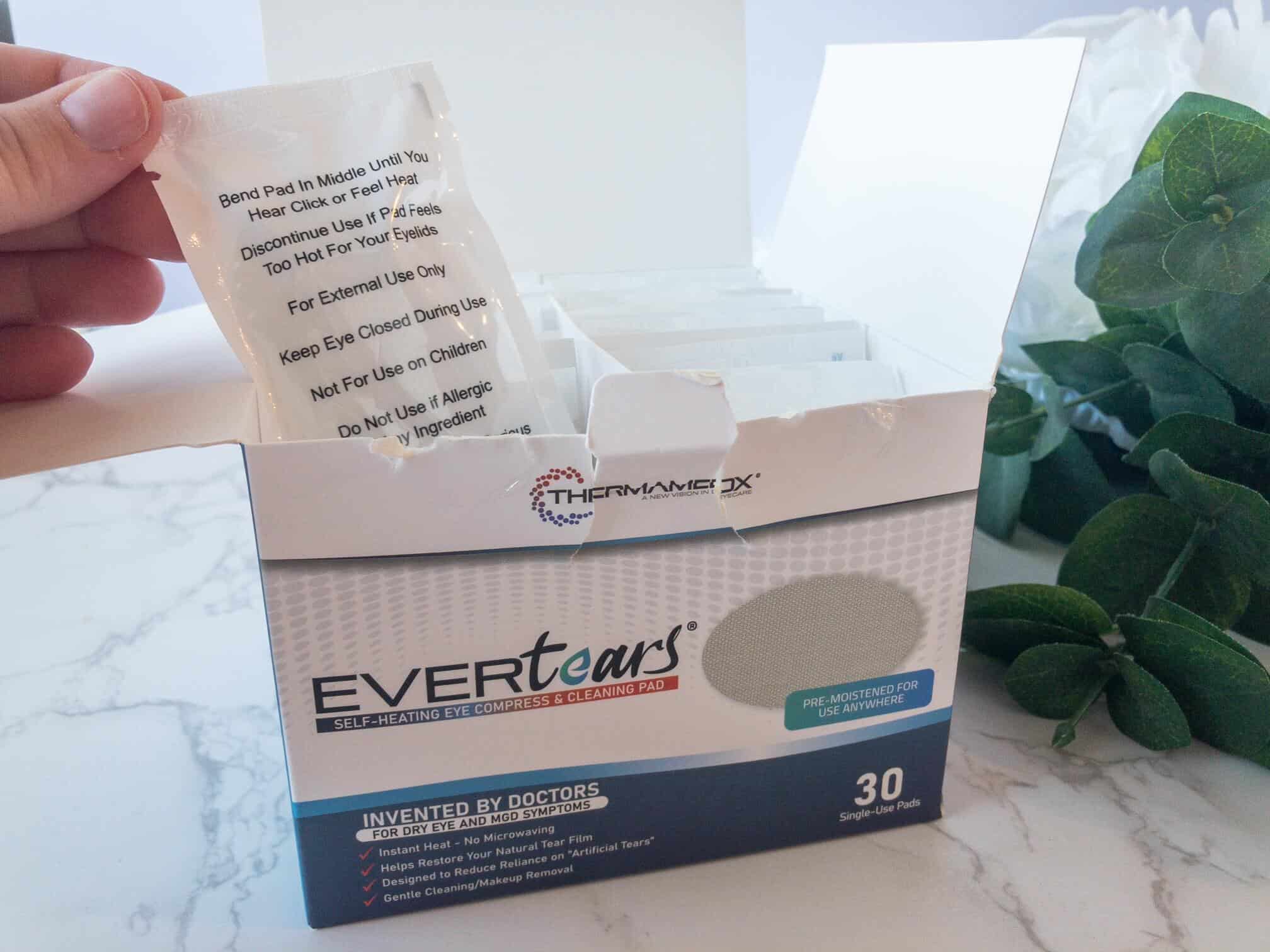 EverTears is like an instant warm compress, but better. Technically, they are designed specifically for people who have Meibomian Gland Dysfunction (MGD), but I find they also help with any condition where you would reach for a warm compress, such as Sjogren's or eye inflammation.
Meibomian Gland Dysfunction is a very common and uncomfortable condition where the glands are not secreting enough oil or the oil they secrete is of poor quality. The oil glands will also get plugged, so less oil comes out and what makes it out can be crusty, unhealthy, or cause irritation.
I like that EverTears was created by doctors with over 30 years of research in Ocular Surface Disease and the patented technology was created by a world-renowned optometrist.
How To Use EverTears for Dry Eyes: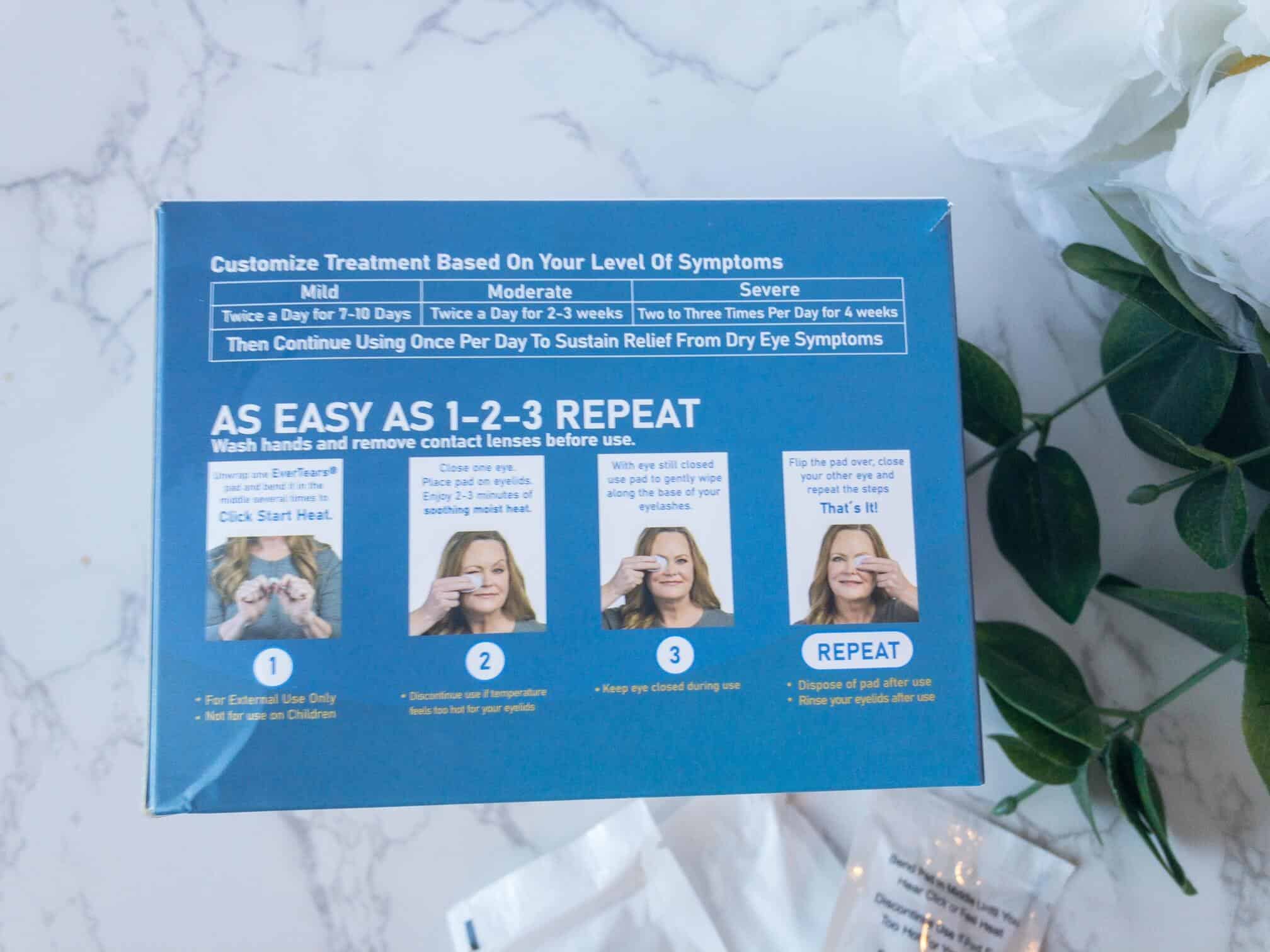 EverTears is one of the easiest remedies I have tried. They remove the frustration of using warm compresses with self-heating, pre-moistened pads that are ready to use as soon as you take them out of the package. Something my eye doctor brings up every time I see him is to do more warm compresses and I love how simple EverTears makes it to do them.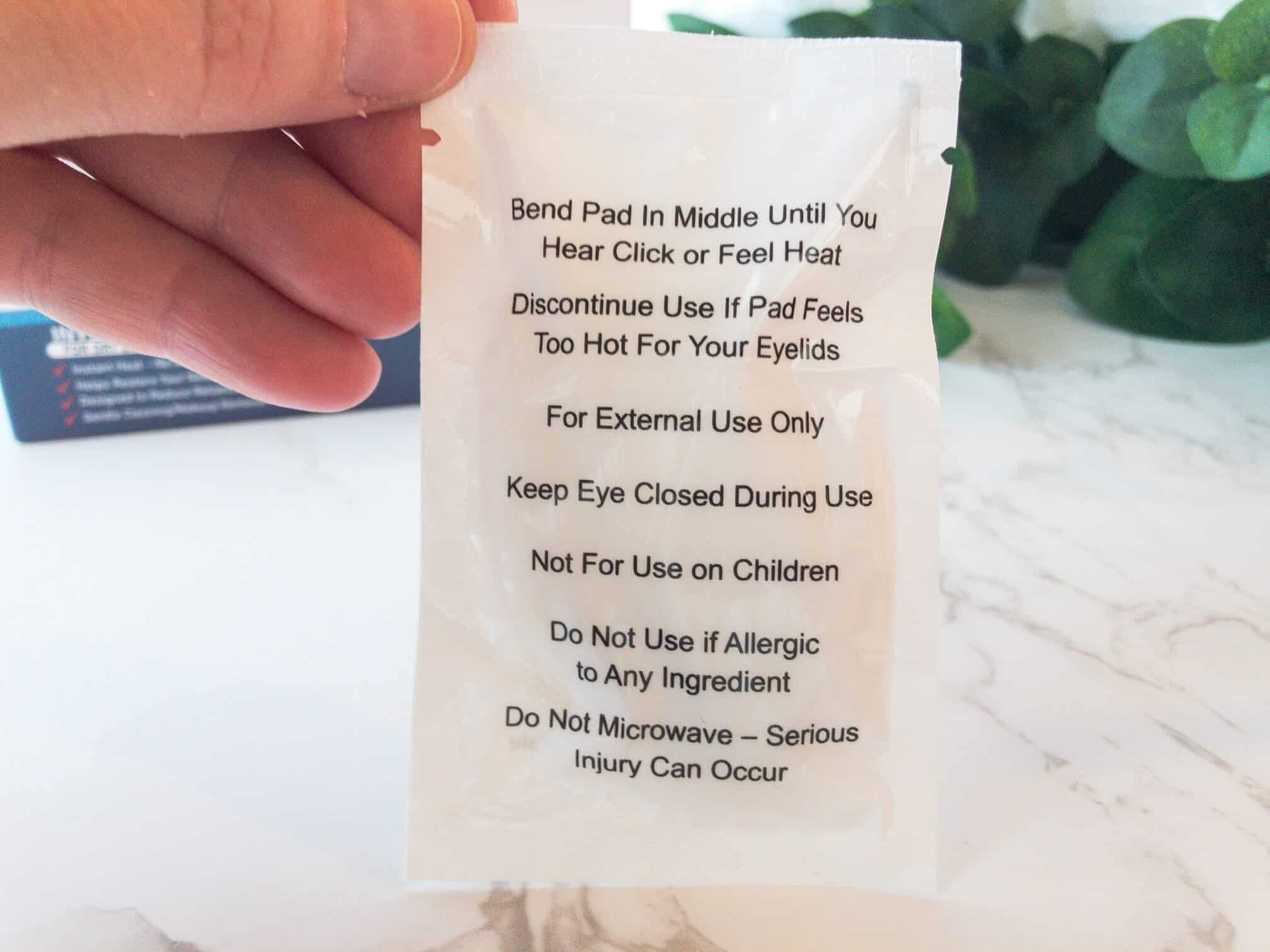 To get them to heat up, you just bend them in half or feel for the little device inside and crack it and the heat starts. You feel the heat in your hand within seconds; it's actually really cool.
It doesn't get too hot to leave it on my eyes the whole time, but definitely do what is comfortable for you and take breaks if it feels too warm.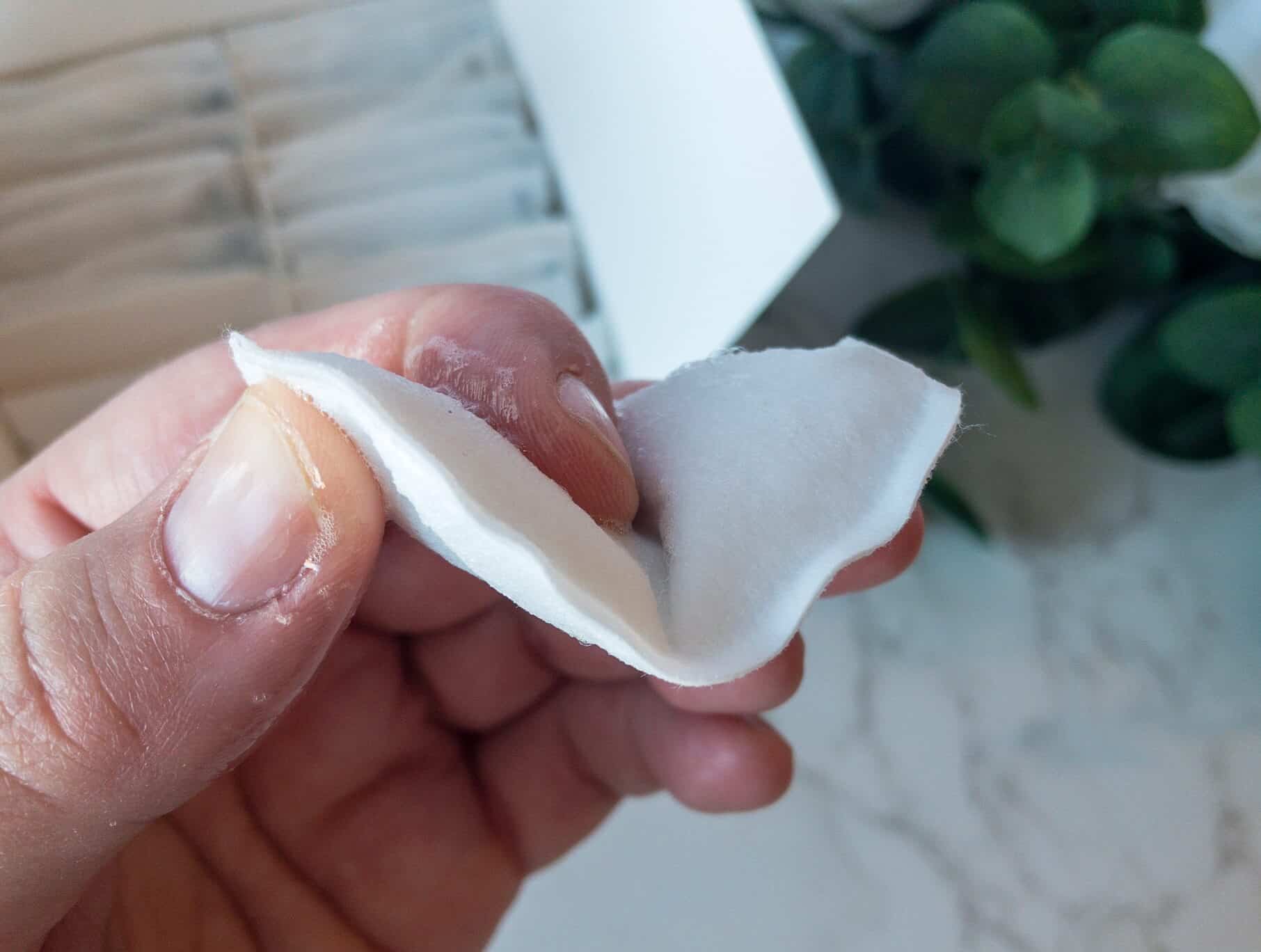 Once heated, they stay warm for around 4-5 minutes, which is enough time to put the pad on each eye for 2-3 minutes. Plus, it's constant heat, unlike warm compresses that start cooling off right away, so you get even more benefits to using them.
Something else I love is that they're loaded with their proprietary formula that has coconut extracts, fatty acids, and – wait for it – hyaluronic acid! Y'all know the wonders that HA does for your skin and so not only will it help your eyes retain moisture, but you'll be giving your under-eye area and eyelid a hyaluronic acid treatment – SCORE.
I tried to get a close up of the pad so you could see how moist it is.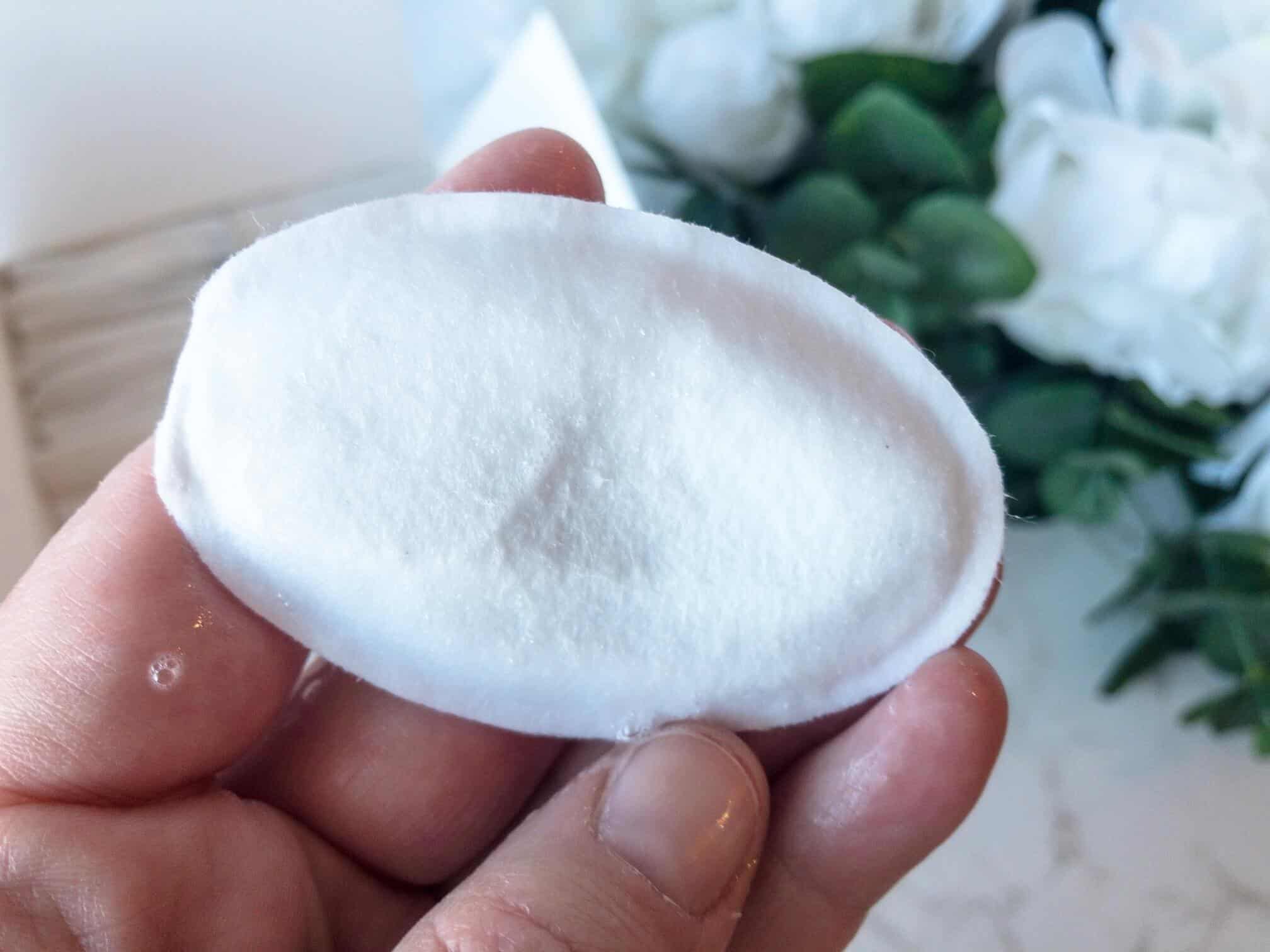 I've written so much about my love for products with hyaluronic acid and use it myself every day, so to have an eye compress that does double duty by helping my eyes create more natural tears and gives my eye area a little hyaluronic acid boost is just fine by me.
They come in individual packages, too, so they are perfect for traveling. Basically, any time you would reach for a warm compress, you can grab one of these and get the benefits of warm moisture, plus proven ingredients that will soothe eyes and help restore natural tears.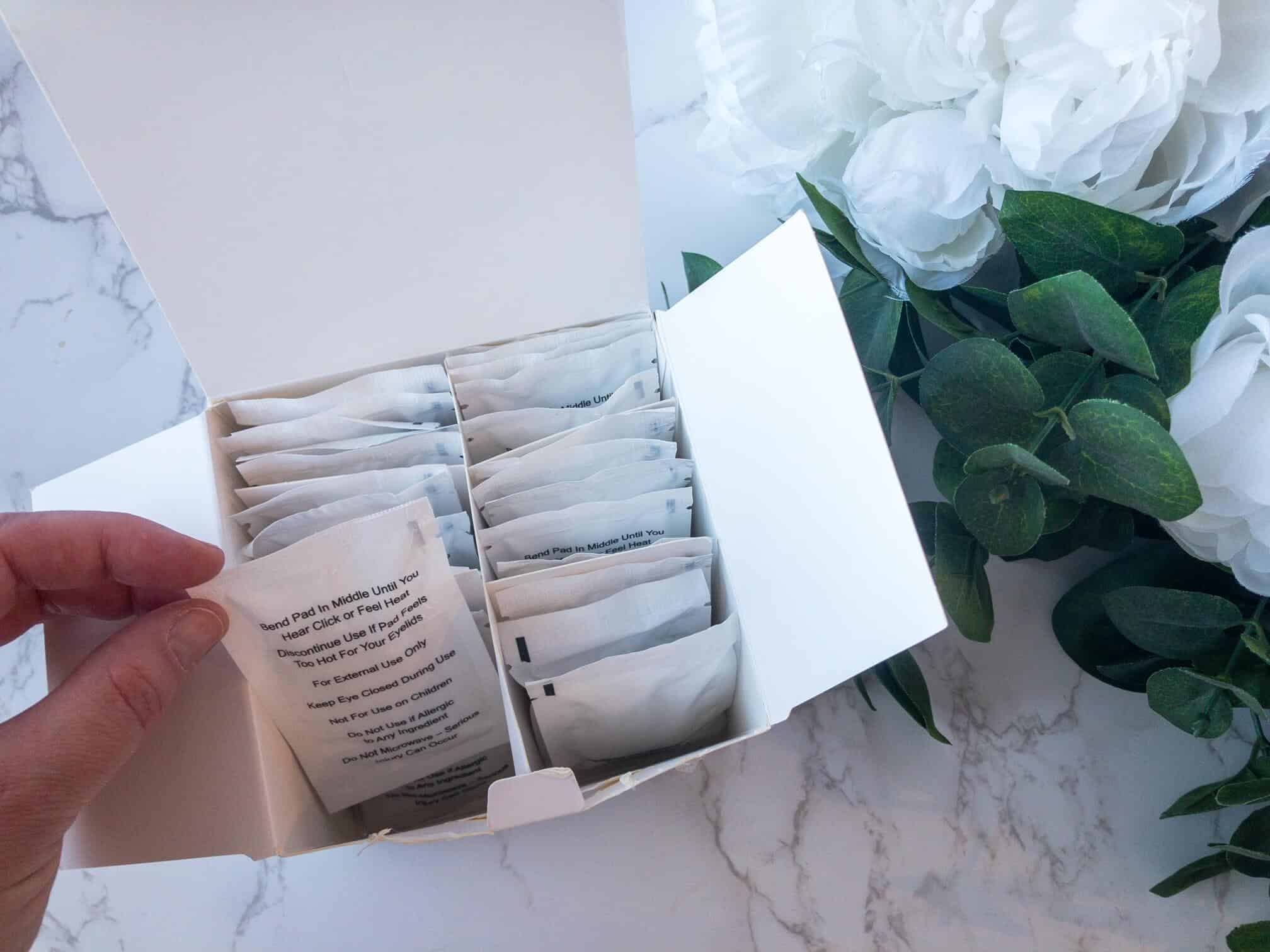 I definitely find them comforting. My eyes hurt the most in the mornings, so I've been keeping them right by my bed and right when I wake up, I grab one, crack it and lay there for 5 more minutes while I put the pad on each eye. It's a nice way to slowly wake up, too. Sometimes I do a short, free meditation at the same time. It really starts my day off on the right foot.
I also gave a box to a few people in my life with various eye related discomfort to see what they would think. They all had great experiences with them.
My cousin is prone to ocular headaches and also gets horrible allergies that really dry out her eyes. She said she was dealing with a particularly bad day and had so much inflammation in her eyes, she was having a hard time focusing on her work. She grabbed one of her EverTears and relaxed for a bit with it on her eyes and it definitely helped.
My mom has pretty bad Glaucoma and her eyes bother her a lot. She said she not only appreciated the moisture from the pads, but that it gave her a reason to take a little break and do some self-care!
I know these weren't designed for headaches, but my father-in-law gets the worst migraines of anyone I've ever met. I thought maybe these could provide some relief or comfort for him. In his words, he said, " EverTears is easy to use and provides a moist, warm feeling to my eyes that eased my sinus pain."
EverTears Coupon Code:
If you're dealing with dry eyes for any reason and want to check out EverTears, check them out here.
To save 50% off your first box, use the code 50%TRIAL, which will take $18.50 (half the price) off the box at checkout! Big thanks to EverTears for making this great product even more affordable for my readers with this half off promo code!
More Treatments for Dry Eyes:
While warm compresses are one of the easiest, most affordable and most effective treatments for dry eyes, I have found a few other things that can compliment them to round out your dry eye strategy.
I like to take an inside-out approach to wellness and healing, so I also take this supplement designed specifically for eyes. It has a blend of organic flaxseed oil, pharmaceutical grade fish oil, and Vitamin E, all shown to enhance and improve tear quality. I have been taking this for years and notice a difference when I stop.
Another thing I do is run a cool air humidifier next to my bed. While this is something more specific to Sjogren's, I do find that it helps a lot of things, such as dry eyes, dry sinuses, and also keeps skin hydrated.
Other than that, I've switched up my beauty and makeup products a lot to find the ones that don't irritate my eyes. I just can't use any product that makes the situation worse. Here are a few posts that might help you if you're struggling with the same thing:
*****
I hope you found something here that will give you relief – even if its temporary. I had no idea living with dry eyes would become such a daily struggle for me. Know that if you're dealing with it, for whatever reason, you're not alone and there are things you can do that can help.
Don't forget to use code 50%TRIAL to get 50% off your first box of EverTears!
Have a fabulous day,
E