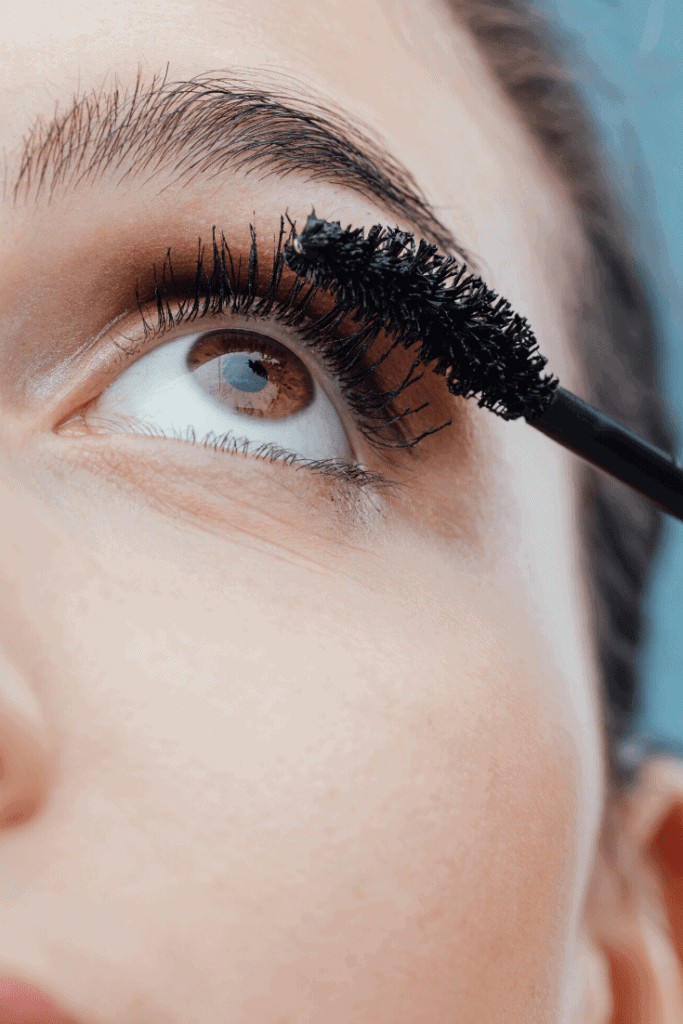 If most mascaras make your eyes feel like sandpaper is rubbing them, you've come to the right place!
I have super sensitive eyes and Sjogren's Syndrome, so finding eye makeup that doesn't do more harm than good is a challenge.
Luckily, I've done the hard (and uncomfortable) work for you, and I've found 5 incredible mascaras that won't irritate your eyes and will work great.
Some people might say, "Oh, why bother if it hurts you?" Well, because sometimes it feels good to look good! And when you're already making sacrifices for health issues outside your control, it's nice to have some things stay normal. You feel me?
Let's take a look at the finalists!
The Best Mascaras for Sensitive Eyes:
Let's talk about this one. I just purchased it a couple of weeks ago after trying the Pacifica BB Cream – which is a total WOW product – and thought, I've gotta try more.
This mascara is super highly rated and I totally understand why. The brush is super soft, so it won't irritate lashes or cause them to fall out, the color is rich and lasts, even with just two coats, and it doesn't bleed or flake.
It does wash off easily with simple face wash, so I would imagine that a little crying would probably make it run, too.
But, if you have Sjogren's – that's not really a problem for you, now is it? 😉
Plus, this one is vegan, cruelty-free, and infused with coconut oil and Vitamin B.
Overall, a very solid pick I think most people would be happy with.
I've used this Burt's Bees mascara for awhile now. It's one of the first natural, super sensitive mascaras that I found. It's also super affordable
, which is always nice, especially when it's as high performing as this product is.
This one also has jojoba oil and glycerin, so it actually moisturizes and nourishes lashes when you use it.
The brush is a bit stiffer than the Pacifica, so you'll get the added length from it, but it will be slightly more rough on the lashes.
Choose what sounds best for you.
Grab Burt's Bees mascara here.
I'm a huge fan of clean beauty line Wander Beauty. Their mascaras are amazing.
I first tried Unlashed in my monthly Allure Beauty Box. I adore the Allure Beauty Box because it's $15 a month and I get 5 items, several of them full-size. This allows me to try new makeup without having to spend the energy going to the store and looking at new things, and also keeps me in budget with the price.
It's a true value. I got this $24 Wander Beauty in one box and used it all up. So, just that one product alone was more expensive than the beauty box.
Both are a true win in my book.
Check out Wander Beauty Unlashed here.
I'm a huge fan of Honest. I get their home essentials bundle a few times a year and I also get their Honest Beauty bundle every few months, too.
The value for the quality and efficacy of the products can't be beat. Plus, I'm a huge fan of shopping online in an effort to "save spoons". This mascara with primer is really amazing.
Because this mascara comes with the primer attached, you just do a quick swipe of the primer, which will significantly lengthen your lashes.
Then, you swipe the mascara a couple of times and voila! Lashes that would make Kim Kardashian jealous.
I will mention that this is the most rigid brush in the group. I do feel it irritates my eyelids a little, so I don't use it every day.
Or, save by trying out the Honest Beauty Bundle here. 3 products for $50.
Huge fan of Tarte. Their line is beautifully made and also cleaner than most. There are so many Tarte products that I like and could write about. Today, I am sharing this amazing mascara.
It's one of many Tarte products that are award-winning and well-loved. It's pricier than some of the other options on this list, but I would use it every day if I were still working outside the home.
It's a good one, friends. Grab some here.
****
That's all for today. I know 5 may not seem like much, but I am only sharing the mascaras I truly believe are the best for super sensitive eyes.
While none of these brands are paying me, and I would never write about anything I didn't truly believe in anyway, some of these are affiliate links, which means I'll get a small comish at no cost to you.
Oh, and if you want an easy way to save money on these mascaras – or really any purchase you make online, you've gotta check out Ebates. I use it all the time and save money.
For example, you could get 8% off the Tarte mascara above just by using Ebates. Easy.
Ebates is basically like a super coupon that saves you money on online purchases and pays you in cold, hard cash, baby. Literally will send you a check or just PayPal you the money. Check it out here.
That's all for today. I sure hope this helps some of you with Sjogren's.
To our health,
E