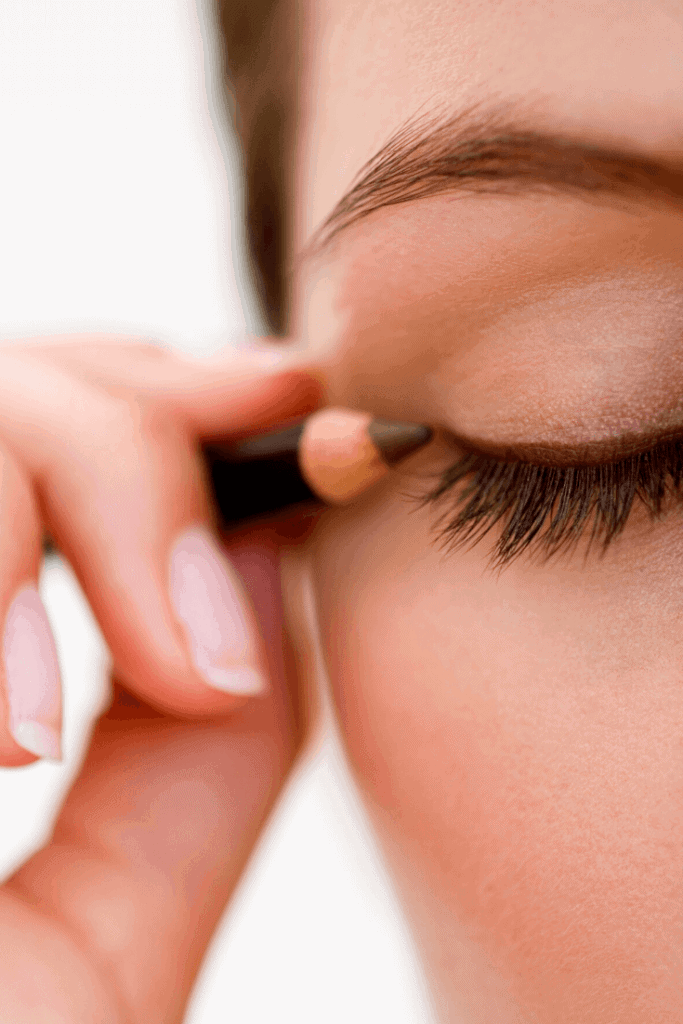 "Eye" am going to get real with you….lol. Alright, alright, I'll stop. Seriously, though, it's very hard to find eyeliners that don't irritate your eyes even more when you have Sjogren's Syndrome.
I cannot count how many eyeliners I have tried over the years.
Some have been good; some have been bad. Many of them have been black.
And, then it became increasingly more difficult to find eyeliners that I could stand to wear. This was devastating as a former makeup artist who absolutely loves makeup.
Shopping for Eyeliners When You Have Sjogren's:
The last 5-10 years it has been harder than ever to find eyeliners that I can stand to wear all day.
I have very sensitive eyes, allergies, and have two autoimmune diseases, including Sjogren's Syndrome.
If you have Sjogren's, then you know the awful, constant eye frustrations.
Some of the eyeliners marked for sensitive skin cause so much irritation it's rolling down my face by the time I've finished breakfast.
Not cool, guys. Not cool.
The Best Eyeliners if You Have Sjogren's:
After trying many, many eyeliners, I feel very confident that the following 5 suggestions will guide you in the right direction.
Let's talk about each of them:
Listen, I was surprised, too. I only thought about Burt's Bees as a baby brand. It didn't occur to me that their makeup line might actually be good. Like, really, really good.
The eyeliner is very smooth, sharpens very well, hangs on tight all day, barely smudges, survives a little water, and comes off clean at night. I really like the black, but I also really, really like the gray and reach for that on a lot of summer days for a more subtle look.
And, it rings in at around 9 bucks?! SCORE.

This is a new one from Benefit and it's replaced an old eyeliner that I loved for years that is no longer sold. Honestly, this one is even better, so I am thrilled.
This is SO easy to apply, if you're nervous about liquid liners. It almost does the work for you. The color is a saturated, rich black and it doesn't budge until you wash it off later – and then it comes off very easily.
The tip is a super fine and firm, so you can get a line as thin or thinner than a kohl pencil and will have almost the same level of control. The benefits of liquid are that there is less product that will fall into your eyes as the day goes on.
As the years pass, I find my eyes are more and more sensitive and even the Burt's Bees will irritate my eyes if left on all day.
This is definitely one to try if you're looking for an eyeliner that will work for Sjogren's.
I recently tried this eyeliner from 100% Pure for the first time and I had no idea what I was missing.
I've always loved 100% Pure, but found their products a bit expensive. But, now that I don't wear makeup every day and I really need it to be as clean and gentle as possible, I am feeling like it's worth it to splurge a bit on higher quality products.
Probably no surprise here. MAC's makeup game is always tight. But, that's not always enough when it comes close to your eyes.
On this, MAC gets it right. This one does hang on longer than Burt's Bees and takes more effort to get off. Most of my gentle face washes struggle to get it all off the first time, so be aware of that.
However, if you're going to be sweating, around water, or going to a special event then this is what you'll want to reach for.
Price: Cha-Chings at $18 dollars.
I'm such a fangirl of Colorscience. I'll write more about some of their other products that I cannot live without very soon.
Their eyeliner is one of them. Whenever I feel like applying eyeliner with a brush to really get that super rich, fun look with the wingtip at the end – this is what I use.
It's absolutely infallible. It's also a splurge at $29. Use sparingly. I haven't had any issues with it drying up on me before finishing it, and I don't apply it anywhere close to once a day. #kids #lazy #life
This is also the eyeliner that gets me the most compliments when I wear it. Big win.

Eyeliner Tips:
Put head-to-head, these eyeliners have a similar pigment, meaning they have a nice saturated hue that doesn't require lots of application.
If you have SUPER sensitive eyes, stay away from the kohl eyeliners and go straight for the liquids and gels. They are going to have less chance of flaking during application.
Wait to apply your eyeliner until after your eyes have stopped watering from using eye drops to keep it from washing off.
*****
I hope one of these eyeliners helps you if you've been struggling to find one that works if you have dry eyes, eye pain, an autoimmune disease like Sjogren's, or just bad allergies.
I know I feel better when I am a little bit put together and every bit helps us as we fight for our wellness.
If you liked this post, check out the best mascaras for Sjogren's and my 10 top tips for treating dry eyes.
Do you have a favorite eyeliner? I'd love to hear it in the comments below.
To our health,
E