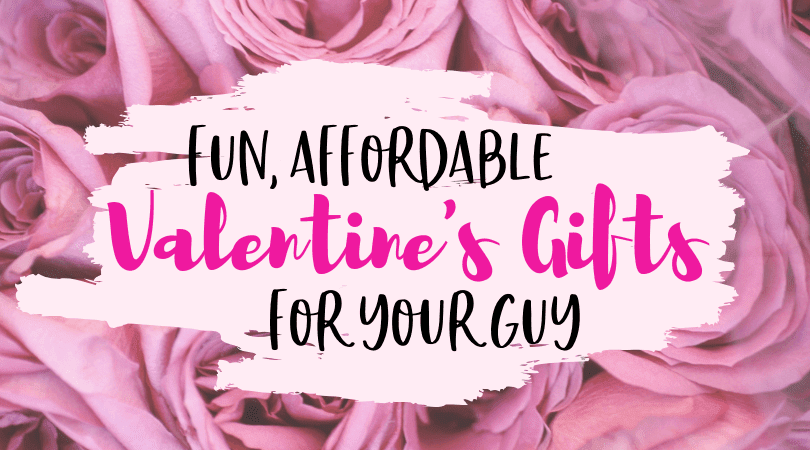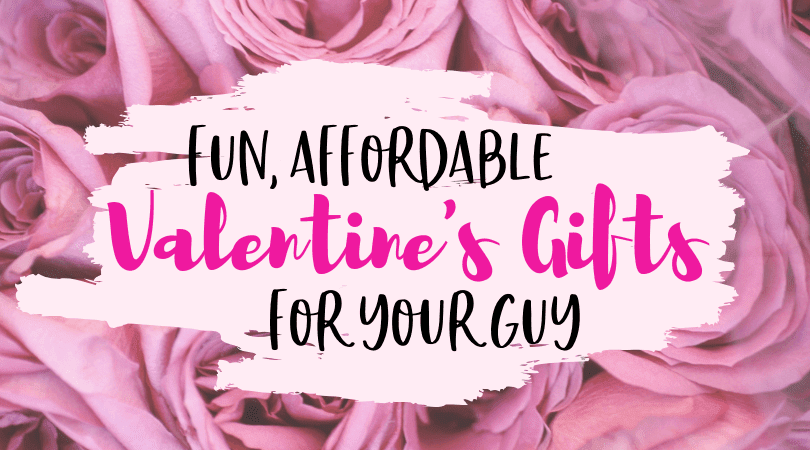 Valentine's Day is going to be here before you know it! Wait, what?!
That's right. So, it's time to talk about shopping for that sweet significant other in your life.
You know the one.
They are the one that says they don't want anything. The one that already buys themselves the things they really want. The one that says they don't really like Valentine's Day – and then they turn around ….
and buy you an amazing gift or plan some ridiculously sweet gesture – and you're sitting there with your hands open and empty, going….
It's not a good feeling.
And, I happen to be married to the worst one of them all.
So, I've learned to also buy something, too. No matter what we "agree to".
Sweet Valentine's Day Gifts for Guys:
Valentine's Day is a tricky one. You want it to be fun, thoughtful, and preferably something he'll use.
Because we all reach an age where you just don't want any more silly crap in your house. You know what I'm saying?
But, you also don't want to spend a fortune. We're all still broke from Christmas.
That's why all of these Valentine's Day gift ideas are creative, but don't require a payment plan.
This gift guide is all about the small, sweet, gestures that he will actually use.
Yes.
Get it, girl.
Also, affiliate links are used below.
Give him the gift of organization with this cool tech cord organizer. Designed for travel, it fits easily in a backpack, carry-on, etc., or even just a drawer at home.
If your guy loves technology, consider an AirPod accessory as a gift idea. I share 10 great AirPod accessory ideas in this post, including charging stations like this for all their Apple toys:
The Coffee Gift
Love a coffee drinker? There are so many fun gift ideas for coffee drinkers. Here are my current favorites to get you started:
The BEAST has thousan
ds and thousands of great reviews. This stainless steel, vacuum insulated coffee tumbler comes in a gift set with 2 straws, a straw cleaner, and splash proof lid.
With two size options and 11 color options, there's a BEAST for everyone.
What a fun gift for the coffee loving photographer!
With 2 lids and a design that will make you do a double take, this camera lens themed coffee mug is a creative gift any photo lover will love.
And the price
is perfect for Valentine's Day.
C. Coffee Gator Coffee Canister:
Keep those beans fresher longer with this super highly rated coffee bean canister.
This military grade vault is a zero-BPA canister that releases CO2, but locks out oxygen. Plus, a 4oz. stainless steel glass travel jar means they never have to be without their favorite java.
A calendar wheel lets them track date, too, for total control.
Yes.
I love this one. I want it for myself. It's everything you need for the perfect cold brew coffee at home.
This set includes:
Half gallon mason jar and stainless steel filter made of food-safe, BPA free materials.
Premium ceramic burr coffee grinder
Certified organic cold brew coffee beans from Dean's Beans, a fair trade coffee roaster
Wood printed gift set box
An awesome gift your love will love. And, if you live with them, you'll love it, too.
Win win.
I love a good game. And, they make incredible gifts – because they double as a super affordable date night idea.
So, I've bought a lot of games over the years.
Here are a few great games that would make awesome Valentine's gifts for the guy who has everything:
Does anyone else talk in memes and gifs via text?
#GUILTY
When I saw this hilarious game based on this very obsession, there was no thinking – there was just buying.
Can't wait to play this with my guy when the kids go to sleep.
Absolutely. Hysterical.
So, so, so funny.
Great for small groups, too.
Just make sure they have a sense of humor.
C. Special Monopoly:
There are special Monopoly games for everything – the Avenger lover, "Friends" lovers, unicorn & llama lovers, national park lovers, you name it.
Monopoly is such a fun game and encourages hours of focused interaction.
Nobody would blame you if you took a break from all that focused playing for … other things.
Just sayin'.
D. Talk, Flirt, Dare:
This is not g-rated. Talk, Flirt, Dare dares, questions and challenges related to a couple in a romantic relationship.
I mean, it is Valentine's Day after all 😉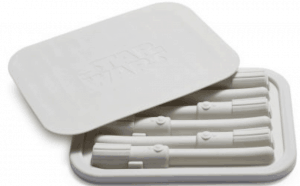 Grabbed this one year and it was a big hit. Bonus – it actually works. It creates these cool lightsaber ice wands that stand up in your drinks and melt pretty slowly.
The boys in the house are big fans.
So, if you know any big Star Wars fans – consider this is a win.
Or, you can grab this Star Trek pizza cutter for the Trekky. It's heavy and well-made and really works. It comes in a nice box that is easy to wrap, too.
Love a big-time foodie? Me too. He loves everything – from spicy food to rare honeys.
Literally, he loves rare honeys.
I know, he's a funny guy. But, he does most of the cooking around here, so he can have all the honey he wants.
Which is why I bought him this unique honey flight as soon as I saw it. A spicy honey?
Cute packaging, cute message, fun twist on honey.
#SOLD
You can also buy the honeys in this set individually for under $20.
A book is a great gift. This is a suspenseful thriller co-written with Bill Clinton that quickly became a bestseller.
I love that Patterson brought in a real former president to write this one – it gives it a fun twist. But, really, any book will do.
Back when I was teaching, I went to work on my birthday and walked into my classroom to find a beautifully wrapped, hardbound book sitting on my desk with a sweet card. It was, quite literally, one of my favorite surprises of all time. I've always remembered that sweet gesture from a coworker and have returned the favor many times since.
When you give a book as a gift, you're also giving the gift of quiet me-time.
And nobody can argue with that.
Everyone loves new socks, especially funny ones that are also super comfortable.
I have 3 brothers, a husband and son and all of them appreciate a nice pair of socks.
Who can blame them? I do, too.
There is such an incredible collection of creative socks on Amazon, from crazy patterns to these hilarious pizza socks shipped in a pizza box!
To look at even more ideas for socks, go here.
Pair with some funny boxers for an extra fun gift.
****
There you go! 6 quirky, fun, affordable gifts that will get you started – or even finish – your Valentine's Day shopping for the guy in your life.
Now, what you're wearing when you give him said small, sweet gift is entirely up to you 😉
Have a fabulous day,
E