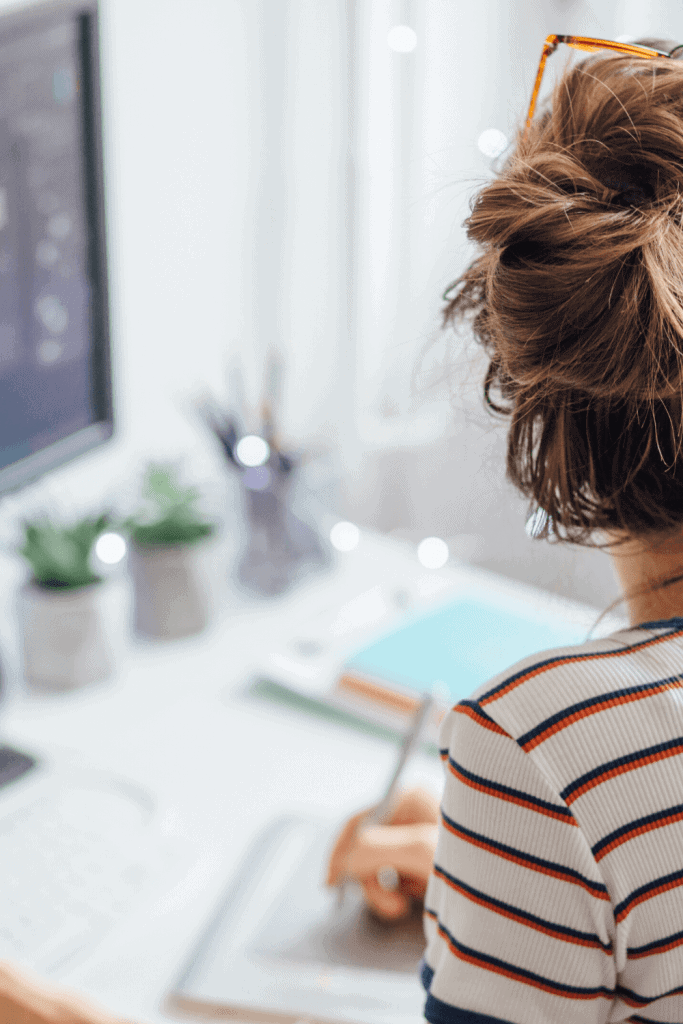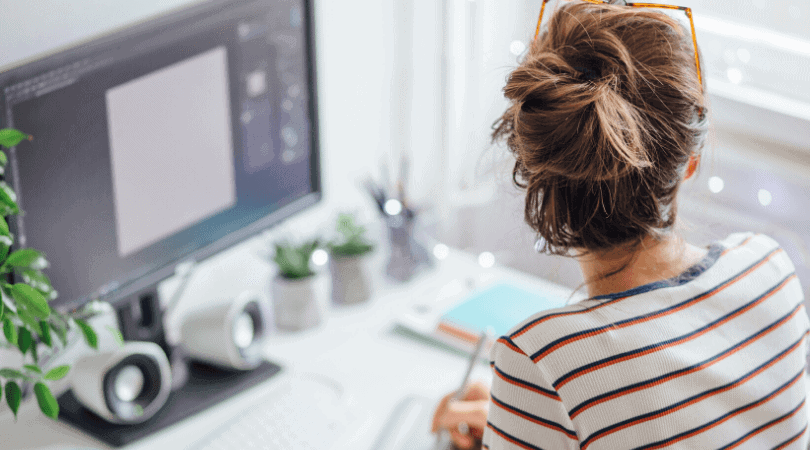 I've been working from home as a freelance writer for years. I'm a huge believer in the ability to work from anywhere and make good money.
Sure, the freelance life isn't for everyone. But, once you get a taste of the freedom that freelancing offers, it makes all of the challenges worthwhile.
I get asked a lot where I find clients. While most of my work now is from repeat clients or referrals from those clients, I regularly check a handful of goldmine sites to look for real, paying freelance gigs and also to outsource tasks to other qualified freelancers.
So, whether you are looking to build your freelance business or scale it to new heights through collaborating with others, these sites are a treasure trove of opportunities.
Tips for Finding Quality Freelance Writing Jobs:
First things first, always do your research. Just because that job is posted on a site you trust doesn't mean that particular person or company is trustworthy.
Do Your Research:
Do your due diligence to research the job, the company, and read up on any reviews about them on sites like glassdoor.com.
Even if you know this person through someone – do your research.
Awhile back, I was offered a freelance opportunity with a local guy who had worked with my husband. He seemed to be in a hurry, so I didn't do my usual research before working.
That was a mistake I will never make again. He never paid his invoices and went completely dark. We have exhausted all avenues, short of taking him to court – which would cost us more than it's worth.
I would've known not to trust him had I gone through my normal research methods and seen that his company has many reviews online for not paying freelancers.
Related: 5 Ways to Invoice and Get Paid Faster!
Put Safeguards in Place:
On that note, have safeguards that you use to protect your work and payment. Whether that's a half upfront policy and then releasing the work with watermarks, or releasing it incomplete until final payment is made, do what you need to do to safeguard your work.
I definitely recommend using contracts and free service like HelloSign to get electronic signatures.
Also, take a look at my post on 5 free tools to make your side hustle look legit.
Know Your Worth:
After you build your portfolio and have experience that proves you know what you're doing – know your worth. Don't work for pennies.
Be willing to walk away from jobs that aren't a good fit for you. If you think a client might negotiate, pad that into your pricing so you can play the game and still come out ahead.
I've had people ask me to work for less than what kids make at In & Out down the street. I respectfully decline offers that are not a fit and any established freelancer should, too.
The Best Places to Look for Freelance Jobs: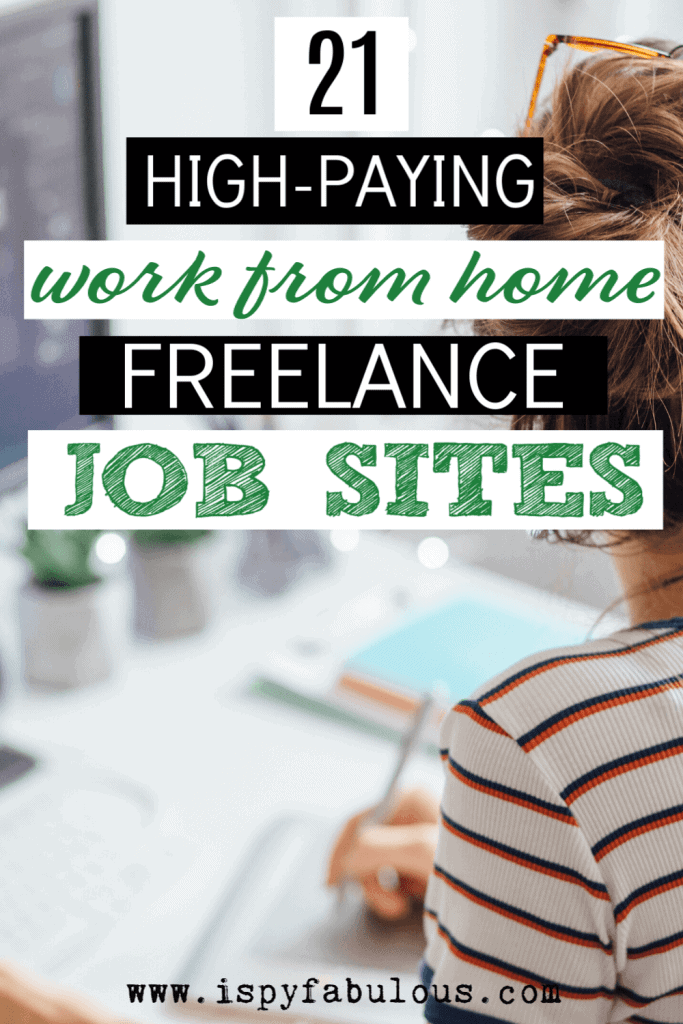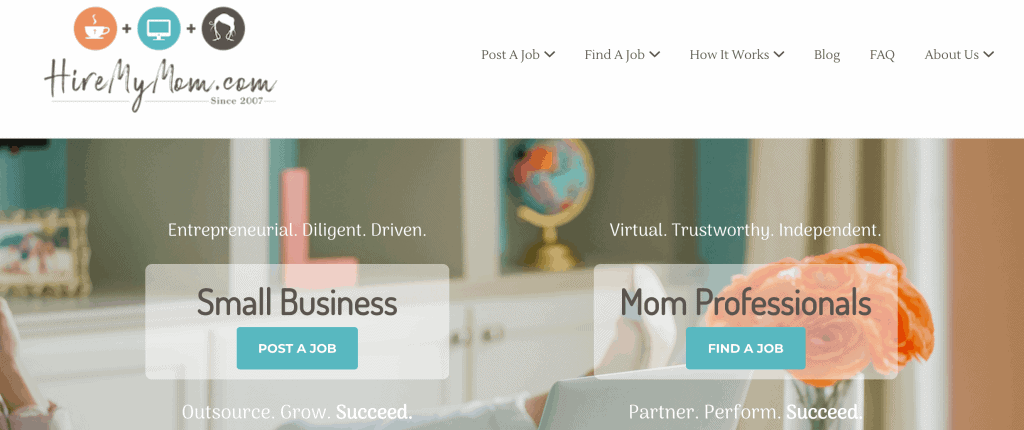 A site started by a woman who gets it. A woman run company for women – HireMyMom is all about connecting qualified, talented women with freelance opportunities.
I recently used HMM to find a staff writer for the blog and was so impressed with the quality and quantity of applicants, too, so consider HMM if you're looking to grow your business as well.
Although, in a couple of interviews, they did not ask a single questions. That inspired me to write this post on 40 questions to ask in an interview if you want the job!
I recently reached out to a very talented graphic designer about doing some work for me. And, after sharing what I was looking for, she said that isn't her focus at the moment and recommended I check Upwork!
She said Upwork is where she got her start and grew her business.
If graphic designers like her are on Upwork, you will be in good company there. Plus, you'll see very quickly that many of the profiles on Upwork are asking for fair prices for their work.
I've been using Fiverr quite a bit lately. While you will be competing with an international audience that has the exchange rate in their favor, you will also have access to a huge pool of interested clients.
With Fiverr, you also get the benefits of tiered pricing. So, you can design a smaller package that is lower priced to be competitive and scale up from there to make it profitable.
Related: How To Outsource Using Fiverr & The Designers I Recommend!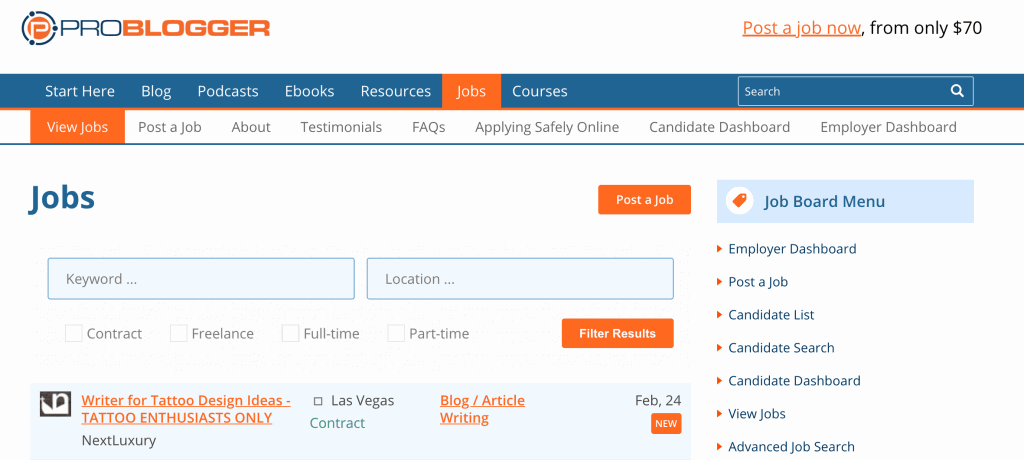 This job board is highly competitive, but full of great opportunities. They are more expensive for job listers, which helps weed out some of the lower paying opportunities.
Just know that if you're on the job hunt, you need to apply very quickly to job openings on ProBlogger. Job offers receive tons of applications and you want to be one of the first on the table or you'll never hear back.
Also, sometimes, you'll go through the process with an offer only to find that they are paying really low. It doesn't happen too often, but always vet the offers to make sure it's a mutual fit.
Another great job board with lots of options for bloggers, editors, and other telecommuting job opportunities. With a wide range of job options asking for a variety of experience levels, BloggingPro.com is a good entry point for new freelancers, too.
A staple in the freelance world, this site is over 20 years old and still serves up the newest listings for freelance jobs.
Plus, FreelanceWriting.com also has writing resources to help you build your craft as well.
This site serves up jobs under one condition: they pay $50 per post and up or $.10 a word.
I'm not sure about you, but nothing is more annoying or more of a time waster than going through the application process only to find out that they want to pay $20 for a 2,000 word post.
Who can survive on that? Sites like Be a Freelance Blogger helps writers find the diamonds.
LinkedIn is a great place to find job opportunities now. A lot of employers are looking on LinkedIn, because they can immediately see your resume and any possible connections.
To make the most of LI job boards, be sure to keep your profile up to date and engage on the platform. Post new work, comment on posts by companies you'd like to work for, repost interesting articles and get your name out there.
AllFreelanceWriting.com is dedicated to freelance writing jobs and they are constantly updating with fresh leads to new gigs.
One of the bonuses to this site is that the pay scale for the job is clearly stated, so you can find the opportunities that might be a good fit without wasting your time:

While Indeed has a reputation for being more of a traditional job finder site, they also post a lot of remote opportunities now, too.
One of the benefits of Indeed is being able to upload your resume for easy one-click applications.
Pro tip: because there are so many jobs on Indeed, try a few different keyword searches around what you are looking for to see the full range of job options in your field.
FlexJobs is dedicated to all virtual and remote jobs! From full-time, part-time and contract gigs in a ton of different fields, FlexJobs is a great curation of work from home jobs for the freelancer.
ClearVoice is a more curated version of Fiverr or Upwork, where you are able to post a CV and make connections with brands and have brands find you.
You submit proposals and bid on gigs, but also, the sites talent network connects brands and talent that look like a good match.
Full disclosure, I have not used CV, but I have heard great things about it from other writers.
Paid Freelance Writing Gigs Only: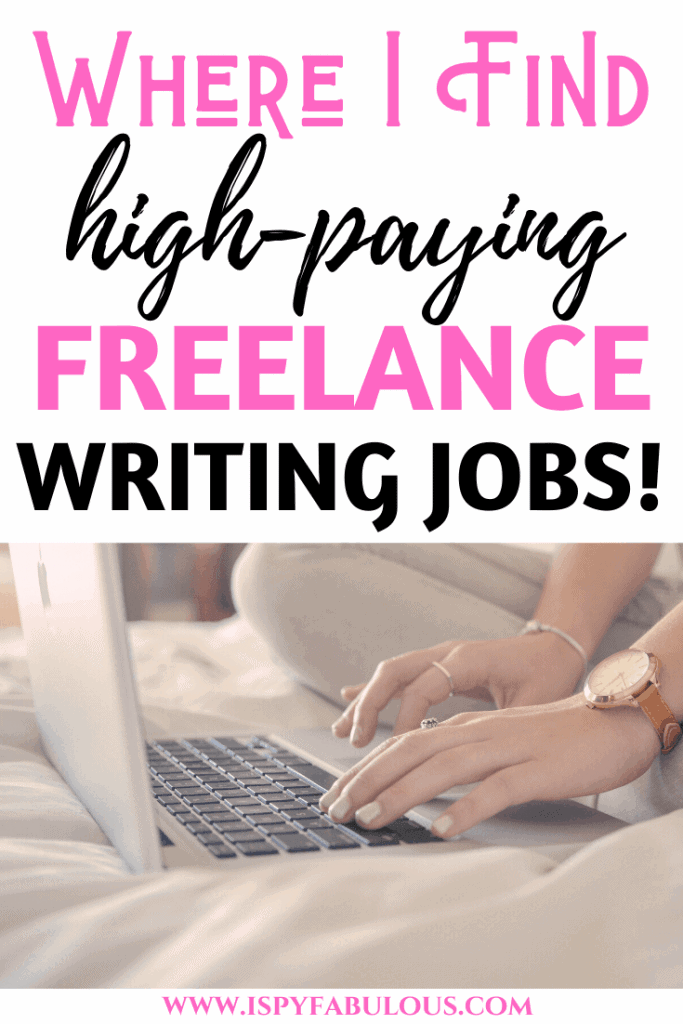 Don't just look for clients, look for writing opportunities as well. These will be published with a byline that will help you establish yourself and get your name out there (which usually leads to clients finding you!)
While Better Humans has a fairly specific idea of what they're looking for, payment is usually a flat rate of $500 per post.
Not too shabby!
Love to make lists? Listverse pays a flat $100 for your list. If your list isn't accepted, they'll let you know, so try to follow their rules to ensure you make that money, honey.
They only pay via PayPal, so make sure to have an account before you submit a list. Oh, and another perk to Listverse is they are happy to post a link to your site, book, or other self-promotional URL.
#BOOM
We've all heard of, or even read, stories on Reader's Digest – and that can be you! Submit your pitch on their site and if they want to publish your story, you'll receive $100 in cash, baby.
Consider reading some of the previously published stories to get a sense for what RD is looking for to up your chances of getting accepted.
Plus, with the vast readership of a site like RD, this is great exposure for your name and brand!
Have something to say that an audience of parents serving K-8 students would be interested in? Pitch it to PTO today and if your story is accepted, they pay $125 to $500.
Topics they are looking for include parent involvement, leadership, fundraising, group management, working with school staff, playgrounds, and education.
Before submitting a query here, be sure to read previously published material to make sure you are a good fit for their readers.
Love to travel? Are you a travel blogger? This is your chance to shine!
Great Escape publishes stories by writers who have been "successful in travel writing, photography, the import/export business, or running your own tours and would like to share insider tips of your craft". So, rather than a travel narrative, you'll be writing on the craft behind that narrative.
Make sense? Then consider submitting a query. Accepted submissions receive $150.

Cracked is known for their slightly irreverent tone and edgy articles with a humorous twist. If that's your jam, Cracked wants your pitch and you could get paid.
They don't mention numbers on their site, but at least it's something – plus a byline in a major online publication with a huge readership.
One bonus to this opportunity is they are more interested in fresh, distinct voices than experience – making this a great opportunity for new writers.
Love the parenting blog for men? This could be your chance to write for them. While job posting are bound to change, sites like Fatherly are almost always looking for new writers to join the ranks.
And, bonus points, these are usually at least part-time jobs rather than one post gigs.
A couple of those and you're a full-time writer, friend.
Another big-time online destination, Motherly offers a wide-range of content for moms. If you have an area of expertise related to motherhood, submit your idea and accepted submissions are paid $50.
Here's what their looking for, in their own words, "MotherlyStories are first person, 700-900 word stories, reflecting on the insights and issues you've experienced in motherhood—and the wisdom you've gained along the way. They address a specific pain point of mom life that you have been through or are going through right now. They help women realize they're not alone, and they never judge. (They're cool like that.) Instead, they inspire other mamas with stories of meaning, hope and a realization that, "you've got this."
Dotdash is one of the largest publication groups online today, with powerhouse site like The Spruce, My Domaine, Byrdie, Verywell Health and many more.
Writing for any one of their sites would be an excellent learning opportunity and great exposure, too!
They are always looking for contract writers, so check out their job board here.
*****
There are so many more places where you can find paying freelance gigs, but don't forget the power of networking with the people you already know. Referrals are the best business!
Have you tried any of these places to find jobs? Share your favorite in the comments below. If you are looking for other ways to make money, you might love this post with the 3 highest paying delivery apps and how to maximize your earnings!
If you're interested in career focused posts like this, you might also like these ones:
Have a fabulous day,
E