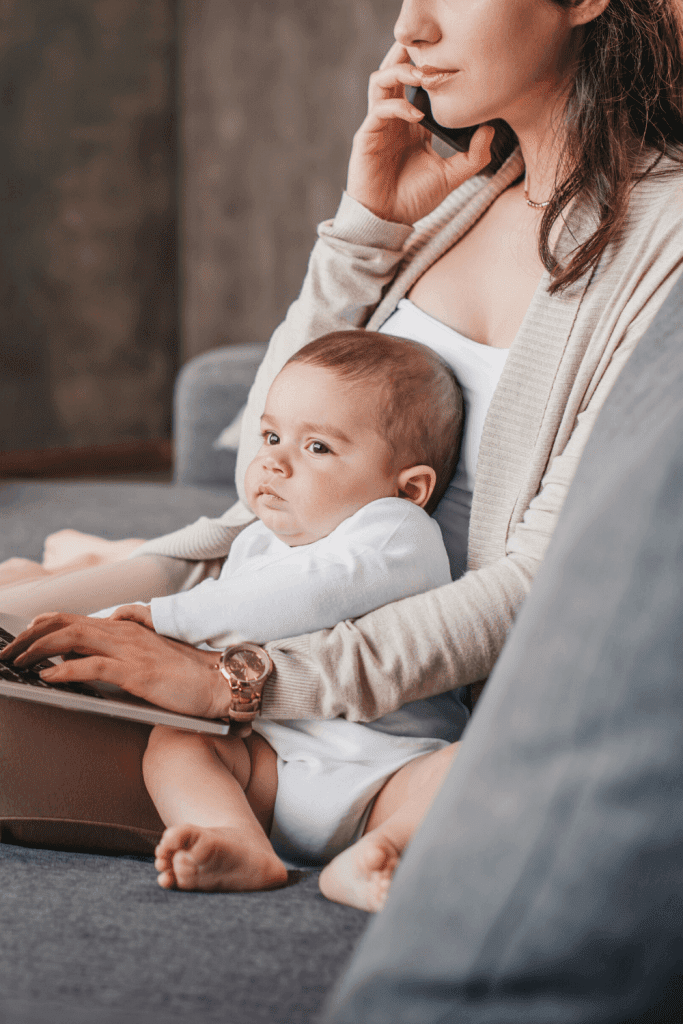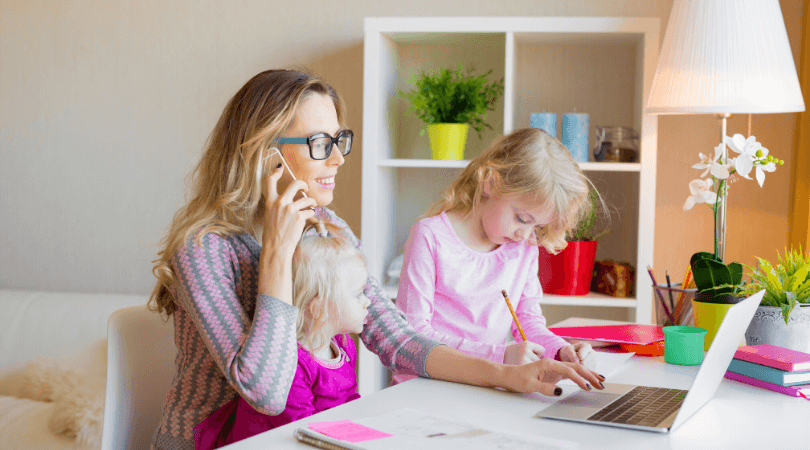 It's hard to believe that it's been over 6 years now since I took the plunge from teaching to freelance writing. I honestly thought I might work from home just for a couple of years and then go back to the classroom.
But, that's the cool thing about life – the surprises. And, before my son's first birthday, I had matched my teaching salary while working part-time from home while he napped.
I learned a few tips about how to work around a baby and then toddler with him and then had to get even more creative and add to that skill set when two more kiddos came along.
Working from home with three small kids is not easy, is definitely not always smooth sailing, but with some real tips and tricks – it can be done.
So, whatever your reason is for wanting to work from home and be a stay at home mom, I am here to tell you that you can absolutely do it with these tips – and probably a few more of your own.
Related: 21 High-Paying Sites for Freelance Writing Jobs!
1. Be Flexible:
Unless you have help, it's time to kiss the structured schedule goodbye. You probably will not be working a 9-5 anymore.
Working from home with small kids is an exercise in flexibility. Take any and every opportunity to work when they are sleeping and/or occupied, whether that's first thing in the morning or after they go to sleep at night.
Weekends are also a great time to catch up when your spouse is home. I get my largest blocks of focused work time on the weekends and they are a huge reason I'm able to accomplish so much each week.
That being said, you'll probably want to have an idea of how your day might go, what your work times might be, and how much you can realistically get done.
Just don't be hard on yourself if that tentative plan flies out the window.
2. Rotate Distractions:
Rotate activities, games, toys and distractions to increase independent playtime. So, whatever they are super into right now – leave that out, and move some of the other toys or games that they aren't paying attention to into a cabinet or up on a shelf.
When that favorite toy starts to lose their interest, it's time to rotate and bring back the toys they forgot about it. Usually, this is like Christmas as they rediscover all of their "new" toys.
Another rotation idea is to set them up at a table next to where you are working with some of their own "work".
For my daughter, this can be coloring, playing with a magnetic dress-up game, magnetic blocks or other types of arts and crafts that don't require a ton of monitoring on my part.
Any one activity might buy 20 minutes (maybe more if I'm lucky) of focused play time, but by rotating and keeping it moving, that buys me chunks of time throughout the day that add up.
Here's another post I wrote on 40+ activities your kids can do at home that my kids love!
Don't be afraid to work some kid cartoons into the rotation. A well-timed 30-minute cartoon can really help out, whereas running the TV in the background will just become white noise and not keep their attention.
Here's some of the "work" activities I rotate in sometimes. Affiliate links are used:


Most importantly, be realistic about how long they can independently play, try to make it as fun for everyone as you can, and be patient with yourself and the kids if things aren't going as smoothly as you would like.
3. Move Locations:
There are tons of indoor play places that have free wi-fi and will provide a whole new play experience for the kids.
Your local library, for example, is a great resource. Most libraries have a great kid's play area and nearby chairs and tables where you can get some work donel
Sure, you won't be able to do things like conference calls or time sensitive assignments, as your work focus will probably be spotty – but I wouldn't do those things while the kids are awake anyway.
If these places are too expensive, look into Groupon discounts and annual passes that will bring the cost down.
For us, we signed up for the annual pass of an indoor play place where the monthly cost breakdown is around $20 a month and we can go anytime we want.
There is no childcare on the planet cheaper than that.
Also, our local gym has a cafe with wifi. It's under $50 a month for 2-hours of childcare for the kids in the kids club and I can be working in the cafe during that time. Yes, you need an adult gym pass as well, but if you do the math – it's still a super affordable way to get some work time while the kids are being completely entertained.
When kids are bored and you just need to get work done – pack up and change the scenery.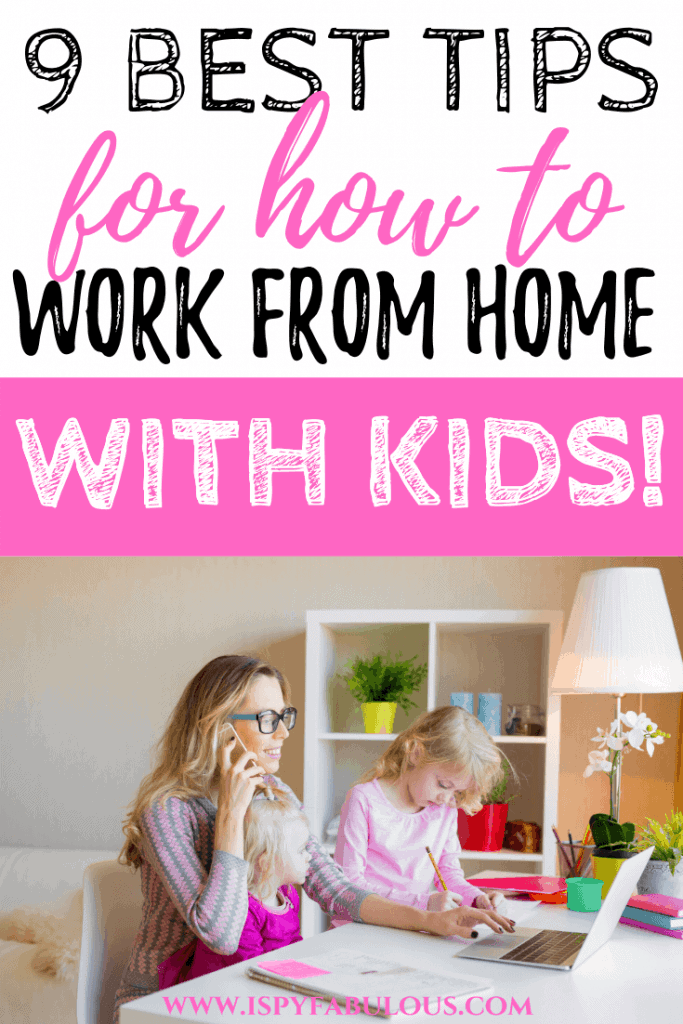 4. Plan Surprises:
A well-timed surprise does a world of good. I'm always reminded how effective this is when I do it and I think every time – I have to do this more.
Here are a few ideas:
Plan or make a special snack
Print some free coloring pages online (it's wild how well this works!)
Grab affordable, fun craft kits at Michael's that you can bust out whenever needed
Build a fort with them and then let them watch shows or play games on tablets inside the forts
Let your kid play "hair salon" with your hair while you work (brush and hair clips are all it takes!)
Set up a new train track design to get them started and then let them play
Sometimes it is as simple as getting out a new toy or game, playing it with them for a few minutes to really get them excited about it, and then slip away once they've taken ownership of it.
That few minutes of getting them invested in the activity will pay in dividends – not just in how long they will play independently, but also in giving that focused attention that they crave.
5. Plan To Play:
Carrying on from the previous point, plan to play. If every so often you stop what you are doing and give them totally focused attention and play time, they will usually respond with being more calm and more agreeable to entertaining themselves in between.
Sometimes when the work is mounting, it's hard to put it away and be fully present with the kids, but remind yourself that this is why you are working from home and keeping them home – because this time matters.
So, silence your phone or leave it in another room, get down on the floor and play with your kids. In 20 years, you won't remember the work project that you were focused on, but you will remember those sweet memories with your little ones.
6. Schedule Calls Strategically:
If your work requires conference calls, client calls, or other types of focused appointments, do this when you have your partner at home in the mornings, can bring in someone like a grandparent to help, or know for certain they will be sleeping.
I have worked from home all these years without a nanny, without using a preschool of any kind, and without family or friends nearby who can help. So, trust me when I say I understand if you have a very short list.
But, with rare exception, I have always tried to do calls early in the morning before my husband leaves for work or to see if I can schedule them around their grandpa's weekly visits.
Did this mean that I was sometimes passed over for opportunities in favor of writers who had a lot more call-time flexibility? Yes – 100%.
And, sometimes I just have to get on a call and when that happens, I make sure to have a surprise or new activity ready to go right before the call, so I can get them set up and focused before I have to start talking. Or, if you use tablets or TV, now is a good time to bust that out. No shame in that game.
If you have the ability and/or desire to hire consistent help – then by all means, use that time to have structured calls and complete time sensitive projects.
7. Balance is a Dirty Word:
Don't pressure yourself to have everything in perfect balance. There won't be balance.
Some days or weeks you'll work a lot more and feel like you didn't have as much focused time with the kids. Other times, work will be spotty and you'll really be able to engage and be present with the kids.
Accept and embrace the phase you are in. Guilt will just slow you down.
I love this quote on balance:
"There is no such thing as work-life balance. Everything worth fighting for unbalances your life." – Alain de Botton
In other words – balance is overrated.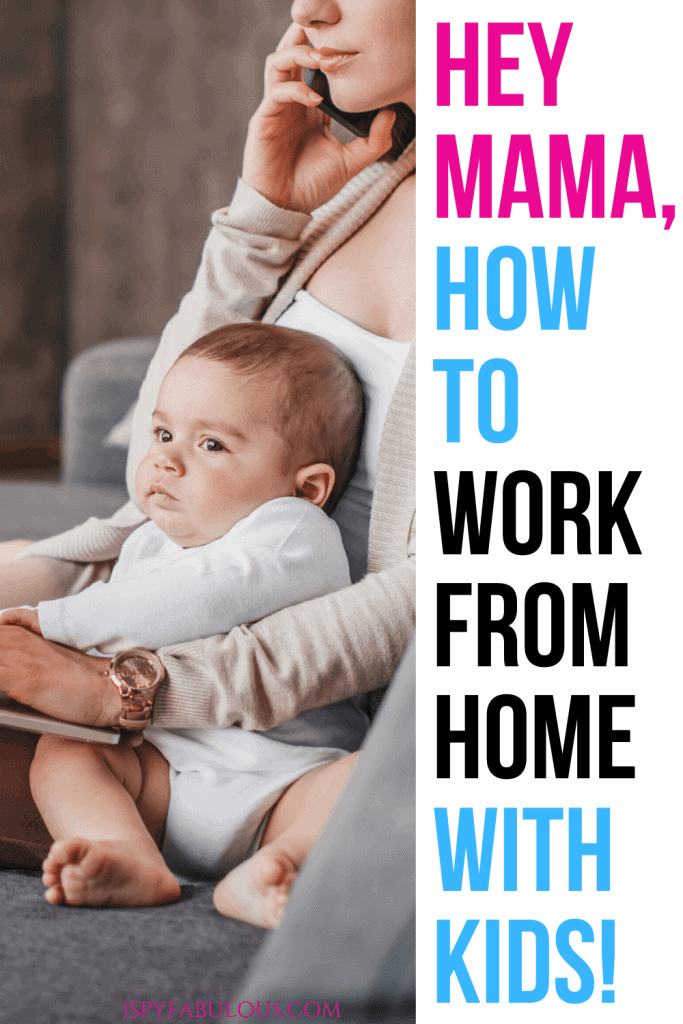 8. Batch Tasks to Increase Productivity:
Your work time is limited – it's time to get organized. One way that I get a lot more done with less time is using a task batching method. I didn't create it – far from it – but I sure do use it.
Check out this post that I wrote on how to batch work so that you can get increase productivity.
9. Take Time for Yourself:
To give yourself fully to both caring for your kids and working is not an easy task. It can very much feel like being pulled in a many directions at once all the time.
Sometimes it can feel impossible and exhausting.
Take time for yourself.
This may sound counterintuitive, but simple acts of self-care can give you the energy you need to push through.
I wrote a post on quick and easy self-care ideas that can be done quickly. Try to plan for one small act of self-care a day.
Also, feed yourself wisely. I get so quickly sucked in to just eating what I make the kids or grabbing something quick after cooking for them, but I feel the difference when I make a green smoothie, a superfood smoothie, or meal prep.
Taking care of yourself, too, will set you up to be successful with all the moving pieces in your life.
****
There you go! 9 of my best tips for how to work from home with a baby, toddler and/or small kids.
Are you a work from home mom? I'd love to hear what works for you and your little ones!
I hope these tips give you some fresh ideas or confirm that you are doing a great job (and the WFH/SAHM life is hard, yo!).
Have a fabulous day,
E