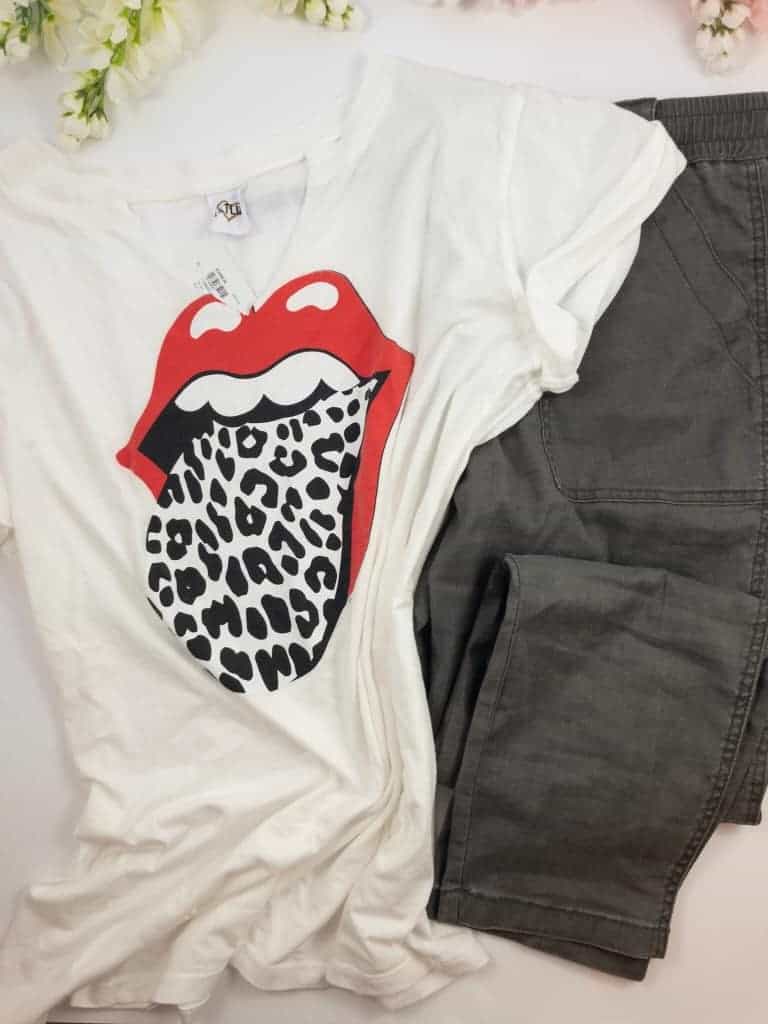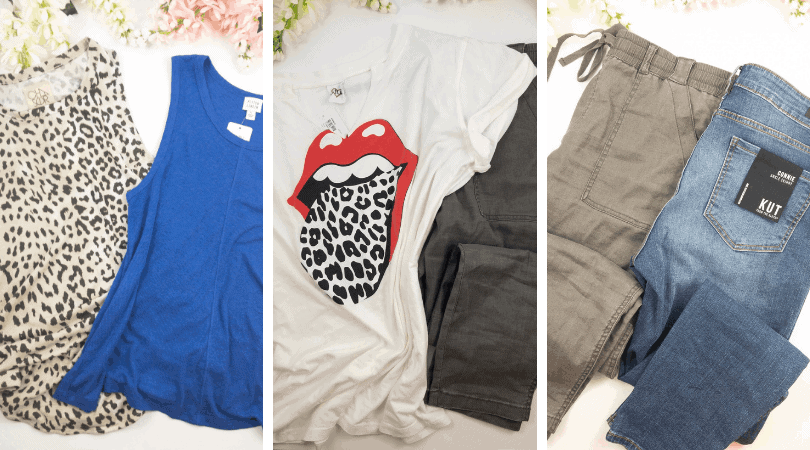 So, I did something fun the other day. I decided to try something new and ordered a Trendsend personal styling box from Evereve.
You might remember my post about Stitch Fix and how much I love them. #StillTrue
But, I recently got an email with a 10% off coupon to try Trendsend and thought, "Why not?"
As a huge fan of Evereve and their fabulous mom chic style, and the super easy return policy for items I didn't want to keep, there wasn't much risk in checking it out.
What I didn't expect was to totally freaking love it.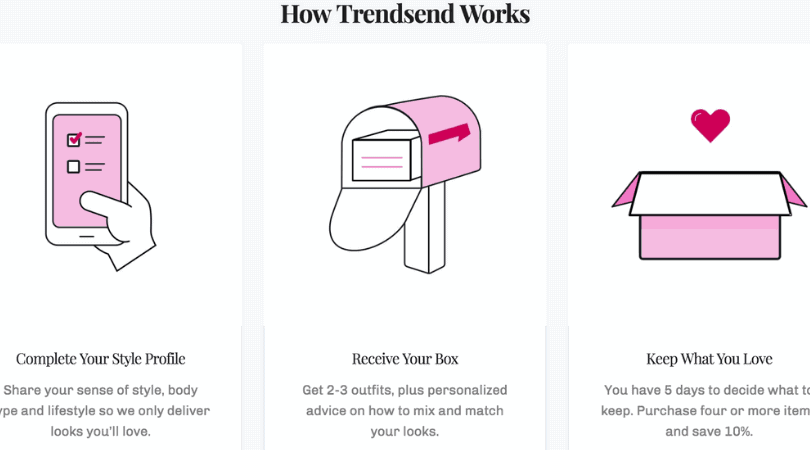 For anyone out there like me who doesn't totally know what Trendsend is – it's basically like Stitch Fix, except you are getting pieces from the store Evereve, which is known for their casual chic style.
Their prices are a bit on the higher end for my normal clothing budget, which means I drool over their new releases and don't really buy many of them.
Trying out Trendsend was a great way to test the waters and see if their clothes: a.) fit me well, b.) were worth the splurge, c.) could be more affordable in a subscription box version.
I'm happy to report a bit YES for all A, B, & C.
#SCORE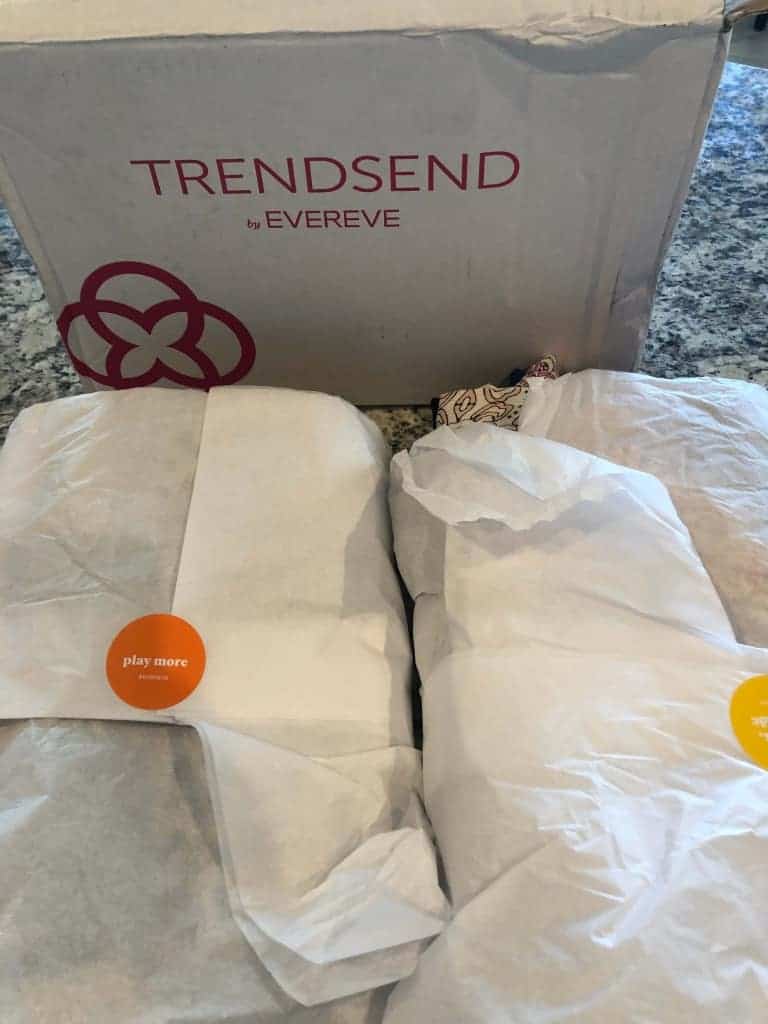 To get a Trendsend box, the process is pretty simple. You go to the site and sign up. You'll answer some style and fit questions, and then you'll let your stylist know what you are looking for.
After that, they'll let you know the earliest a box is available or you can schedule it out further. I was shocked that mine was going to arrive in one week!
Once the box has shipped, you get an email with a checkout link. I love clicking the checkout link and seeing what is coming in my box! #SneakPeek
I do this for Stitch Fix, too.
When I saw what Trendsend was sending me – I was even more excited. Literally every piece was something I would have grabbed myself or had seen in their advertising and wanted.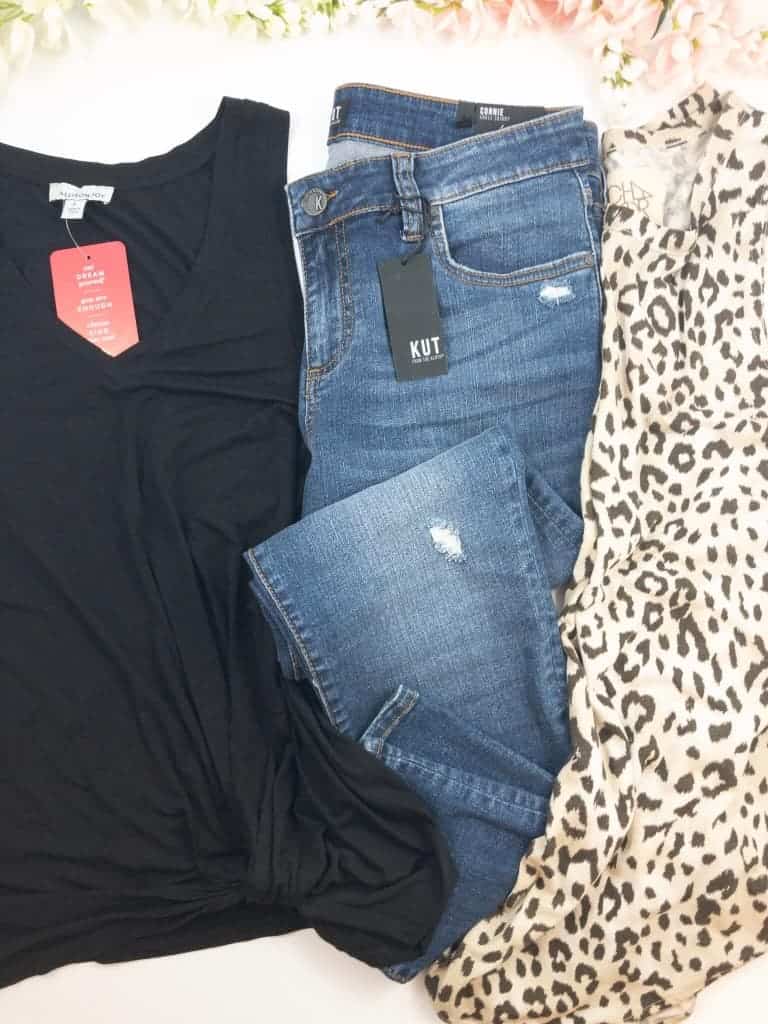 When your box arrives, you have 5 days to try it on and decide what you want and don't. There's an extra discount if you want it all.
There's a referral bonus of 20% off your next box if you get some friends to try it, too. One for you and one for them. #TWINNING
So, while they didn't pay me or give me anything to write this, I'll get that referral bonus if you use my link. Yeah, baby.
I'd love to share what they sent and what I thought!
1. Level 99 Shannon Utility Pants & Letluv Rolling Stones Tee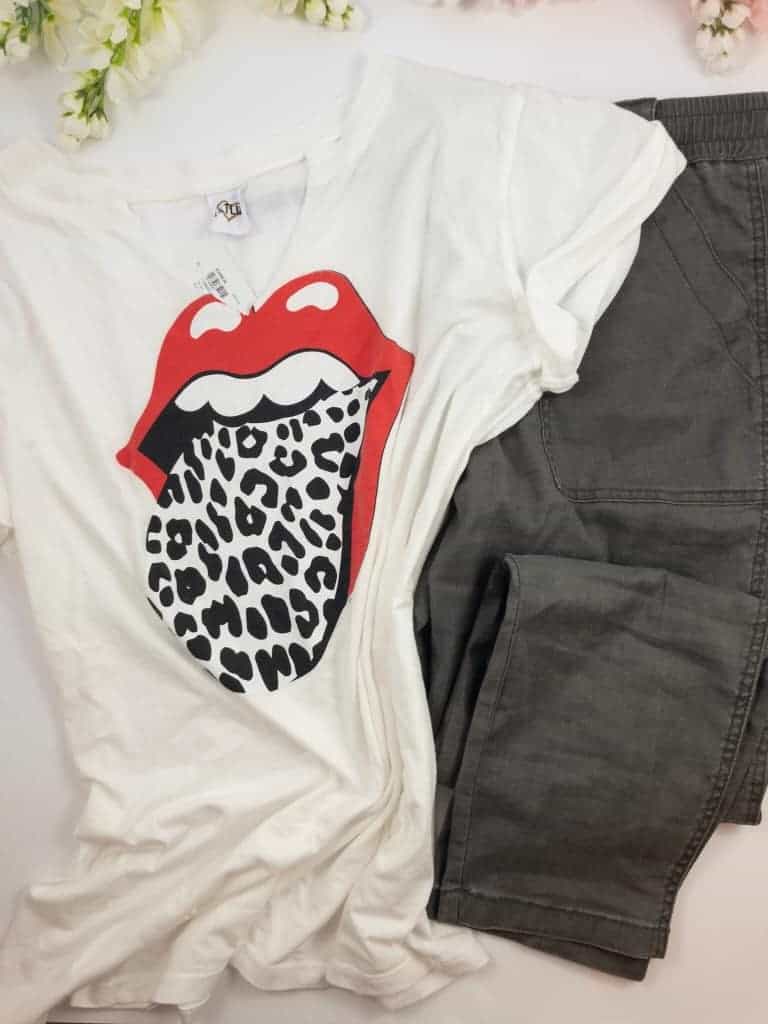 Yes to both of these. The pants were so comfortable and because of the cut and texture, still looked like I was dressed nicely and not in pajamas. They look almost shimmery online – but in person they are not at all.
The t-shirt is so soft and lightweight. Perfect for life with kids in the heat of summer. Plus, I am obsessed with the rocker chic vibe of the animal print Rolling Stones design.
I had to have both of these and knew they weren't going back.
And, since I had a little bit of a discount, it brought the price down on both pieces. Score.
Check them out here – you can still grab them on Evereve.com:
These are affiliate links, which means I'll receive a small comish at no cost to you. In fact, they're on sale, so you'll save money!
2. Allison Joy Ryder Tuck Tank (black, see above), Peyton Jensen Kirby Rib Tank & Chaser Cheetah Tank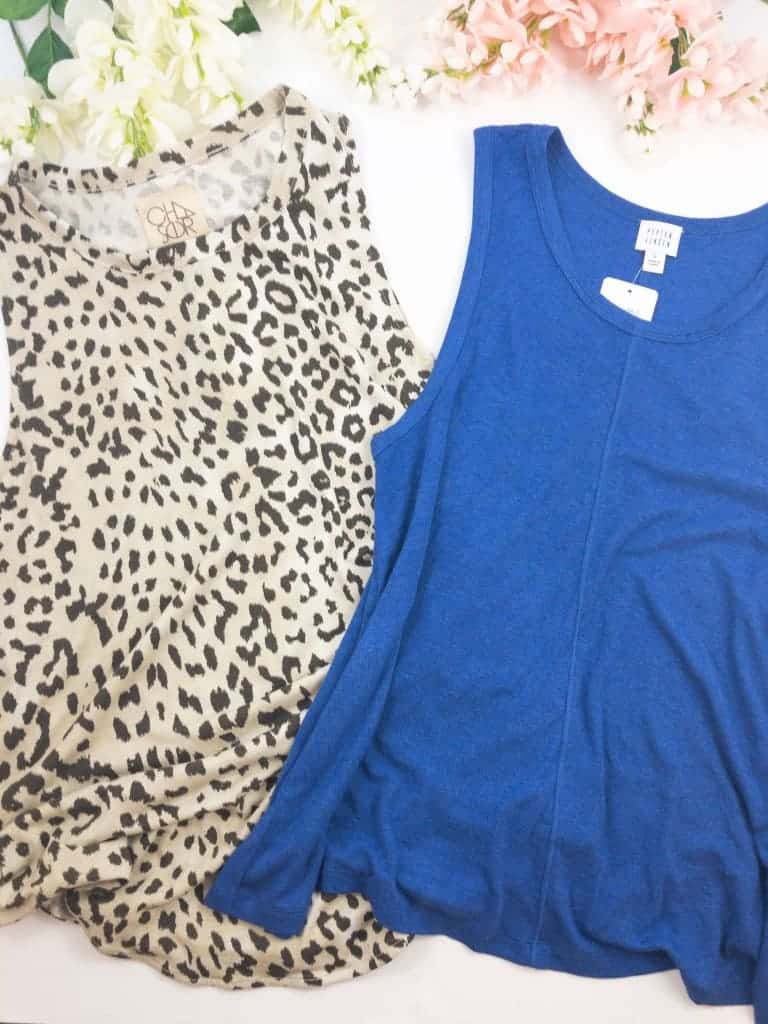 All three tanks were so comfortable, had great weight and shape, were flattering and the material was extremely soft. I wanted all of them and only sent them back because the price was a bit high for tanks. The blue and black were particularly difficult to part with.
While I loved the animal/cheetah print tank, it was too long for my 5'4 frame and the armholes were huge. It would need to be layered and I have plenty of pieces that I can layer.
But, I already miss them. #IHeartYou
You can still find them online here:
3. Allison Joy Lina Border Kimono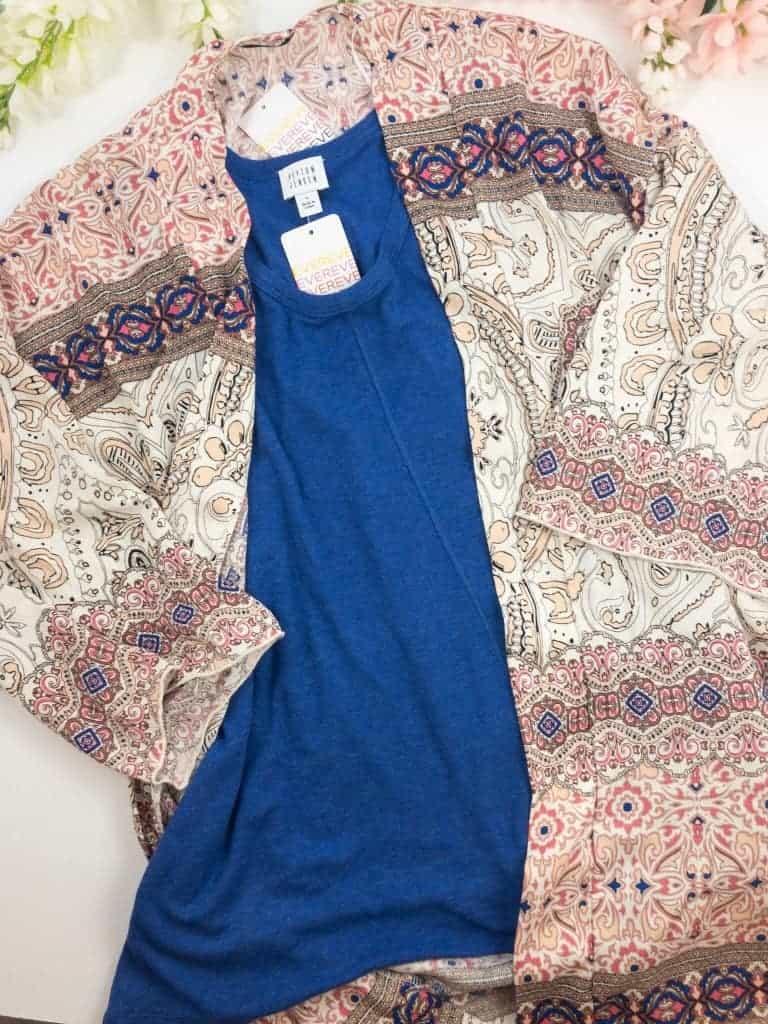 I love a good kimono. I've been trying to rock one for years. Unfortunately, they look very bath-robeish on me. It could just be in my head, but it's how they make me feel.
So, sadly, this gorgeous kimono went back. For a kimono-lover, this one has a gorgeous print and a little bit more shape than most of them I have tried.
Paired with the bright blue tank – it was a perfect outfit in the making. #SadFace
4. Kut From the Kloth Connie High Rise Ankle Skinny Jeans
Kut is my favorite jeans line, only seconded by Wit & Wisdom and Universal Threads. But, Kut truly has my heart.
I had never tried the Connie High Rise and was in love. Unfortunately, they were a tad small and I am past the point in life where I buy things "in case I can fit into them". I need clothes now, people. And, I don't need closet guilt.
You know what I'm sayin'?
They're fab, just consider sizing up if you're in between or on the edge of a size:
****
The verdict on Trendsend is simple: it totally rocked.
I love the cool, chic clothes that were perfectly picked for summer and for my style. I have already worn the utility pants several times and the Rolling Stones tee.
While I do wish I could have bought everything, I have learned to only buy pieces that I want to wear right away. And, I've learned not to overspend on clothes or I am hesitant to wear them.
Have you tried Trendsend? What did you think? Tell us all in the comments below!
Have a fabulous day,
E
PS. If you haven't tried it want to – don't forget you can use my referral link to get 20% off and we'll both win!