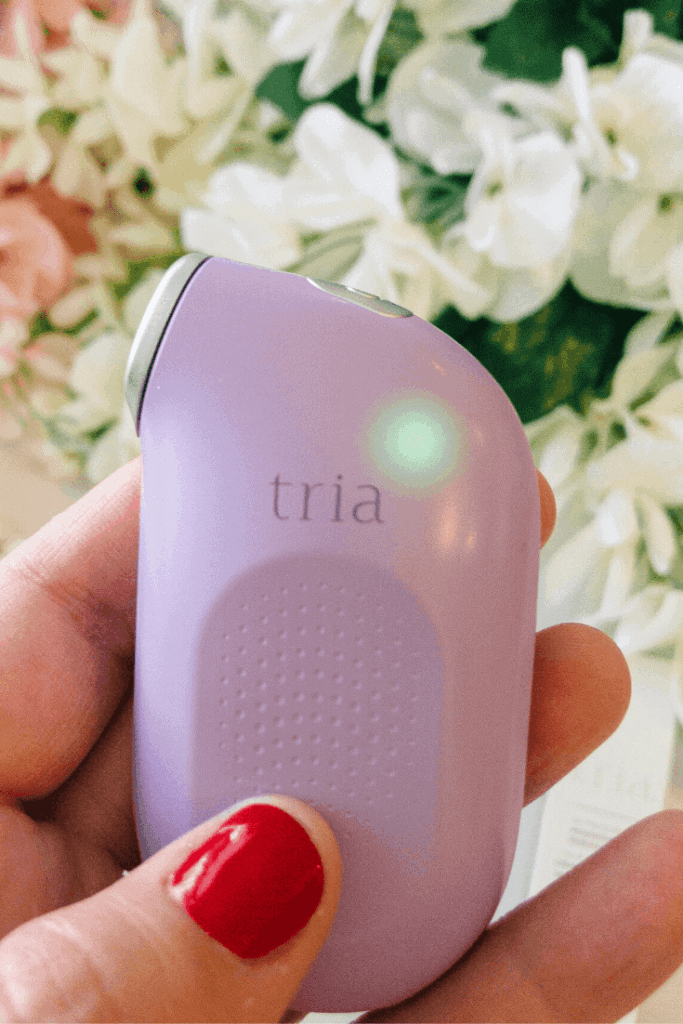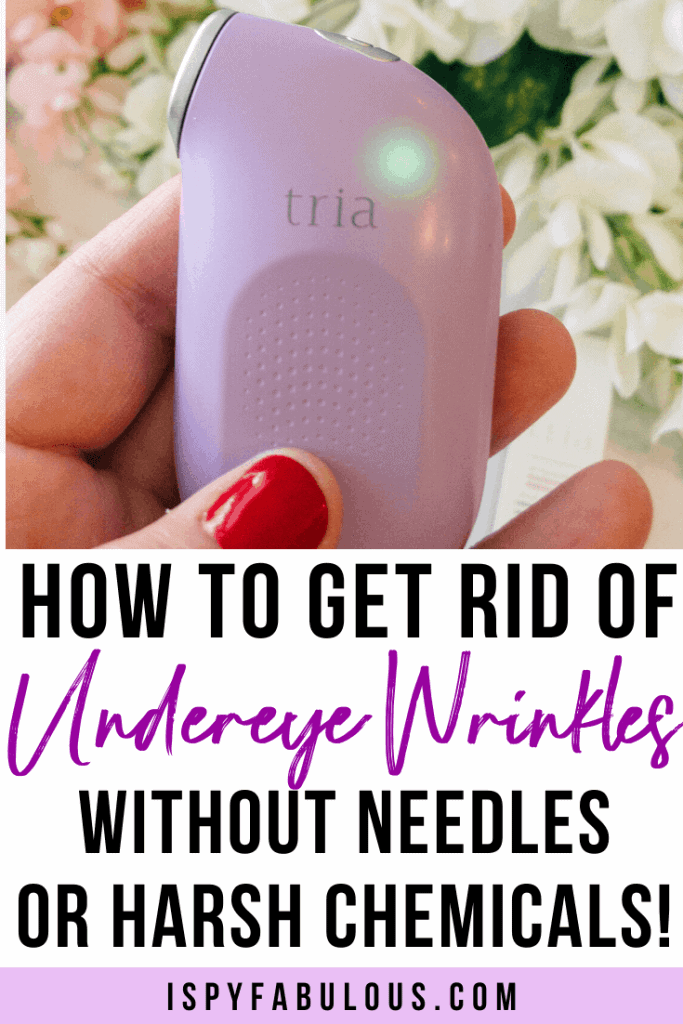 We all know the first place where signs of aging start.
Then, they settle in, unpack all their stuff, and start claiming more territory.
And, if you're anything like me – you'd like to stop these unwelcome guests at the gate and send them somewhere else.
That's why I love writing about new skin care and hot, high tech skin care tools. In fact, my post awhile back on the top 20 newest, coolest skin care gadgets is still one of my most read – because I'm guessing, you'd like to give aging a run for its money, too.
Can You Fight Signs of Aging Without Needles?
I'm not a fan of needles for any reason and pretty much only give in when it's a life or death (or extreme pain) scenario.
So, when I first read about the incredible Tria SmoothBeauty Eye Wrinkle Laser and its ability to get professional results from the comfort of your own home – without needles – I swooned.
And, today, I get to share my experience with the Tria Beauty laser, because the good people at Tria Beauty were kind enough to partner with me on this post and this is how I feel about it:
I know, I know. We're all excited.
Just call me your skin care guinea pig.
#SorryNotSorry
Before we dive in to my 12-weeks love fest with the Tria undereye laser, you should know that I have the most sensitive skin on the planet.
I have an allergic reaction to almost all harsh chemicals and anything with enough power to show results.
This makes me both a really great contender for – and completely terrified of – treatments like botox.
#NoThanks
That made trying this laser an even more exciting prospect.
Let's take a look at what it is, how it works and answer the questions I know you have!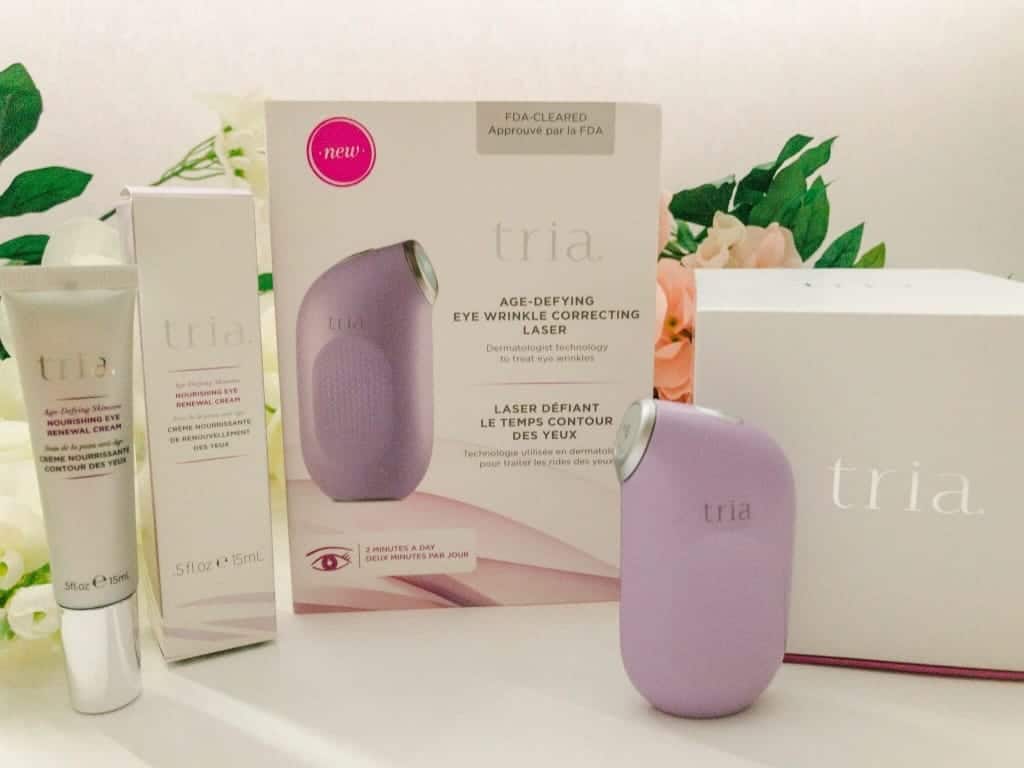 This adorable little device packs a serious punch – by harnessing the power of a non-ablative fraction laser to stimulate collagen production, eventually diminishing fine lines and wrinkles.
These targeted beams of light allow you to specifically, gently improve the delicate undereye area – which is typically excluded by most skin care device instructions.
And, the price of this device – that you own and can come back to every year for a little refresh, is much more affordable than even one round of botox (under $250).
#WINNING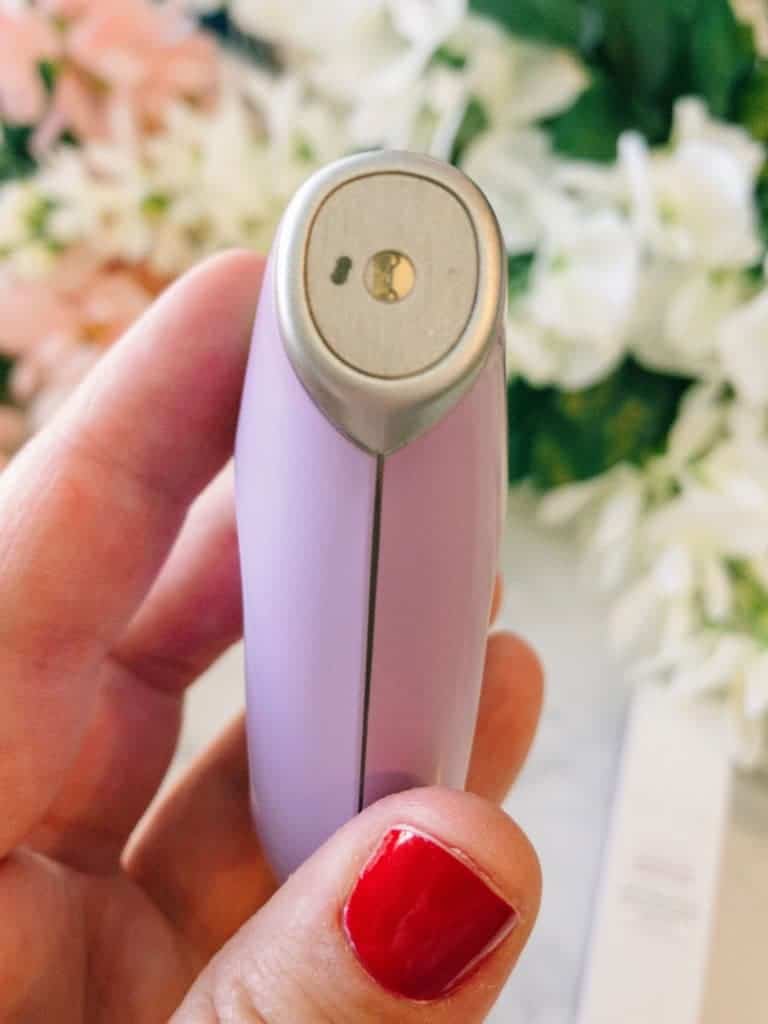 It takes a second to get the hang of this little powerhouse. There are a few safeguards in place that allow you to learn how to use it without potentially hurting your skin.
You start by powering up and you'll know it's live when the little green light turns on.
Then, you press it gently against your skin until you feel the slight vibrations. That tells you the laser is turning on.
After that, you will start to feel a warming sensation that shows you the laser is working.
You want to gently move the laser around the undereye area, never going too close to the eye, and moving slowly, but quickly enough, that the laser doesn't start to feel like it's burning.
I have extremely sensitive skin, so I did notice the laser more so than 3 other people that I let use it and I learned that keeping it moving was the key.
The laser has a timer and will beep when you are finished with one eye. At that point, switch eyes, do the treatment again until the beep and you are done.
If you are sensitive to the sensation, build up to the full one-minute per eye. I started with just 30-seconds an eye, didn't do it every day, and slowly built up to the full minute. Even then, I didn't use it every day because #kids and #mombie, but I still saw significant results in the 12-week period I used it.
What Do I Do After the Treatment?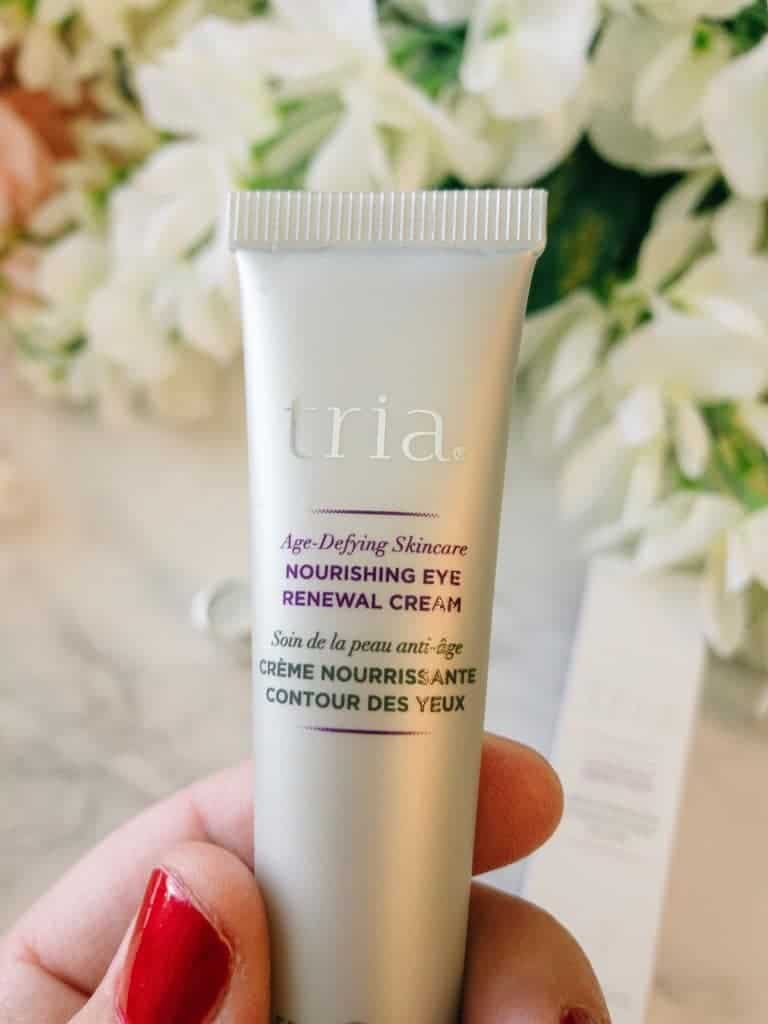 Your skin could be a little red and sensitive after. Mine is, but the others who tried it didn't have any reaction at all.
But, all three of us absolutely fell in love with the Nourishing Renewal Eye Cream that comes with the laser.
This eye cream is seriously so, so, so good.
It's thick and creamy and so soothing. Packed with hyaluronic acid, ginger extract and retinol, it will hydrate skin while encouraging skin renewal.
The sloped metal tip stays cool and you can refrigerate it to get even more of a cool factor and then use it as the applicator under your eye.
It literally feels amazing.
I honestly think you need the set of the laser and the eye cream. You may have a nice rich, emollient eye cream already, I certainly have tons, but this eye cream is fabulous.
After finishing with the laser and eye cream, just move on with your routine.
Personally, I did this at night so that any redness was gone in the morning. I don't know that I would use it in the morning when I need to apply makeup after, as my skin was a little sensitive for awhile.
But, it was always gone by morning and left behind a lovely, smoother, plumper undereye area.
Does The Laser Hurt?
This is going to be subjective. For me, Mrs. Sensitive, if I left the laser in one spot for a couple seconds, yes, I felt it burning. That area was pinker than the rest after treatment.
The key is to keep it moving and to use the eye cream right away.
But, the other three people who used it didn't have any redness or reaction.
I think this is something you'll need to practice and also give your skin time to adjust.
Do You See Results?
I really tried to get before and after pictures for you to show results, but you really can't see a difference in the pictures, even though there is one visibly.
Don't be jealous; I'm really not photogenic.
I do notice a tighter, smoother, younger looking undereye area in person.
I am closer to 40 than 30. Since using this laser, I have had to use less undereye concealer and other makeup to disguise fine lines.
I was really starting to notice those little buggers around the eyes and it was stressing me out.
Since using this laser, I see less fine lines under my eyes, less discoloration and I need less undereye makeup.
Is It Worth The Price?
I think we all reach an age where we start to wonder if we need to invest in really high-priced skin care or even professional grade treatments to see results.
If you are considering botox or high-priced creams, the price of the Tria will be more affordable, more convenient, less painful, and I think you will really see results that you will be happy with.
If you are already getting profession grade treatments, expect that the Tria will work slower than a Botox treatment, but the long-term benefits will be there and you'll avoid any potential side effects with injectables.
Whether or not it's worth the price to you is going to be your decision. But, the set of the laser and the eye cream is under $250 and can use it for years.
How To Make It Affordable:
Tria regularly runs promotions on their products, so you likely won't pay full price. For example, at time of posting, all devices are 15% off!
Another great idea would be to team up with some girlfriends and family members, each pitch in to pay for a portion of the set, and then just trade it around the group. If each of you take 8-12 weeks with the laser, you'll each get a turn once a year and you'll save hundreds in more invasive treatments.
Talk about a win win, baby.
****
I've been so excited to try this product and share it with you today.
Working with Tria Beauty has been such a privilege and I hope you are encouraged to check out the SmoothBeauty Laser and eye renewal cream – or another one of their incredible products.
They also have innovative tools for hair removal, acne, and more.
Have you tried anything like the Tria? Tell us in the comments below.
Have a fabulous day,
E