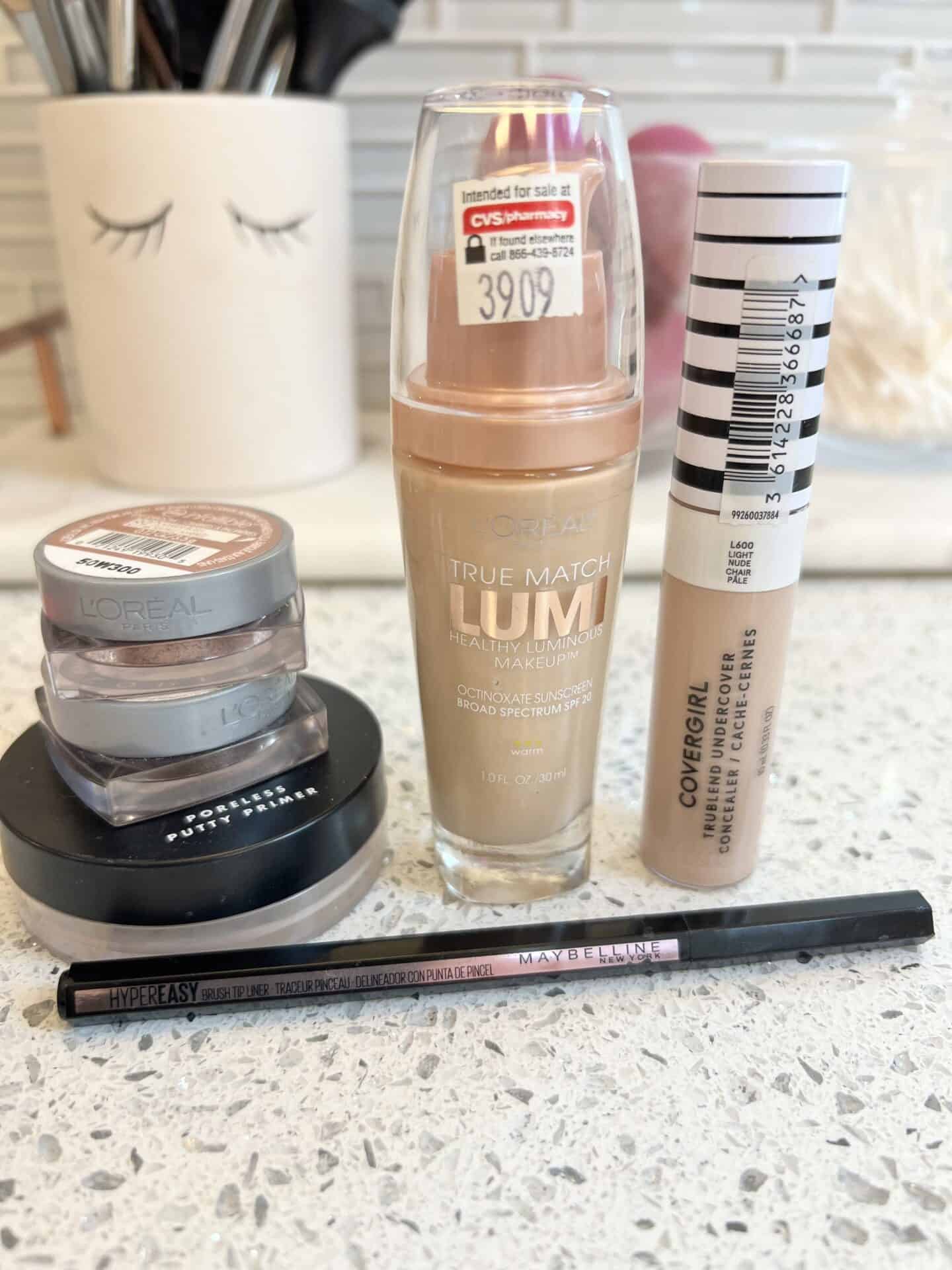 I've been trying a lot of drugstore makeup lately – for a couple of reasons. First, I've somehow stumbled on a ton of social media posts talking about high end makeup and their drugstore dupes. Second, I've realized that for the way I spend my time most days, I really don't need to be sitting around in over $100 worth of makeup products.
These two things combined have led me to sample all sorts of products, most of them not worth mentioning, but some of them definitely worth the hype. I won't tell you the ones that I didn't agree with, because maybe you'll try them and they'll work for you, but I am always happy to share the products that wow me and I think are worthy of being added to your makeup arsenal.
So, if you're looking for affordable, drugstore makeup that is going to perform as well (or almost as well) as higher end brands, get ready to save some money with these finds.
9 Drugstore Makeup Worth The Hype: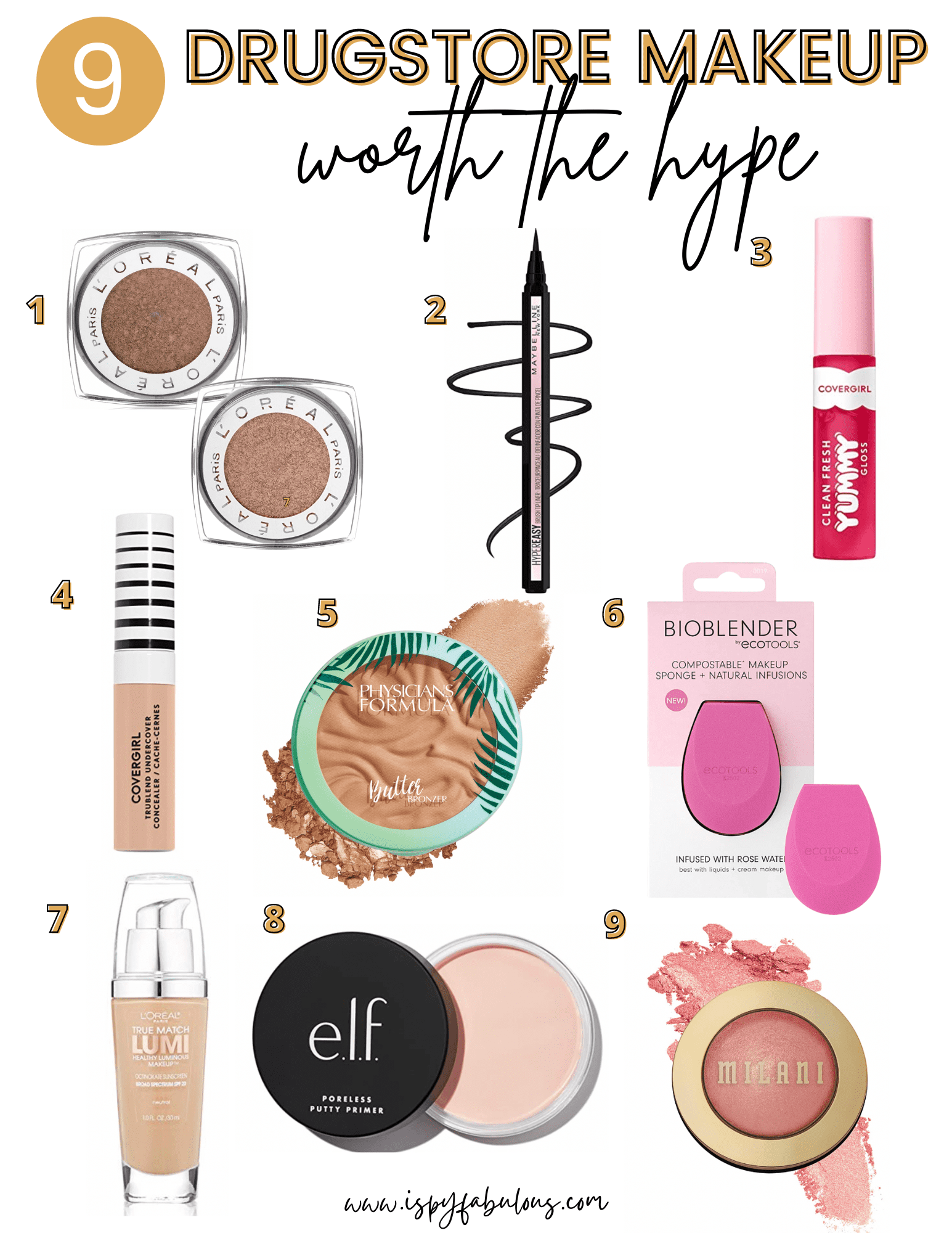 While there's tons of great drugstore makeup, I was specifically looking for drugstore makeup that was worth the hype, whether that is super high reviews or someone declaring it as a dupe for a higher end product. I will share more products soon that are just general recommendations from the drugstore.
You'll be able to create almost a full face of makeup using the options shared below. The only thing I am not sharing is a mascara, because I have tried a lot of the highly rated ones and struggled to find one that I feel is as good as a high end mascara. However, I have extremely sensitive eyes and have an autoimmune condition called Sjogren's, which attacks my eyes, so I am a special case for this one. I did write a post with the mascaras that I can wear and they are a great list of options for people with super sensitive eyes or eye allergies. While there are drugstore options on that list, I do think the best mascara I have found is not a drugstore pick. You can read that post here.
*Affiliate links are used below for products I bought with my own money and recommend. This means that if you make a purchase through my link, I may receive a commission at no cost to you. Thanks!
This is the best drugstore eyeshadow and I wear these more than my high end eyeshadows. There are 18 Colors, but here's my 2 favorites: Bronzed Taupe and Amber Rush.
I wear these almost every day. They are highly, highly pigmented and they stay put, which helps with sensitive eyes like mine. I do use an eyeshadow primer underneath to prevent the product from falling into my eyes as well.
This is my new favorite liquid eyeliner and I use it more than the higher end one I was preferring before. At under $10, it's a steal. It's a super fine, firm liner so it almost functions as a gel pencil. You'll have a lot of control and get a really fine line if that's what you're after. It's like a pencil/liquid liner hybrid and I love it.
I love this lip gloss. It has a feint, lovely smell to it that is a little bit fruity. The color is really sheer and soft. The texture is not sticky, but has a lot of shine to it. It's really fun to use, too, because the foot is really large and easy to apply. I love it and there's a great range of colors.
My favorite color:
I was using a concealer before that was $27. Worth it – it's a great product, but not necessary if I'm sitting and writing all day alone in my house. Still, I enjoy to put makeup on most days and it makes me feel better, so I was on the hunt for a drugstore concealer that would perform similarly. I tried a lot of recommended, highly rated products and they did not work on my aging, 40+ year old skin. This one was as close as I could find to the Benefit creaseless concealer I love. The texture is really nice, the color range is good, it's hydrating and doesn't settle as much into fine lines (although more than the Benefit). Great for an easy day when I'm not interacting with people much.
Color: Sunkissed Bronzer
A standard drugstore item for most of us now, but worth mentioning if you haven't discovered it. I find that Benefit Hula is the best bronzer on the market. Period, can't convince me otherwise, but there are a lot of really good ones at the high end level. This is a drugstore pick that is going to rival the softness, color and look of those higher end ones. It's a really beautiful bronzer. It also doesn't settle into fine lines and make you look older, which is a real concern with adding powder to aging skin. I like this color, but there's a range of options for different skin tones.
I use these almost every day. You can wash them several times and then compost them when you're done. Most sponges are thrown into landfills and these are an easy swap that you won't even notice in quality, but will make you feel better when you toss them.
I'm really picky with foundation because it has to match perfectly and it cannot settle into fine lines throughout the day. At my age, that's a real hat trick. I did share my favorite BB creams/tinted moisturizers in this post here and I stand by those choices still.
But, for drugstore foundation options, this one has really wowed me. I'm very impressed with it. It dries with a very soft, luminous matte finish. Doesn't sound like you could get both, but you can with this one. I do find that when my skin is really dry, it doesn't wear as well by the end of the day, but I always start with a lotion first which helps. Please don't apply foundation to dry skin. Always start with a lotion and then maybe even a primer.
For color matching, I was told the colors look darker in the bottle than on your skin and I would agree. If you are in between colors, you may want to go up to the slightly darker shade than down. Just my experience. I have quite fair skin, though.
One of my favorite drugstore picks of all time. It's so good. Apply with a blender sponge. A little goes a long way. Let it set for a few seconds before applying anything on time.
You'll have a difficult time finding a more beloved, cult favorite product than the Milani baked blush. The range of colors is amazing, but I personally like the color Bella Bellini. They have a light shimmer to them, which is going to catch the light and distract from fine lines, while also really shaping the face in a beautiful way.
For the price, it's an easy win. There are a lot of great blushes out there, but why pay more if you don't have to.
More Makeup Recommendations:
Finding makeup can be a really personal thing and we'll all gravitate towards different products for different reasons. These are the drugstore makeup picks that really lived up to the reputation and the hype for me and I find myself using them in lieu of higher end options all the time.
I'll be on the lookout for more drugstore recommendations, but until then, here are some more beauty and makeup posts if you're interested:
Hope you found something you love. If you have a favorite drugstore product I should try, share it below!
Have a fabulous day,
E