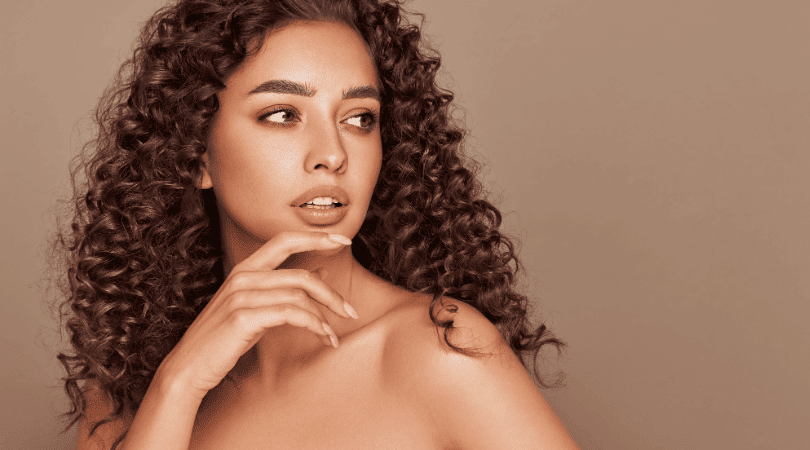 I love curled hairstyles. Most of the time, when I wash and style my hair, I curl my hair using a large barrel curling iron to get soft, beachy waves. If you love curled hairstyles, too, I thought you might like this round-up of videos that I turn to when I'm looking for hair inspo. And, now that my daughter is also getting more interested in curled hairstyles, I thought it would be fun to create a collection that she can watch and point to so I know what she's hoping to achieve.
I've also included gorgeous curled hairstyle videos with different types of hair and curling methods, so that there is hopefully something for almost everyone. I'm really interested in trying out some heatless curl methods soon, too, since they cause less heat damage and want to get one of those heatless hair curler wraps for my daughter and I to try.
Don't see your favorite curled hairstyle here? Let me know what I'm missing so I can add it!
Best Curled Hairstyles:
When curling your hair, you want to make sure you've got some basic hair products and tools to achieve the look you want. While each of these videos will make recommendations for what they're using, I'd like to share my favorites in case you have similar hair to me – fine, color treated, straight, and prone to frizz. Here's what I love:
*Affiliate links used for product I buy and love. At no cost to you, I may receive a commission if you make a purchase through my link.
1. Easy Waves for Shoulder Length Hair:
I've been following The Small Things Blog for a long time. She has great hair tutorials dating back to 2011. She's a major OG in hair blogging. Her recommendations have a solid track record of working for me and a lot of people.
To get this look, use a large barrel curling iron. I love this smart curling iron by T3 which allows me to set the heat based on my hair type, that it's fine and colored, and know that I'm not over-processing my hair. I've also used their regular curling iron and it lasted me years. Love it.
2. How To Curl Hair with a Flat Iron:
My former stylist used to curl my hair with a flat iron and it made the best loose waves ever. Cynthia Dhimdis breaks the process down so well in this video, so if you've been trying to figure this out – check out her video.
3. Curl Natural Hair with a Flat Iron:
Stunning girl with a great hair tutorial on how to achieve beautiful, bouncy curls on natural hair using a flat iron. This is a fantastic video, and she kindly links all of the products that she uses below to make it easy to add to your cart, so check it out.
4. Curling with a Clamp Curling Iron:
I've never been able to curl my hair with a curling iron that doesn't have a clamp, mostly because I don't like having to hold both my arms in the hair to keep the hair on it and I always burn myself, even if I wear the gloves. If you're like me, you'll love this easy tutorial using a regular curling iron.
5. Old Hollywood Waves Tutorial:
Love this video for making the perfect Hollywood waves. She uses the clampless curling irons for this one. It makes me so nervous when she gets down to the end of each piece of hair, because that's when I would always burn myself, but of course, she's a pro and does great. I'd also like a tutorial of how she does her makeup here, because it's perfection.
6. Heatless Waves:
This is the video we are using to try out heatless waves. I love that she spent months testing out different methods and products to find what worked the best and then shares it with us in a way that is easy to understand. My hair is a similar length to hers right now, so I'm hoepful that I can get this look! Any way I can reduce heat damage to my hair, I will.
7. Classic Hollywood Waves on Long Hair:
If you have super long hair and want to get that soft Hollywood wave, this is the tutorial for you. She uses a curling iron that is smaller than I would have guessed, but it makes sense, since the weight of your hair is going to pull those curls down. She also shows how to section the hair properly to get the right size pieces and then winds it around the clamped curling iron without releasing the clamp. It's very soothing to watch, too.
8. Ringlets with a Clamp Iron:
Looking for a tighter ringlet style curl? This is a great tutorial from a special event hairstylist. This is a great starting point if you're working on hair for a wedding or a special event. For some beautiful hairstyles perfect for homecoming or prom, check out this post!
9. Curling Super Straight Hair:
Is your hair pin straight and curl resistant? Some people would be very jealous of your gorgeous, straight hair, but that isn't going to help you get those curls you're after. Check out this video by hair blogger Marisa Kay for how to get curls that will last in straight hair.
10. Defined Curls for Natural Hair – No Heat!
Absolutely love this tutorial. The finished look is incredible. I'm always looking for no heat methods for styling my hair. If you are looking for a great way to style your curls on natural hair with no heat, you'll love this video.
11. Soft, Bouncy Curls with a Flatiron
This is very similar to the type of curl I go for most days. Soft, bouncy, full of volume, and almost natural looking. She uses a flatiron for this look, whereas I use a clamp curling iron, so use what you have to get the look you want, friends.
12. Beach Waves on a Bob:
Okay, this tutorial makes me want to cut my hair off and get a bob or a lob. If you have hair like she does, try out this method for getting the perfect textured, beach waves. For lob and bob cut and style inspo, check out this post.
13. Voluminous Curled Hair with No Teasing!
Holy moly, check out this before and after! Her volume is insane! She achieves this look without teasing her hair at all. Not only does she have gorgeous hair, but this tutorial will help you eek out every bit of volume your hair can muster.
14. Curly Hair Routine for Naturally Curly Hair:
If you are blessed with beautiful, natural curls, but don't know how to make them look their best and minimize frizz, Neha is your girl. She breaks it down, sharing her go-to products, so you can recreate this look at home. If I had a magic wand and could choose my hair, this is what I would pick. Gorgeous.
*****
I'll probably come back and add more as I find them. As soon as I started searching for curly hairstyles, so many amazing videos came up with people that have natural curly hair. I think I'll do another round-up focusing on that particular hair type, because the products and methods you use are different from straight hair. While I don't have curly hair (I wish I did), I have friends who do and they share what works for them, so I'll be picking their brain to get that post just right.
Still looking for the perfect hair style? Maybe one of these posts is right for you:
MORE HAIRSTYLE INSPO:
Hope you found the perfect look for you!
Have a fabulous day,
E