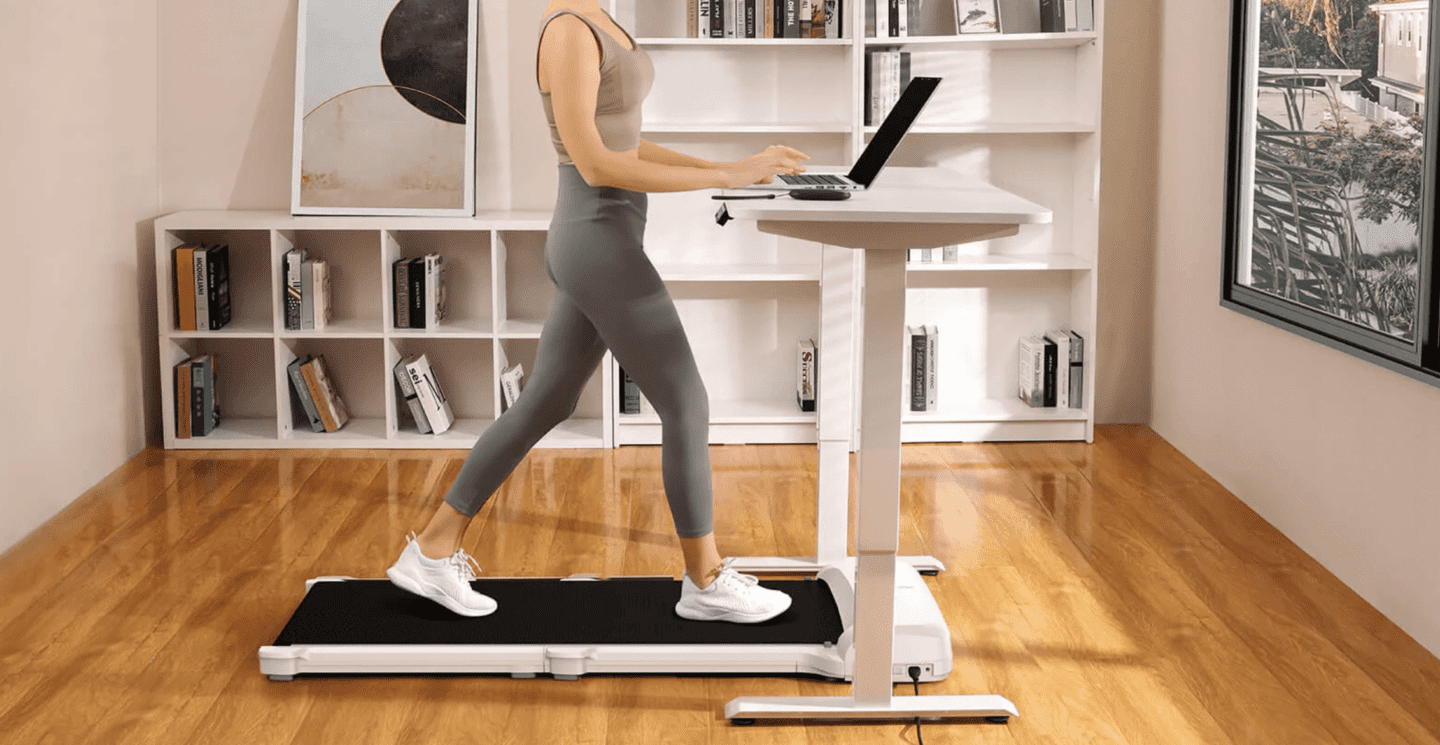 Last year I did an experiment. I started trying to walk 10,000 steps a day, on average. I quickly learned a couple of things, simply by tracking my steps: first, I was not walking nearly as much as I thought I was and second, walking packs more benefits than a lot of other types of exercise and diets I have tried.
But, how do we get more steps in during the dead of winter or when the air is full of smoke from summer fires, or when you really need to be at your computer getting some work done? The answer is easier than you think: get a walking pad. Whether you go for a mini-treadmill or a walking pad, the results will be the same. You'll have a super affordable, portable way to get those steps in during the day.
While many people pair walking pads with a standing desk, you may find that you can't do your particular type of work with any movement in your body at all, so you might prefer a foldable walking pad that you can take out at night when you're catching up on your shows. Whatever type of walking works for you, there's a walking pad for you.
So, since I've recently become a walking advertisement for the benefits of walking more, I thought I'd round up some of the best and coolest walking pad options to help you reach your step counts, too.
Why Walk More?
When I started my experiment, I really didn't expect much. I thought if it just helped me with some stubborn weight gain, I would be thrilled. While I do reformer pilates 4x a week and try to eat an anti-inflammatory diet, hormonal changes and age were starting to take their toll. I kept reading about people who lost 100 pounds just with walking and diet. With this simple goal of losing weight in mind, I bought a mini-treadmill with a little acrylic desk.
Then, I started walking. Mostly at night when I usually lounge and watch TV. Just one TV show is around 45 minutes and I found I could walk around 6,000 steps in 45-60 minutes. Since I was tracking my daily steps, I figured out that I walk only about 3-4,000 steps a day, so combined, this hit my goal of 10k steps a day (give or take). If I walked more during the day, I would still walk that 60 minutes if I could, but some days you feel better than others. I tried to listen to my body. I wrote a whole post cataloging this experience in more detail if you're interested. You can read it here.
Spoiler alert: what were the results? Walking more single-handedly helped reduce some of my inflammation, balanced my hormones (and consequently my cycles as well), helped my lymphatic system drain better, gave me more energy, helped me sleep better, cleared some of my brain fog and more.
I didn't expect the results to be so noticeable. Turns out, there's a reason walking is touted as one of the best things we can do for our health.
9 Best Walking Pads and Mini-Treadmills:
Something you'll love about buying a walking pad is how affordable and portable it is. Some of these even fold in half and would fit in a hall closet or slide under a bed. Pretty cool. Makes it really easy to get those steps in and you won't have a giant, bulky piece of exercise equipment gathering dust in your garage where we both know you're probably never going to go out and exercise. Nope, get the walking pad and start walking during activities you are already doing: checking emails, reading, watching TV, and doing conference calls.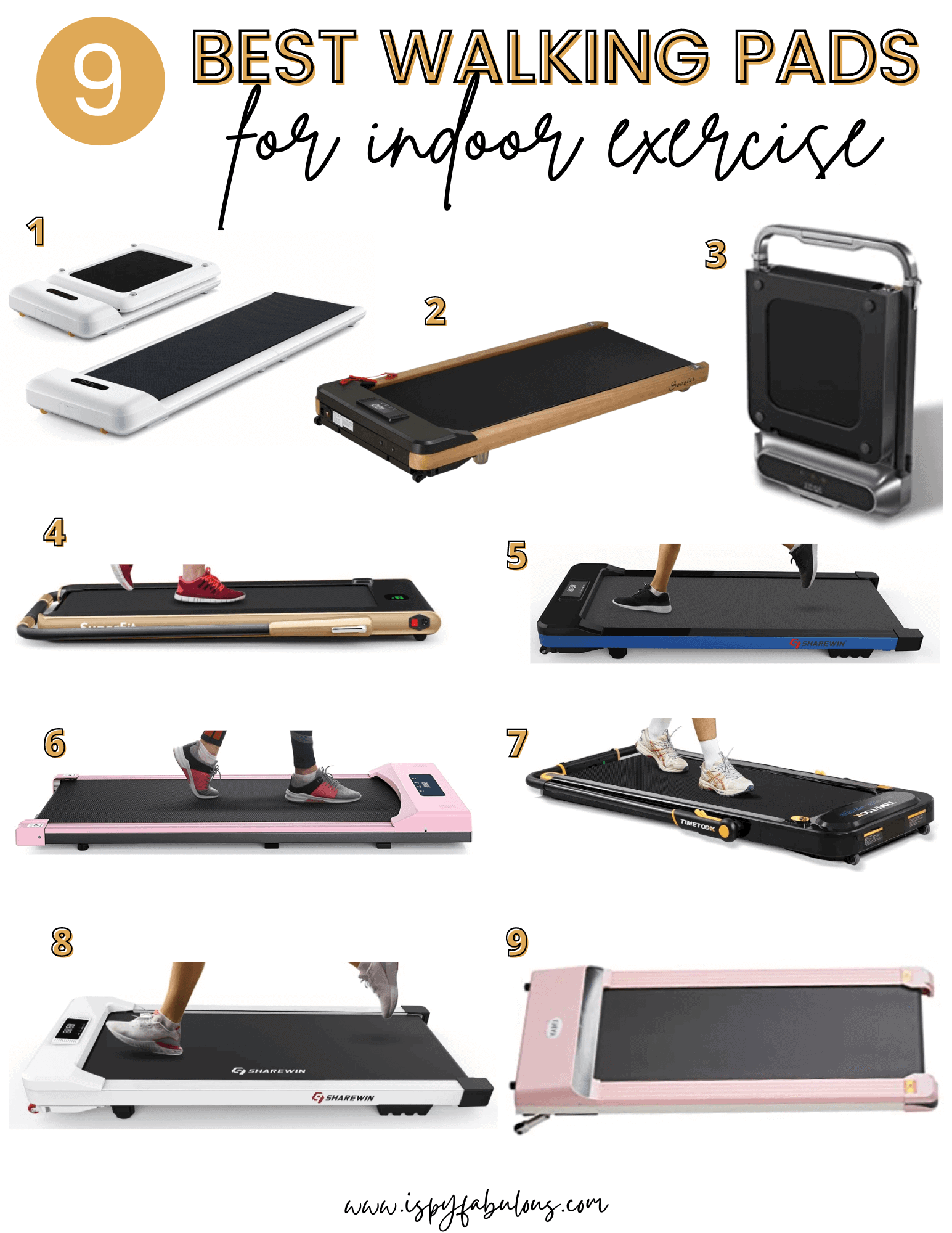 *Affiliate links are used below, which means at no cost to you, I may receive a commission if you make a purchase through my links. Thank you!
Top Walking Pad Recommendation:
Walking Pad makes the highest rated walking pads on the market. Anything by this brand is going to be my top recommendation for a walking pad. They have foldable walking pads, walking pads with handlebars where you can put your phone or tablet, and options in various price points. Plus, they manufacturer an electric standing desk you can pair with a walking pad for a walking system that will really help you get work done and get your steps in simultaneously. You can buy direct from their site here or you can find some of the products on Amazon as well.
This cool walking pad folds up, comes in 5 colors and multiple types of voltage based on what country you live in.
Plus, it's pretty affordable, too at $550. Great deals on their website as well.
Listen to your favorite tunes and walk on a walking pad that has a bit of a retro flare with this chic Soozier walking pad. Love the wood detailing on this one and the fact that it won't clash with your modern home decor.
Plus, it's well under $500.
Another portable, foldable walking pad, but this one with more features. It has a remote controla nd app, as well as a quieter motor and shock absorption system. Plus, it has a slot for a phone or tablet on the handle and an LED panel that helps you monitor speed, distance and workout time. Smooth, rolling wheels make it easier to transport.
Feature rich and still under $1000.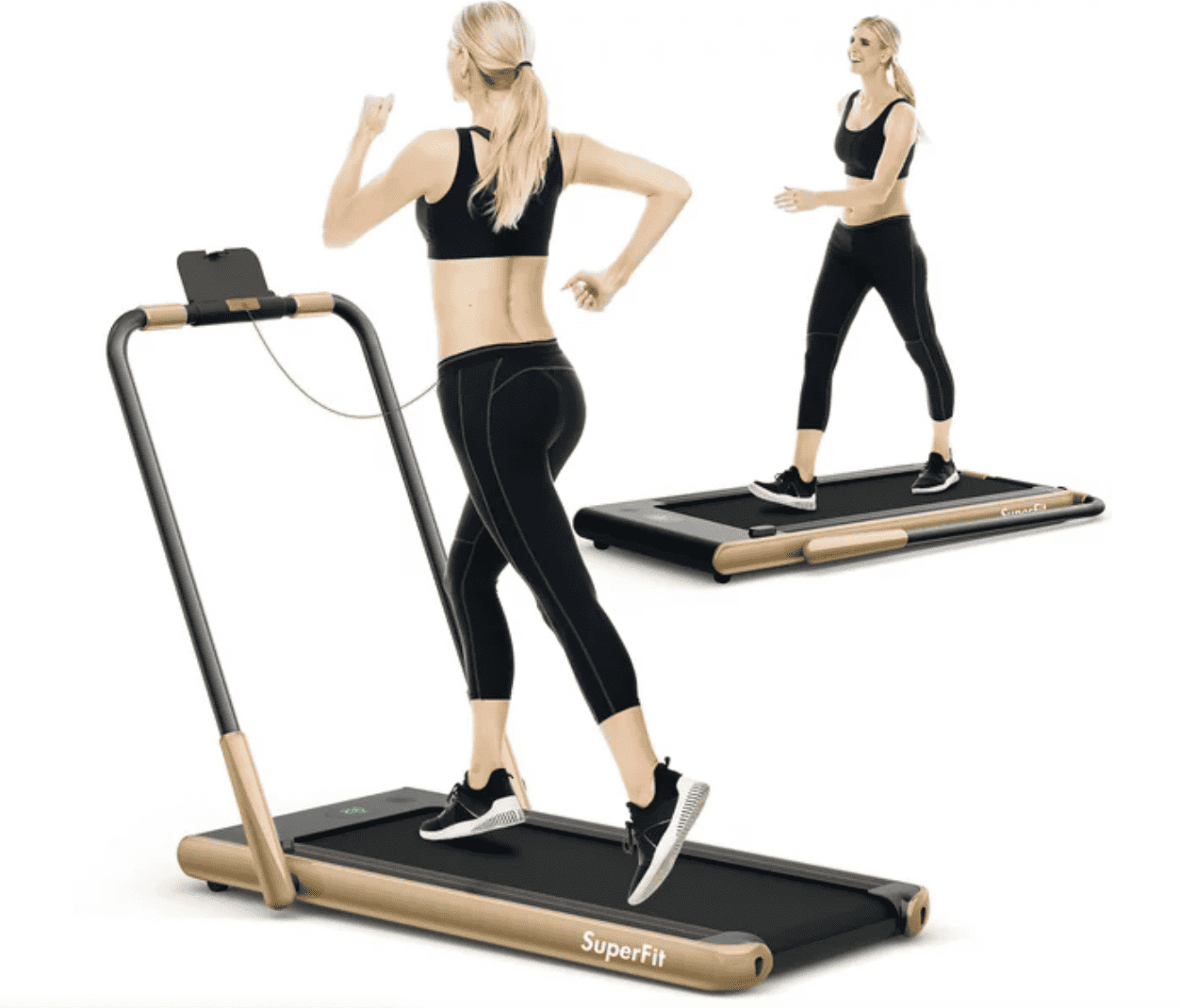 Love gold decor? Your walking pad can match with this cute gold walking pad. It comes in other colors, but the gold is so cute. Plus, it has a foldable handle bar that you can use if you like. It also features a wider walking pad area, which can be nice. After my first one broke, this is the walking pad I bought and use almost every day. I really like this one. I put a standing desk over it, so I put the handle bars down and it works great. Much nicer than the first one I bought.
It's difficult to find a portable walking pad that can support over 250 pounds. Some stop at even less weight than that. This one can support you to 300 pounds, which is amazing.
Want a cute pink walking pad with a remote control? Well, here it is! Love this sweet, bubble gum pink walking pad. You'll love that it has an LED display, a remote control and won't clash with your office decor.
This cool black and yellow walking pad supports up to 265lb, which is great if you've got a guy in the house who wants to use it. When I bought mine, I didn't even look at the weight limit, so he was pretty disappointed when he was over the weight limit for mine. If I were to buy another one, I'd look for something that supports more weight.
Love this little white walking pad that can support up to 300 pounds. Great reviews and super affordable.
Another sleek, slim pink treadmill design. Perfect for under a standing desk.
*****
Simply by adding a walking pad under your desk or walking while watching your shows, you can add thousands of steps to your day and start to improve your health with very little effort.
Have you tried adding walking to your daily routine? What did it do for you?
Have a fabulous day,
E