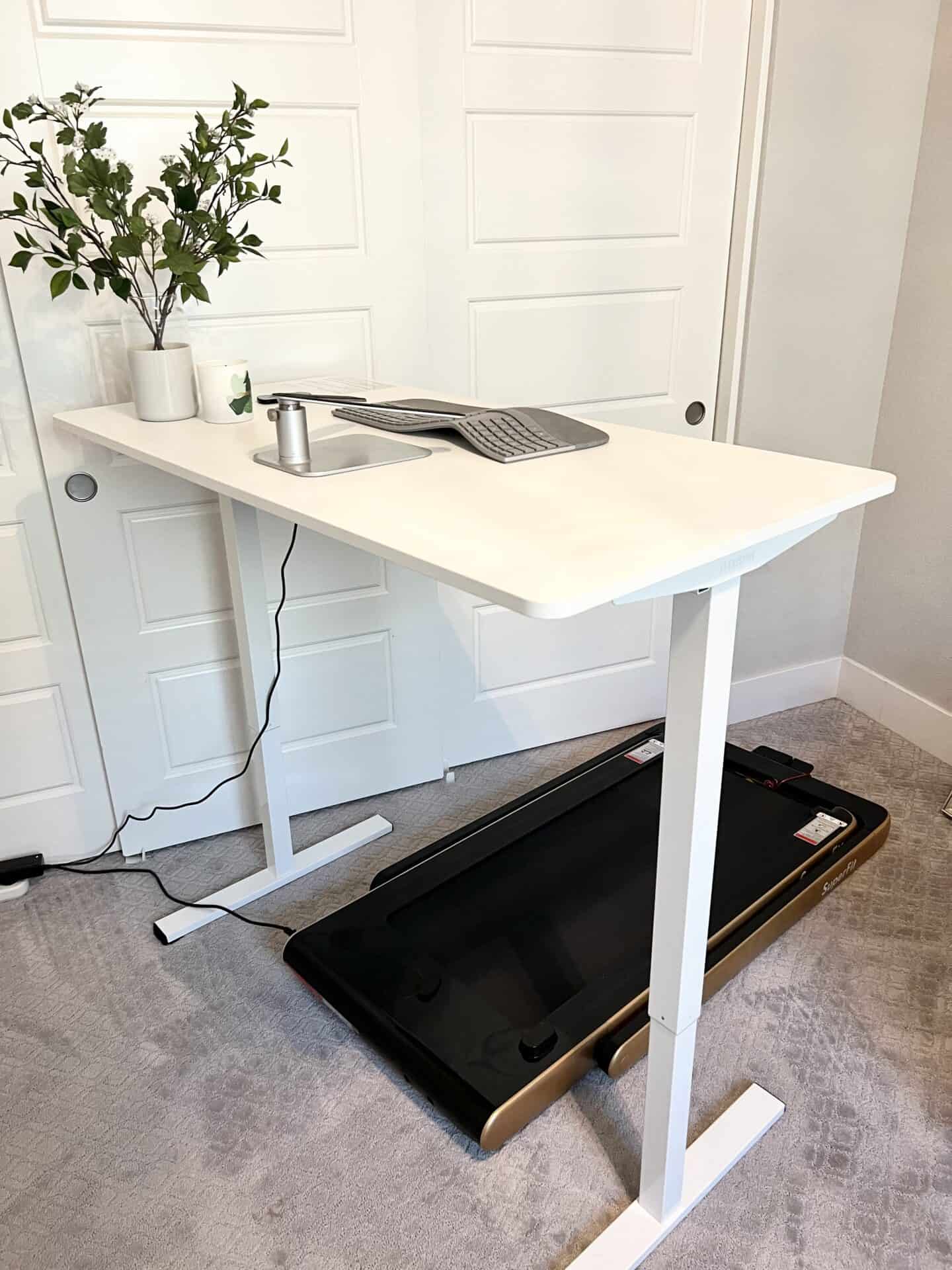 I know a lot of people dream about working from home, and while I certainly enjoy the freedom that being a freelance writer gives me to work wherever I want and make my own schedule, the reality of the job is far more sedentary than I think people realize. There are less distractions in a home office to get you to stand up, walk around, and take breaks, so it's not uncommon for me to sit in the exact same position, hunched over my laptop, writing for hours.
When I do finally move, usually because my phone reminds me that I need to go to school pickup or have a work call, I really feel the strain in my whole body from sitting in one position for so long. That's why I did a ton of research and finally invested in a standing desk and walking pad setup for my office. It's been a real game-changer for me and I've seen it impact my health in many different ways.
The beauty of this setup is that I am not less productive, in fact, if possible, I am more productive, because once I hop on the treadmill and start moving, all the blood starts flowing and my heart starts pumping and all the sudden, tons of ideas and inspiration start popping into my mind. And, I've learned that if I walk in 20-30 minute increments scattered throughout the day, I can get my steps in without breaking a sweat. Win win.
So, I'll share with you exactly what I have and then give you some more options to find what works for you. Good news, too, because at time of posting, both of my items are on a great sale.
Work From Home: Standing Desk & Walking Pad Setup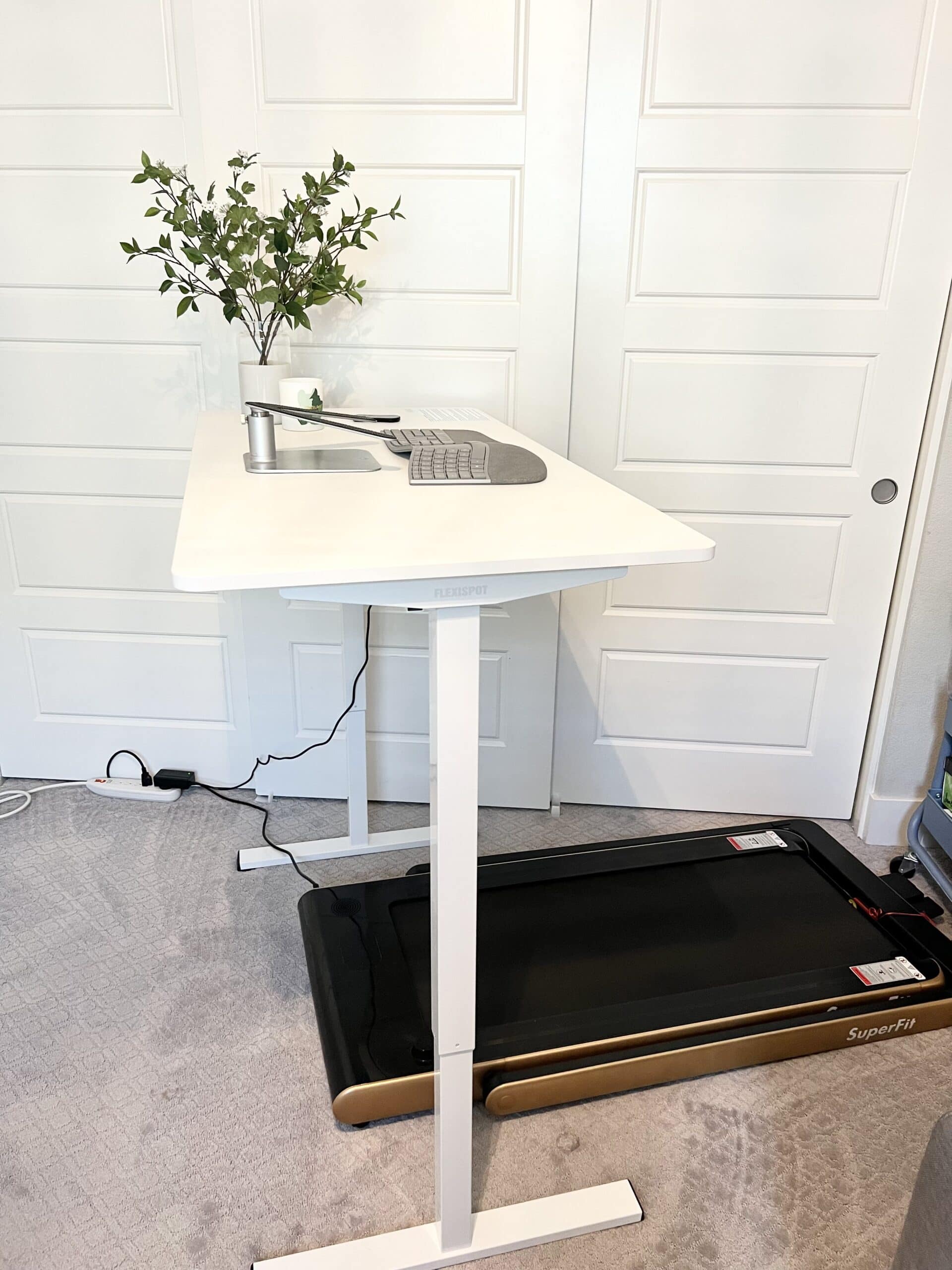 Here's a close up. I don't have the most glamorous or fanciest office in the world, but it works for me.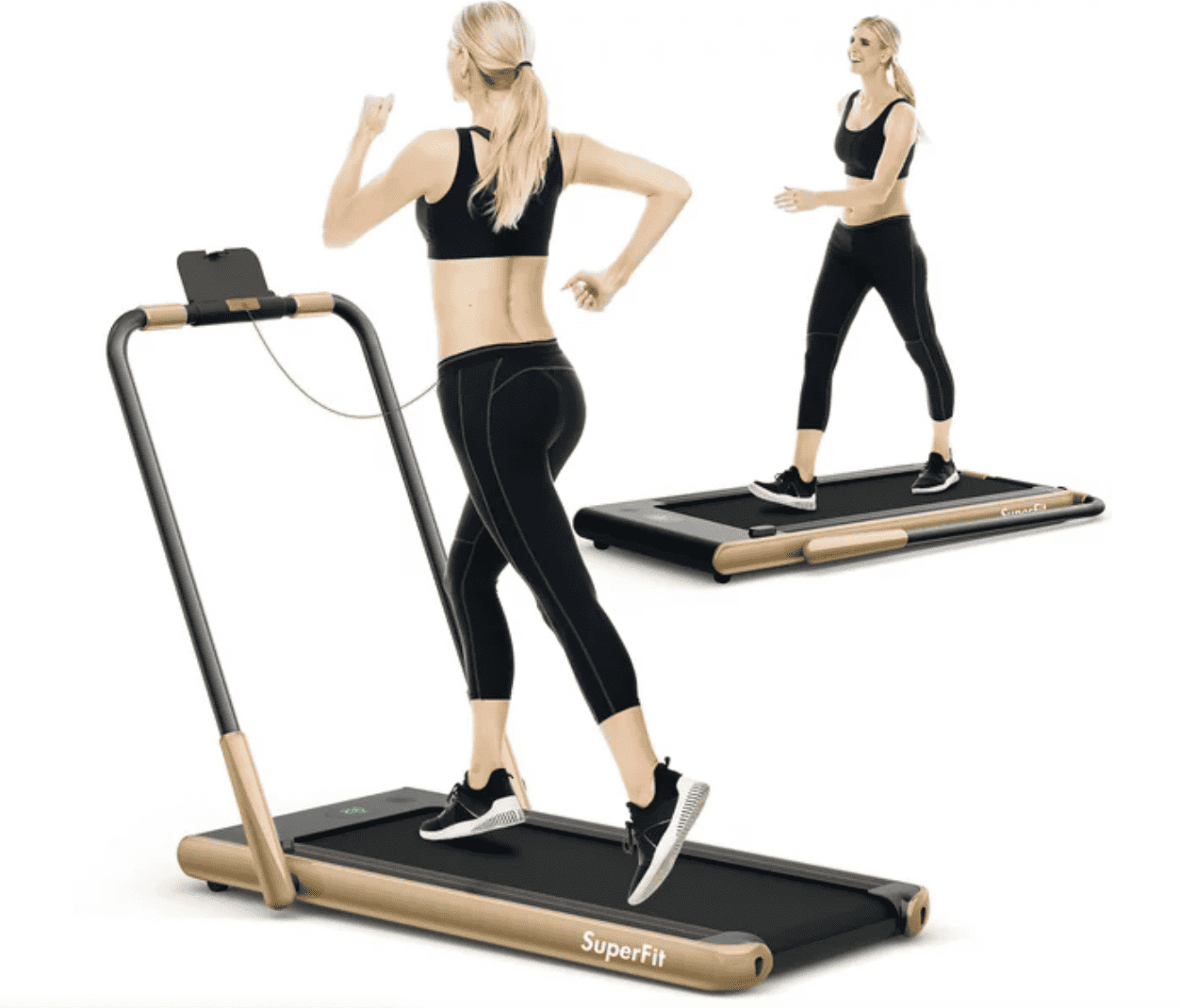 Here's my cute gold walking pad. It comes in other colors, too My cousin got the teal/bluish one and it's a pretty blue color. Plus, it has a foldable handle bar that you can use if you like, but I put it down to have it under my standing desk. It also features a wider walking pad area, which makes it easier to walk comfortably. This is the second walking pad I've bought (the first one broke after 4 months) and I really like this one. It has a remote that makes it easy to adjust.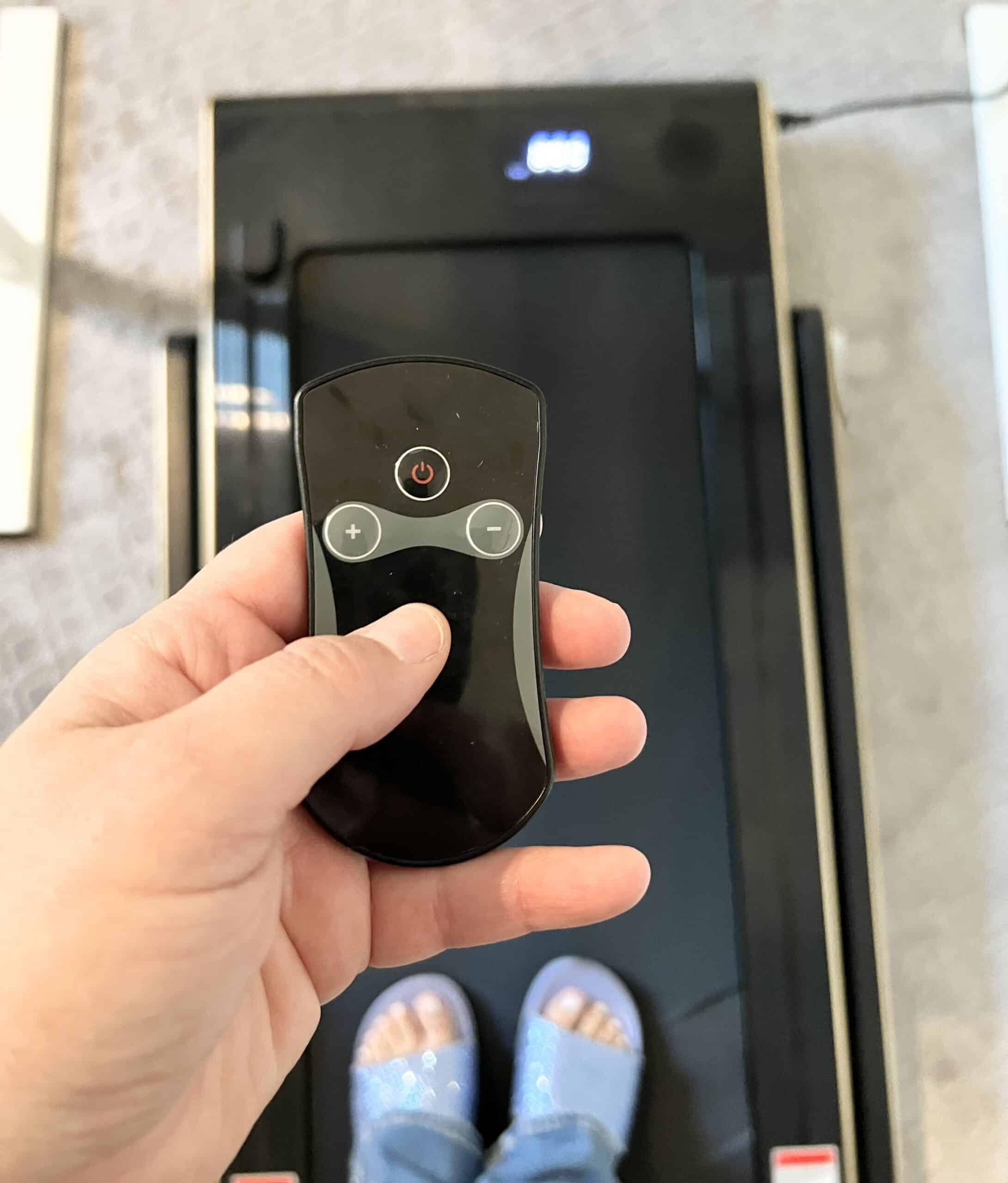 2. Flexispot Electric Standing Desk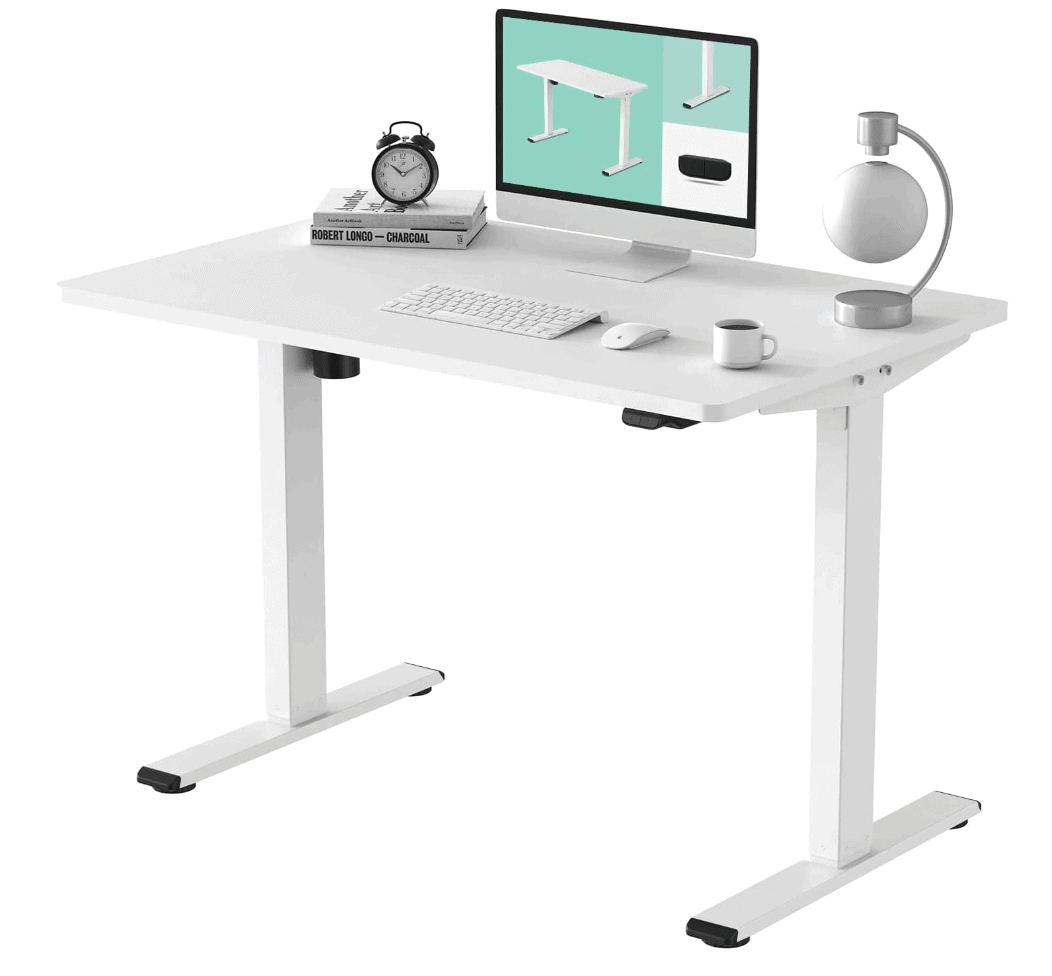 I looked at a ton of desks to find the perfect one. There are so many options out there. For me, I knew I wanted white and I wanted it smaller, because my office didn't have a lot of space for it. You can get bigger ones, especially if you have multiple monitors on it. This will easily fit all the things that I need when I'm working and I've even used it as a craft table when I'm putting together orders for things. I can lay everything out and pack up orders while I'm walking. It's amazing. Makes for a great gift-wrap table, too. It's so easy to use and I am really happy with it. To adjust the heigh, you just press the buttons on the right: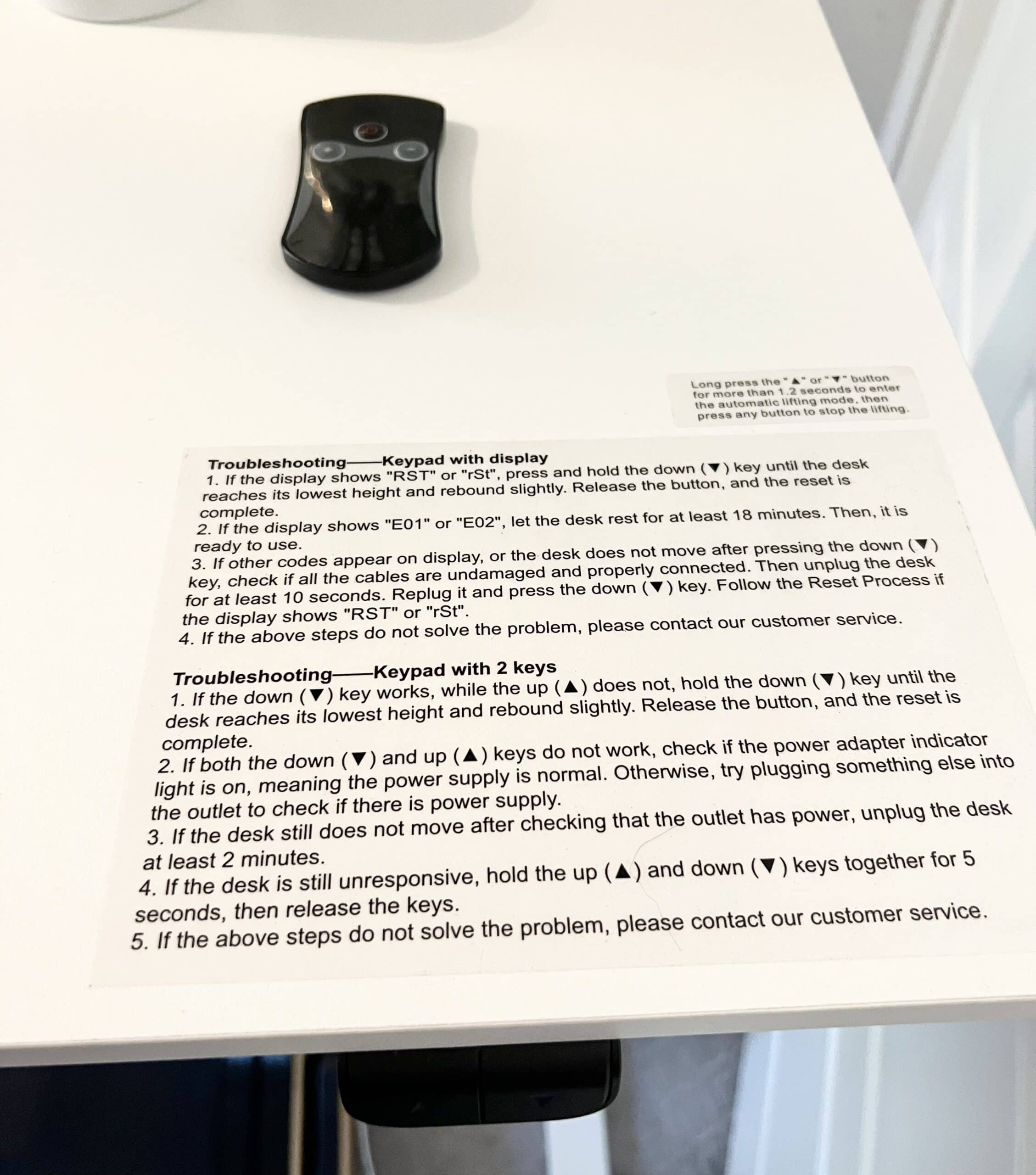 *Affiliate links are used here for products I bought and love. If you make a purchase through my links, I may receive a commission at no cost to you. Thanks!
More Walking Pads: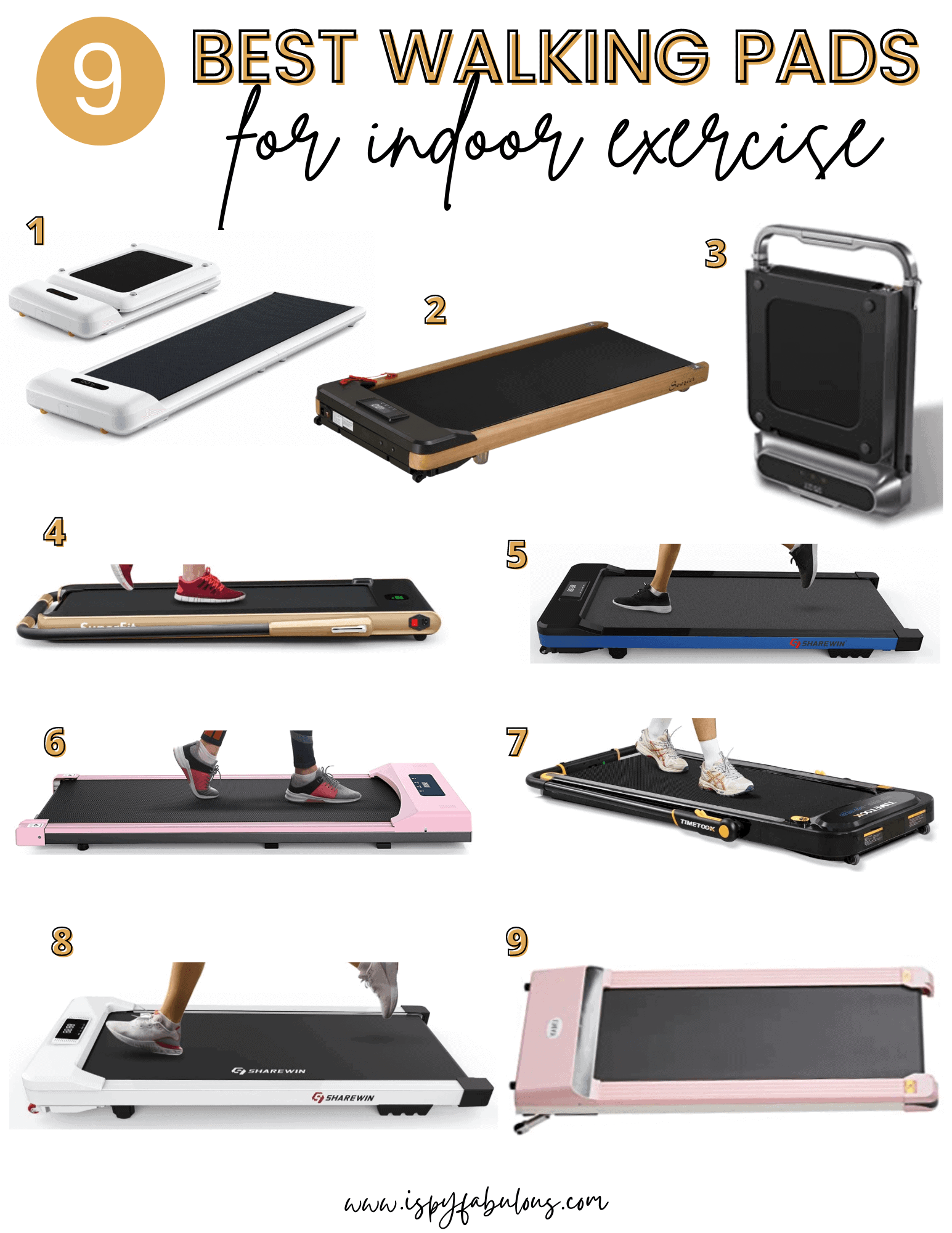 I shared a round-up of walking pads awhile back and it's still a great list with lots of options, from fold-up walking pads to ones that will handle a heavier weight load.
You can read the more detailed blog post on all of these here, but I'll also share the links below.
Health Benefits of Walking More:
I initially started walking more as part of an experiment to see what would happen and I really didn't expect much. I thought if it just helped me with some stubborn weight gain, I would be thrilled. You can read the detailed post on this here. While I do reformer pilates 4x a week and try to eat an anti-inflammatory diet, hormonal changes and age were starting to take their toll. I kept reading about people who lost 100 pounds just with walking and diet. With this simple goal of losing weight in mind, I bought a mini-treadmill with a little acrylic desk.
Then, I started walking. Mostly at night when I would usually lounge and watch TV. Just one TV show is around 45 minutes and I found I could walk around 6,000 steps in 45-60 minutes. Since I was tracking my daily steps, I figured out that I walk only about 3-4,000 steps a day, so combined, this hit my goal of 10k steps a day (give or take). If I walked more during the day, I would still walk that 60 minutes if I could, but some days you feel better than others. I tried to listen to my body.
Spoiler alert: what were the results? Walking more single-handedly helped reduce some of my inflammation, balanced my hormones (and consequently my cycles as well), helped my lymphatic system drain better, gave me more energy, helped me sleep better, cleared some of my brain fog and more.
After this success story, I bought a new, better walking pad for my office and asked for the standing desk as a birthday gift. I really appreciate having this home office setup now and my body reminds me when I don't use it consistently. If you're feeling like you're having more health issues, maybe struggling with mental health, physical health and even stubborn weight gain, too, try walking more. Just put on your shoes and go for a walk to see how it impacts you, but give it time to work its magic. The first few times do not feel great, because it's going to be a shock to your system.
But, stick with it, and when you're ready to invest in a standing desk/walking pad setup, feel free to come back to this post. I hope you find that this helps you as much as it has me.
Have a fabulous day,
E