The Arhaus Hattie Cabinet is a thing of beauty. With the arched shape, contrasting natural oak shiplap, reeded hardware and a black exterior, it's a thoughtful, timeless design that will become a statement piece in any room.
Plus, arched cabinets are the rage right now and are popping up in rooms everywhere. After all, we all have to put our stuff somewhere – they might as well go in a stunning cabinet that doubles as a work of art.
But, what if the Arhaus price is not for you? No worries. You can score the look for less.
Let's take a look at the original first, though.
Arhaus Hattie Cabinet: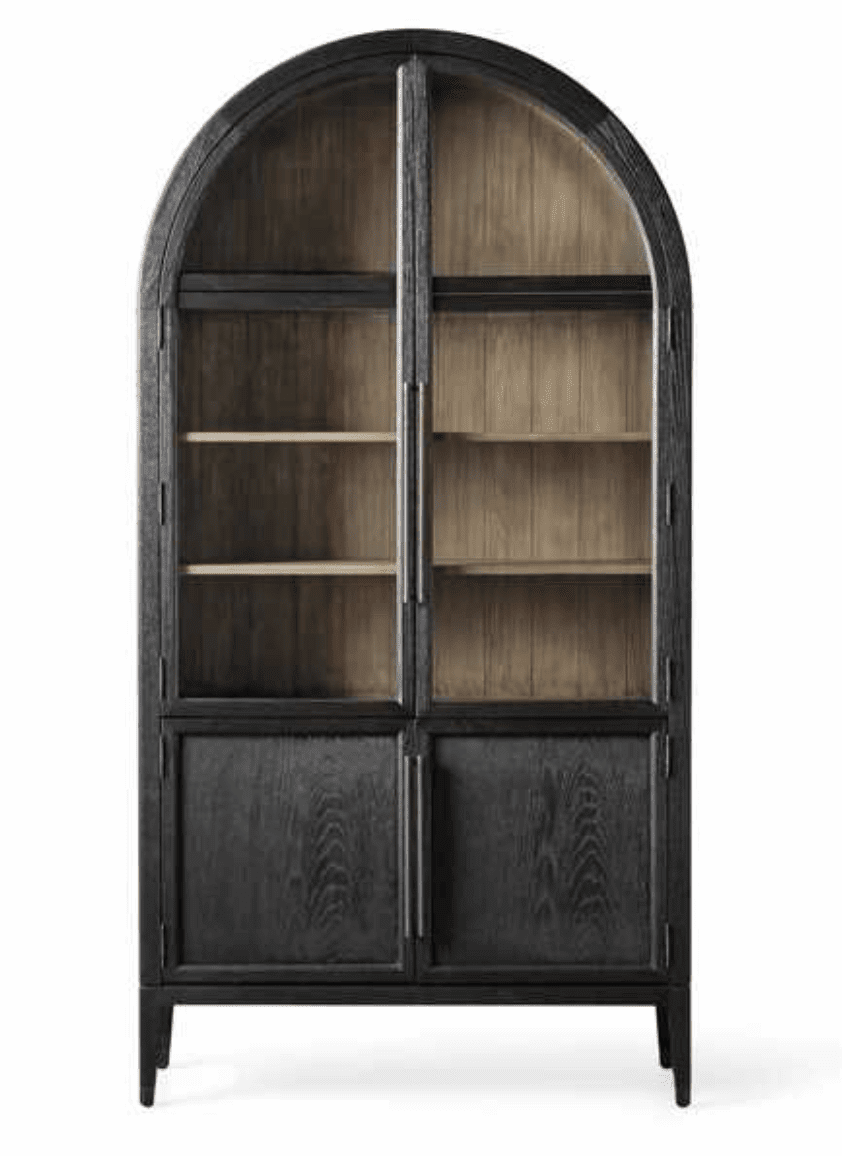 *Affiliate links are used below, which means at no cost to you, if you make a purchase through my links, I may receive a commission. Thank you!
Wowza. According to Arhaus, this is an artisan-crafted solid oak wood and oak veneer cabinet made in Indonesia. Hand-applied finishes highlight the natural beauty of the wood.
The interior features shiplap paneling in a natural oak finish. Glass doors have exposed hinges and reeded hardware that is antiqued for a time-worn appearance.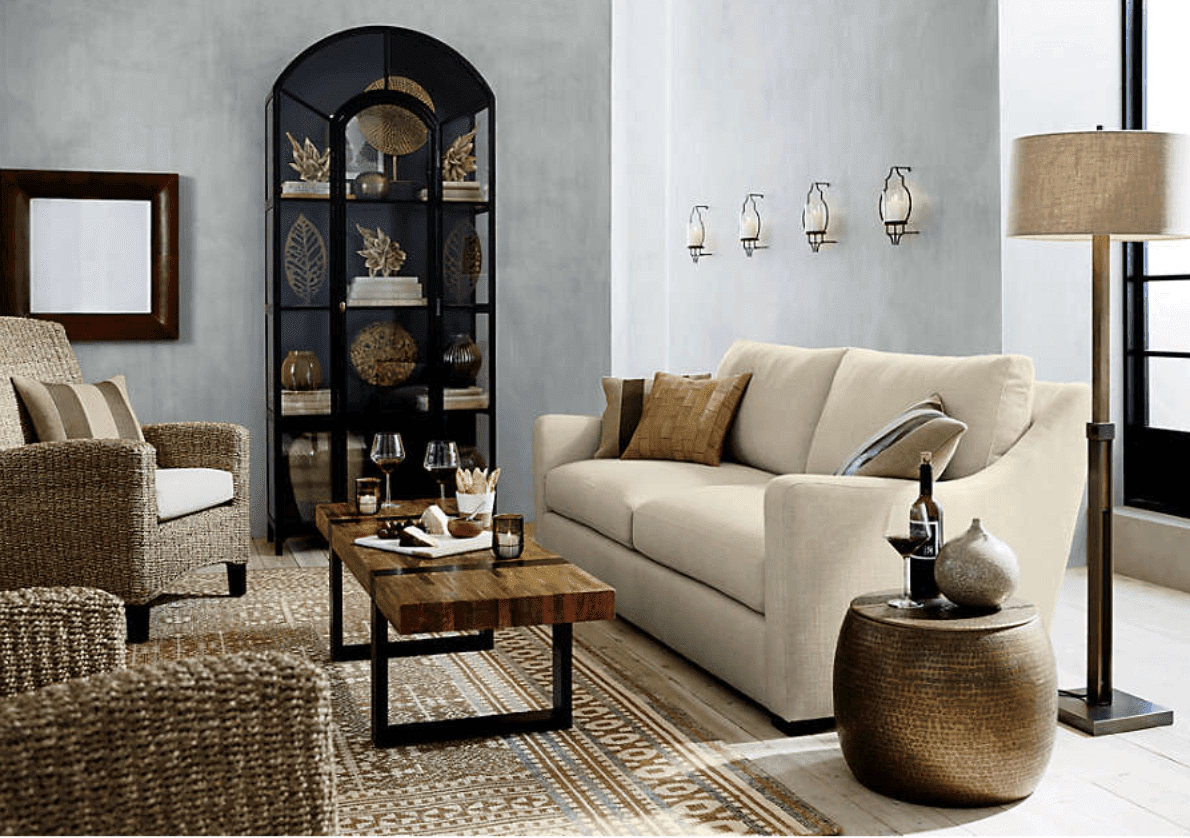 Brass caps on the feet add a chic antique aesthetic. There's plenty of storage in this baby, too, including cord management holes so you can hide those ugly essentials.
Beautiful. But, priced at $4999 (currently on sale for $3499), it's out of reach for many of us. Let's take a look at some gorgeous alternatives with a similar look.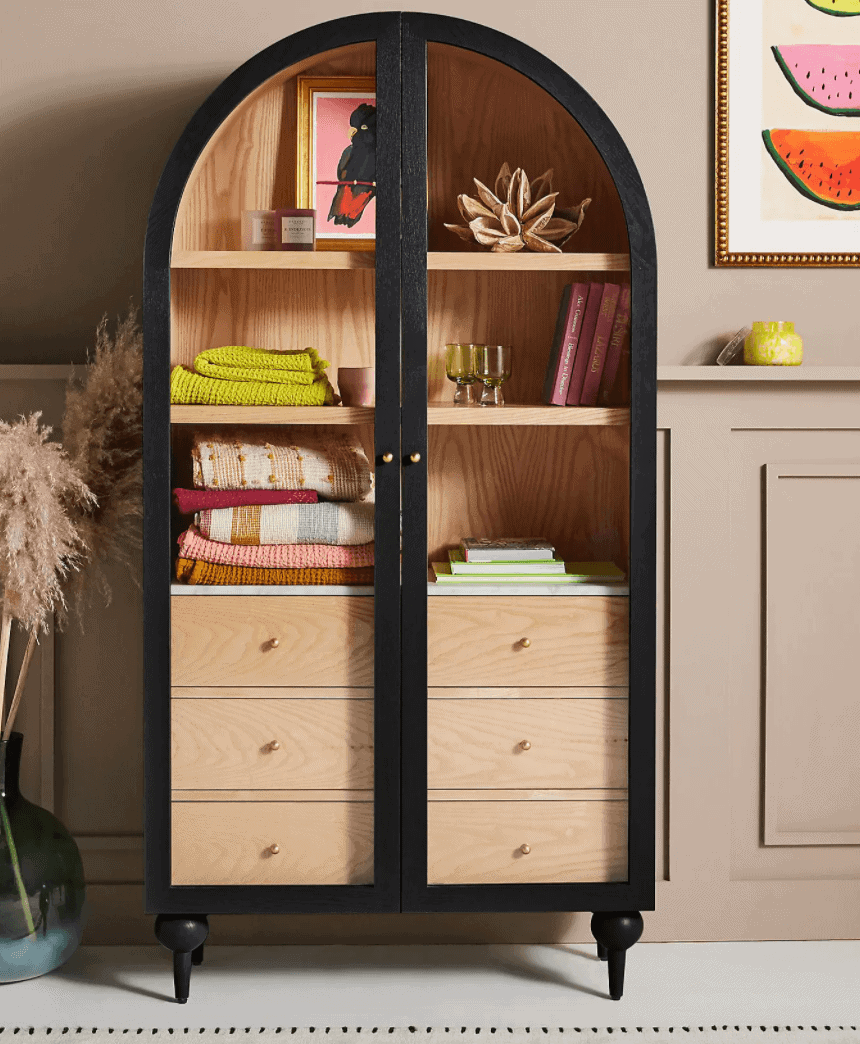 Clocking in at just under $2500, this cabinet is still a splurge – but many say it's well worth it. You'll save at least a thousand dollars from the Hattie and still have a stunning, substantial piece with a two-tone, arched vibe. PLUS, this one has a marble topped shelf – and that detail is just perfect to me.
The dimensions of this piece are 74″H, 38″W, 16.5″D and it's constructed with ash wood, tempered glass, marble-topped drawers, brass-finished aluminum hardware and sealed with lacquer for protection and a lovely sheen.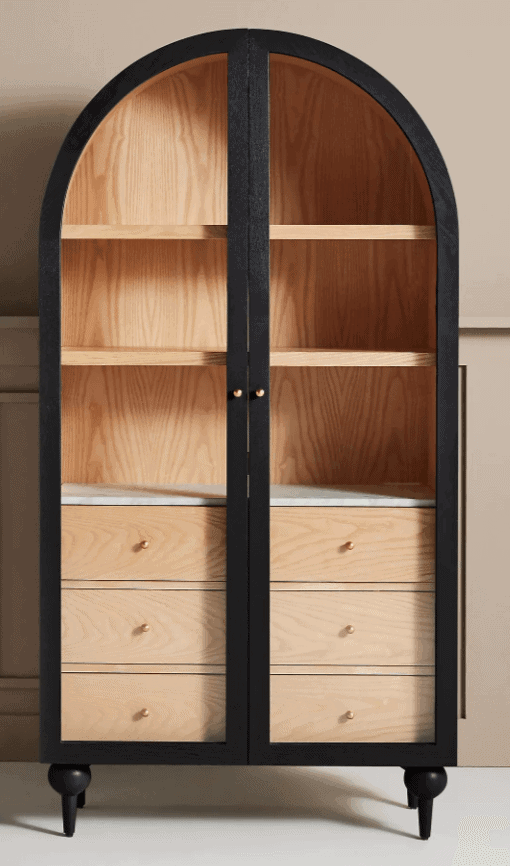 The legs are removable (but why would you remove them, seriously?) and the entire thing arrives assembled. Please join me in shouting a big, "HURRAH!" over that one!
I'm not even sure this one qualifies as a dupe, because it has it's own unique look, like anything at Anthropologie.
Shop the Anthropologie Fern Cabinet here and take home one of these beauties for yourself.
2. World Market Amira Arch Cabinet: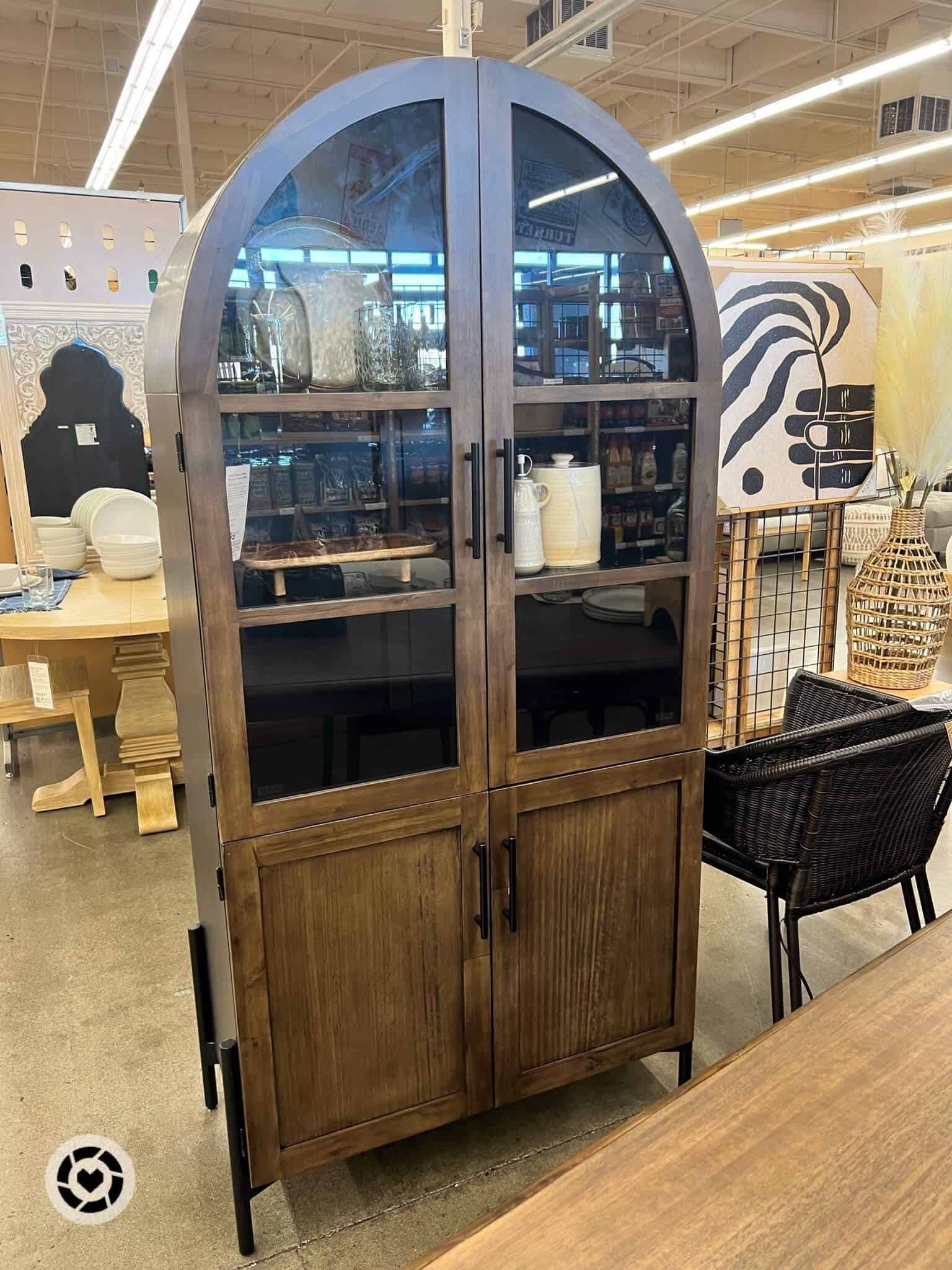 The Cost Plus version has a dark walnut stained exterior with a black interior. There are glass cabinet doors on top and regular cabinet doors on the bottom. The thinner legs that come up on the outside on the sides remind me very much of a cross between the Arhaus Hattie and the Lulu & Georgia version. It's a great cabinet and would be a beautiful piece in any home. I recently saw this in person at a local store and it is a really beautiful piece.
Price: $899.99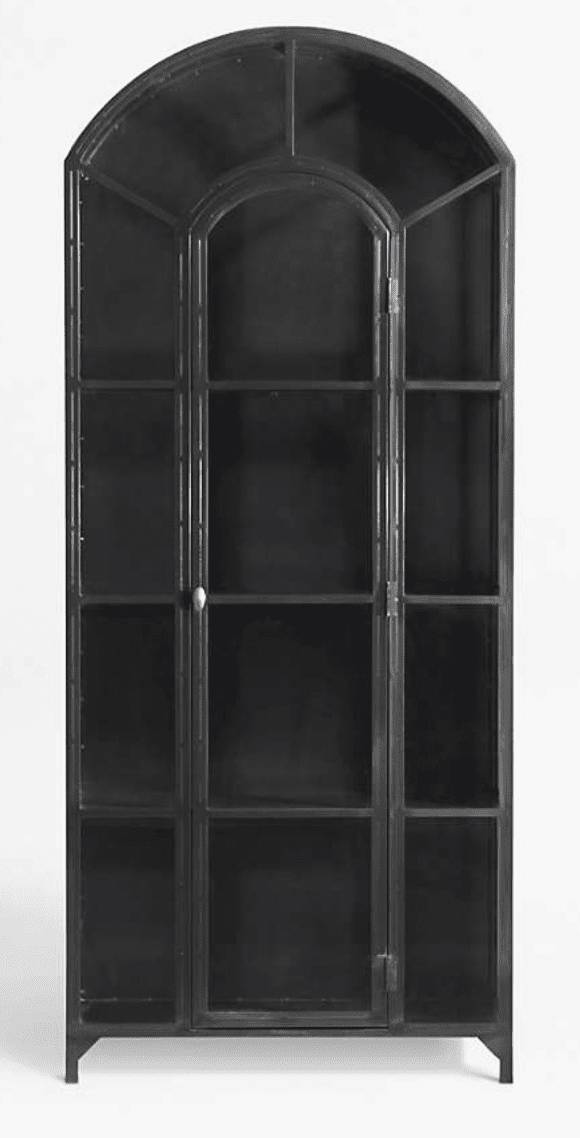 While this one has a little bit of a different vibe, there is a similar aesthetic here. The arched design and the brass hardware, coupled with the smaller glass panels creates that same old-world look that is so great about the Hattie.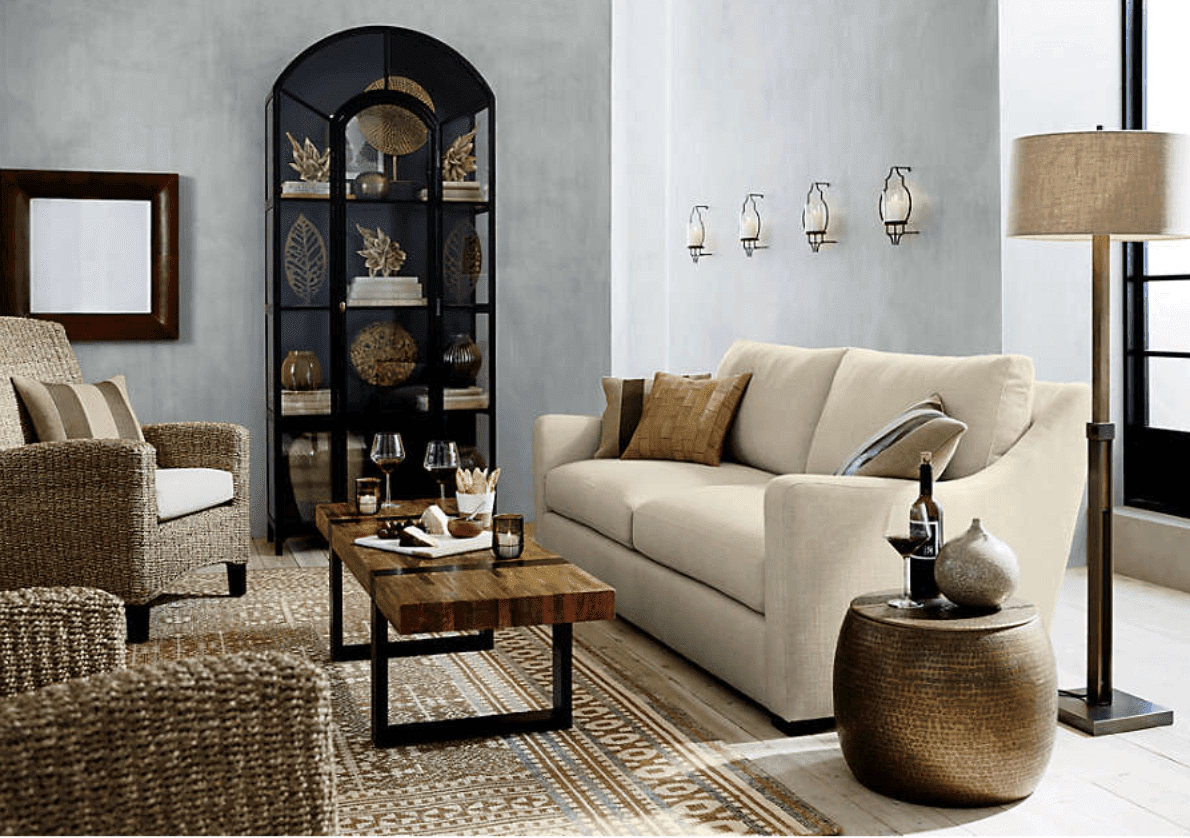 I'm a huge fan of C&B and have had amazing experiences with them over the years. We even registered there for our wedding and still use all of our things every day. They really last.
Plus, the reviews on this are sublime and you can score it for under $2000, at $1899. I've seen this styled by big-time DIY designers, like Chris Loves Julia. Of course, Julia can do no wrong and her styling here is so good: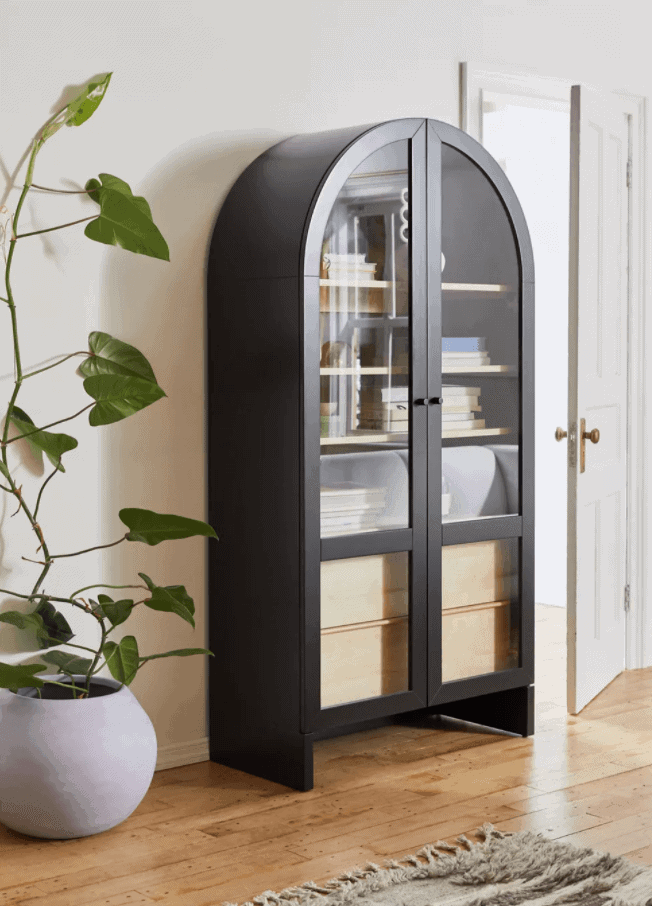 Look at this gorgeous piece! It has just enough of its own vibe to not be a direct knock-off, while still adopting some of the best features of the Hattie, such as the arched top.
Here are some more deets on this beauty: 36"l x 16.75"w x 72"h. Made with MDF and birch wood veneer, wooden door glides, an arched silhouette and a combination of open shelves and drawers, this is one piece that will make a room come together.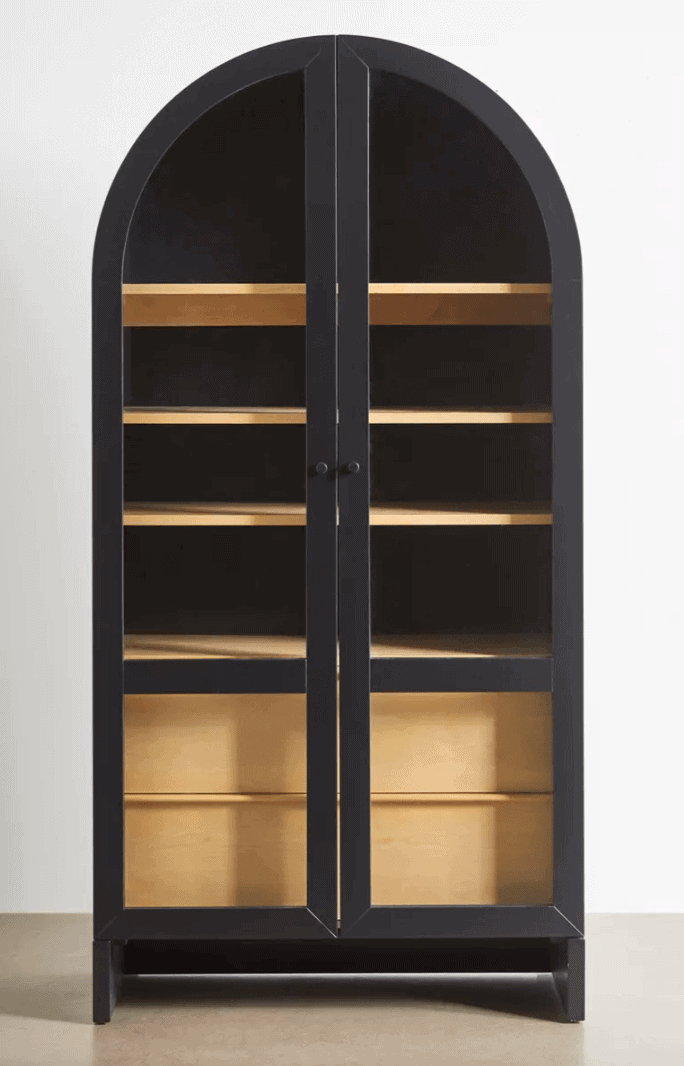 The design is a bit more modern, with slightly cleaner lines, particularly in the base and legs and streamlined drawers with no pulls.
So, maybe you love the Hattie, but your home is a bit more edgy and modern – well, then this one is going to be a better fit AND a big savings. Winning!
**Sometimes, this cabinet is out of stock. It does come back, but if you need something right away, also check out this post with 10 gorgeous cabinets in a variety of price points.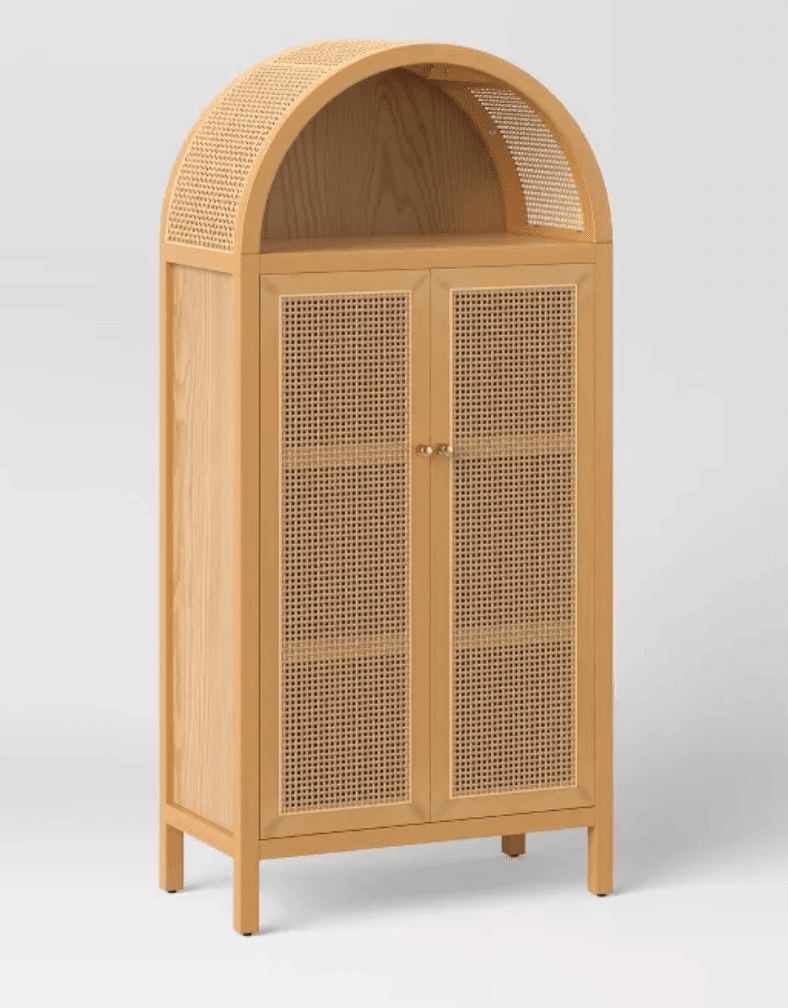 This one has a slightly different feel and is only available in this natural wood option, but wowza! Doesn't this look like a high-end piece from Serena & Lily or something?
This has a similar look to the natural wood version of the Hattie or it could probably be painted black on the outside to create a two-tone look like the black one.
And, honestly, I can't believe the price. I've been trying to convince everybody I know who has a place for this to buy it. At $430, it's a friggin' steal.
The lattice design and wood frame are all certified by the Forest Stewardship Council, which I love, too. Let's all look for easy ways to be more sustainable.
The dimensions of this coastal chic beauty are 60H x 28W x 15D. That's a great size cabinet!
How To Save More Money on Home Decor:
No doubt about it: decorating a home is expensive. One way I save money on almost every purchase I make is by using Rakuten. I've gotten over $500 cash back in just the last year on purchases I was going to make anyway. So, don't forget to use Rakuten if you're making purchases online. They also run deals for new referrals where you can get $30 cash back after making your first purchase of $30 or more, so you can save even more if you're new to using them. Sign up here.
More Fab Deal$:
Still shopping for that perfect item for your house? Take a look at a few more posts like this:
******
I hope you found exactly what you wanted today. Sometimes, we just need confirmation that we should buy that one exact thing we want and other times, we can find something with a similar look that we love just as much.
Have a fabulous day,
E