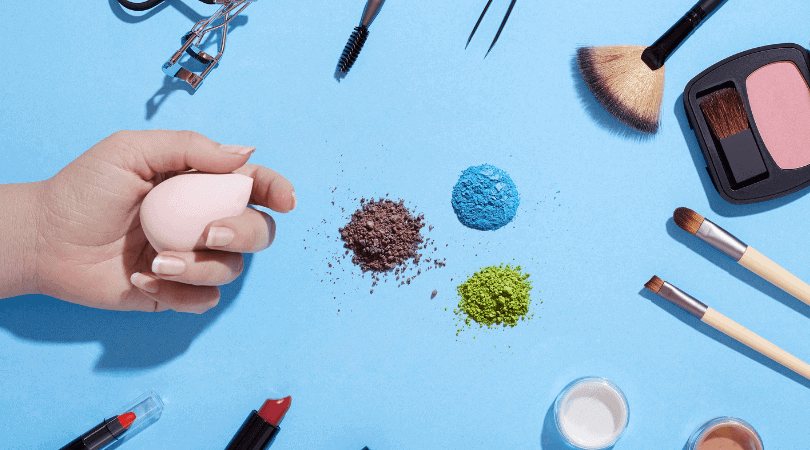 I can remember when Beauty Blender came out with their first bright pink sponge.
People went crazy.
I didn't totally understand why – because I'd been using little makeup sponges that were much cheaper and came in a huge bag from Target – for over a decade.
Then, I was given an actual Beauty Blender as a birthday gift and I started to get the hype.
First, they're a heck of a lot cuter than the sponges I'd been using.
Second, the larger size allowed me to actually get in to all the areas of my face and get really even coverage.
Third, they made my makeup sink in to my skin and look more natural than makeup.
As fantastic as they really are – they can blow your beauty budget in a jiff if you use them every day.
So, I had to ask myself if I wanted to keep spending that much on those perfect little beauty blenders, especially when I spend most days chasing little kiddos in my yoga pants.
The answer is no, friends.
That's why I went on the hunt for the best makeup blenders I could find for a fraction of the price.
Now, while each of these sponges are going to have their own feel, weight and shape, and will vary in how the finished makeup application looks, you should be able to find one here that will work great for you and your skin – and save yourself some mon-ay.
I've written about these before. They are one of the first makeup sponges I tried and I still use them almost every time I do my makeup.
The 5-pack means there are plenty of sponges to last awhile, unless my daughter decides to throw them in the toilet again and watch them float like little boats.
Thanks, sweetie.
#TrueStory
The price brings the per-sponge total down to under $2 a sponge. They're super soft. Last awhile. Clean well. And, I feel like they really help get that smooth makeup application.
I even included them in my post on some of the best beauty buys on Amazon.
This chic, black sponge is a fan favorite.
Latex-free, vegan, perfect for all types of products, and rocking some crazy good reviews – this is a solid beauty sponge you won't regret.
Personally, I don't love that black will hide so much grime – because I am prone to breakouts and need to see what I'm dealing with. You know what I mean.
But, other than that – a solid contender.
I just love the light blue color of these. Plus, you get a variety of different shapes in this 4-pack, which gives you some options when applying.
These are latex free, but they are also anti-microbial microfiber, making them less likely to harbor bacteria that can cause breakouts. Bonus points for them also being super soft.
Reviews are good; price is great; Juno & Co – come to mama.
Another 4 pack, this time of mini miracle sponges.
Designed to give you the ability to get into all the nooks and crannies of your facial features for more precise shading and blending, these would be perfect for the highlight and contour queen.
Latex-free, cruelty-free, and come with many rave reviews, thee little mini miracles might be the makeup sponge you've been looking for.
EcoTools makes more than rockin' brush cleaner and eco-friendly makeup brushes, y'all.
This super affordable beauty blender duo of sponges will give you a range of options, while not compromising anything.
These sponges are cruelty-free, made from recycled products, put in tree-free packaging, and are made from an EcoFoam Technology.
So, if you are looking for perfect makeup application plus want to support a company with a serious mission to make quality products that don't harm the environment – EcoTools might be the right one for you.
I really love this set. You get two perfectly shaped egg sponges, very much like the Beauty Blender, and then two that have flat edges for layering foundation or dabbing in concealer.
A great combination of shapes you'll regularly use for a super affordable price.
Of course, these are also latex-free, and also supposedly use a technology that keeps the makeup on the sponge, so you don't waste a ton of product from sinking in to the sponge.
I'm not sure that you would see any more or less product usage with these than any others on the list, but I appreciate the selling point!
L'Oreal wants in on the beauty sponge game and this is one of several sponges that they have released.
A single sponge for a super affordable price. This particular sponge is designed to be used with different types of concealers to get that perfect coverage.
I love me some concealer.
That's why I wrote an entire post on my favorites here.
Practically a dead ringer for the infamous Beauty Blender, in color and shape, and the reviews are in that this baby is a very, very similar design.
It should be, since the price is steeper per sponge than any other on this list – but still a stark contrast to the original.
Or, is THIS the original?
I can't even tell anymore.
This cool 3-piece set has a regularly shaped egg blender, a teardop shaped blender with a silicone edge, and then a silicone sleeve for storing.
Because the sleeve is made from silicone, you won't have the same type of bacteria issues and the drainage holes will keep sponges from molding.
The sponges themselves are also latex-free and made from high density foam, which keeps them from absorbing too much product or giving makeup a spackle effect.
An adorable sponge set that creates a heart shape and comes in the perfect little gift box makes this the most giftable sponge set on the list.
Imagine this set with a fun makeup set as a Christmas gift for your favorite makeup-loving person in your life?
Adorable.
And, you just won't believe the price.
Seriously, you've gotta see it to believe it.
****
I love a good deal.
Something about saving money, while also getting the product I want, is just thrilling to me.
I truly do believe we can all have a fabulous life while staying in our budget.
Sometimes, we'll need to get creative to make that happen.
Finding high quality products we love is one way we can save without compromising quality.
Of course, you can always spring for the $20 Beauty Blender if you love it and it's in your budget.
But, I hope you'll have fun trying some of these affordable beauty sponges, too.
Have a fabulous day,
E