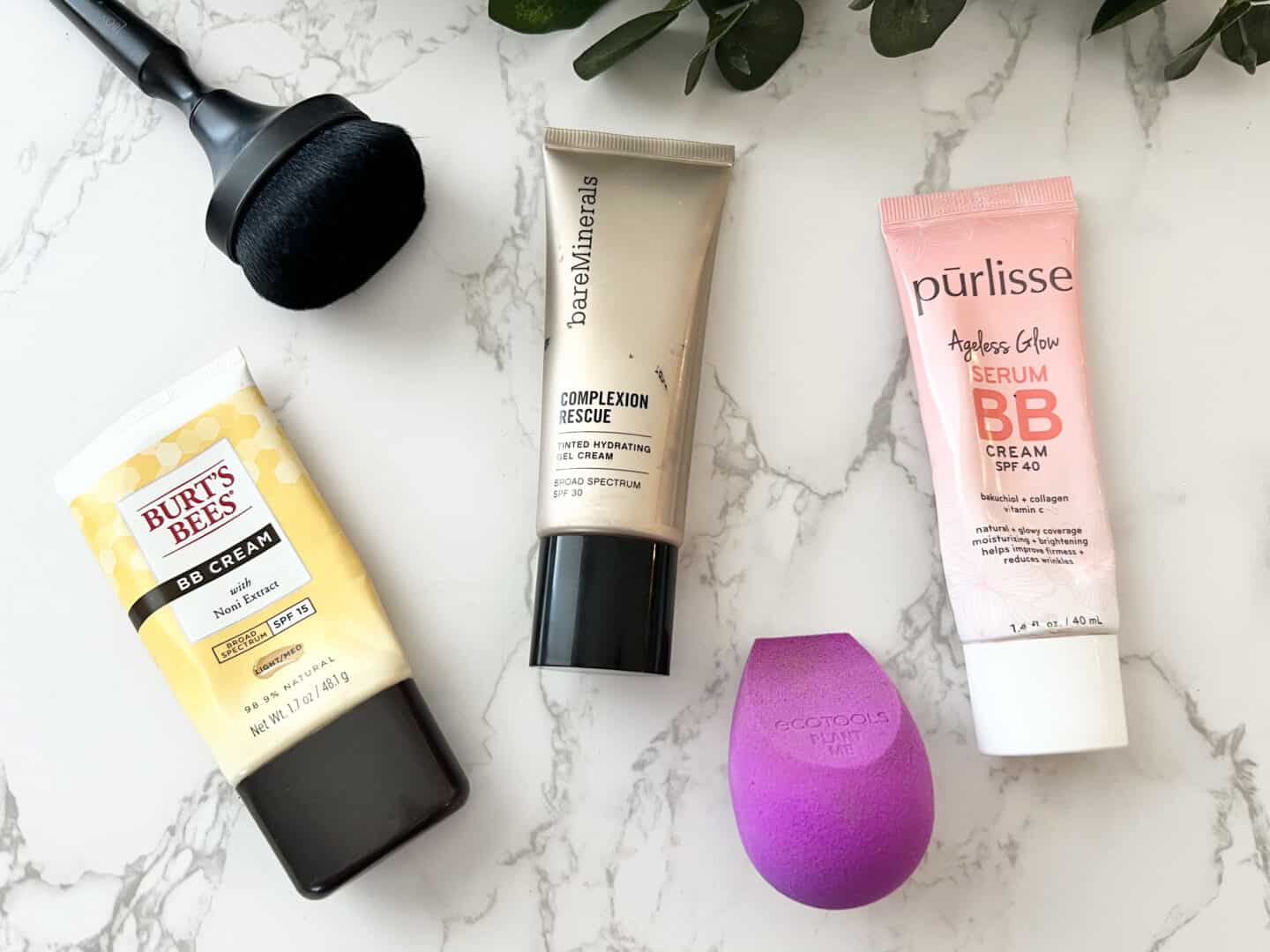 Ready to have your cake and eat it, too? These BB creams don't just soak into your skin for the most natural finish possible, but they're also loaded with skin care ingredients that will actually improve your skin over time.
I don't know about you – but I love hitting two birds with one stone (except I would never actually hit a bird with a stone, but I think you get the point here).
I have gotten very picky with the types of foundations I'll put on my skin as I've gotten older. Pesky little fine lines and increased dryness has made it harder than ever to find products that don't sink in and make me look older/drier. Plus, combination skin continues to make it a challenge to find products that don't lead to the breakouts of a hormonal teenager.
Listen, it's fun being me.
That being said – I've scoured the shelves, tried dozens of foundations, tinted moisturizers, BB creams, CC creams, etc., and narrowed it down to these three BB creams, in a variety of price points, that I go back to again and again.
What's a BB Cream?
Before we dive in to the finalists – let's do a quick beauty lesson the BB cream. With more acronyms on foundation bottles than ever, it can be a dizzying array of selections that leaves even a makeup enthusiast confused. So, let's quickly go over the basic options and what a BB cream is:
Tinted Moisturizer: Very light coverage – usually mixed with a good amount of lotion. This is a great option if you're looking to get your SPF and some light coverage at the same time.
BB Cream: BB is actually an abbreviation that stands for Beauty Balm Cream. Originally, they were designed by a dermatologist in Germany to help conceal the effects of facial procedures and help promote healing. BB cream offers more coverage than a tinted moisturizer, but not as much as a full coverage foundation. Plus, BB creams typically offer additional benefits, such as skin care treatments designed to heal and/or improve your skin.
CC Cream: CC is an abbreviation for Color Correcting or Complexion Correcting Cream. So, CC creams are designed to even out your skin tone, such as redness, hyperpigmentation, melasma, undereye circles, blemish scars, breakouts, fine lines and more. Because of their color correction, they are often layered underneath a foundation to get that perfect, porcelain doll, glassy complexion. Some are designed to be worn alone. I find CC creams to have more coverage than I am after.
Foundation: Often thicker, foundation is designed to give the entire skin a uniform appearance, great for hiding discoloration and blemishes. Foundation is likely going to remove all natural skin coloration, such as pink in the cheeks, etc., so you'll need to add those back in with bronzers, highlighters and blush, so you don't look washed out.
How To Apply BB Cream: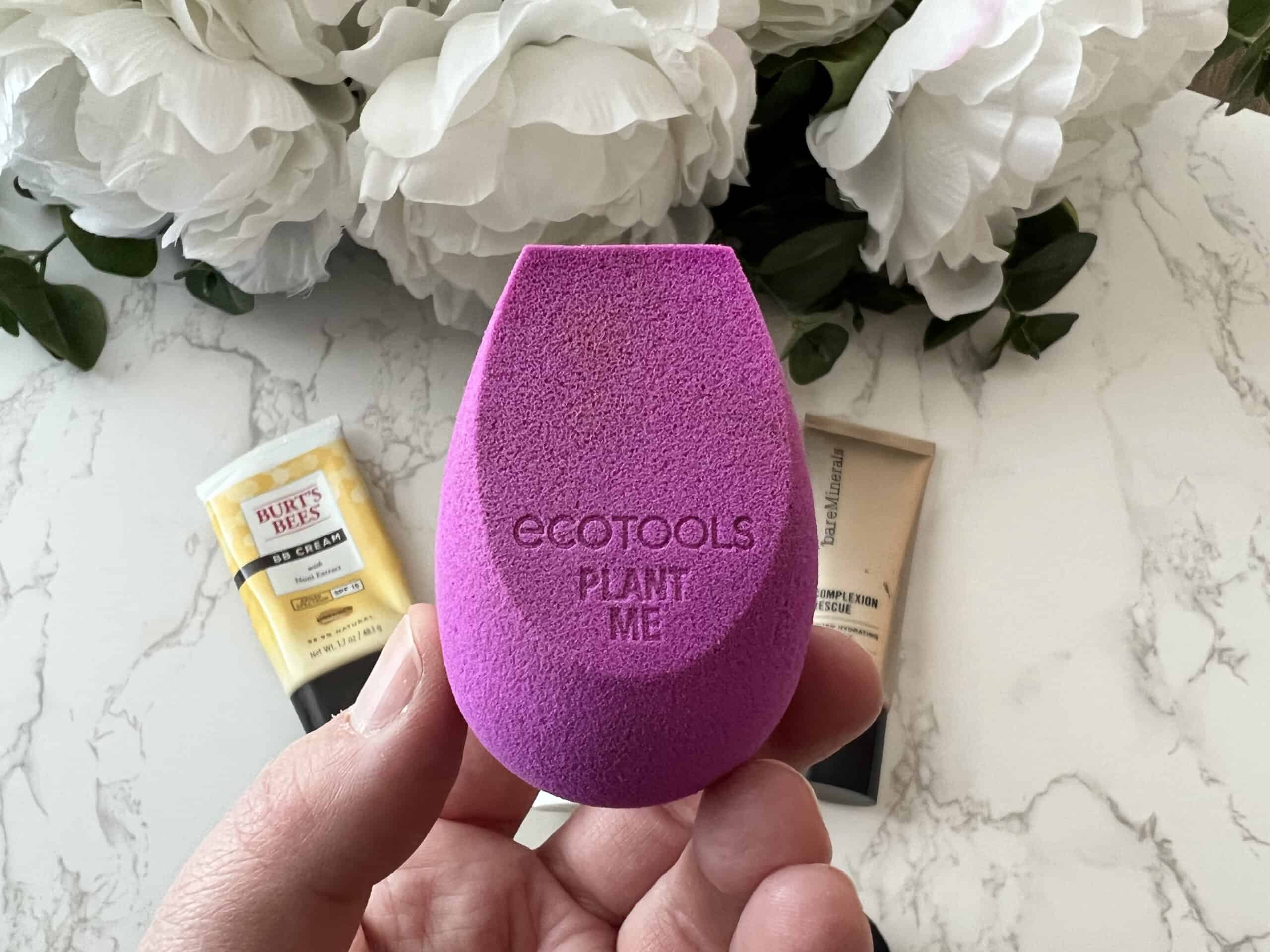 The beauty of BB cream is that it's pretty easy to apply and the right one for you will sink in pretty seamlessly. There are three easy ways to apply it and you may need to test them out to find out which one you prefer.
Use a brush: There are certain brushes that can really help a BB cream (or any foundation) go on smooth.
Use a blender sponge: My preference is a blender sponge. I have been really loving these eco-friendly sponges, because they wash really well and when they reach the end of their life cycle, they are biodegradable and won't sit in landfills for 200 years.
Use your fingers: Yup, the heat from your fingers will really help melt the makeup into your skin. It's going to take a little bit more blending and work to get it nice and even, but the end result can be a finish like glass. Just wash your hands before touching anything else or you'll leave tinted BB cream all over the place.
Use the method that works best for you!
3 Best BB Creams:
Alright, here we go – my favorite BB creams that are loaded with skin care for even, hydrated skin that looks healthy and radiant. I even made a short video about them that has been doing quite well:
View this post on Instagram
1. Affordable Pick: Burt's Bees BB Cream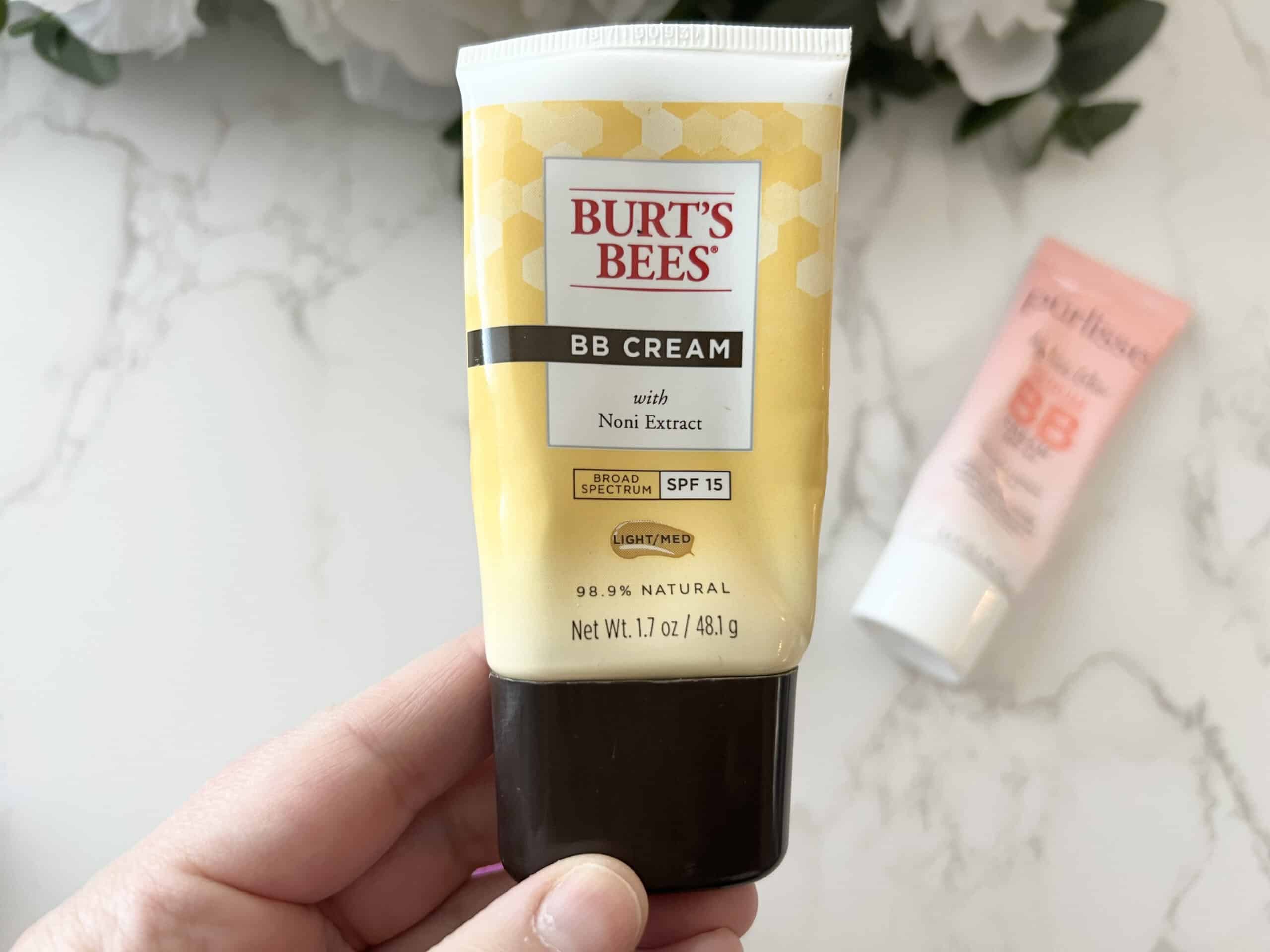 I've had this in rotation for years. I picked it up at a CVS when I first saw the Burt's Bees had voyeured into makeup and I haven't looked back since. It's really good. I do find it stays better with a primer underneath it or at least an all-over moisturizer.
With that added step, this one looks much more expensive than it really is. It's loaded with Noni Extract, which provides an antioxidant rich and moisturizing formula that is made with 98.9% natural ingredients.
The color range is limited to 3 colors, but they are each fairly versatile, since it doesn't need to be an exact match (for example, I can use two of the colors just fine). It's not going to cover as much as a foundation, so you can always spot treat with a more pigmented concealer, while letting the rest of your skin breathe. I've started using this concealer after testing dozens and I love it.
2. Mid-Range Pick: Bare Minerals Complexion Rescue Tinted Moisturizer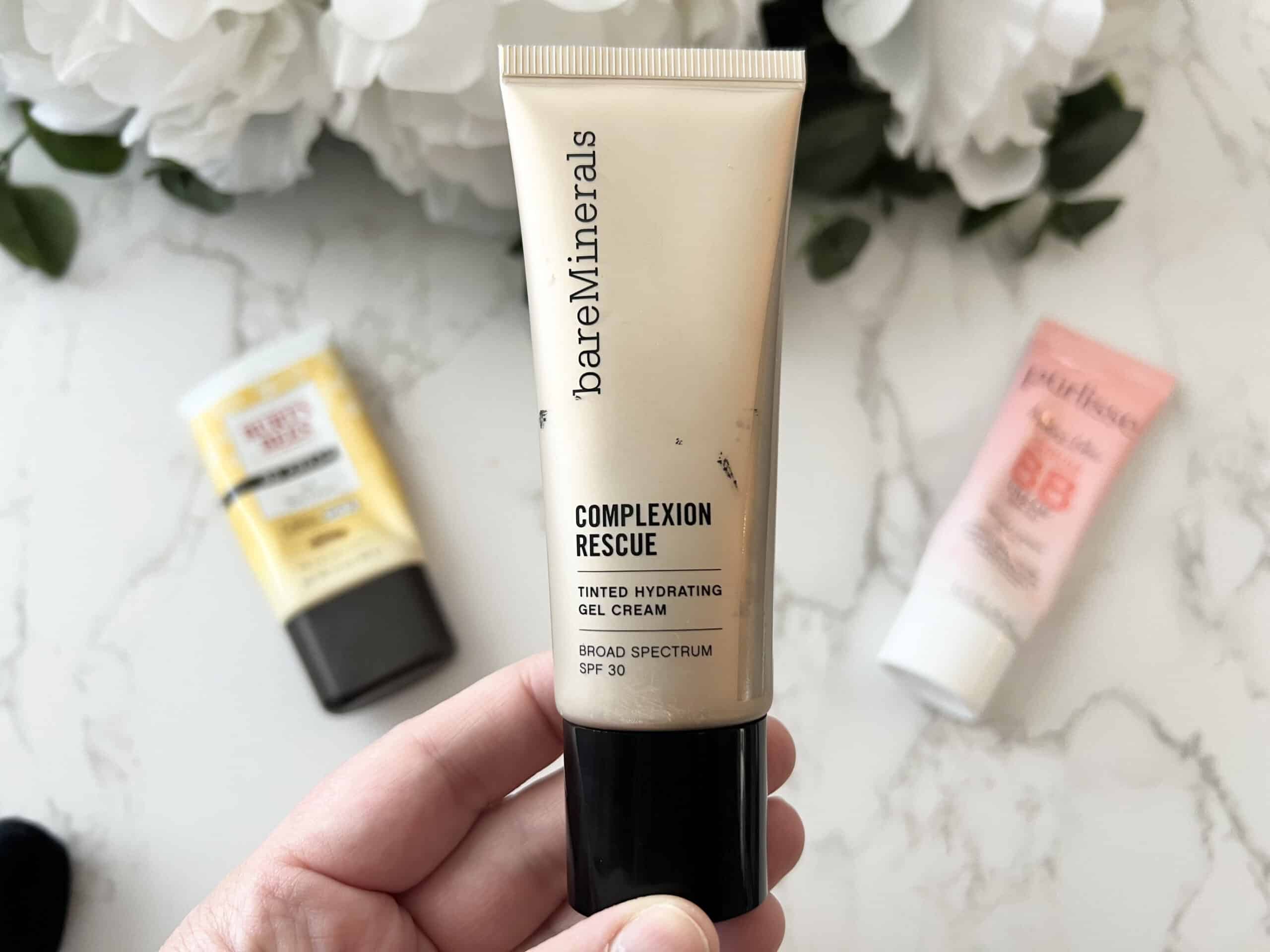 I recently saw this one featured in a video made by a girl who is actually a food blogger, but she has gorgeous skin that glows. She said she gets asked all the time what she uses and it's one product only, she never deviates, because she actually has acne-prone skin and this is the only makeup that doesn't break her out. Well, with endorsement like that, I quickly hit "add to cart" and ordered my own.
She wasn't kidding. This stuff is good. It's always perplexing, because it goes on as a gel, lighter than air, like a gel moisturizer, and you really think – well, this isn't going to do anything. It's so light and has barely any color…. at first. Then, this sucker sinks in and starts to really transform. When it's finished drying, it's more coverage than the other two on this list. I actually look like I'm wearing more makeup with this than the other two, even though when you first put it on, you'd swear it isn't doing anything.
I don't know what magic is in this stuff, but it's really good. I save this for days when I want more coverage, when I'm being photographed and need that perfect glow, or just want to do more makeup. Thanks to the hyaluronic acid and squalane oil, it's going to hydrate and plump skin, while SPF 30 is going to protect it.
* There is a very limited shade range on Amazon.
3. Top Pick: Purlisse Ageless Glow BB Cream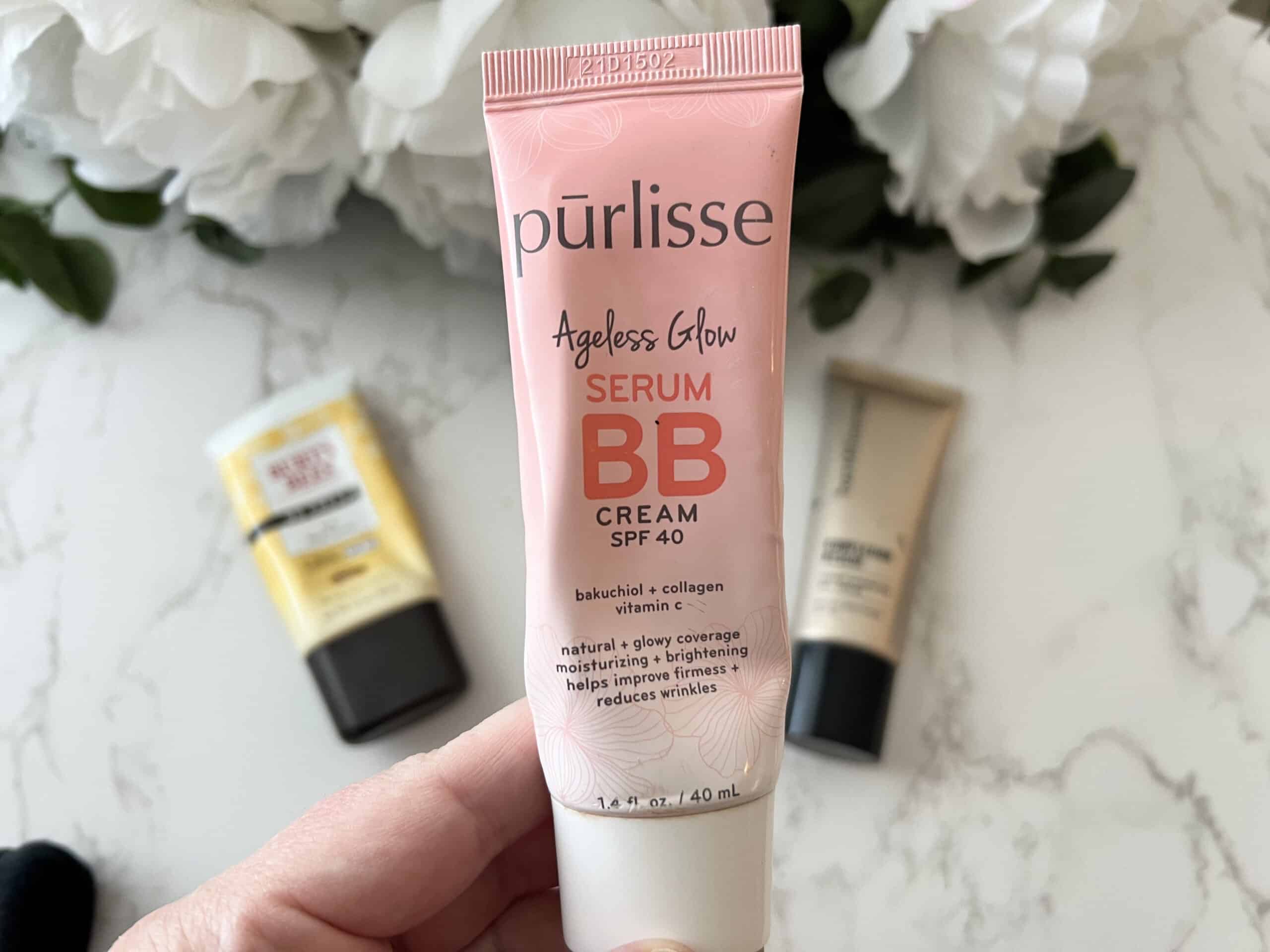 Skincare serum and BB cream in one – Purlisse is my top pick for a BB cream. I was totally unprepared to love this one as much as I do. It came in a beauty box subscription I used to get and I hadn't even heard of it. I tried it out one morning on a whim and it floored me. I didn't even need primer (in fact, it looks better without it), it soaked right into my skin seamlessly and left my skin with a radiant, hydrated, even skin tone without looking like I was wearing anything at all.
Key ingredients in this magic potion include Bakuchiol, a plant-based retinol alternative, to improve skin, algae collagen for hydration, vitamin C to reduce hyperpigmentation and protect skin, and SPF 40 to protect skin from sun damage.
A wide range of colors makes this accessible for a large audience and the ability to layer it for more coverage means you can spot treat areas that need more attention.
I really love this one and plan to keep buying it as long as possible. If you haven't found one that you love, give this one a try. I have received several comments from others after posting my video saying that they feel the same way about this one. It's quickly becoming the one to beat in the sea of BB creams.
*****
Hope you found your new favorite BB cream here today! I'd love to hear your go-to in the comments below!
Have a fabulous day,
E