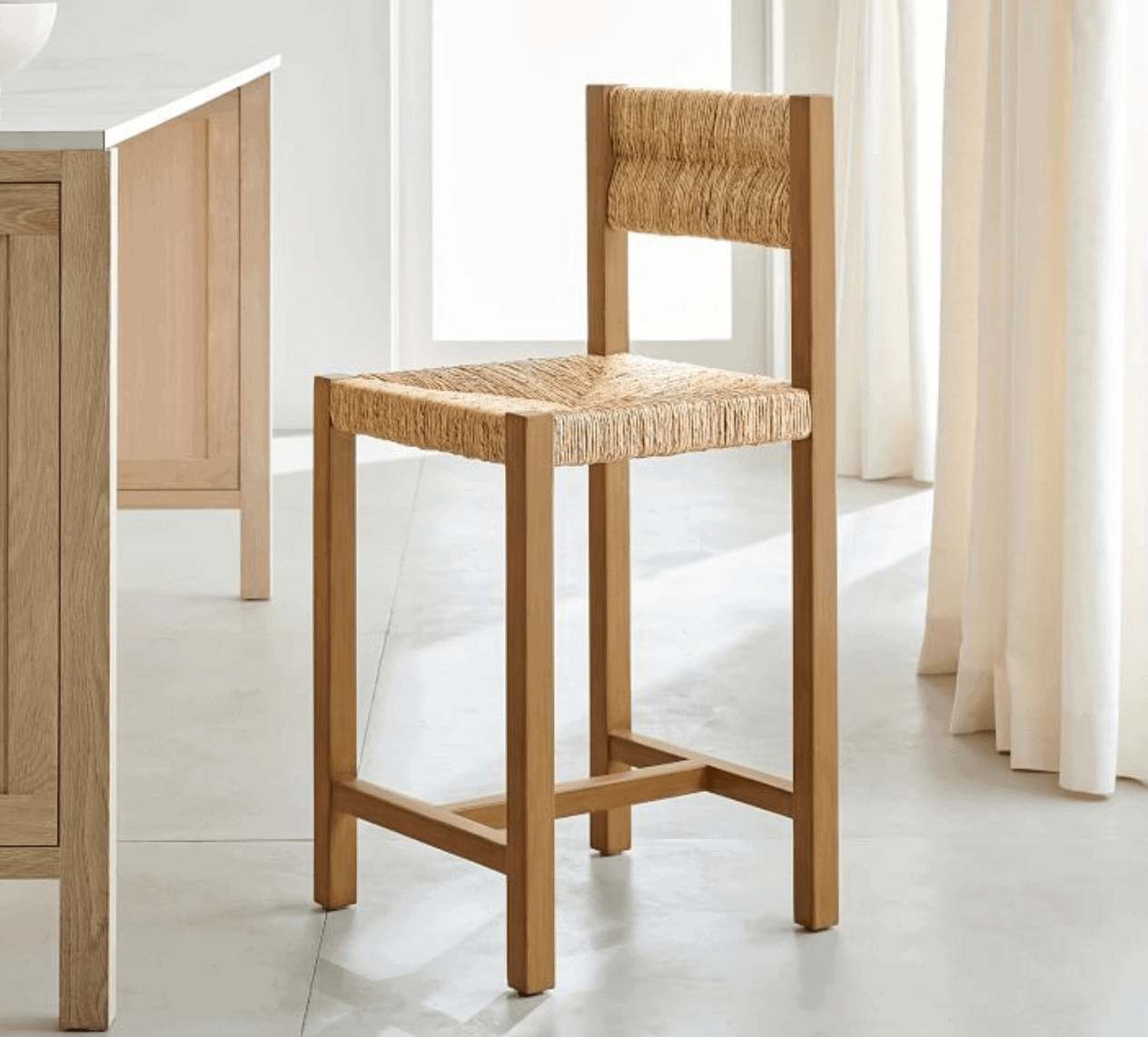 I have been a fan of Williams-Sonoma since before they started carrying furniture and home decor. When we decorated our house four years ago, I fell in love with the Williams-Sonoma campaign nightstand and – at that time – couldn't find a comparable dupe anywhere. So, we splurged on them, crossing our fingers they'd be worth it.
Let me tell you: they have exceeded our expectations (not an easy feat, I am very Type A). They are heavy, very well-made, beautiful, and have held up extremely well to our busy life with kids and dogs. This has made me a very big fan of their home furnishings now, too.
Their Sullivan woven bar and counter stools are so good. I love a good woven bar stool – and did an entire round-up of them in this post – but I'm dedicating an entire post to the Sullivan and some lookalikes, because I think the style deserves it.
Whether you decide to splurge on the Williams-Sonoma Sullivan Stool (and I don't think you'd regret it) or pick up a lookalike, this style will add so much texture and depth to your kitchen design, regardless of your home style.
Let's take a look at the Williams-Sonoma one first. Also, affiliate links are used in this post, which means that you'll pay the same price, but if you purchase through my links, I may receive a commission. Thank you!
Williams-Sonoma Sullivan Woven Counter Stool: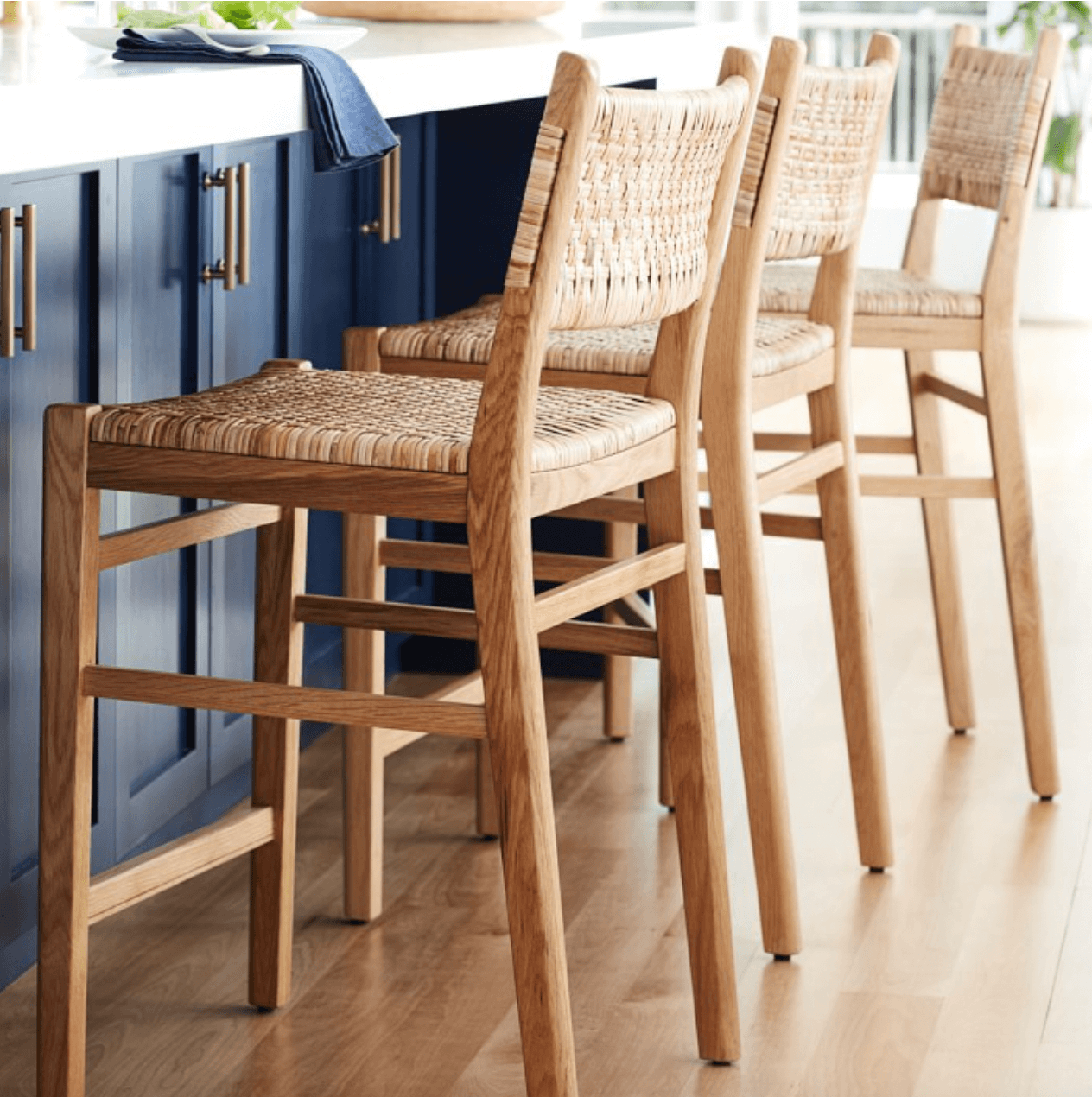 Beautiful and built to last, the Sullivan is crafted from a strong oak frame and hand-wrapped with a traditional basketweave rattan seat and back. Available in three colors and this one is called "natural". Rattan is sustainably sourced and artisan crafted. Wood finishes are carefully applied in a 10-step process (wowza).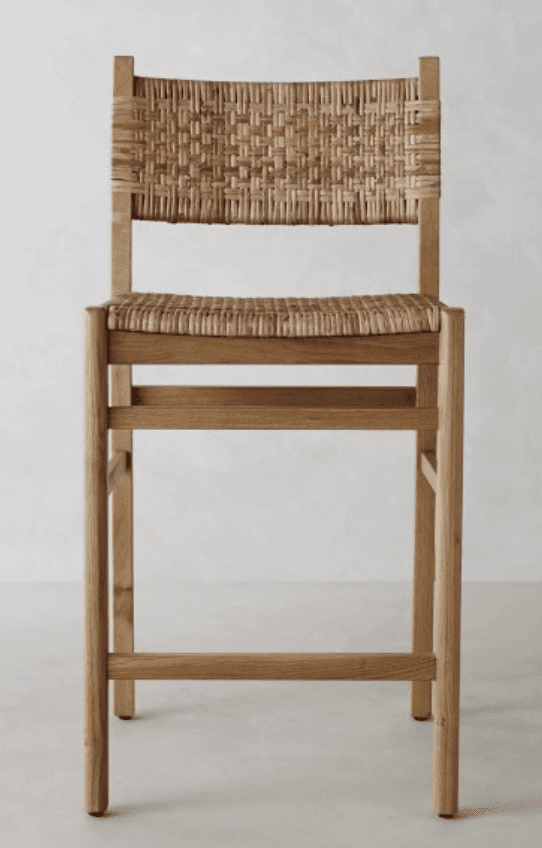 Basically, invest in these – and you'll probably have them for a really long time.
Investment: $550 each.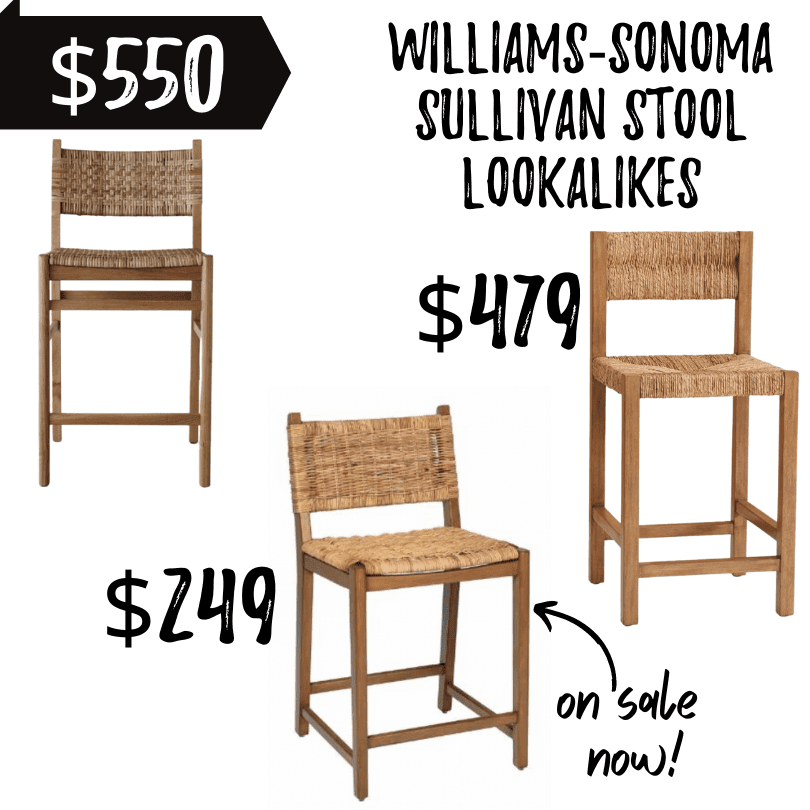 Pottery Barn Malibu Woven Counter Stool: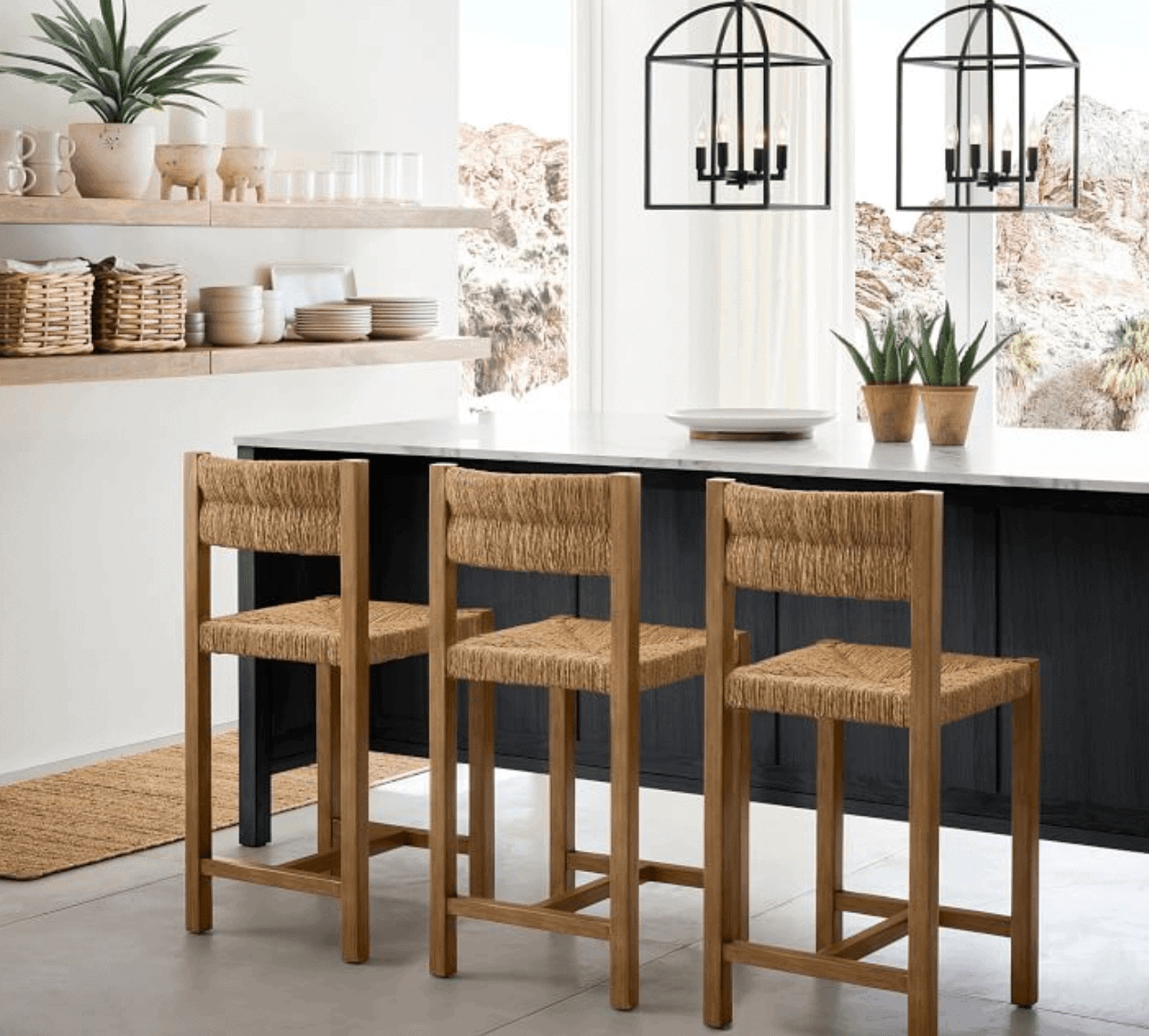 It's not every day that Pottery Barn is the affordable lookalike. Usually, I'm sharing the dupes for the PB items, but in this case, Pottery Barn has a very similar counter stool for a slightly lower price.
These bar and counter stools have a fresh and casual style, thanks to the natural seagrass cord that is handwoven around a red mahogany frame for an authentically artisan-made piece. They are available in two colors, the honey (shown) and a honey and warm black that is so, so good.
Due to the natural grasses, no two pieces will be exactly the same – and I love that. You can get a very similar vibe and equally well-made item here while saving around $100 a stool. So, if you're adding 4 or even 6 to your cart, that can add up really quick. It's like getting a whole stool for free.
Investment: $479 each.
Cost Plus World Market Vintage Amolea Counter Stool: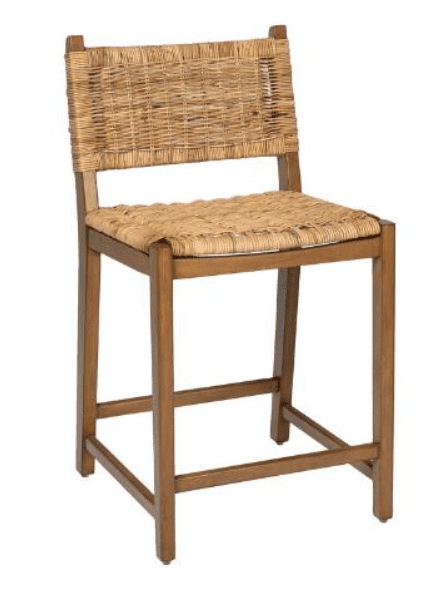 Or, you could save even more money and still get the look you love with these – the Amolea by World Market. Made from beech wood with a vintage-acorn finish and a natural rattan seat and back, you'll love these beachy, chic counter stools. The honey rattan is tightly woven in a linear pattern for a slightly different look.
And, they come fully assembled, too, so it's as simple as opening the box and setting them up at your counter. Score.
Investment: $249.99 each and currently on sale for 10% off!
COUNTER OR BAR STOOL: WHAT'S THE DIFFERENCE?
If you're looking at stools online and wondering what the difference is between a counter and barstool height, it's just the height of the seat.
Most kitchen islands are counter height, so you'll need counter stools instead. Sometimes, this is not the case, so you'll want to measure from the floor to the bottom of the island and then check the legs of the barstools you like to make sure there is enough space to sit on the chair without smashing your legs or jamming the seat into the bottom of the counter.
Even with counter stools, you'll see some variance in how close the seat is to the floor, so just measure twice and make sure it'll work.
Worst case scenario, most of these places have exceptional exchange policies and you should be able to get something that will work.
MORE BAR STOOL POSTS:
Still looking for the perfect bar stool? You might really love some of these:
****
Did you find the perfect bar or counter stool here? I'd love to know!
Have a fabulous day ,
E