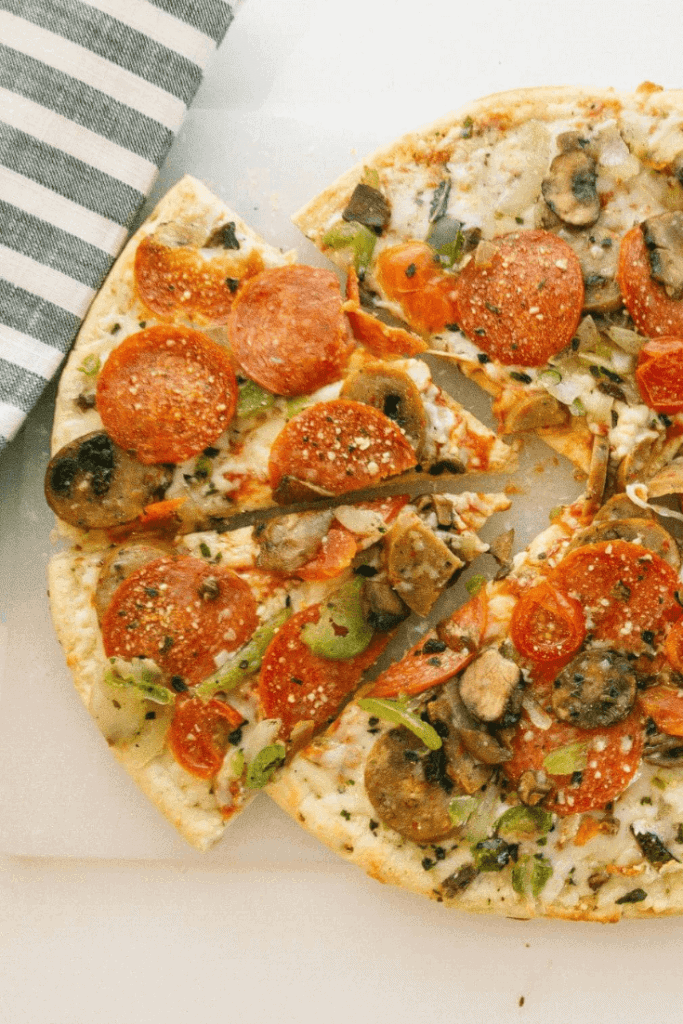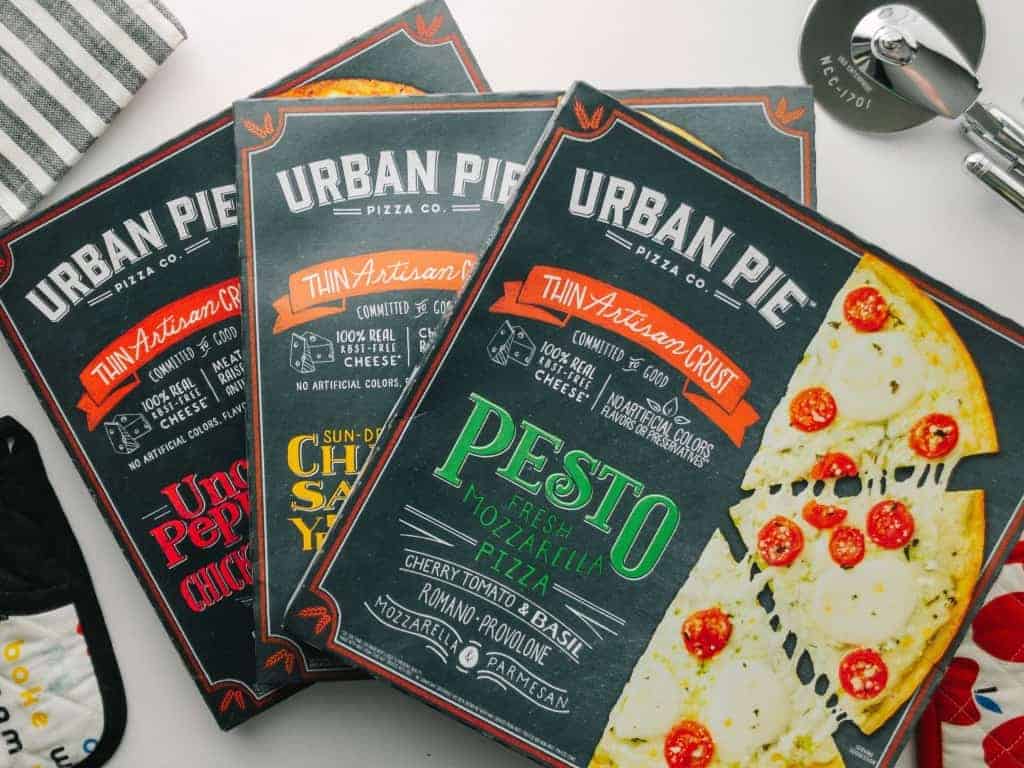 I have a confession to make: I am not a great cook.
Not only that, but I don't really like to cook, either.
So, I am always looking for ways to get a family favorite meal that isn't full of a bunch of junk on the table fast.
Of course, the challenge is that most easy food is … not good for you.
That's why when the good people at Urban Pie Pizza Co. reached out to work together on this post, I was super excited.
Urban Pie Pizza isn't like other pizza and here's why:
I love pizza, just like anyone else, but I don't love a lot of the junk that is in most pizza.
I was thrilled to flip over the box and learn that Urban Pie Pizza uses RBST-free cheese, antibiotic free meats, no artificial colors, flavors or preservatives.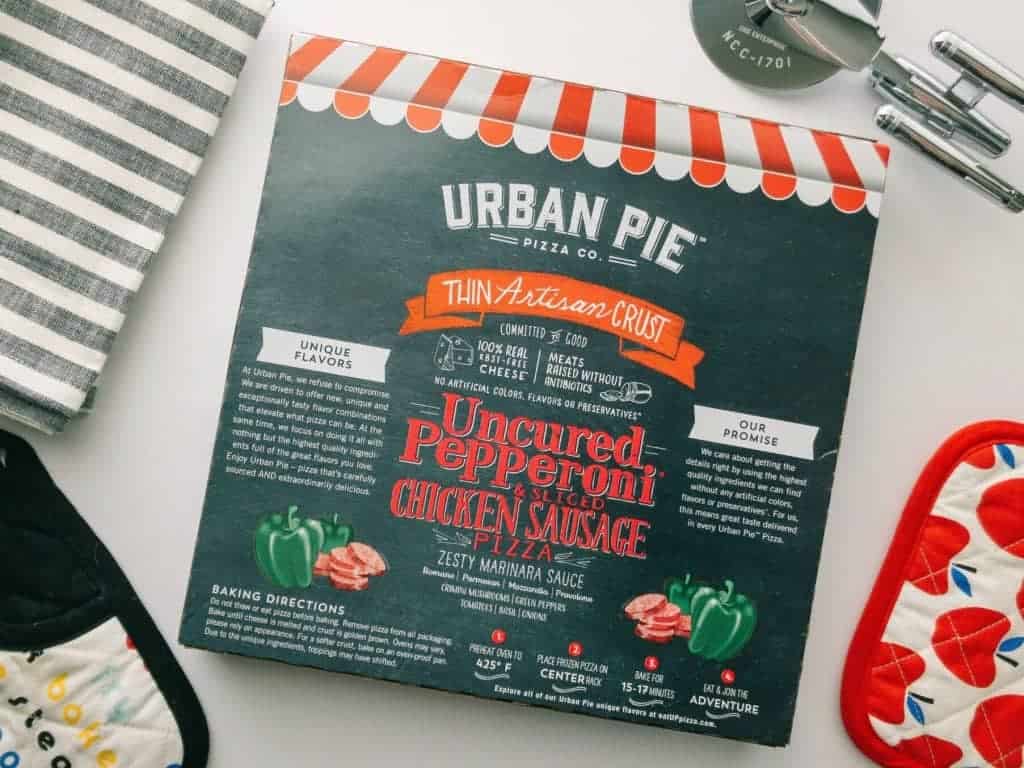 It's premium pizza – all grown up.
Plus, with a range of incredible flavors, you'll be sure to find one for everyone in the family. I grabbed three of the flavors available at my local SPROUTS Farmer's Market store, but here are all the flavors you might be able to find: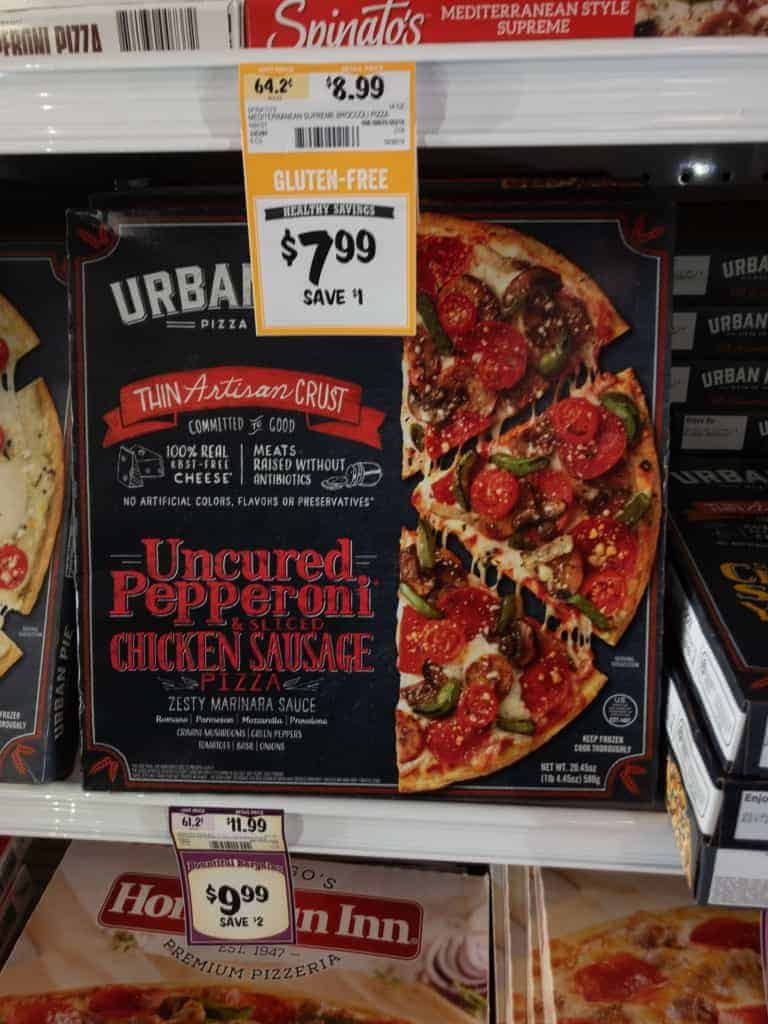 Uncured pepperoni and chicken sausage
Pesto fresh mozzarella
Sun-dried tomato, chicken sausage and fire roasted yellow pepper
Eight cheese and creamy garlic alfredo sauce
Thin crust with sweet potato and BBQ chicken
Thin crust made with cauliflower crust, margherita pizza
Thin crust with broccoli and cheddar bianca pizza
I grabbed three favors and everyone in the family had a different favorite.
1. Uncured Pepperoni & Chicken Sausage Pizza: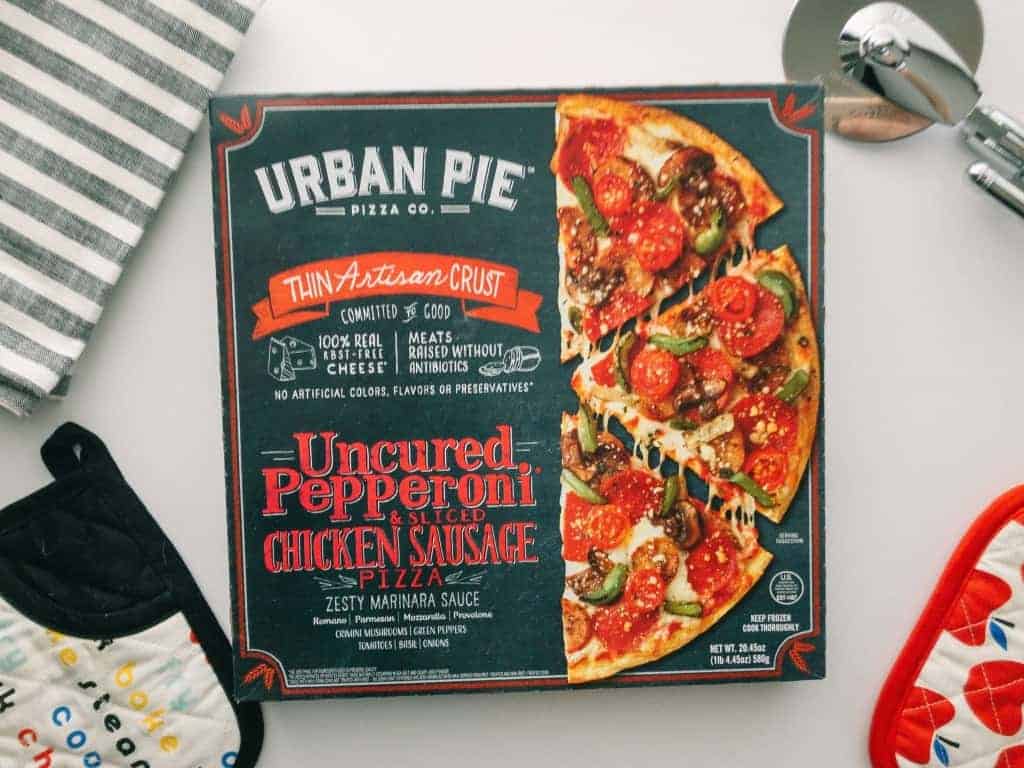 This one is one of the most loaded frozen pizzas I have ever tried.
We all know the disappointment of taking a frozen pizza out of the box and it looks nothing like the picture.
Not this one.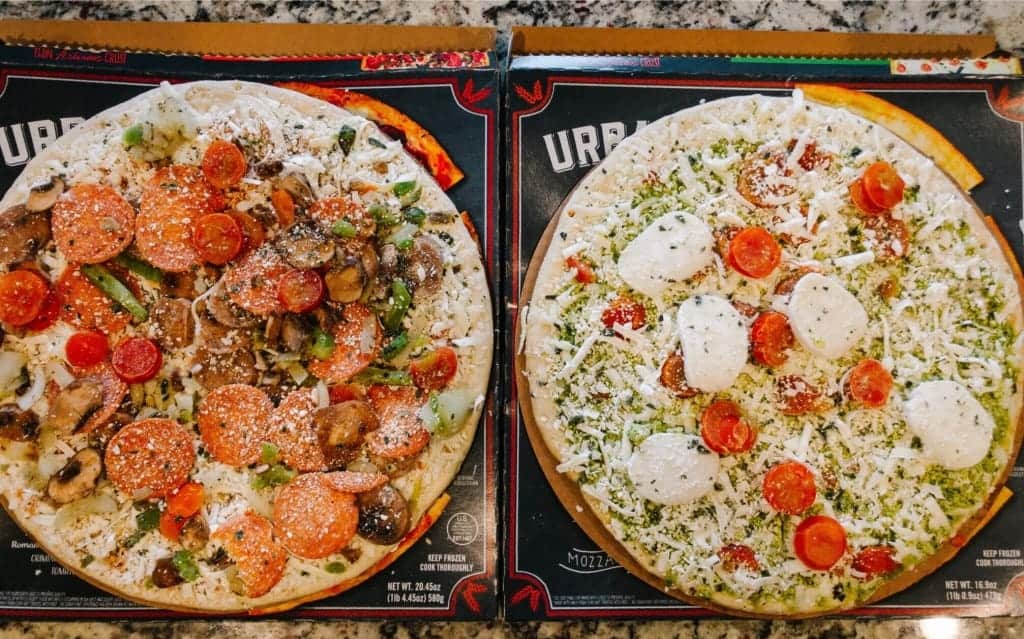 And, even after it is cooked, it looks much more like a combination pizza from a local shop than a frozen pizza.
The crust is on the thinner side, but far less greasy, which I prefer anyway.
Great flavor, very filling, and not as heavy on the stomach.
2. Pesto Fresh Mozzarella Pizza: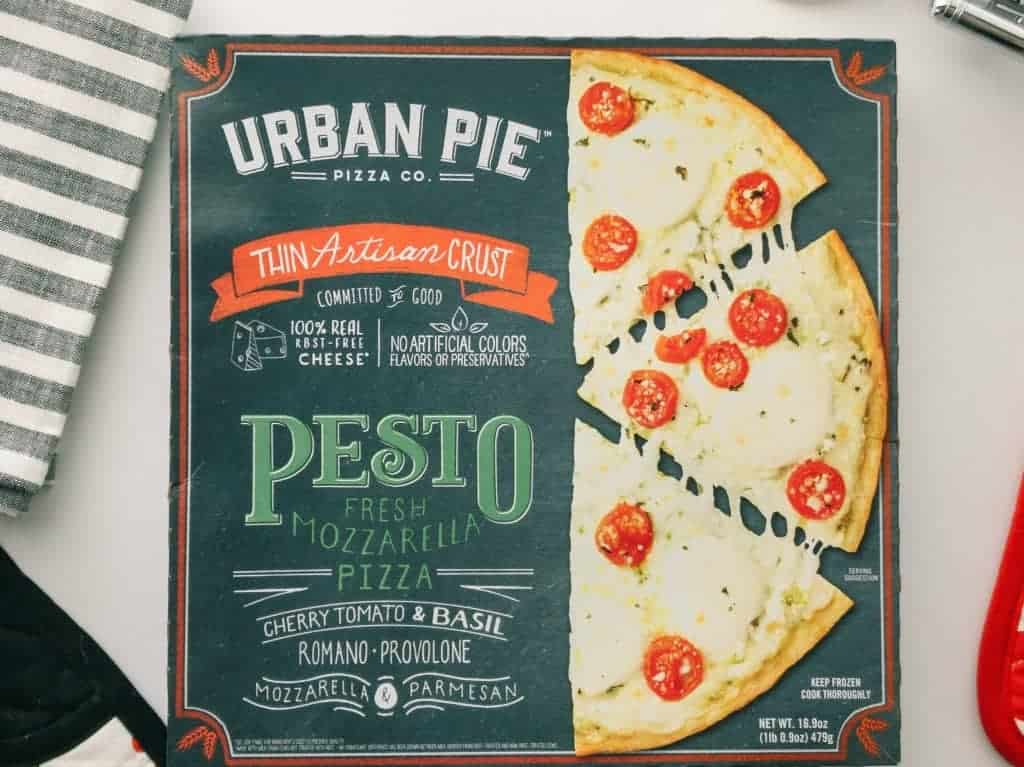 This was seriously one of the best pizzas I have ever had.
The pesto combination with cheese, chunks of mozzarella, and cherry tomatoes, was absolutely delicious.
My kids preferred the other flavors, which was fine by me, because I loved this one.
3. Sun-Dried Tomato, Chicken Sausage and Fire Roasted Yellow Pepper Pizza: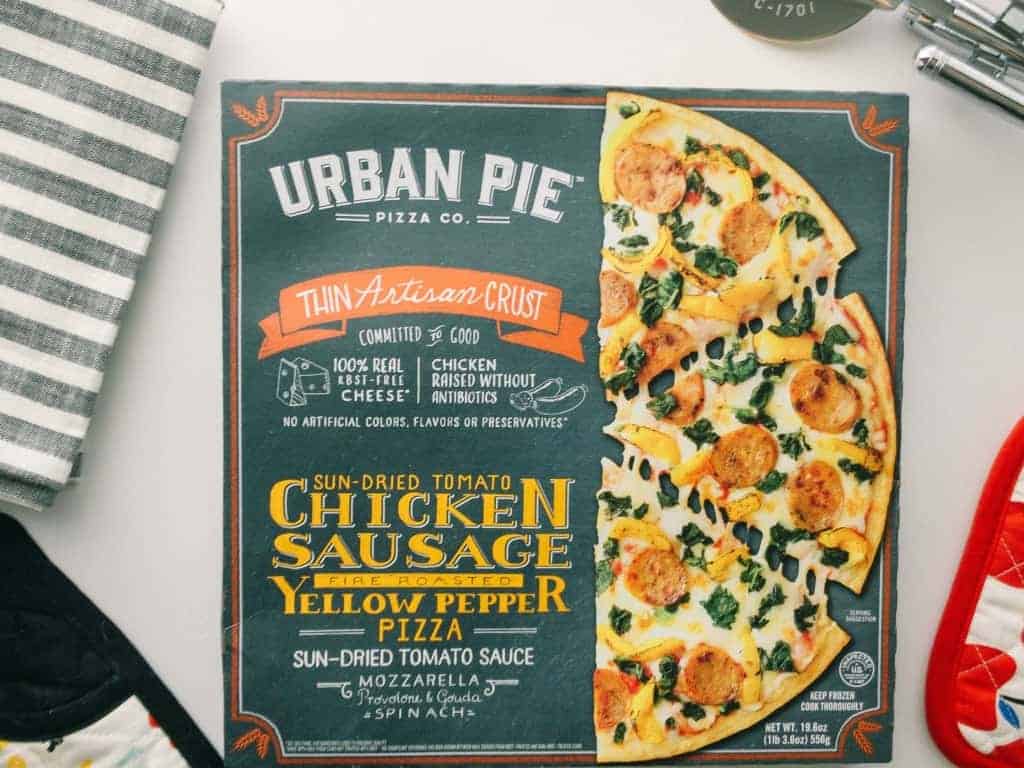 We didn't cook this one the day I took pictures, but when we did – my husband declared this one his new favorite.
Very tasty combination of flavors.
Overall, I am majorly impressed with these pizzas. They really don't taste frozen like most frozen pizzas do and the healthier ingredients make me feel less guilty about feeding my family pizza (again).
Also, because they have less grease and thinner crusts, I don't end up with heartburn and tummy issues – the usual compliment to eating pizza (at least for me).
Plus, I feel like the price is very affordable, especially when you consider that 2 pizzas will easily feed a family of 5 or 6, unless you have teenage boys – then all bets are off, lol.
Feeding a Family:
The joys of feeding a family, am I right? Whenever we can get something easier, affordable, and loved by everyone, it's a major win.
Urban Pizza Pie Co. makes premium pizza with better ingredients and delicious flavor combinations that elevate the casual pizza experience.
Who needs to eat out when you can stash these in your freezer and have dinner on the table in 20 minutes?
Exactly.
****
Have you tried Urban Pizza Pie Co.? Tell us what you think in the comments below!
If you're looking for other ways to feed your family easy, healthy food, check out these posts:
Have a fabulous day,
E