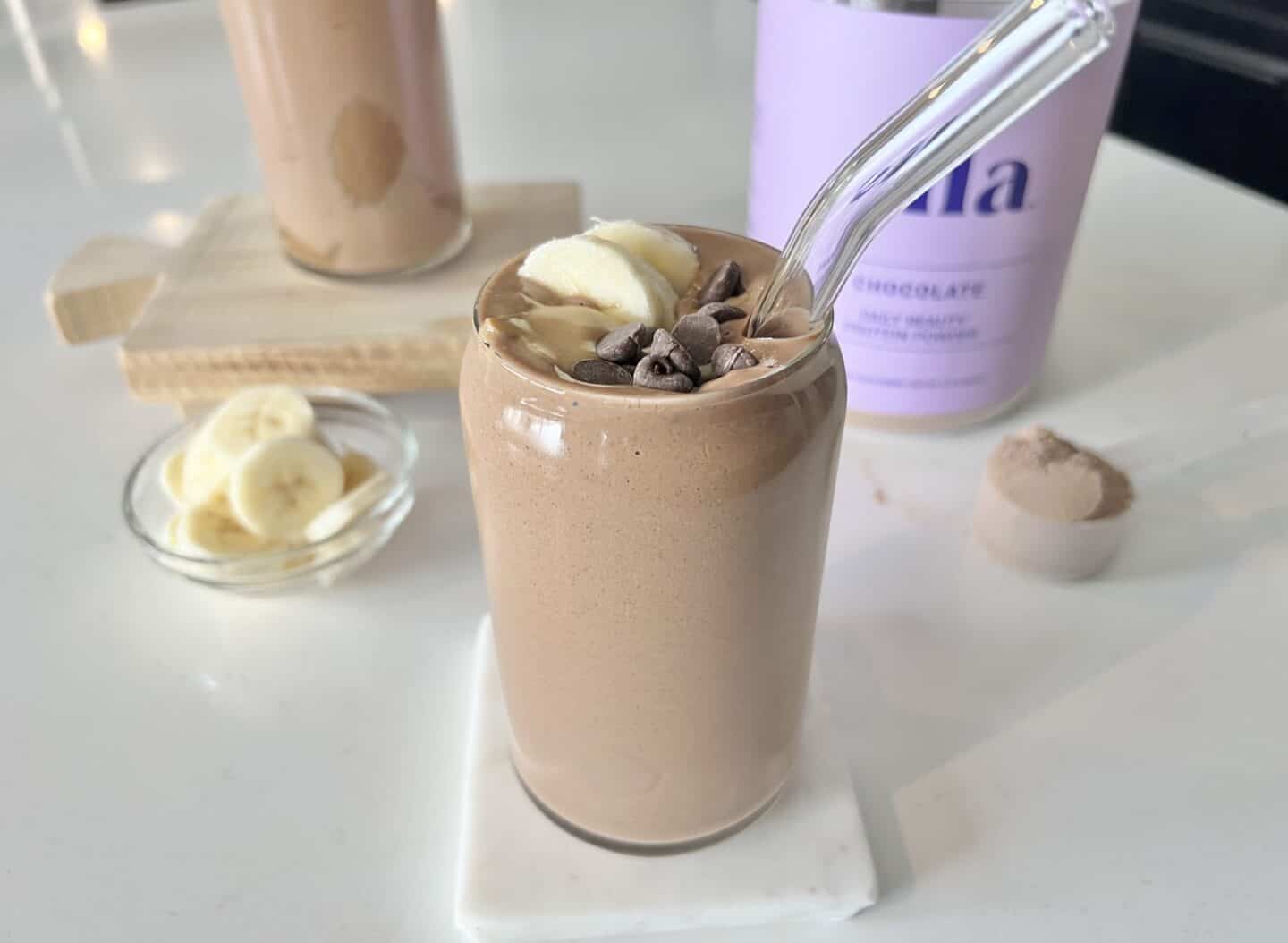 One of my favorite breakfasts is a coffee based protein smoothie. It's a really easy way to get my caffeine, protein and breakfast all in one swoop. It's also ideal for someone like me who isn't a morning person, because if I can't make a quick and easy breakfast, I'll usually default to just drinking coffee and not eat anything at all. Not a great idea, because like most moms, I've gotta power on quickly to take care of kids, dogs, and get to work. I just function better when I get something in my stomach in the morning.
Smoothies make it super easy to get a lot of good stuff in one swoop and I don't even have to sit down to eat it. This coffee, chocolate, peanut butter breakfast smoothie is a recipe we perfected after grabbing something similar at a healthy smoothie place we stopped at on vacation. They had a coffee smoothie like this and it was so good, so filling, that as soon as we got home, we tried to make our own version.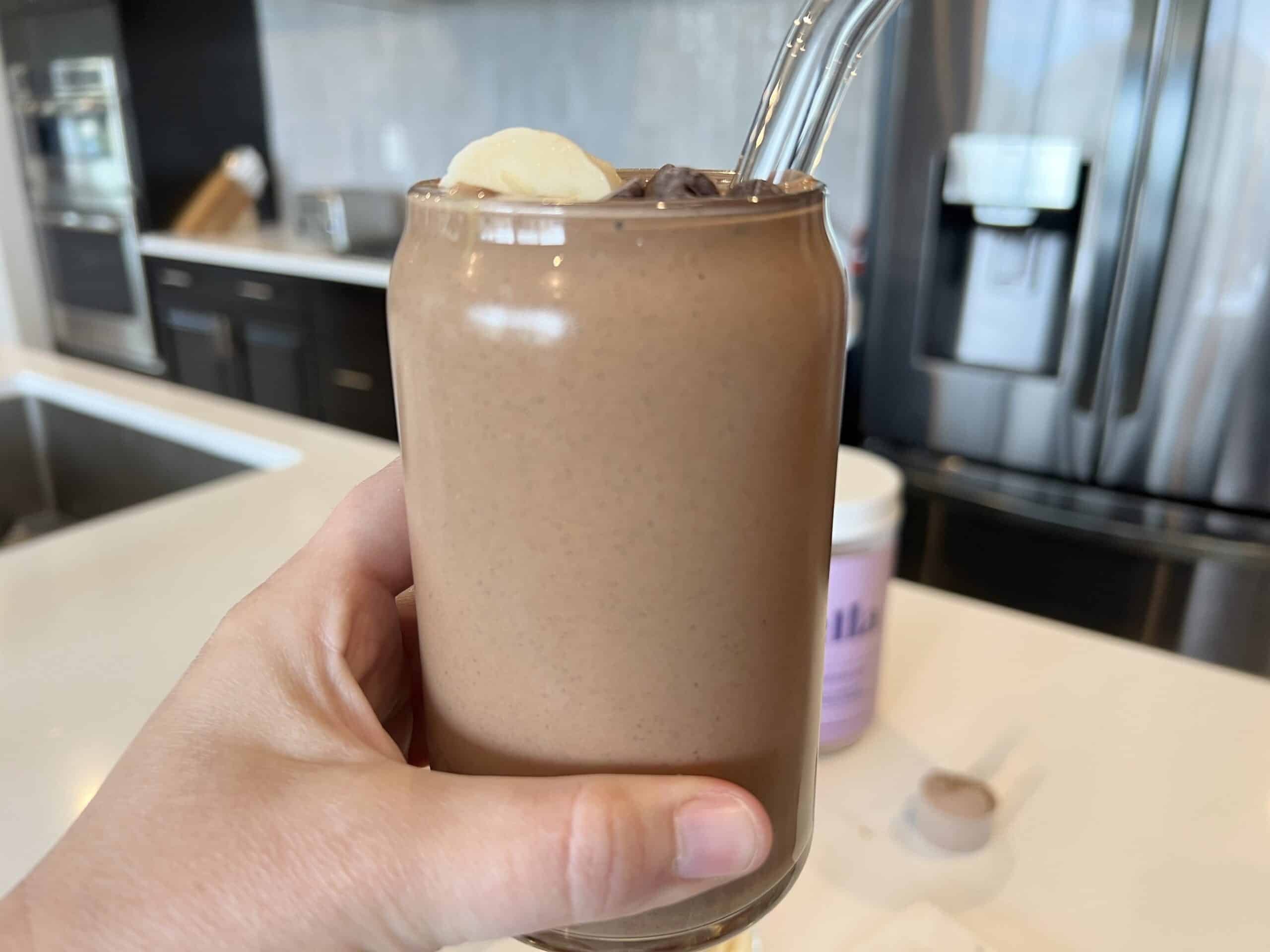 The trick for me, and maybe it is for you too, is finding the right protein powder. As I've gotten older, the ingredients I'm sensitive to has increased. I avoid protein powders, or any products, with both whey and soy now, which is the predominant types of protein used in protein powders. Then, I switched to pea protein, but my digestive system didn't like that, either. Some quick research and I found that pea protein can also cause inflammation and pain for some people and as someone with two autoimmune diseases, I was one of them.
Without a protein powder, the smoothie just doesn't have the same benefits and we eventually stopped making it. But, I've really missed it and my default breakfast hasn't been as healthy or as easy on my digestive system. So, when I saw the new Naked Nutrition Ella Chocolate Beauty Protein Powder, I took a quick glance at the ingredients and was surprised to see it checked all the boxes.
20g of Protein from grass-fed collagen and pumpkin seeds
50% DV Zinc for natural keratin production
0 grams of sugar – this is a big one, so many protein powders are actually loaded with sugar or fake sugars
Plus no artificial sweeteners, flavors, or colors – also a big one for me
100% DV of Vitamin C, and biotin to support collagen production
100mg of hyaluronic acid – you all know by now this is my favorite skin care ingredient
MCT Powder
Alkalized Cocoa
Non-GMO and gluten free
I mean, this is a seriously jam-packed superfood protein powder with major skin and hair benefits. Once I found it, I was all in – and I knew exactly what I was going to make with it.
*Affiliate links are used in this post, which means at no cost to you, I may receive a commission if you make a purchase through my links. Thank you!
Coffee Protein Smoothie Ingredients: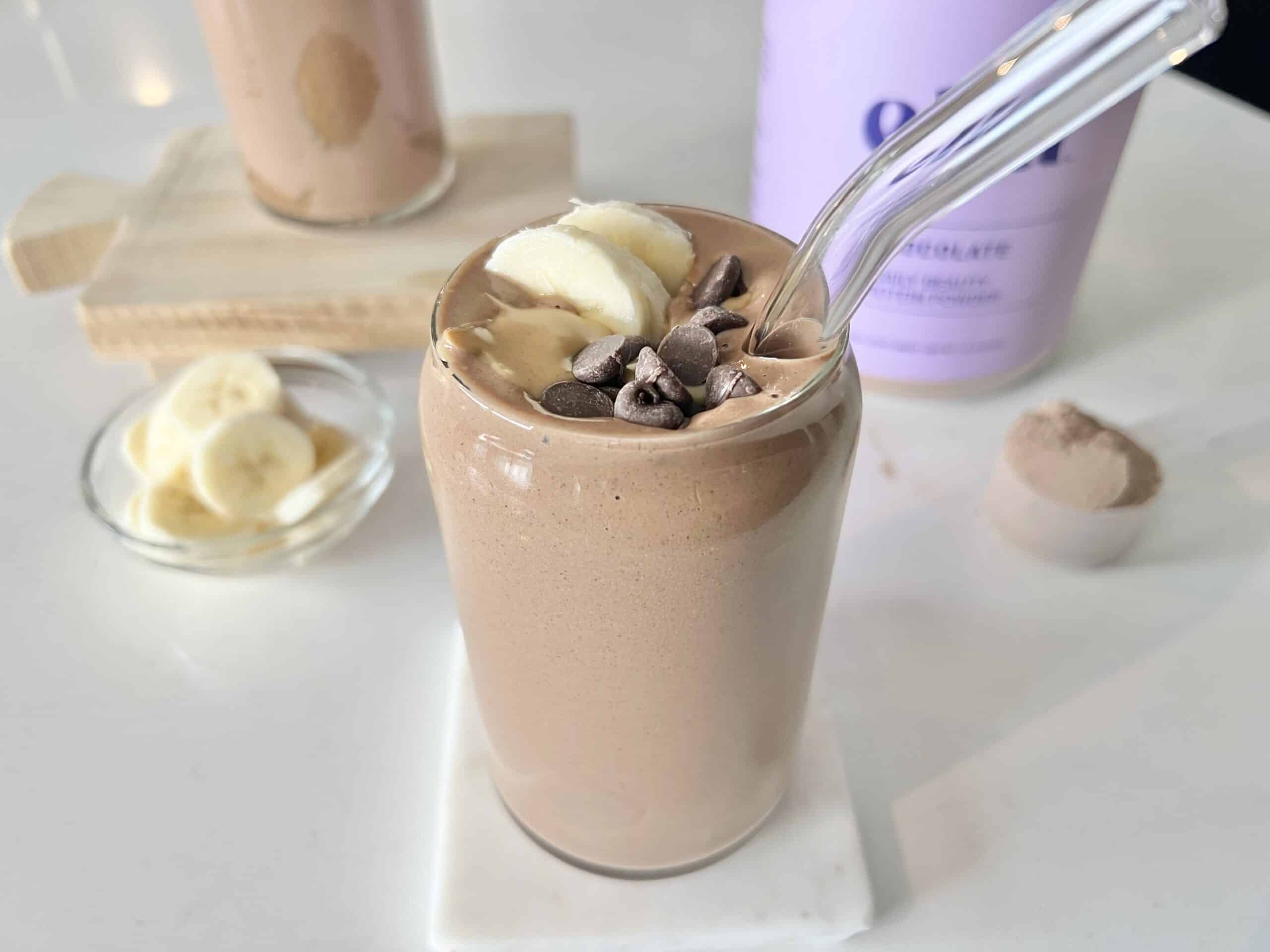 You'll need a handful of things to make this and the other ingredients are really optional. Swap out for what you have on hand or what you prefer. I know people that don't like banana in their smoothie and you can easily sub that out for frozen cauliflower rice to get a similar texture without the carbs or flavor. Or, there may be ingredients here that don't work for your digestive system. Please make adjustments accordingly.
1 cup of Cold brew coffee – I like Stok or Starbucks brands
1/2 cup of Milk substitute – I used oat milk
1-2 scoops Ella Beauty Protein Powder
1 frozen banana or 1/2 cup frozen cauliflower rice
1 cup spinach, packed – this will make the smoothie a greenish color
2 tbsp peanut butter powder
1 tbsp peanut butter for the top
1 tbsp chia seeds for additional protein and thickening (there's also chia seeds in the protein powder)
1 tbsp hemp seeds
Optional: 1 tbsp cocoa powder – for extra chocolate flavor and to make the smoothie more brown (the spinach changes it to a greenish brown color). Or, if you want to use less of the protein powder, use one scoop of the protein powder and one tbsp of cocoa powder.
Optional: ice to thicken
Kind note: when I took pictures of the smoothie, I did reduce the spinach because it gives it a greenish color. You can't taste the spinach, and I always add it when I'm not photographing the smoothie, but know that if you do add spinach, your color will be a little more green than these photos.
Coffee Protein Smoothie Directions:
I made a video of the recipe to share on Instagram and you can see me make the simple version here. When I make it every day, I don't always add the toppings, because #tired, #mom, #busymornings. You get it.
View this post on Instagram
To get a nice even blend on your smoothie, even with a more affordable blender (we've had lots of blenders over the years and you can get a great smoothie with smoothies at all price points), always go in this order:
Add liquids
Add powders and seeds. You can even do a quick blend here if you have a more affordable smoothie to get those seeds really blended in before you add anything else.
Add spinach. Blend again if you're using a blender that isn't as strong.
Add frozen foods and ice. Blend again.
Pour and add toppings if you like, or not.
You can double the recipe to make more. No problem.
If you have a stronger blender, we finally invested in a Vitamix after burning out several blenders, you can add them all before blending, but still do them in this order. I usually blend once, then add ice, then blend again, because I'm really serious about my smoothie texture and do not like little granules at all.
That's it. Smoothies are easy. Throw and go is my motto. And, once you taste it, you'll know how you like it – do you like more peanut butter flavor, do you like more chocolate flavor, etc.
Health Benefits of the Coffee Protein Smoothie:
Because this smoothie is packed with a little of everything: protein, carbs, healthy fats, anti-inflammatory seeds, caffeine, biotin and hyaluronic acid for hair, skin and nail health, etc., it'll be filling and energizing, without being heavy and weighing you down.
For me, I've noticed a huge difference when I'm getting enough protein in my diet. It helps with everything. Since I'm not a huge meat eater, I need to get the protein in other ways, like this.
Also, don't be afraid of healthy carbs. SO many powerful anti-inflammatory foods have a lot of carbs, but they're healthy and good for you. I once tried a keto similar diet and realized really quickly how important a lot of those foods were to balancing my health. I recently met with my rheumatologist again for a check-up and she said my labs are holding stable and there's been no progression of disease (this does not mean I'm pain-free at all, but that things aren't getting worse). She's told me this a few years in a row, so whatever I'm doing is working for me. I hope by sharing this information, it'll help you, too.
If you're dealing with chronic pain, fatigue, body aches and pains, phantom symptoms that come and go, check out some of my other posts on battling inflammation and autoimmune diseases. They are some of my most popular and they might give you something new to look into or try.
Taking care of yourself, eating healthy, hydrating, walking, gentle exercise, mindset work, these are all the things that are going to help you take your power back if you're feeling depleted by stress, life experience and/or health issues. Never give up, friends.
I hope you'll try out this coffee protein smoothie or be inspired to make your own. Check out Naked Nutrition's Ella Beauty Protein Powder. It's my new favorite and I'm thrilled to have a protein power that doesn't upset my stomach.
Have a fabulous day,
E