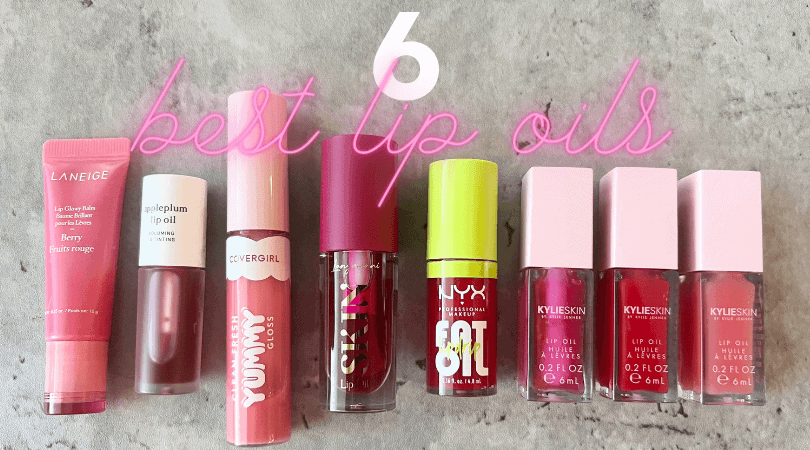 Lately, I've been super into lip oils. My obsession with them started as a bit of a happy accident. For awhile now, I've been totally in love with this Nars Afterglow Lip Balm in Dolce Vita, which has the perfect amount of lip color without looking like I'm wearing lip stick, and I used it all the way until it ran out. Before I had a chance to restock it, I grabbed a drugstore lip oil/gloss that I'd heard good things about to use and was surprised at how much I really liked it. It was super hydrating, gave my lips a sheer wash of color that was just right, and made my lips look fuller and plumper.
While I still eventually restocked my Nars, I also went on the hunt for the best lip oil out there, buying all sorts of brands from drugstore to high end and everything in between. What I found was a ton of great lip oils that are going to leave your lips soft, juicy, and just colored enough. Here's my favorites and what I like about them. I did try some that were not my favorite and those are not mentioned here, because while it may not work for me, you might love it. Let's get started:
The Best Lip Oils from Drugstore to High End: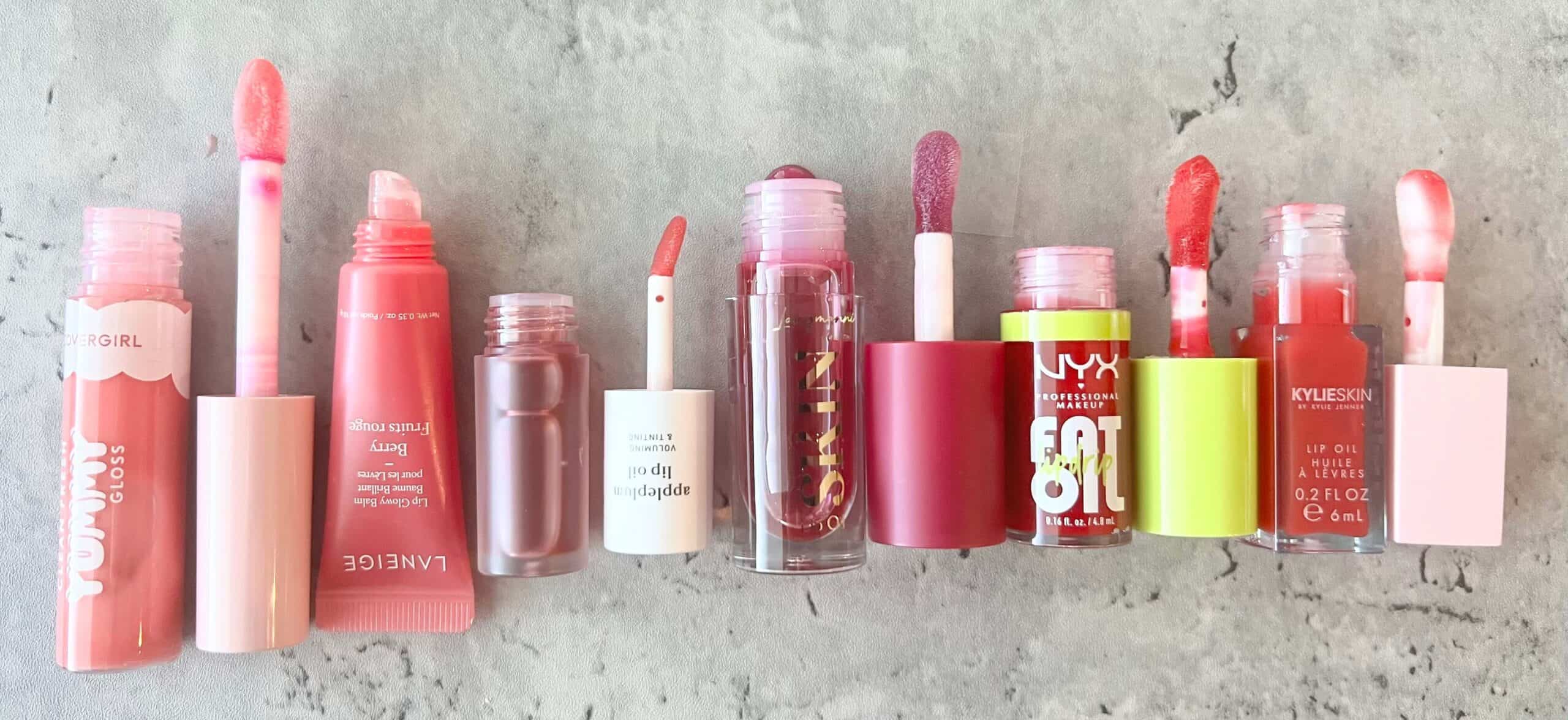 *I bought all of these with my own money. If you choose to make a purchase through my affiliate link, I may receive a commission at no cost to you. Cheers.
I absolutely love this lip oil and it's become the one that I reach for the most often. The color is by far the most saturated and lasts the longest. The foot is really soft and easy to use, but on the bigger side. Even though the shade Newsfeed looks really bright, it becomes a really beautiful pink, with a hint of raspberry, on your lips. Nyx totes 12-hour hydration with these, and while I'm not sure it lasts quite that long, it certainly sticks around awhile. There are so many beautiful colors offered and I can't wait to grab a bunch more. You won't believe this one is under $10, because it's kicking the butt of the higher end lip oils. Only downside is the amount is on the lower side and the packaging is a bit bright for my taste.
This is one of the highest rated lip oils on Amazon, so of course I had to try it. The doe foot is the smallest of all the options I'm sharing, but I liked how much control it gave me to shape my lips. I don't over line my lips and the foot allowed me to get my lip shape just right. The oil had a lovely smell to it and the color is noticeable without being fake looking. But, here's the thing: it starts off pretty sure, but it settles in with more intensity, almost like a lip stain, but it doesn't stick to your lips like those do. It's very interesting and it piques my interest when I use it. It's also really hydrating without having any stickiness to it. I don't reach for it as often as the Nyx, but I really like it.
I bought this set of 3 when it was on sale, because I wanted to know what all the fuss was about. The packaging is definitely my favorite of the options and the square design makes it really well suited to slipping into small purses. For the price, though, I would expect more from these. The color is very sheer and there is no discernible difference between the colors – at least on my lips. The smells does vary and they all smell really good and feel great on your lips, though. My opinion? Great if you can get them on sale, but I wouldn't pay full price.
This one is $18 and I initially balked at that price. However, I'm a fan of Laneige and the reviews were amazing, so in the interest of being thorough, I went for it. I'm glad I did. This one has a very sheer color, but the balm is really hydrating and makes my lips so soft. I layer it over my Nars sometimes, too, and it's a great combination. If you love the Laneige overnight lip masks, this will be a favorite for you, too.
I picked this up for a couple reasons: it was one of the highest rated lip oils on Amazon, it looked similar to higher end products, and several brands were selling the same one under different names, so I figured it was pretty good. I would say this is an excellent dupe for the Kylie Cosmetics lip oil. Very similar foot. Packaging looks nice. I love the soft smell and wash of color, for a fraction of the price. Similar to Kylie, this is going to be more sheer on your lips, even in this dark color.
This is technically called a gloss, but it really functions similar to the lip oils on this list, especially the Nyx. I really love these Yummy glosses. This color is Havana Good Time, but my favorite is the more raspberry colored You're Just Jelly. These are fantastic. The most generously sized, very hydrating, not sticky at all, and have a good wash of color. The applicator is also really soft and feels great on your lips. Love it.
******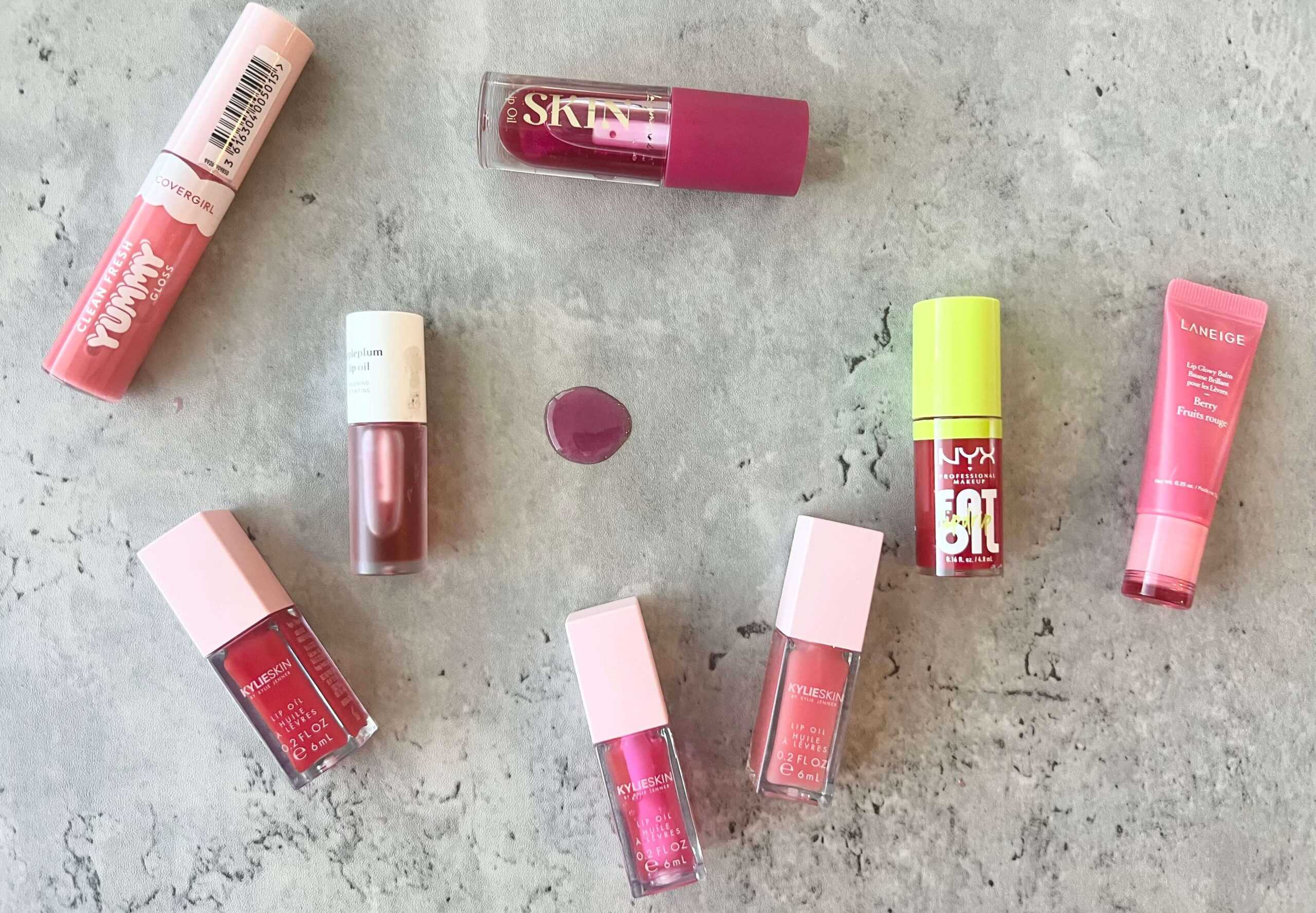 Before I had more kids, I put more effort into my lips, often lining them and using lip stick and matching gloss. Not only do I not have the time or interest for that, but I'd rather be able to kiss my kids' cheeks without making a mess of everything than have on perfect lipstick. Lip oils are a great option here. It's going to give you that plumper, glossed look, while also softening and hydrating your lips. Plus, that wash of color will keep you from looking like a ghost (or maybe it's just me – I'm the ghost in this scenario) with minimal effort and cost. It's really a win win for the busy woman and/or mom on the go. And, the small, cute packaging doesn't hurt, either.
Are you a fan of lip oils? Which one is your favorite? Tell me in the comments below which ones I should try next or add to the list!
Have a fabulous day,
E