What is it about great hair that makes us just feel better? Or, when you see someone pass you with the perfect cut, color, or style, and you want to run straight to your stylist to recreate it? If you get it, then you love hair as much as I do.
So, you'll feel me when I tell you this story. For the last couple years, I've been highlighting my naturally brown hair, which means bleaching it every 12 weeks. Over time, this has led to a lot of dryness, frizz, and damage.
Because of this damage, we had to cut a few inches off my hair a few months ago and I just didn't love it, but we talked about how if my hair didn't look any better at the next visit, we would have to cut even more. I had to make a decision: keep bleaching and go shorter or go dark and save the length. I decided to go dark, because I just wanted my hair to look healthier again. And you know what? It worked. It really worked. I went from having to do hair masks at night and all sorts of hair repair products regularly to not having to worry so much about it at all.
The only thing? Dark hair color on top of highlights starts to fade – and fade quick – so I was left with some pretty gnarly grown out roots, gray roots and faded color in no time. Rather than hit up my stylist weeks earlier than planned, I decided to try the hair gloss treatment that has been all over my social media feed and share all the results with you.
What is Glaze Super Hair Gloss?
Have you been seeing this one, too? Glaze Super Color Conditioning Gloss is a semi-permanent hair gloss treatment that adds a layer of color and shine to your hair and it rinses out in 8-10 washes, approximately. With 16 Glaze color options currently, there's something for everyone. I went with the Auburn Spice, but I was actually pretty torn between 3 options. You apply it all over your hair, let it set for 10 minutes, rinse it out and then enjoy a refreshed hair color. Depending on what you're starting with and the glaze color you choose, results will vary, but you can also go with the clear gloss to neutralize brassiness, blend grown out roots, and restore shine. Because Glaze doesn't contain any ammonia, bleach or PPD, and it's also clean, vegan, cruelty-free and the bottle is recyclable.
Bottom line? Glaze is like a super moisturizer for your hair that can also boost or adjust your color temporarily depending on the shade you choose and your original hair color.
*Affiliate links are used here, which means at no cost to you, I may receive a commission if you purchase through my links. I hope this review helps you!
Does Glaze Super Hair Gloss Really Work?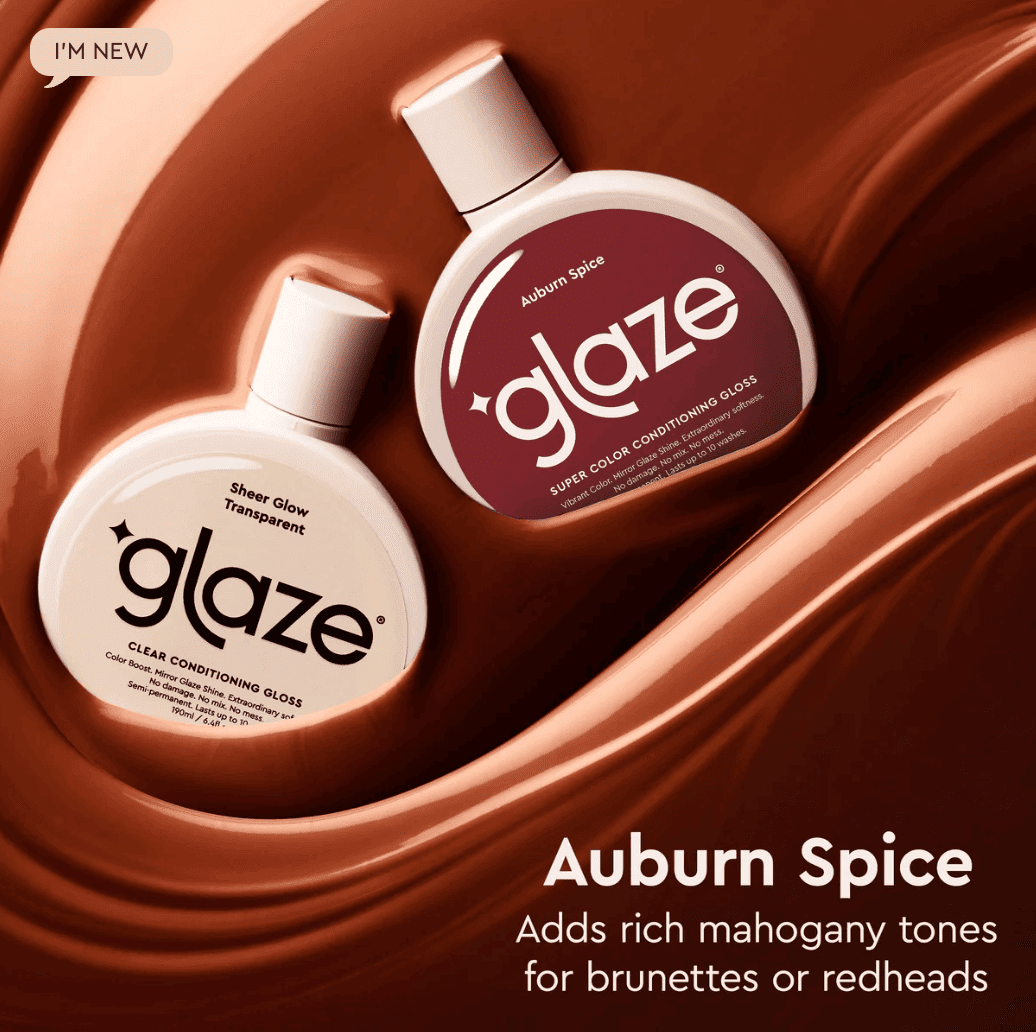 After so much hype, I had high expectations when I ordered my Auburn Spice Glaze hair gloss. I took before pictures of my color to show you where I started. You can see the grown out roots, the faded dark color over my old highlights and the grays coming in hot.
I sectioned off my hair and started on the bottom, applying a generous amount from root to ends. The solution is thick, so it doesn't drip all over the place, but still make sure you're doing this in an area where it won't stain anything. I went a row of hair at a time and worked to the top. Once it was all applied, I waited 10-15 minutes before rinsing. They do recommend brushing it through your hair after applying and I did that as well.
Rinsing it off was super easy, I didn't have any issues with it staining my shower and it rinsed clean in the same amount of time as a thick hair mask. Some reviews did say that they have plastic liners in their shower and it did discolor that, so consider the material in your bathroom and prepare ahead. After rinsing it out, I added my normal hair products and then styled.
The result? Glaze Hair Gloss added a noticeable red tint to my hair and the color was even and smooth. It definitely blended in my color and grown out roots, and added tons of body and shine to my hair. The end result was so good, that when I did see my colorist a few weeks later, I brought the bottle to show her and asked for her to mimic the color with my permanent color. Just check out these roots. And, remember, these are semi-perm glazes, so it's a subtle shift. In person, the color difference was noticeable enough for some friends to comment on it.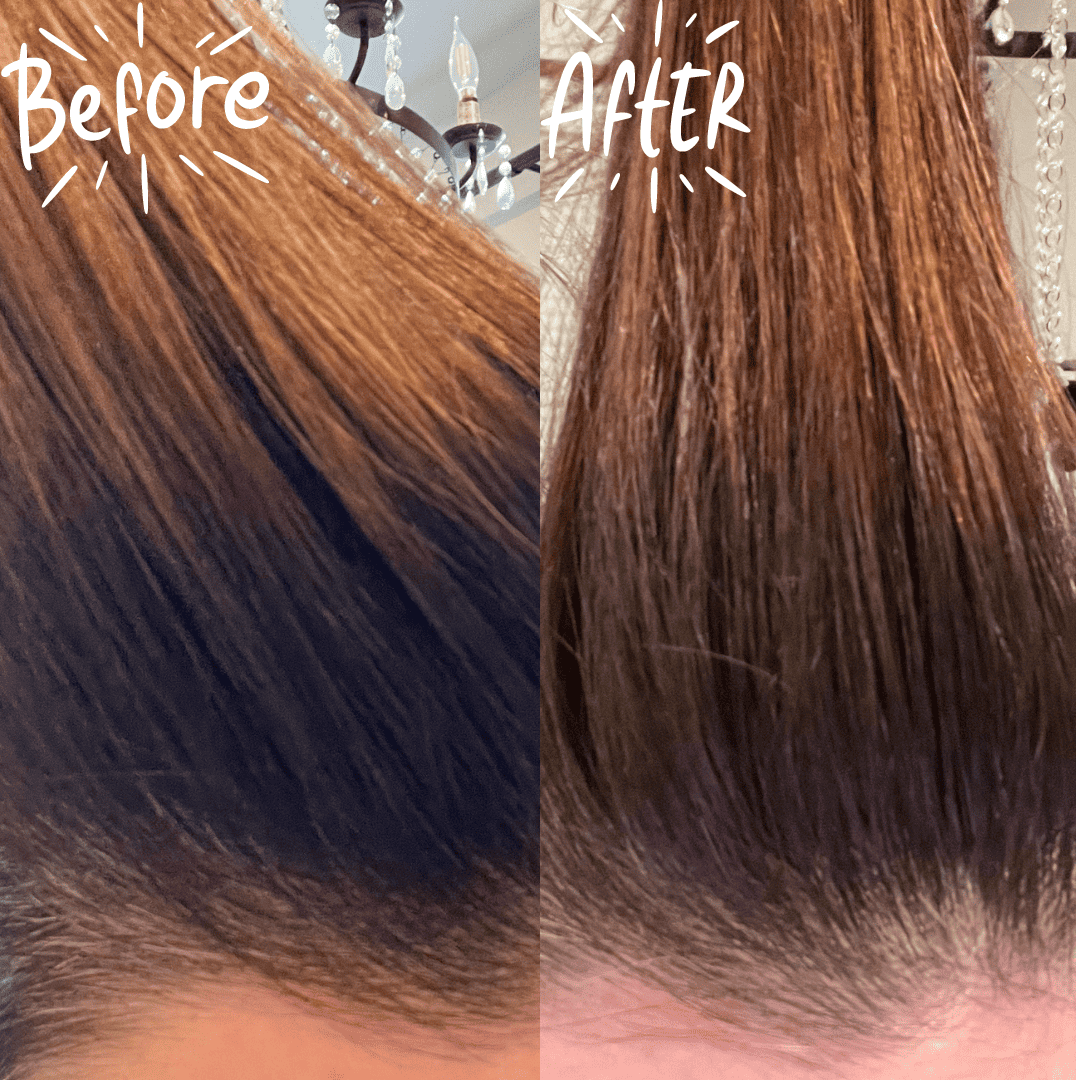 Here's a look at the back. It's tough to take photos of your own hair, so you can tell that I did the before picture myself and I asked for help with the after. But, it gives you an idea. of how it looks.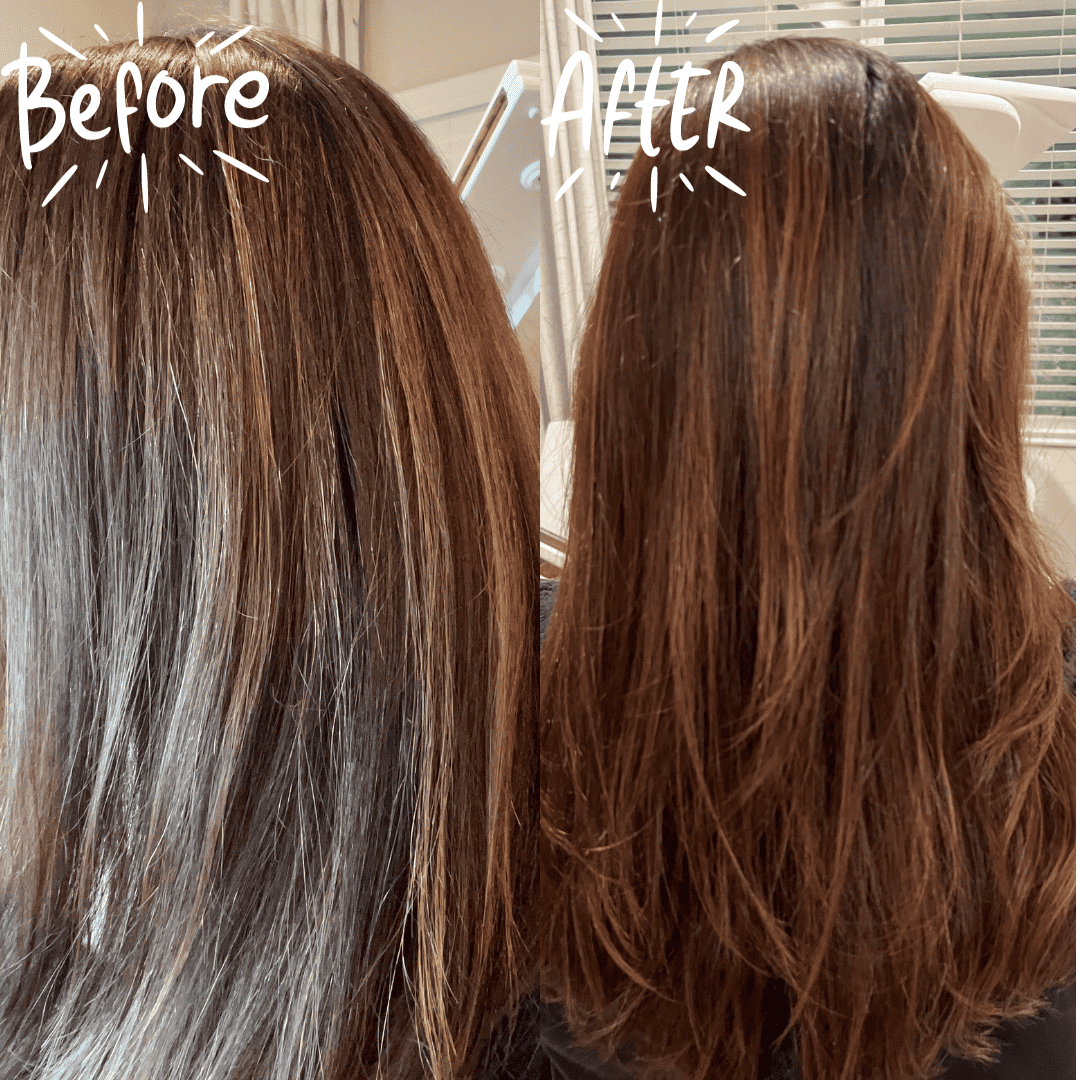 The only caveat? Glaze did not provide any gray coverage at all. Not even for one wash. It does not say that it gives any gray coverage, so it's not like it disappointed me on this, but I was hoping for at least a little blending or coverage. There is none, so if you have gray, expect that the Glaze will soften and add shine to that hair, but it won't color it.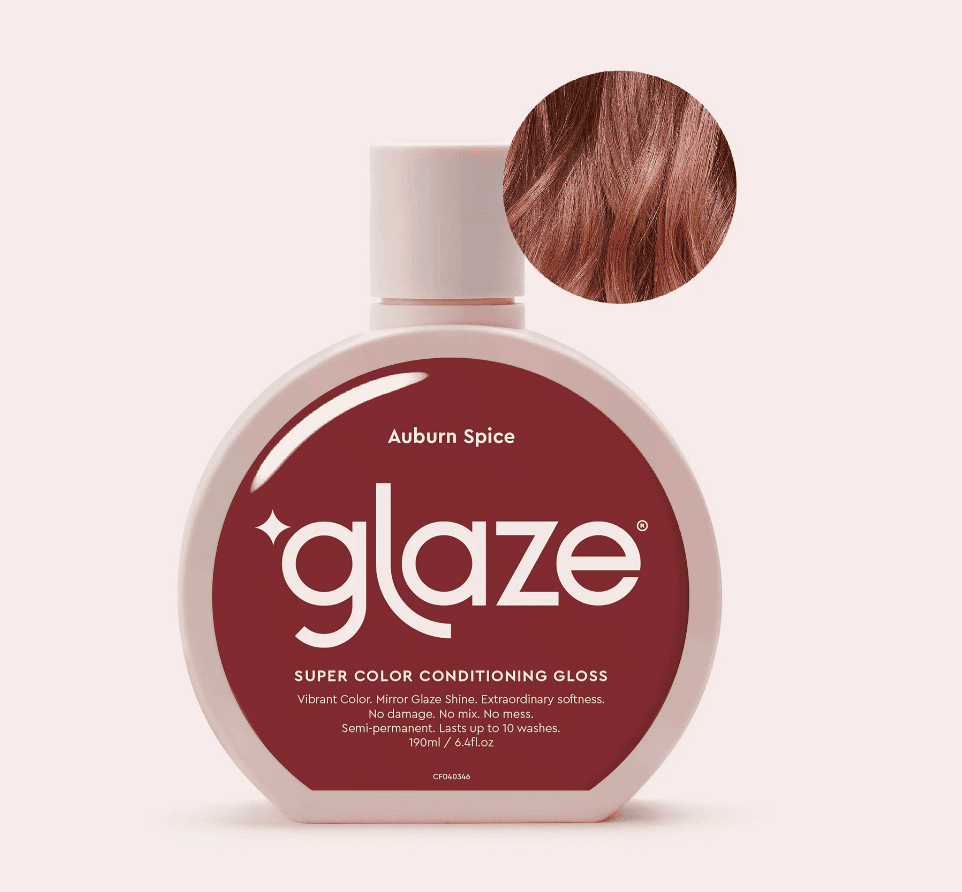 I will absolutely use Glaze again and now that my hair is essentially the Auburn Spice color, just permanently, it'll be a fantastic way to keep my color fresh between appointments.
However, I will do things differently and here are the things I'll change:
I will wear gloves. The color did stain my skin, especially around the nail bed area, and while it did come out after a couple days, I didn't like that discoloration. In the advertisements, they are using gloves to apply, so this was my mistake that I'll fix next time.
I will get their brush to brush the color through and use it just for Glaze. The color did discolor the plastic on my brush. It's not a very nice brush, so I don't care, but if it had been a nice brush – I might have cared. They actually have a set that includes a brush and I'll invest in that on my next order.
I will dampen my hair a little first. I did it on dry hair and it was fine, but my stylist said it will be even more effective if I lightly spritz my hair first. I'll try this next time.
Yeah, that's it. Other than that, it's a super easy to use hair gloss treatment that will really enhance your color and extend your color between salon visits – and all for a super affordable price. I have hair below my shoulders that is medium thick and I think I'll get 2 applications out of the bottle, which takes the price to around $10 a treatment. Very affordable, especially if you're going to a salon for that treatment between coloring.
****
Have you tried Glaze or a hair gloss treatment before? What did you think?
For more hair posts, check these out:
Have a fabulous day,
E